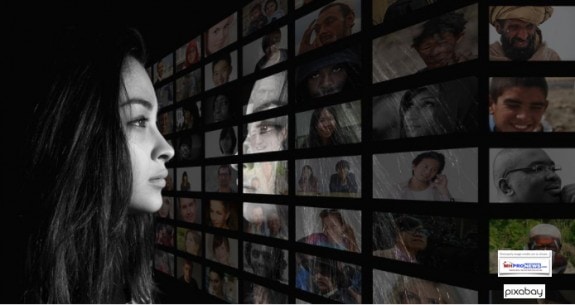 Truth can be taught and caught.
But so too can error, delusions, deceptions, and lies.
"People will believe a big lie sooner than a little one, and if you repeat it frequently enough, people will sooner or later believe it," said Walter C. Langer, a psychoanalyst.  That observation of Langer's is very much in keeping with tenants of the propagandists who caused the rise of National Socialists – the Nazis – as well as of communist leaders, like Lenin, Stalin, Mao, Castro, and others.
MHProNews periodically hears and receives unsolicited comments about millennials and their attitudes on issues that impact their work, views and voting.
It's an issue in the minds of many in management, employers and owners.
Also important, how do people who don't grasp "the American way" discover the American Dream, including home ownership?  How do those who misunderstand concepts such as free enterprise, and private property respond to policies that may oppose that system and those rights?
A new survey performed by YouGov reveals that some 44 percent of Millennials accept socialism, slightly more than those who favor capitalism.
While MHProNews believes that the better term to use is free enterprise as opposed to capitalism – because the term "capitalist" was coined by socialist Karl Marx, and thus plays into their narrative – nevertheless the trend ought to be a concern.
Nor are they alone in holding that or other troubling views.  The study was commissioned by the Victims of Communism, a non-profit group.  It's called their "Annual Report of U.S. Attitudes Toward Socialism."
In a release to MHProNews, here are some of that group's top-line discoveries.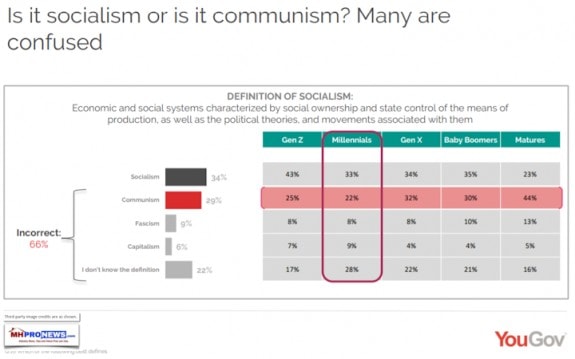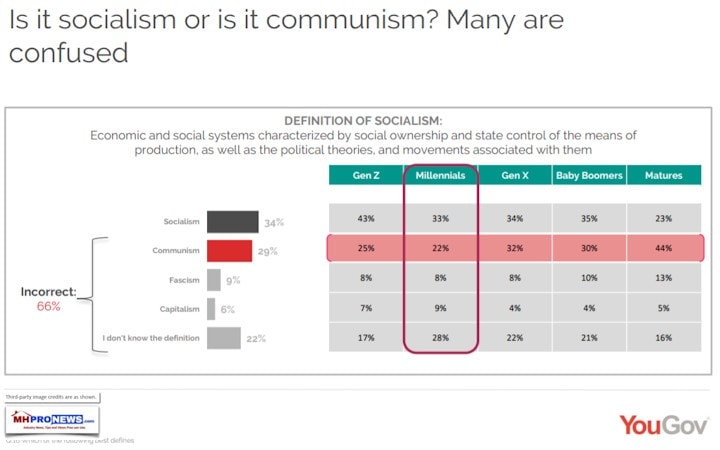 Communism was and is still a problem—up 5% from 2016.
Americans still have a lot to learn about communism 5 7 in 10 Americans either don't know the definition of communism or misidentify it.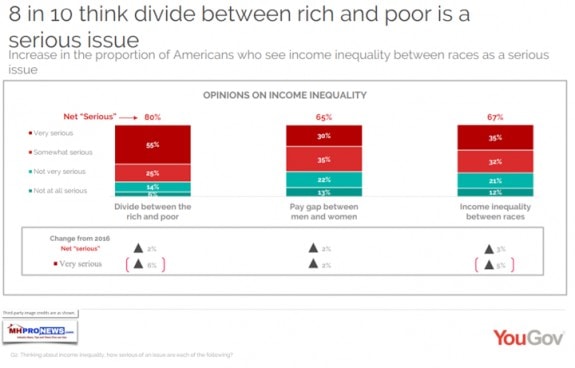 7 out of 10 underestimate number killed by communism.  It should be noted that a university researcher in Hawaii has published on a related topic, and he found that those that died under godless Nazi or communist systems far outweighed all those that died in so-called religious wars.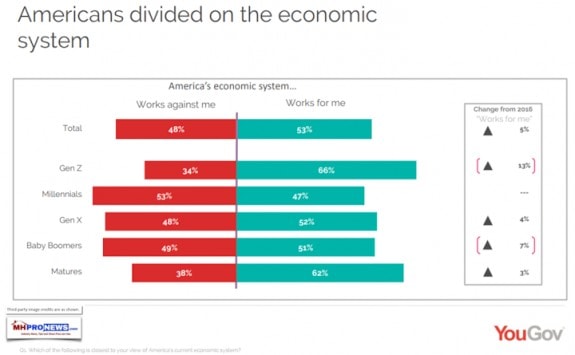 Is something happening in Venezuela? 6 in 10 are unfamiliar with Nicolás Maduro.
Communist leaders are cited as heroes to their countries by 10-20% of Americans.
The entire survey can be downloaded at this link here.
Why Should Business or Investment Professionals be Concerned?
Among the elements of concern that should be of concern to business professionals and politicos are points like these.
Millennials, per the YouGov research, while increasingly understanding of ills of communism, have a disconnect between communism and socialism.  More are willing to opt for socialist nation than a free enterprise based economy.  For those who believe that government is the solution for anything, the very issues – such as affordable housing, that free enterprise is proven for centuries is the best solution – will only increase.
Will Various PreFab, Factory Built Homes Become Los Angeles' Affordable Housing Solution?
Thus, is it any surprise that so many millennials were willing to support Bernie Sanders in the 2016 Democratic race for their presidential nominee?
While the Donna Brazile book bruhaha has underscored the "rigged' nature of that contest, perhaps equally troubling for business professionals and investors is this.  With millions of millennials embracing socialistic concepts, and given their growing influence at the ballot, could the day come that they vote ever more socialists into office?
"Hacks" – Explosive 2016 Campaign Claims by Former DNC Chair, Donna Brazile
Considering what took place in Venezuela, which a decade ago was a relatively prosperous nation, could that happen in America?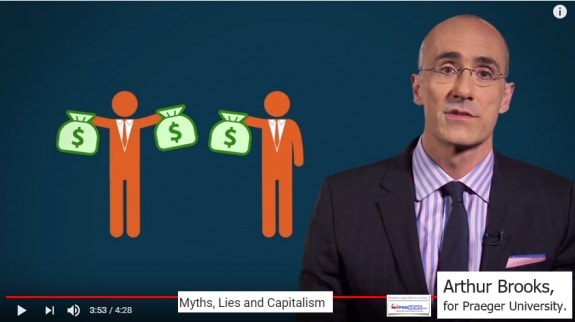 The Republic of California…and a Direct MH Connection
An industry professional with deep ties to the community sector of manufactured homes said this to MHProNews in a recently emailed statement. "California does not believe in property rights, plain and simple. We want your single family home rezoned multifamily, so you can't rebuild your dream home. What's yours is mine what's mine is mine."
Indeed, others in various parts of the country have told MHProNews something similar about their difficulties with local officials, and not always from so-called blue states.
Solutions?
If the roots of the problem are misinformation, isn't the only solution good information?
The parent company to MHProNews did a test, by hiring a millennial who was a Bernie Sanders supporter. While that person ultimately didn't work out as a team member, by providing that person who specific reading and viewing assignments, several mistaken economic and political notions where significantly modified.
That person's work product also improved as a result.
Just as many employers are finding it necessary to do remedial education and training, perhaps the same needs to be done for those workers who may hold to such demonstrably mistaken views.
MHProNews began a periodic series of reports some time ago that focused on general economic, political and other issues – for example, the minimum wage – and how that actually works in practice.

Only understanding and clear thinking can counteract propaganda and deception. Truth can and should prevail, but it will do so only if it is passed on, person to person. "We Provide, You Decide." © ## (News, analysis, and commentary.)
Related: For marketing, training and other MH Professional Services, click here.  Our thanks to those who directly or through social media have sent notes of appreciation for our coverage.
(Image credits are as shown above, and when provided by third parties, are shared under fair use guidelines.)

Submitted by Soheyla Kovach to the Daily Business News for MHProNews.com.