"The truth is, low-wage workers are making real gains in Seattle's labor market. In almost all categories of traditionally low-wage work, there are more employers in the market than at any time in the city's history."
– Quoted from UW minimum-wage study doesn't reflect reality of work in Seattle, posted in the Seattle Times  (1)
"It is a fact, an economic fact, that when you raise the minimum wage, the people that are hurt the worst are minorities and kids."
– U.S. Senator Rand Paul (2)
The minimum wage argument has been in full force on both sides of the coin for years now.  The issue of the minimum wage is tightly connected to affordable housing, and thus to manufactured housing professionals.  There are industry professionals who would run the spectrum on this topic.
The so-called "Fight for $15" movement has made this a hot-button issue.  Manufacturers and others have told MHProNews that getting cost-effective wages to do the work needed by the industry is an issue.
One factory builder for some time has had homes produced in Mexico, to the HUD Code Manufactured Housing standards.  They do so in part to get the labor cost for good labor down.
Another HUD Code home producer has told MHProNews that they import some of their components from China, which has nominally lower wages.  Again, they do so to give them a competitive advantage in the U.S. marketplace.  Note how that fact relates to the Daily Business News report, linked here.
Retailers and communities are no stranger to the issue of minimum wages either.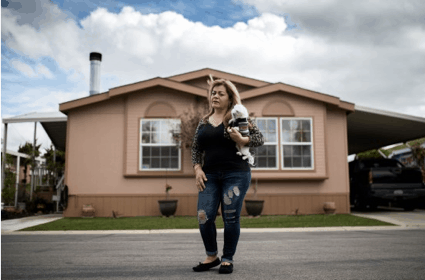 Time has passed since some cities and states implemented their own version of higher minimum wages, ones that differ and are 'more generous' from the federal wage laws.  Those experiences of the realities vs. the theories of minimum wage hikes is the hinge that this debate should turn on.
Because it is now possible to begin assessing the realities of wage laws, and how they impact businesses, jobs and workers.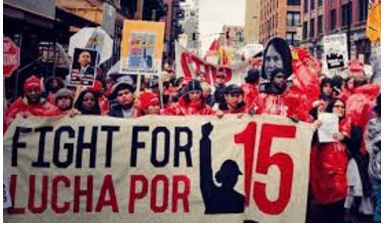 Two Sides of the "Fight for $15" Coin
Seattle, WA was the first city to enforce a $15 minimum wage, which is being phased in with gradual increases since the law was passed in 2014.
Depending on which reports and news outlets one reads, there are broadly two:
Seattle's Minimum Wage Experiment is a Complete Success
Seattle's Minimum Wage Experiment is a Total Failure
Without doing a formal study, using Google as a reference tool, there is not much obvious reporting on a middle ground between these two poles.
The above quote (1) from the Seattle Times (ST) is followed by the author talking about how there are more coffee shops, restaurants, and hotels than ever before in Seattle.
The Economist begins their review of the minimum wage discussion with the chart and the words below.
"JUST what is the point of a minimum wage? It seems a straightforward enough question to answer. Minimum wages are designed to protect vulnerable workers who might otherwise lack the bargaining power to command a decent pay package. They are a means to limit severe poverty among those in work." (3)
But is that claim spin? 
Rand Paul and those like him might answer that question, "yes."  Because the minimum wage is the start of the ladder, not a negotiating position for someone years into their career.  The video discussion below sheds light on the issue.
What the chart the Economist published (shown above) clearly reflects is what the University of Washington and other studies have shown.
Namely, that minimum wage is harmful to the very working class pool it claims to help. It may benefit some, but it does so at a cost to others in the labor force.
Further, it drives some marginal businesses, out of business, as the video discussion above suggests.  Note that even the progressive in this video admits they have to 'tinker with this' minimum wage law, and then he blows past his own admission to make a point that is not related to these actual case studies.
"You are entitled to your opinion. But you are not entitled to your own facts." – Daniel Patrick Monaghan (4).
The Trumponomics Approach to Raising Wages Without Harming Businesses
It is still just 6 months and a few days into the new administration. Consider President Trump's policy plans, and those who view the world in similar ways. They can be summarized like this:
1)    Cut off illegal immigration into the U.S. – effect, that will cut off a supply of even less than minimum wage workers.  The result?  Wage growth for others here legally.
2)    Slow/stop the H1B program, as much as possible – same as #1 the above.
3)    Get better trade deals (Bernie Sanders favored something similar) – cheap goods from overseas only hurts U.S. workers and businesses in that same field.
Those steps, says the president's backers, will allow the free market to work in the U.S. to the benefit of American businesses and workers alike. 
Two noted economists, not necessarily fans of the president, say this on the subject of the minimum wage.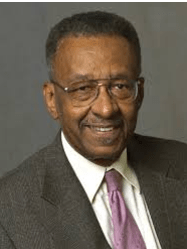 "Reduced employment opportunities is one effect of minimum wage legislation. The minimum wage law has imposed incalculable harm on the disadvantaged members of our society. The only moral thing to do is to repeal it." – Walter Williams, Ph.D. and economist from George Mason University. (5)
"The real minimum wage is zero: unemployment." Thomas Sowell, an economist from Stanford University, has said.
Sowell has an interesting way of phrasing a supposedly complex issue, and making it seem simple.  An example of that is the graphic of Sowell below, featuring a quote from him on another hot button topic.
"Much of the social history of the Western world, over the past three decades, has been a history of replacing what worked with what sounded good." Dr. Sowell has said.
"Unfortunately, the real minimum wage is always zero, regardless of the laws," Sowell said.
"…and that is the wage [zero] that many workers receive in the wake of the creation or escalation of a government-mandated minimum wage, because they lose their jobs or fail to find jobs when they enter the labor force. Making it illegal to pay less than a given amount does not make a worker's productivity worth that amount—and, if it is not, that worker is unlikely to be employed."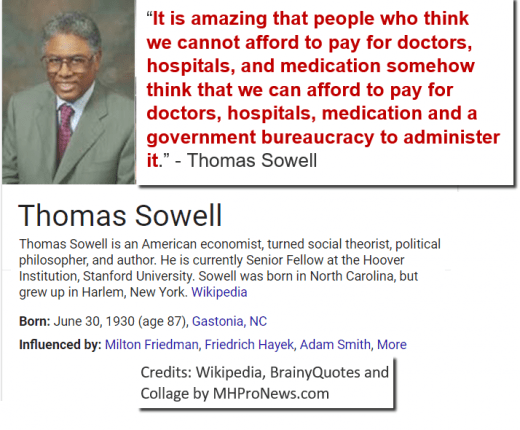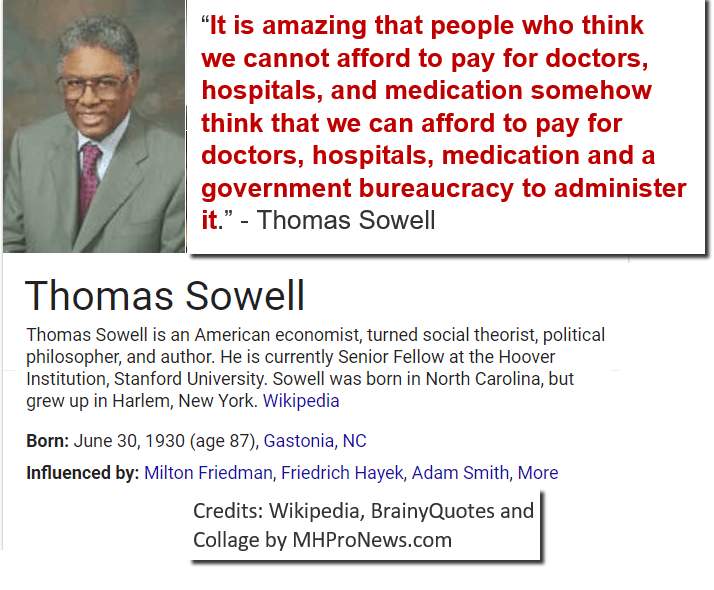 Back to the Factory Built Housing Industry…
One manufactured home producer is in an area where there is considerable demand for qualified labor.  The result?  They are paying more for good labor, and those better paid workers have created a more stable workforce.  That company in turn reportedly has lower service costs on their homes than competitors in that same market, and also reports higher customer satisfaction.
To summarize that differently, "The Law of Supply and Demand" works in labor, as in any other aspect of economic life.
Furthermore, when wages go up naturally – as opposed to artificially – that's also a signal that businesses are making enough to pay more.
Higher wages means more people can afford homes, and those include manufactured homes too.
Sowell's point – and the facts from the study above – explain why in New York City, they too have seen a similar problem from their minimum wage hike as Seattle has. (6)
In the state of Missouri, they are rolling back their minimum wage hike, because they have seen negative economic consequences from it. (7)
Dr. Sowell's point about nice sounding, compassionate words, vs. the economic realities that they cause are important to consider in this debate.
So too the unique – and supporters say, common sense – approach that President Trump is bringing to the worker issue debate.  The administration is trying to get to the root cause of the problems that cause lower employment and lower wages.  The facts – not feelings – ought to dictate the direction of the nation. ## (News, Analysis)
Footnotes & Sources:
(1)  http://www.seattletimes.com/opinion/uw-minimum-wage-study-doesnt-reflect-reality-of-work-in-seattle/
(2)  https://americanbridgepac.org/splash/the-real-rand-paul/minimum-wage/ 
(3) https://www.economist.com/news/finance-and-economics/21724802-two-studies-their-impact-seattle-reach-opposite-conclusions-economists-argue
(4) GoodReads.
(5) http://harmful.cat-v.org/economics/minimum-wage/ 
(6) https://townhall.com/tipsheet/mattvespa/2017/06/28/minimum-wage-hike-fever-also-screwed-new-yorks-workers-n2347478 
(7) The Daily Caller story – http://dailycaller.com/2017/07/06/missouri-rolling-back-minimum-wage-from-10-to-7-70-video/ – also pointed to a CBS News video on the topic.
8) Thomas Sowell, Basic Economics: A Citizen's Guide to the Economy
(Publisher's notes: Julia Granowicz popular first guest column with MHProNews has drawn a wide range of responses, it is linked here.
Analysis and other columns that reflect an opinion should be construed as that of the writer, and may or may not reflect the views of the publisher, or sponsors. Other well-reasoned perspectives are welcomed via iReportMHNewsTips@MHMSM.com.  Note, the author questioned her own headline and asked for help with it.  Editors historically pick the final headline. She submitted it as: "The Hope of Economic Freedom is Lost on Our Current Government.")
(Image credits are as shown above, and when provided by third parties, are shared under fair use guidelines.)
Submitted by Julia Granowicz to the Daily Business News for MHProNews.com.