A Nashville gas station showed a photo of Joe Biden's son Hunter getting high on crack. It is a viral meme that mocked the higher gas prices in the featured image above that spotlights the sobering reality of "inflation" under the new Biden-Harris 'leadership' that was featured by left-leaning Newsweek and others. As manufactured home professionals know, it is not just gas that is going higher, it is lumber, other commodities, and labor too.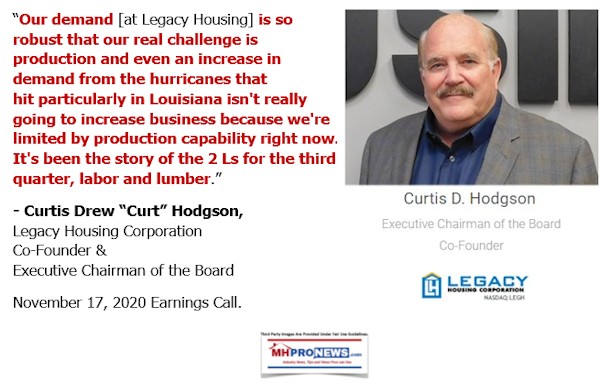 Left-leaning NPR previously gave cover to the Hunter Biden scandal by pointing out that Billy Carter – President Jimmy Carter's (D) brother – cashed in on his father's presidency too. Billy Carter, longtime MHProNews readers will recall, became a pitchman for a manufactured housing producer during part of his career. NPR did not mention that historic tidbit.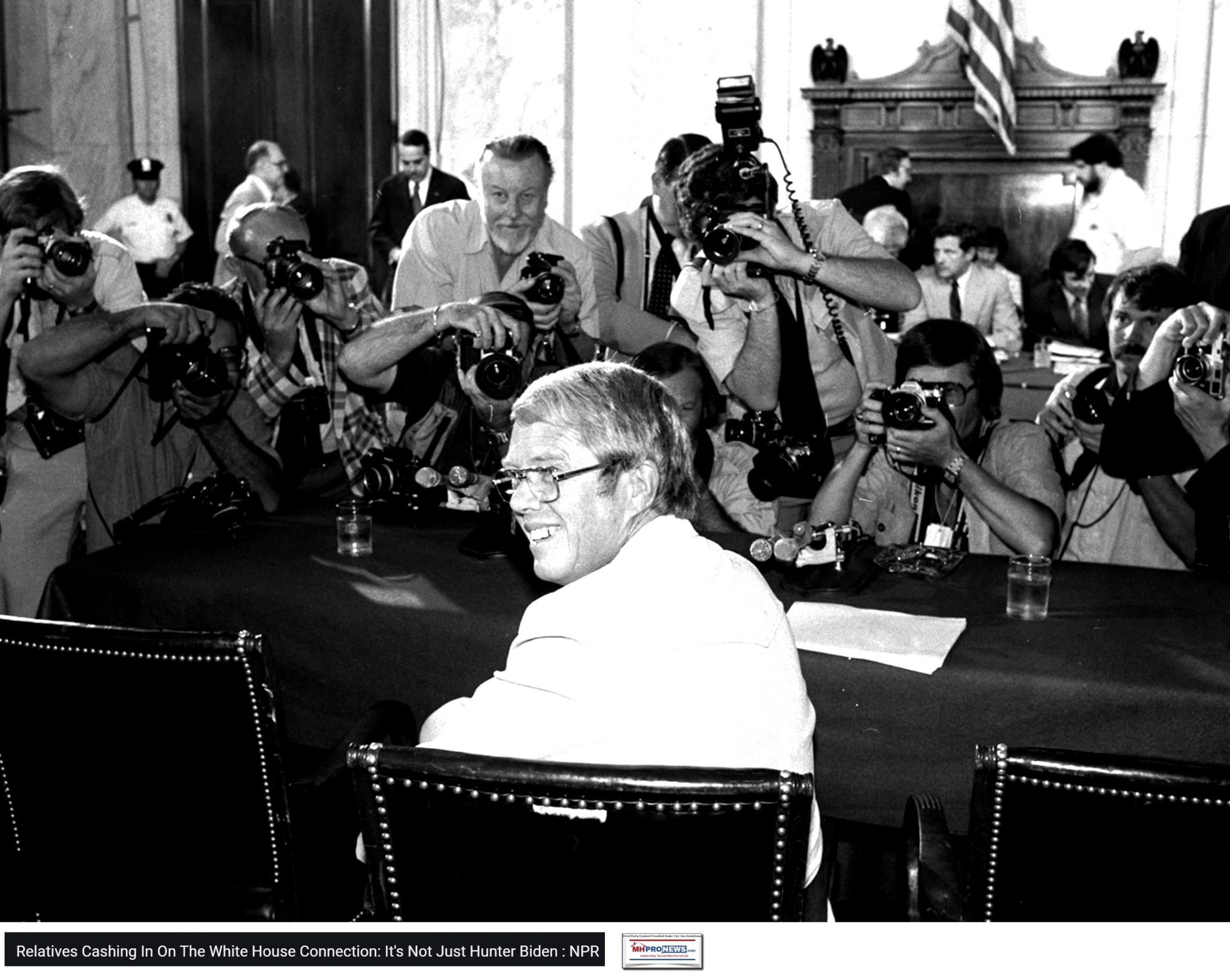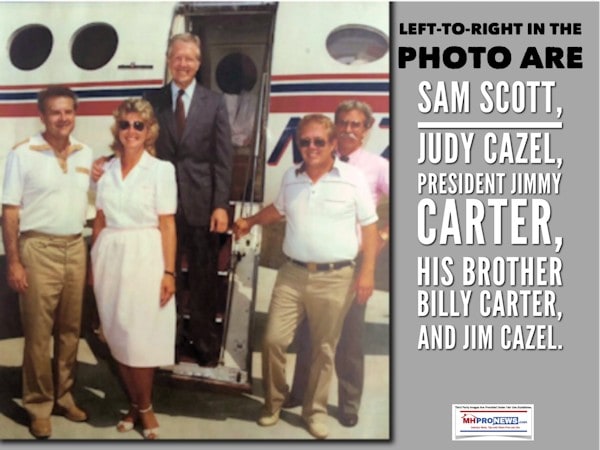 NPR did point out that Billy Carter's – and Hunter Biden's embarrassment – to their respective White House family leaders had a kind of parallel with George H.W. Bush and his son Neil during the Savings and Loan (S&L) scandal. Said NPR, "Neil had served on the board of Denver-based Silverado Savings and Loan, which went bankrupt, costing taxpayers more than $1 billion."
"Hunter Biden accepted a seat on the board of the Ukrainian gas company Burisma Holdings, reportedly for $50,000 a month, despite no experience in the energy business," said NPR, which added the following.
"There have always been special interests looking for a shortcut to get access to power, and they're betting that the benefit that they get from hiring that relative will get them access and influence," said Meredith McGehee, executive director of Issue One, a nonpartisan group that claims to seek a reduced role of money in politics.
So, NPR admitted that Hunter "cashed in" on his famous father's name and connections. But what they did is dilute the meaning of it with those other true-enough examples.
But what NPR failed to mention in that report is that Hunter, per Tony Bobulinski – a partner in the Biden Family pay-for-play schemes – was purportedly giving part of that money to his dad, Joe Biden. At least on the surface, that adds a problematic legal issue to the mix.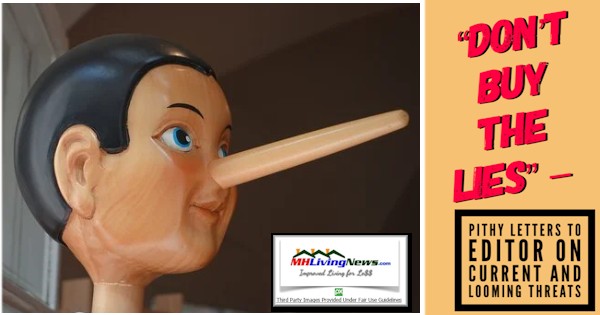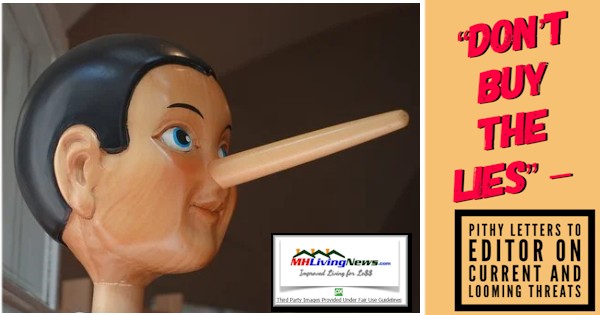 Put differently, Joe Biden was using a clever form of graft that seemingly kept himself at arm's length from the payoffs. That was accomplished by having his son Hunter, and his brother Jim Biden, get the payola. Yet, one or more messages from Hunter himself seem to suggest that his father was getting part of the take, which apparently corroborated Bobulinski's claim. To the point of that Nashville sign and higher gas prices, MHProNews warned about that on October 23, 2020 – pre-election – in the report linked below.
Oil Man Harold Hamm Warns "Six-dollar gas is coming if Trump isn't re-elected," Trump-Biden Debate Highlights, plus Manufactured Home Investing Stock Updates
So, the Billy Carter and Neil Bush cases may seem troubling. But the Hunter Biden allegations are arguably worse in as much as the father was and/or is purportedly profiting from the insider influence peddling.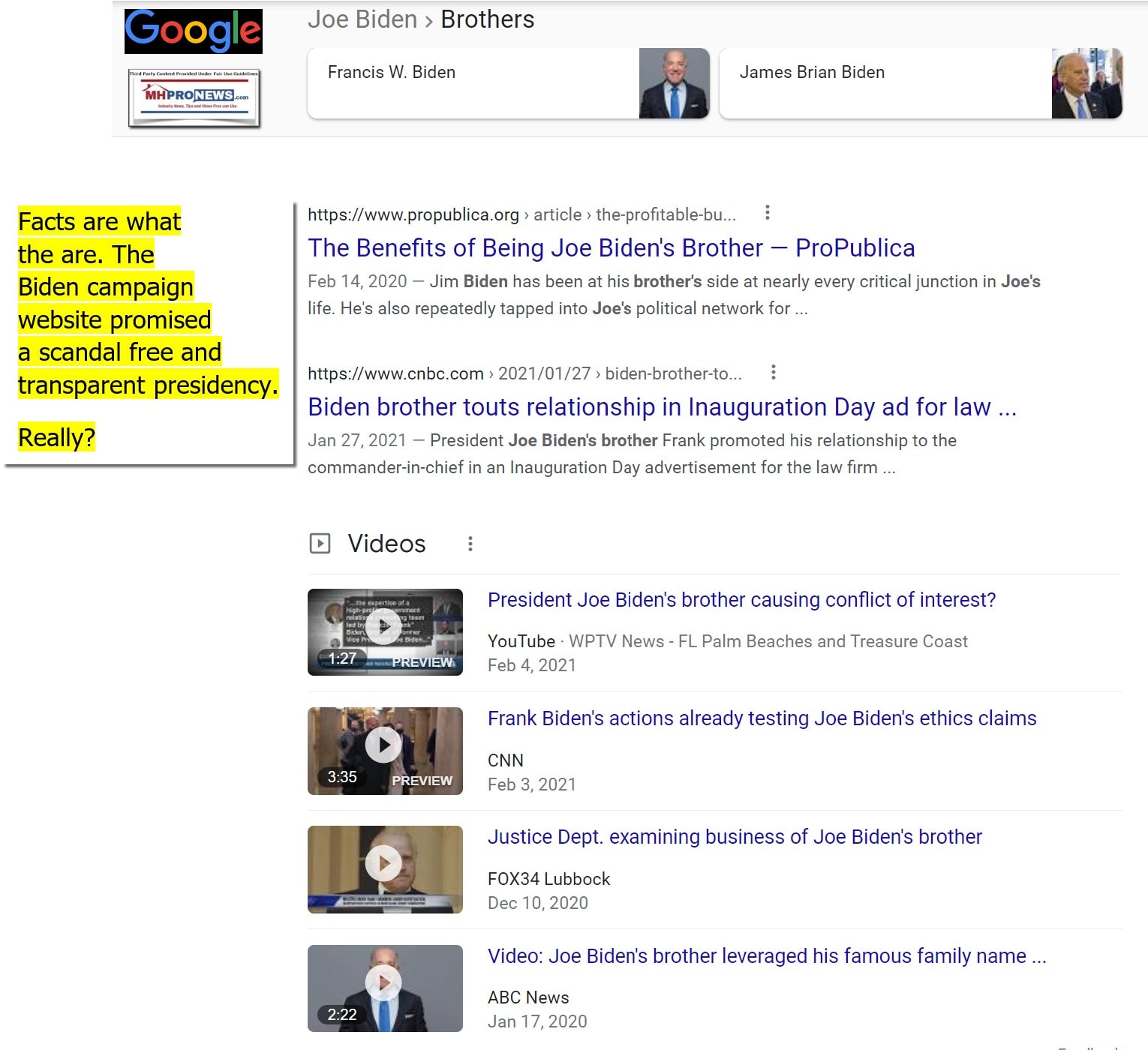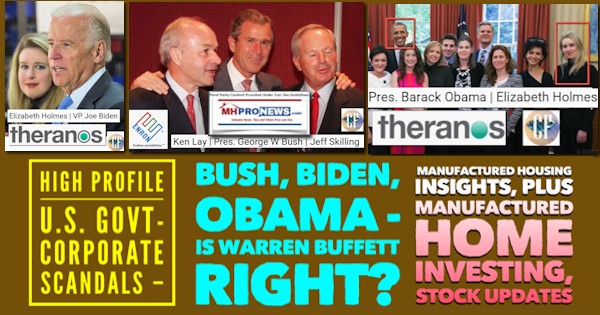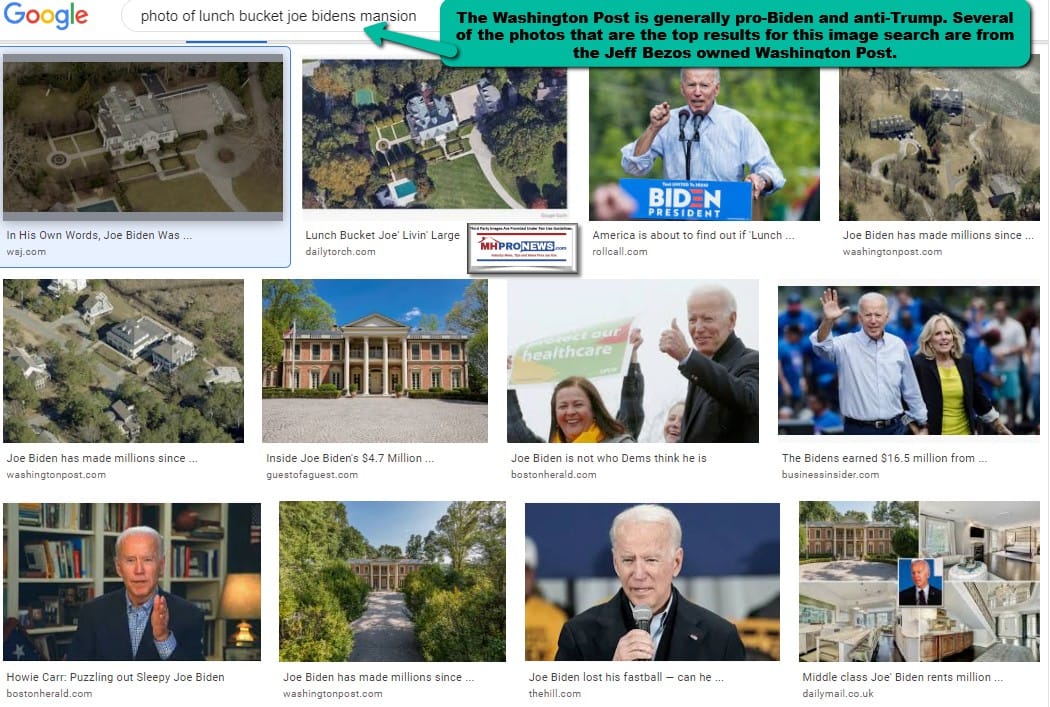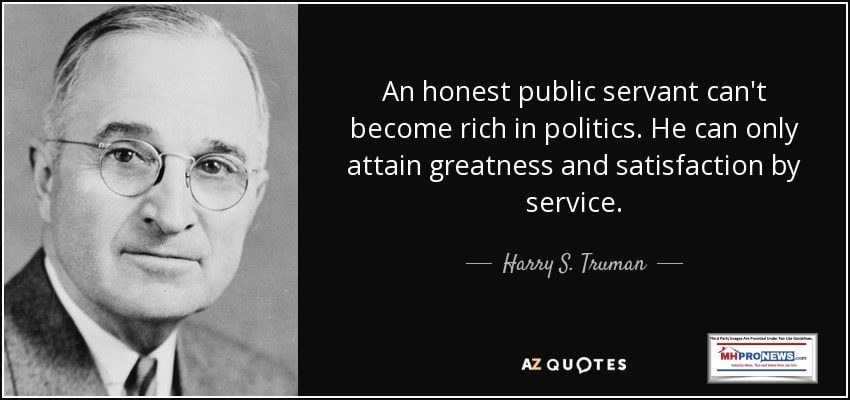 Facts are what they are.
Facts may be inconvenient or troubling.
But objective thinkers look to facts and evidence. To believe in fantasy, spin, paltering, or other deceptions is to invite building on sand that may suddenly shift and give way.  The weaponization of various aspects of government is on full display for those willing to see.

As WMAL's journalist-turned satirical pundit Chris Plante said this morning, the green lighting of the Russian pipeline into Germany by the Biden regime is a stark contrast to Biden cancelling pipelines in the U.S. It is obviously self-contradictory behavior. That behavior undermines American energy independence. It is harmful to those who are the most vulnerable to price hikes. Meaning, the lower incomes bear the brunt of such avoidable higher costs. Yet, the Biden-Harris regime continues to push such disruptive policies that arguably benefit the few at significant cost and risks to smaller business and the many.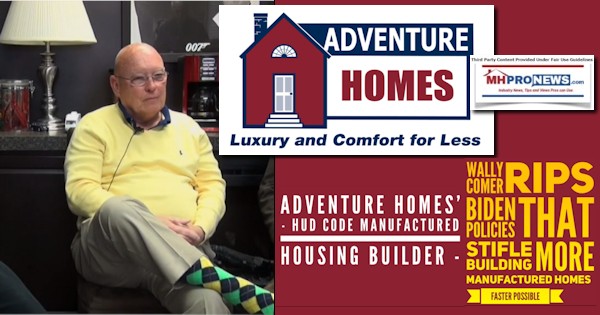 Plante speculated that this may have been the payoff to the ex-mayor of Moscow's wife, who paid Biden's son Hunter millions. "Biden is Putin's poodle," said Plante, who said giving the Russian pipeline the green light was a "big wet kiss" from Biden to Putin. Plante, tongue and cheek, periodically refers to the current White House team as "the Biden Harris Junta." He says that millions are in the process of "waking up" to the fact that the Democratic party has been taken over "by the hard left," "the international left." Obviously, there are exceptions to that claim.
The report below courtesy of the WND News Center refers to Joe Biden as the president, a topic that is in dispute. Yes, the former Vice President Biden was sworn into office. Yes, Biden is the White House Resident. Yes, calling in Biden's legitimacy as 'president' is a good way of getting banned or shadow banned by Big Tech. So, their verbiage is understandable, albeit not the position of this publication.
With that disclosure, more MHProNews analysis will follow the WND report. It is worth mentioning that Jonathan Turley, cited below, is viewed as pro-Democrat, which Law and Crime plus other sources, say Turley reportedly voted for Democrats Bill Clinton and Barack Obama for president. With no further adieu, the WND report. The insights below may be stunning to those who believe in Biden's "lunch bucket Joe" image.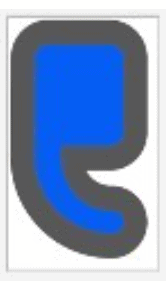 Hunter Biden's deal-planning spanned the globe, report charges
Active in Saudi Arabia, Greece, Romania, Mexico, Oman, West Indies
By Bob Unruh courtesy of the WND News Center – used with permission. Published May 18, 2021
Hunter Biden's business dealings in Ukraine and China have been well-reported. Ukraine was where he landed a deal paying him tens of thousands of dollars a month just to sit on the board of a gas company under investigation for corruption. China was where he was working to set up a variety of operations, according to documents that have been revealed about his deals.
But he also had his fingers in pies in Saudi Arabia, United Arab Emirates, Ivory Coast, Oman, West Indies, Qatar, Taiwan, Colombia, Zimbabwe, Greece, Romania and Mexico, a new investigation by Daily Wire has revealed.
His dealings remain newsworthy because of what was uncovered after the 2020 presidential election, narrowly won by his father, Joe Biden.
A post-election survey found more than one-third of voters who chose Joe Biden were not aware of the evidence linking the former vice president to corrupt financial dealings with China through his son Hunter. Had they known, according to the survey commissioned by the Media Research Center, President Trump would have won at least 289 Electoral College votes.
The Daily Wire said it reviewed emails about Hunter Biden's business dealings that involved dozens of foreign countries, "often corrupt backwaters," where he often invoked "official channels like ambassadors."
Hunter Biden's operations already have proven scandalous for his father, who, while vice president for Barack Obama, openly boasted of threatening to withhold $1 billion in U.S. aid if Ukraine's president did not fire the country's top prosecutor, Victor Shokin, who at the time was investigating Burisma, the company employing Hunter Biden, for corruption.
A French website reported Shokin later filed a criminal complaint naming Joe Biden and accusing him of committing a "criminal offense" in his campaign to get Shokin fired.
The Daily Wire report explained it was through Hunter Biden's Rosemont Seneca company that he reached around the globe.
For instance, Joe Biden's brother Jim wrote to Hunter about the chance for profit by being a middleman in an "oil deal" with Carlos Slim, the richest man in Mexico.
Jim Biden had written, "Have a very real deal with Pemex (Carlos slim) need financing literally for a few days to a week. Have the seller (refinery /slims) and buyer major being delivered from pipeline in ( h/ USA) Nothing is simple but this comes very close. As always the devil is in the detail! Any interest on the long skirts part?… Hang in there hunt !! You can and will hold it together. I'm very proud of you and have the greatest respect, you are a great, sweet and incredibly strong man. I know you pal!!!"
The connections go further, too, with the emails revealing Hunter Biden told Mexican billionaire Miguel Aleman Magnani that he had set up a meeting between "Carlos" and Magnani's father.
The report detailed that Hunter allowed the Biden name to be used in a bid to buy a Greek railroad. The Daily Wire said David C. Wittig, a Wall Street banker, told Hunter, "a call from the ambassador in Athens will go along (sic) way in getting us this deal. Give this some thought."
After being asked about having his name used, Hunter Biden said, "I have no objection and I am in fact comfortable with you using my name in connection with this project. Obviously we have many details to iron out before we finalize any proposal, but I am very interested participating in the project."
The Daily Wire said Hunter had been informed of "potential gold mine opportunities in Zimbabwe" and Hunter asked for a telephone call, and forwarded the details to his uncle, Jim.
"One email appeared to mention Taiwan, the subject of a long-running dispute with China, to an associate while he was in China. Jim Bulger, a business partner of Hunter's, appeared to assume the Chinese Communist Party might intercept the traffic," the Daily Wire revealed.
"We cannot mention Taiwan in emails to Michael he is in Beijing for Gods sake… Please get him to not discuss our business with any Taiwanese person at all," Bulger wrote.
Hunter also once got a message that the Qatari ambassador "called to speak with you," and later was told by a partner of a plan to link the Arab country with U.S. labor unions.
Then a onetime Teamsters lobbyist told Hunter that the Saudis "are going to invest $400 BILLION in nuclear and clean energy."
"Granted its (sic) going to be done in their country but there will be a lot of opportunity for American Companies. Should talk about this," he wrote.
Several discussions included Joe Biden. For example, regarding a deal in the West Indies, Sean Conlon told Hunter, "We need to get these guys to an event or something where they get to just formally meet your Dad . For follow on they can talk to Chief of Staff . Let me know how soon we can do that. V brief. If Nagi gets that done we get more bonds to move. Regards your hard working partner in Positano! Sean."
Hunter's angry response was: ""WTF is he talking about. Mtg with JRB chief of staff???? Tell him I'll do the mtg."
A DailyMail.com recently also took a look at Hunter Biden's emails and emphasized "flirty messages" from Hunter Biden's Chinese-American secretary that were discovered on the laptop of the president's son.
And it certainly appears that the 29-year-old woman may be a "honey pot" of the kind planted by the Chinese Communist Party to draw in Rep. Eric Swalwell, D-Calif.
But legal scholar Jonathan Turley, who weighs in regularly on the daily news on his website, said that of greater interest to him is the mention in the newly reported messages of mass transfers of money to Hunter Biden and his uncle, Jim Biden.
In addition, Turley spotlighted the role of Patrick Ho, secretary general of Chinese oil giant CEFC, who was later indicted and has been connected with Chinese intelligence.
A former Hunter Biden business partner in the CEFC deal, Tony Bobulinski, has claimed he met twice with Joe Biden to discuss the firm, which has ties to the Communist Party, and "what I was doing with his family's name." Bobulinski said it was clear that the former vice president was in charge of the family business enterprise trading off his status.
Turley noted that the young Chinese assistant supplied to Hunter, JiaQi Bao, made revealing statements about the fluid expense accounts and level of support given Hunter by the Chinese.
Chinese intelligence may have planted the woman to create a sexual relationship that could be used to influence Hunter and ultimately his father, Turley said, much like the scandal involving Rep. Eric Swalwell's intimate relationship with an alleged Chinese spy.
It's not clear that Biden had an intimate relationship with Bao, but her messages discuss Chinese accounts that appeared to have cash available to Biden to use at his discretion.
One section of a message to Hunter Biden, titled "Keep As Much Money As You Can," urges him to drain cash accounts, including from a joint corporate vehicle with CEFC called Hudson West.
— ## —
In a release to MHProNews, the left-leaning Boston Globe said: "New York Attorney General Letitia James's investigation into the Trump Organization is now considered a criminal matter, James's office said Tuesday night, noting that officials with the former president's company were recently apprised of the development.
"We have informed the Trump Organization that our investigation into the company is no longer purely civil in nature," said Fabien Levy, a spokesperson for the attorney general's office. "We are now actively investigating the Trump Organization in a criminal capacity, along with the Manhattan DA. We have no additional comment at this time.""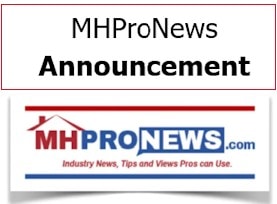 There are few things that the Civic Alliance and related powers that be that prop-up Joe Biden fear more than the Trump family, and President Donald J. Trump. The announcement by Democrat Attorney General Letitia James harkens back to Lavrentiy Beria, who was the head of Communist dictator Joseph Stalin's Soviet Union's secret police. Beria infamously said, "Show me the man, and I'll show you the crime."  That may in time be revealed as the latest 'witch hunt' that aims to dog and knee cap their primary political nemesis.
To Beria's Stalinist claim, it bears mention that in the United States, there are now so many laws on the books that the odds are good that you and others that you know are in violation of several. MHProNews has reported on that concern before. That is problematic for those out of power, because police and judicial power can be welded against political opponents.
Democrat and constitutional law professor Alan Dershowitz accused other Democrats of "channeling" Beria, a reference to the quote "Show me the man, and I'll show you the crime." One must keep in mind if the powers that be can use such tactics against a duly elected president and his family, they can do this to anyone.  Without weighing in on whatever it is that the AG James is alluding to, it must be noted that unlike Clinton, Gore, Bush, Cheney, Obama, Biden, or others who served in the White House since the late 1990s into the 2000s, President Trump's business interests declined while he served in office. That is per Forbes, which says the Trump interests declined by some $700 million dollars. If that is 'corruption,' it is not successful corruption. The 45th president also gave away his $400,000 annual presidential salary while in office too.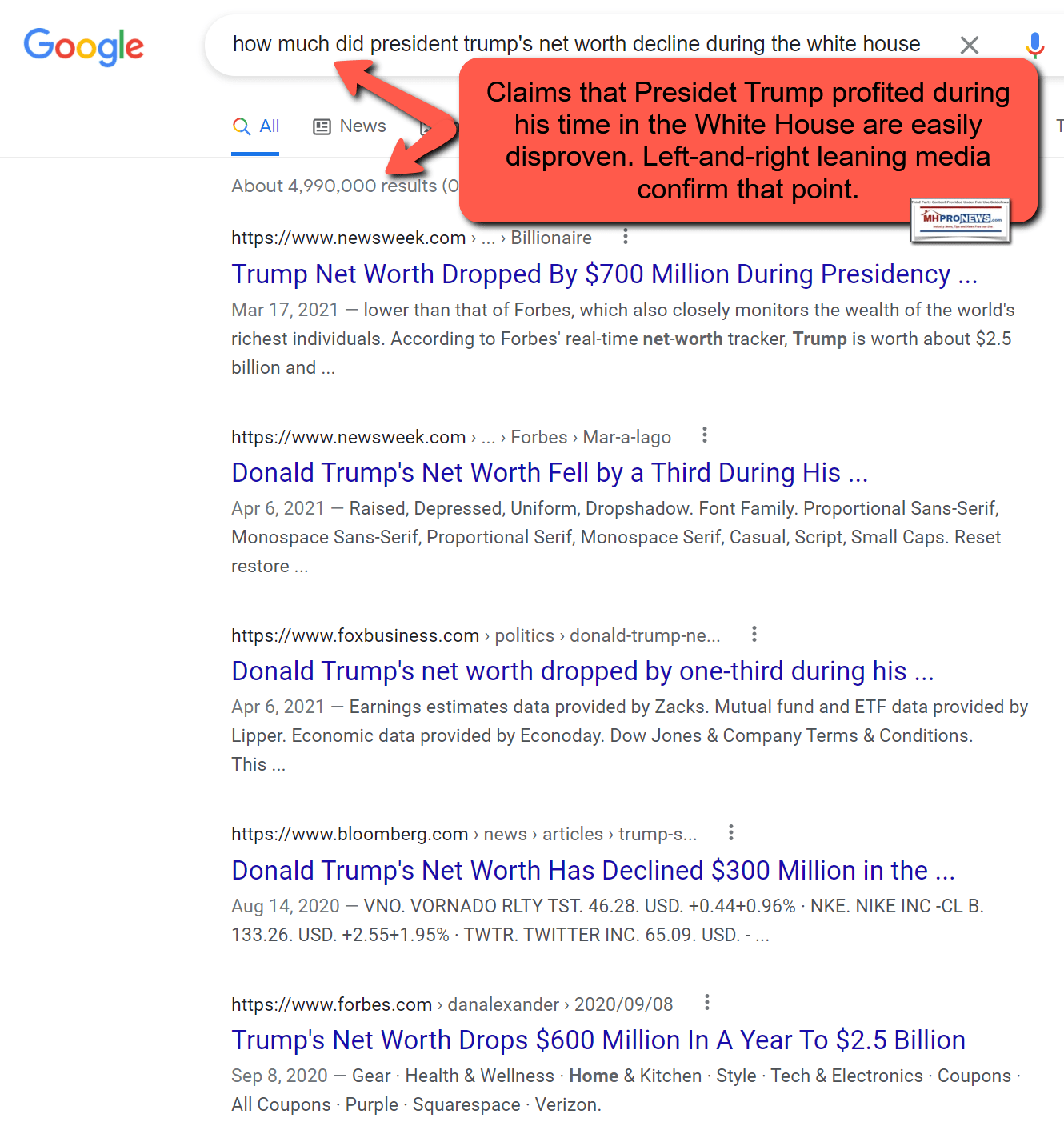 Perhaps half the country doubt or dispute that Biden won legitimately. Unlike the charges of election fraud in the 1960 U.S. presidential election, then Senator John F. Kennedy won a narrow victory over then Vice President Richard M. Nixon, purportedly based upon voter fraud in key areas. But Nixon conceded to Kennedy 'for the good of the country.' Right or wrong, Kennedy was thereby sworn into office.
Compare Kennedy to Biden, and one can embrace President Kennedy hands down.
By contrast, in the 2020 election, former VP Biden was arguably installed into office. Who says? Ironically, the 1,000 plus corporate, media, big tech, and nonprofits who are part of the Civic Alliance. The Civic Alliance – in their own published statements – have made claim of getting Biden installed and President Trump removed from office quite public.
But the 45th President, Donald J. Trump – unlike Richard Nixon – has never conceded. Rather, he continues to say that what has occurred is "the crime of the century." Perhaps the broader point is that the Wuhan Coronavirus was weaponized in several ways, and as part of that "crime of the century" the 45th president was in fact removed, while the powers that be grew wildly more wealthy.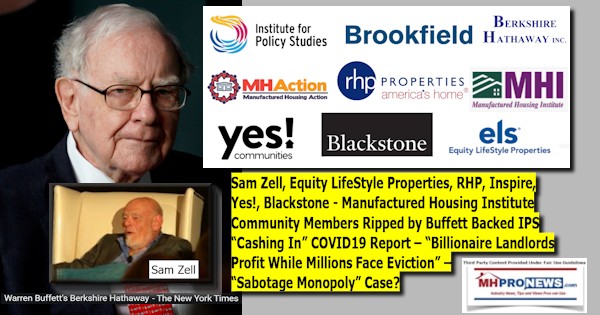 On Saturday, 5.15.2021, the 45th President posted this on his website: "As our Country is being destroyed, both inside and out, the Presidential Election of 2020 will go down as THE CRIME OF THE CENTURY!" While that may be New York style hyperbole, if it is election fraud sufficient to change the outcome is proven to be true, then stealing the 2020 election certainly should be in the running for what was the most significant impact of what Democrat Robert F. Kennedy Jr has called the "COVID Coup." As Kennedy observed, a trillion dollars of wealth was transferred to those who for the most part backed Joe Biden. Coincidence?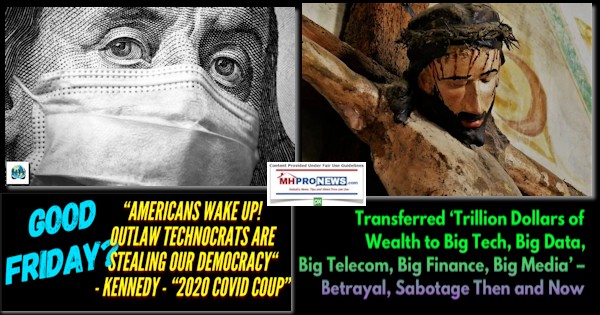 The above and what follows are from President Trump's website.
"Wall Street Journal has reported (they finally got something right), that 2020 was the "Worst Presidential Poll Miss in 40 Years." The public opinion surveys ahead of the 2020 Presidential Election were the most inaccurate ever, according to a major polling panel. This was done purposely. The polls were a joke. I won States in a landslide that I was predicted to lose days before the election. Other states had me purposely so far down that it would force people, even fans, to say "Let's stay home Darling. We love our President, but he can't win." And then I would win those states or at least come very close. In one state that I actually won, but the results were rigged, ABC and the Washington Post had me down by 17 points. Even the rigged final result was extremely close. It's called SUPPRESSION POLLING and it should be illegal. These are crooked, disgusting, and very dishonest media outlets and they know exactly what they are doing. The 2020 Presidential Election was, by far, the greatest Election Fraud in the history of our Country. The good news is, the American people get it and the truth is rapidly coming out! Had Mike Pence had the courage to send the Electoral College vote back to states for recertification, and had Mitch McConnell fought for us instead of being the weak and pathetic leader he is, we would right now have a Republican President who would be VETOING the horrific Socialistic Bills that are rapidly going through Congress, including Open Borders, High Taxes, Massive Regulations, and so much else!"
To learn more, see the linked reports. But the bottom line is that the evidence of Biden family corruption that has often benefited the Civic Alliance, which includes players like Berkshire Hathaway owned brands, is growing. To ignore those realities is akin to denying gravity.
Notice: While the layout of this business daily report has recently been modified, several elements of the basic concepts used previously are still the same. The headlines that follow below can be reviewed at a glance to save time while providing insights across the left-right media divide. Additionally, those headlines often provide clues as to possible 'market moving' reports.
Market Indicator Closing Summaries – Yahoo Finance Closing Tickers on MHProNews…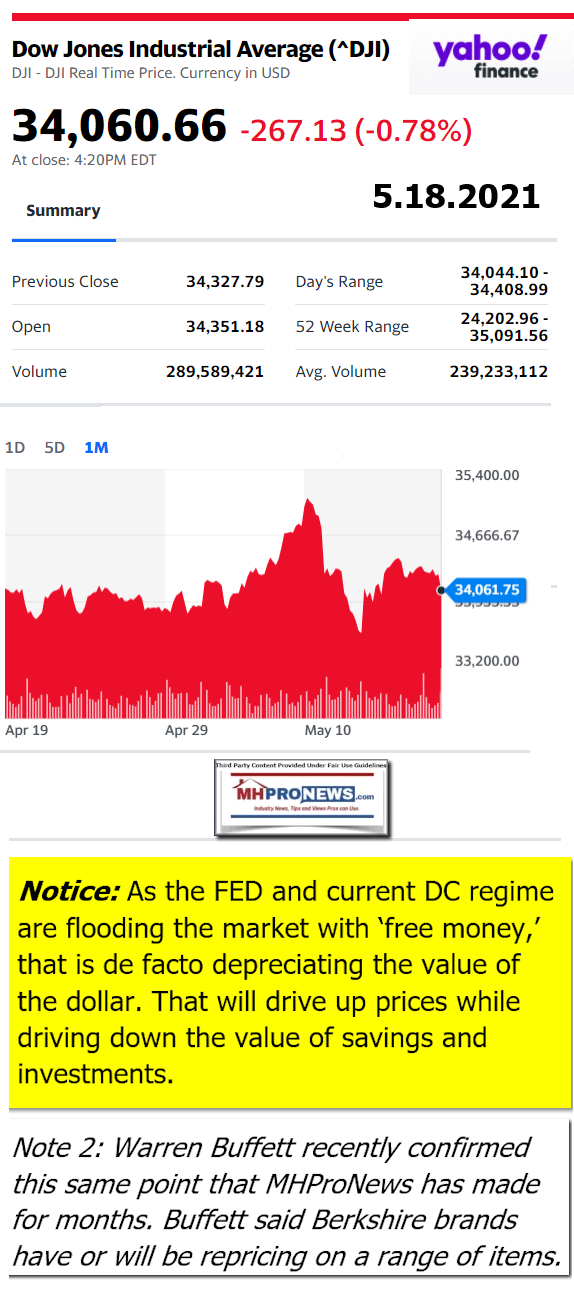 Headlines from left-of-center CNN Business = evening of 5.18.2021

Surprising allies
NAAGA
Blacks, Asian Americans and women join the fight against gun control
Bank of America will raise its hourly minimum wage to $25 by 2025
Walmart got a boost from shoppers spending their stimulus checks
OPINION The truth: Raising the capital gains tax won't hurt the economy
Oil and gas companies warned to stop drilling now to save the planet
Cryptocurrency consultants are having a moment
Prophetic investor from 'The Big Short' is betting against Tesla
Amazon reportedly in talks to buy MGM as streaming wars intensify
Target, Home Depot, CVS and other stores drop face mask requirements
A lot is riding on America's first major offshore wind farm
Foxconn's electric car ambitions just got another boost with Stellantis deal
Every Lamborghini will have an electric motor by 2024
Your teen wants to be the next Warren Buffett? Fidelity has an account for that
This supplement can reduce methane in cows and make farmers money
Customers wearing protective masks wait to check out at a Home Depot store in Pleasanton, California, U.S., on Monday, Feb. 22, 2021. Home Depot Inc. is expected to release earnings figures on February 23.
The housing market is still red hot despite lumber shortage
A Waymo self-driving car fumbles In a construction zone.
Traffic cones confused a Waymo self-driving car. Then things got worse
Colleen Callery, marketing director at Books are Magic, outside of the store in Brooklyn, NY, on Friday May 14, 2021.
Small business owners react to lifting of mask restrictions
WORK-LIFE BALANCE
Commuters arrive from Metro North Railroad trains in Grand Central Station in New York October 19, 2016.
Long working hours kill hundreds of thousands of people a year, WHO says
These companies want everyone back in the office
How Wall Street is fighting Covid burnout
Why LinkedIn gave workers a week off
What happened when one company switched to a four-day workweek
A NEW STREAMING GOLIATH
Joanna Gaines visiting husband Chip to check in on the progression of the Pahmiyer home, as seen on Fixer Upper. Joanna points out where is she wanting to put a fireplace.
Why you should care about Discovery and WarnerMedia merging
AT&T to combine WarnerMedia with Discovery
Discovery and AT&T CEOs discuss media deal
What the deal means for CNN and Jeff Zucker
The next phase of the streaming wars is all about scale
Headlines from right-of-center Newsmax – evening of 5.18.2021
Conservative Group Running Ads Targeting CEOs of 'Woke' Corporations
A new campaign challenging corporate "wokeness" is focusing on Nike, Coca-Cola and American Airlines.
The Biden Presidency
Israel, Gaza Violence Overshadows Biden's Domestic Plans
Justice Breyer's Book to Come Out Against Dems Packing Court
WH Defending Trump's Journalist Phone Records Grab
Blinken Brings Biden's Anti-Trump Climate Policy to Iceland
Biden Proposes Billions to Improve Cybersecurity
Biden Expands Legal Services for Poor, Minorities
Biden to Pitch $174B Electric Vehicle Plan in Michigan
Biden, Under Pressure to Act, Raises Cease-fire and Civilian Toll in Call to Netanyahu
Conservative Group Running Ads Targeting CEOs of 'Woke' Corporations
A new campaign challenging corporate "wokeness" is focusing on Nike, Coca-Cola and American Airlines.
The Biden Presidency
Israel, Gaza Violence Overshadows Biden's Domestic Plans
Justice Breyer's Book to Come Out Against Dems Packing Court
WH Defending Trump's Journalist Phone Records Grab
Blinken Brings Biden's Anti-Trump Climate Policy to Iceland
Biden Proposes Billions to Improve Cybersecurity
Biden Expands Legal Services for Poor, Minorities
Biden to Pitch $174B Electric Vehicle Plan in Michigan
Biden, Under Pressure to Act, Raises Cease-fire and Civilian Toll in Call to Netanyahu
More The Biden Presidency
Newsfront
Colonial Pipeline Has Brief Network Outage Amid Efforts to Harden System
Colonial Pipeline Has Brief Network Outage Amid Efforts to Harden System
Colonial Pipeline's scheduling system was back online on Tuesday after a network outage earlier in the day prevented customers from planning upcoming shipments on the biggest U.S. fuel pipeline, two market sources familiar with the matter said.The disruption was caused by…
S&P 500 Backs Off on Weak Telecom Stocks Despite Strong Retail Earnings
S. stocks ended lower on Tuesday as a sharp decline in telecom
Rocket From Gaza Kills 2; Israel Topples 6-Story Building
A rocket launched from Gaza killed two Thai workers in southern
Related
Biden Raises Cease-Fire in Call to Netanyahu
Former Amb. Oren to Newsmax TV: Renewed Iran Nuke Deal Will Put Mideast on 'Path to War'
Richard Haass: US Must Take Lead in Israel/Hamas Cease-Fire Resolution
Chris Murphy: US Must Use 'Heavier Hand' for Israel/Hamas Cease-Fire
Celebrities Call For Middle East Peace in Open Letter
Congress Takes Out Patent on Bible Secret
SPONSOR: Secular and fake news pundits want to censor it. Watch now
Pentagon Plans to Monitor Troops' Social Media For Extremism
Israel, Gaza Violence Overshadows Biden's Domestic Plans
President Joe Biden's efforts to spotlight his big infrastructure
Supreme Court Could Upend Nearly 50 Years of Abortion Law
Republican-led states have been pushing a staggering number of
McCarthy Opposes Bipartisan Capitol Attack Commission
House Minority Leader Kevin McCarthy, R-Calif., announced on Tuesday
NEWSMAX PODCAST: 'Part Time' President Joe Biden
PLUS: Newsmax's Cortez & Pellegrino talk to Eric Trump
Discover the Science Behind the Memory Enhancer That's Like no Other
SPONSOR: Discover 1 key formula that helps tackle memory loss
Charles Grodin, 'Midnight Run,' 'Heartbreak Kid' Star, Dies
Charles Grodin, the offbeat actor and writer who scored as a newlywed
Andrew Giuliani to Newsmax TV: I'll Turn Things Around in NY
Andrew Giuliani vowed, during a Tuesday interview on Newsmax TV, to
Related
Andrew Giuliani Thinks SNL 1994 Spoof of Him by Chris Farley Was 'Hysterical'
Colon Cancer Screening Should Start at Age 45: Task Force
Routine screening for colorectal cancer in people deemed at average
Chris Christie: '24 Presidential Run Won't Depend on Trump's Plans
Former Gov. Chris Christie, R-N.J., said he will decide on a 2024
$39 CBD Gummy Soothes Pain, Arthritis, Stress & Helps You Sleep
Prosecutor: Fatal North Carolina Shooting of Andrew Brown Was Justified
The fatal shooting of Andrew Brown, a Black man killed last month by
California Churches Win Fight Against Newsom's COVID Restrictions
A California District judge has issued a statewide permanent
Discontinued: Costco Won't Sell These Items Anymore
FAA Administrator: We're Not Putting Up With Unruly Airline Passengers
The Federal Aviation Administration has come down hard on unruly
Veep Kamala Harris Keeps Enemies List of Journalists: Report
Vice President Kamala Harris keeps a list of reporters and other
Amazon in Talks to Buy MGM, Add to Frenzy for Streaming Assets
com Inc.'s potential acquisition of Metro-Goldwyn-Mayer would
Heavy Rain Rolls Through Southern Louisiana
Roads were flooded, water-logged cars abandoned in the street, and
China Is Resisting Bilateral Nuclear Talks, US Says
China is resisting bilateral talks with the United States on nuclear
Vatican's New Hong Kong Bishop Calls for Religious Freedom
Hong Kong's newly appointed Catholic bishop on Tuesday said he would
Grenell to Newsmax TV: 'Woke' Undermines US Security
Wokeness "is undermining our military and our ability to protect
Cheney Won't Back McCarthy for Speaker If GOP Takes House
Former House Republican conference chair Rep. Liz Cheney, R-Wyo.,
Senate Discards Masks, House Mandate Remains
The United States Senate on Monday joined a large swath of the nation
Eric Trump to Newsmax TV: 'Void in Leadership, Vacuum in DC'
Americans are getting a first-hand look at what life is like
Lawyer: Oldest Guantanamo Inmate's Release Approved
A 73-year-old from Pakistan who is the oldest prisoner at the
The Show Is Back On: London Theaters Reopen to Live Audiences
Lining up outside London's St Martin's theater, actress Barbara
Giuliani Attorneys Say Feds Treat Him Like Cartel Head or Terrorist
Attorneys for former New York City Mayor Rudy Giuliani has officially
World's Oranges, Coffee at Risk as Brazil Runs Out of Water
Brazil, the world's biggest exporter of coffee, sugar and orange
Texas Reports No COVID Deaths Two Months After Biden 'Neanderthal' Slam
Two months after President Joe Biden lambasted rollbacks of COVID
Manchin, Murkowski Unite in Call to Rewrite Voting Rights Act
Democratic Sen. Joe Manchin of West Virginia and GOP Sen. Lisa
20 Places Where $150k Is More Than Enough To Retire
More Newsfront
Finance
Bank of America Raising US Minimum Wage to $25 by 2025
Bank of America Corp said on Tuesday it plans to raise its minimum wage for U.S. workers to $25 an hour by 2025, the latest in a series of major employers promising more pay to workers after a year of pandemic risks.
Apple Censors Apps, Stores Data Locally in China: Report
Google to Unveil New Features to Keep Users Clicking After Lockdown
19 AGs Urge Biden to Reinstate Keystone XL After Colonial Hack
Gallup: Half of US Employees Work From Home, Many Want to Stay Remote
More Finance
Health
Scientists Say It's Time to Forget About Herd Immunity
The U.S. has been fixated on achieving herd immunity – getting enough Americans infected by COVID-19 virus or vaccinated against the virus to quell the pandemic. But now scientists believe that herd immunity is a pipe dream that will not end COVID-19.
Starting Rehab Earlier Boosts Outcomes for Heart Failure Patients
Beta-Blocker Heart Meds Might Lower Arthritis Risk
Former FDA Head Gottlieb: 'By June, Nobody Is Going to Be Wearing Masks'
5 Top Supplements That Fight Aging
Manufactured Housing Industry Investments Connected Closing Equities Tickers
Some of these firms invest in manufactured housing, or are otherwise connected, but may do other forms of investing or business activities too.
NOTE: The chart below includes the Canadian stock, ECN, which purchased Triad Financial Services, a manufactured home industry lender
NOTE: Drew changed its name and trading symbol at the end of 2016 to Lippert (LCII).
NOTE: Deer Valley was largely taken private, say company insiders in a message to MHProNews on 12.15.2020, but there are still some outstanding shares of  the stock from the days when it was a publicly traded firm.  Thus, there is still periodic activity on DVLY.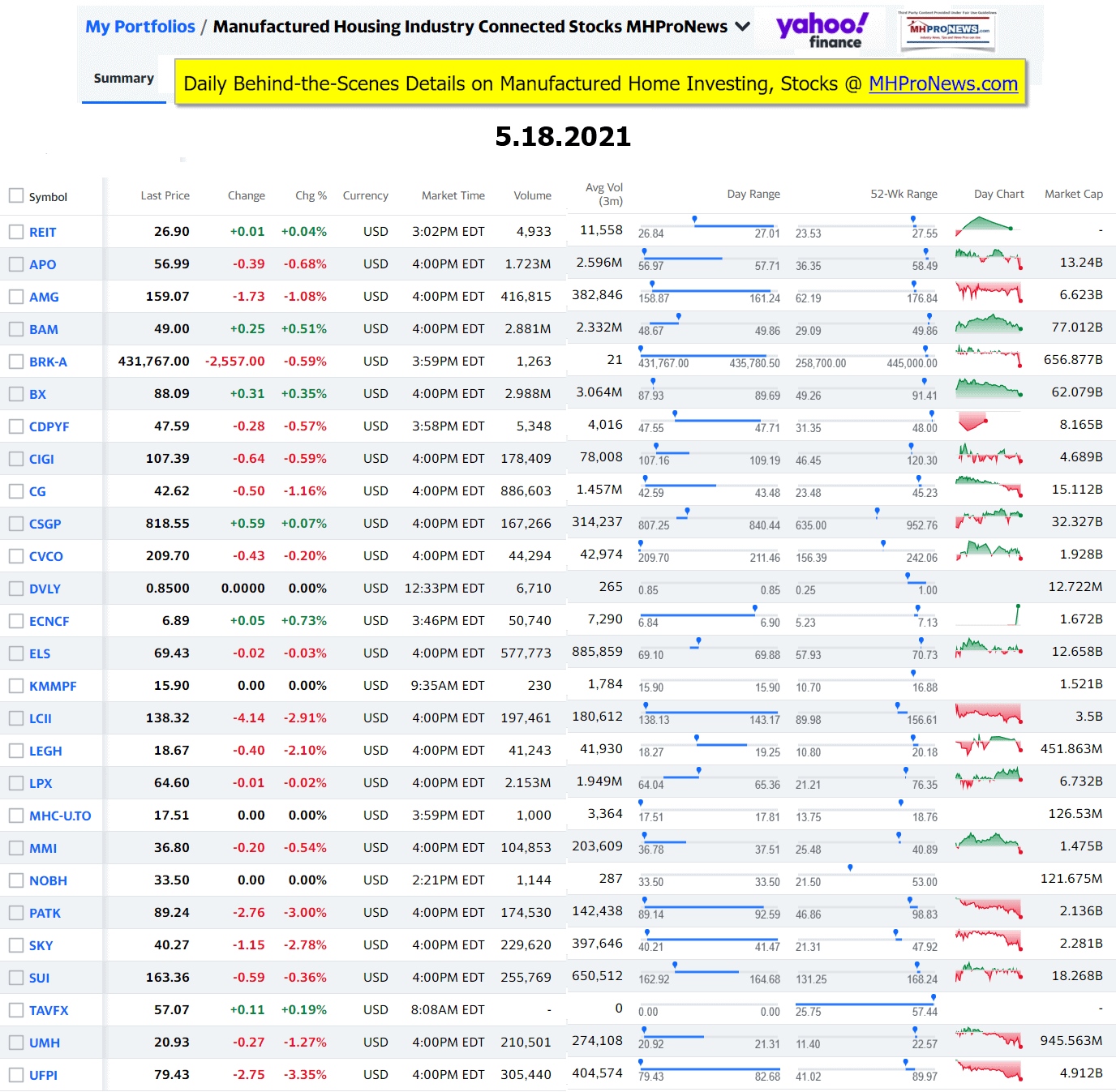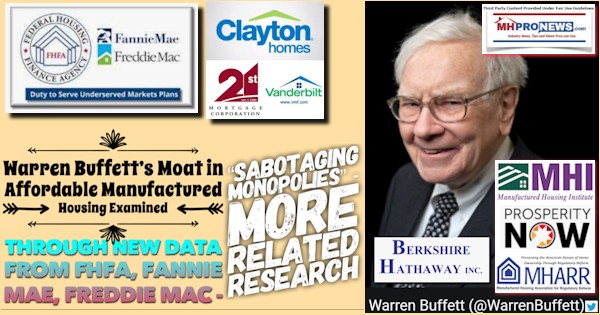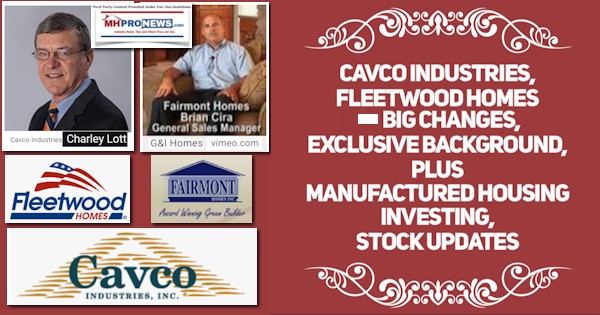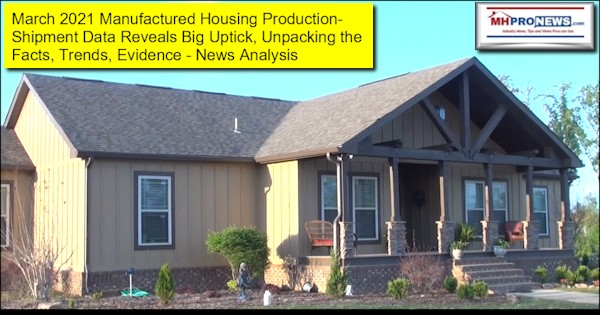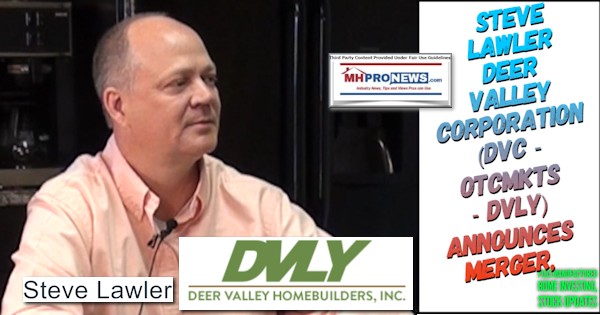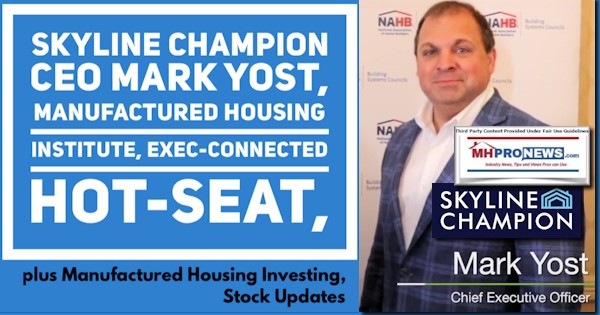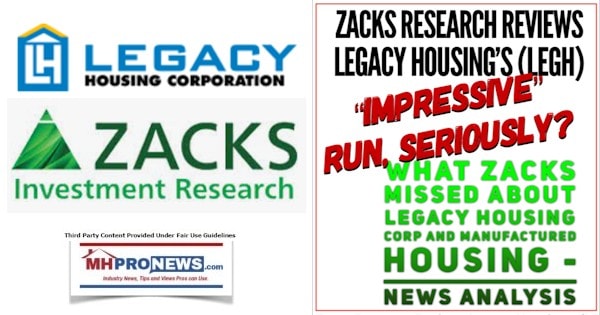 Spring 2021…
Berkshire Hathaway is the parent company to Clayton Homes, 21st Mortgage, Vanderbilt Mortgage and other factory built housing industry suppliers.
· LCI Industries, Patrick, UFPI, and LP each are suppliers to the manufactured housing industry, among others.
· AMG, CG, and TAVFX have investments in manufactured housing related businesses. For insights from third-parties and clients about our publisher, click here.
Enjoy these 'blast from the past' comments.
MHProNews. MHProNews – previously a.k.a. MHMSM.com – has celebrated our 11th year of publishing, and is starting our 12the year of serving the industry as the runaway most-read trade media.
Sample Kudos over the years…
It is now 11+ years and counting…
Learn more about our evolutionary journey as the industry's leading trade media, at the report linked below.
· For expert manufactured housing business development or other professional services, click here.
· To sign up in seconds for our industry leading emailed headline news updates, click here.

Disclosure. MHProNews holds no positions in the stocks in this report.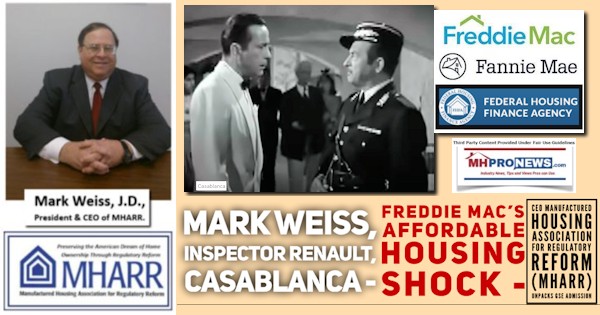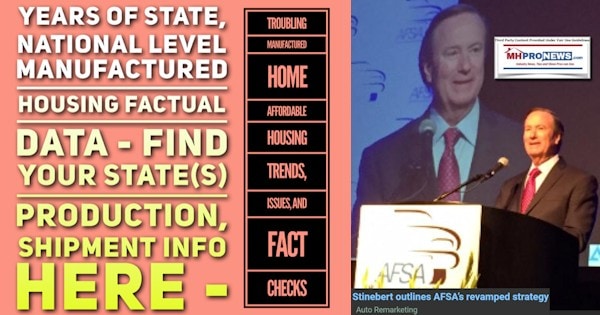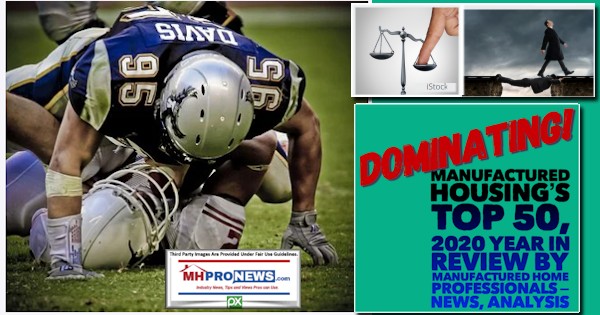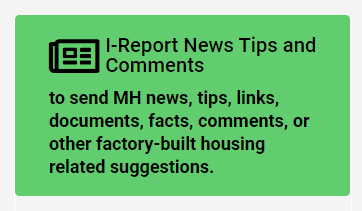 That's a wrap on this installment of "News Through the Lens of Manufactured Homes and Factory-Built Housing" © where "We Provide, You Decide." © (Affordable housing, manufactured homes, stock, investing, data, metrics, reports, fact-checks, analysis, and commentary. Third-party images or content are provided under fair use guidelines for media.) (See Related Reports, further below. Text/image boxes often are hot-linked to other reports that can be access by clicking on them.)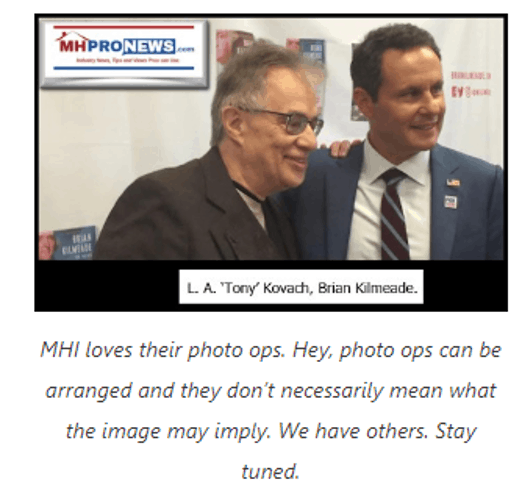 By L.A. "Tony" Kovach – for MHLivingNews.com.
Tony earned a journalism scholarship and earned numerous awards in history and in manufactured housing. For example, he earned the prestigious Lottinville Award in history from the University of Oklahoma, where he studied history and business management. He's a managing member and co-founder of LifeStyle Factory Homes, LLC, the parent company to MHProNews, and MHLivingNews.com. This article reflects the LLC's and/or the writer's position, and may or may not reflect the views of sponsors or supporters.