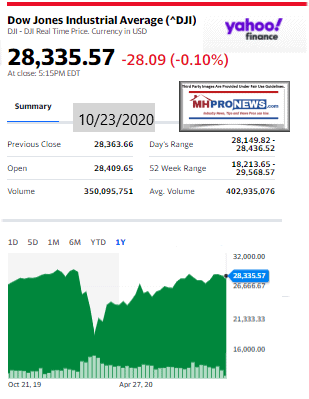 Reaction has been swift from oil industry professionals to comments by Democratic presidential nominee, former Obama-era Vice-President Joe Biden during his 10.22.2020 debate with incumbent President Donald J. Trump (GOP).
"Six-dollar gas is coming if Trump isn't re-elected," Continental Resources founder Harold Hamm told right-of-center FOX Business on Friday after the former vice president outlined his approach to energy policy at Thursday night's debate in Nashville, Tenn.
"If Biden is elected and his plan on energy is adopted, he will send America into a deep depression and millions of jobs will be lost in Texas, Pennsylvania, Ohio, Michigan, Oklahoma, North Dakota and we will once again be beholden to foreign rogue regimes for our energy," Hamm argued.
Left-of-center CNN said that more than 55 million watched last night's debate.
The U.S. oil and gas industry supports 10.3 million jobs, which pay an average salary of $101,181, according to a study released by PricewaterhouseCoopers and the American Petroleum Institute in 2015, the most recent report available.
The petroleum industry contributed $1.3 trillion to the U.S. economy that year.
From the manufactured housing industry perspective, if Biden won and gas hit $6 a gallon, the harm could be significant, since every manufactured home would have to be shipped. Additionally, the ripple effect of fewer oil field workers and others that are often supplied by manufactured and modular home retailers has to be considered.
While saying he would work it out by 2025, say 5 years from now, Biden rapidly walked back part of this comments.
"We're not getting rid of fossil fuels," Biden said. "We're getting rid of the subsidies for fossil fuels, but we're not getting rid of fossil fuels for a long time." Of course, even if true, reducing subsidies would also cause a price rise.
But Biden also said that he has never said he would ban fracking. Several video statements made by the former vice president demonstrate otherwise.
Americans for Tax Reform (ATR) posted this video before the debate the has several examples of both Biden and Senator Kamala Harris saying that they would ban fracking.
Tonight's featured focus will include some snippets and tweets from last night's debate.
This evening's featured focus is found following tonight's quotable quotes, the left-right headlines, and two of our three market snapshot graphics at the closing bell today. The final market graphic that summarizes over a dozen manufactured housing industry connected stocks at the closing bell follow the featured focus, recent and related report links.
Quotes That Shed Light – American Social, Industry, National Issues…
Headlines from left-of-center CNN Business
In the running
Lael Brainard, governor of the U.S. Federal Reserve, arrives for a welcome dinner during the Jackson Hole economic symposium, sponsored by the Federal Reserve Bank of Kansas City, in Moran, Wyoming, U.S., on Thursday, Aug. 25, 2016. Two Federal Reserve officials argued the case for another interest-rate increase in interviews on the eve of an eagerly awaited speech by Chair Janet Yellen in Jackson Hole, Wyoming, that will be scoured for hints of a move that could come as soon as September.
Meet the woman who could lead the Treasury in a Biden administration
Credit scores hit a record high. But US consumers are not OK
Buying an iPhone at the Apple Store will be different this year. Here's how
Few lines but plenty of excitement as the iPhone 12 arrives in China
This fourth-grader doesn't have WiFi at home. So he walks to school
Uber and Lyft must reclassify drivers as employees, appeals court finds
More than 700 economists strongly oppose Trump's reelection
It's shocking that Jamie Dimon is urging a peaceful transfer of power
Opinion: A conspiracy theory almost ruined my family's life
Walmart files lawsuit seeking to prove its pharmacists are not responsible for opioid crisis
More than 55 million people watched the final presidential debate
Both left and right praise debate moderator Kristen Welker while Trump keeps fact-checkers busy
Coke is canceling 200 drink brands
A pedestrian walks near the U.S. Securities and Exchange Commission headquarters in Washington, D.C., U.S., on Thursday, Jan. 2, 2020. The federal appeals court in Manhattan today said the government may pursue insider-trading charges under a newer securities-fraud law not subject to a key requirement of the statute prosecutors traditionally use.
A government agency just paid a record $114 million to an anonymous whistleblower
A doctor (C) speaks with a patient infected with Covid-19 in the infectious diseases unit of the Gonesse hospital in Gonesse, north of Paris, on October 22, 2020. – The hospital of Gonesse welcomed 68 Covid patients on October 22. This is far from the 150 in the spring, but well above the 40 patients a week earlier. "We can see the rise accelerating" worries Jean Pinson, the hospital director.
Recession risk grows as Covid-19 cases surge
A year ago, this company had 750 customers. Today it has 6,000
Headlines from right-of-center Fox Business
ECONOMY
Trump rallies at Florida's The Villages to shore up support among senior citizens
President Trump visited The Villages, a retirement community of more than 100,000 in Florida, as his 2020 campaign makes a final push in the all-important swing state.
Trump vs. Biden: 2020 election outcome may impact these stocks the most
POLITICS
ANDY PUZDER: Trump is 'worst jobs president since Great Depression'? Get real
MARKETS
Big Oil warns of economic 'depression' under Biden energy plan
Biden-backed fracking policy could derail America's economic recovery
MARKETS
Stocks end mixed as AstraZeneca restarts COVID-19 trials, J&J to follow
POLITICS
Kudlow reacts to Trump-Biden debate remarks on minimum wage
Trump hits Biden on raising fed minimum wage: 'We have to help small businesses'
VACCINE TESTING
LIFESTYLE
AstraZenca restarts COVID-19 trials, J&J likely early next week
SOCIAL MEDIA SCAMS
MONEY
Crooks net $117M targeting shoppers, romance seekers: FTC
COVID AND CREDIT
MONEY
Keeping your credit profile healthy during a pandemic
MAKE IT ANYWHERE
REAL ESTATE
These states attracting NYC entrepreneurs, residents: Peebles
FIZZLING OUT
ECONOMY
Coca-Cola saying goodbye to half its drink brands
NORMALIZED RELATIONS
POLITICS
Trump: Sudan to join UAE, Bahrain in recognizing Israel
ROUGH RIDE
LIFESTYLE
Tesla recalling 30,000 cars over suspension problems
MCHEALTHY
LIFESTYLE
McDonald's pushes nutritious Happy Meals
CHINA'S THREAT
ECONOMY
China vows retaliation if US proceeds with Taiwan arms sale
MARKETS
Gap exiting malls, to shutter 350 stores by 2024
POLITICS
Eric Trump: 'Polls are wrong,' Trump enthusiasm is massive compared to Biden
TECHNOLOGY
Researchers develop new way to detect strokes with iPhone
REAL ESTATE
Premium real estate in this beach community has record-breaking quarter
TECHNOLOGY
FTC mulls Facebook lawsuit as staffers support antitrust case
TECHNOLOGY
Your account, your choice – Facebook announces that users can appeal censorship
HEALTHCARE
FDA's first COVID-19 treatment Gilead's remdesivir: 5 fast facts
POLITICS
Cameron Webb: Treating COVID patients, raising 2 kids and running in a close House race
LIFESTYLE
Vegas Strip's live performances to resume
ECONOMY
US business activity hits 20-month high: IHS Markit
LIFESTYLE
Fruit jelly cups recalled over potential choking hazard, FDA warns
POLITICS
Walmart files pre-emptive lawsuit against federal government in opioid case
TECHNOLOGY
Huawei facing 'significant challenges' after US trade restrictions
LIFESTYLE
Look at where 'Bar Rescue' star is opening taverns
LIFESTYLE
Tesla raising 'Full Self-Driving' price to $10G, warns it may do 'the worst thing at the worst time'
MARKETS
California appeals court rules Uber, Lyft must reclassify drivers as employees
LIFESTYLE
Quibi to cease operation around Dec. 1; company unsure if content will be available on other platforms
ECONOMY
Existing-home sales soar 9.4% in September, marking fourth consecutive month of growth
LIFESTYLE
Tim Burton's 'Addams Family' TV reboot is progressing: report
MONEY
Paying a student loan with a credit card? Here's what to consider
Market Indicator Closing Summaries – Yahoo Finance Closing Tickers on MHProNews…
Featured Focus –
Where Business, Politics and Investing Can Meet
Just prior to the debate there was this potential bombshell from Hunter Biden and Joe Biden's purported partner. Tony Bobulinski is reportedly a registered Democrat, and what campaign contributions he has made have supposedly all been to Democrats.
"President Donald Trump's approval among likely black voters jumped to 46 percent, according to Rasmussen Reports data posted Friday morning, less than 24 hours after the final presidential debate," said right-of-center Breitbart News.
According to the Rasmussen tracking survey, President Trump approval jumped nine points from Thursday to Friday, going from 37 percent on Thursday to 46 percent on the morning following the presidential debate. Overall, Trump has experienced a 24 percent bump in approval among likely black voters since Monday.
Here is their tweet.
Morning Reader Data Points:

National Daily Black Likely Voter Job Approval For @POTUS – October 19-23, 2020

Mon 10/19 – 25%
Tue 10/20 – 24%
Wed 10/21 – 31%
Thu 10/22 – 37%
Fri 10/23 – 46%

— Rasmussen Reports (@Rasmussen_Poll) October 23, 2020
If that held, it could be an earthquake in Democratic politics.
In battleground Michigan, the poll below reflected
MICHIGAN
Trump 49% (+4)
Biden 45%

Zia Poll, LV, 10/11-18https://t.co/esjBX01ujS

— Political Polls (@Politics_Polls) October 23, 2020
Eighty-five percent of Trump supporters said they are "very excited about their candidate," compared to the 70 percent of Biden supporters who said they were pumped up about the Democratic presidential hopeful.
The Trafalgar poll also showed Biden now trailing the incumbent President Trump in Michigan.
Our new RP/Trafalgar poll shows President Trump surging ahead in Michigan.@realDonaldTrump 46.7% @JoeBiden 44.9%

Report here: https://t.co/v93aN8MRL6@RobertCahaly @trafalgar_group @TomBevanRCP @DonaldJTrumpJr @EricTrump @NateSilver538

— RestorationPAC (@restorationpac) October 22, 2020
Battleground Florida has flipped from advantage Biden to the edge to President Trump.
FLORIDA
Trump 50% (+2)
Biden 48%@SurveyMonkey/@tableau/@axios, LV, 9/24-10/21https://t.co/XyP5kztmIf

— Political Polls (@Politics_Polls) October 23, 2020
A pre-debate analysis by Fox News made the key state for both campaigns to win Pennsylvania. Fox thought the edge would go to Biden, which could give him the win.
But after the fumble on oil and fracking in the debate, how many boilermakers and others tied to the oil and gas industry vote for President Trump? The election could be decided by such issues.
The issue about oil and gas could be one of several pivotal moments.
A transcript per Breitbart is as follows:
 PRESIDENT DONALD TRUMP: Would you close down the oil industry?
FORMER VICE PRESIDENT JOE BIDEN: I would transition from the oil industry, yes.
TRUMP: Oh, that's a big statement.
BIDEN: It is a big statement.
KRISTEN WELKER: Why would you do that?
BIDEN: Because the oil industry pollutes. It has to be replaced by renewable energy over time. And I'd stop giving federal subsidies to the oil industry. He won't give federal subsidies to solar and wind. Why are we giving it to the oil industry?
TRUMP: We actually do give it to solar and wind. And that's maybe the biggest statement, in terms of business, because basically what he's saying is he's going to destroy the oil industry. Will you remember that, Texas? Will you remember that, Pennsylvania? Oklahoma? Ohio?
##
Pollster Frank Luntz focus group of undecided voters reacted to last night's debate like this.
My focus group's words to describe Trump tonight:
• "Controlled"
• "Reserved"
• "Poised"
• "Con artist"
• "Surprisingly presidential"

Words to describe Biden tonight:
• "Vague"
• "Unspecific"
• "Elusive"
• "Defensive"
• "Grandfatherly"

👉🏻 https://t.co/LOOQDLAjoT pic.twitter.com/qa54f6F94S

— Frank Luntz (@FrankLuntz) October 23, 2020
There will be a range of views on the debate. Some will say that Biden did better, others that President Trump surprised them with his more presidential tone and increased patience during the exchanges.
I asked my group of undecided voters which presidential candidate would do a better job with our economy. #Debates2020

👉🏻 https://t.co/R9CZmwBn17 pic.twitter.com/HyCprX2tOl

— Frank Luntz (@FrankLuntz) October 23, 2020
Perhaps the most important thing in 2020 could be what it was in 2016. Enthusiasm by supporters.
Some experts say that information like what follows doesn't move voters.
But new information has often caused new appreciation for a candidate, person, or product.
The bottom line will be the basics of every election. Turnout of supporters is key. The wildcard this election could be concerns over vote-by-mail scams, but with officials on the lookout, perhaps that can be held to a minimum.
In less than 2 weeks, we may know if 45 gets 4 more years, or if gas prices, taxes, and regulations will be going up again under a Biden Administration.
See related reports for more.
Related, Recent, and Read Hot Reports
Dr. Li-Meng Yan, Freddie Gray, George Floyd Revelations – "Colossal" Impacts of "The Big Lie" – Crimson Contagion, Event 201, BLM, Communist China
Progressive Journalist Greenwald Rips Facebook, Twitter, Mainstream Media on VP Biden Reporting, Facebook Co-Founder Donates Millions to Biden, plus Manufactured Home Investing, Stock Updates
"The Creepy Line"- DOJ Files Antitrust Lawsuit vs Google, Will Berkshire Hathaway, Other FAANGBM Brands Follow? What Warren Buffett, Bill Gates, Moat-Builders, Observers Said
'Look at Message, Not Messenger,' HUD Sec Carson says "We Want People…to Have Choice." Biden Bombshell on CBS, plus Manufactured Home Investing, Stock Updates
"Witch's Brew" of Predatory Practices – Longtime MHI Member/Attorney Marty Lavin Rips Manufactured Housing Institute, Exposes Duty to Serve Financing Stonewall
Progressive Journalist Greenwald Rips Facebook, Twitter, Mainstream Media on VP Biden Reporting, Facebook Co-Founder Donates Millions to Biden, plus Manufactured Home Investing, Stock Updates
AEI's Edward Pinto, Fortune – Housing Flips Recession Script, But Trouble Looms Just Ahead – Manufactured Housing Insights
"Let This Moment Radicalize You," FBI Raids Manufactured Home to Foil Radical Plot, Gov Whitmer Blames President Trump
"More Punitive Regulatory" Regime Looms Warns New Manufactured Housing Industry Insider
Dark Money-Billionaires Buffett, Gates, Soros Funding Black Lives Matter, Antifa – Named by AG Barr in Riots, Looting – Hijacking Peaceful George Floyd Death Racial Justice Protests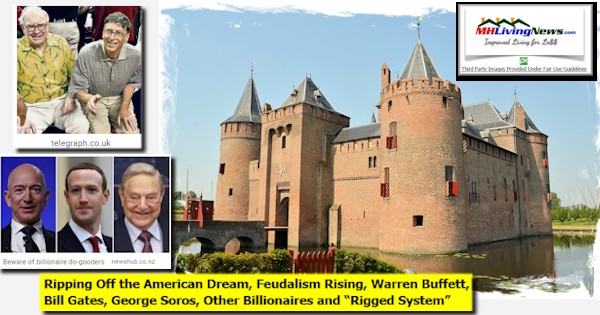 Manufactured Housing Industry Investments Connected Closing Equities Tickers
Some of these firms invest in manufactured housing, or are otherwise connected, but may do other forms of investing or business activities too.
NOTE: The chart below includes the Canadian stock, ECN, which purchased Triad Financial Services, a manufactured home industry lender
NOTE: Drew changed its name and trading symbol at the end of 2016 to Lippert (LCII).
Following Change, Manufactured Housing Institute Board of Directors and MHI Executive Committee Examined
Fall 2020…
Berkshire Hathaway is the parent company to Clayton Homes, 21st Mortgage, Vanderbilt Mortgage and other factory built housing industry suppliers.
· LCI Industries, Patrick, UFPI, and LP each are suppliers to the manufactured housing industry, among others.
· AMG, CG, and TAVFX have investments in manufactured housing related businesses. For insights from third-parties and clients about our publisher, click here.
Enjoy these 'blast from the past' comments.
MHProNews. MHProNews – previously a.k.a. MHMSM.com – has celebrated our 11th year of publishing, and is starting our 12the year of serving the industry as the runaway most-read trade media.
Sample Kudos over the years…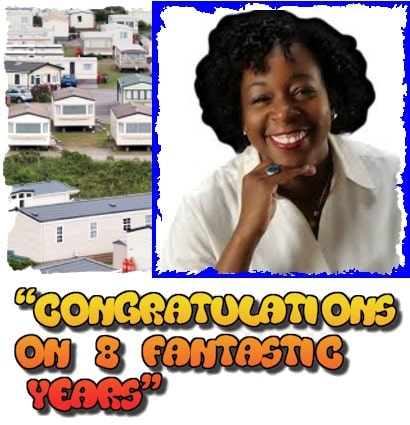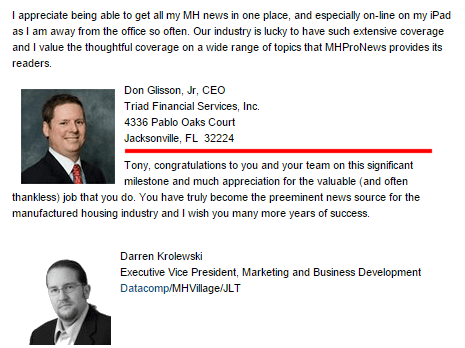 Learn more about our evolutionary journey as the industry's leading trade media, at the report linked below.
Correcting the Manufactured Housing Industry Record – Looking Back, Looking Ahead – Plus Manufactured Home Investing, Stock Updates
· For expert manufactured housing business development or other professional services, click here.
· To sign up in seconds for our industry leading emailed headline news updates, click here.

Disclosure. MHProNews holds no positions in the stocks in this report.
Evidence-Based State of the Manufactured Housing Industry, Fall 2020 Report – plus, Sunday Weekly Manufactured Home Headlines Review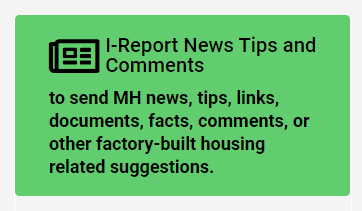 That's a wrap on this installment of "News Through the Lens of Manufactured Homes and Factory-Built Housing" © where "We Provide, You Decide." © (Affordable housing, manufactured homes, stock, investing, data, metrics, reports, fact-checks, analysis, and commentary. Third-party images or content are provided under fair use guidelines for media.) (See Related Reports, further below. Text/image boxes often are hot-linked to other reports that can be access by clicking on them.)
By L.A. "Tony" Kovach – for MHLivingNews.com.
Tony earned a journalism scholarship and earned numerous awards in history and in manufactured housing. For example, he earned the prestigious Lottinville Award in history from the University of Oklahoma, where he studied history and business management. He's a managing member and co-founder of LifeStyle Factory Homes, LLC, the parent company to MHProNews, and MHLivingNews.com. This article reflects the LLC's and/or the writer's position, and may or may not reflect the views of sponsors or supporters.