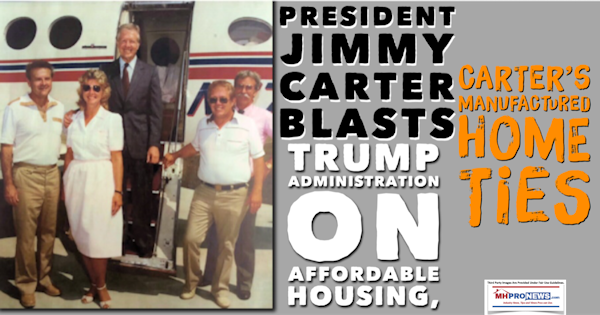 CNBC reported last week that former President Jimmy Carter took aim at the Trump Administration on the important issue of affordable housing.
"Low-income housing needs to be raised much higher as a priority for our country," former President Carter said in a phone interview with Emma Newburger. "That's the first step toward making people who are now dependent on government assistance, on welfare rolls, to get a good job and have a chance to raise their families and put their kids through school."
Mr. Carter told CNBC that the Trump Administration is 'ignoring a national housing crisis,' and he urged voters to support candidates who promote affordable housing.
The Carters, HUD's Carson, and Manufactured Housing
CNBC's Newburger told MHProNews that the "topic [of manufactured housing] didn't come up in the interview" with former President Carter.
By contrast, when the Department of Housing and Urban Development (HUD) was asked to respond to former President Carter's broadside, a HUD spokesperson offered to MHProNews the very specific answer of Secretary Carson's strong statement of support for manufactured housing.
The HUD spokesperson who replied to the Daily Business News on MHProNews was one that has not previously spoken or messaged with MHProNews. Her reply for HUD is all-the-more interesting to investors and businesses in manufactured housing (MH) who read the tea leaves that may signal what direction the agency will take when their regulatory comments review are completed, later this year.
Those comments the spokesperson sent from Secretary Carson were previously published by the Daily Business News, and are found on HUD's website here, or at the article with some commentary linked below.
"A New Era of Cooperation and Coordination," is Promised by HUD Secretary Carson, Saying "I Hear You"
Mr. Carter is a prominent supporter of Habitat for Humanity. An informed source in Carter's home state of Georgia told MHProNews that Habitat rarely uses manufactured homes, preferring to get "free labor" from those who are putting their "sweat equity" into the house that they help build. That keeps Habitat's construction costs low.
In Habitat's view, per our source, this combination of factors creates a greater tie of the Habitat dwelling buyer to their home and mortgage payments.
However admirable Habitat is, it obviously only scratches the surface of our nation's affordable housing needs.  Their own data shows that the majority of their work is done in other countries, instead of here in the U.S.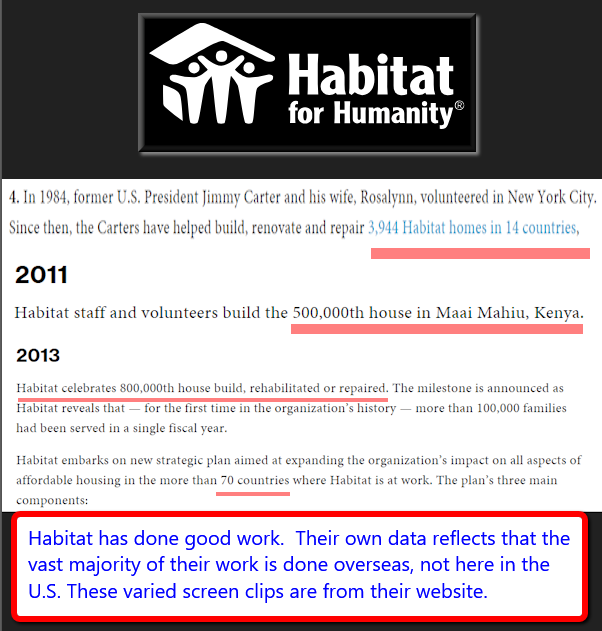 It's noteworthy that a Google search of former President Carter reveals no obvious criticism by him of the Obama Administration over their handling of affordable housing efforts.  By comparison, even some progressives criticized former President Obama for his perceived missteps at HUD regarding affordable housing. One such critique was about Shaun Donovan's selection by former President Obama, and that source viewed Donavan as a Clinton Administration ally throwback.
So why did Mr. Carter give former President Obama a pass for 8 years, when the rate of home ownership dropped?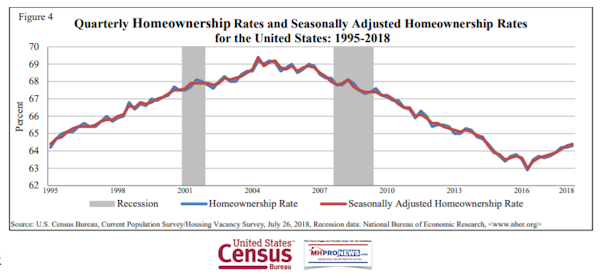 Where was Mr. Carter on the issue of rising rents during the Obama Administration?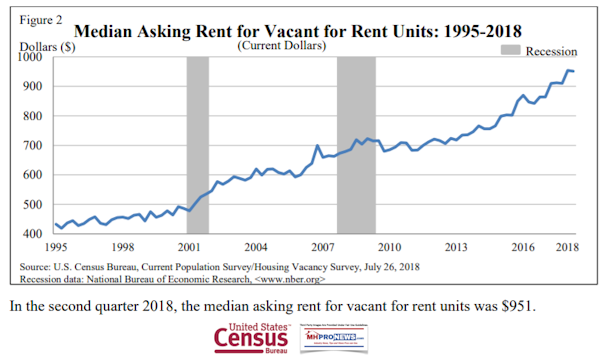 Or why didn't the former president from Plains, GA not critique Mr. Obama's handling of the economy, debts, and deficits? During the Obama era, rental rates continued to rise. Regulatory policies during the 44th president's term in office constrained or even crushed small businesses by the thousands, while large companies recovered and grew.  Manufactured housing has slowly recovered during the Obama years, due in part to regulatory overreaches.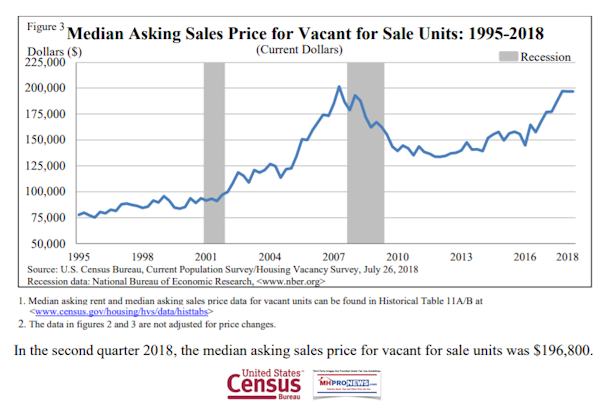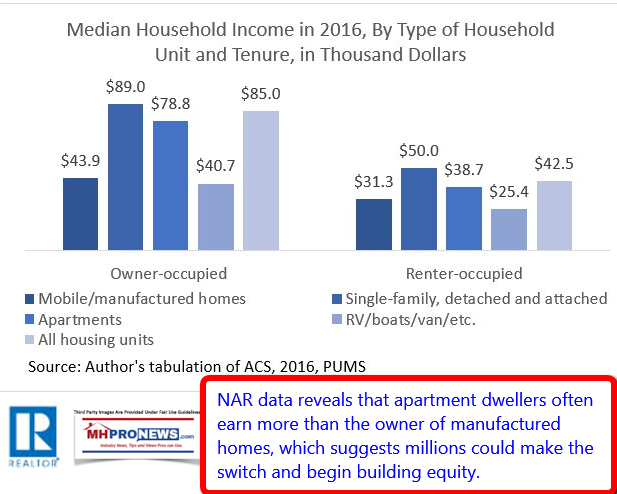 Yet, in an apparently partisan Democratic Party fashion, Mr. Carter's recent blast wasn't aimed at former President Obama for the erosion in home ownership rates.  The peanut farmer turned president from Plains didn't take at rising rents under former President Obama. Instead, Mr. Carter attacks President Donald J. Trump?
The Trump Administration has only been in office for about 20 months.  Dozens of the 45th president's nominees have been slow-walked by Democrats in the Senate.
Ironically, the rate of home ownership and the economy are both improving at a significant clip since Mr. Trump won the election.  So where's the logic of Mr. Carter's claims? CNBC apparently failed to ask – or did not report it if they did – insights into any of these salient questions.
Perhaps equally interesting is the following issue and related question.
The federal manufactured housing construction and safety standards administered by HUD had their first full year in effect during President Carter's Administration.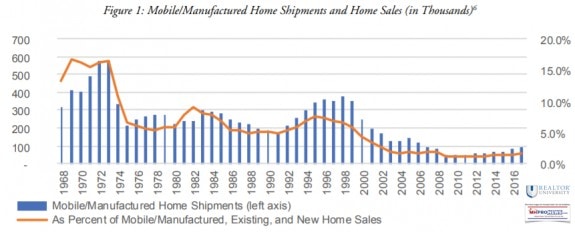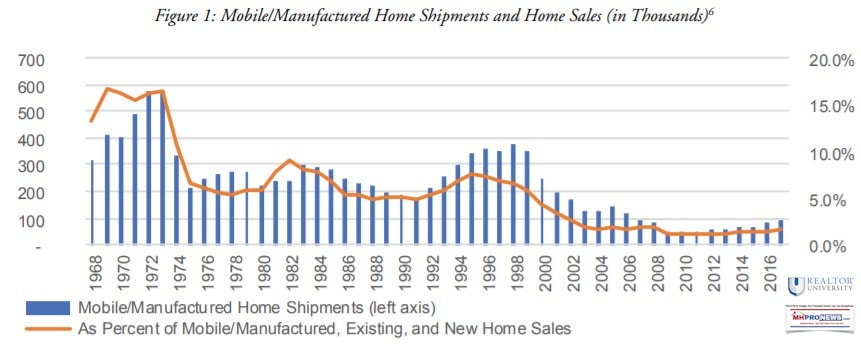 Mr. Carter's colorful younger brother Billy served two different independent HUD Code manufactured home builders in high visibility roles for several years in the 1980s.
So why didn't actively-retired President Carter do more to promote manufactured homes as an affordable housing solution? Or why hasn't Mr. Carter done more to elevate manufactured homes as an obvious and proven free market solution to affordable housing since he left office?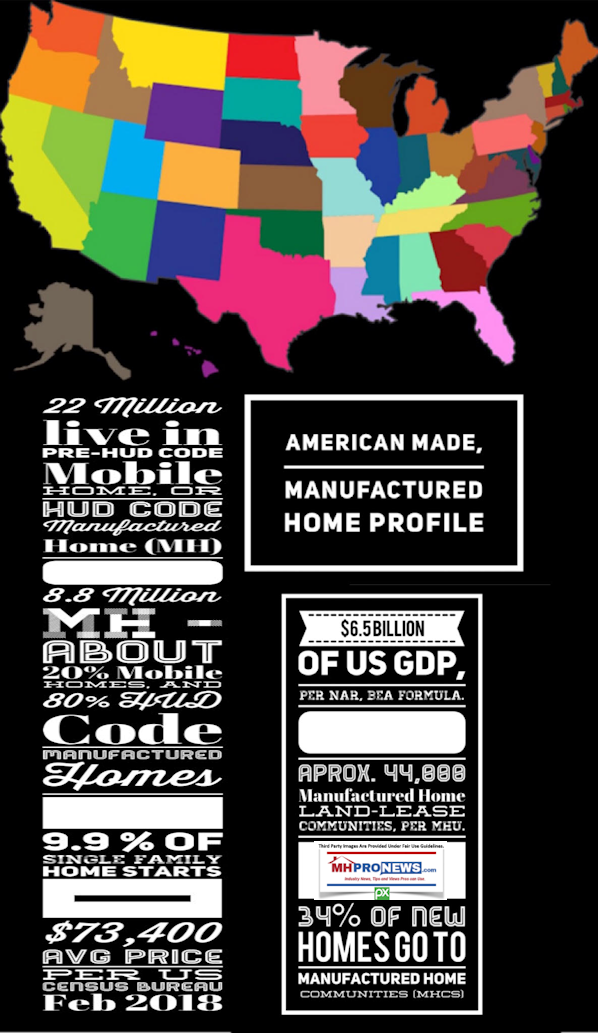 After all, Mr. Carter can't claim ignorance of the topic. The former president's home state was at one time a top-tier manufactured home producer.
So, why did HUD Code manufactured home shipments nose-dive relative to the end of the mobile home era timeframe compared to the Carter years?  By contrast, as Daily Business News on MHProNews has reported, both prior Presidents Nixon and Ford each promoted "mobile homes" as an important part of the U.S. affordable housing mix.
Help Others "Get It" – Loans on "Mobile Homes" Promoted by Another U.S. President
The photo below was provided to MHProNews by ScotBilt Homes, which has produced manufactured homes in GA for many years. Left-to-right in the photo are Sam Scott, Judy Cazel, President Jimmy Carter, his brother Billy Carter, and Jim Cazel, the pilot of the aircraft they are standing by.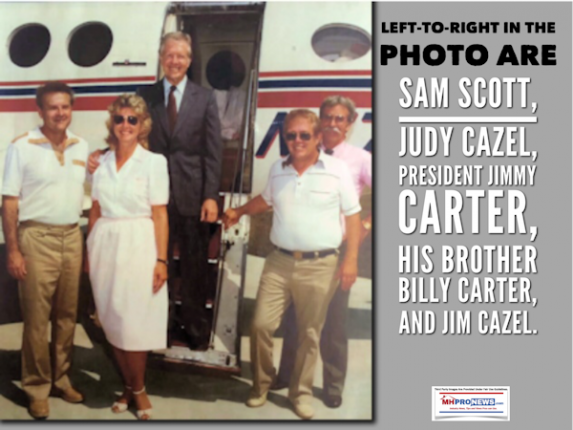 The Reaction to former President Carter's Comments From Washington, D.C.
There is no widely published comments to be found from a Google search (see downloadable screen capture) from the Arlington, VA based Manufactured Housing Institute (MHI) regarding the recent comments by former President Carter.
But the Washington, D.C. based Manufactured Housing Association for Regulatory Reform (MHARR) weighed in on the conventional comments by Mr. Carter in a nuanced comment as follows.
"While Secretary Carson as we noted in a recent article has said the right things about the need to eliminate exclusionary zoning, there is much more that HUD could do to support consumer financing for affordable housing, most particularly chattel financing for manufactured homes," said Mark Weiss, JD, President and CEO of MHARR to MHProNews.
Weiss and MHARR members are on record encouraging more lending from the FHA, while acknowledging the progress made to date during the Trump Administration.
It should be noted that MHARR has no PAC, by design, but MHI does. MHARR has praised the Trump Administration, as has MHI.
"Move, Open, Live" De Rose Industries & Senator Thom Tillis' Mobile Home Comments
But a key distinction between the two trade groups on this issue is that MHI put two paid pro-Clinton speakers on stage in their pre-election Chicago event, a claim MHI has never opted to deny or try to explain.  The mainstream headline below is one of several that document that Berkshire's chairman backed the party that favored heavy regulations. Why?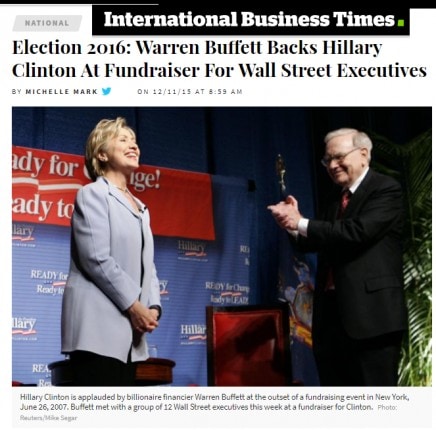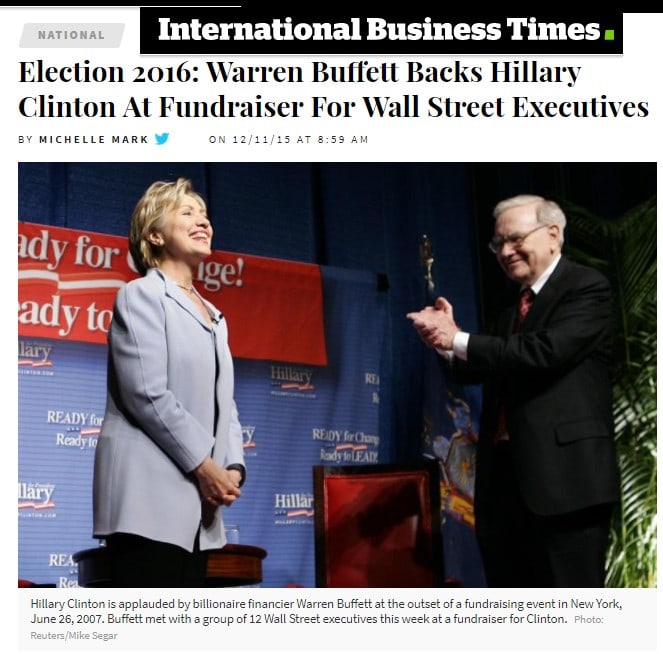 MHI's primary "big boy" member is Berkshire Hathaway owned Clayton Homes and their affiliated lenders, 21st Mortgage Corp and Vanderbilt Mortgage and Finance. Kevin Clayton is seen with former President Bill Clinton in the disastrous post-Haitian earthquake "recovery" effort photo and linked report below, that dives into those alleged scandals.
"Toxic Trailers" – Clayton Homes, Warren Buffett, Kevin Clayton, Clintons – Exposé Videos
Warren Buffett campaigned for Secretary Hillary Clinton against Mr. Trump in 2016, saying on several occasions, that Buffett believed in her policies.  As MHI award-winner – and periodic MHI critic – Marty Lavin has said, "Pay more attention to what people do than what they say," and "Follow the money."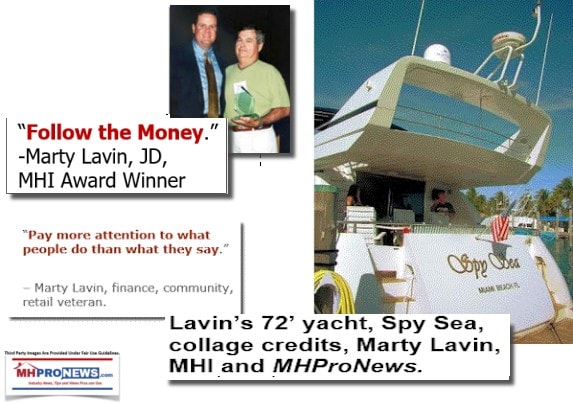 Forbes' John Moratta Weighed In on Carter to Obama Era
But there's other issues that need to be raised, one of which a Forbes Contributor David John Marotta examined. In 2012, Marotta argued that the entire contest between Democratic candidate and incumbent, President Barack Obama vs. GOP nominee, former Governor Mitt Romney should come down to a single subject.
It's one that directly relates to affordable housing, manufactured homes, the U.S. economy, and the future direction of America.
The Forbes headline was, "The Election Should Be Settled by a Single Question: Who Caused the Financial Crisis?"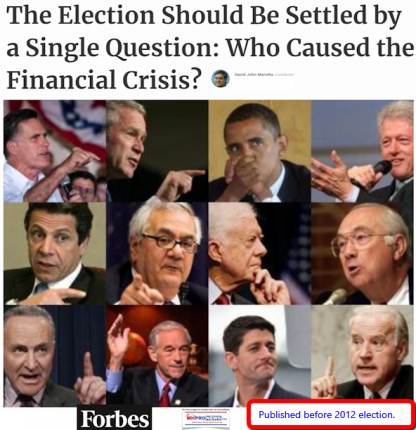 Two key paragraphs by Marotta on the subject framed by the headline above read as follows.
"…It all began with the Community Reinvestment Act (CRA) of 1977 under President Jimmy Carter. Its goal was to reduce discrimination against people in low-income neighborhoods by FDIC banks. The law did not provide any criteria for equal process. Thus any bank whose lending results were called into question could be challenged. And banks needed regulators to approve their actions.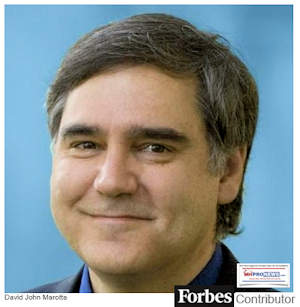 The CRA increased the oversight of financial institutions and empowered organizations such as the Association of Community Organizers for Reform Now (ACORN). Obama's work as a community organizer included working as ACORN's attorney suing banks in Illinois."
Skipping further into his column, the following extended quotes from Marotta said, "In the last election campaign, it was vehemently denied that Obama had been an ACORN trainer until the New York Times uncovered records demonstrating he was."
Now Democratic New York Governor "Andrew Cuomo was the assistant secretary of Housing and Urban Development (HUD) and then secretary under President Bill Clinton from 1993 through 2001. Cuomo created 800 new HUD employees who were paid as much as $100,000 to fight against abolition of the agency. These community builders, as they were called, worked with local groups to lobby against tax cuts and to aid Democratic candidates.
Under Cuomo's leadership in 1998, HUD forced banks in Texas to lend $2.1 billion in affirmative action loans with a higher risk and higher default rate."
President Clinton touted these supposed achievements. "In 1998 he boasted, "In the 20-year history of the Community Investment Act, 85 percent-plus the money loaned out under it to poor inner-city neighborhoods has been loaned in the five years since I've been president."
Fannie Mae and Freddie Mac were on the path to disaster. Now Obama blames deregulation under the Bush administration for the financial meltdown, but there was none.
After Clinton, George W. Bush and Republicans tried to tighten up lending standards for which they were demonized by the Democrats. These efforts were pushed unsuccessfully throughout the Bush administration starting in April 2001. 
Ranking Democrats Barney Frank and Charles Schumer led their party to block these efforts in the fall of 2003. Frank made light of Republican concerns. He said, "I think we see entities that are fundamentally sound financially and withstand some of the disaster scenarios. And even if there were a problem, the federal government doesn't bail them out. But the more pressure there is there, then the less we see in terms of affordable housing."
Those points in Forbes are ones MHProNews has raised several times over the years –  including, but not limited to – by previously sharing the video posted below.
It should also be noted that former President Bill Clinton himself acknowledged that, "The responsibility the Democrats do have may rest more in resisting any efforts by Republicans in the Congress or by me when I was president to put some standards and tighten up a little on Fannie Mae and Freddie Mac."
Let's let all of the above sink in for a few moments.
That should not imply that several Republicans weren't also complicit in the housing/lending issues in the run-up to 2008, because Fannie and Freddie were donating to candidates on both sides of the aisle.
But more influence buying cash went to Democrats. Politico reported that the GSEs spent a stunning $200 million dollars in campaign contributions, see the screen capture below.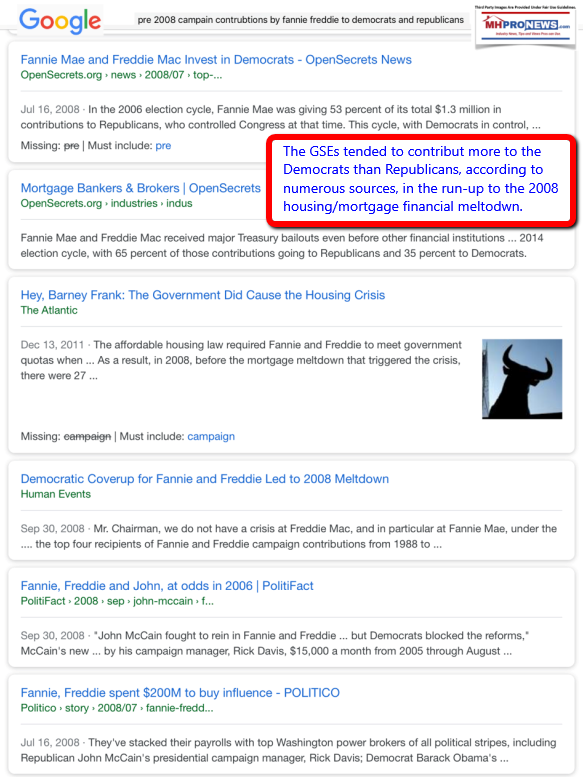 So it seems more than ironic that former Democratic Presidents Carter, Obama, and the Clintons now gleefully point a public finger at President Donald J. Trump. But the evidence and factual reality is that those Democratic leaders are guilty of blatant hypocrisy. They and their party bear a significant degree of responsibility for the economic turmoil, starting in the Carter years, during the Clinton Administration, as well as the run up and through the Obama Administration eras.
Big government solutions, the ones more commonly proposed by Democrats, have proven for 50 plus year not to work.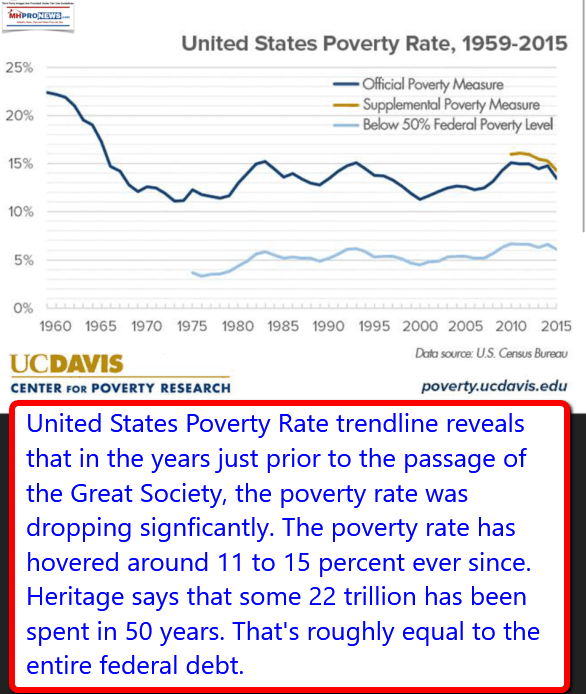 It's federal government policy that turned toward more subsidized conventional housing, which has never kept up with the needs in over 50 years.  Manufactured homes, or the mobile home era before the HUD Code existed, were the free enterprise solution that have proven to be as "amazing" as HUD Secretary Carson said in Senate testimony earlier this year.
Summing Up the View from MHVille
There is little doubt that members of both major parties have over the years made their respective errors, along with efforts to spin or cover up those mistakes.
But there's plenty of evidence that former Presidents Carter, Clinton, and Obama – along with Democratic allies in Congress – fostered the conditions that have undermined manufactured housing, and hurt the economy at several times, and in often severe ways.
As industry investors, professionals, and all others ponder their support and votes in the upcoming midterms, it's vital to consider the issues noted above.
Democrats and disaster-capitalists have long ties. Mr. Buffett and Kevin Clayton's connections to top Democrats ought to be weighed by all those who care about the issue of affordable housing and manufactured homes role in that effort.
As a disclaimer, while the publishers of MHProNews are political independents, this writer published an article that supported then candidate Trump during the Republican primaries in 2016. That article was republished by the Trump campaign on their website, as the screen captured image below reflects.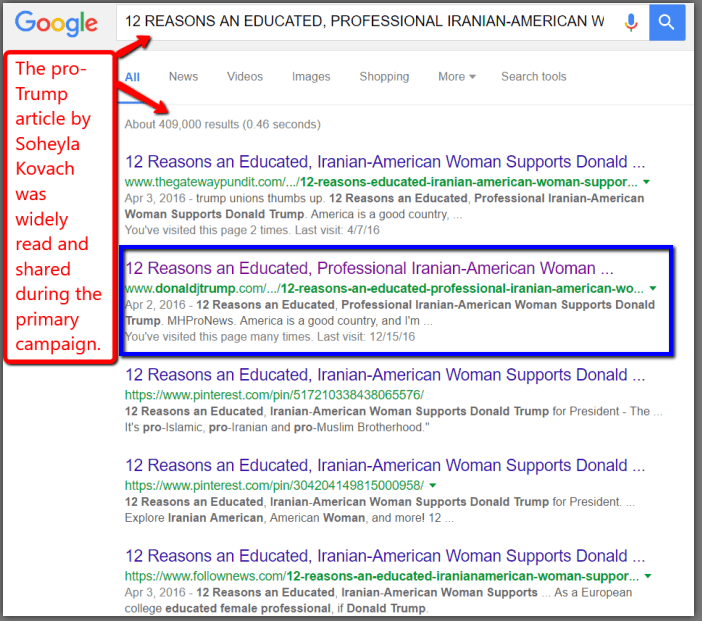 Resistance Democrats, and some Republicans too, have caught to slow or stop the reforms that former Democrat turned Republican Donald J. Trump has sought to bring to the U.S. in economic and foreign policies. Those who claimed that Mr. Trump could never win were proved wrong.
Some of those same voices are shouting daily now that Democrats will carry the House, and maybe even the Senate in a supposed "blue wave." It is a "knife fight," as Senate Majority Leader Mitch McConnell recently said.
But the races are close. And the polling touted in 2018 has some of the same problems that 2016 polling had.  It is every bit as likely, perhaps more likely given consumer and business confidence levels, that a "red wave" is coming.
President Trump is taking over the GOP, and is transforming it into a pro-worker and pro-business, pro-growth party.  1/3 of the counties that went for Mr. Obama flipped in 2016 and supported Mr. Trump.
The midterms will be all about turnout. Turnout will be determined by energy and enthusiasm. The economic recovery this time isn't driven by Federal Reserve monetary easing, or doubling the national debt in just eight years, as occurred during the disastrous Obama Administration years.
We are only now beginning to see details and documents about the level of corruption that occurred at the FBI, DOJ, and perhaps the CIA during the Obama era in the 2016 campaign.
The future of our industry's growth potential may hang in the balance of a builder-businessman turned politician. President Trump has systematically been keeping his campaign promises.
HUD Secretary Carson's pressroom spokesperson pointed to his manufactured housing comments as their reply to former President Carter's controversial, and demonstrably misleading claim made to CNBC.
Yes, MHARR's president is correct in saying that positive words and the regulatory freeze must be followed by more concreate and positive action.
But the Trump Administration, for all the drama that surrounds it, is keeping their promises to put American jobs, businesses, and our national interests first.  It's a vast improvement over the presidents of both parties since the days of Democrat turned Republican, President Ronald Reagan.
That's "News through the lens of manufactured homes, and factory-built housing," © where "We Provide, You Decide." © ## (News, analysis, and commentary.)
(Third party images and content are provided under fair use guidelines.)
1) To sign up in seconds for our MH Industry leading emailed news updates, click here.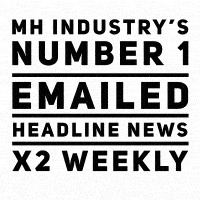 2) To pro-vide a News Tips and/or Commentary, click the link to the left. Please note if comments are on-or-off the record, thank you.
3) Marketing, Web, Video, Consulting, Recruiting and Training Re-sources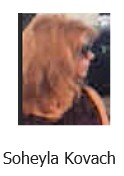 Submitted by Soheyla Kovach to the Daily Business News for MHProNews.com. Soheyla is a managing member of LifeStyle Factory Homes, LLC, the parent company to MHProNews, and MHLivingNews.com.
Related Reports

:
President Trump Spotlights Factory Home Builder in Speech, Proven Promotion, Support of Industry Advancement
There's a simple but profoundly useful concept taught be ancient to modern thinkers who ponder business, ethical, moral, political or other issues. It's called the principle of 'the lesser of two evils.' It's simple. When confronted with a choice, neither of which is perfect, by definition each is a some level of 'evil' or imperfection.
"Thou Shall Not Steal," $2 Trillion Annually Lost to Lack of Affordable Homes, Making the Manufactured Home Case