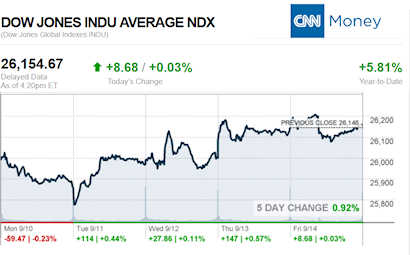 Markets dropped when $200 billion in new tariffs by the U.S. aimed at China were floated this morning, but recovered by the closing bell.  While there are a variety of issues that moved investors, the one we'll single out this evening is trade, because it likely will be the most important issue, yes, even for manufactured housing focused investors.  You'll see why, further below.\
If you're new, already hooked on our new spotlight feature – or are ready to get the MH professional fever – our headline report is found further below, after the newsmaker bullets and major indexes closing tickers.
The evolving Daily Business News market report sets the manufactured home industry's stocks in the broader context of the overall markets.  Headlines – at home and abroad – often move the markets.  So, this is an example of "News through the lens of manufactured homes, and factory-built housing." ©
Part of this unique evening feature provides headlines – from both sides of the left-right media divide – which saves busy readers time, while underscoring topics that may be moving investors, which in turn move the markets.
Readers say this is also a useful quick-review tool that saves researchers time in getting a handle of the manufactured housing industry, through the lens of publicly-traded stocks connected with the manufactured home industry.
This is an exclusive evening or nightly example of MH "Industry News, Tips and Views, Pros Can Use." © It is fascinating to see just how similar, and different, these two lists of headlines can be.
Want to know more about the left-right media divide from third party research?  ICYMI – for those not familiar with the "Full Measure," 'left-center-right' media chart, please click here.
"Shadows of Liberty" Movie Introduction, Affordable Housing, and You
Select bullets from CNN Money…
Amazon HQ2 search ignites public hunt for signs
Nike's Colin Kaepernick gamble is already paying off
Here is the dummy text for CNN Business relaunch
Disney and Comcast could be forced into a quick-fire auction for Sky
Henri Bendel is closing after 123 years in business
What's killing Sears? Its own retirees, the CEO says
High-profile VC Mary Meeker departs firm to start her own
GE is unloading yet another business
Goldman Sachs is in a record losing streak
Sears built the suspense, then reported another bad quarter
How Apple got us to pay so much for the iPhone
Jemele Hill confirms that she's leaving ESPN
Apple's new iPhones are boring. Investors should rejoice
Next week, SpaceX will tell us which lucky person gets to fly to the moon
Uber's eighth engineering hub will be in Canada
Jeff and MacKenzie Bezos commit $2 billion to fight homelessness
Jeff Bezos defends the press against Trump attacks
Cable newsers stay live overnight for Florence coverage
Apple disagrees with Trump administration on benefit of environmentalism
Leaked Google video fuels conservative claims of political bias from tech giants
JPMorgan offers 60,000 points to sign up for its new Sapphire bank account
Build-A-Bear CEO apologizes for botched Pay Your Age event
The reason Walmart's giving Jet.com a fancy makeover
Young people support Nike's bet on Kaepernick, poll shows
America is now the world's largest oil producer
How to invest in real estate without buying a home
One interest rate hike won't stop emerging market pain
Investors pour $4 billion into China's latest internet IPO
Why the global slump won't hurt the United States this time
Apple announces 3 new iPhones, a new watch, and not much else
How Apple is like the Christian Dior of tech
Apple is still struggling to sell iPhones in the world's hottest markets
More turmoil at Tesla: Its VP of finance is leaving
Donald Trump thinks Jamie Dimon isn't smart enough to be president
Select Bullets from Fox Business…
Nike hits all-time high after Kaepernick ad backlash
US stock market mixed as trade worries return
Here's 'the most important near-term threat' that could cause the next financial crisis
Republicans bank on tax cuts to keep the House in midterms
Tax cuts 2.0: What you need to know
Hurricane Florence has forced these businesses to halt operations
Lehman Brothers collapse: Key lessons on 10-year anniversary
Hurricane Florence: Gas stations running out of fuel
Henri Bendel is going out of business after 123 years
Hurricane Florence: Many homes in storm's path don't have flood insurance
GM recalls one million pickup trucks, SUVs
Here's what a robotic workforce could mean for you — and your job
SpaceX is sending a private passenger to the moon
WD-40 enrolls armed security to move its 'secret formula' after 65 years
Apple launches preorders for new iPhones and watches, some quickly sell out
Bethenny Frankel uses business wits for disaster relief initiative
Jeff Bezos' 5 tips for running a successful business
Marc Siegel: The pros and cons of Apple Watch's health apps
Volkswagen is squashing the Beetle
Everything you need to know about the iPhone XS, XS Max
5 Apple Watch apps for every business executive
Could Apple's new FDA-approved watch spark litigation?
Find out if you are truly in the middle class using this calculator
Rochester's downtown sports arena to get $18M upgrade
Lawsuit renews focus on privacy policies for mobile apps
Most Americans support NFL players' right to kneel: Poll
Hurricane Florence targets South Carolina golf industry
Workers, execs and politicians bid farewell to late Fiat CEO
Luxury SUV sales are hotter than ever
Sales at jewelry store up, despite backlash from 'take a knee' ad
Small business optimism at record high
Regulatory and tax changes have boosted small businesses.
Here's why you shouldn't retire super early
Trump calls North Carolina redistricting ruling 'unfair'
Impact of Trump's executive order on retirement savings
Today's markets and stocks, at the closing bell…

Manufactured Housing Composite Value (MHCV)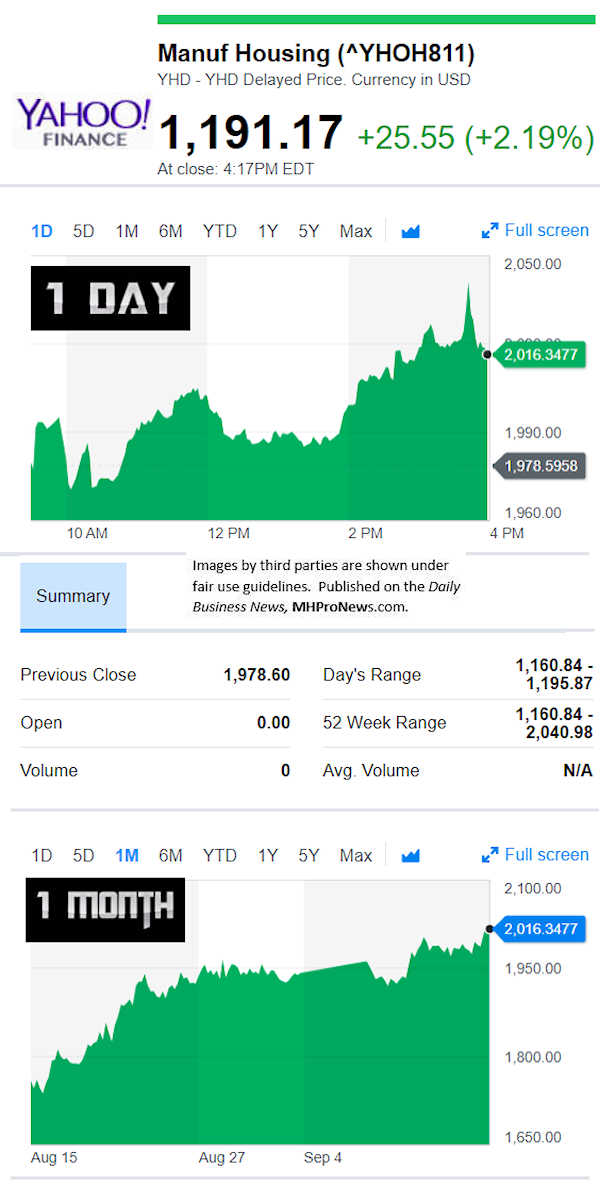 Today's Big Movers
For all the scores and highlights on tracked manufactured home connected stocks today, see the Bloomberg graphic, posted below.
Today's MH Market Spotlight Report –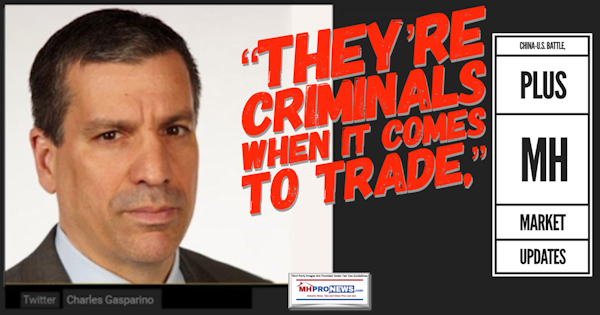 President Donald J. Trump has been making the case for years that the U.S.' leadership has engaged in terrible trade deals going back several decades.  For example, he blasted the Clinton era for NAFTA.  He's said that the WTO structure and China's place within it is flawed. He dumped President Obama's deal on Pacific-Asian trade.
 Why?
 The short answer is that it cost the U.S. good manufacturing jobs.  Former President Barack Obama said on the campaign trail in support of Secretary Hillary Clinton that 2 percent GDP was the new normal.  Mr. Obama said that Donald Trump didn't have "a magic wand" that he could wave to "get better trade deals."
Both GOP and Democratic presidents going back to the Clinton era have said that China has cheated on trade, but no one has seriously taken China on, until now.
The panel discussion below was prior to the closing bell, so it didn't reflect the fact that most markets had actually gained slightly by the end of the day, following an initial drop when the next round of tariffs were announced.
It is obvious that even these Fox Business talking heads are not all on board with President Trump's trade strategies.  In fact, some question that there is a strategy. 
That said, the video is keen on several levels. One is the headline quote from Charlie Gasparino. But more important are some of the nuanced comments floated during the discussion.
Among them is that the U.S. can benefit from these tactics in more than one way. 
·        Better trade deals can emerge, and the EU, Mexico and other nations have signaled that they are ready to make more favorable deals with the U.S.
·        If the tariffs fail to create a new deal, some producers will shift manufacturing to the U.S.
In short, either way, the Trump Administration can win mid-to-long term for American businesses, investors and workers.  The alternative is more of the same experienced for the last 2 plus decades.  For national security reasons alone, it was inconceivable not to defend American industrial capacity, especially in areas like steel, aluminum and energy production.
It's one of several tough, gutsy, but debatably correct strategies that the 45th president has undertaken.
Related Reports

:
US economy is 'killing it' right now: Larry Kudlow, Plus MH Market Updates
House Panel Passes Tax Cuts 2.0, Stocks Rise, Plus MH Market Updates
Bloomberg Closing Ticker for MHProNews…
NOTE: The chart below includes the Canadian stock, ECN, which purchased Triad Financial Services.
NOTE: The chart below covers a number of stocks NOT reflected in the Yahoo MHCV, shown above.
NOTE: Drew changed its name and trading symbol at the end of 2016 to Lippert (LCII).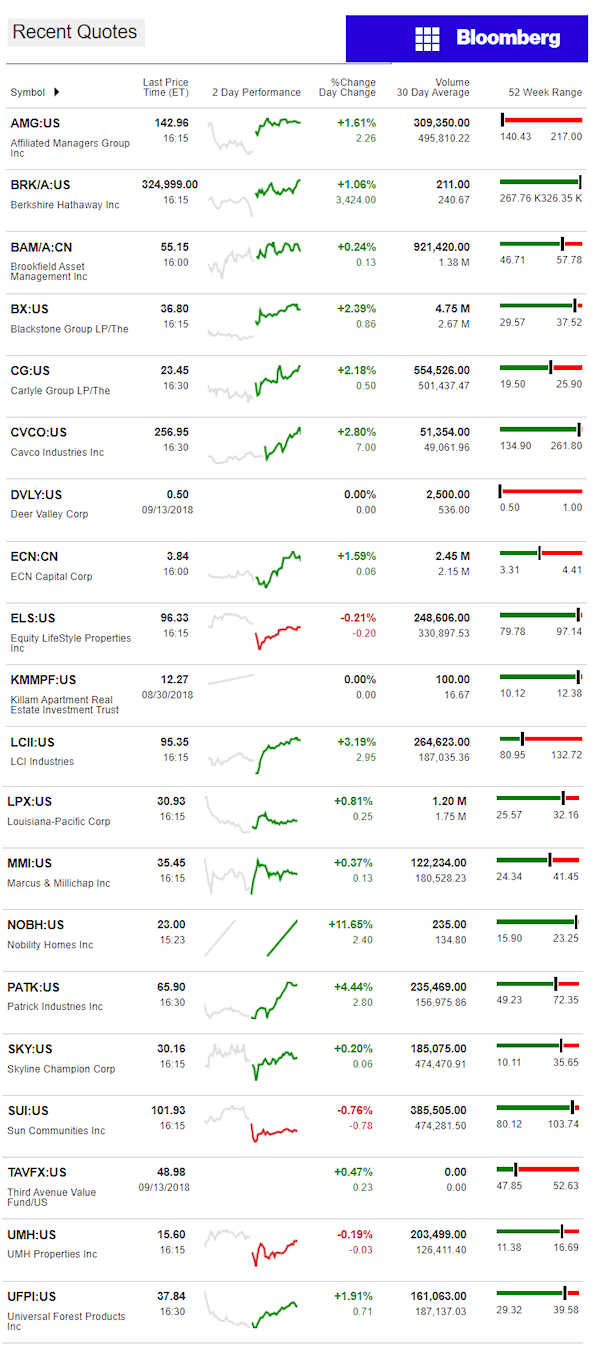 Berkshire Hathaway is the parent company to Clayton Homes, 21st Mortgage, Vanderbilt Mortgage and other factory built housing industry suppliers.
LCI Industries, Patrick, UFPI and LP all supply manufactured housing.
AMG, CG and TAVFX have investments in manufactured housing related businesses.
Your link to industry praise for our coverage, is found here.
For the examples of our kudos linked above…plus well over 1,000 positive, public comments, we say – "Thank You for your vote of confidence."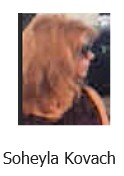 "We Provide, You Decide." © ## (News, analysis and commentary.)
(Image credits and information are as shown above, and when provided by third parties, are shared under fair use guidelines.)
Submitted by Soheyla Kovach to the Daily Business News for MHProNews.com.