We should thank God often for the growing use of the term, "fake news." Obviously, not all news is fake. Some reports are accurate, but others are less so. The reports below are examples of sources that generate purportedly pseudo reports on manufactured housing investing and other news. There is more than enough fake news that it may require a level of expertise to discern what is real from what is fake. paltering, spin, etc.. On a Black Friday when manufactured housing connected equities were mixed and the broader markets were down at the closing bell, Manufactured Home Pro News (MHProNews) looks at a specific report about two publicly traded HUD Code manufactured home producers that is a mix of fake news along with some other items that merit a closer look.
Regular readers please note there are a few tweaks to some of the standard portions of our evening market/investing report. Read carefully as some changes of the 'standard text' that follows before our left-right headlines and also in other features near the end of tonight's reports.
Every evening our headlines that follow provide snapshots from two major media outlets on each side of the left-right news spectrum that reflect topics that influence or move investor sentiment. In moments on this business evening report, you can get 'insights-at-a-glance.'
This report also sets the broader context for manufactured housing markets, in keeping with our mantra, "News through the lens of manufactured homes and factory-built housing" ©.
We begin with headlines left-of-center CNN followed by right-of-center Fox Business. We share closing tickers and other related data courtesy of Yahoo Finance, and more. 5 to 10 minutes reading this MHProNews market report every business night could save you 30 minutes to an hour of similar reading or fact-gathering elsewhere.
Perhaps more important, you will get insights about the industry from experts that care, but also dare to challenge the routine narrative that arguably keeps manufactured housing underperforming during an affordable housing crisis.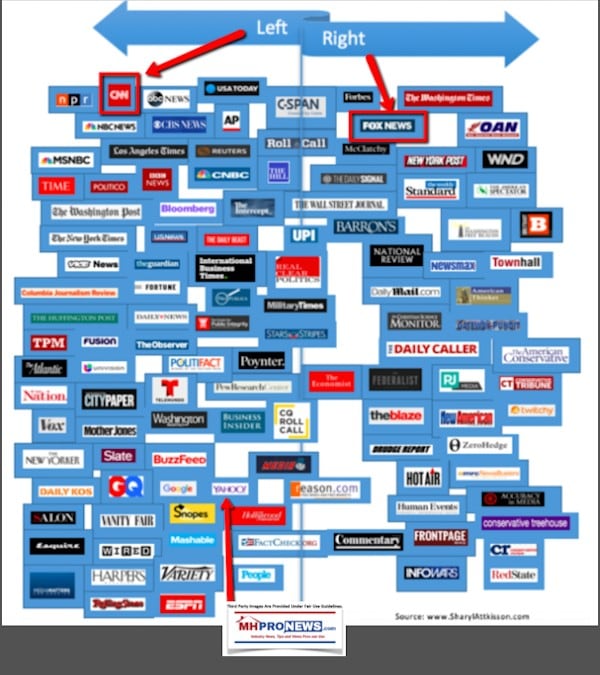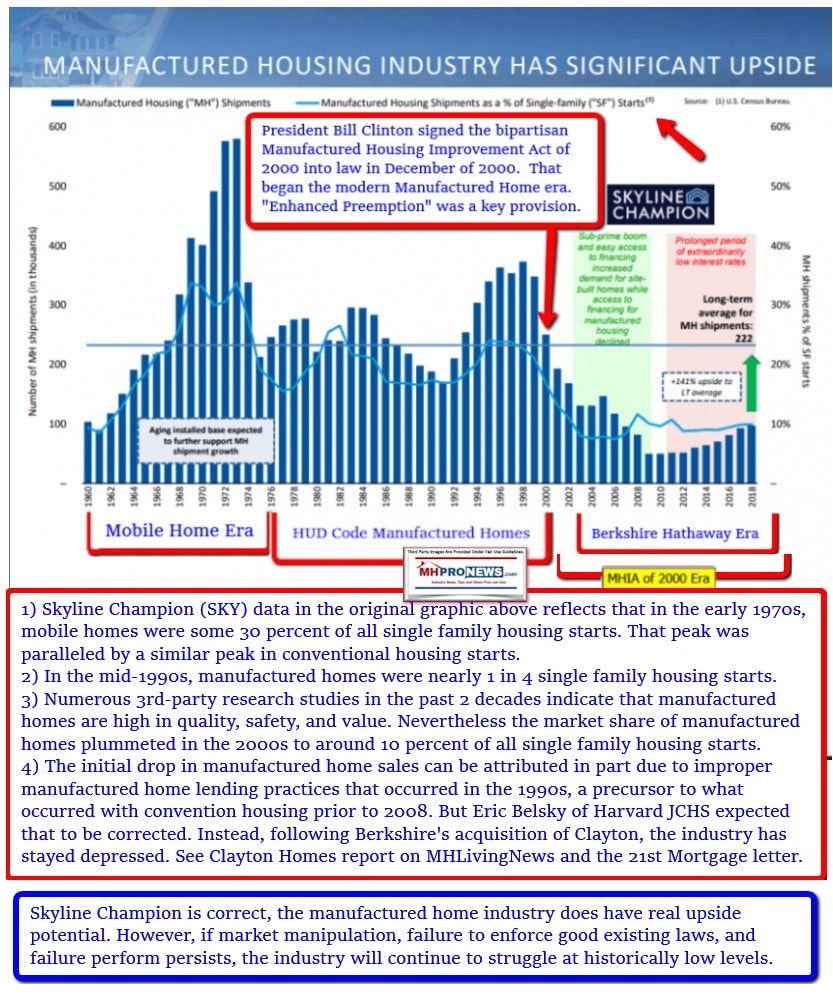 Newsy, Peeling Back Media Bias, Manufactured Housing Sales, Investing, Politics, and You
Headlines from left-of-center CNN Business.
A holiday record – Black Friday shoppers crowd the aisles at Brass Pro Shops at Patriot Place in Foxboro, Mass. Friday, November 29, 2019. Black Friday once again kicks off the start of the holiday shopping season. But with six fewer days than last year, it will be the shortest season since 2013 because
Thanksgiving fell on the fourth Thursday in November, the latest possible date it could be.
Here's how much money shoppers have spent on Black Friday so far
For the next 26 days, retailers will be after your wallet
Pop singer Sia surprises Thanksgiving shoppers
How malls with dead stores are finding new tenants
PERSPECTIVES Why the trade war won't hurt Black Friday sales
Why Millennials are buying more Christmas trees than ever
America's stock market is shrinking. NYSE has a plan for that
India's economic growth rate has halved in just three years
'Frozen 2' could break even more box office records for Disney this weekend
South Korea didn't buy any beer from Japan last month
This flying saucer is one man's vacation home
PERSPECTIVES Why Tesla's new Cybertruck could be a hit
The RealReal CEO stands up for the company's authentication policy
Workers check a Mercedes-Benz E-Class automobile after painting on the production line at the Daimler AG luxury automobile plant in Moscow, Russia, on Friday, April 19, 2019.
The car industry's electric upheaval claims another 10,000 jobs
Philanthropist Warren Buffett is seen in Septembeer 2017 in New York City.
Warren Buffett reportedly loses a big takeover battle
Toys 'R' Us is back with its first new store in the US
C. Moore is closing all of its stores
Brick and mortar stores are hurting many retailers, but Nordstrom is pushing them as key to the company's future
Victoria's Secret is canceling its fashion show
Walmart is doubling down on China with 500 new stores
AROUND THE WORLD – Singapore just used its fake news law. Critics say it's just what they feared
Twitter boss Jack Dorsey says he's going to live in Africa
How a bank for the forgotten made its investors really rich
Apple slammed by Ukraine for marking Crimea as part of Russia
Alibaba has gained nearly 14% since its Hong Kong debut
Headlines from right-of-center Fox Business.
NFL suspends Arizona Cardinals player for betting on games
Defensive back Josh Shaw accused of violating policy meant to preserve game's integrity, commissioner says.
Mercedes-Benz owner slashes 10,000 jobs in budget-conscious overhaul
Secret mission moves billions in gold from London to Poland
Brutal storm disrupts Thanksgiving revelers' return home
How to put yourself on a path toward wealthy retirement
Stocks notch best month since June
New Major League Baseball rule puts private equity in scoring position
Former presidential candidate ripped into Homeland Security chief at bar
Resorts under pressure to change name after CEO sex misconduct claims
Shoppers drop over $4 billion in online sales on Thanksgiving Day
Traders fired, placed on leave for allegedly trying to conceal massive loss
COSTLY 'COVER-UP' – Traders fired, placed on leave for allegedly trying to conceal massive loss
GLOOMY FOR BLOOMY? – 2020 CAMPAIGN – Disturbing claims may come back to haunt Bloomberg's White House bid
The 10 richest towns in America
AOC slams Buttigieg over ad criticizing tuition-free college: 'This is a GOP talking point'
Alexandria Ocasio-Cortez endorsed Sen. Bernie Sanders for president last month.
These Catholic schools have 250,000 reasons to be thankful due to one hedge fund manager
Charles Schwab, TD Ameritrade stuck with massive bill if $26 billion deal fails
Thousands of Texas residents return home after massive chemical plant fire
Mexico, Canada trade officials to meet for USMCA negotiations
Leadership professor: How managers can be both humble and ambitious
WORLD – London Bridge attack suspect shot dead by police after stabbing: report
How you can best explain your values to customers
Dallas Cowboys owner Jerry Jones' feathers ruffled, leaves game after Bills smothering
Buffett's Berkshire misses out on $5 billion acquisition
Border Patrol seizes thousands of fake IDs from China
How millennials and aging boomers are changing the mall scene
MODERN ATHLETES: How video gamers are raking in millions
SEE PICS: Millennial couple travels US in converted bus after paying off debt
Thai court fines Philip Morris $39.7 million for tax evasion
HEIR-RAISING FUNDS: America's richest families — and how much they're worth
Huawei preparing lawsuit against FCC after US subsidy ban
Inside America's most expensive restaurants
Hunter Biden hired because of his name, Burisma board member admits
Tight job market buoying slowing economy — and maybe Trump, too
Real estate tycoon's company files for bankruptcy
Target rolling out Cyber Monday deals early
Iraq's prime minister announces resignation after dozens killed amid worsening crisis
10 Market Indicator Closing Summaries – Yahoo Finance Closing Tickers on MHProNews…

Featured Focus – Where Business, Politics, and Investing Meet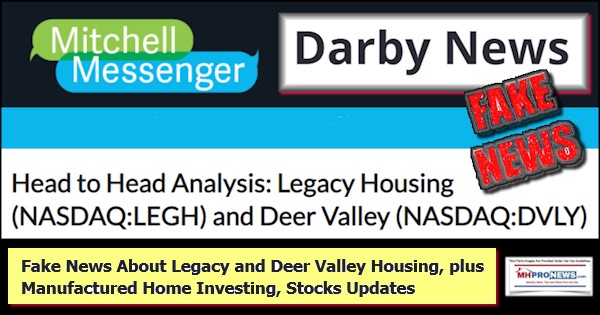 Starting with the opening sentence, a report by 'financial news' outlets began their report yesterday with the following line.
Legacy Housing (NASDAQ:LEGH) and Deer Valley (OTCMKTS:DVLY) are both finance companies, but which is the better investment?
As Manufactured Home Pro News (MHProNews) noted in an earlier report today, there are certain 'tells' or clues that we look for that once understood help us flag a report as something less than accurate. We'll unpack a specific example of that in the report that follows.
Investor, Professional ALERT – Global Prefabricated Manufactured Home Market 2019-2020-2021 – Reveals Fake 'Research'
Legacy and Deer Valley are both factory-built housing companies. The two firms build homes to the federally regulated standards for HUD code for manufactured homes. But they also can build to other standards, modular or otherwise. While each firm to various degrees are involved in 'financing,' to say that they are "finance companies" misses the mark.
That phrase is one of several signals that some of their news is arguably 'fake news.'
As noted, early today, we did a report on another example of fake news that targets those researching the manufactured home industry. One problem is there are numbers of such operations.
Investor, Professional ALERT – Global Prefabricated Manufactured Home Market 2019-2020-2021 – Reveals Fake 'Research'
That report and this one should be considered as complimentary bookends.
Not unlike companies claiming they are selling research reports on manufactured housing often written overseas by people who have never stepped foot in a HUD Code manufactured home or North American modular home, some 'financial news' are a blend of accurate and misleading information. They have a business model we won't delve into today, beyond noting that sometimes such reports are written using crude forms of AI that gathers information without discernment.
Because the information gathered – be it manually done by humans and/or harvested by 'bots' – is done by those who have little or no real knowledge of the industry, it is by definition problematic.
Manufactured housing is an amazing but misunderstood industry. That misunderstanding often begins because of the volume of fake news.
The report that follows is a composite from Mitchell Messenger and/or Darby News "services." We won't bother fisking it line by line. This one is more evident than several such 'reports' for reasons noted.
First their 'fake news research,' then our thumbnail analysis.

While this example is more evident of what we've stated in our preface above, good luck with others sorting out what is real from what is fake, unless you go to the source material and/or you have someone like us do some sifting of wheat from chaff by doing the necessary fact-checks.
It will raise the ire of some that we will say what follows. While these 'fake news' sources are more obvious, don't forget that even mainstream news sources may be quoting information that relies on the Manufactured Housing Institute (MHI) and/or their members that have upon careful scrutiny often proven to be problematic. See some related reports for sobering examples.
Manufactured housing is a fine – potentially superior – opportunity. But it is underperforming. Why?
Why did Cavco Industries get into such hot water with the Securities and Exchanges Commission (SEC) just over a year ago?
Why has Cavco (CVCO) spent millions trying to defend against self-inflicted and arguably avoidable problems?
Why has Cavco leadership ducked several inquiries from us as the largest and best informed industry news source?
We don't claim to be expert on every nuance of the law, etc. But unlike the bulk of mainstream media, no matter how well intended, they have little or no firsthand experience in manufactured housing. We have combined decades of experience.

The reason that MHI and others in the Omaha-Knoxville-Arlington axis and their allies hate us is in part because they know that they've praised us for doing what we they now hate; namely, follow the evidence through expert eyes.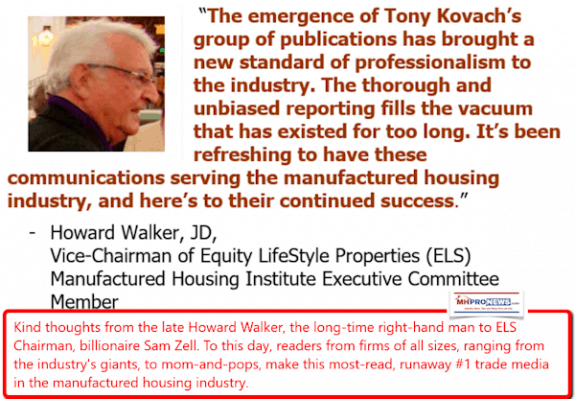 We like to yank MHI's outgoing president's Dick Jennison's nose from time-to-time with this video clip.
But arguably the more important video clip of Jennison is the one below.

That 18 seconds was one of the clues that began to raise our publisher's concerns about what MHI was actually up to vs. what they claimed to be doing 'for the industry.' What president of a national trade association argues for slow growth when the opportunity for robust, sustainable growth is so strong?
That episode was and remains disgrace to MHI, doesn't it?
The full length version of the first Jennison video above includes his amending his flub in the second video. MHProNews' publisher gave him that opportunity to correct the record. Jennison said on camera that the industry could be doing 500,000 new HUD Code manufactured homes annually, not under 100,000. Which begs the question, if so, why is the industry still under 100,000 new units a year, and down year-over-year from the prior year?
It's a disgrace, isn't it?
We know from MHI insiders that Jennison's face literally turns red when confronted with some difficult or embarrassing fact. That's a pretty big tell for someone trying to cover for others. No wonder Lesli Gooch and Mark Bowersox were being advanced by MHI's powers-that-be while he was being pushed into the background, and as Jennison is now "retiring?"
There is more fake news than just by these overseas sources reported today. Sadly, some of it is inside the industry and is problematic for untold numbers or professionals, investors, affordable housing seekers, and others.
See the related reports below.
Related Reports:
White House Council Requesting Input From Manufactured Home Industry on Affordable Housing Barriers
Surprising 21st Mortgage President/CEO Tim Williams Statements – "Lending Trends in Manufactured Housing," Fact-Check, Analysis
Publicly Traded Manufactured Housing Firms – Which Source Do You Trust More? Why? MHI, MHARR, Others
Unique Opportunities for More Competitive Lending for All HUD Code Manufactured Homes
Mike Huckabee – 'When Law Enforcers Become Lawbreakers' – plus Sunday Manufactured Home Headline News in Review 11.17 to 11.24.2019
"White Hat" Manufactured Home Community Operator, MH Retailer Sound-Off on FHFA, Fannie Mae, Freddie Mac, and Duty to Serve Manufactured Home Lending
Investor Alert – Manufactured Housing Institute Paltering Concerns, Fannie Mae's Duty to Serve, plus Manufactured Housing Investing, Stocks Updates
Bringing Financial Balance and Increased Equity to Manufactured Housing Independents, Homeowners, Other Stakeholders, Including Taxpayers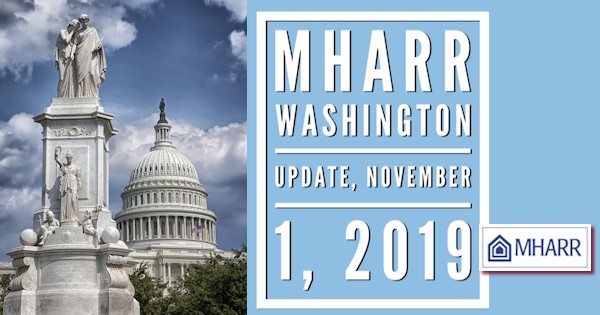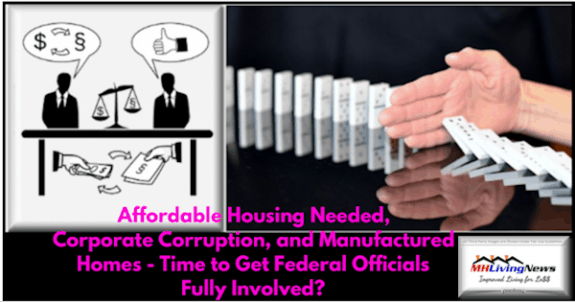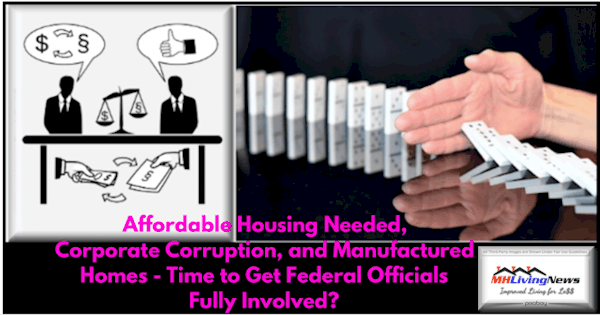 Cavco, Sun, ELS Public Statements Point to Problems for MHI, Fannie, Freddie – Public Officials, Investor, Advocates, Professionals Alerts
Clayton Homes Exposé – Wall Street Journal, MHVillage, MHInsider, and Statistical Surveys Contradict Clayton Claims – Evidence, Fact Check, Analysis
Retailer, Producer, Finance Exclusive – Interview with New Class of Manufactured Housing "CrossMod Homes" Developer-Seller
HUD's Brian Montgomery – William 'Bill' Matchneer Exposé – If the Shoe Fits, Affordable Housing, Manufactured Homes – Impacting American Dreams?
Manufactured Housing Industry Investments Connected Closing Equities Tickers
Some of these firms invest in manufactured housing, or are otherwise connected, but may do other forms of investing or business activities too.
NOTE: The chart below includes the Canadian stock, ECN, which purchased Triad Financial Services, a manufactured home industry lender
NOTE: Drew changed its name and trading symbol at the end of 2016 to Lippert (LCII).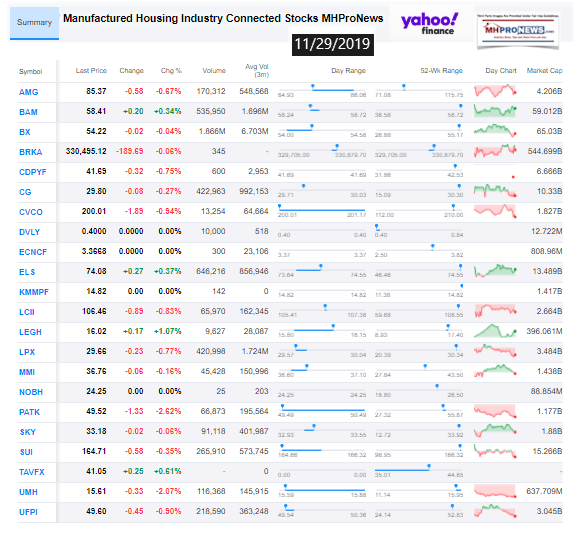 Updated for Fall 2019…
Berkshire Hathaway is the parent company to Clayton Homes, 21st Mortgage, Vanderbilt Mortgage and other factory built housing industry suppliers.
· LCI Industries, Patrick, UFPI, and LP each are suppliers to the manufactured housing industry, among others.
· AMG, CG, and TAVFX have investments in manufactured housing related businesses.
For insights from third-parties and clients about our publisher, click here.
Enjoy these 'blast from the past' comments.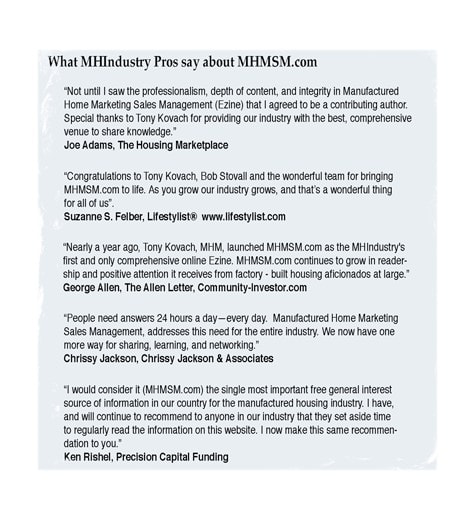 MHProNews. MHProNews – previously a.k.a. MHMSM.com – has now celebrated our tenth anniversary.
Learn more about our evolutionary journey as the industry's leading trade media, at the report linked below.
Celebrating 10 Years of Goal- and Solution-Oriented Manufactured Home Industry Innovation Information, and Inspiration for Industry Professionals
· For expert manufactured housing business development or other professional services, click here.
· To sign up in seconds for our industry leading emailed headline news updates, click here.
Disclosure. MHProNews holds no positions in the stocks in this report.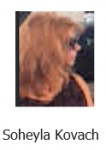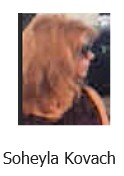 "We Provide, You Decide." © ## (News, analysis and commentary.)
(Image credits and information are as shown above, and when provided by third parties, are shared under fair use guidelines.)
Submitted by Soheyla Kovach, co-managing member of LifeStyle Factory Homes, LLC and co-founder for MHProNews.com, and MHLivingNews.com.

Connect with us on LinkedIn here and here.