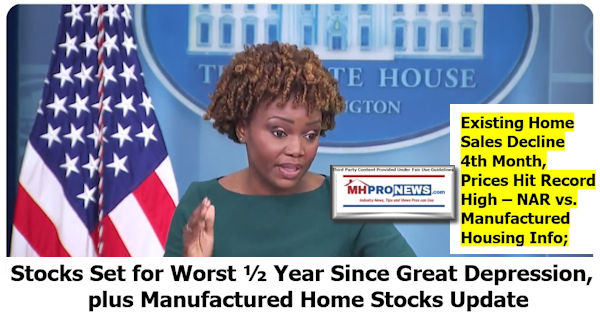 Citing information from Deutsche Bank, left-leaning MarketWatch said: "With the large-cap benchmark having shed around 22.3% so far in 2022 — the biggest drop since 1932… — strategists at the bank see the remainder of the year hinging on whether or not the economy avoids falling into recession." That same source stated that "The S&P 500 officially hit bear market territory last week and, according to Deutsche Bank, is currently on track for its worst half-year performance since the Great Depression." "If we don't see a recession materialize over that period it might be tough for markets to continue to be as bearish as they have been, and a bounce back resembling history might be possible," strategist Jim Reid said in a client note on Tuesday. "However, it's hard to see markets recovering if we see firm evidence of the recession." Though the bank sees a recession beginning in 2023, "the risk of an earlier move [into recession] is clearly building with declining financial conditions, and consumer and business confidence plummeting," Reid said.
So much for a chorus of Biden Administration officials, including Joe Biden himself, saying that a recession is not "inevitable." Oddly, on Tuesday, the new White House Press Secretary Karine Jean-Pierre said US is poised to enter a period of "stable and steady growth."
Jean-Pierre's more complete response to the recession inquiry:
"Right now, we don't see a recession. We are not in a recession right now. 
Right now, we're in a transition where we will go into a place of stable and steady growth, and that's going to be our focus."
Karine Jean-Pierre: "We don't see a recession" happening soon.

They said the same thing about inflation. pic.twitter.com/ISTc9HR1ZS

— RNC Research (@RNCResearch) June 21, 2022
The focus of what? Of a choreographed chorus of Biden administration talking points? As the tweet above noted, a year ago, there was a similar denial about inflation. How long can or will a strategy of denial and delay work?
While 'experts' and politicos can debate if a recession has started, ironically House Democratic Whip James "Jim" Clyburn (SC-D) says it already has started. On 6.21.2022, unlike other Democrats here was the response of Congressman Clyburn. "For a lot of people we are [in a recession]," Clyburn said. "No question about that. If you can't afford to buy gasoline, you are in a recession."
— RNC Research (@RNCResearch) June 21, 2022
The winds of change in Washington and nationally are blowing, as Americans are pushing back against the agenda that has brought the previously stable and growing economy into this period of economic turmoil. The recent victory of now-Congressman Mayra Flores is the latest evidence of the winds of change blowing. Flores, a Mexican-born Republican who has a border agent as a husband, just replaced a Democrat in a district that has been held by Democrats for some 150 years.
My very first day in office and it's a memorable one for sure. This is what dreams are made of; faith, family, and hardwork. #TX34 #DreamsComeTrue pic.twitter.com/FXx6DDKqMM

— Mayra Flores For Congress 🇺🇸🦅 (@MayraFlores2022) June 21, 2022
To Clyburn's point, fuel costs are an integral point in all housing prices, including manufactured housing.
That pivot is the segue to the other headline topic on declining housing sales as prices as interest rates continue to rise.
One of the largest portions of the U.S. economy is the housing market. According to a press release by the National Association of Realtors (NAR) to MHProNews and others in media is the following report. It will be followed by manufactured housing industry comparisons and related information.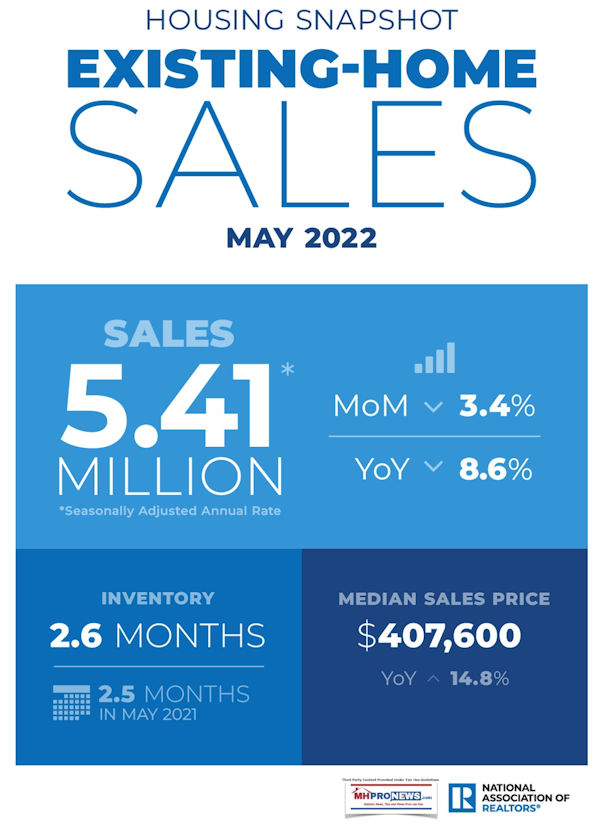 Existing-Home Sales Fell 3.4% in May; Median Sales Price Surpasses $400,000 for the First Time
June 21, 2022
Key Highlights
Existing-home sales declined for the fourth straight month to a seasonally adjusted annual rate of 5.41 million. Sales were down 3.4% from April and 8.6% from one year ago.
At $407,600, the median existing-home sales price exceeded $400,000 for the first time and represents a 14.8% increase from one year ago.
The inventory of unsold existing homes rose to 1.16 million by the end of May, or the equivalent of 2.6 months at the current monthly sales pace.
WASHINGTON (June 21, 2022) – Existing-home sales retreated for the fourth consecutive month in May, according to the National Association of Realtors®. Month-over-month sales declined in three out of four major U.S. regions, while year-over-year sales slipped in all four regions.
Total existing-home sales,1 https://www.nar.realtor/existing-home-sales, completed transactions that include single-family homes, townhomes, condominiums and co-ops, fell 3.4% from April to a seasonally adjusted annual rate of 5.41 million in May. Year-over-year, sales receded 8.6% (5.92 million in May 2021).
"Home sales have essentially returned to the levels seen in 2019 – prior to the pandemic – after two years of gangbuster performance," said NAR Chief Economist Lawrence Yun. "Also, the market movements of single-family and condominium sales are nearly equal, possibly implying that the preference towards suburban living over city life that had been present over the past two years is fading with a return to pre-pandemic conditions."
Total housing inventory2 registered at the end of May was 1,160,000 units, an increase of 12.6% from April and a 4.1% decline from the previous year (1.21 million). Unsold inventory sits at a 2.6-month supply at the current sales pace, up from 2.2 months in April and 2.5 months in May 2021.
"Further sales declines should be expected in the upcoming months given housing affordability challenges from the sharp rise in mortgage rates this year," Yun added. "Nonetheless, homes priced appropriately are selling quickly and inventory levels still need to rise substantially – almost doubling – to cool home price appreciation and provide more options for home buyers."
The median existing-home price5 for all housing types in May was $407,600, up 14.8% from May 2021 ($355,000), as prices increased in all regions. This marks 123 consecutive months of year-over-year increases, the longest-running streak on record.
Properties typically remained on the market for 16 days in May, down from 17 days in April and 17 days in May 2021. Eighty-eight percent of homes sold in May 2022 were on the market for less than a month.
First-time buyers were responsible for 27% of sales in May, down from 28% in April and down from 31% in May 2021. NAR's 2021 Profile of Home Buyers and Sellers – released in late 20214 – reported that the annual share of first-time buyers was 34%.
All-cash sales accounted for 25% of transactions in May, down from 26% in April and up from 23% recorded in May 2021.
Individual investors or second-home buyers, who make up many cash sales, purchased 16% of homes in May, down from 17% in April and 17% in May 2021.
Distressed sales5 – foreclosures and short sales – represented less than 1% of sales in May, essentially unchanged from April 2022 and May 2021.
According to Freddie Mac, the average commitment rate(link is external) for a 30-year, conventional, fixed-rate mortgage was 5.23% in May, up from 4.98% in April. The average commitment rate across all of 2021 was 2.96%.
Realtor.com®'s Market Trends Report in May shows that the largest year-over-year median list price growth occurred in Miami (+45.9%), Nashville (+32.5%), and Orlando (+32.4%). Austin reported the highest growth in the share of homes that had their prices reduced compared to last year (+14.7 percentage points), followed by Las Vegas (+12.3 percentage points) and Phoenix (+11.6 percentage points).
Single-family and Condo/Co-op Sales
Single-family home sales declined to a seasonally adjusted annual rate of 4.80 million in May, down 3.6% from 4.98 million in April and down 7.7% from one year ago. The median existing single-family home price was $414,200 in May, up 14.6% from May 2021.
Existing condominium and co-op sales were recorded at a seasonally adjusted annual rate of 610,000 units in May, down 1.6% from April and down 15.3% from one year ago. The median existing condo price was $355,700 in May, an annual increase of 14.8%.
"Declining home purchases means more people are renting, and the resulting rent price escalation may spur more institutional investors to buy single-family homes and turn them into rental properties – placing additional financial strain on prospective first-time homebuyers," said NAR President Leslie Rouda Smith, a Realtor® from Plano, Texas, and a broker associate at Dave Perry-Miller Real Estate in Dallas. "To counter this trend, policymakers should consider incentivizing an inventory release to the market by temporarily lowering capital gains taxes for mom-and-pop investors to sell to first-time buyers."
Regional Breakdown
Existing-home sales in the Northeast climbed 1.5% in May to an annual rate of 680,000, falling 9.3% from May 2021. The median price in the Northeast was $409,700, a 6.7% rise from one year ago.
Existing-home sales in the Midwest dropped 5.3% from the previous month to an annual rate of 1,240,000 in May, slumping 7.5% from May 2021. The median price in the Midwest was $294,500, up 9.5% from one year before.
Existing-home sales in the South declined 2.8% in May to an annual rate of 2,410,000, down 8.4% from the previous year. The median price in the South was $375,000, a 20.6% jump from one year ago. For the ninth consecutive month, the South recorded the highest pace of price appreciation in comparison to the other three regions.
Existing-home sales in the West slid 5.3% compared to the month before to an annual rate of 1,080,000 in May, down 10.0% from this time last year. The median price in the West was $633,800, an increase of 13.3% from May 2021.
The National Association of Realtors® is America's largest trade association, representing more than 1.5 million members involved in all aspects of the residential and commercial real estate industries. ##
Additional Information, More MHProNews Analysis and Commentary
Recent manufactured housing data, based upon official sources, are found in the reports linked below.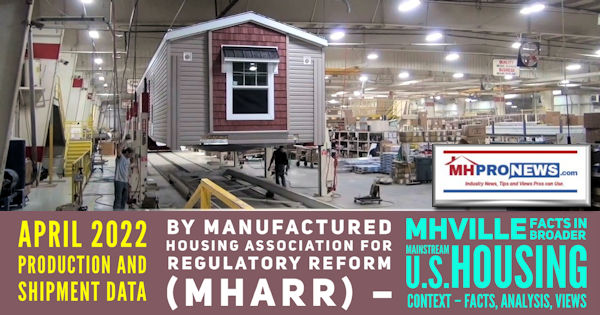 State by State, National Totals on HUD Code Manufactured Home Production, Shipments for April 2022; plus, Sunday Manufactured Housing Headlines Week in Review
MHI Claims 'Momentum' in D.C. – HousingWire, MHInsider Showcase Manufactured Housing Institute CEO Lesli Gooch Op-Ed on DOE Energy Rule Sans Critique, Fact Check, Viewpoints; plus MHMarket Update
U.S. Census Bureau Updated HUD Code Manufactured Housing Sales Price Data Nationally, by U.S. Regions – 'Elites Hate Lower Income Americans and Manufactured Homes, Which They Deny But Prove at Every Turn
The Manufactured Housing Institute should doubtlessly update their data on how many full-time equivalent employees there are in manufactured housing. But they have used the figure 75,000. MHI claims over 1000 member firms, but they arrive at the total – per sources – in part because they count every Clayton Homes owned retail store as an individul 'member.' That means that over 1/3 of all MHI members are Clayton. If someone wonders how much influence they carry at MHI, keep that and other data points in mind. That noted, NAR's reported 1.5 million members is about 20 times the size of all of manufactured housing combined, using that MHI data point.
Another comparison between NAR and MHI is their respective methods of reporting data. NAR, like the Manufactured Housing Association for Regulatory Reform (MHARR), reports their data publicly monthly.  So too does the National Association of Home Builders (NAHB), or the Recreational Vehicle Industry Association (RVIA). So, why does MHI hide their data behind a members-only pay wall? Are they afraid of reporting industry data and having to account publicly for their performance? Hold those thoughts and factoids in mind as you ponder why frustration with MHI is reportedly growing among MHI members, particularly industry independents. Evidence of those claims and more facts are found in the reports linked below.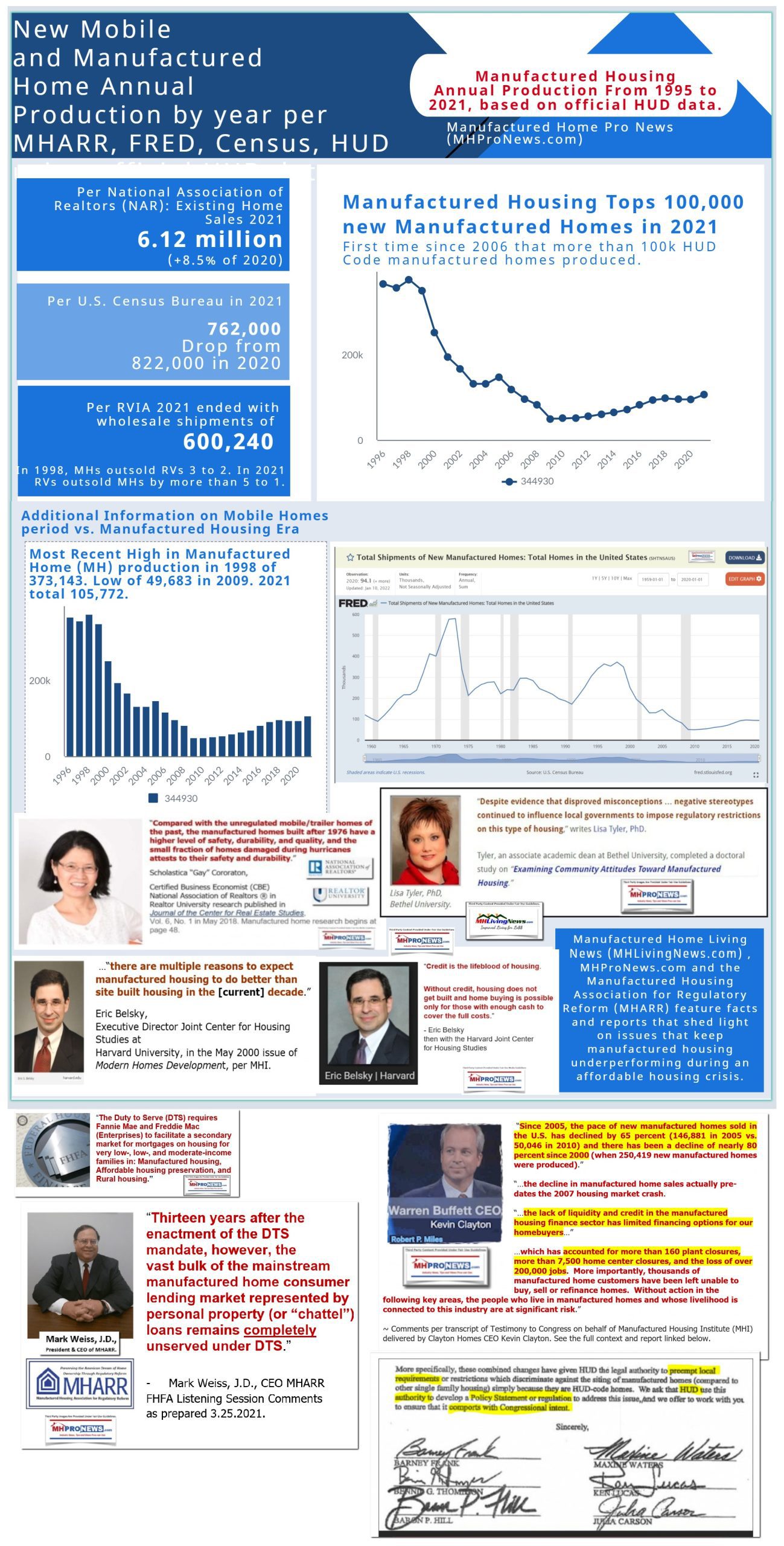 There are good reasons to believe that manufactured housing could be soaring, but ONLY if GOOD EXISTING LAWS WERE FULLY and PROPERLY ENFORCED. The fact that MHI has not deployed their legal resources to use the courts to force local and federal compliance with widely bipartisan Congressionally passed mandates begs the question, what is MHI waiting for anyway? Are MHI's larger members working together to keep the industry underperforming so that industry consolidation can continue? The evidence from publicly trade companies that are MHI members strongly suggest the answer to that question is yes. In many browsers, you can click the quotes collage image below and follow the prompts to open the image up to a larger size. It reveals at-a-glance the disconnects between MHI claims of working for growth and the reality of why growth has been so slow.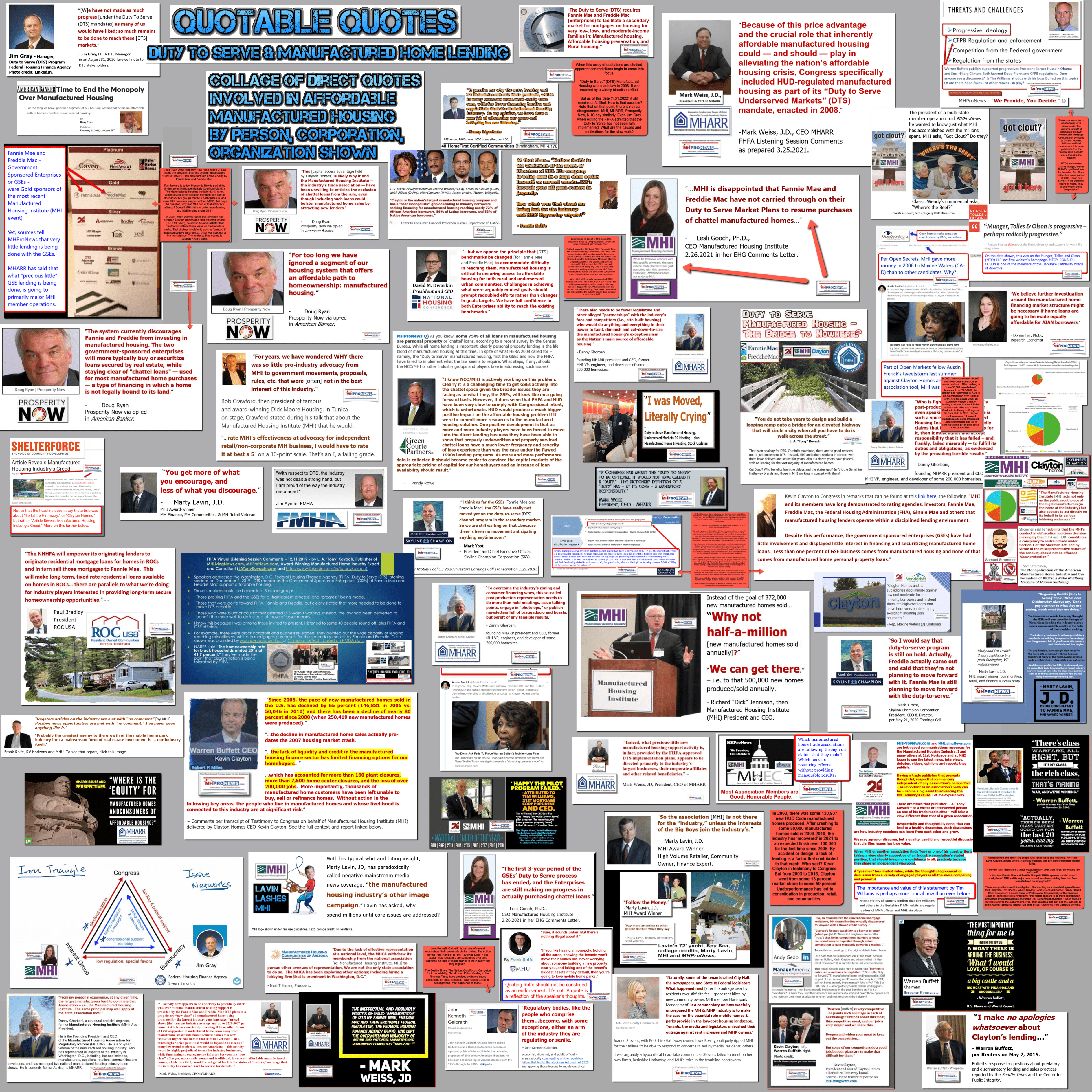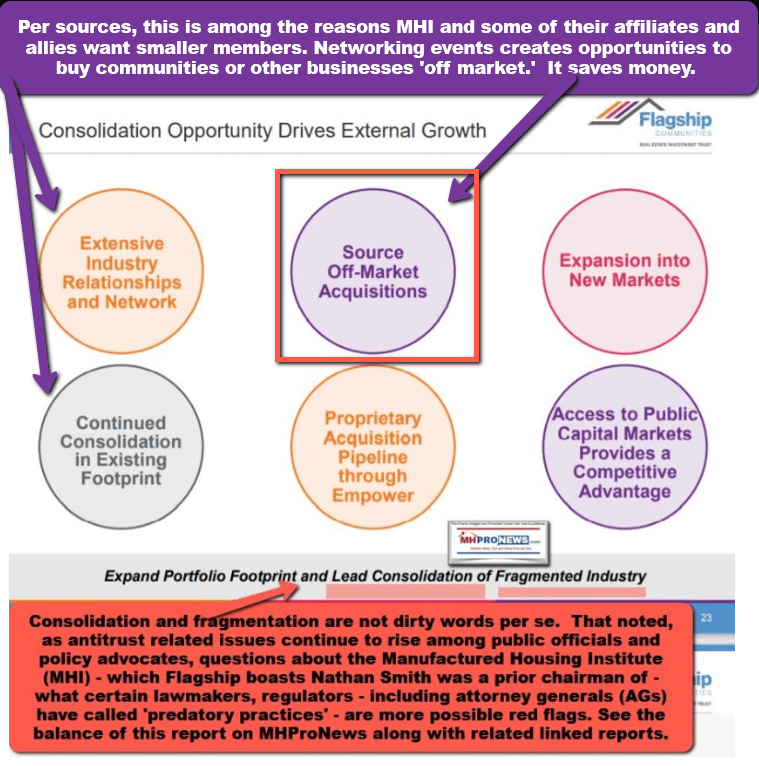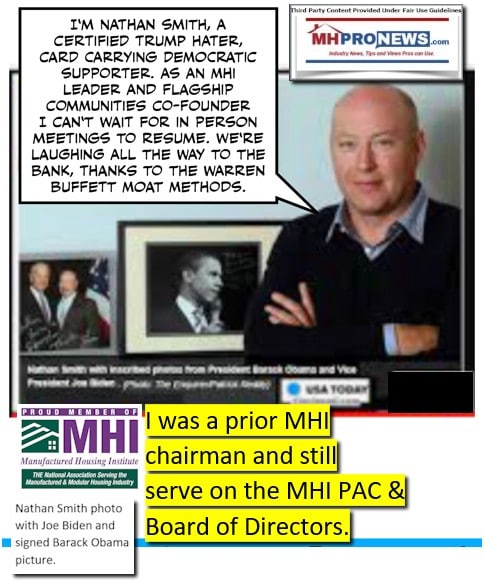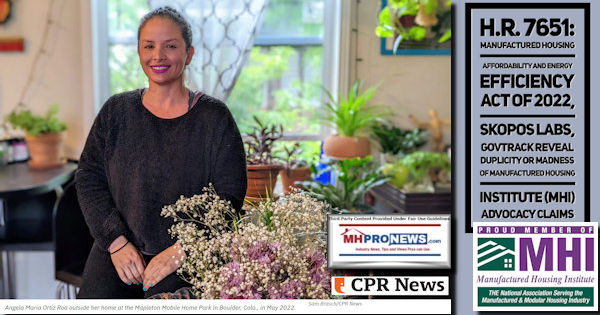 Recall too that MHI's prior president and CEO, Richard "Dick" Jennison, let the proverbial cat out of the bag. He specifically said on camera that the industry should grow slowly. Imagine if NAHB, RVIA, or NAR leaders said something similar. They'd be job hunting. But instead, Jennison kept his position after a series of that and other MHProNews exposés. Is it any wonder that MHI won't publicly respond to these concerns and neither will their attorneys? Is it any wonder that since only MHProNews is reporting this pattern and related information that this trade publication dwarfs all of our competitors in reader engagement? For months on end, though we only publish one or two reports daily here, MHProNews has enjoyed well over 1 million pageviews monthly on our main cPanel, with others on our large site adding to that total.  Do the math. Clearly, not everyone in manufactured housing reads here. But those who do have often averaged some 6 articles (pageviews) per visit. There are obviously outsiders looking in on MHProNews, as other data and sources tell us that public officials, nonprofits, and researchers are on our site on a routine basis.  Those who lead MHI can duck for a time, but they apparently can't hide from the facts and figures shared and linked herein.
Manufactured Housing Institute (MHI) Helped Raise Profile of DOE Energy Rule in Media, Homes on the Hill, But Critics Say MHI Strategy Won't Work – Examples; plus Sunday Weekly Headline Recap
Fox News, Washington Post, Viral Vice Video, Yahoo, and Go Banking Rates Reports Embarrassing for Several MHVille Corporate, Advocacy Leaders; plus Manufactured Housing Equities Updates
MHI has arguably boxed themselves in by a combination of statements, action, and inaction. See the report linked below for specific examples.
'Mobile Home Residents Ask for Relief as Conglomerates Buy up Parks'-Reports Mix of Accurate, Inaccurate Claims Beg Correct Manufactured Housing Institute Response, MHI's Ethics Code; plus MHStock Update
Next up is our daily business news recap of yesterday evening's market report, related left-right headlines, and manufactured housing connected equities.
The Business Daily Manufactured Home Industry Connected Stock Market Updates.  Plus, Market Moving Left leaning CNN and Right-leaning (Newsmax) Headlines Snapshot. While the layout of this daily business report has been evolving over time, several elements of the basic concepts used previously are still the same. For instance. The headlines that follow below can be reviewed at a glance to save time while providing insights across the left-right media divide. Additionally, those headlines often provide clues as to possible 'market-moving' news items.
Market Indicator Closing Summaries – Yahoo Finance Closing Tickers on MHProNews…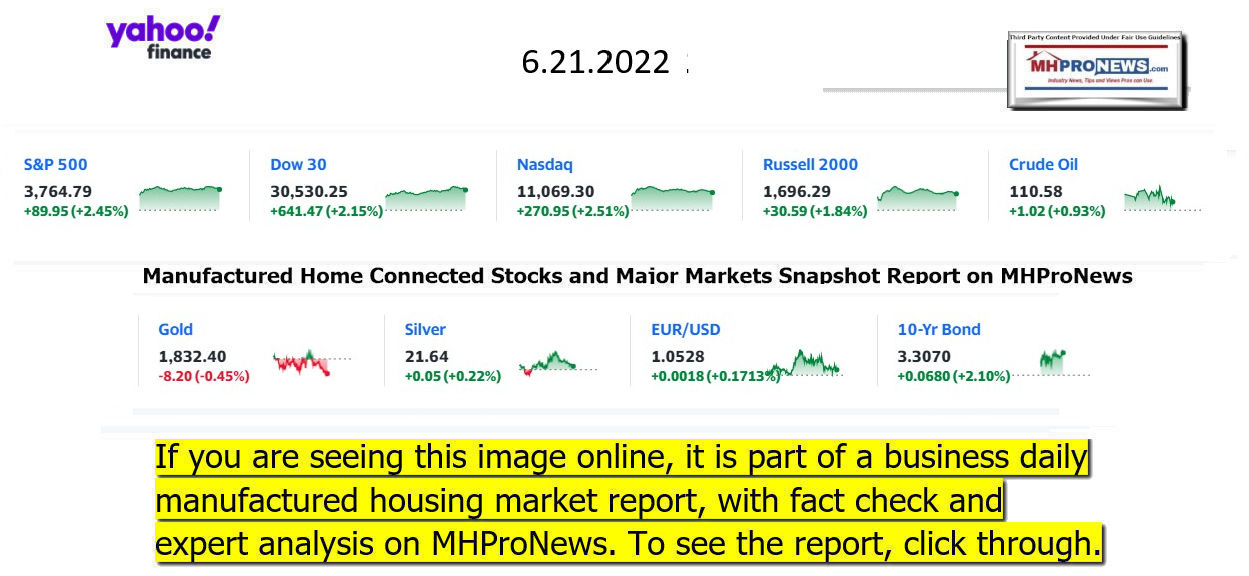 Headlines from left-of-center CNN Business – from the evening of 6.21.2022
An easy fix
A customer prepares to pump diesel fuel at this Madison, Miss., Sam's Club, Tuesday, May 24, 2022. Wholesale retail chains stores like Costco and Sam's Club tend to price their gas and diesel competitively against one another while major gas chain prices are usually higher. (AP Photo/Rogelio V. Solis)
A gas tax holiday sounds fantastic. But there's a reason Obama bashed it as a 'gimmick'
The stock market sell-off could be just getting started
Dow rises sharply as stocks bounce back from worst week in over two years
Kellogg is spinning off its cereal business
The United Kingdom has a jobs problem
GM delivers 150 electric vans to FedEx
Some Democrats want to tax Big Oil's windfall. It could backfire
Uber is bringing back shared rides to 9 US cities
What to do when a job interview question leaves you stumped
There's a new way to eat Krispy Kreme's glazed donuts
Stephen Colbert explains staff arrests at Capitol: 'This was first-degree puppetry'
Analysis: Republican candidate's video tests tech company policies about inciting violence
Share your story: Did you retire during the pandemic, but then decide to head back to work?
Changes to your next 401(k) statement could be alarming, but don't panic just yet
Beyoncé's new song unleashes Great Resignation vibes
SpaceX founder Elon Musk addresses the media during a press conference announcing new developments of the Crew Dragon reusable spacecraft, at SpaceX headquarters in Hawthorne, California on October 10, 2019.
Elon Musk's child tells court she no longer wants 'to be related' to her dad
TECH
TikTok moves US users' data to Oracle servers to address security concerns
End of an era: Microsoft retires Internet Explorer
SpaceX fires at least five for letter criticizing Elon Musk
Snap is testing a new Snapchat+ subscription service
Lyft agrees to $25 million settlement with shareholders over safety-related allegations
SUCCESS
Retiring into a bear market: What to do, what to avoid
How to make the most of your time with the boss
Job scams are on the rise. Watch out for these red flags
Here's when to say 'no' at work
Beware: The companies that hold your crypto aren't insured the way banks are
Headlines from right-of-center Newsmax 6.21.2022
50 House Republicans Urge Biden: Reconsider Potential Ban on Certain Ammo
Russian Invasion of Ukraine
Why Hasn't Biden Condemned Russian Cyberwar Against Costa Rica?
AG Garland, in Surprise Ukraine Visit, Vows U.S. Will Help Prosecute War Crimes
Ukraine Region Weathers Bombardment
War-Damaged Russian Tanks to Go on Display in Polish Square
Ben Stiller Recalls 'Distressing,' 'Shocking' Scenes From Visit to Kyiv
Nobel Sold for Ukrainian Kids Shatters Record at $103.5M
Africa 'Taken Hostage' by Russia's Invasion: Zelenskyy
More Russian Invasion of Ukraine
Newsmax TV
Cruz: Left Will Get Violent Over Roe Reversal | video
Carson: Use 'Common Sense' in Vaccinating Kids | video
Kevin Cabrera: Opponents Buying Radio Time to 'Silence Our Voice'
Vernon Jones: Georgia Runoff Opponent Doesn't Want America First | video
Stewart: More Saudi Oil Won't Drive Prices Back Down Quickly | video
Goya CEO Unanue: 'Idiotic War on Fossil Fuel' Driving Food Costs | video
Trump: Biden Is Bringing US Toward 'World War' | video
Report: San Francisco Facing Mass Exodus from Crime, Homelessness
Tens of thousands of people are fleeing San Francisco, California, due in large part to the city's problems of increasing crime and homelessness, U.S. Census data and local polling shows…. [Full Story]
Legendary 'Nazi Hunter' to Lead DOJ Investigations of War Crimes in Ukraine
The U.S. Department of Justice (DOJ) has tapped Eli Rosenbaum to lead [Full Story]
Justice Sotomayor: Court's Conservatives Eroding Church-State Separation
Supreme Court Justice Sonia Sotomayor says the courts six-member [Full Story]
Vanishing Veep: Harris Missing as Biden Announces Migration Pact
The Biden administration's alleged migration czar, Vice President [Full Story] | Platinum Article
Mayor of Washington, DC, Faces Formidable Primary Challenge
Washington, D.C., Mayor Muriel Bowser faced a formidable fight for a [Full Story]
PGA Tour's Suspension of LIV Players 'Reeks of Antitrust, Anti-competition'
The debate over who to tee off for – the storied PGA Tour or the new [Full Story] | Platinum Article
Texas GOP Rep. Mayra Flores Celebrates Her First Day in Office
Just one week after winning the special election in Texas' 34th [Full Story]
Newsmax Hosts NY GOP Governor Debate in Rochester
Newsmax announced today it will hold and televise a live New York [Full Story]
50 in House GOP Urge Biden to Reconsider Ammo Ban
A large number of House Republicans have formally spoken out against [Full Story]
Rasmussen Reports: 57 Percent Say Biden's Handling of Economy 'Poor'
President Joe Biden's handling of the economy gets low grades in a [Full Story]
US Home Sales Slide as Prices Top $400k for 1st Time
S. existing home sales tumbled to a two-year low in May as prices [Full Story]
Israel Bill to Ban Netanyahu From Another Run Denied Again
A bill seeking to ban Benjamin Netanyahu from running again to be [Full Story]
Related
Israel Coalition to Fast-track Bill to Dissolve Parliament
Dartmouth to Eliminate Loans for Undergraduate Students
Dartmouth College is removing all federal and institutional loans [Full Story]
Nearly 2M Southern Border Migrants Released Into U.S. Under Biden
Nearly 2 million migrants have been released into the U.S. under [Full Story]
Former Amazon Employee Convicted of Capital One Data Breach
A former Amazon employee accused of hacking Capital One in 2019 was [Full Story]
Why Hasn't Biden Condemned Russian Cyberwar on Costa Rica?
As consumed as Russia is with trying to overpower Ukraine, the [Full Story]
Just 5 Impeachment-Voting Republicans Left on Trump List
Just 5 Impeachment-Voting Republicans Left on Trump List
AG Garland, in Surprise Ukraine Visit, Vows U.S. Will Help Prosecute War Crimes
Attorney General Merrick Garland, in an unannounced visit to Ukraine, [Full Story]
'Hypocritical' NYC Defund Police Advocate Lawmaker Moved for 'Safety Issues'
A progressive New York City lawmaker who pushed for defunding the [Full Story]
Poll: Most Parents Would Cross Party Lines on Education Issues
The majority of U.S. parents would consider voting for another [Full Story]
6 Panel Plans Additional Hearing, More Could Follow
At least one additional hearing is being planned by the House select [Full Story]
6,000 Bees Removed From Inside Wall of Omaha Couple's Home
About 6,000 bees were recently removed from inside the walls of an [Full Story]
Twitter Board Approves Elon Musk's $44 Billion Deal
Elon Musk's purhase of Twitter for $44 billion has been unanimously [Full Story]
Report: Florida Veteran Second American to Die in Ukraine War
A 52-year-old Florida veteran is the second American to be killed in [Full Story]
US, Iran in Tense Sea Incident; Tehran Preps New Centrifuges
A U.S. Navy warship fired a warning flare to wave off an Iranian [Full Story]
Colbert Defends Arrested Producers: 'Grotesque' to Call It Insurrection
"Late Show" host Stephen Colbert Monday night said it is "shameful [Full Story]
Democrat Rep. Clyburn: Trump DOJ 'Carryovers' Cause Concerns
A top Democrat lawmaker claimed that Department of Justice [Full Story]
Goldman Sachs Raises Probability of US Recession to 30%
Goldman Sachs sees a 30% chance of the U.S. economy tipping into [Full Story]
1st Native American US Treasurer to Be Appointed, Head Mint
A Native American is being appointed U.S. treasurer, a historic [Full Story]
Web Outage Fixed After Knocking Major Websites Offline
A widespread outage that affected many websites has apparently been [Full Story]
Kellogg to Split Into 3; Snacks, Cereals, Plant-Based Food
Kellogg Co., the maker of Frosted Flakes, Rice Krispies and Eggo, [Full Story]
Finance
US Home Sales Slide as Prices Top $400k for 1st Time
S. existing home sales tumbled to a two-year low in May as prices jumped to a record high — topping the $400,000 mark for the first time — and mortgage rates increased further, pushing out entry-level buyers from the market…. [Full Story]
Lauren Fix, The Car Coach: Guess Who Is to Blame for CRAZY High Gas Prices
Amazon Names Veteran Herrington as Head of Consumer Business
Peter Reagan: A Confused Fed Delivers a 0.75@ Rate Hike – What's Next?
Wirtz: Why Targeted Ads Are a Blessing
More Finance
Health
Study: Long COVID After Omicron Half as Likely Than With Previous Strains
The omicron variant is less likely to give you long COVID than a previous strain of the virus, British researchers say…. [Full Story]
Reports: US to Drastically Reduce Nicotine Content in Cigarettes
Britain Backs Offering Monkeypox Vaccine to At-risk Men
What You Should Know as COVID Shots for Young Children Begin
As Heat Waves Continue, Experts Recommend Steps to Stay Safe
MHProNews has pioneered in our profession several reporting elements that keep our regular and attentive readers as arguably the best informed in the manufactured housing industry. Among the items shared after 'every business day' (when markets are open) is our left-right headline recap summary. At a glance in two to three minutes, key 'market moving' news items are covered from left-of-center CNN Business and right-of-center Newsmax. "We Provide, You Decide." © Additionally, MHProNews provides expert commentary and analysis on the issues that others can't or won't cover that help explain why manufactured housing has been underperforming during the Berkshire era while an affordable housing crisis and hundreds of thousands of homeless in America rages on. These are "Industry News, Tips, and Views Pros Can Use" © features and others made and kept us the runaway #1 in manufactured housing trade publisher for a dozen years and counting.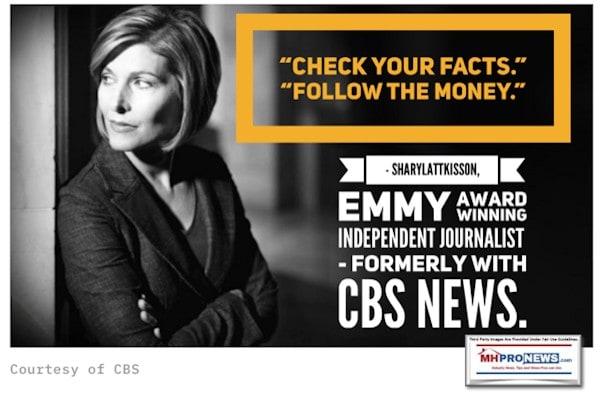 Manufactured Housing Industry Investments Connected Equities Closing Tickers
Some of these firms invest in manufactured housing, or are otherwise connected, but may do other forms of investing or business activities too.
NOTE: The chart below includes the Canadian stock, ECN, which purchased Triad Financial Services, a manufactured home industry lender
NOTE: Drew changed its name and trading symbol at the end of 2016 to Lippert (LCII).
NOTE: Deer Valley was largely taken private, say company insiders in a message to MHProNews on 12.15.2020, but there are still some outstanding shares of  the stock from the days when it was a publicly traded firm.  Thus, there is still periodic activity on DVLY.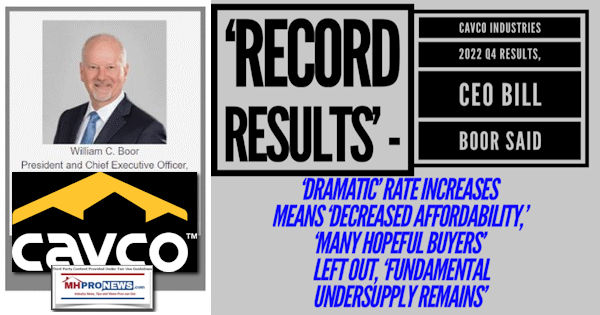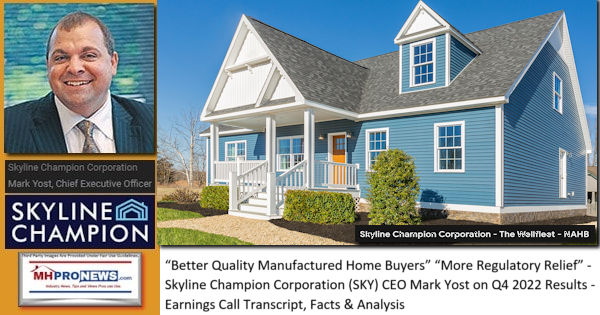 Manufactured Home Communities (a.k.a. 'Mobile Home Parks' – SIC) – Exploring UMH Properties; Fellow Manufactured Housing Institute Member Yes! Communities Suits and Settlements; plus MH Markets Updates
'Announcing!' 'Manufactured Community Owners' Association of America' 'Finally Bringing Fight To Manufactured Home Community Sector of the Industry' – plus Sunday Weekly Manufactured Housing Headlines Review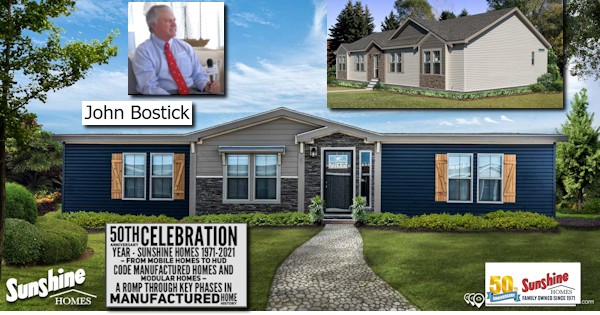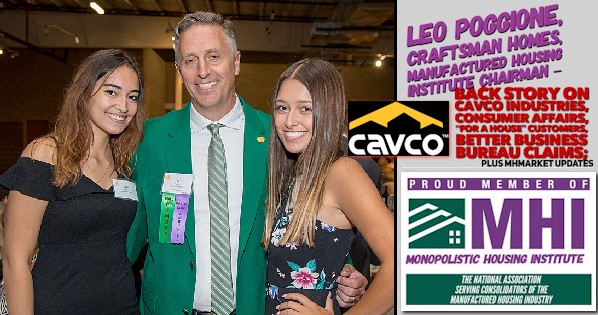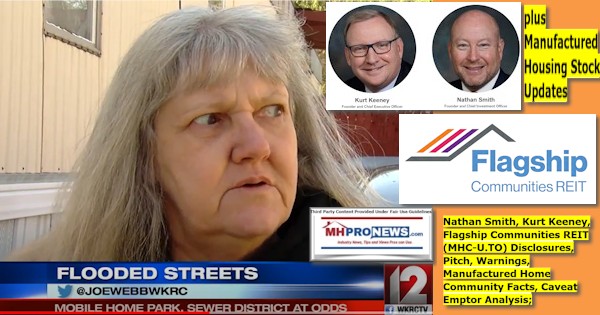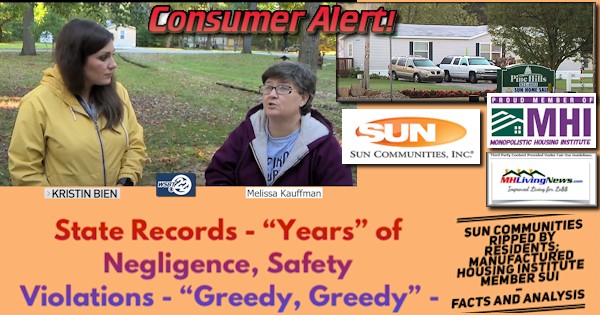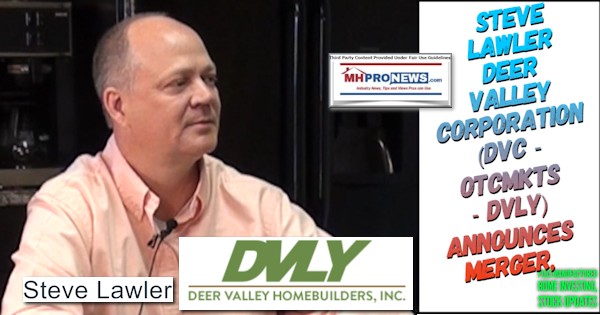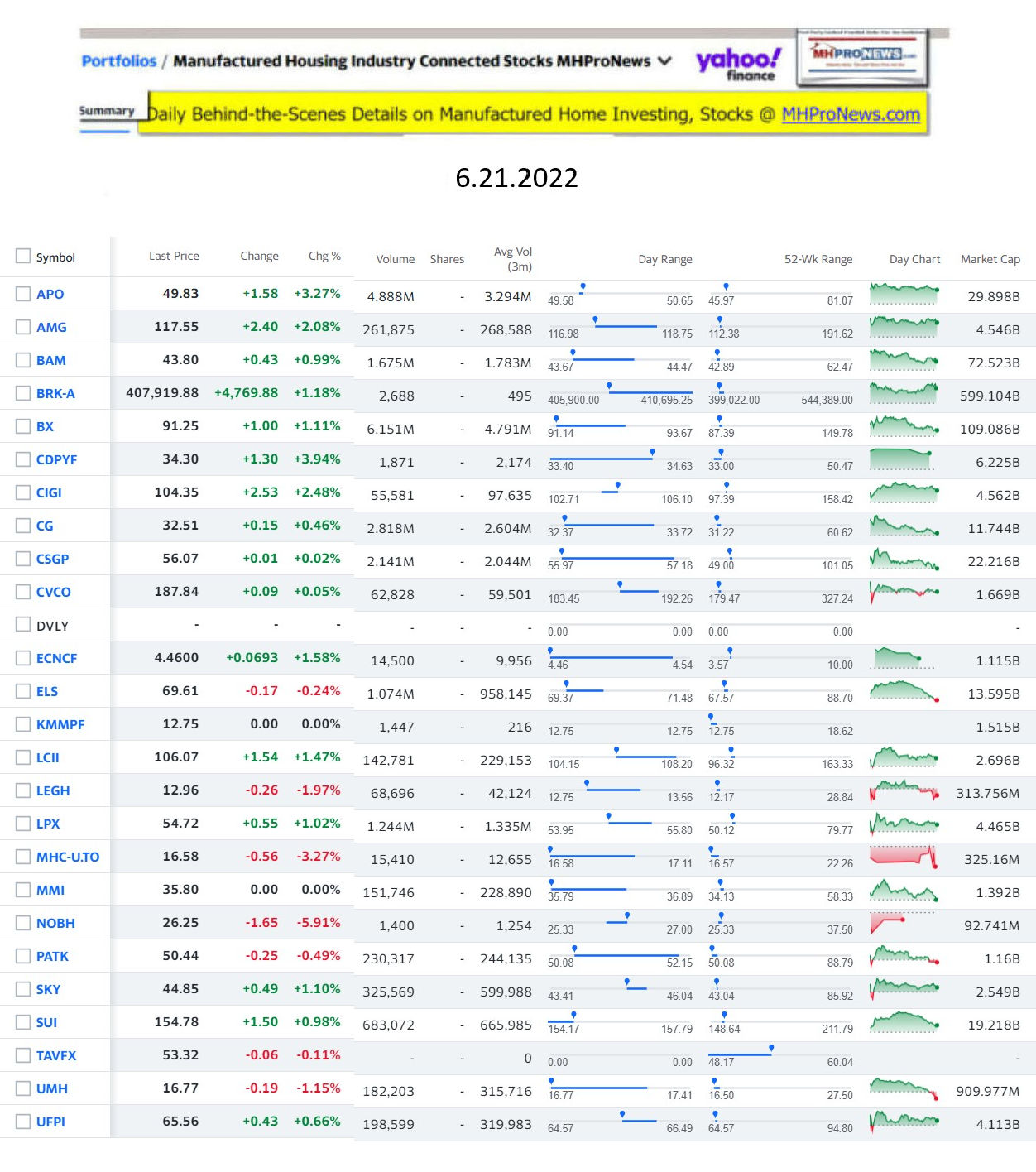 2022

…

Berkshire Hathaway is the parent company to Clayton Homes, 21st Mortgage, Vanderbilt Mortgage and other factory-built housing industry suppliers.


·

LCI Industries, Patrick, UFPI, and LP each are suppliers to the manufactured housing industry, among others.




·

AMG, CG, and TAVFX have investments in manufactured housing related businesses.

For

insights from third-parties and clients about our publisher

, click here.


Enjoy these 'blast from the past' comments.

MHProNews. MHProNews – previously a.k.a. MHMSM.com – has celebrated our 11th year of publishing and have completed over a dozen years of serving the industry as the runaway most-read trade media.
Sample Kudos over the years…
It is now 12+ years and counting…
Learn more about our evolutionary journey as the industry's leading trade media, at the report linked below.
· For expert manufactured housing business development or other professional services, click here.
· To sign up in seconds for our industry leading emailed headline news updates, click here.

Disclosure. MHProNews holds no positions in the stocks in this report.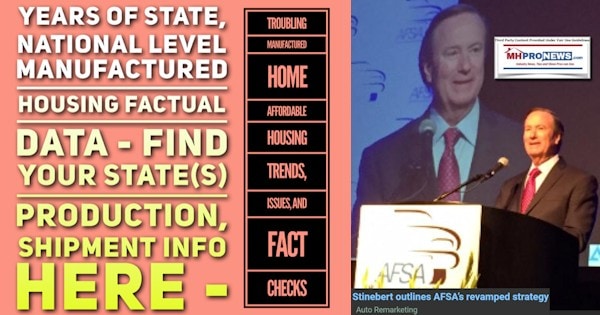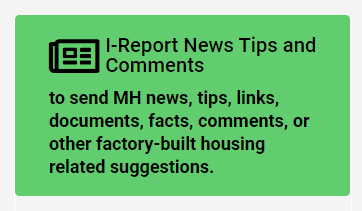 That's a wrap on this installment of "News Through the Lens of Manufactured Homes and Factory-Built Housing" © where "We Provide, You Decide." © (Affordable housing, manufactured homes, stock, investing, data, metrics, reports, fact-checks, analysis, and commentary. Third-party images or content are provided under fair use guidelines for media.) (See Related Reports, further below. Text/image boxes often are hot-linked to other reports that can be access by clicking on them.)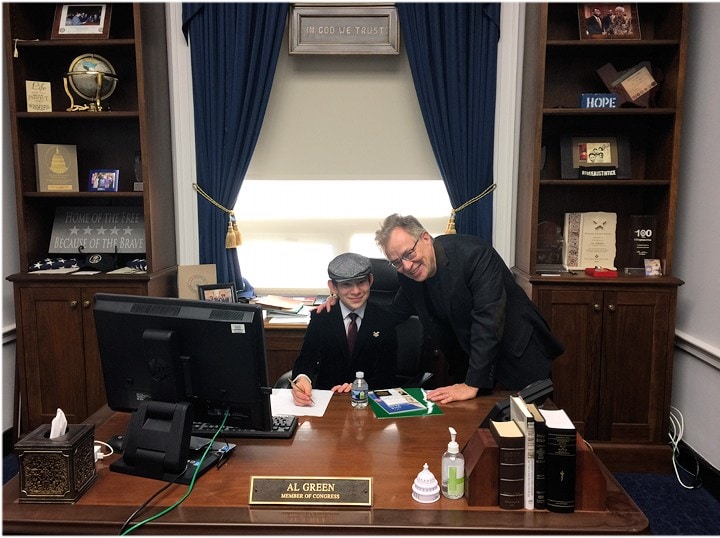 By L.A. "Tony" Kovach – for MHProNews.
Tony earned a journalism scholarship along with numerous awards in history. There have been several awards and honors and also recognition in manufactured housing. For example, he earned the prestigious Lottinville Award in history from the University of Oklahoma, where he studied history and business management. He's a managing member and co-founder of LifeStyle Factory Homes, LLC, the parent company to MHProNews, and MHLivingNews.com. This article reflects the LLC's and/or the writer's position and may or may not reflect the views of sponsors or supporters.