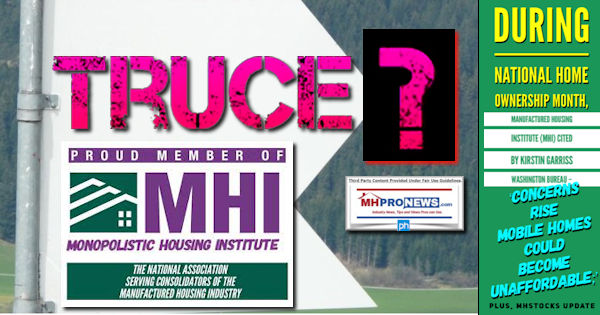 A byline by award-winning journalist Kirstin Garriss, with the Cox Media Group's (CMG) Washington, D.C. news bureau published a report in several regional media markets under the headline: "Concerns rise as mobile homes could become unaffordable." What appears to be the same content under a different headline and byline was entitled "Congress exploring ways to preserve affordable mobile housing supply." These reports are among several that have emerged in recent days that cite the Manufactured Housing Institute (MHI) as a source for their information. Cox (CMG) appears to be the common point between the mostly identical reports examined by MHProNews. While the Biden White House, HUD, National Association of Realtors (NAR), and National Association of Home Builders (NAHB) are 'talking up' June as National Home Ownership Month, not only is MHI seemingly missing in action on that topic on their website, but they are being cited for problematic issues related to the manufactured housing industry.
MHProNews contacted two of the reporters who published the seemingly identical information under their respective bylines with related inquiries.
That noted, MHI has finally fixed their 5-year out-of-date copyright notice (see item linked here and the screen capture below); but a focused search of their website for the topic "National Home Ownership Month" produces no results. Nor was there anything on MHI's Facebook page in late May or June 1, 2022.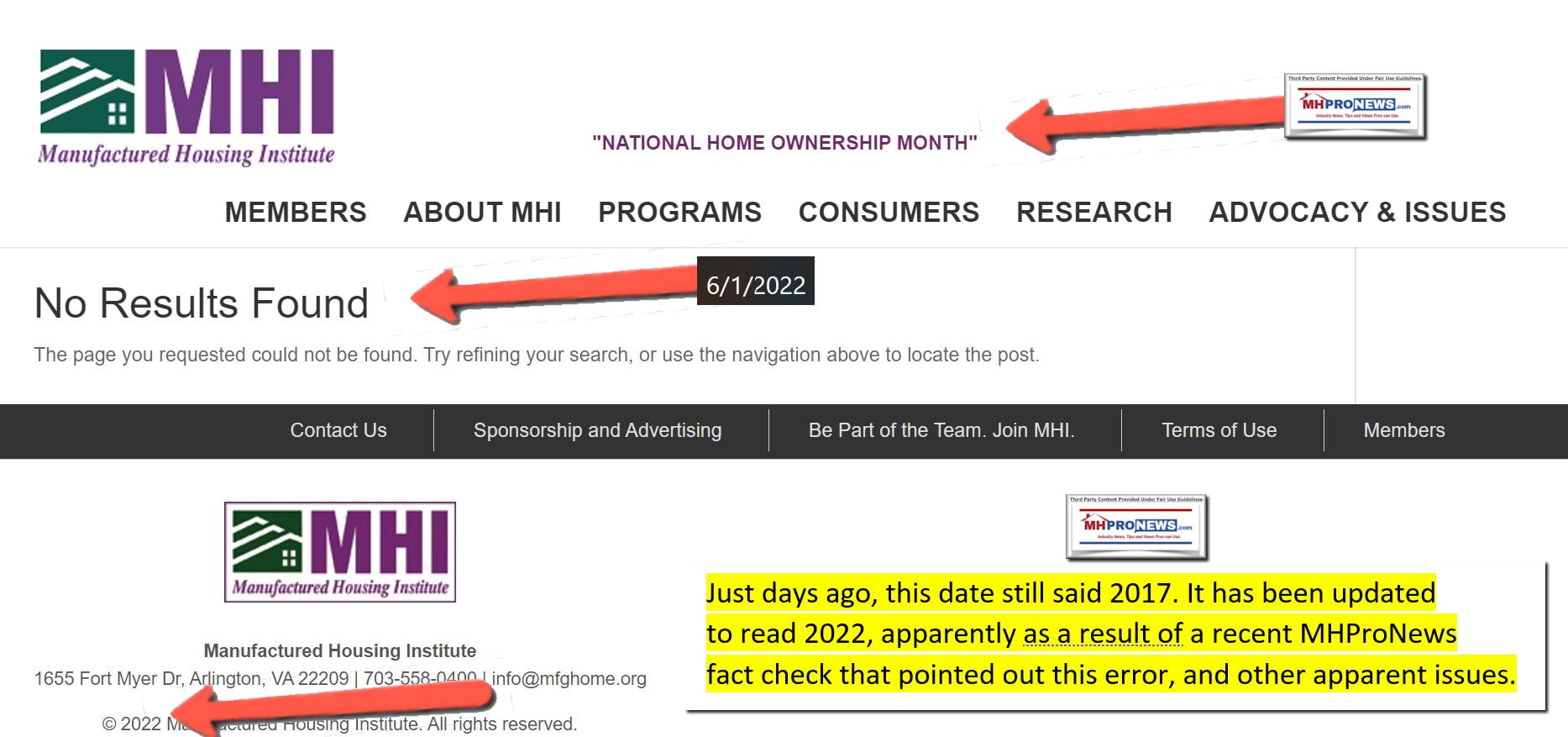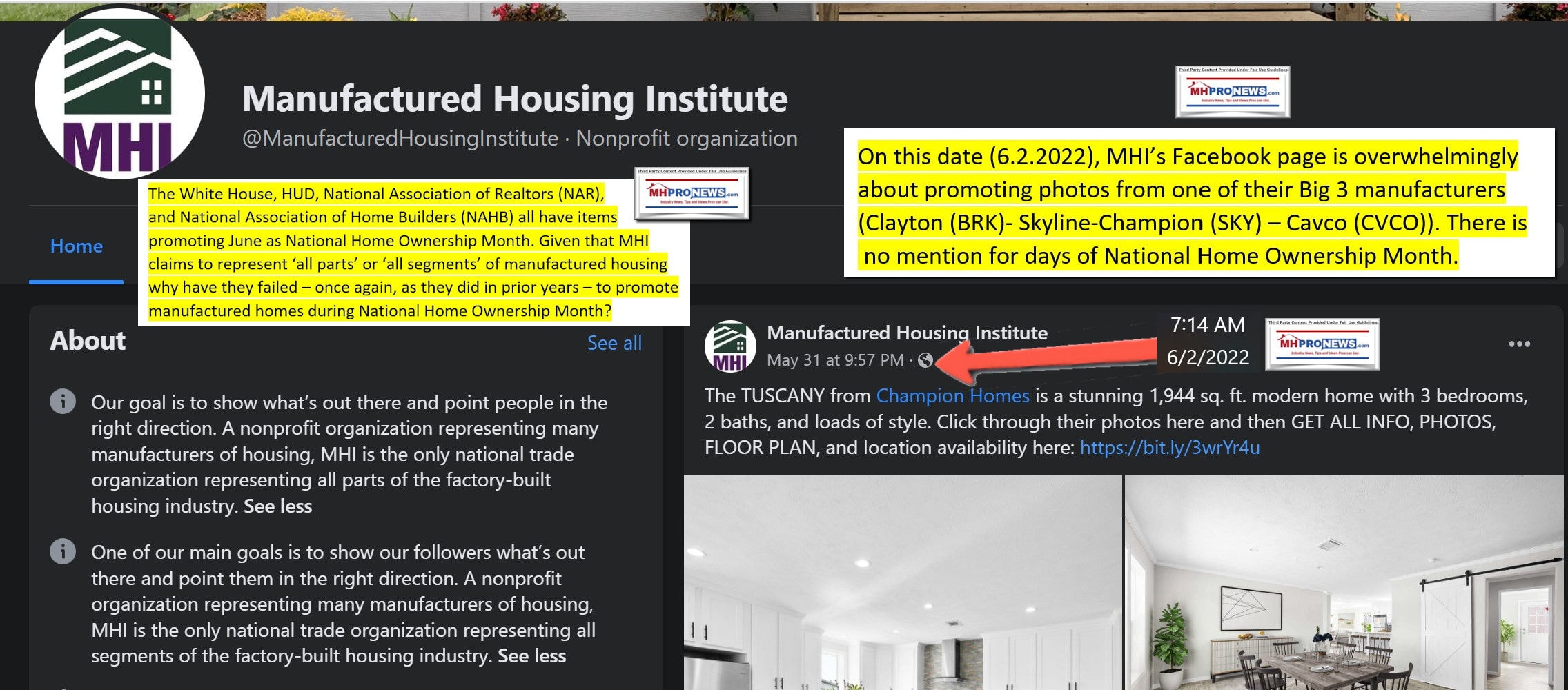 The Cox Media Group (CMG) article that references MHI read as follows.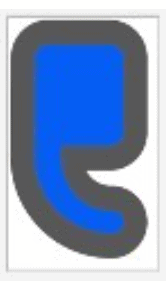 "WASHINGTON — Nationwide roughly 22 million families live in mobile housing.
These factory-built homes are typically an affordable pathway to homeownership, but rising land costs are threatening that.
Experts say families who live in mobile homes usually own just the house itself and not the land that it sits on.
Congress exploring ways to preserve affordable mobile housing supply
That means they don't always receive the same benefits as traditional homeowners, and they may face eviction if they can't keep up with rising land costs.
The Manufactured Housing Institute estimates more than 105,000 mobile homes were produced last year alone.
…
But in some areas, housing experts say mobile home park owners are redeveloping the land for commercial uses.
"We have to find ways to incentivize owners of the mobile home parks to if indeed rather than sell, redevelop in a way that is sensitive to their residents who are there, giving them options on the redeveloped properties," said Michael Liu, director of the Miami-Dade County Public Housing and Community Development Department.
Liu told lawmakers these negotiations may displace families and he said many residents are concerned about becoming homeless.
"If the government can provide enough assistance to work with the owners of mobile home parks to compassionately and fairly work with residents to provide them with relocation assistance," said Liu. "For instance, potential homeownership options, heavy-duty down payment assistance, special mortgage assistance."
Another possible solution involves putting mobile homes on a community land trust to help preserve long-term affordability." ##
Links to sites that have variations on that above content, which also includes photos from MHI's website, are linked here in Memphis, here in Orlando, and here in Atlanta.
While National Home Ownership Month is not mentioned on the MHI website, the home page does have a plug for their participation in the 2022 the HUD/NAHB sponsored Innovative Housing Showcase launched during HUD Secretary Ben Carson, M.D.'s tenure at that agency. MHI's text says the following: Under the headline, Homes on the Hill, they said: "In collaboration with the Innovative Housing Showcase hosted by the U.S. Department of Housing and Urban Development, MHI's Homes on the Hill is returning to Washington, D.C. June 7-12, 2022. MHI will showcase the value of manufactured homes to lawmakers and consumers by staging three HUD-code homes on the National Mall. MHI will host a reception with policymakers on the Mall on June 8. Earlier that day, MHI will facilitate meetings between attendees and lawmakers. All MHI members are encouraged to attend the Homes on the Hill on June 7-8." Photos and a video from the prior event are included.
That noted, where was MHI's broader marketing of that event? IN 2019 or 2022?
Why didn't MHI use that event, or others before or since, to put HUD and federal officials on the spot and on the record for existing laws that MHI admits are not being properly enforced?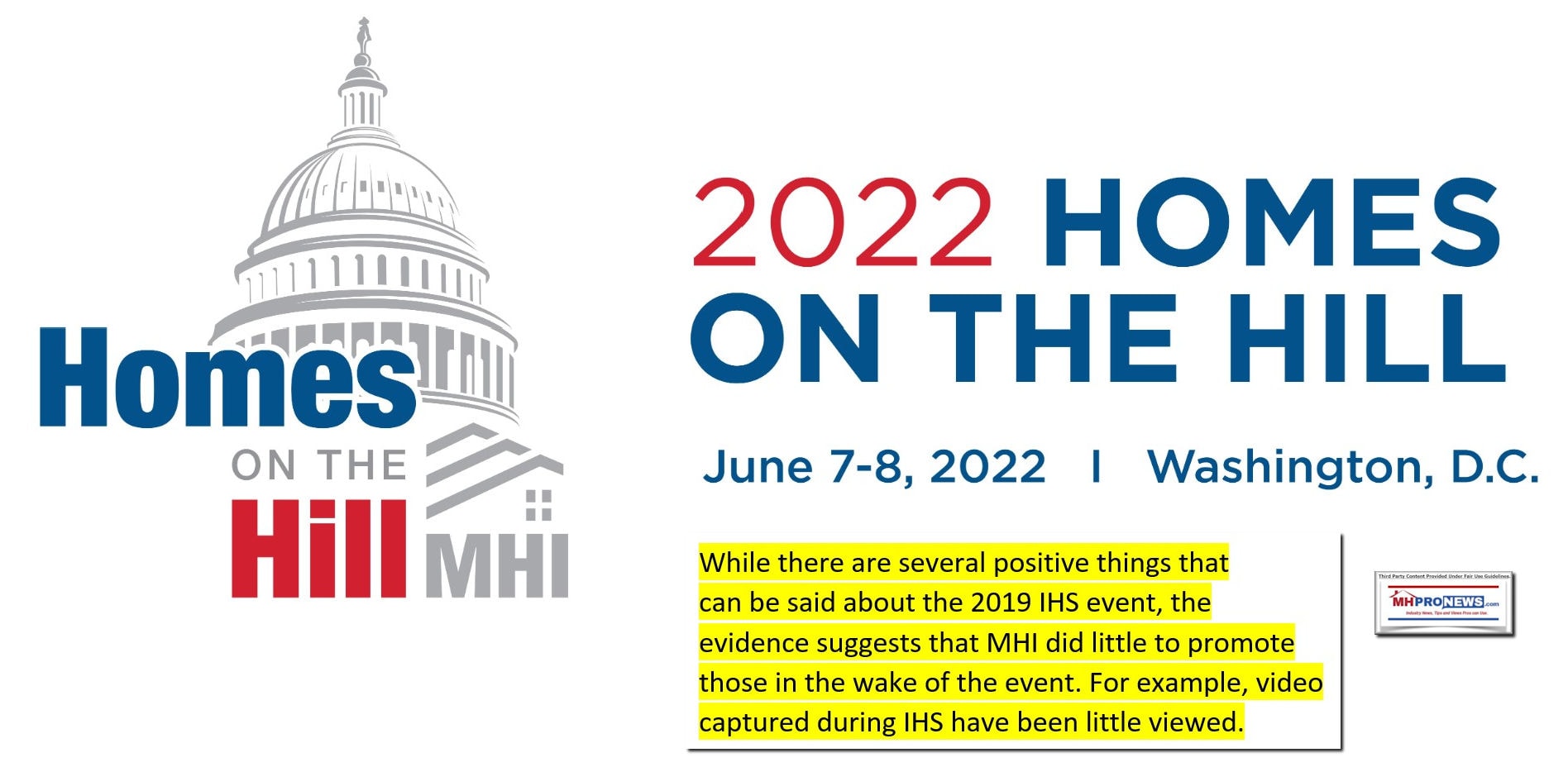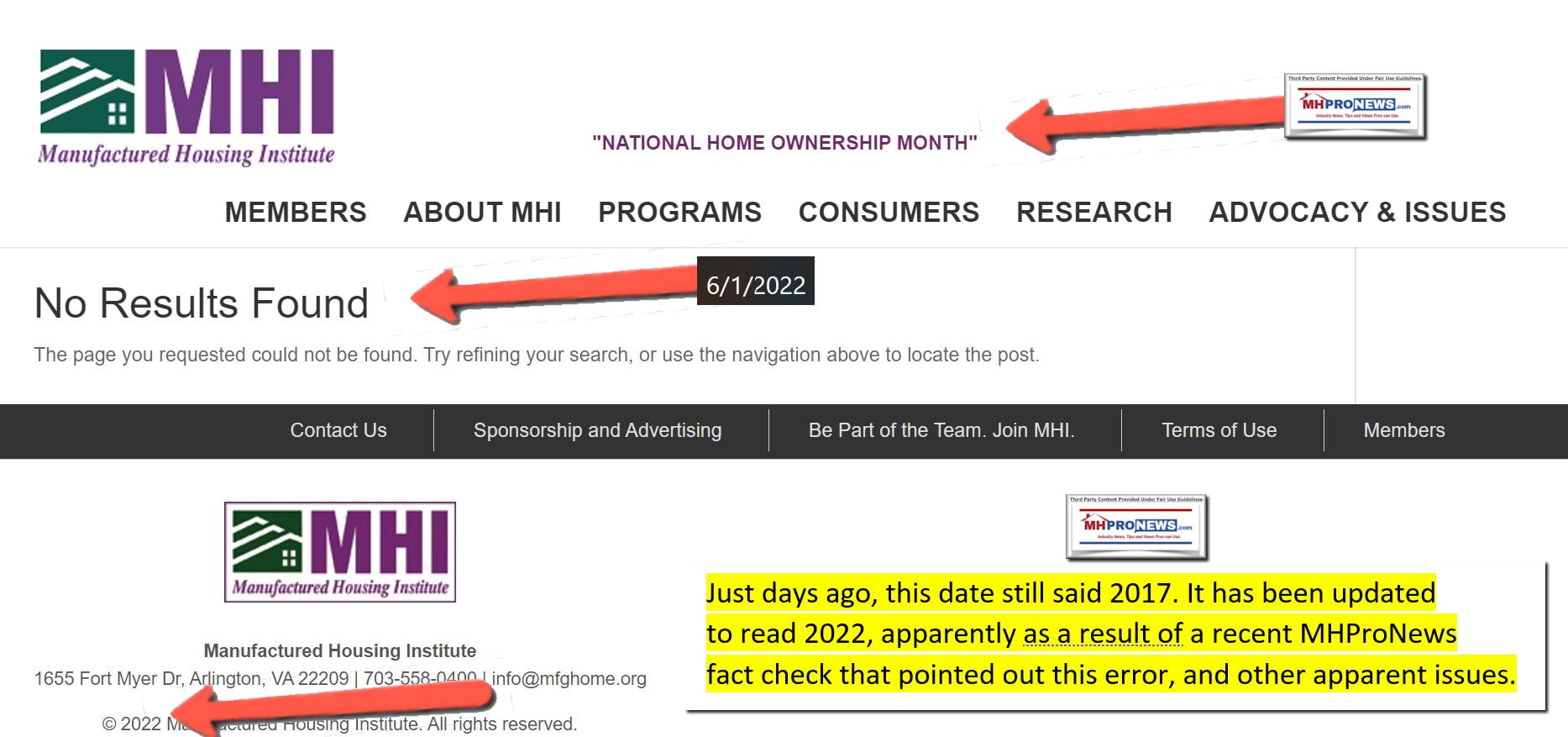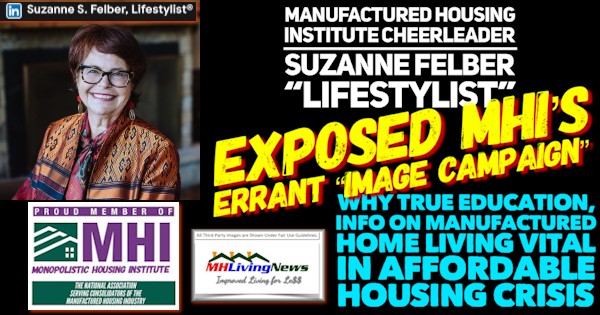 Additional Information, More MHProNews Analysis and Commentary in Brief
For most of the 21st century, the case can be made that MHI has talked, postured, promised, and engaged in a string of photo ops, videos ops, and op-eds that aimed to make them appear active and engaged. But when the results are carefully examined, MHI has failed to deliver for many manufactured housing industry businesses, employees, and millions of consumers. If so, then why are they allowed to continue on with this pattern? The answer to that is follow the money. A small group of consolidators that are MHI members are benefiting and have for over 15 years.  Industry underperformance benefits the few while harming the many.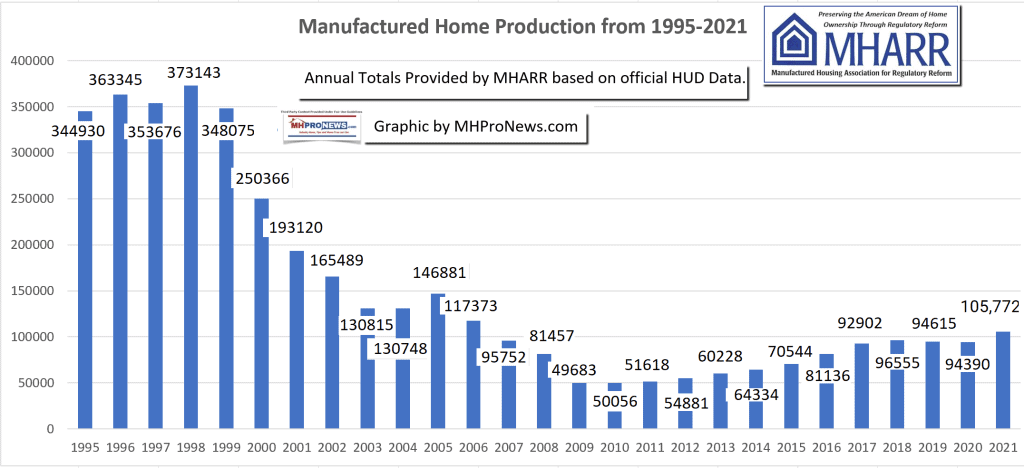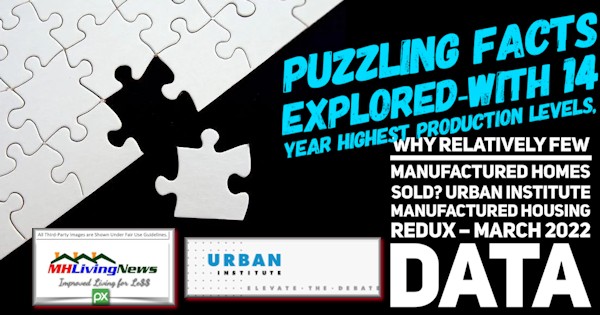 If that sounds 'conspiratorial,' take that notion up with outside experts that have studied the manufactured home industry. The examples below cite their sources and provide factual evidence for their respective claims.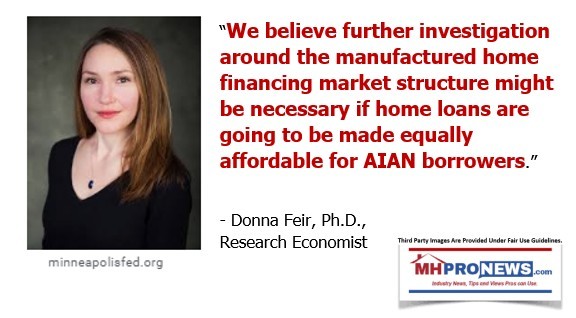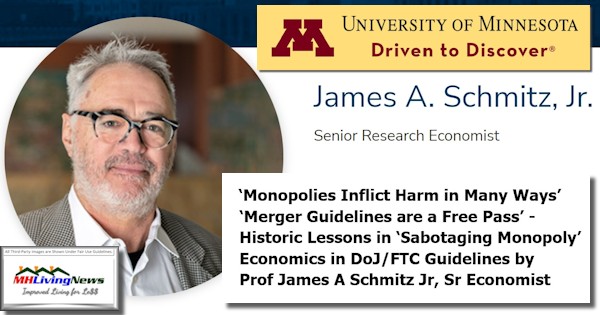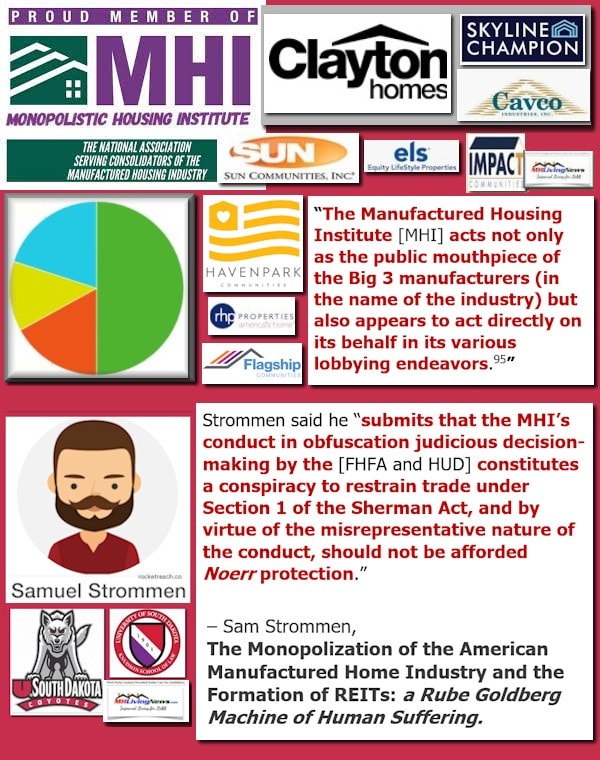 MHI has faced an apparently growing number of threats of groups breaking away from their organization and/or an actual severing of the ties with MHI by past members and affiliates. These are an apparent indication of the 'mood' of independents in manufactured housing regarding the Arlington, VA based MHI – which is widely seen as a mouthpiece of larger, industry consolidation-focused brands.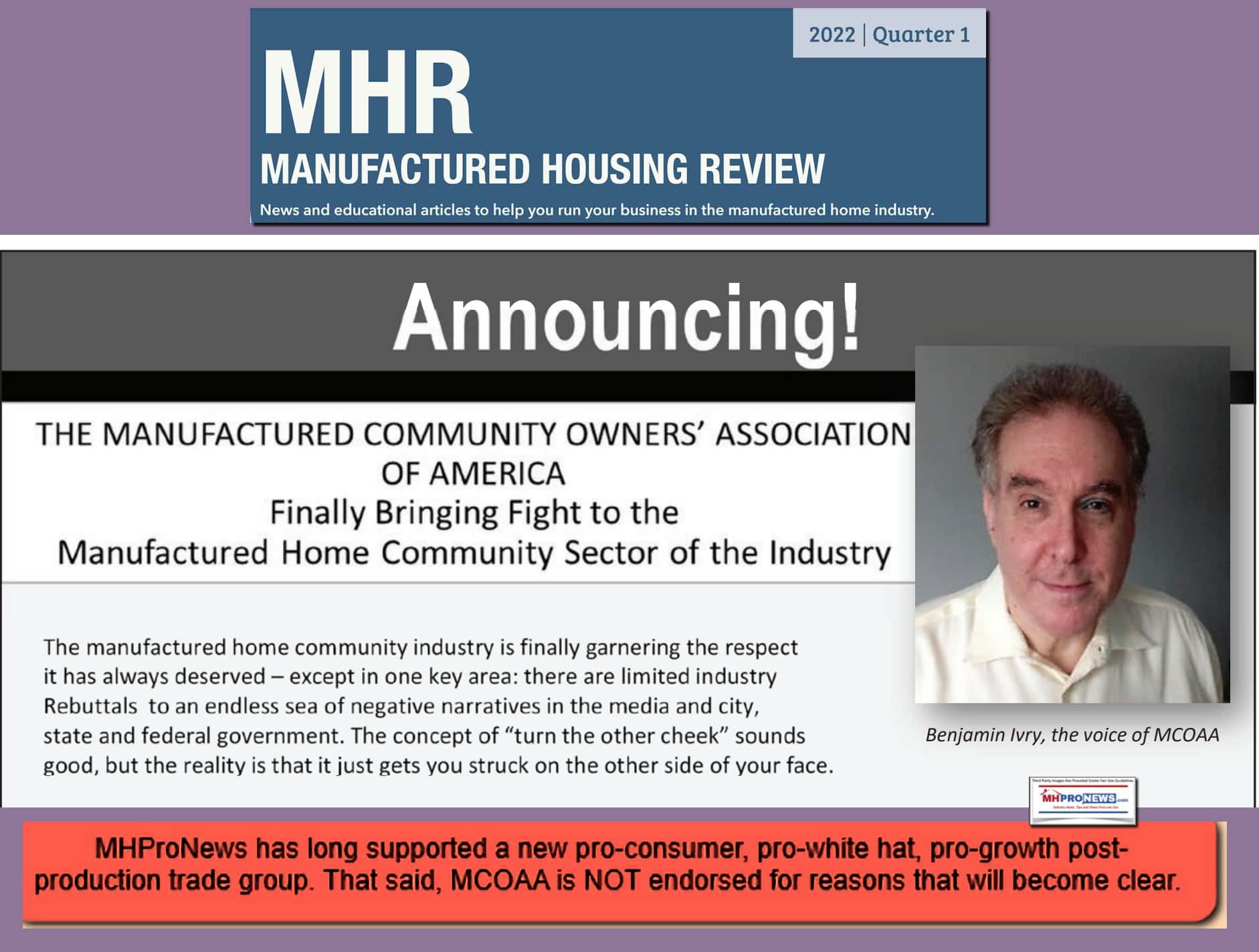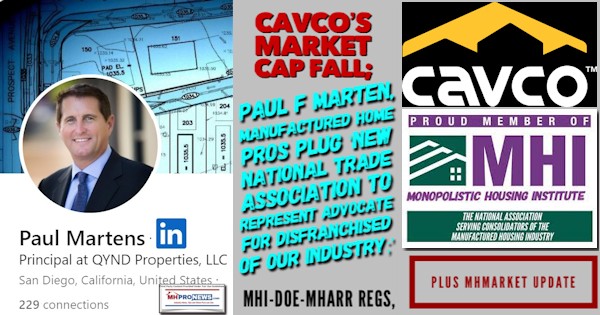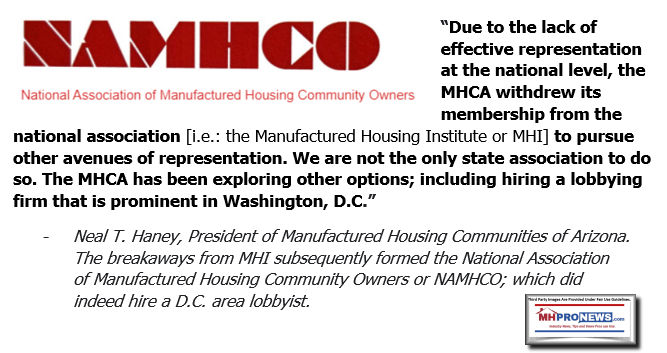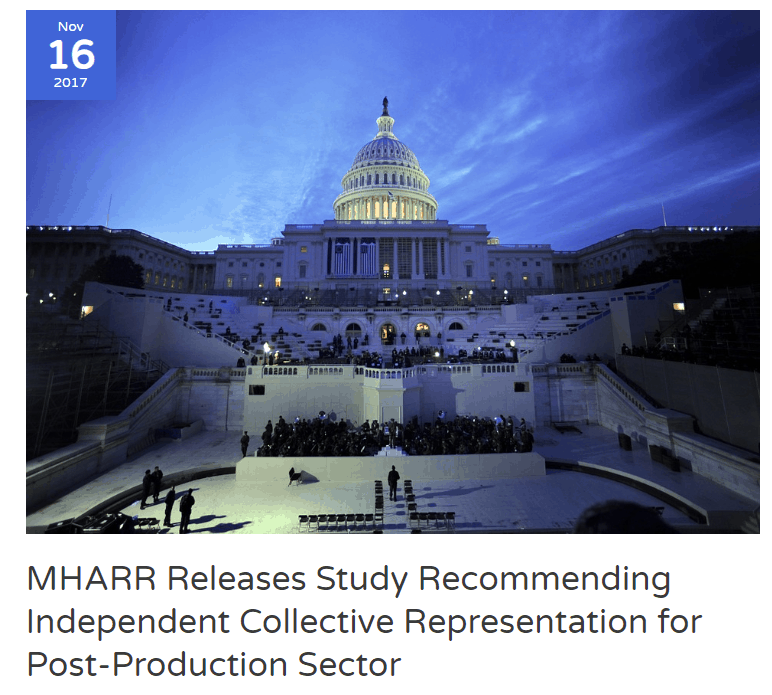 MHI and their attorneys have been repeatedly asked to address these concerns. So too have several of their dominating brands. If this was merely tin-foil hat conspiracy theory, why haven't they disproven them and humiliated their critics in the process? Rather than doing so, MHI and their dominating brands has consistently ducked and run instead of addressed these topics.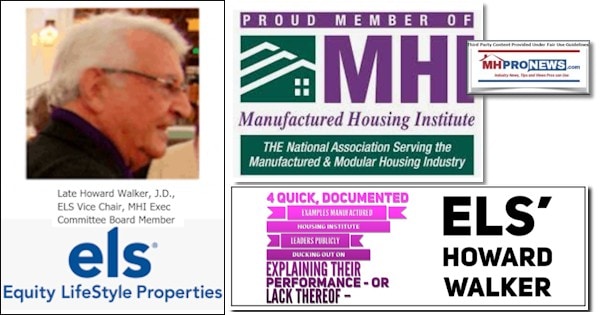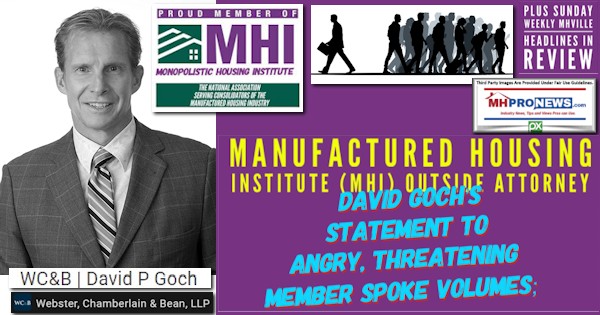 There are voices in manufactured housing that have told MHProNews that MHI has to be given what amounts to an 'off ramp' from the criticism, embarrassing fact checks, and drip-drip-drip of revelations that make them appear to be corrupt or violating the law. But the response to that is simple. If MHI wanted to mend their ways and mend fences with independents and authentic – vs. weaponized – consumer interests, why hasn't some official or attorney for MHI requested as much?
Could a truce be struck if MHI committed to engaging their legal and other resources for stopping the DOE rule and putting into effect the lending and zoning/placement laws that have languished due to MHI's posturing without performance? MHI and/or an MHI connected attorney should quietly raise a white flag and make an appropriate offer. But they have not done so.
Nor is there any indication of anything from MHI of anything other than more MHI posturing, arrogance, and paltering. Meanwhile, the steady diet of self-praise and posturing continues.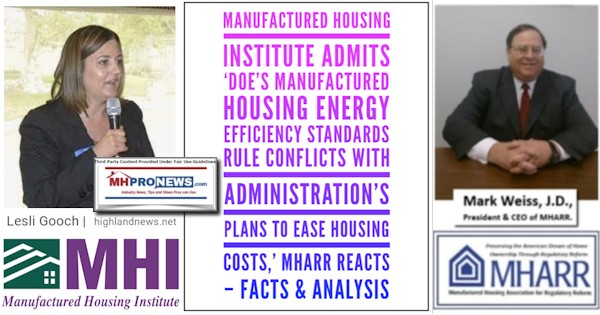 Until MHI demonstrates that they have changed their pro-consolidator ways, and all that goes with that pattern, there is no reason to trust them, is there?
Perhaps the strong argument is to gather as many authentic antitrust, free enterprise, and similar like-minded professionals to press for formal probes of MHI and their dominating brands at the state and federal levels. That may be far more likely to result in positive action than hoping that MHI would pivot and suddenly start 'caring' about the independents that their dominating brands have been steadily absorbing for years. One example of several possible is linked below. ##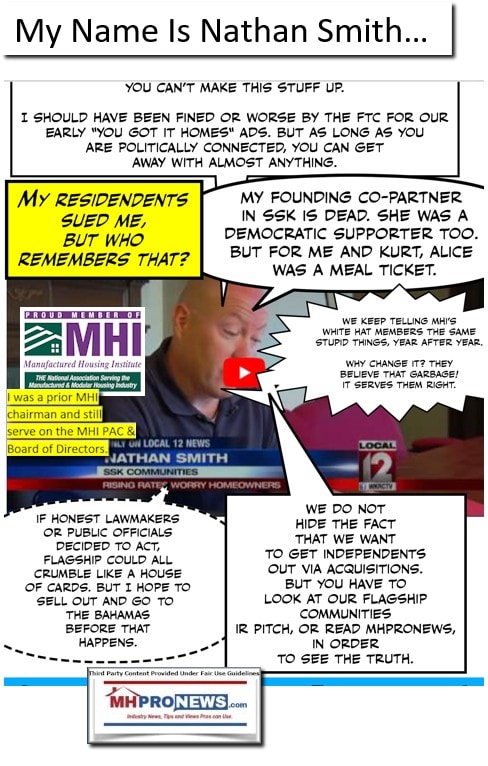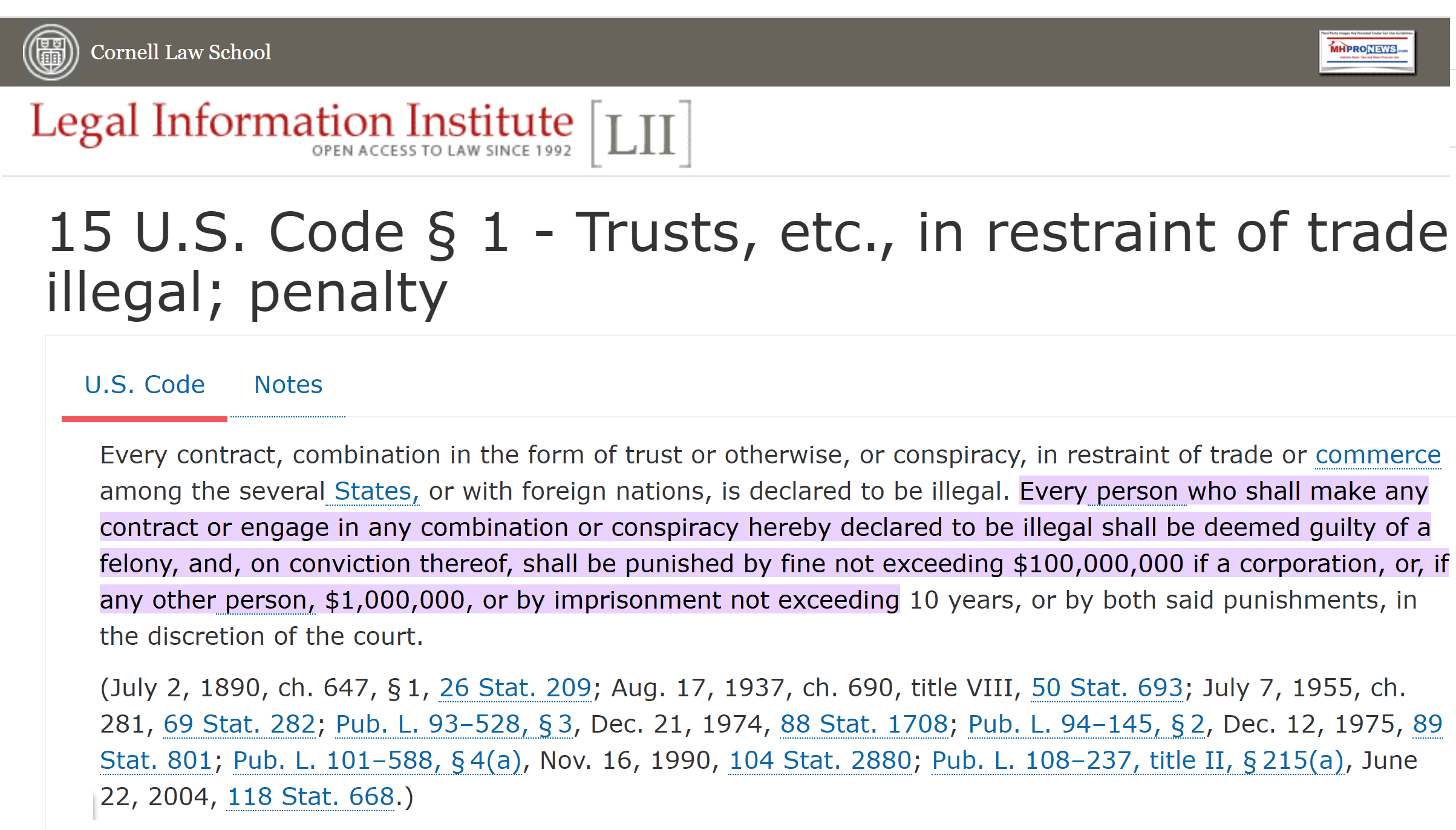 Next up is our daily business news recap of yesterday evening's market report, related left-right headlines, and manufactured housing connected equities.
The Business Daily Manufactured Home Industry Connected Stock Market Updates.  Plus, Market Moving Left leaning CNN and Right-leaning (Newsmax) Headlines Snapshot. While the layout of this daily business report has been evolving over time, several elements of the basic concepts used previously are still the same. For instance. The headlines that follow below can be reviewed at a glance to save time while providing insights across the left-right media divide. Additionally, those headlines often provide clues as to possible 'market-moving' news items.
Market Indicator Closing Summaries – Yahoo Finance Closing Tickers on MHProNews…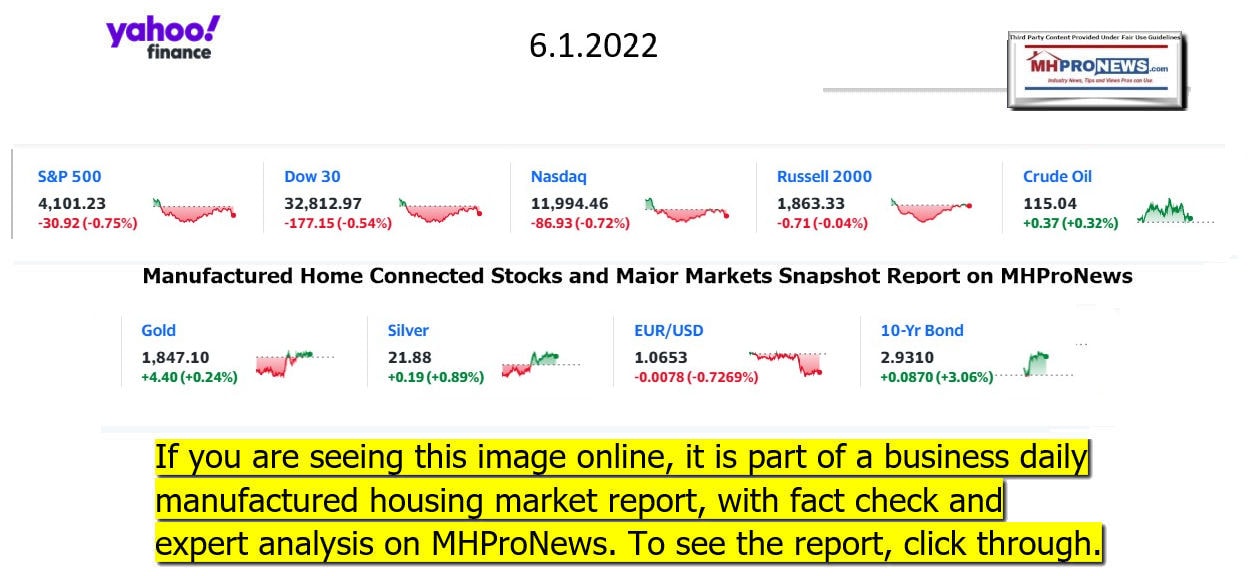 Headlines from left-of-center CNN Business – from the evening of 6.1.2022
Storm clouds gather
Jamie Dimon, Chairman & CEO of JP Morgan Chase & Co, speaks during the Bloomberg Global Business Forum in New York on September 25, 2019.
Brace yourselves for an economic 'hurricane,' Jamie Dimon says
Why US gas prices are at a record, and why they'll stay high for a long time
Inflation worries are real but this isn't the 1970s
Why Russia isn't hurting even as it cuts off Europe's gas
You're going to hate traveling this summer
Report: Sales of internal combustion vehicles now in "permanent decline"
How the UAE went from boycotting Israel to investing billions in its economy
You may be invested in gun makers and not know it. Here's how to find out
It's so hard to find workers that employers have basically stopped firing people
CEO of Deutsche Bank's asset manager steps down after 'greenwashing' raid
The stock market 'casino' is closed
Amazon sharply criticizes looming antitrust bill in Congress
Larry Summers responds to Janet Yellen's admission on inflation
The next holy grail for EVs: Batteries free of nickel and cobalt
Opinion: How streaming can avoid the same fate as cable TV
Tesla CEO Elon Musk is pictured as he attends the start of the production at Tesla's "Gigafactory" on March 22, 2022 in Gruenheide, southeast of Berlin.
Elon Musk tells Tesla employees: Return to the office, or else
In this April 8, 2015, file photo, customers walk into Howard Johnson's Restaurant in Lake George, N.Y.
America's last Howard Johnson's restaurant has closed
'Ellen' is over. Who will be the next queen of daytime TV?
ENERGY
18 September 2018, Hamburg: A driver refuelling his vehicle at Shell's first public LNG brand filling station in Germany. LNG (liquefied natural gas) is becoming increasingly interesting for truck fleet operators because it can lead to cost advantages compared to diesel and because it is considered more environmentally friendly.
Russia is about to shut off some of Germany's gas
EU agrees on partial ban of Russian oil imports
UK household energy bills set to rise by another 40%
G7 commits to decarbonizing electricity by 2035
India shows no sign of slowing its purchase of Russian oil
UVALDE
Pre-recorded message prior to show.
Jimmy Kimmel becomes emotional after Texas shooting
Residents of Uvalde 'want more answers' from police
Would graphic images change the gun rights debate?
Goldman Sachs CEO speaks out on gun violence
CEOs are silent on guns. They must speak up in a 'loud chorus', Yale's Jeff Sonnenfeld says
Headlines from right-of-center Newsmax 6.1.2022
Judge OKs Full Freedom for Ronald Reagan's Shooter John Hinckley
John Hinckley Jr. arrives at U.S. District Court in Washington, D.C., for a hearing on Nov. 18, 2003.
A federal judge gave his final blessing Wednesday to full freedom for John Hinckley, the man who shot President Ronald Reagan in 1981, capping a four-decade journey through the court system for the once mentally ill Hinckley. [Full Story]
Russian Invasion of Ukraine
Blinken: Ukraine Says It Won't Use US Weapons on Targets in Russia
US to Send Precision Rockets to Ukraine
Russian TV Presenter: 'Special Operation in Ukraine' Over, World War III Has Begun
Zelenskyy to Newsmax: We're the World's 'Defensive Perimeter' | video
Russia: US 'Adding Fuel to the Fire' With Rocket Supply to Ukraine
Russian Oil Traders Find Ways to Evade Sanctions
Zelenskyy Tells Newsmax of 2 Nations' Shared Values | video
Zelenskyy Tells Newsmax World Famine Looms If We Don't Extend Defenses | video

More Russian Invasion of Ukraine
Newsmax TV
Hinson: 'Concerning' Migrant Terror Suspect Was Released
Cammack: Yellen Showing White House Has No 'Real Concept'
Burchett: Money, Missiles For Ukraine Draws 'Parallels to Vietnam'
Tenney: Chinese Warplanes Evidence of 'Major Operation'
Mace to Newsmax: Durham Didn't Get Fair Shot on Sussmann | video
John Jordan: Oil Sanctions Could Put 'Real Dent' Into Russian Economy | video
Comer: Dems Will Try to Follow Trudeau on Gun Control | video

More Newsmax TV
Newsfront
House Panel Seeks Testimony From Roger Goodell, Dan Snyder
The House Committee on Oversight and Reform is asking NFL Commissioner Roger Goodell and Washington Commanders owner Daniel Snyder to testify in a hearing about workplace misconduct allegations. … [Full Story]
School Police Chief in Uvalde Refuses to Answer Questions About Mass Shooting
The police chief in charge of the law enforcement response in last [Full Story]
Related
Uvalde School Police Chief Quietly Joins Council as His Actions Are Questioned
Texas Police: School Door Shut but Didn't Lock Before Attack
Uvalde Shooting: Footage May Disprove DPS Claim That Teacher Left Door Open
Uvalde Police, School District No Longer Cooperating With Investigation
US Ready to Implement Ban on Xinjiang Goods on June 21
S. authorities are ready to implement a ban on imports from China's [Full Story]
Jury Indicts Buffalo Shooting Suspect on Terrorism Charge
A grand jury on Wednesday charged the white 18-year-old accused of [Full Story]
White House: Biden 'Does Not Support a Ban' on Handgun Sales
President Joe Biden does not support a ban on the sale of all [Full Story]
Gun Makers Say Biden's Attacks Aren't New, Still Misguided
Gun Makers Say Biden's Attacks Aren't New, Still Misguided
President Joe Biden had sought to cast the arms industry as a villain [Full Story] | Platinum Article
Verdicts Reached in Johnny Depp, Amber Heard Libel Trial
A jury on Wednesday said it has reached a verdict in Johnny Depp's [Full Story]
China's Military Makes Plan to Destroy Elon Musk's Starlink
Billionaire tech entrepreneur Elon Musk's Starlink satellite [Full Story] | Platinum Article
Texas Gov. Abbott Calls for Special Session in Response to Mass Shooting
Texas Gov. Greg Abbott on Wednesday called for Texas lawmakers to [Full Story]
Analysts: Iran Just 3 Months Away From 4 'Crude' Nukes
Iran already has the capability for a compact nuclear explosive and [Full Story]
Los Angeles Gas Station Charges $8 a Gallon
A Chevron gas station in downtown Los Angeles is charging upward of [Full Story]
Health Agency Confirms Community Spread of Monkeypox in England
Monkeypox appears to be spreading from person to person in England, [Full Story]
Russian TV Presenter: 'Special Operation in Ukraine' Over, World War III Has Begun
Russian state television presenter Olga Skabeyeva said it was "time [Full Story]
Peter Navarro Undecided About Appearing Before Federal Grand Jury
Former presidential adviser Peter Navarro said he hadn't decided [Full Story]
FBI's Wray Reveals Iranian Hackers Tried Cyberattack Against Boston Children's Hospital
Hackers backed by the Iranian government tried a cyberattack against [Full Story]
Rick Scott: Flag 'Irresponsible 18-Year-Olds' From Buying Guns
After Florida mass shootings, the Republican-controlled state [Full Story]
Judge Mulls Full Freedom for Reagan Shooter Hinckley
A federal judge is set to preside over an important hearing for John [Full Story]
Some Democrats Advocate a Modest Strategy to Gun Control
After recent shooting mass shootings in Buffalo, New York, and [Full Story]
Graham, Blumenthal Work to Craft Consensus on Red Flag Bill
Lindsey Graham, R-S.C., and Richard Blumenthal, D-Conn., are [Full Story]
US Job Openings Decline From Record Level But Remain High
The white-hot demand for U.S. workers cooled a bit in April, though [Full Story]
Grassley Demands Probe Into Partisan Social Media Posts by FBI Official
Grassley Demands Probe Into Partisan Social Media Posts by FBI Official
Chuck Grassley is demanding Justice Department records concerning the [Full Story]
Yellen: Biden Working to Curb Inflation
Treasury Secretary Janet Yellen told CNBC that President Joe Biden [Full Story]
Kellyanne Conway: I'd Love to Work in White House Again
Kellyanne Conway told CBS that she would "love to work in the White [Full Story]
Poll: Majority Says Arming Teachers Would Make Schools Safer
Nearly 60% of likely voters say they believe that arming properly [Full Story]
Border Agent: Uvalde Police Did 'Best That They Could' With Active Shooter Situation
Jacob Albarado, an off-duty U.S. Customs and Border Protection [Full Story]
Brother of Pelosi's Husband Killed in Joyride Accident 65 Years Before DUI Arrest
House Speaker Nancy Pelosi's husband was at the wheel of a car that [Full Story]
Company to Las Vegas Chapels: No More Elvis-Themed Weddings
Las Vegas chapels of love that use Elvis Presley's likeness could [Full Story]
Biden's Ex Daughter-in-Law Opens Up About Marriage to Hunter
Kathleen Buhle, the ex-wife of President Joe Biden's son Hunter, says [Full Story]
Biden to Meet With Baby Formula Makers on Alleviating Shortage
President Joe Biden will meet with major infant formula manufacturers [Full Story]
Russian Oil Traders Find Ways to Evade Sanctions
Shippers and refiners of Russian oil are evading sanctions and [Full Story]
NY Lawmakers Begin Voting on Legal Protections for Abortions
New York would expand legal protections for people seeking and [Full Story]
Removing Moles and Skin Tags Has Never Been Easier (Just Do This!)
Trending Stories
More Newsfront
Finance
Dimon Warns of US Economic 'Hurricane'
Top U.S. bank CEOs on Wednesday flagged the growing risks to the economy from rising inflation, which is slowing consumer spending and threatens the push the world's biggest economy into a recession unless the Federal Reserve acts more forcefully…. [Full Story]
Inflation Dashes Retirement Hopes for 25% of Americans
Ex-OpenSea Employee Charged, in 1st NFT Insider Trading Case
Wall St Slides 1%, as Strong Factory Data Fans Fears of Hawkish Fed
Fed's Bullard: High Inflation 'Straining' Credibility
More Finance
Health
Survey: Men Think They're Healthier Than They Are, Skip Checkups
It's a classic case of male machismo jeopardizing health: A new survey finds many American men believe they're healthier than other men and don't bother with annual checkups, even though a yearly exam can catch health problems in the early stages. The online survey of nearly…… [Full Story]
Pressure Mounts to Remove PFAS from Fast Food Wrappers
COVID Cases Rise in the Americas; Nations Urged to Monitor Other Viruses
FDA Withdraws Accelerated Approval of Lymphoma Treatment Due to Deaths
Slowed Walking Could Signal Increased Risk for Dementia
MHProNews has pioneered in our profession several reporting elements that keep our regular and attentive readers as arguably the best informed in the manufactured housing industry. Among the items shared after 'every business day' (when markets are open) is our left-right headline recap summary. At a glance in two to three minutes, key 'market moving' news items are covered from left-of-center CNN Business and right-of-center Newsmax. "We Provide, You Decide." © Additionally, MHProNews provides expert commentary and analysis on the issues that others can't or won't cover that help explain why manufactured housing has been underperforming during the Berkshire era while an affordable housing crisis and hundreds of thousands of homeless in America rages on. These are "Industry News, Tips, and Views Pros Can Use" © features and others made and kept us the runaway #1 in manufactured housing trade publisher for a dozen years and counting.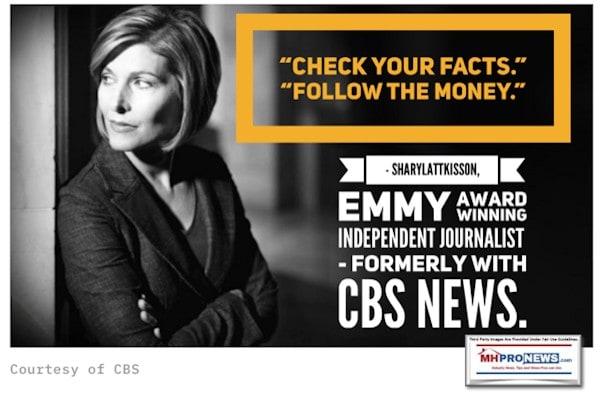 Manufactured Housing Industry Investments Connected Equities Closing Tickers
Some of these firms invest in manufactured housing, or are otherwise connected, but may do other forms of investing or business activities too.
NOTE: The chart below includes the Canadian stock, ECN, which purchased Triad Financial Services, a manufactured home industry lender
NOTE: Drew changed its name and trading symbol at the end of 2016 to Lippert (LCII).
NOTE: Deer Valley was largely taken private, say company insiders in a message to MHProNews on 12.15.2020, but there are still some outstanding shares of  the stock from the days when it was a publicly traded firm.  Thus, there is still periodic activity on DVLY.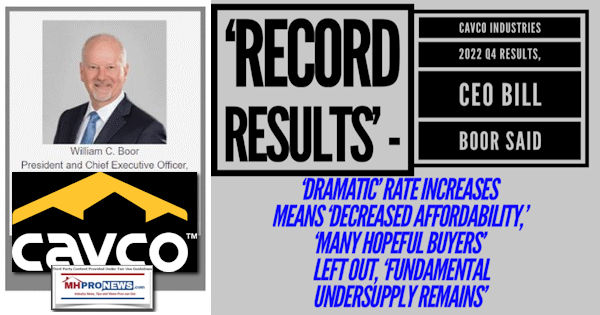 Manufactured Home Communities (a.k.a. 'Mobile Home Parks' – SIC) – Exploring UMH Properties; Fellow Manufactured Housing Institute Member Yes! Communities Suits and Settlements; plus MH Markets Updates
'Announcing!' 'Manufactured Community Owners' Association of America' 'Finally Bringing Fight To Manufactured Home Community Sector of the Industry' – plus Sunday Weekly Manufactured Housing Headlines Review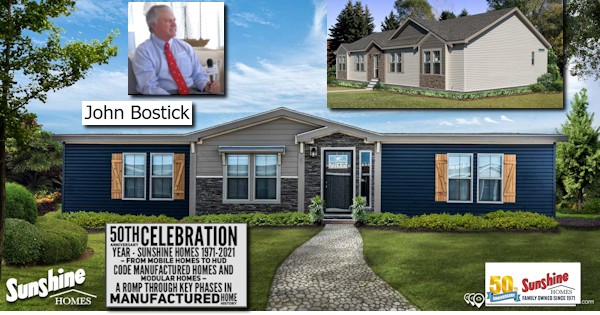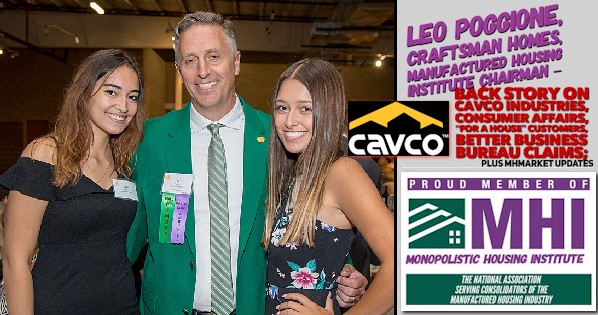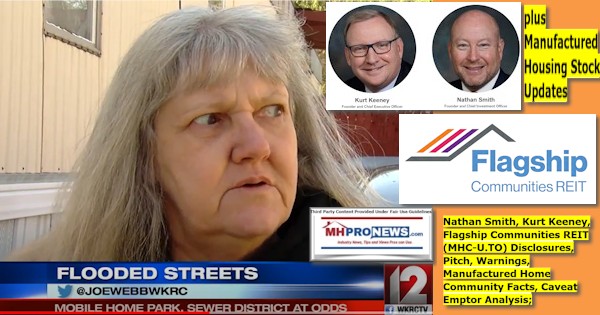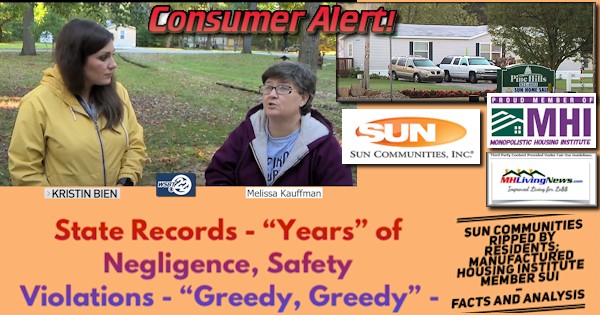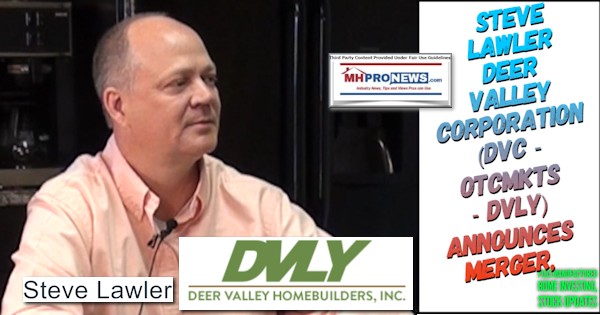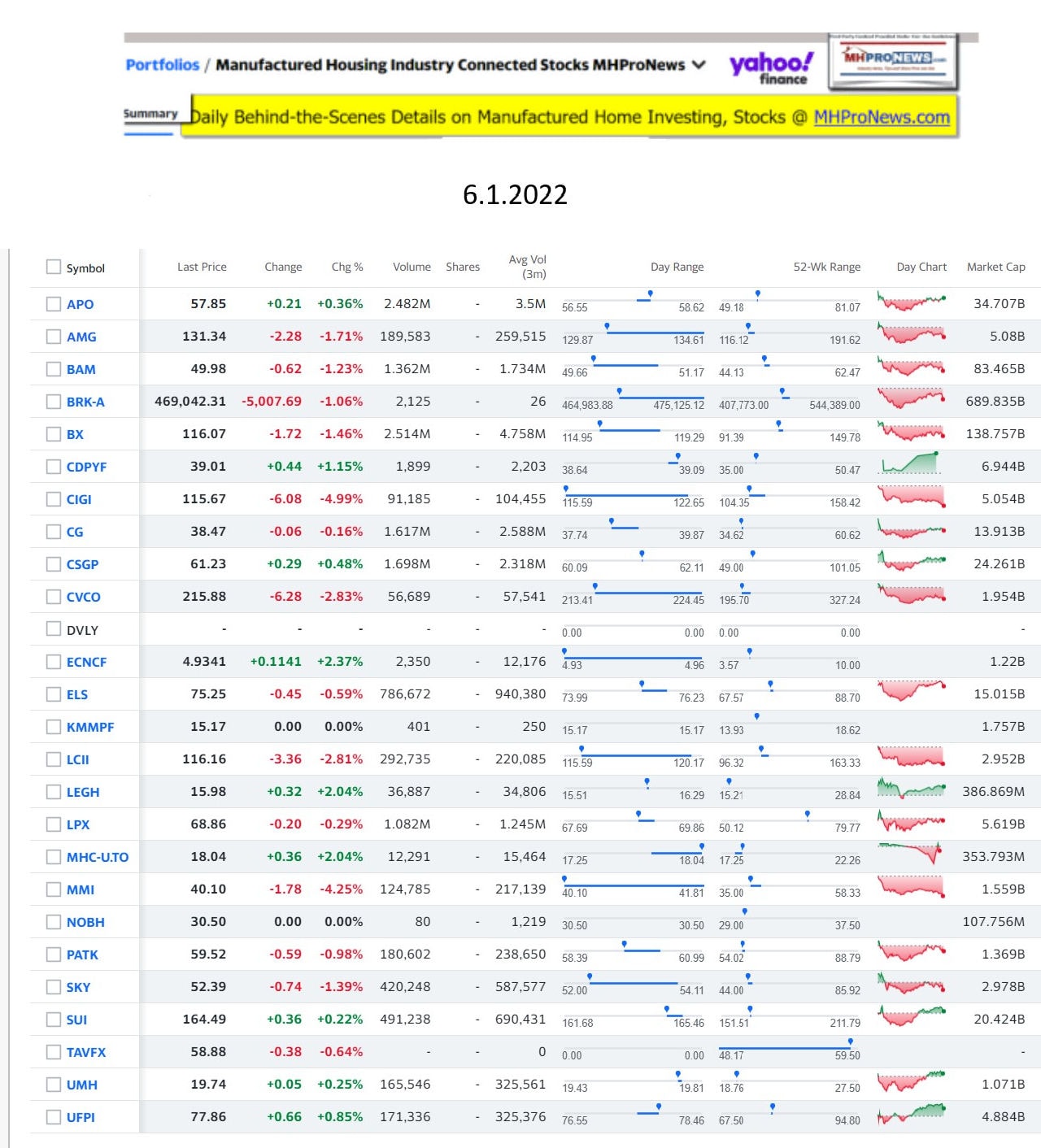 2022

…

Berkshire Hathaway is the parent company to Clayton Homes, 21st Mortgage, Vanderbilt Mortgage and other factory-built housing industry suppliers.


·

LCI Industries, Patrick, UFPI, and LP each are suppliers to the manufactured housing industry, among others.




·

AMG, CG, and TAVFX have investments in manufactured housing related businesses.

For

insights from third-parties and clients about our publisher

, click here.


Enjoy these 'blast from the past' comments.

MHProNews. MHProNews – previously a.k.a. MHMSM.com – has celebrated our 11th year of publishing and have completed over a dozen years of serving the industry as the runaway most-read trade media.
Sample Kudos over the years…
It is now 12+ years and counting…
Learn more about our evolutionary journey as the industry's leading trade media, at the report linked below.
· For expert manufactured housing business development or other professional services, click here.
· To sign up in seconds for our industry leading emailed headline news updates, click here.

Disclosure. MHProNews holds no positions in the stocks in this report.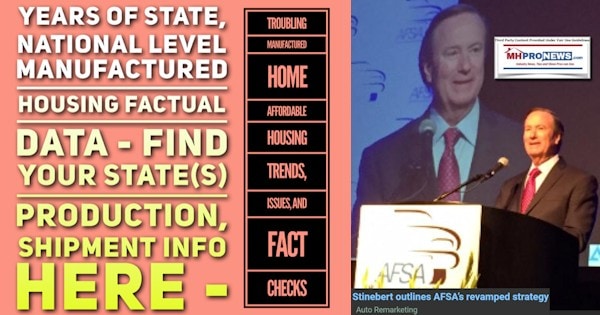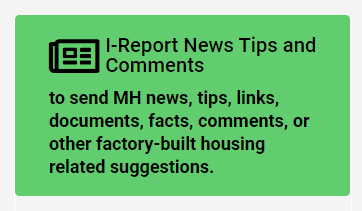 That's a wrap on this installment of "News Through the Lens of Manufactured Homes and Factory-Built Housing" © where "We Provide, You Decide." © (Affordable housing, manufactured homes, stock, investing, data, metrics, reports, fact-checks, analysis, and commentary. Third-party images or content are provided under fair use guidelines for media.) (See Related Reports, further below. Text/image boxes often are hot-linked to other reports that can be access by clicking on them.)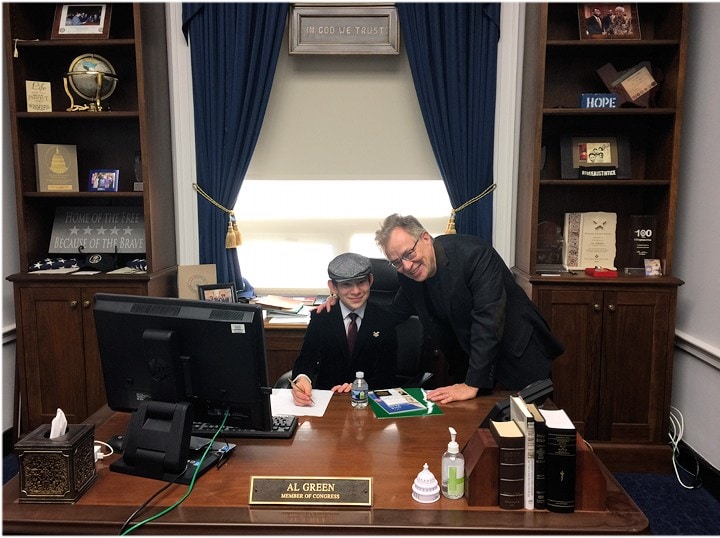 By L.A. "Tony" Kovach – for MHProNews.
Tony earned a journalism scholarship along with numerous awards in history. There have been several awards and honors and also recognition in manufactured housing. For example, he earned the prestigious Lottinville Award in history from the University of Oklahoma, where he studied history and business management. He's a managing member and co-founder of LifeStyle Factory Homes, LLC, the parent company to MHProNews, and MHLivingNews.com. This article reflects the LLC's and/or the writer's position and may or may not reflect the views of sponsors or supporters.