The deadline for comments to the FHFA on Duty to Serve (DTS) manufactured home lending are looming. Manufactured home connected stocks closed mixed yesterday (7.14.2021), and those business-daily facts are found further below. But today's featured-focus will be the hot political issue of election integrity. The report and commentary below by the Daily Torch's Rick Manning are provided with permission to MHProNews. It will be followed by additional information, and some commentary in brief.
As red states continue fighting for fair, honest elections a new poll shows two-thirds of Americans name election integrity is top issue for mid-terms.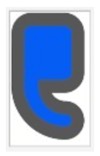 As red states continue making progress in the courts, and state legislatures to protect election integrity, Vice President Kamala Harris is promoting a Democrat initiative to spend 25 million on top of $20 million already announced for a party program called "I Will Vote" that began in 2018. The Democrat initiative is aimed at registering more new voters.
But voters are wary of efforts that could undermine fair, open, and honest elections.
A newly-released poll of voters from across the political spectrum commissioned by the Republican National Committee (RNC) shows nearly two-thirds of all voters said election integrity was either their top issue or in their top three when deciding how to vote.
A federal court judge on Wednesday denied a motion to stop the implementation of parts of Georgia's new voting law, ahead of state legislature runoff elections next week. And in Pennsylvania this week, state Sen. Doug Mastriano, a Republican who chairs the Senate Intergovernmental Operations Committee, sent letters to Philadelphia, York and Tioga counties asking them to turn over election materials by July 31. If the counties do not provide the materials as Mastriano requested, the lawmaker said on the John Fredericks Show Wednesday he would convene a committee meeting to vote on whether subpoenas can be issued to force the counties to comply, which he believes they would.
In the Georgia ruling, US District Judge J. P. Boulee declined to block parts of SB202, saying the timing of the request presents a problem with runoff elections already ongoing and would change rules for elections that are already underway. The runoffs for two Georgia House seats are set for July 13.
The motion went on to say the filing came three months after SB202 had become law.
"We are at the juncture where all of the challenged provisions are already the law. Therefore, an injunction would not merely preserve the status quo; rather, it would change the law in the ninth inning," wrote Boulee.
The US Department of Justice is suing Georgia over the new voting restrictions enacted as part of efforts nationwide to protect elections from the widespread allegations of fraud seen in the 2020 election.
These are important steps toward restoring America's faith in the electoral system. It is the responsibility of the state legislatures to oversee the results of the election laws to ensure that the fundamental principle of one-person-one-vote is upheld.
What is stunning, though predictable, is that Democratic operatives continue to oppose and impede an honest review of election results. Every voter needs to feel confident that their vote counted.
Ahead of the Biden and Harris events this week promoting a federal takeover of elections and pushing lies about common-sense election integrity laws, the RNC Communications Director Danielle Álvarez released a statement saying, "In a desperate effort to push their federal takeover of elections, Democrats continue to lie to the American people. Democrats refuse to join Republicans in supporting common-sense policies like voter ID, because their sole agenda is more power and partisan control."
The RNC-commissioned poll highlights how Americans reject Democrats' lies about election integrity. Americans overwhelmingly support the election integrity policies and ideas being promoted by Republicans across the country, including:
More than 80% of all voters say verifying voter ID is an important security measure; nearly all have driver's licenses or another form of ID and think it is easy to acquire an ID.
87% of voters said they were against ballot harvesting and 71% of voters believe ballots should not be accepted after election day.
77% of all voters reject Democrats' claim that "racism" is behind voting integrity laws, and believe one party uses it for political purposes, not for electoral progress.
The Supreme Court last week upheld Arizona's new election integrity law in a 6-3 ruling. The Arizona law includes a requirement for elections officials to throw out ballots cast in the wrong precinct, and prohibits ballot harvesting, a controversial practice of allowing third-party political activists to collect or "harvest" ballots from voters' homes.  Arizona's ban on ballot harvesting prevents bad actors with malicious intent from coercing voters or altering ballots.
This decision affirms a state's basic right to set its voter rules to ensure election security and that the one-person-one-vote principle is upheld. It should be cheered across America as an affirmation that cheating will not be institutionalized so long as Congress is stopped from passing far-left election laws that attack voter identification, chain-of-custody, and accurate counting of election results. This is a victory but Americans must continue fighting to ensure that Congress does not overturn it.
Richard Manning is President of Americans for Limited Government. ##
###
Additional Information and MHProNews Commentary in Brief
Election integrity. A growing recognition – and mistrust – of mainstream media bias. The 45th President Donald J. Trump's suit against big tech and their censorship of conservatives, but also some voices on the left that call into question the prevailing narrative.  These are all among the issues that MHProNews and MHLivingNews have been reporting on. But why do we spend a fair amount of time on such topics? Simply put, so long as the billionaire class can manipulate much of the political and federal bureaucratic system to their advantage, independents, employees, seniors, and others are literally financing their opposition and the erosion of the respective rights.
There is no substitute for information that people of good will can use to awaken those who have been blinded by DINOs, RINOs, and CINOs, among others.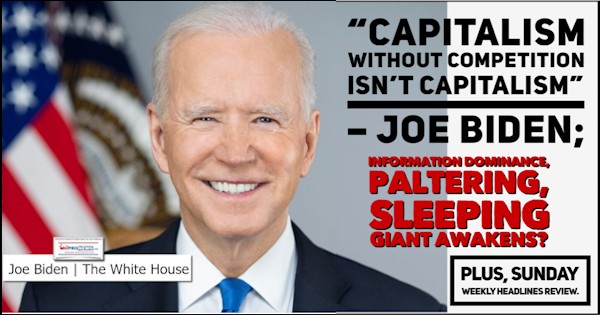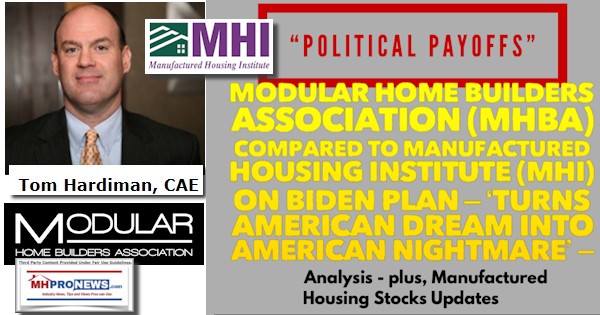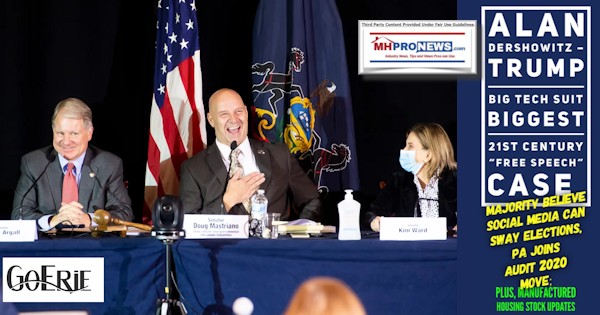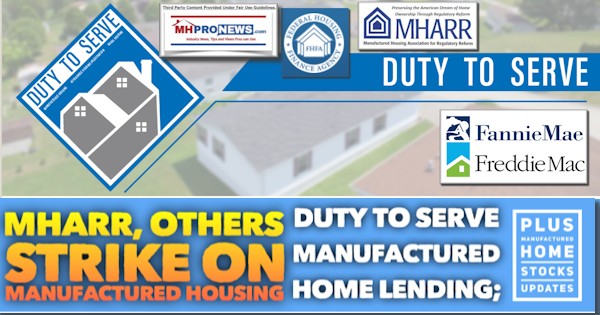 To learn more see the linked and related reports.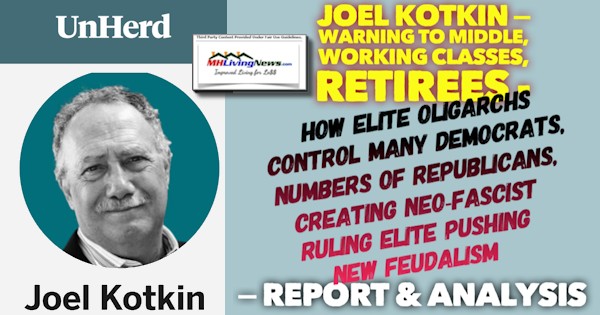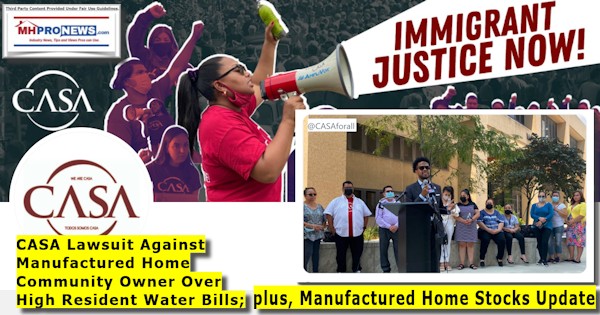 Next up is our business daily recap of yesterday evening's market report and related left-right headlines.
The Business Daily Manufactured Home Industry Connected Stock Market Updates.  Plus, Market Moving Left (CNN) – Right (Newsmax) Headlines Snapshot. While the layout of this business daily report has recently been modified, several elements of the basic concepts used previously are still the same. The headlines that follow below can be reviewed at a glance to save time while providing insights across the left-right media divide. Additionally, those headlines often provide clues as to possible 'market moving' items.
Market Indicator Closing Summaries – Yahoo Finance Closing Tickers on MHProNews…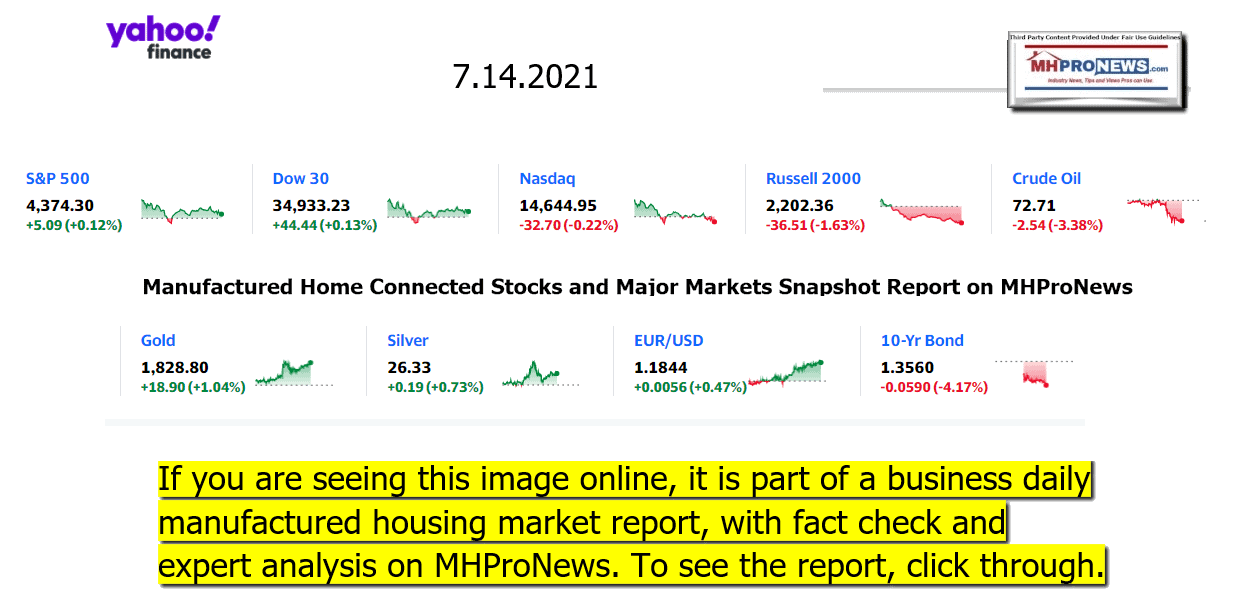 Headlines from left-of-center CNN Business = evening of 7.14.2021
The right to repair
A new Biden executive order could make fixing your smartphone easier
LIVE UPDATES Economic warning light flashes red
Key measure of inflation posts biggest 12-month jump on record
Inflation is running hot: What comes next matters most
America's finance chiefs don't think inflation will go away anytime soon
Opinion: It's time to make these expanded tax credits permanent
Volkswagen wants its electric bus to drive huge sales growth in the US
Europe aims to kill gasoline and diesel cars by 2035
The pandemic walloped their businesses. Here's how they're doing now
Ransomware gang that hit meat supplier vanishes from the internet
Twitter's disappearing Snapchat clone… disappears
Facebook seeks FTC Chair Lina Khan's recusal from anti-monopoly case
Why companies are offering employees early access to their paychecks
Premium Joy is selling its last remaining unit of the Under The Sea foam floor puzzle for $28,000.
There's only one left of this popular toy. It's going for $28,000
A family enjoys dinner at a restaurant's outdoor patio on Wednesday, May 5, 2021 in Santa Monica, CA.
Inflation could force restaurants out of business without federal help
A commuter walks through Grand Central Terminal amid the coronavirus pandemic in New York City, October 19, 2020.
CEOs made 299 times more than their average workers last year. Here's who made the most
RED-HOT HOUSING MARKET
Residential homes in Lithonia, Georgia, U.S., on Tuesday, April 27, 2021.
Many homebuyers are dropping out of the market
Home buyers are paying $1 million over asking price
Disgusting 'house from hell' listed for $600,000
All-cash offers are king in this real estate market
People are snatching up vacation homes. And many are paying with cash
INVEST AHEAD
Meet the short seller who hopes stocks crash and burn
Here are the upcoming IPOs to put on your radar
Theme park stocks are on fire
Betting against meme stocks could get you burned
Berkshire Hathaway scraps pipeline purchase because of antitrust concerns
Headlines from right-of-center Newsmax – evening of 7.14.2021
20 States Support South Carolina in Abortion Lawsuit
Newsmax TV
Cloud: Texans Want Leaders Who Don't Run From a Fight
Nicole Malliotakis: Biden Should Apply Cuba Immigration Stance to Border |
Retired Admiral: Navy's Training Shifting Too Far From Warfare |
Buddy Carter: 'Radical Democrats' Ruined Baseball |
Texas Rep. James White: Disputed Bill Contains 'No Voter Restrictions' |
More Newsmax TV
Newsfront
House Select Committee Announces First Hearing to Probe Jan. 6 Attack
The special congressional panel investigating the Jan. 6 attack on the U.S. Capitol by supporters of former President Donald Trump said on Wednesday it would hold its first hearing on July 27.Members of the Democratic-led panel, known as the Select Committee to Investigate…… [Full Story]
Republicans Blast Dems' $3.5T Spending Plan as Biden Gives It His Stamp of Approval
President Joe Biden made the case for his sweeping, two-track [Full Story]
US Overdose Deaths Hit Record 93,000 in Pandemic Last Year
Overdose deaths soared to a record 93,000 last year in the midst of [Full Story]
Mike Pence: China Becoming 'Evil Empire'
Former US vice president Mike Pence warned Wednesday that China was [Full Story]
Tourism Is Rebounding From Pandemic, Fed's Beige Book Finds
The U.S. tourism industry is seeing a recovery during the crucial [Full Story]
Ken Cuccinelli: Biden, Dems Rely on 'Hysteria' for Voter Reform Push
Fair elections advocate and ex-Trump administration official Ken [Full Story] |
Haley Calls Blinken's Invite to UN Experts on Racism 'Insane'
Former U.N. Ambassador Nikki Haley harshly criticized the Biden [Full Story]
Kamala Harris Gaffe Shows Dems 'Out of Touch' With Rural Voters
Vice President Kamala Harris' odd assertion that citizens in rural [Full Story] |
Court Orders Shorter Sentence for 'Tiger King' Joe Exotic
A federal appeals court ruled Wednesday that "Tiger King" Joe Exotic [Full Story]
Yellen, Powell to Discuss Financial Risks of Hot Home Market
Treasury Secretary Janet Yellen and Federal Reserve Chair Jerome [Full Story]
Ex-NFL, Army Vet Jumps in Senate Race to Tackle 'Failing' DC Swamp
Jake Bequette is a patriot – in every sense of the word. He suited up [Full Story] |
Justice Dept. Watchdog: FBI Seriously Mishandled Nassar Case
The FBI made numerous serious errors in investigating allegations [Full Story]
States Where Americans Don't Want To Live Anymore (#4 Will Surprise You)
com
Retired Admiral to Newsmax: Navy's Training Shifting Too Far From Warfare
The U.S. Navy is suffering from upper-level leaders who are [Full Story] |
In First for Gulf, UAE Opens Embassy in Israel, Hails Trade Ties
The United Arab Emirates on Wednesday become the first Gulf state to [Full Story]
GOP Sens Introduce Bill to End Travel Mask Mandates
A group of Republican senators believe it is time to unmask on public [Full Story]
County Won't Offer Up Voting Machines to Election Audit
One of three counties targeted by a Pennsylvania state lawmaker for [Full Story]
Gottlieb Casts Doubts on COVID 'Boosters Forever'
Former Food and Drug Administration head Dr. Scott Gottlieb said on [Full Story]
Amir-Abbas Fakhravar to Newsmax: Also Facing Threats From Iranian Regime
Amir-Abbas Fakhravar, the Senate Chairman of the National [Full Story] |
DeSantis Selling 'Don't Fauci My Florida' Merch
Florida Gov. Ron DeSantis has started offering branded merchandise [Full Story]
20 States Support South Carolina in Abortion Lawsuit
Twenty states are supporting South Carolina's defense of a new [Full Story]
Twitter Kills Off Ephemeral 'Fleets'
Twitter is disappearing its disappearing tweets, called fleets, after [Full Story]
Feds Charge 4 in Iran Plot to Kidnap US Writer, 4 Others
An Iranian intelligence officer and three alleged members of an [Full Story]
2 Wimbledon Matches Probed for 'Possible Irregular Betting Patterns'
The International Tennis Integrity Agency (ITIA) said it is [Full Story]
House Republicans Raise Record $20M in June Ahead of 2022 Race
The committee charged with helping Republicans wrest control of the [Full Story]
Britney Spears' Bid for Freedom Returns to Court
Three weeks after Britney Spears pleaded with a judge to get her life [Full Story]
Pope Francis Arrives at Vatican 10 Days After Surgery
Pope Francis was discharged from a Rome hospital and returned home to [Full Story]
Schumer Plans to Introduce Marijuana Bill
Senate Majority Leader Chuck Schumer, D-N.Y., along with Senate [Full Story]
Senate Dems Have $3.5T Budget Passable With 50 Votes
Senate Democrats announced Tuesdaythey have reached a budget [Full Story]
Cuba Confirms Man Killed in Protester Clash With Police
Cuban authorities confirmed Tuesday one person has died during [Full Story]
Stacey Abrams Gets Emmy Nomination
Stacey Abrams, the Democratic former candidate for Georgia governor, [Full Story]
More Newsfront
Finance
Fed's Powell Feels Heat on Inflation Front
Federal Reserve Chair Jerome Powell on Wednesday pledged "powerful support" to complete the U.S. economic recovery from the coronavirus pandemic, but faced sharp questions from Republican lawmakers concerned about recent spikes in inflation. [Full Story]
Powell: 'Substantial Further Progress' a Ways Off
Apple's Potential 'buy Now, Pay Later' Plan Sends Sector Shares Tumbling
How Inflation Spike May Go From Transitory to Long-Lasting
Capitalizing on Remote Work, Cities Draw in Tech Workers
More Finance
Health
Will You Need a COVID Booster Shot?
The big question on most American's minds is whether a booster shot will be needed to protect against the emerging COVID-19 variants, especially the aggressive Delta variant that is sweeping the nation. As new cases of COVID-19 rose almost 50% this week across the country,… [Full Story]
4 Fitness Tricks That Add Years to Your Life
US Overdose Deaths Hit Record 93,000 in Pandemic Last Year
Cancer Patients Not Protected After One Dose of COVID Vaccine
Alcohol Linked to 740,000 Cancer Cases Worldwide in 2020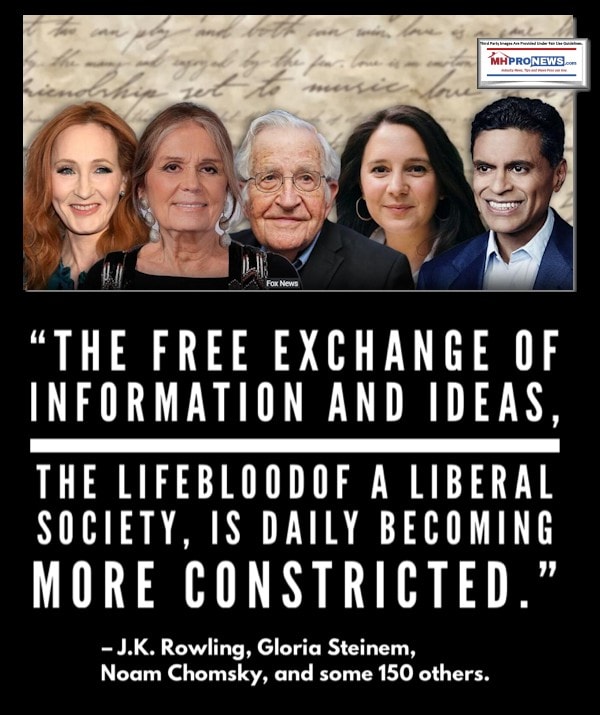 Manufactured Housing Industry Investments Connected Equities Closing Tickers
Some of these firms invest in manufactured housing, or are otherwise connected, but may do other forms of investing or business activities too.
NOTE: The chart below includes the Canadian stock, ECN, which purchased Triad Financial Services, a manufactured home industry lender
NOTE: Drew changed its name and trading symbol at the end of 2016 to Lippert (LCII).
NOTE: Deer Valley was largely taken private, say company insiders in a message to MHProNews on 12.15.2020, but there are still some outstanding shares of  the stock from the days when it was a publicly traded firm.  Thus, there is still periodic activity on DVLY.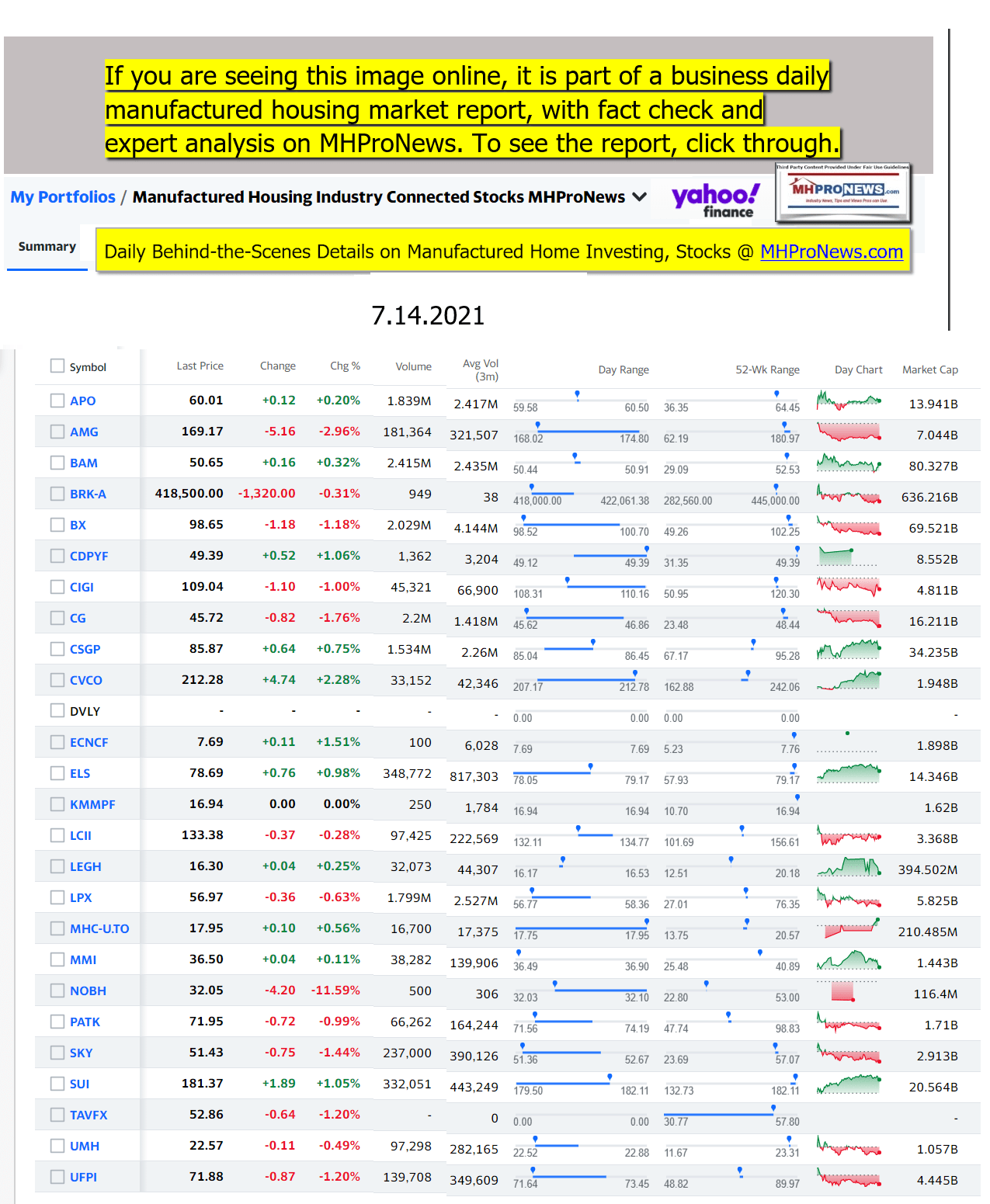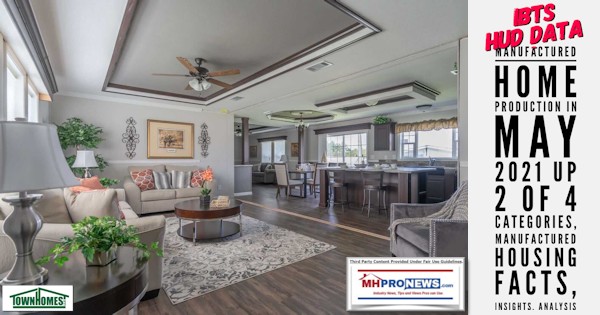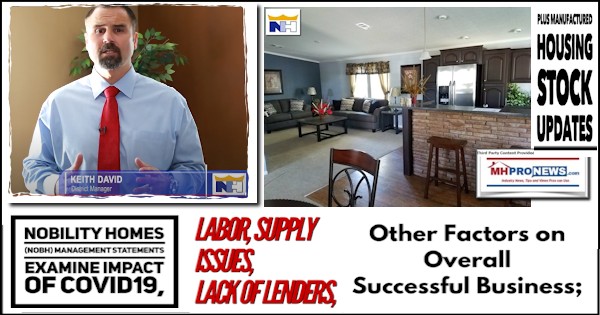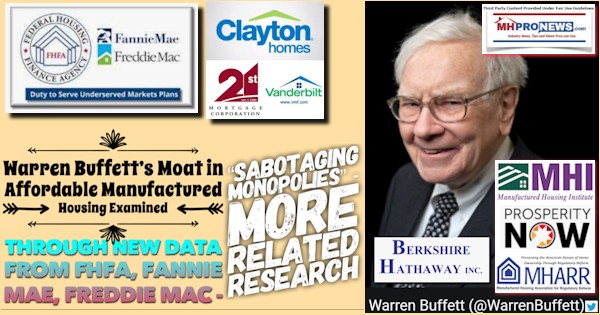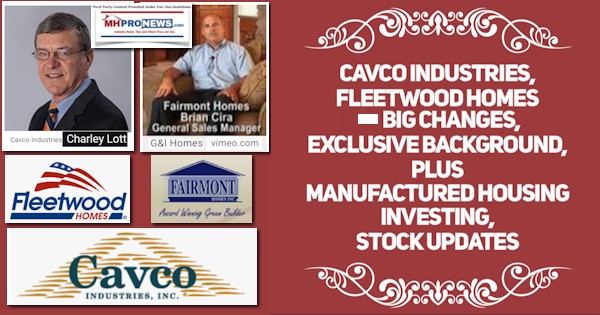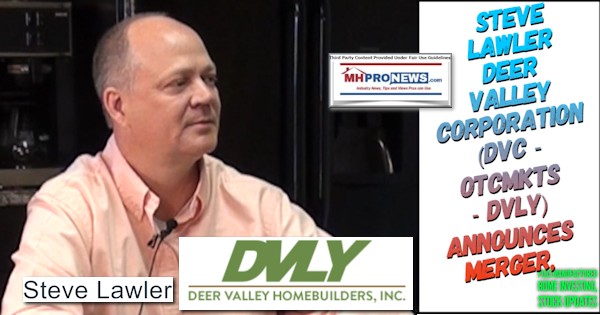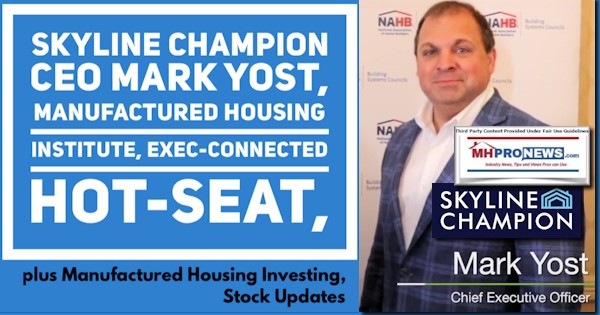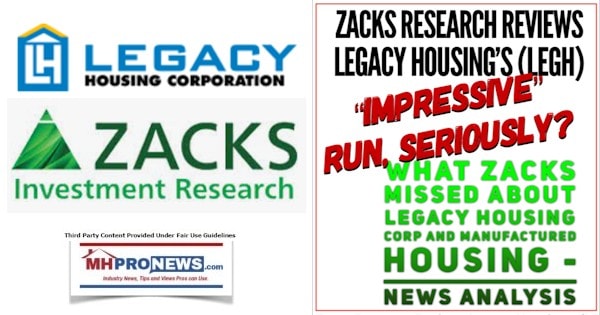 Spring 2021…
Berkshire Hathaway is the parent company to Clayton Homes, 21st Mortgage, Vanderbilt Mortgage and other factory built housing industry suppliers.
· LCI Industries, Patrick, UFPI, and LP each are suppliers to the manufactured housing industry, among others.
· AMG, CG, and TAVFX have investments in manufactured housing related businesses. For insights from third-parties and clients about our publisher, click here.
Enjoy these 'blast from the past' comments.
MHProNews. MHProNews – previously a.k.a. MHMSM.com – has celebrated our 11th year of publishing, and is starting our 12the year of serving the industry as the runaway most-read trade media.
Sample Kudos over the years…
It is now 11+ years and counting…
Learn more about our evolutionary journey as the industry's leading trade media, at the report linked below.
· For expert manufactured housing business development or other professional services, click here.
· To sign up in seconds for our industry leading emailed headline news updates, click here.

Disclosure. MHProNews holds no positions in the stocks in this report.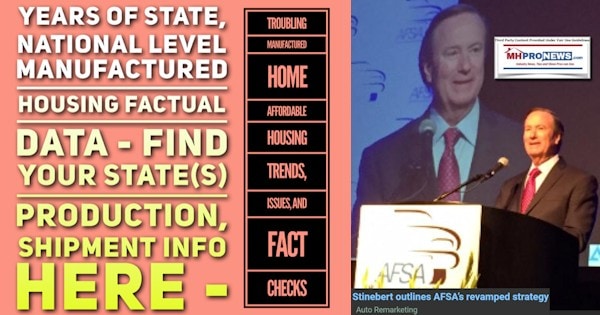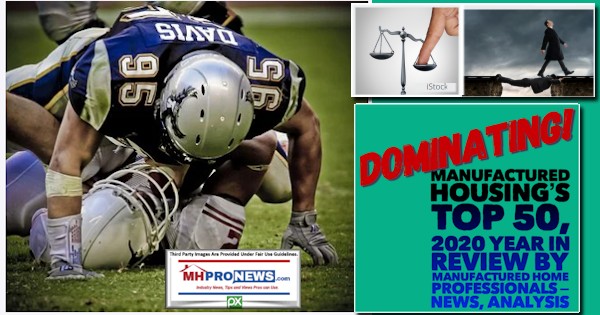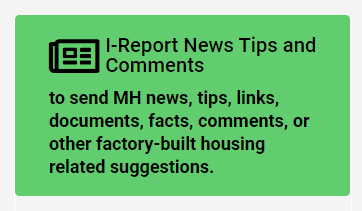 That's a wrap on this installment of "News Through the Lens of Manufactured Homes and Factory-Built Housing" © where "We Provide, You Decide." © (Affordable housing, manufactured homes, stock, investing, data, metrics, reports, fact-checks, analysis, and commentary. Third-party images or content are provided under fair use guidelines for media.) (See Related Reports, further below. Text/image boxes often are hot-linked to other reports that can be access by clicking on them.)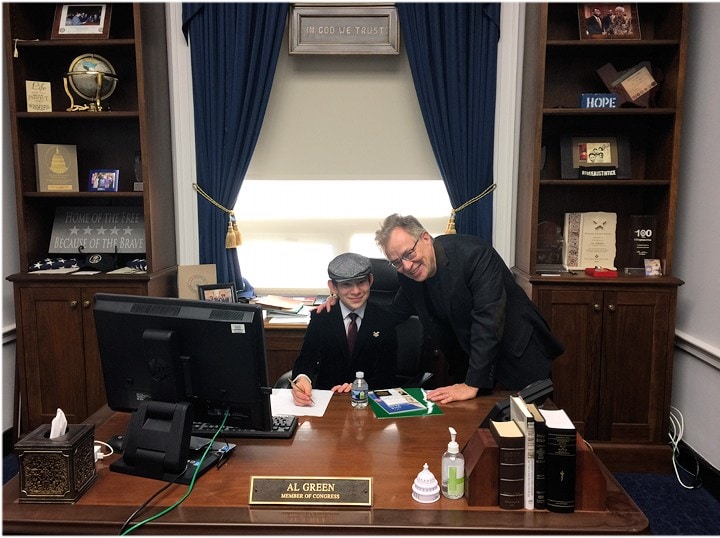 By L.A. "Tony" Kovach – for MHProNews.
Tony earned a journalism scholarship along with numerous awards in history. There have been several awards, honors and recognition in manufactured housing. For example, he earned the prestigious Lottinville Award in history from the University of Oklahoma, where he studied history and business management. He's a managing member and co-founder of LifeStyle Factory Homes, LLC, the parent company to MHProNews, and MHLivingNews.com. This article reflects the LLC's and/or the writer's position, and may or may not reflect the views of sponsors or supporters.