In a the first of two press releases, CASA announced on Tuesday that it would be filing suit in what it called an "Explosive Lawsuit Protecting Tenant Rights in Montgomery County, Maryland."
A series of tweets, see example below, and the second media release on 7.7.2021 stated the following, per CASA.
Support housing justice!

Show your support for @CASAforAll and the brave Middlebrook residents who are suing their landlord for abuses and threats 📢📢📢

Tenant advocates are outside the #MontgomeryCounty courthouse after filing the complaint. pic.twitter.com/CySh4KAPHK

— CASA (@CASAforall) July 7, 2021
New CASA Lawsuit: Maryland Landlord Illegally Overcharges Tenants for Water
Single Mom of Four Charged $800 for Water, More than Rent
ROCKVILLE, MD – CASA today filed a complaint in the Montgomery County Circuit Court in Maryland challenging the illegal fees and intimidation of 28 tenants at Middlebrook MHC, LLC. The full complaint against the mobile home park can be found on this page, below.
This case involves the pernicious act of the mobile home park charging vulnerable residents illegal fees for water. CASA finds that Middlebrook MHC, LLC fails to properly maintain water systems, fails to monitor and inspect the residents' water usage to identify abnormalities in usage, and charges residents hundreds of dollars per month in water bills. Worse yet, the landlord threatened to evict residents for nonpayment of rent when the residents complained that Middlebrook Mobile Homes were not living up to their contractual, statutory, and common law obligations. Instead, they continue to ignore major structural utility systems and extortionate fee-collection practices, then pass the cost of their misdeeds on to the residents.
These changes took place in the summer of 2018, when management changed hands. They installed new water meters, and water bills immediately spiked. For some residents, the water bill was nearly a thousand dollars.
"CASA is suing today because, for over two years, the management at Middlebrook has not listened to our concerns," details CASA staff attorney Jonathan Riedel. "The water bills are absurd. Middlebrook believes that a family of four can use three full swimming pools' worth of water in a single month. In a mobile home, no less. This lawsuit is designed to tell the landlord that no, it is not the residents' fault. These residents deserve a voice, and they deserve justice."
The average family uses 55 gallons per person per day. Many Middlebrook Mobile Home residents buy their own drinking water, don't have big lawns or swimming pools, and take extreme measures to conserve water. Where the water bills are normal, some tenants use just 35 or 40 gallons of water per person per day. One early water bill, which said that a family of four used 51,000 gallons of water in a single month. That's approximately 400 gallons of water per person per day.
"For the last three years, the residents have been abandoned, discriminated against, and taken advantage of by loopholes within the housing system, all while paying the heavy price of high water costs and more. I speak out today on behalf of the 200+ homeowners to demand accountability and transparency. Our families cannot bear the burden anymore," said Ana Laura Garcia, tenant's association president of the Middlebrook Mobile Home community. "Unfortunately, the lack of accountability and transparency has led us to this lawsuit. While trying to find answers and help, we have found that neither the county nor the management office wants to take responsibility or accountability for what has happened at the Middlebrook Mobile Homes."
Ana Laura's family of three takes various water conservation measures, including buying bottled water for cooking and drinking and doing laundry offsite. Likewise, another mobile home resident Berta Bonilla has received bills with incorrect summations, incorrect rates, and incorrect amounts of water usage. Her family consumes as little water as possible and have still received a bill of nearly $800.
"The water bills would reach as high as $800 a month! As a house cleaner and single mother of four, these water bills have forced me to make tough financial decisions for my family, which have gotten worse during the pandemic," said Berta Bonilla, Middlebrook Mobile Homes resident. "The possibility of being evicted from the home I've lived in for 15 years was frightening, for not paying my water bills on time was frightening. I am here today to demand accountability and answers. No one should ever have to pay such an outrageous amount for water bills."
For the past three years, the tenant's association of the Middlebrook Mobile Homes has organized and mobilized to address urgent matters that significantly affect over 200 families. Alex Vazquez, who has led organizing with CASA, said, "Unfortunately, after multiple attempts to work together with the management office and the county, the residents have exhausted all attempts to address these urgent concerns. These CASA Members have banded together to seek accountability, transparency, and responsibility from their landlord."
"I salute the residents of the Middlebrook trailer park for fighting for their families and in that way fighting for our broader community," said County Executive Marc Elrich. "It is time for the owners of the property to meet residents and eliminate the outrageous charges that they confront."
"I am proud to join CASA in filing today's lawsuit to protect tenants against a predatory landlord taking advantage of hard-working residents," Council President Tom Hucker said. "We should be doing everything in our power to protect our tenant community, who have been disproportionately affected by the public health and economic impacts of the pandemic. I'm grateful to continue to work collaboratively with CASA and other nonprofit partners to create a safe environment for all tenants in Montgomery County."
"Unfortunately, the people who are the most vulnerable are the most exploited," said Lesley Lopez, Maryland State Delegate, District 39. "How possibly could a family in a mobile home use up three swimming pools worth of water?"
###
Another example of the series of tweets from CASA is shown below.
"Today, I demand that @MontgomeryCoMD officials do their part to assist an immigrant community that they have failed on multiple occasions.

"Our families cannot bear the burden anymore."

– Ana Laura Garcia, Middlebrook tenant association president, CASA member pic.twitter.com/FXIG7MMUJG

— CASA (@CASAforall) July 7, 2021
Per the CASA website, "With over 115,000 members across the states of Maryland, Virginia, and South Central Pennsylvania, CASA is the largest member-based Latino and immigrant organization in the mid-Atlantic region."
According to Influence Watch, Casa's financial support includes dollars that flow from the Tides Foundation.
Finances
The most recent publicly available financial information from CASA in Action is from 2018. It shows total revenues of $2,050,476 and total expenses of $1,938,105. [13] It also lists significant contributions from left-of-center organizations and unions, including the Democratic National Committee, the Planned Parenthood Action Fund, the Tides Foundation, Service Employees International Union, and the American Federation of Teachers."
Buffett is well known for being anti-Trump. So perhaps it is no surprise that Casa of Maryland, per Influence Watch: "CASA de Maryland (also called CASA) is a left-of-center 501(c)(3) immigration advocacy organization that helps immigrants, most often of Central American extraction, find employment, regardless of their legal status in the United States. CASA's executive director has told workers he will never turn their names over to federal immigration officials.[1]
CASA leads its membership in political and policy advocacy that has included public demonstrations against the Trump administration's restrictionist immigration policies,[2] promoting a path to citizenship for immigrants living illegally in the United States,[3] promoting legislation allowing undocumented aliens to pay in-state tuition at Maryland state colleges,[4] and campaigns to raise the minimum wage to $15 per hour.[5]"
The Tides are in turn is funded in part by the NoVo Foundation, which is primarily funded by Warren Buffett. MHAction is another Tides funded operation. Buffett's NoVo Foundation has been the largest donor to the Tides for several years.
Image
There is evidence that suggests that a variety of pressures are being placed on manufactured housing, most notably, independents.  While there are doubtlessly valid concerns raised in various often troubling reports, there is also reason to believe that these are framing an impression among the general public that is harmful to so-called "white hats," not just black hat operations.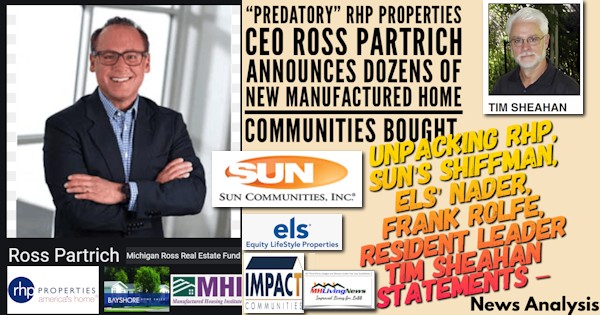 To learn more, see the linked reports.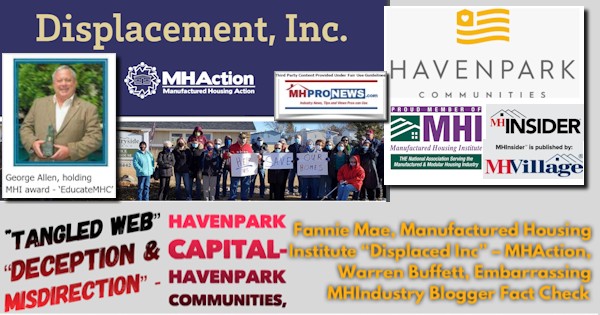 Next up is our business daily recap of yesterday evening's market report and related left-right headlines.
The Business Daily Manufactured Home Industry Connected Stock Market Updates.  Plus, Market Moving Left (CNN) – Right (Newsmax) Headlines Snapshot. While the layout of this business daily report has recently been modified, several elements of the basic concepts used previously are still the same. The headlines that follow below can be reviewed at a glance to save time while providing insights across the left-right media divide. Additionally, those headlines often provide clues as to possible 'market moving' items.
Market Indicator Closing Summaries – Yahoo Finance Closing Tickers on MHProNews…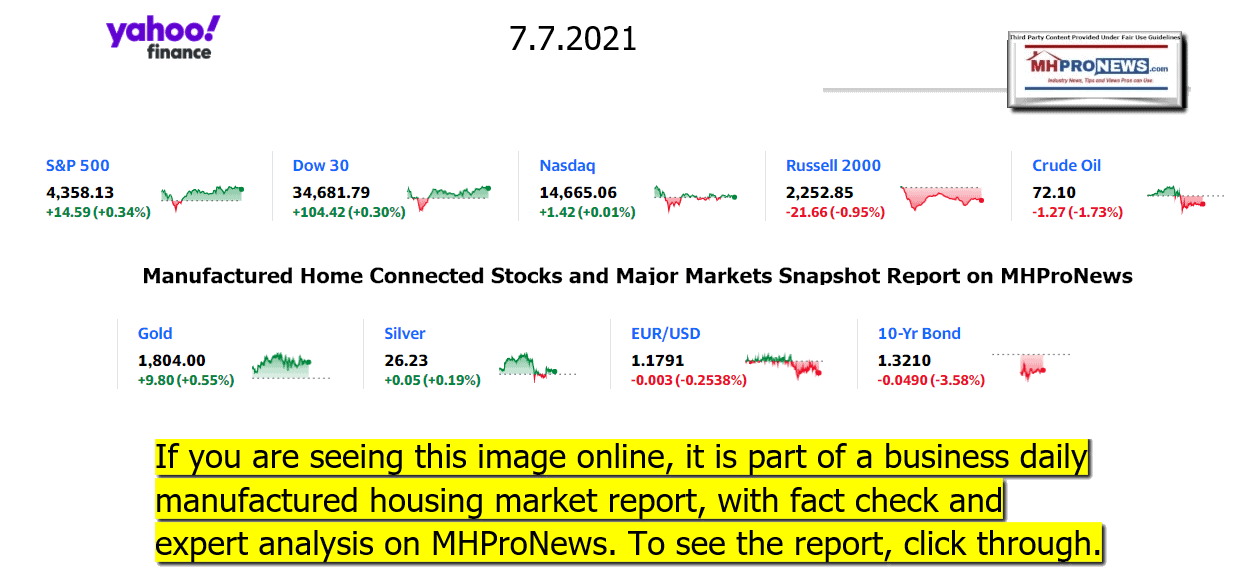 Headlines from left-of-center CNN Business = evening of 7.7.2021
Microsoft's urgent warning
A person uses Windows software
Running Windows on your PC? You should immediately install this update
Bill Gates could oust Melinda French Gates from their foundation in 2023
Trump is suing Mark Zuckerberg and Jack Dorsey. Here's why they shouldn't worry
LIVE UPDATES Minutes show a Fed that's 'talking about talking about' tapering
Theme park stocks are on fire as the summer heats up
The ship that was stuck in the Suez Canal is finally leaving
Opinion: These are the keys for advanced democracies to deal with China
ESPN attempts to contain controversy embroiling the network
Ford Mustang Mach-E wins Car and Driver EV of the Year award
Bloomingdale's has a new concept store
What is the best financial advice you ever got? Share your story
A driver uses the Didi Chuxing ride-hailing app on his smartphone while driving along the street in Beijing on July 2, 2021.
Exclusive: China just gave a big F-U to America, hedge fund manager says
Rendering of the Aventador Roadster
Lamborghini and Lotus unveil last gasoline-only supercars
Richard Branson is taking a big risk going to space
THE RISE OF MEME STOCKS
Signage is displayed outside an AMC movie theater at night in the Times Square neighborhood of New York, U.S., on Tuesday, Oct. 15, 2020. AMC Entertainment Holdings Inc. is considering a range of options that include a potential bankruptcy to ease its debt load as the pandemic keeps moviegoers from attending and studios from supplying films.
Betting against meme stocks could get you seriously burned
AMC ditches its plans to sell more stock
Robinhood files to go public
How AMC and GameStop became Reddit faves
Meme mania isn't going away anytime soon
AROUND THE WORLD
HONG KONG, CHINA – JULY 2: Gay rights activists display a rainbow flag 01 July 2000 in Hong Kong as they prepare to march with over 3,000 people during a demonstration to mark the third anniversary of the territory's 01 July 1997 return to Chinese rule.  Protesters from various sectors of society called for Chief Executive Tung Chee-hwa to step down, chanting slogans and venting their outrage at the policies of his administration.
Wechat deletes dozens of university LGBT accounts in China
Vaccine inequality is hurting Asia's poor
Loss of tourism could cost these countries trillions
These designers are reshaping Ivory Coast couture
India's billionaires got richer while coronavirus pushed millions into poverty
Headlines from right-of-center Newsmax – evening of 7.7.2021
Trump to Newsmax: Big Tech Being Sued for Their 'Crimes'
"They've taken away free speech and led to a lot of problems in this country," Trump told Newsmax's Rob Schmitt following the announcement. "It really leads to the mainstream media not doing their job because big tech is guiding them and guiding them all the way." [Full Story]
Newsmax TV
Kat Cammack: Biden Talking Tough to Russia 'Comical'
Harshbarger: Important to Protect Supply Chains From China
Michael Burgess: Biden Admin Burdening Local Border Enforcement
Florida Lt. Gov. Nunez: Elsa Looming; Surfside Search Efforts Go On |
Kash Patel: Biden's Lack of Knowledge on Cyberattack 'Scares Me' |
Donalds: Rep. Cori Bush's July 4 Tweets 'Pure and Utter Foolery' |
More Newsmax TV
Newsfront
Trump Announces Suits Against Tech Giants Twitter, Facebook, Google
Former President Donald Trump has announced class-action lawsuits against tech giants Twitter, Facebook, and YouTube parent company Google, over their "unlawful" censorship of him and other conservatives…… [Full Story]
Related Stories
Trump: Not Looking for Settlement in Big Tech Lawsuits
Alan Dershowitz to Newsmax: Trump Social Media Suit 'Very, Very Important'
Alan Dershowitz told Newsmax on Wednesday that former President [Full Story] |
Biden Promotes Corporate Taxes in Illinois as Business Opposition Mounts
President Joe Biden made the case for spending trillions of dollars [Full Story]
Fed Officials Surprised by Higher-Than-Expected Inflation Spike
Rising prices amid the recovery from the pandemic shutdown were [Full Story]
Roy Doubles Down on GOP Goal to Block Legislation Until After Midterms
Texas Republican Rep. Chip Roy has doubled down on his recent [Full Story]
Rising Crime Rates 'Only Going to Get Worse' Without Leadership Overhaul
Criminals didn't take off for the Fourth of July weekend. Crime rates [Full Story] |
Tropical Storm Elsa Makes Landfall, Heads to Georgia
A weakened Tropical Storm Elsa dumped rain across Florida's northern [Full Story]
GOP US Rep. Jim Hagedorn Announces Kidney Cancer Recurrence
S. Rep. Jim Hagedorn has had a recurrence of his stage IV kidney [Full Story]
Banned by Biden! President Trump's 1776 Project is Back in Print!
SPONSOR: Full-color, 62 pgs. Order your copy before it's banned again! [Full Story]
Biden Eyes Imprint on Fed Board as Decision on Powell Approaches
As the White House weighs the potential renomination of Jerome Powell [Full Story]
Biden Executive Order to Target Noncompete Agreements
An upcoming executive order from U.S. President Joe Biden will target [Full Story]
Trump to Newsmax: Big Tech Being Sued Over Their 'Crimes'
Former President Donald Trump on Wednesday told Newsmax that [Full Story]
Putin's 'Asymmetric' Arsenal Presages More Hacking Attacks
President Joe Biden said he gave his Russian counterpart a tough [Full Story]
Melinda French Gates Could Leave Foundation
The divorce between Bill Gates and Melinda French Gates could cause [Full Story]
Bill Cosby Considers Return to Comedy
Bill Cosby is eyeing a return to comedy and has already reportedly [Full Story]
NYC Honors Essential Workers at Parade up Canyon of Heroes
A pandemic would seem like the worst time to start working as a nurse [Full Story]
Renowned Neurosurgeon Releases Memory Drug To Public
NeuroTimes
Gallup: Most Americans 'Thriving,' Satisfaction With Life at Record High
Most Americans, just over 59%, said that their lives are "thriving" [Full Story]
Death Toll in Miami Condo Collapse Rises to 46
Search and rescue workers on Wednesday recovered 10 more bodies from [Full Story]
Ruddy: A Dangerous Moment With Trump Indictments
I can't help but feel that we as a nation are in a dangerous [Full Story]
Damian Merlo: State Department's Hypocrisy Targeting El Salvador President
The Biden administration has embarked on a nave and [Full Story]
Britney Spears' Attorney Sam Ingham Resigns
Britney Spears' attorney, Sam Ingham, has asked to resign from his [Full Story]
Eric Adams Wins NYC's Contested Dem Mayoral Primary
Brooklyn Borough President Eric Adams has won the Democrat primary [Full Story]
Related
NYC's Recovery Will Be Template for US Cities: Adams
Ohio Senatorial Candidates Craft Campaigns Focused on Trump
Retiring Ohio Republican Sen. Rob Portman wasn't always a fan of [Full Story] |
US Allowed to Appeal Assange Extradition Denial, UK Court Rules
Britain's High Court has granted the U.S. government permission to [Full Story]
3 Law Enforcement Officers Shot Outside Chicago Police Station
Three law enforcement officers shot and wounded outside Chicago [Full Story]
Haiti President Jovenel Moïse Assassinated at Home
Haitian President Jovenel Mose was assassinated in an attack on his [Full Story]
FBI Seizes Completed Lego Capitol Model From Jan. 6 Suspect's Home
The FBI, while seizing items from the home of a man accused of being [Full Story]
North America Records Hottest June Ever
The heatwave that broke temperature records in North America made [Full Story]
Rocket Attack on Iraqi Base Housing US Forces: Iraqi Military Sources
There was a rocket attack on Wednesday on the Ain al-Asad air base, [Full Story]
Trafalgar Poll: Majority Doesn't Believe Biden in Charge
Trafalgar Poll: Majority Doesn't Believe Biden in Charge
The majority of Americans do not believe President Joe Biden is [Full Story]
Flush With COVID Funds, States and Cities 'Make it Rain'
With about $350 billion flooding into the coffers of state and local [Full Story]
More Newsfront
Finance
Biden Executive Order to Target Noncompete Agreements
An upcoming executive order from U.S. President Joe Biden will target noncompete agreements, White House press secretary Jen Psaki said on Wednesday. Noncompete agreements prevent employees who leave one job from taking another potentially better paid one at a competing… [Full Story]
COVID-19 Pushed 22M Out of Job Market in Major Economies
Yellen's Next Test: Persuading G20 That US Congress Will Not Block Tax Deal
Biden Says Ransomware Attack Caused 'Minimal Damage' to US Companies
Oil Drops Sharply After OPEC Cancels Meeting
More Finance
Health
Delta Variant Responsible for More Than Half of U.S. Cases
The highly contagious Delta variant now accounts for more than half of all new coronavirus infections in the United States, new government data shows. The dangerous variant that crippled India recently currently makes up 51.7% of new infections in this country, according to… [Full Story]
Blood Shortages Causing Surgery Delays Across U.S.
How COVID-19 Has Affected Alcohol Consumption
Why Nurses Are Refusing to be Vaccinated
5-Minute Daily Breathing Exercise as Effective as Blood Pressure Meds
Manufactured Housing Industry Investments Connected Equities Closing Tickers
Some of these firms invest in manufactured housing, or are otherwise connected, but may do other forms of investing or business activities too.
NOTE: The chart below includes the Canadian stock, ECN, which purchased Triad Financial Services, a manufactured home industry lender
NOTE: Drew changed its name and trading symbol at the end of 2016 to Lippert (LCII).
NOTE: Deer Valley was largely taken private, say company insiders in a message to MHProNews on 12.15.2020, but there are still some outstanding shares of  the stock from the days when it was a publicly traded firm.  Thus, there is still periodic activity on DVLY.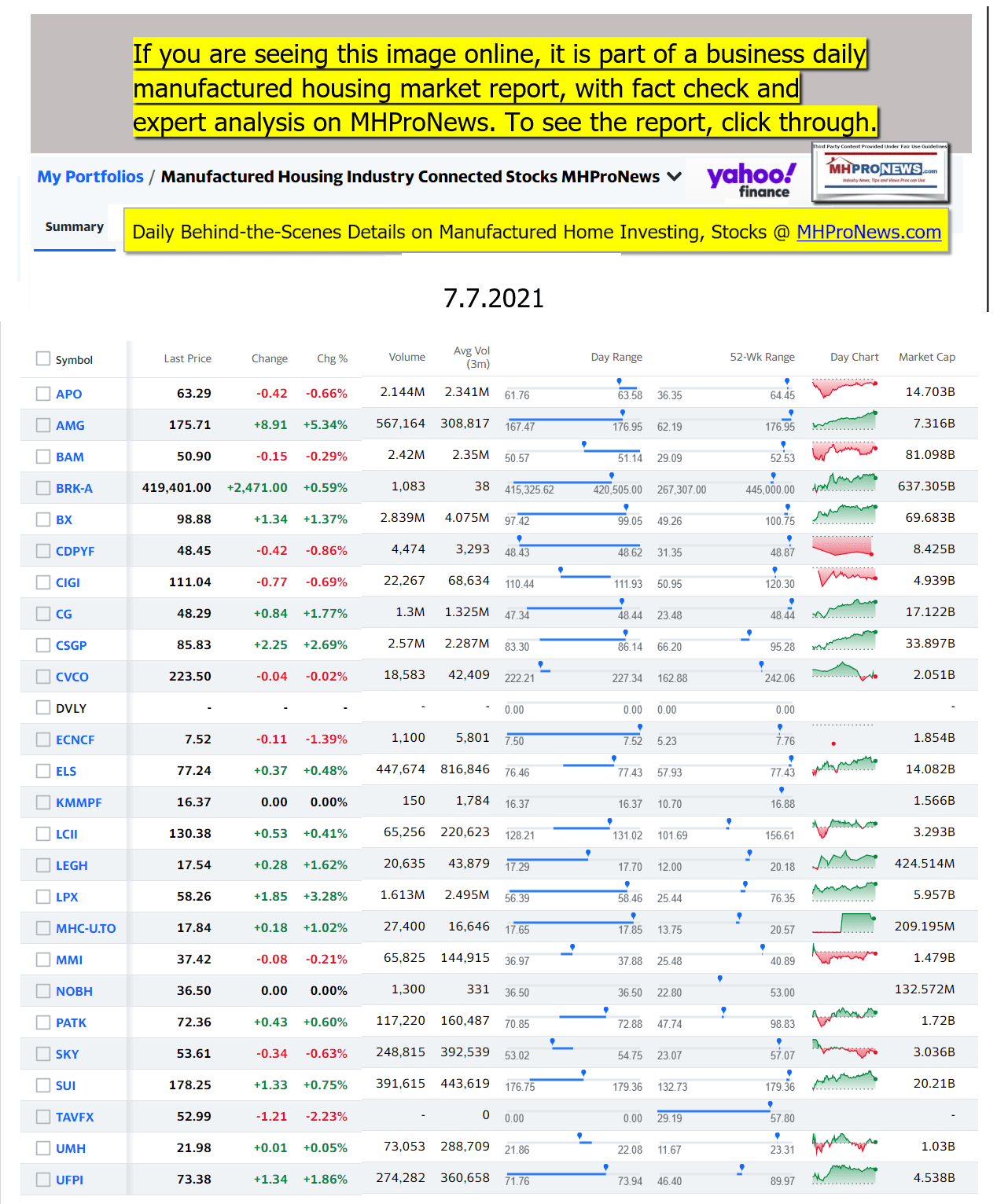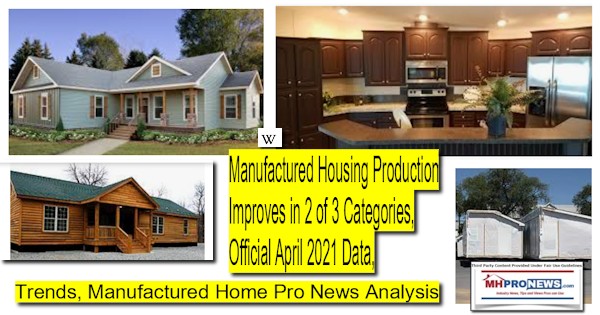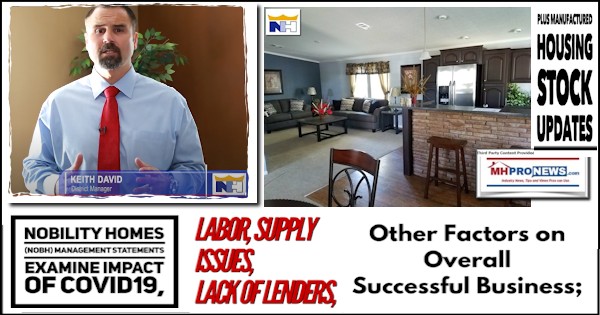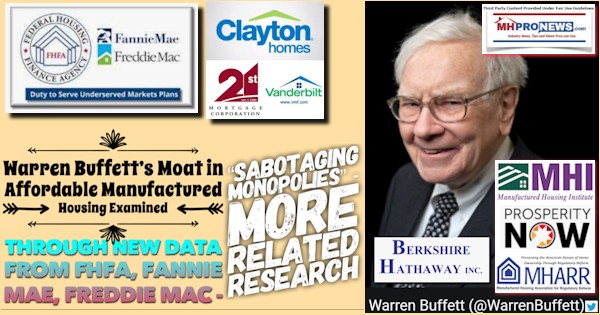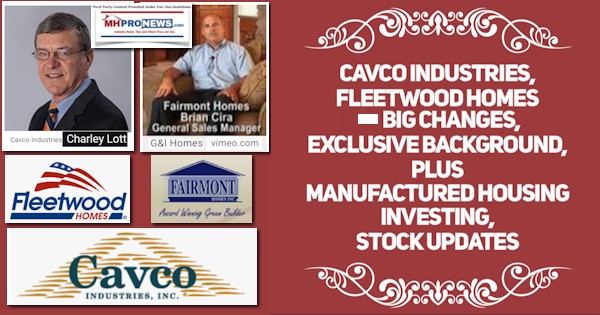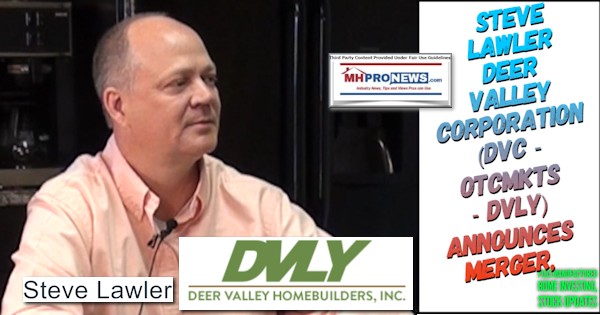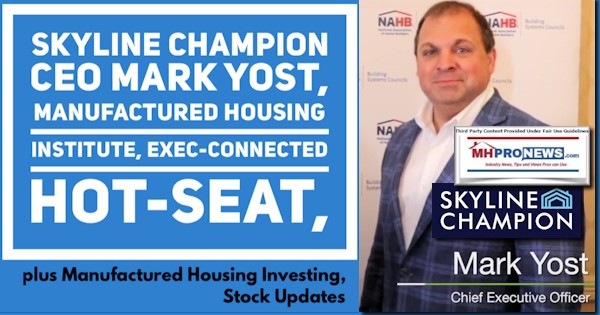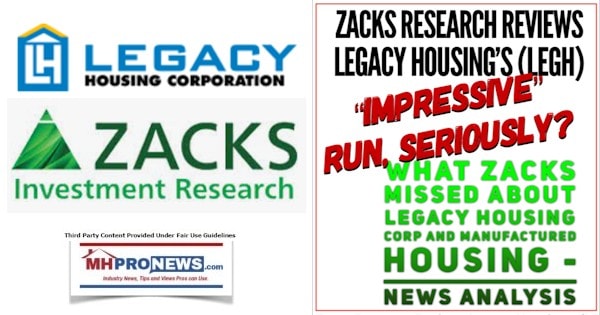 Spring 2021…
Berkshire Hathaway is the parent company to Clayton Homes, 21st Mortgage, Vanderbilt Mortgage and other factory built housing industry suppliers.
· LCI Industries, Patrick, UFPI, and LP each are suppliers to the manufactured housing industry, among others.
· AMG, CG, and TAVFX have investments in manufactured housing related businesses. For insights from third-parties and clients about our publisher, click here.
Enjoy these 'blast from the past' comments.
MHProNews. MHProNews – previously a.k.a. MHMSM.com – has celebrated our 11th year of publishing, and is starting our 12the year of serving the industry as the runaway most-read trade media.
Sample Kudos over the years…
It is now 11+ years and counting…
Learn more about our evolutionary journey as the industry's leading trade media, at the report linked below.
· For expert manufactured housing business development or other professional services, click here.
· To sign up in seconds for our industry leading emailed headline news updates, click here.

Disclosure. MHProNews holds no positions in the stocks in this report.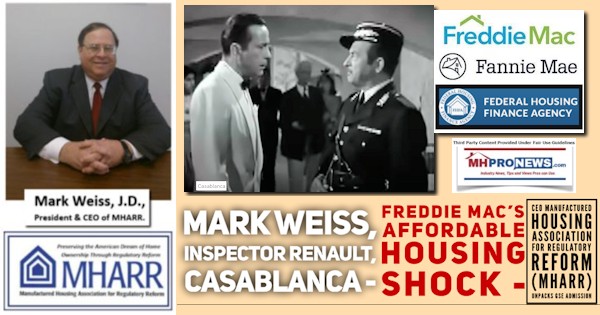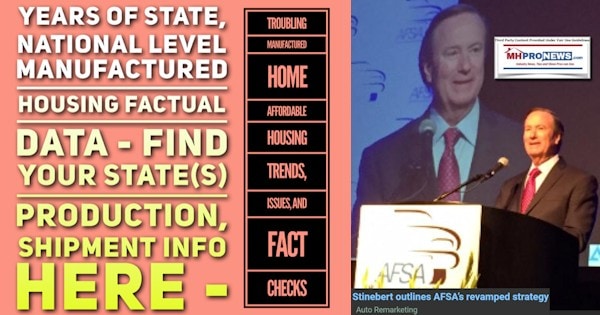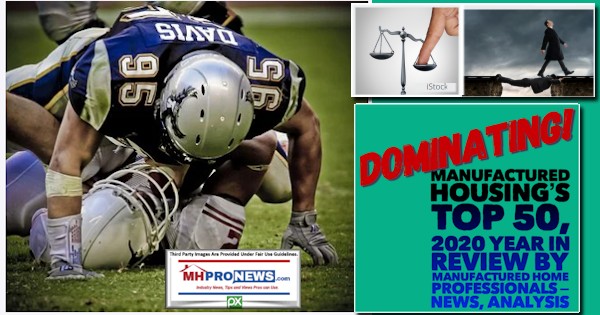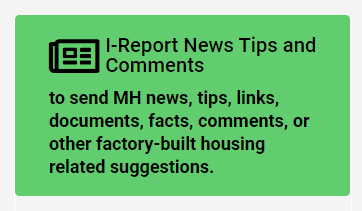 That's a wrap on this installment of "News Through the Lens of Manufactured Homes and Factory-Built Housing" © where "We Provide, You Decide." © (Affordable housing, manufactured homes, stock, investing, data, metrics, reports, fact-checks, analysis, and commentary. Third-party images or content are provided under fair use guidelines for media.) (See Related Reports, further below. Text/image boxes often are hot-linked to other reports that can be access by clicking on them.)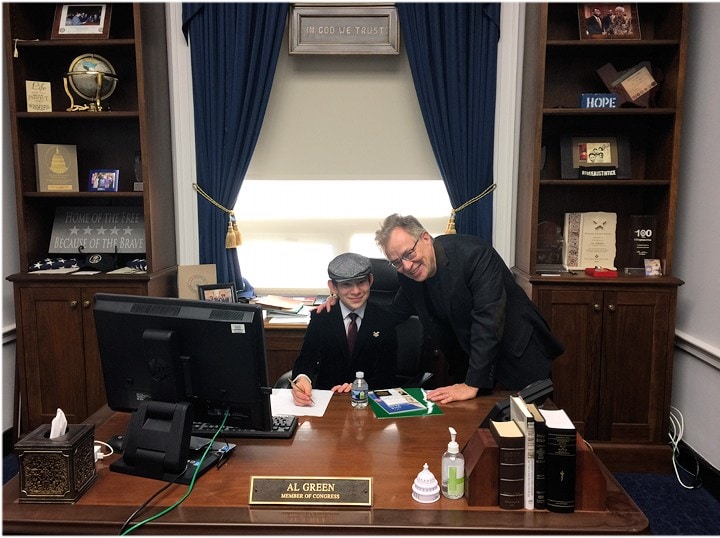 By L.A. "Tony" Kovach – for MHProNews.
Tony earned a journalism scholarship and earned numerous awards in history and in manufactured housing. For example, he earned the prestigious Lottinville Award in history from the University of Oklahoma, where he studied history and business management. He's a managing member and co-founder of LifeStyle Factory Homes, LLC, the parent company to MHProNews, and MHLivingNews.com. This article reflects the LLC's and/or the writer's position, and may or may not reflect the views of sponsors or supporters.