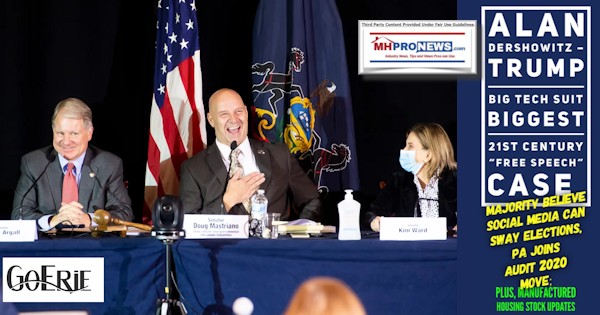 Much of the mainstream media continues to downplay concerns about the 2020 election and claims of election fraud. That noted, fresh public opinion polling reflects far more common is the belief that Big Tech and companies like Facebook, Google, and Twitter could influence an election one way or another. As most of the major cable news ignored the Trump "Save America" rally in Sarasota, FL, right-of-center Newsmax covered it and reportedly beat larger cable news networks during that timeslot as a result of that coverage. Given that smaller businesses and tens of millions of others supported President Donald J. Trump over then-candidate Joe Biden, it is perhaps no surprise that serious attention is being given to the new class action lawsuit launched on behalf of President Trump and others who claim that they have been censored by big tech. That, plus the manufactured housing publicly traded stock updates for 7.8.2021 will all be found in sequence in this report.
Per the WND Newscenter and used with permission is this report.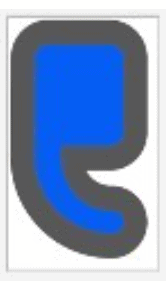 Alan Dershowitz: Trump lawsuit most important free-speech case of century
'Nobody can predict the outcome'
Art Moore          By Art Moore
Published July 8, 2021 at 4:23pm
Former President Trump's class-action lawsuit alleging censorship by Big Tech companies is the most important First Amendment case of the 21st century, contends Harvard emeritus law professor Alan Dershowitz.
The case announced this week is "important because it pits freedom of speech on the one hand against the First Amendment on the other hand," Dershowitz said in an interview Wednesday night with Fox News' Sean Hannity.
Dershowitz acknowledged that his description of the case "may sound paradoxical," but he argued that the tech giants claim they have a right to censor certain content under the First Amendment.
"So they're using the First Amendment as a sword against freedom of speech," the Harvard professor said. "That's why I call this the new censorship."
"The "old censorship" was carried out by the government in cases such as the Pentagon Papers, which Dershowitz had a part in arguing, based on the First Amendment.
Now, the First Amendment is being used "to close the marketplace of ideas to anybody who disagrees with the giant tech people."
"That's why this is such an important case. Nobody can predict the outcome," he said.
"There's never been a case like this previously presented. There are cases, precedents going both ways and no one can predict what the outcome would be. But I think it will be a great, great educational experience for Americans to see the First Amendment put on trial."
On Tuesday, Trump announced he will lead a lawsuit alleging Twitter, Facebook and Google violated his First Amendment rights when they banned him from their platforms after the Jan. 6 riot at the Capitol.
"While the social media companies are officially private entities, in recent years they have ceased to be private with the enactment and their historical use of Section 230, which profoundly protects them from liability," Trump said. "It is in effect a massive government subsidy, these companies have been co-opted, coerced and weaponized by government actors to become the enforcers of illegal, unconstitutional censorship."
Section 230 of the Communications Decency Act provides immunity for social media companies, treating them as neutral platforms rather than publishers, which are legally liable for their content.
'Compelling' argument
Dershowitz was joined Wednesday night by Fox News legal analyst Gregg Jarrett, who said he agreed "100%" with the Harvard professor's assessment that it's the most important First Amendment case of the 21st century.
"I mean, the argument that Trump makes in his lawsuit is a compelling one," he said. "The First Amendment free-speech principal should apply to private big tech goliaths because they are not so private and in fact they have been behaving as a de facto arm of government agents and agencies and received enormous benefits bestowed on them by Congress to which in a billions of dollars worth of liability and immunity."
Jarrett said the case opens the door to Supreme Court Justice Clarence Thomas' argument that the tech companies are unlawful monopolies, and to protect free speech they should be strictly regulated and treated as common careers like public utilities.
Dershowitz added that the First Amendment "doesn't always protect the speaker, Donald Trump."
"It protects you and me, the listener, the viewer," he said.
He noted that Big Tech censored a debate he had with Bobby Kennedy Jr. regarding vaccination.
"They didn't like what he said so they took down the debate and they deprived the American public of the right to see a very thoughtful, educational debate," Dershowitz said.
"And they're doing it more and more, and if they're not stopped, this will be the end of freedom of speech as we know it because these companies now control the marketplace of ideas." ##
With the 45th President, Donald Trump in mind, and with White House Resident Joe Biden's dropping poll numbers in view, perhaps it is no surprise that right-of-center Newsmax reported a cable news win over their 3 larger rivals.
"Newsmax was only major cable channel to cover the Trump July 3 rally live," said the network, which added the following data point.
"For the second time in two weeks, Newsmax is the big ratings winner, this time for its live coverage of Saturday's rally for Donald Trump — and it's beating Fox in key Nielsens.
Last Saturday night, Newsmax estimates, more than 3 million U.S. viewers tuned in on traditional cable and through streaming OTT to watch former President Trump's "Save America" rally live from Sarasota, Florida.
Nielsen reported that Newsmax drew a total audience coverage rating of .86, compared to Fox News .70, CNN's .33 and MSNBC's miniscule .16." … ##
Next up is the following exclusive from the WND Newscenter is used with permission.
Audit of 2020 election launched in Pennsylvania
Millions have serious doubts about the accuracy of the 2020 general election
By WND News Services
Published July 7, 2021 at 4:35pm
(GO ERIE) — A Republican Pennsylvania legislator who has led the effort questioning the legitimacy of the 2020 presidential election said on Wednesday that he is launching a "forensic investigation" and seeking documents from several counties.
State Sen. Doug Mastriano, R-Franklin County, the chairman of the Intergovernmental Operations Committee, said he has asked the unnamed counties to respond by July 31 with their plans to comply. Mastriano said the counties are in different areas of the state and represent both political sides.
"Some are Republican while others are Democrat, which means that this will be a balanced investigation," he said in an opinion piece released Wednesday.
The article was continued on PA-based, Go Erie.
Mastriano is a diehard supporter of President Donald Trump and recently met with the former president about Mastriano's possible bid for governor. Mastriano also organized a bus trip to the Jan. 6 rally in Washington, D.C., but has said he did not participate in the attack on the U.S. Capitol.
Since last year's election, Mastriano has cast doubt on the election and urged U.S. House and Senate members to not certify Pennsylvania's election results. He recently visited Arizona during its election audit." … ##
The final news round up for today before the market report is the following exclusive, also provided by the WND Newscenter and used with their permission.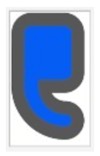 Big Tech could ruin U.S. elections, huge majority believes
Only 10% said it's 'unlikely' that Facebook could swing the results
By Bob Unruh
Published July 8, 2021 at 11:51am
President Trump, based on sworn statements from witnesses and other direct evidence, has charged that the 2020 presidential race results were influenced by outside factors – something other than the actual voters.
Big Tech immediately insisted that those claims were "false" and they announced a permanent censorship of his comments on the subject.
Whether there was misbehavior in the election or not may never be accurately revealed, but it may not matter anymore.
That's because a new poll by Scott Rasmussen has revealed that 78% of voters "believe tech companies like Twitter, Facebook, and Google could swing the results of the election to benefit their preferred candidate."
Only 10% found that unlikely.
Which means voters already believe the Big Tech behemoths could, in fact, ruin a national election if they so chose.
"The totals include 47% who say it's Very Likely they could swing an election and just 3% who say it's Not at All Likely," the poll revealed. "Eighty-two percent (82%) of Republicans believe the tech companies could swing an election. So do 82% of Democrats."
It also reported, "The survey also found that 62% believe technology companies have too much influence on our politics and political campaigns. Just 6% say they have too little influence. Nineteen percent (19%) believe the level of influence is about right."
The evidence, of course, is there that it already happened. A post-election survey after the 2020 presidential race found more than one-third of voters who chose Joe Biden were not aware of the evidence linking the former vice president to corrupt financial dealings with China through his son Hunter. Had they known, according to the survey commissioned by the Media Research Center, President Trump would have won at least 289 Electoral College votes.
Those links between Hunter, Joe and China were suppressed by the Big Tech industry in the U.S.
The online survey of 1,000 Registered Voters was conducted by Scott Rasmussen on June 24-27, 2021. Field work for the survey was conducted by RMG Research, Inc."
PJMedia explained, "What's really interesting is that there isn't a partisan divide on this. Eighty-two percent of Republicans and eight-two percent of Democrats say big-tech companies could swing an election."
The report said, "When Republicans and Democrats barely agree on anything these days, it's significant that the perception of Big Tech's influence on politics transcends the partisan divide—and that's what makes the issue so important. People are getting their news from social media, and big social media giants are all owned by liberals. They're the ones writing the algorithms that determine the articles we see. They're the ones censoring content deemed misinformation. Heck, they're the ones deciding who gets banned if they become too influential."
It continued, "Consider this. Last year, after Trump noted that hydroxychloroquine showed promise in treating COVID-19, the media trashed him, and social media did all it could to prevent you from talking about the drug's potential as a therapeutic for COVID-19. It turned out Trump was right. Multiple studies have shown hydroxychloroquine can reduce the fatality rate for COVID-19 significantly. But if you shared an article suggesting the drug worked, you risked being banned on social media."
And, "After the election, when reports of election irregularities surfaced, social media suppressed those stories. Facebook even banned the phrase 'stop the steal' from their platform." ##
##
Additional information on these topics is found in the reports and analysis that are linked above and below.
Next up is our business daily recap of yesterday evening's market report and related left-right headlines.
The Business Daily Manufactured Home Industry Connected Stock Market Updates.  Plus, Market Moving Left (CNN) – Right (Newsmax) Headlines Snapshot. While the layout of this business daily report has recently been modified, several elements of the basic concepts used previously are still the same. The headlines that follow below can be reviewed at a glance to save time while providing insights across the left-right media divide. Additionally, those headlines often provide clues as to possible 'market moving' items.
Market Indicator Closing Summaries – Yahoo Finance Closing Tickers on MHProNews…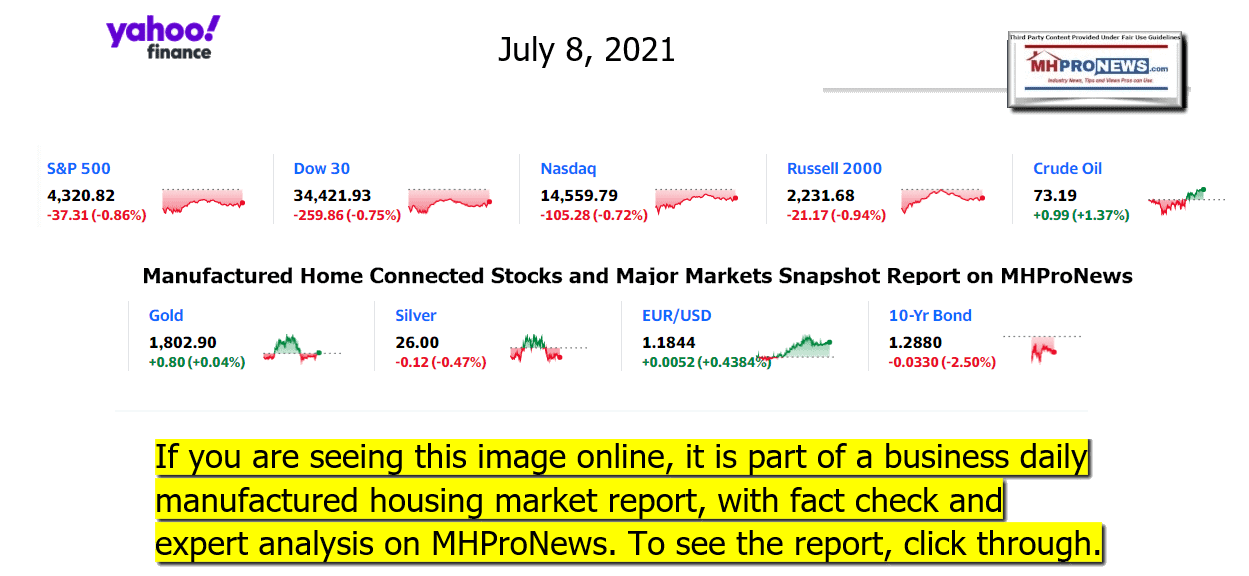 Headlines from left-of-center CNN Business = evening of 7.8.2021
'Turnover contagion'
A "Help Wanted" sign is posted beside Coronavirus safety guidelines in front of a restaurant in Los Angeles, California on May 28, 2021.
Restaurant workers are quitting in droves. That might not change anytime soon
Gas prices are at a seven-year high. That isn't Biden's fault
Here's why car prices are so high, and why that matters
The Dow tumbles as investors worry about the global economic rebound
Bond yields plummet as Covid anxiety grips markets again
The Minnesota Fed is requiring all of its employees to be fully vaccinated
Covid destroyed 22 million jobs in rich countries
The SEC should investigate the Didi IPO fiasco, US senator says
Instacart names Facebook exec Fidji Simo as CEO
Volkswagen and BMW fined $1 billion for running emissions cartel
Opinion: This is the beginning of the end for Big Oil
Microsoft issues urgent security warning: Update your PC immediately
America desperately needs 1 million more construction workers
Richard Branson is taking a big risk going to space
Close-up typing on keyboard computer working at night
Here's why ransomware gangs can get away with their attacks
Marvel's long-awaited release of 'Black Widow' is a triumphant moment for the movie industry
Headlines from right-of-center Newsmax – evening of 7.8.2021
Poll: Most Voters Believe Schools Should Teach 'Traditional Values'
Newsmax TV
Comer: Good for Judge to Reject Election Law Block
Brooke Rollins: Trump's Big Tech Suit Case of 'David Suing Goliath' |
Ken Paxton: Biden's Door-To-Door Vaccine Push Won't Fly in Texas |
D. Vance: Critics of Past Anti-Trump Statements Are 'Phoneys' |
Babin: Glad to See Trump Taking on Big Tech, Liberal Leftists |
Marjorie Taylor Greene: '2-Track Justice System' in US |
More Newsmax TV
Newsfront
Uncle of Chicago Infant Shot in Head: 'Feels Like No One Cares'
The uncle of a one-month old infant fighting for her life after being shot in the head last Thursday in Chicago's massive wave of gun violence is not just speaking out, he's putting his boots to the ground. He aims to do the job the state of Illinois, the mayor of Chicago,…… [Full Story]
Avenatti Sentenced to 2 1/2 Years in Prison for Extortion
Michael Avenatti, the brash California lawyer who once represented [Full Story]
Israel Says It's Targeting Hamas' Cryptocurrency Accounts
Israel said Thursday it will begin seizing cryptocurrency accounts [Full Story]
Newsmax Sees Big Ratings Win Over Fox, CNN Again
For the second time in two weeks, Newsmax is the big ratings winner, [Full Story]
Poll: Most Voters Say Schools Should Teach 'Traditional Values'
Most voters say that schools should teach "traditional values of [Full Story]
Trump's Class Action Suit 'Biggest Challenge So Far to Big Tech'
The legal shot-across-the-bow fired at so-called "Big Tech" companies [Full Story] |
Consumer Borrowing Jumped by Most on Record in May
S. consumer credit surged in May by the most on record, reflecting [Full Story]
GOP Leaders Announce Intervention in DOJ Lawsuit Against Georgia
Two national GOP organizations on Thursday came to Georgia's defense [Full Story]
Biden Says War in Afghanistan Will End August 31
President Joe Biden on Thursday said the U.S. military mission in [Full Story]
Pope Temporarily Had Fever 3 Days After Intestinal Surgery
Pope Francis temporarily had a fever three days after intestinal [Full Story]
One Haitian American Arrested in Haitian Prez Assassination
One Haitian American is reportedly among six people arrested in [Full Story]
D. Vance to Newsmax: Critics of Past Anti-Trump Statements Are 'Phoneys'
"Hillbilly Elegy" author J.D. Vance, who has come under fire [Full Story] |
Definition
Earnings Boom Expected a Year After Pandemic-Driven Skid
Wall Street is gearing up for a slew of blockbuster earnings over the [Full Story]
Canada's Trudeau: Unvaccinated Tourists Will Not Be Allowed In
Foreign tourists who are not vaccinated against COVID-19 will not be [Full Story]
FDA Tightens Use of Contentious Alzheimer's Drug
S. health regulators on Thursday approved new prescribing [Full Story]
Texas AG Paxton to Newsmax: Biden's Door-to-Door Vaccine Push Won't Fly in Texas
Texas Attorney General Ken Paxton insisted on Newsmax Thursday [Full Story] |
WH Looking to Keep Hunter Biden Art Deals Secret
The White House has helped draw up papers designed to keep the names [Full Story]
Cancer Death Rates Declining: Report
Fewer Americans are dying from the most common types of cancer, [Full Story]
Kamala Harris Announces $25M Democrat Spending on Voting Initiatives
The Democratic Party will invest $25 million in voter registration [Full Story]
Mike Pompeo: Prenatal DNA Collection Example of China's World Dominance Goal
Former Secretary of State Mike Pompeo said reports that a Chinese [Full Story]
Capitol Police: Final Piece of Capitol Fence Coming Down Friday
The final bit of temporary fence encasing the U.S. Capitol Complex in [Full Story]
US Criticizes Israel for Demolishing Family Home of Suspected Palestinian Attacker
Israel drew U.S. criticism Thursday when it destroyed the family home [Full Story]
Minneapolis Fed to Require Employees Get Vaccinated
The Federal Reserve Bank of Minneapolis announced Wednesday said it [Full Story]
Woke Spotify Staffers Reportedly 'Outraged' by Joe Rogan's Show
Popular podcast host Joe Rogan has reportedly left some staffers at [Full Story]
HHS Head Becerra: 'Absolutely' Govt's Right to Know People's COVID Vaccine Status
The government "absolutely" has the right to know citizens' [Full Story]
Musk's Boring Co. Gets OK to Build Florida Tunnel
The city of Fort Lauderdale, Fla., has reached an agreement with Elon [Full Story]
Tropical Storm Elsa Kills 1 in Florida, Hurts 10 at Georgia Base
A weakened but resilient Tropical Storm Elsa killed at least one [Full Story]
Kim Jong Un Lost as Much as 44 Pounds, South Korean Spies Say
North Korean leader Kim Jong Un lost up to 44 pounds but has no major [Full Story]
Haiti Police Hunt Down President's Assassins as Uncertainty Grows
Haitian police were on Thursday hunting for more gunmen behind the [Full Story]
Global COVID-19 Deaths Top 4 Million
The global COVID-19 death toll has crossed four million, with the [Full Story]
More Newsfront
Finance
Musk's Boring Co. Gets OK to Build Florida Tunnel
The city of Fort Lauderdale, Fla., has reached an agreement with Elon Musk's Boring Company to build an underground transit system offering rides in Teslas between downtown and the beach, CNN Business reports. [Full Story]
Dow Tumbles Nearly 500 Points a Day After Record High
Microsoft's Urgent Appeal: Update Your PC Now
Consumers' Research Launches Ads Against 'Woke' MLB, Ticketmaster
More Finance
Health
FDA Tightens Use of Contentious Alzheimer's Drug
S. health regulators on Thursday approved new prescribing instructions that are likely to limit use of a controversial new Alzheimer's drug. The Food and Drug Administration said the change is intended to address confusion among physicians and patients… [Full Story]
Scientists Identify Brain Circuit for Spirituality
Tooth Loss Linked to Increased Dementia Risk
Rapid COVID-19 Tests Are Generally Reliable
Don't Do These 7 Things Before Bedtime
Manufactured Housing Industry Investments Connected Equities Closing Tickers
Some of these firms invest in manufactured housing, or are otherwise connected, but may do other forms of investing or business activities too.
NOTE: The chart below includes the Canadian stock, ECN, which purchased Triad Financial Services, a manufactured home industry lender
NOTE: Drew changed its name and trading symbol at the end of 2016 to Lippert (LCII).
NOTE: Deer Valley was largely taken private, say company insiders in a message to MHProNews on 12.15.2020, but there are still some outstanding shares of  the stock from the days when it was a publicly traded firm.  Thus, there is still periodic activity on DVLY.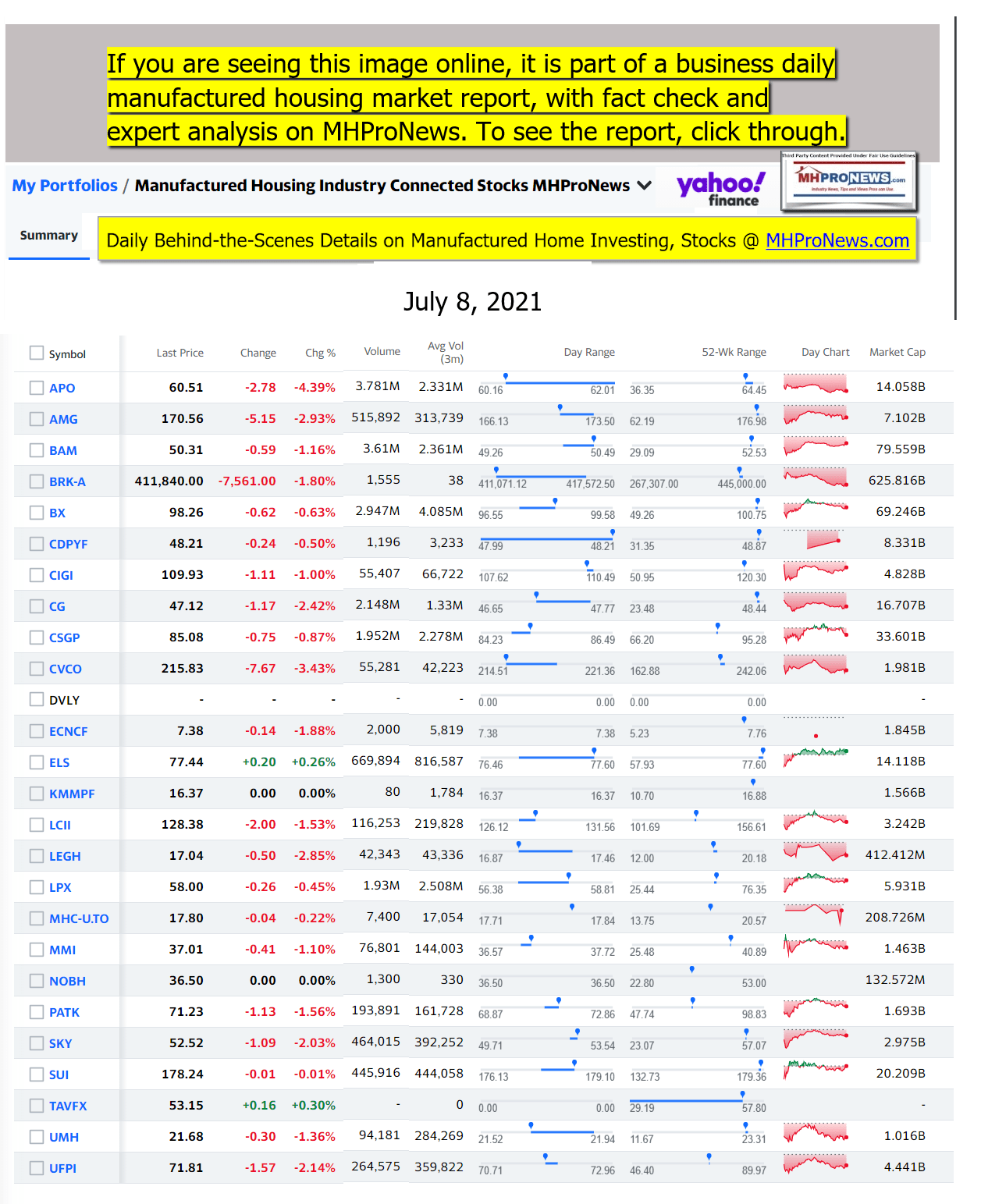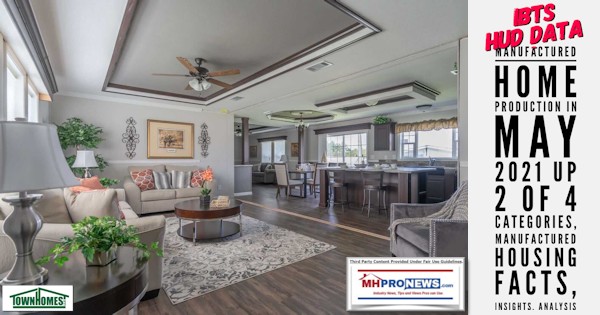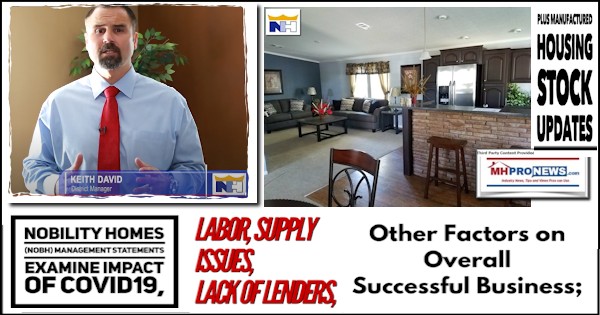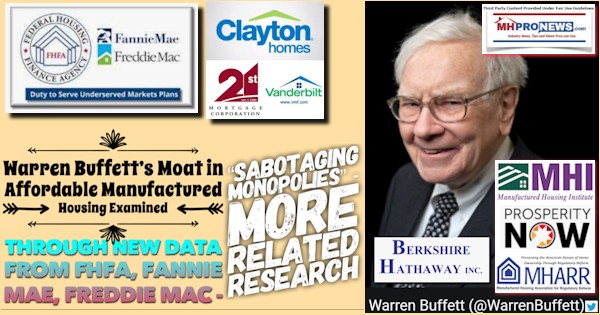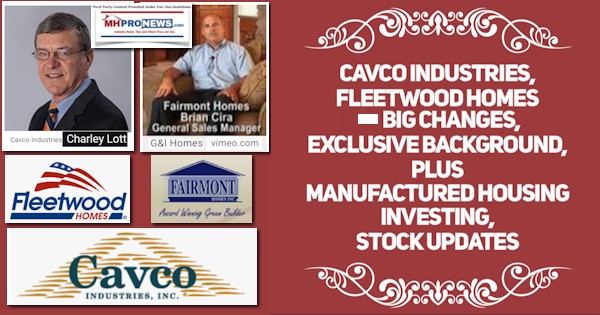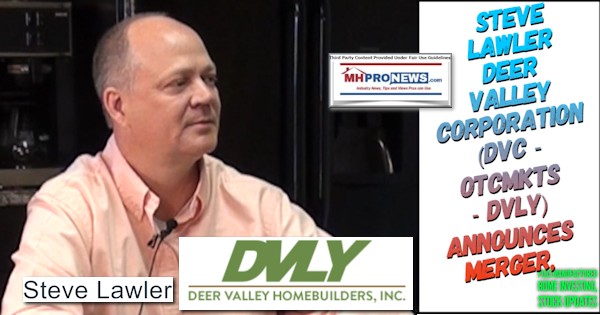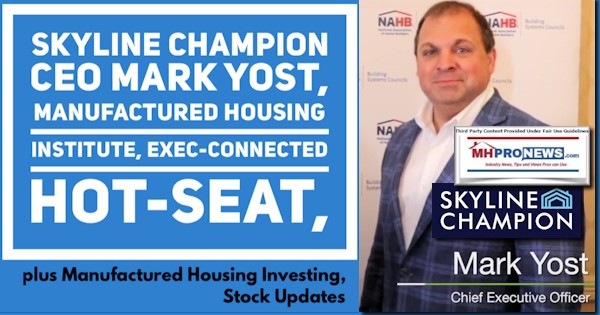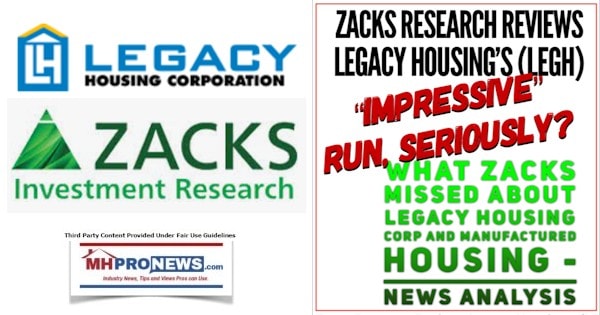 Spring 2021…
Berkshire Hathaway is the parent company to Clayton Homes, 21st Mortgage, Vanderbilt Mortgage and other factory built housing industry suppliers.
· LCI Industries, Patrick, UFPI, and LP each are suppliers to the manufactured housing industry, among others.
· AMG, CG, and TAVFX have investments in manufactured housing related businesses. For insights from third-parties and clients about our publisher, click here.
Enjoy these 'blast from the past' comments.
MHProNews. MHProNews – previously a.k.a. MHMSM.com – has celebrated our 11th year of publishing, and is starting our 12the year of serving the industry as the runaway most-read trade media.
Sample Kudos over the years…
It is now 11+ years and counting…
Learn more about our evolutionary journey as the industry's leading trade media, at the report linked below.
· For expert manufactured housing business development or other professional services, click here.
· To sign up in seconds for our industry leading emailed headline news updates, click here.

Disclosure. MHProNews holds no positions in the stocks in this report.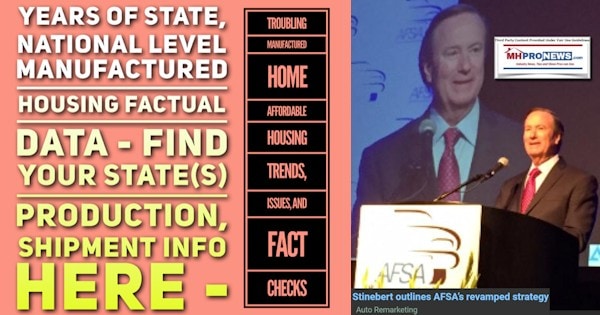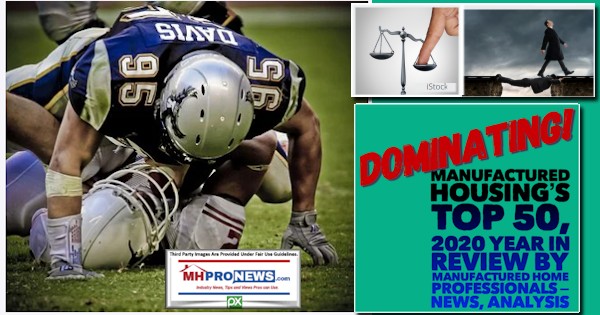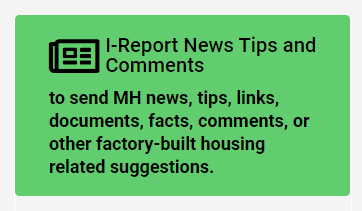 That's a wrap on this installment of "News Through the Lens of Manufactured Homes and Factory-Built Housing" © where "We Provide, You Decide." © (Affordable housing, manufactured homes, stock, investing, data, metrics, reports, fact-checks, analysis, and commentary. Third-party images or content are provided under fair use guidelines for media.) (See Related Reports, further below. Text/image boxes often are hot-linked to other reports that can be access by clicking on them.)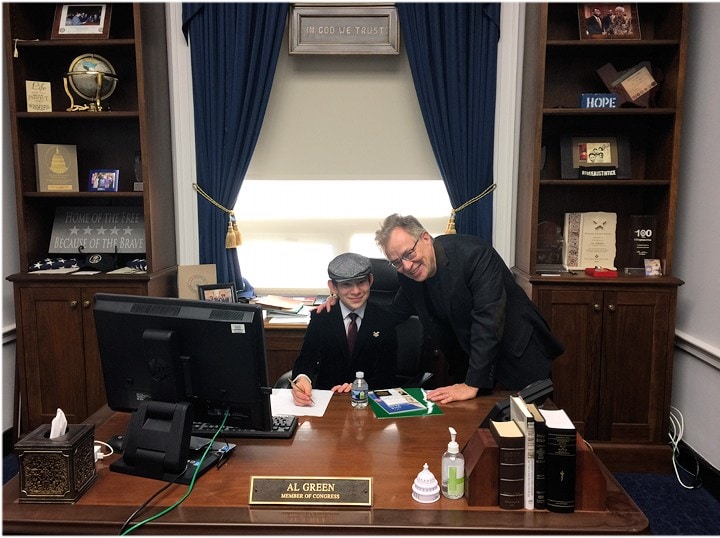 By L.A. "Tony" Kovach – for MHProNews.
Tony earned a journalism scholarship along with numerous awards in history. There have been several awards, honors and recognition in manufactured housing. For example, he earned the prestigious Lottinville Award in history from the University of Oklahoma, where he studied history and business management. He's a managing member and co-founder of LifeStyle Factory Homes, LLC, the parent company to MHProNews, and MHLivingNews.com. This article reflects the LLC's and/or the writer's position, and may or may not reflect the views of sponsors or supporters.