Warren Buffett said about Clayton Homes, "We are in no hurry to record income, have enormous balance-sheet strength, and believe that over the long-term the economics of holding our consumer paper are superior to what we can now realize through securitization. So Clayton has begun to retain its loans." That is cited in "Moats – The Competitive Advantages Of Buffett & Munger Businesses," by Bud Labitan.
The author and his colleagues followed that quote up with this: "Buffett and Munger believe it is appropriate to finance a soundly selected book of interest-bearing receivables almost entirely with debt, just as a bank would. Therefore, Berkshire borrowed money to finance Clayton's portfolio and re-lent these funds to Clayton at their cost plus one percentage point. This markup fairly compensates Berkshire for putting its exceptional creditworthiness to work. And, it delivered money to Clayton at an attractive price." That fits a description from Kevin Clayton in the report linked here.
Labitan with Erin Sestak and Uno-Cba did a chapter on Clayton Homes in their "Moat" book (pages 77-81) that featured that Buffett quote. While the source for that comment by Buffett was not attributed in Labitan's chapter, a Google search seems to suggest that it comes from a 2003 Berkshire annual letter.
That would suggest that from early on the Buffett-Berkshire plan for Clayton Homes and their lending was to keep this loans in portfolio and eschew "securitization."
Labitan opens his "Moat" thesis with these two Berkshire-leadership quotes from the firm's chair and vice-chair, both long-term Berkshire partners.
"A truly great business must have an enduring "moat" that protects excellent returns on invested capital." ~ Warren Buffett
"How do you compete against a true fanatic? You can only try to build the best possible moat and continuously attempt to widen it." ~ Charlie Munger
Those quotes are tame compared to others about moats by the pair, but that statement about retaining loans coupled with the moat quotes beg several questions.
For example:
What would be done to keep others from seeking securitized loans?
Wouldn't lower cost lending – say by the Government Sponsored Enterprises (GSEs) of Fannie Mae and Freddie Mac – lead to an advantage for competitors over Clayton Homes and their related lending?
Buffett is also quoted in that same chapter as saying: "Manufactured housing, it should be emphasized, can deliver very good value to home purchasers. Indeed, for decades, the industry has accounted for more than 15% of the homes built in the U.S. During those years, moreover, both the quality and variety of manufactured houses consistently improved."
Note how that percentage of manufactured home shipments relative to single family conventional housing starts have declined, as MHProNews has previously reported.  The graphic above, from Skyline Champion, makes that point.
Labitan ponders how Clayton will do (this is from 2012) in the next decade. Like Buffett, he says that "Clayton Homes has good managers who work to build its economic moat." While several points in his relatively brief analysis bear scrutiny and fact-checks, they conclude with the notion that yes, Clayton's moat will endure.
They wrote: "Clayton Homes' innovations have improved both the quality and the image of modular homes. Clayton focuses on efficient designs and customizable floor plans. It uses quality brand construction materials, purchased in bulk, at state-of-the-art construction facilities. With the added support from Berkshire Hathaway and drive to be the best innovator in this industry, Clayton Homes gives consumers a sense of security about its future."
There is no mention of two of the scandals that Clayton Homes was already associated with by the time this research was published.
That would be the Clayton Homes FEMA unit concerns over what NBC News reported were "toxic" results from CDC testing.
Furthermore, the Clinton Foundation connected Haitian crisis also created international bad news.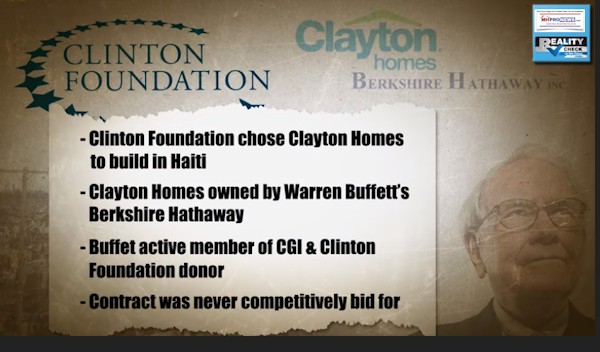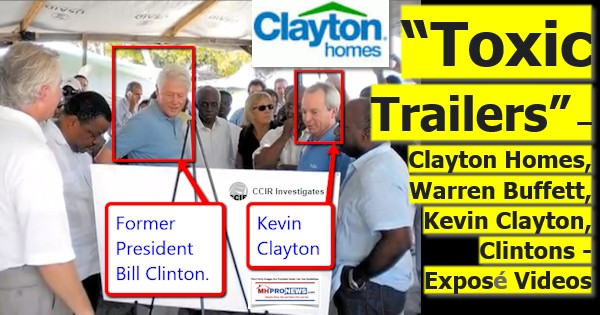 The authors made the point that by that time (2012) that "the number of retailers has been halved." While that does not mention the concerns raised by the 2009 letter by Tim Williams, President and CEO of 21st Mortgage Corporation, that part largely fits several period claims and facts.
But let's circle back to the securitization part of their financing comment. The authors say that their sources were generally "The most important sources come from each business' publications and the annual letters of Warren Buffett to the shareholders of Berkshire Hathaway." In defining moats, "Moats are barriers…" they make examples from ancient Egyptian and the medieval period of Europe. They then say that "In business, we think of economic barriers that can both defend and injure the invading competition."
The key words there are: "…defend and injure…"
While there are some dubious parts about Clayton, that part of their thesis largely fits the concerns raised by an array of sources about challenges for competitors as examined by voices from inside and outside of manufactured housing.
But perhaps one of the most important point that can be made is that the moat stratagem with respect to lending would only work if, if, if there was a significant degree of confidence that competitive lending would be kept out of the industry.
Given that some 13 years have passed since the Duty to Serve Manufactured Housing became law, and there is still virtually no single family home only chattel lending style loans, per a range of informed sources, there are reasons to question how the Iron Triangle may have been – and still is – operating in manufactured housing.
Programming note: tomorrow, May 1st, is the start of the Berkshire annual meeting. There will be a special report on that topic tomorrow.
To learn more on the other issues raised above, see the linked and related reports.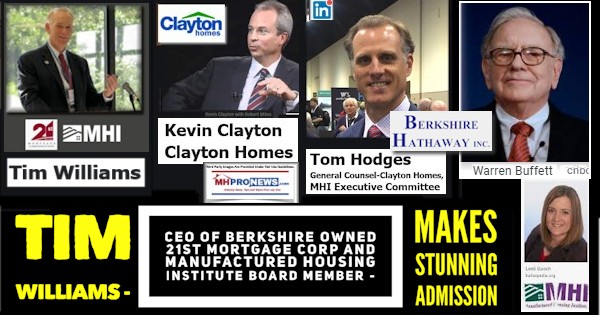 Notice: The headlines that follow are also from 4.30.2021.  While the arrangement or layout of this report has been modified, several elements of the basic concepts used before are still the same. The headlines can be reviewed at a glance to save time while providing insights across the left-right media divide. Additionally, those headlines often provide clues as to possible 'market moving' reports.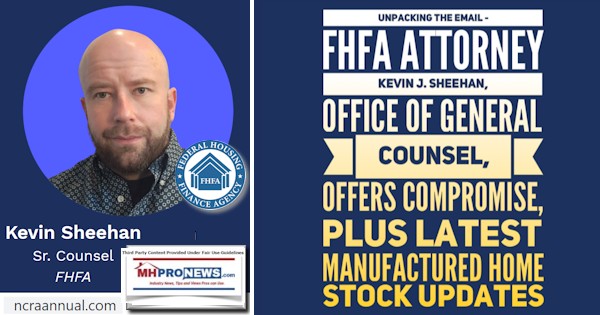 Market Indicator Closing Summaries – Yahoo Finance Closing Tickers on MHProNews…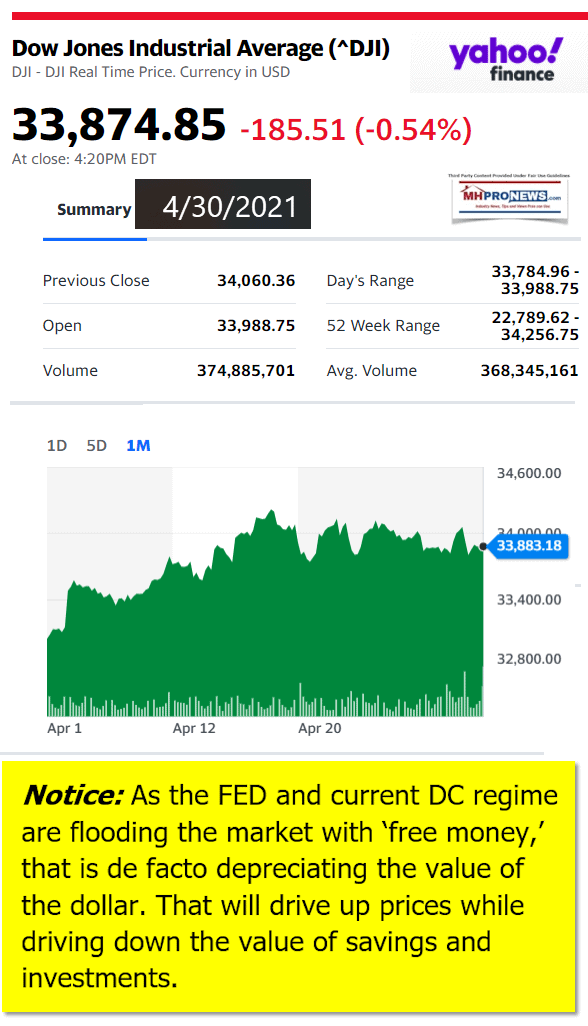 Headlines from left-of-center CNN Business
What you need to know
WASHINGTON, DC – APRIL 28: President Joe Biden hands his speech to Vice President Harris and House Speaker Nancy Pelosi (D-Calif.) before he addresses a joint session of Congress, with Vice President Kamala Harris and House Speaker Nancy Pelosi (D-Calif.) on the dais behind him, on April 28, 2021 in Washington, DC. On the eve of his 100th day in office, Biden spoke about his plan to revive America's economy and health as it continues to recover from a devastating pandemic. He delivered his speech before 200 invited lawmakers and other government officials instead of the normal 1600 guests because of the ongoing COVID-19 pandemic.
Here's who would get hit by President Joe Biden's proposed tax hikes
Americans' incomes zoomed higher at record speed in March
Why Amazon is the 'perfect' moneymaking machine
Dining out is back, as America gets vaccinated
The global chip shortage goes from bad to worse. Why you should care
Walmart sets up vaccine clinics for Flipkart workers as India grapples with Covid crisis
Live from LA, it's Buffettpalooza. What to expect from Berkshire Hathaway
Peloton is rolling out fans' most-requested features
The headlines that capture the red hot state of the economy
Watch a brief history of late night talk shows
OPINION Late-night television may never be the same
WATCH Jimmy Kimmel's interview with the MyPillow CEO got pretty weird
Joe Rogan addresses his controversial anti-vaccine comments
'It's like a guillotine': Instacart shoppers say they're wrongfully banned from the platform
Durex condoms on display in a retail store aisle in Arlington, VA, on August 29, 2020.
People are ready to have sex again: Condom sales are surging
These TikTok stars built a VC firm backed by Anthony Scaramucci and the Winklevoss twins
INDIA'S COVID CRISIS
Google's Indian-born CEO says he's heartbroken about his country
Google CEO on India's crisis: Worst is yet to come
Microsoft and Google CEOs pledge support to India
Twitter blocks posts in India critical of Covid response
India is not the only Covid-19 hotspot in Asia
ENERGY
Wind turbines at a wind farm near Highway 12 in Rio Vista, California, U.S., on Tuesday, March 30, 2021. President Biden's $2.25 trillion infrastructure and stimulus blueprint he is set to unveil today, meant to catalyze investments in a clean energy economy and encourage low-emission technology necessary to constrain global warming, would give a 10-year extension to tax credits that have been a boon to wind and other renewable energy projects.
The last clean energy boom turned to bust. Will this time be any different?
Saudi Arabia could sell more of its crown jewel
Coming this summer: Gas stations running out of gas
NYC sues Big Oil for allegedly misleading consumers
Companies are crucial to solving the climate crisis. 75% are falling short
Headlines from right-of-center Newsmax 
South Dakota Sues Biden Admin Over July 4th Mount Rushmore Fireworks Ban
South Dakota Gov. Kristi Noem filed suit against the Biden administration on Friday after it canceled the July 4th fireworks at Mount Rushmore.
The Biden Presidency
Biden Bans Travel From India as Coronavirus Cases Surge
After Review, WH Sees Limits to NKorea Diplomacy
Malliotakis: Biden's Plans for Northern Triangle Funding Concerning
Biden Turns to Georgia to Begin Pitch for Huge Spending Plan
Biden to Help Amtrak Mark 50 Years on the Rails
Protesters Disrupt Biden Speech, Call for End of Detention Centers
Blackburn to Newsmax TV: Tim Scott Speech More Meaningful Biden Address
Chris Wallace Praises Biden Speech, Predicts It'll Be 'Popular'
More The Biden Presidency
Newsfront
Disneyland Reopens as California Emerges From Virus Depths
Disneyland reopened to excited visitors Friday, marking a dramatic turnaround in a state that was so overwhelmed with coronavirus cases just four months ago that patients were being treated in gymnasiums and outdoor tents. Visitors cheered and screamed with happiness as…
Wall Street Ends Lower, Weighed Down by Apple
Wall Street ended lower on Friday, with Amazon, Apple, Alphabet and
Louie Gohmert to Newsmax TV: Biden Address to Congress 'Was a Private Speech'
Louie Gohmert, R-Texas, on Newsmax TV on Friday slammed |
WHO Should Look Beyond Animals on COVID Origin, Scientists Say
The World Health Organization should convene another investigation
Dem Rep. Cheri Bustos Won't Seek Reelection
Cheri Bustos D-Ill., says she is retiring from Congress and
Democrats Want FCC to Block Anti-Socialist Radio Buyers
Democrats have spent months lambasting conservative-leaning
Mike Pence: US Is 'Nation of Believers'
Former Vice President Mike Pence told a crowd of pastors that "God
Biden Bans Travel From India as Coronavirus Cases Surge
President Joe Biden banned most travel to the U.S. from India
Man Gets Into a Tesla. What Happens Next Will Shock Everyone (Video)
SPONSOR: Hi, Jeff Brown, here to reveal Elon Musk's next big project
Former Reality TV Star Josh Duggar Faces Child Porn Charges
Former reality TV star Josh Duggar faces charges of downloading and
MyPillow's Lindell to Relaunch 'Frank' Social Media Website
MyPillow CEO Mike Lindell reportedly plans to relaunch his social
Florida Legislature Approves New Voting Rules
Florida lawmakers approved an election bill that places restrictions
Trump Campaigns for Susan Wright in Texas House Race
Former President Donald Trump continued his push to get Susan Wright
Lady Gaga Dognapping Suspects Arrested
Five suspects have been arrested in connection with the shooting of
NYC Mayor: Focus on Reopening on July 1, Not Cuomo
New York City Mayor Bill de Blasio said Friday that while he
The Big Electric Vehicle Story Everyone's Missing
Actor Who Played Son in 'The Rifleman' Dies at 75
Actor Johnny Crawford, best known for his role as the title
South Dakota Sues US for Banning July 4th Fireworks at Mount Rushmore
South Dakota Gov. Kristi Noem filed suit against the Biden
Anne Douglas, Widow of Late Actor Kirk Douglas, Dies at 102
Anne Douglas, the widow of Kirk Douglas and stepmother of Michael
$6B Betting Deal Puts Florida in 'Uncharted Waters'
After years of debate and negotiation, Florida Governor Ron DeSantis
Supreme Court Backs Illegal Immigrant Challenging Deportation
The U.S. Supreme Court has sided with an illegal immigrant from
Richard Barnett to Newsmax TV: 'I Was Knocked Into' the Capitol
The man who was photographed with his feet up on House Speaker
Related
Aaron Babbitt to Newsmax TV: Ashli Didn't Deserve to Be 'Executed'
Dem Sen. Carper Pushes Ban on Gas-Powered Cars by 2035
A top Senate Democrat is urging U.S. anti-pollution standards that
Facebook Fuels S&P 500 to Record High Close
The S&P 500 closed at a record high on Thursday, fueled by gains in
Pentagon Braces for Possible Taliban Attacks During US Withdrawal
The Pentagon is preparing for possible Taliban attacks on U.S. and
Rudy Giuliani: FBI Raid Evidence 'Exculpatory' of Innocence
The FBI raided the residence of former President Donald Trump's
Sessions to Newsmax TV: Dems Using Govt Levers to Change US in Their Image
Pete Sessions, R-Texas, said Thursday during an appearance
Montana Gov. Gianforte to Newsmax TV: Federal Ban on Firearms Not Needed Here
Montana Gov. Greg Gianforte spoke to Newsmax TV in light of
'Disastrous' Crush at Israeli Bonfire Festival, Many Killed
Israel's national rescue service has officially confirmed some deaths
Statement About Dr. Eric Coomer, Director of Product Strategy and Security at Dominion Voting Systems
Since Election Day, various guests, attorneys, and hosts on Newsmax
Jason Smith: 'Lockdown Joe' Has No Solutions, Just Wants Control
President Joe Biden didn't offer any real solutions to ending
Former Trump Official Zinke Eyes Montana's New US House Seat
Former Interior Secretary and Montana congressman Ryan Zinke filed
More Newsfront
Finance
GM to Invest $1B to Build Electric Vehicles in Mexico
General Motors Co. is extending its electric vehicle plans south of the border with an investment of more than $1 billion in Mexico, adding a fifth plant in North America with EV production capacity. The automaker's facility…
Amazon Jumps to Record After Blowout Results, Strong Forecast
EU Hits Apple With Music Streaming Charge in Boost for Spotify
US Jobless Claims Drop 13,000 to 553,000
Amazon's Profit More Than Triples as Pandemic Boom Continues
More Finance
Health
Full FDA Approval of COVID-19 Vaccines Could Reduce Hesitancy
The three COVID-19 vaccines available in the U.S. were granted Emergency Use Authorization by the Food and Drug Administration, which means that when the emergency ends, Pfizer, Moderna, and Johnson & Johnson…
Unsafe Sleep Factors Common in Sudden Unexpected Infant Deaths
Your Blood Type Might Raise Odds for Certain Health Conditions
Study Finds COVID Alters Airway Cell Genes Long Term
Recharging Your Sexual Batteries
Manufactured Housing Industry Investments Connected Closing Equities Tickers
Some of these firms invest in manufactured housing, or are otherwise connected, but may do other forms of investing or business activities too.
NOTE: The chart below includes the Canadian stock, ECN, which purchased Triad Financial Services, a manufactured home industry lender
NOTE: Drew changed its name and trading symbol at the end of 2016 to Lippert (LCII).
NOTE: Deer Valley was largely taken private, say company insiders in a message to MHProNews on 12.15.2020, but there are still some outstanding shares of  the stock from the days when it was a publicly traded firm.  Thus, there is still periodic activity on DVLY.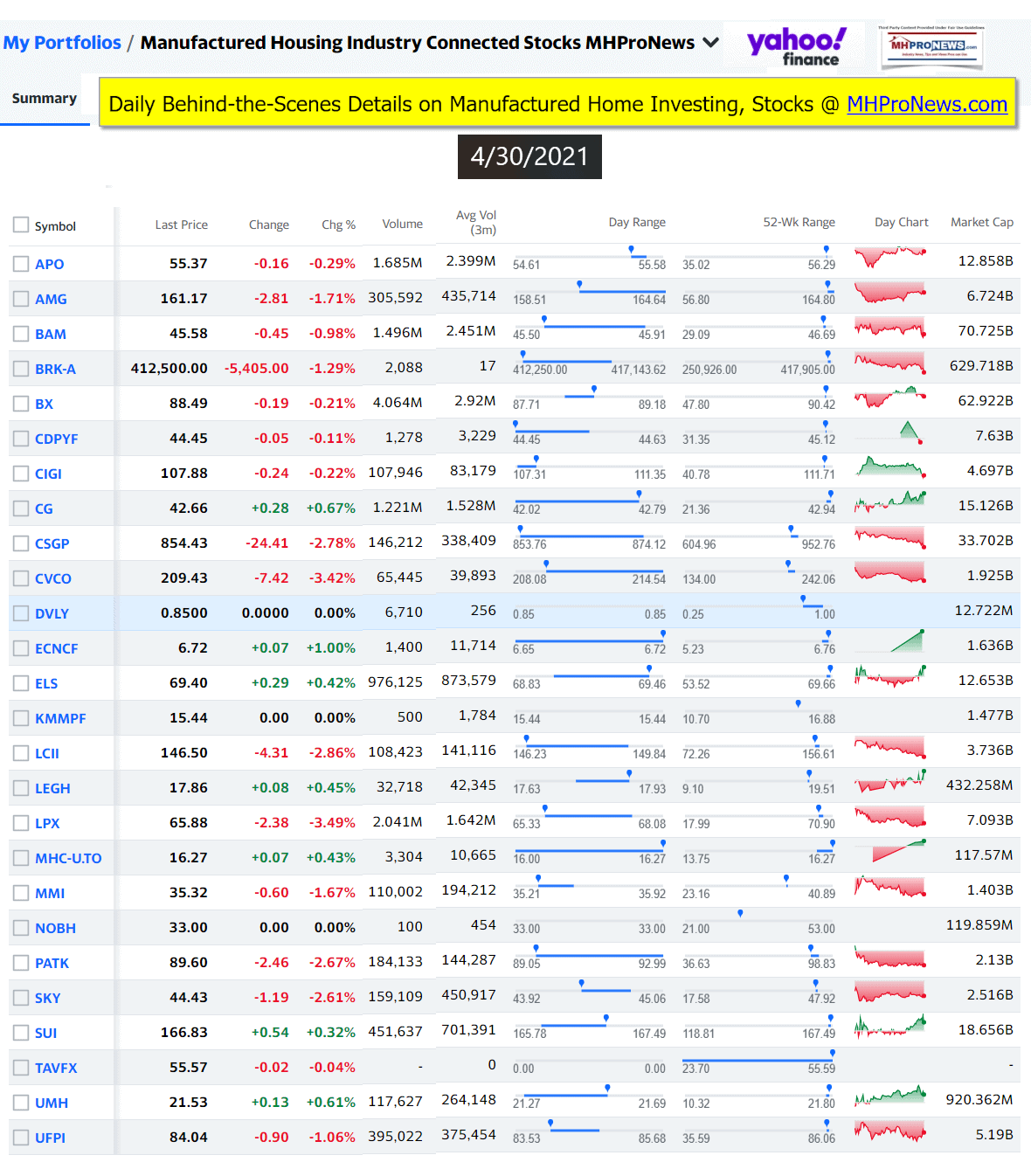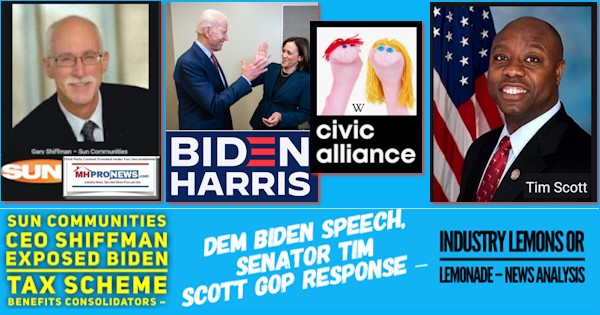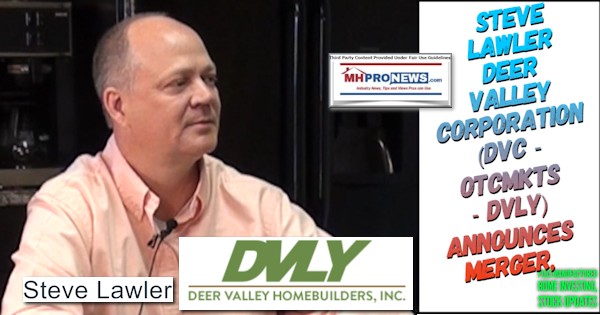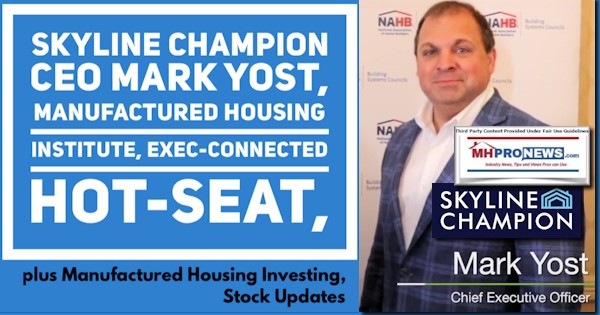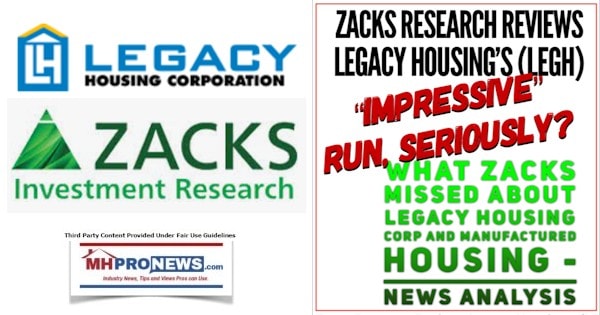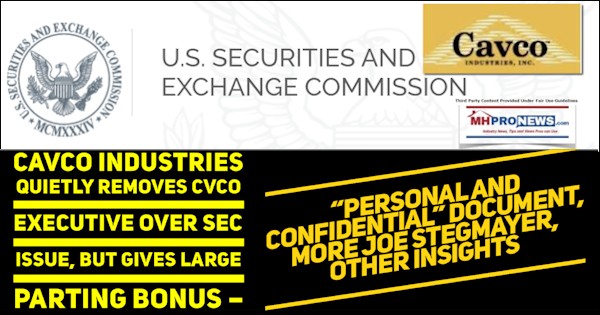 Spring 2021…
Berkshire Hathaway is the parent company to Clayton Homes, 21st Mortgage, Vanderbilt Mortgage and other factory built housing industry suppliers.
· LCI Industries, Patrick, UFPI, and LP each are suppliers to the manufactured housing industry, among others.
· AMG, CG, and TAVFX have investments in manufactured housing related businesses. For insights from third-parties and clients about our publisher, click here.
Enjoy these 'blast from the past' comments.
MHProNews. MHProNews – previously a.k.a. MHMSM.com – has celebrated our 11th year of publishing, and is starting our 12the year of serving the industry as the runaway most-read trade media.
Sample Kudos over the years…
It is now 11+ years and counting…
Learn more about our evolutionary journey as the industry's leading trade media, at the report linked below.
· For expert manufactured housing business development or other professional services, click here.
· To sign up in seconds for our industry leading emailed headline news updates, click here.

Disclosure. MHProNews holds no positions in the stocks in this report.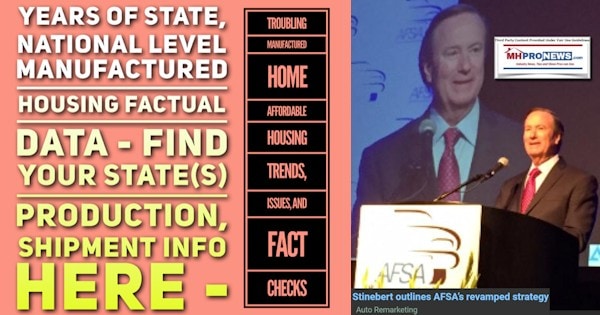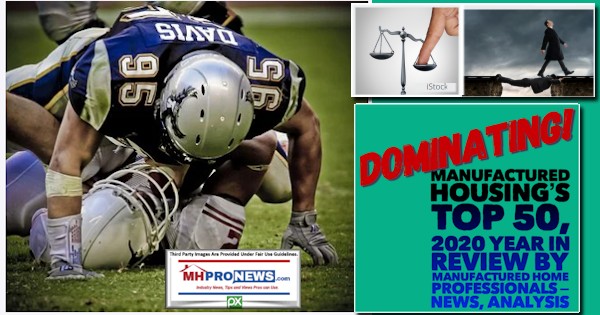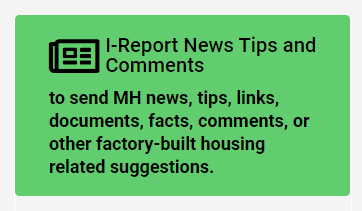 That's a wrap on this installment of "News Through the Lens of Manufactured Homes and Factory-Built Housing" © where "We Provide, You Decide." © (Affordable housing, manufactured homes, stock, investing, data, metrics, reports, fact-checks, analysis, and commentary. Third-party images or content are provided under fair use guidelines for media.) (See Related Reports, further below. Text/image boxes often are hot-linked to other reports that can be access by clicking on them.)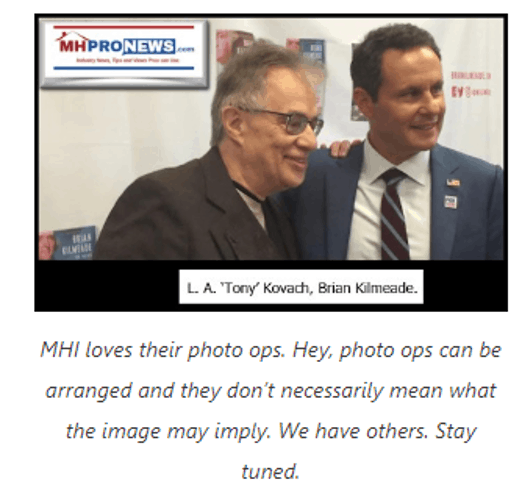 By L.A. "Tony" Kovach – for MHLivingNews.com.
Tony earned a journalism scholarship and earned numerous awards in history and in manufactured housing. For example, he earned the prestigious Lottinville Award in history from the University of Oklahoma, where he studied history and business management. He's a managing member and co-founder of LifeStyle Factory Homes, LLC, the parent company to MHProNews, and MHLivingNews.com. This article reflects the LLC's and/or the writer's position, and may or may not reflect the views of sponsors or supporters.