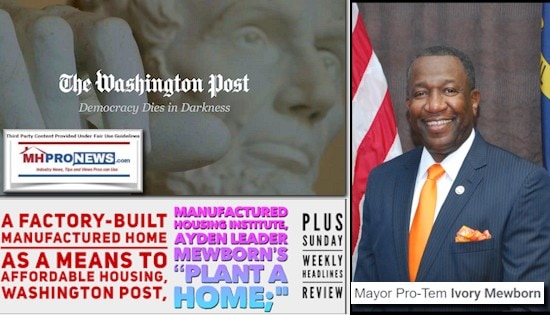 As perhaps a billion or so people in some 70 plus countries know, the number 911 is an emergency phone call number. So, the 20th anniversary of the 9.11.01 reflections on surprise hijacked airliners terror attacks on the U.S. seem like an apt time for distressed HUD Code manufactured home professionals to contemplate the good and missed items in mainstream media such as what was found in the Washington Post's 9.9.2021 report entitled "A factory-built home as a means to affordable housing." While some may disagree, the Washington Post's Beth DeCarbo may have done the industry some potential favors, though the report has from a manufactured home industry insider's vantagepoint obvious hits and misses. Among them was the opportunity to tie into her themes the apparent bigotry occurring in Ayden, North Carolina with regards to placing a manufactured home desired by a black family is worth probing.
A full analysis and commentary is planned by MHProNews in the near term on DeCarbo's article. But for now, three pull quotes from "A factory-built [manufactured] home as a means to affordable housing" will frame several intriguing notions that sadly fits for the ongoing 'emergency' of 9.11 as it relates to affordable housing in general, and manufactured homes more specifically. Because HUD in the past week admitted, as one of our reports on MHLivingNews noted, that the same affordable housing issues have kept recycling for the past 50 years. Yes, you read that right – per HUD's PD&R – they have confirmed several of the findings in the research published a few weeks ago on MHLivingNews in the report linked below.
Why so few affordable homes?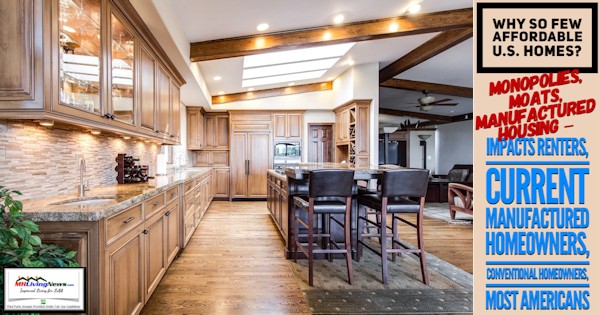 Against that backdrop, DeCarbo quoted "MHI 2.0" CEO Lesli Gooch, Ph.D. making this stunning statement. ""While localities may not admit they're keeping us out, they have rules that affect manufactured homes," Gooch said," per WaPo.
Stunning statement? Yes, but why is it a surprise?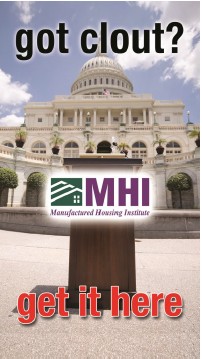 Because if MHI's self-proclaimed clout is so potent, then why are HUD Code manufactured homes being kept out? After all, given that Gooch knows all too well about the enhanced preemption that is federal law as a result of the Manufactured Housing Improvement Act of 2000 (MHIA or 2000 Reform Law), is she essentially admitting that MHI has been ineffective at getting this issue properly addressed? So which is it, Lesli? Do you have clout on behalf of manufactured housing interests? Or are you and MHI just posturing with various talking points depending on what audience you happen to be addressing? Because you can't have it both ways.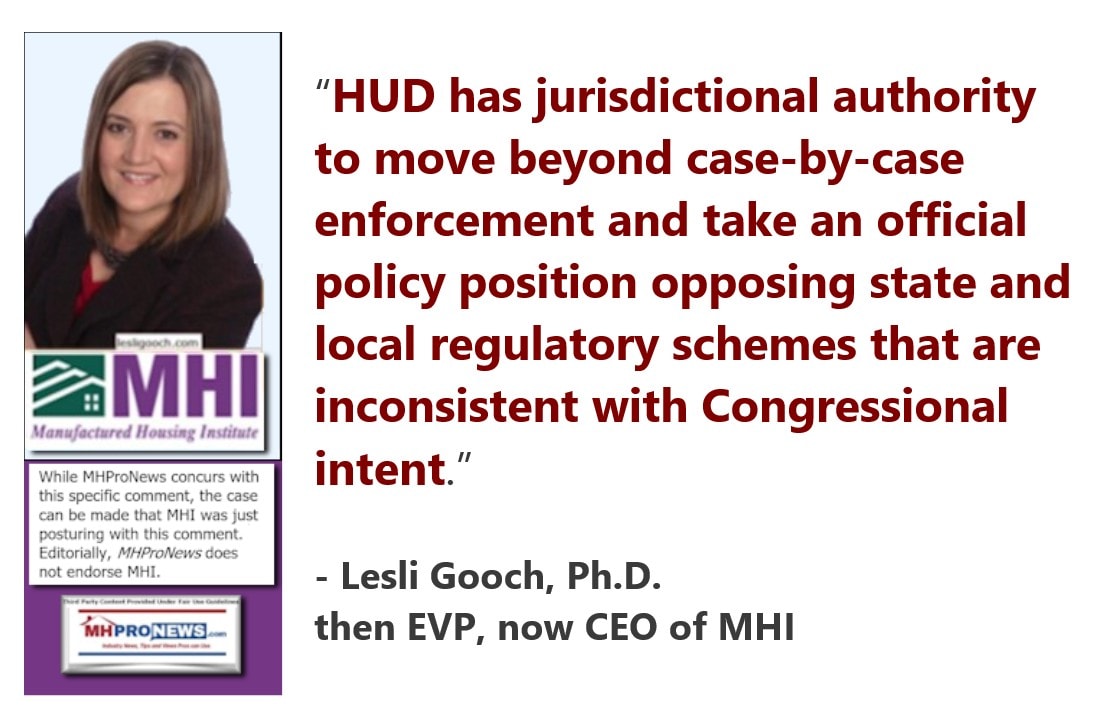 Back to DeCarbo's direct and oblique insights, apparently MHI and/or Fannie were involved in this handy WaPo pitch for Clayton Homes backed MHI trademarked "CrossModTM" homes.
Note there is not a peep mentioned by Gooch about the notion that all HUD Code manufactured homes should have been promoted by MHI, not just CrossMods.
Nor is there any mention that references Gooch that by law, all HUD Code manufactured homes should be getting Duty to Serve (DTS) mandated financing, not just CrossMods.
Or that all HUD Code manufactured homes should be allowed to "

fit in

" among "traditional site built houses," because years before CrossMods, there were residential style manufactured homes that includes those with ground sets, porches, higher pitched roofs, and attached garages.
For whatever reasons, the WaPo report failed to note that the entire CrossMods scheme was hatched in a closed door meeting between MHI corporate and staff 'leaders' and the GSEs in a discussion where the minutes are still not publicly released. What emerged was a program that after much razzle dazzle, witnessed a 2½ year decline in HUD Code shipments. Is that the program that independent manufactured home producers, community owners, and independent retailers is supposed to be excited about?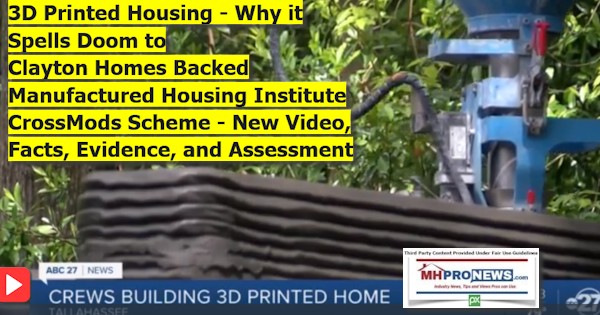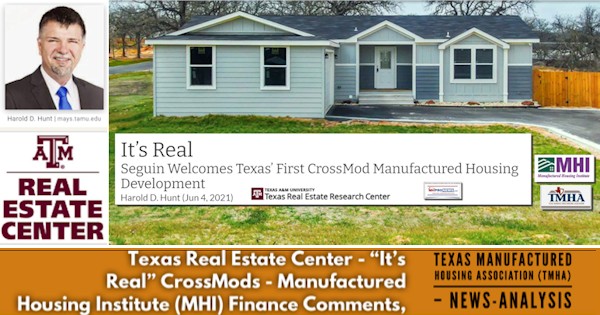 Indeed, the entire MHI pushed program was – not unlike the MHI commissioned Roper Report in one sense – a series of embarrassing outcomes. See more on that in the headlines reported below.
To pull two paragraph's from WaPo, these paragraphs are not something to celebrate, but rather to be rued by those who grasp just how much monopolistic sabotage, to borrow the phrase from Minneapolis Federal Reserve researchers into manufactured housing expressed. Here's what DeCarbo wrote.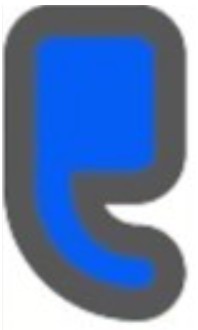 "To help manufactured homes better "fit in" among traditional stick-frame homes, Fannie Mae created MH Advantage, a conventional loan product for manufactured homes with site-built characteristics, such as permanent foundations, garages or carports, and interior drywall. Called a CrossMod, these homes are virtually indistinguishable from higher-priced site-built homes.
Still, CrossMod homes are relatively new to consumers and represent only a small piece of the market. Most everyone else faces a daunting array of financing options. In general, though, manufactured-home borrowers tend to have smaller loan amounts, pay higher interest rates and refinance less often than borrowers of site-built homes, according to a report released in May by the Consumer Financial Protection Bureau."
Restated, DeCarbo's report is another piece of unsought dark grace for authentic, vs. ersatz, manufactured home advocates. WaPo has provided one more blessing in disguise because it reveals just how problematic and apparently pernicious are the effects of Berkshire and their "big boy" corporate allies dominated MHI has been for those who thirst to provide and own more affordable housing.
WaPo, by accident or design, has made the point that MHLivingNews and MHProNews have been making for years.
"Yet manufactured homes account for only 6 percent of the country's housing stock, and the number of new manufactured homes shipped each year is down significantly from the late 1990s." Is that MHI's idea of effective advocacy? God save us and all authentic manufactured home advocates from MHI's insidious "clout!"
Those who desire more affordable homes include the Ayden, NC Mayor Pro-Tem, Ivory Mewborn and Tyrone and Jaime Taft. For more on them, see the report shown on MHLivingNews, linked below in the headlines for the week that was.
Don't miss this week's postscript. It will update readers on the arguments being used by what locals say are apparently prejudiced and biased forces that are deliberately subverting the "Plant-A-Home" program, which at last check, MHI has still not followed up on.
With no further adieu, let's review the headlines for fact- and evidence-packed reports and analysis for the week that was from 9.5.2021 to 9.12.2021
What's New from MHLivingNews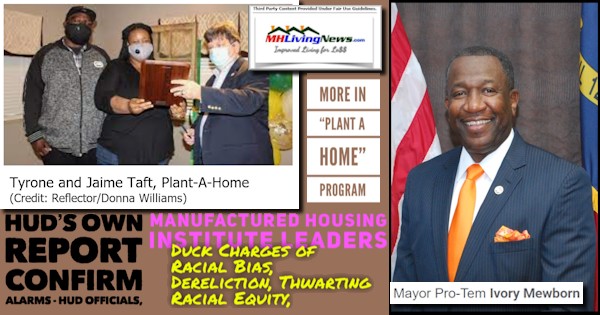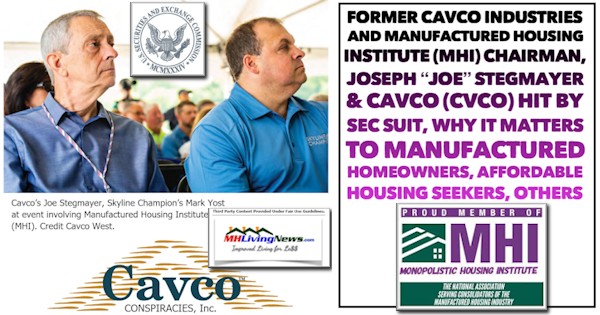 What's New and Recent from Washington, D.C. from MHARR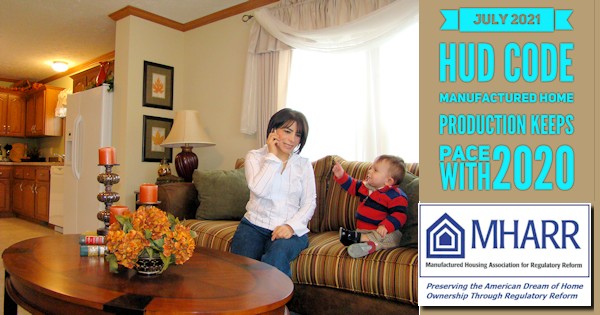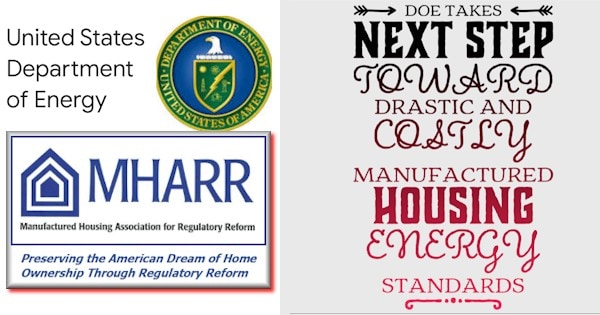 What's New and Recent on the Masthead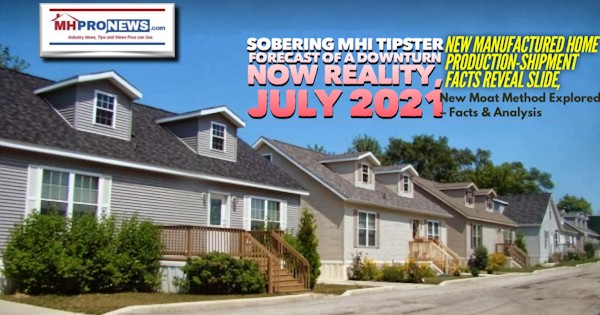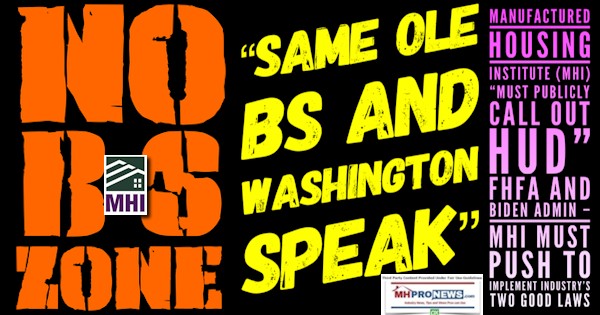 What's the Latest from the Words of Wisdom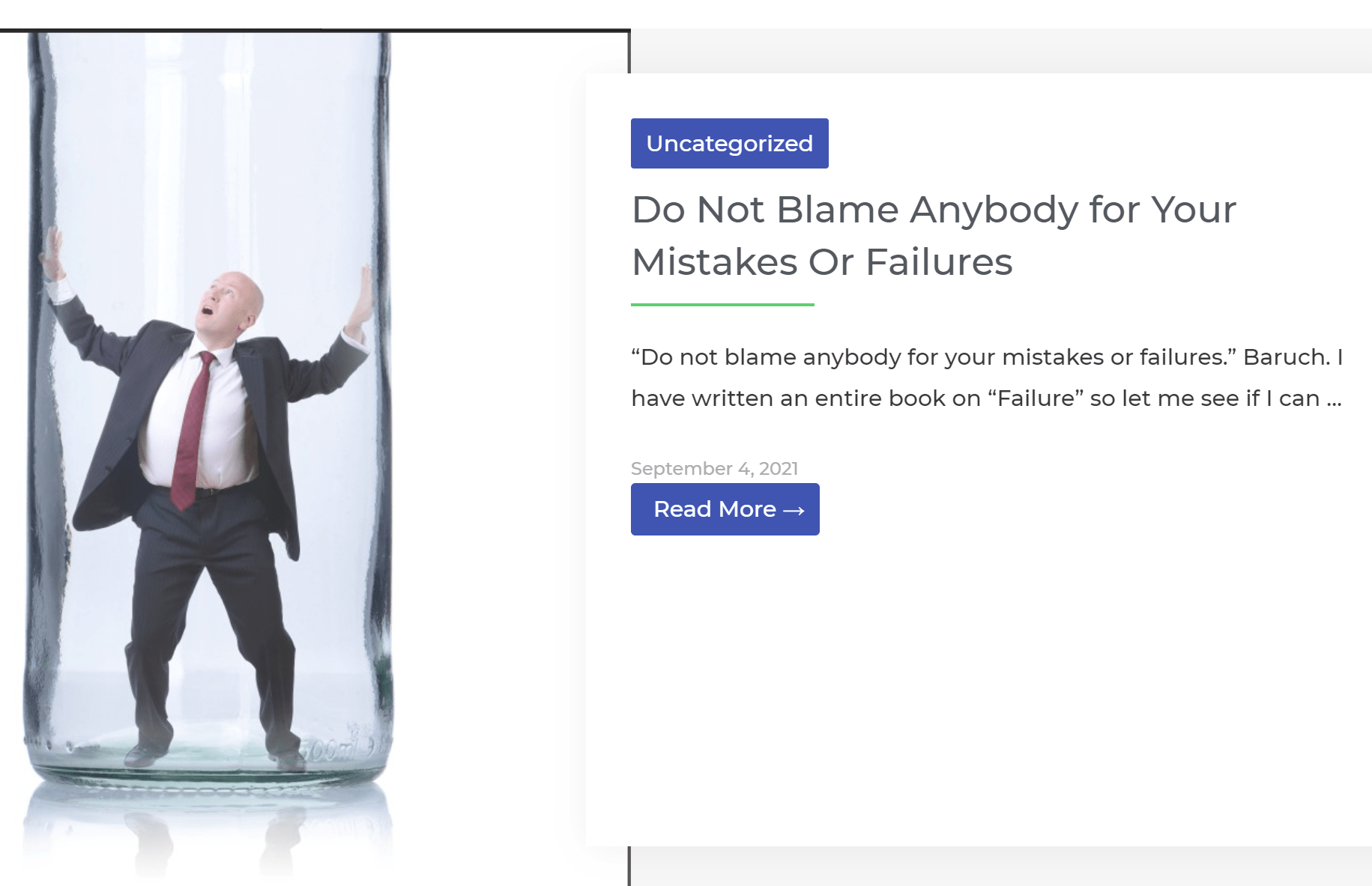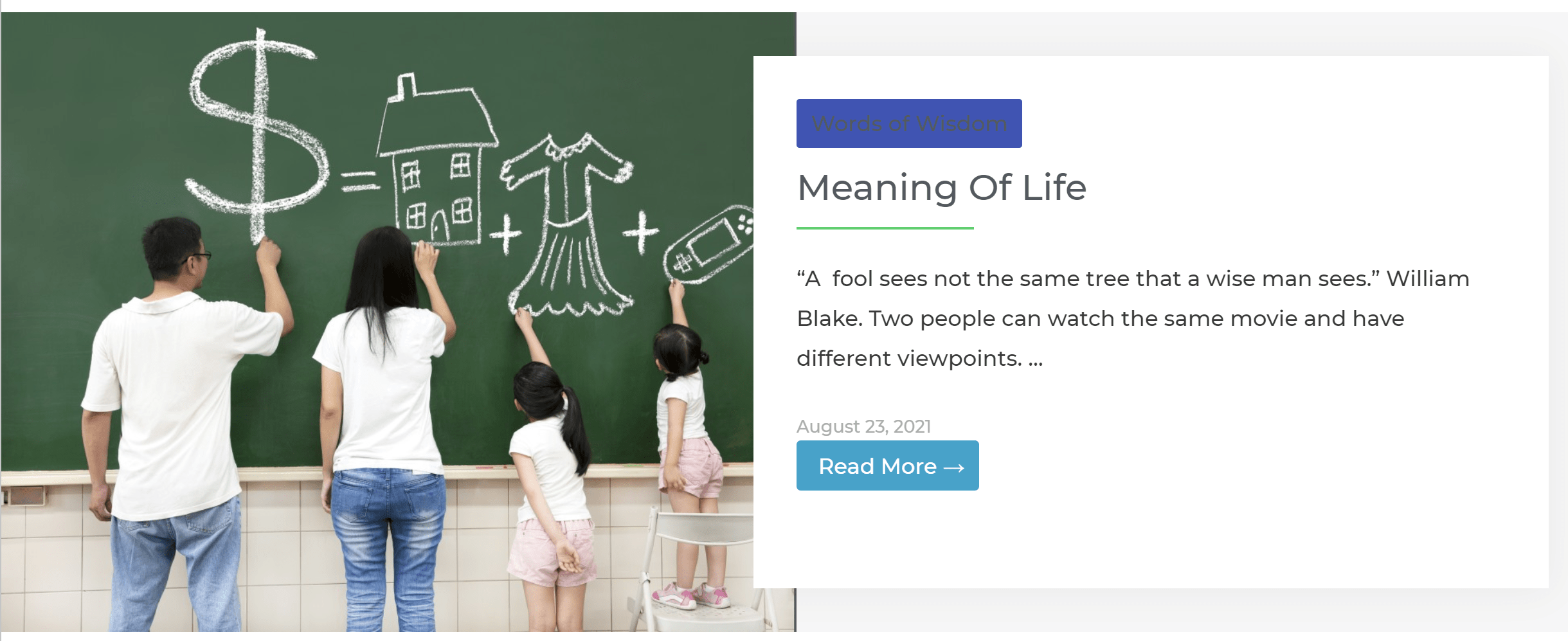 What's New on the Daily Business News on MHProNews
Saturday 9.11.2021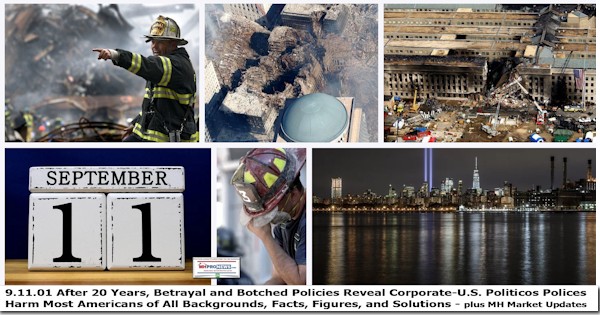 Friday 9.10.2021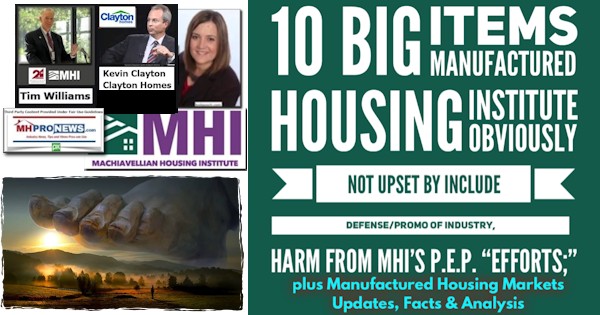 Thursday 9.9.2021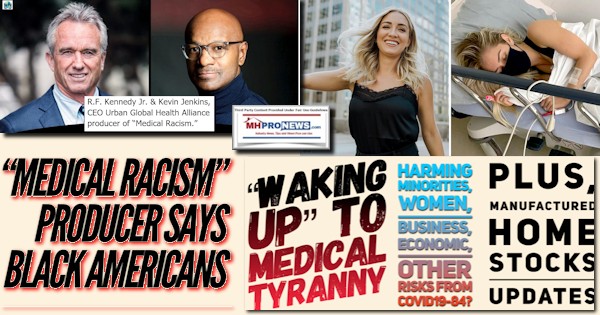 Wednesday 9.8.2021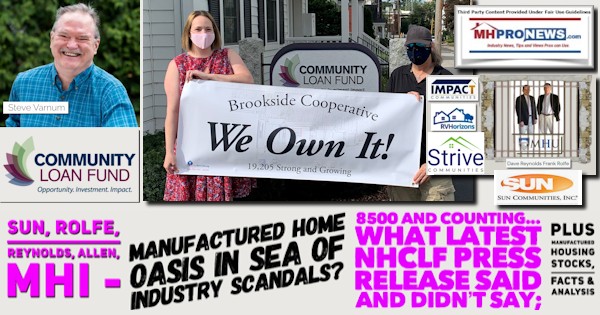 Tuesday 9.7.2021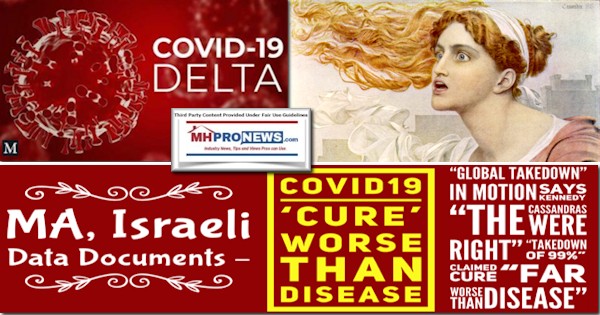 Monday 9.6.2021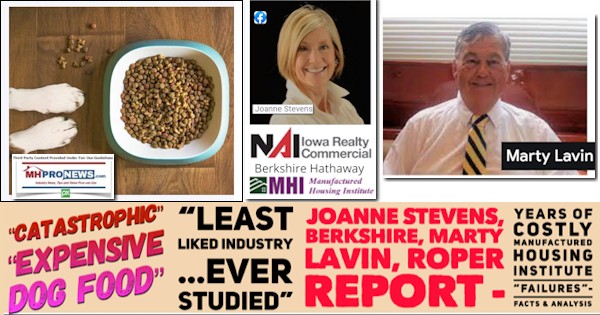 Sunday 9.5.2021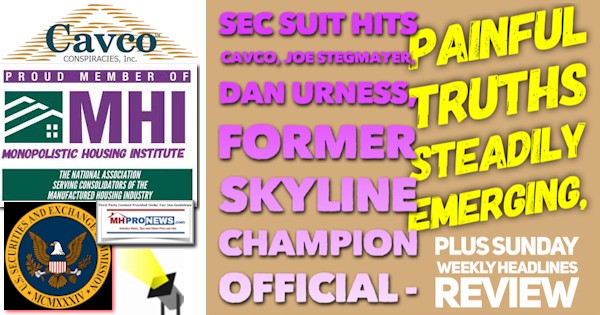 Postscript – Updating Response to Ayden Mayor Pro-Tem Ivory MewBorn's "Plant-A-Home"
Local media and other sources in the Ayden, NC area confirmed that neither MHI, nor their affiliate, the North Carolina Manufactured and Modular Homebuilders Association (NC-MHA.org), nor HUD has contacted local officials about the apparent case of discrimination unfolding there.
That noted following various concerns and insights expressed to MHProNews reveals concerns of racial injustice as well as prejudice against manufactured homes that is harmful to households like Tyrone and Jaime Taft.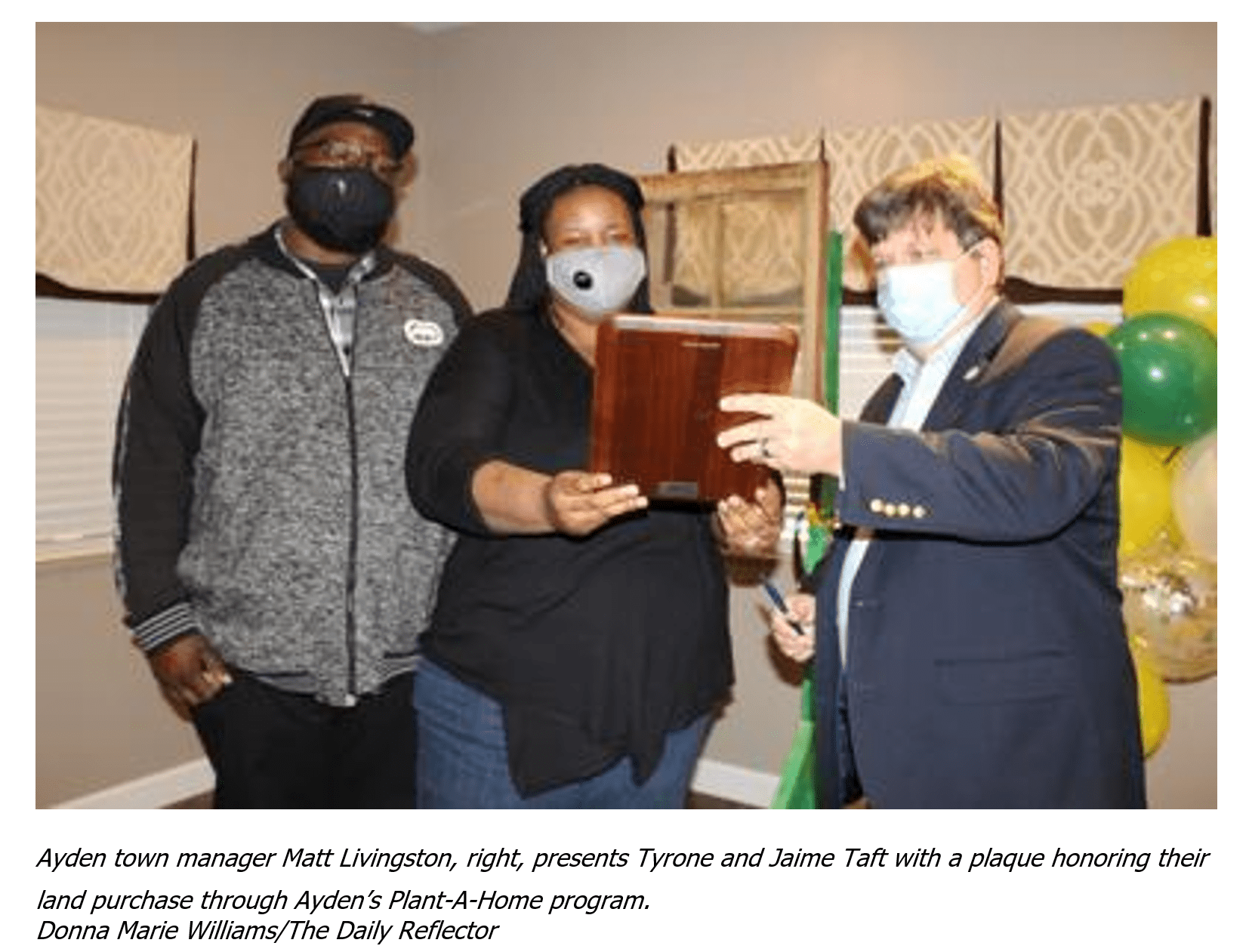 MHProNews was provided with a tip of the email from Scott Dixon to Ayden's city manager. That forwarded email tip is part of the message below.
As part of the follow up to that tip from local sources, MHProNews contacted attorney and law professor, David Owens, whom Dixon cited as his part of this rationale for denying the authority of the HUD Code's enhanced preemption claims.
David W. Owens, J.D.,
Gladys Hall Coates Professor of Public Law and Government,
David,
You were cited by Scott Dixon, J.D., in his reply to the City of Ayden that was provided to MHProNews as is shown below. As a brief introduction, we are the runaway largest and most read trade media serving the manufactured housing industry. While we are not attorneys, but we cover legal issues on a routine basis and do the necessary research before publishing on a topic of interest and importance to our readers. Those readers include numbers on Capitol Hill and Washington, D.C., various nonprofits, educators, federal and state officials, trade groups, plus manufactured housing industry professionals and manufactured home resident-advocates.
With that introduction, please see the quote below. I've added the highlighted reference to you.
From: Scott Dixon <scottdixon@daglawyers.com>
Sent: Wednesday, September 8, 2021 3:50 PM
To: Matthew Livingston <mlivingston@ayden.com>
Subject: Tony Kovach Request for Comment
Matt,
Please forward this to the Board. In response to the email received by Mr. Kovach, I was asked to research the validity of claims brought about the Town potentially violating Federal law when it voted to deny the rezoning request of the Taft family. After reviewing the documentation provided by Mr. Kovach, including provisions of the Manufactured Housing Improvement Act (MHIA), it is my opinion that the Town acted in complete conformity with State/Federal law and that the allegations put forth by Mr. Kovach are unfounded and inapplicable. I reached out to David Owens with the School of Government, considered the expert in the area of Planning/Zoning for additional clarity and he agreed with that assessment. Mr. Kovach did make a public records request for the minutes/power point from our recent Board Meeting, I have advised Matt, Mr. Kovach is entitled to those records and they will be included in our response. If anyone has any questions or concerns, please don't hesitate to contact me. All my best."
##
Q1) Our publications (MHProNews/MHLivingNews) first question to you would be this. Is Scott Dixon's characterization of your statement as cited above accurate?  Please email your response for our mutual accuracy in communications and reporting. There are no word limits. Please type you reply below this question, and below the question(s) that follow. Thank you.
To frame our next questions for you, the following should be useful.
While there is a level of inside baseball involved in the two reports linked below, they set out the factual and evidentiary record of who said what on these issues that our sources tell us include
A) concerns about racial bias and related possible legal issues as well as,
B) discrimination against federally regulated HUD Code manufactured homes.
https://www.manufacturedhomelivingnews.com/huds-own-report-confirm-alarms-hud-officials-manufactured-housing-institute-leaders-duck-charges-of-racial-bias-dereliction-thwarting-racial-equity-more-in-plant-a-home/
While there are obvious differences between the Manufactured Housing Institute (MHI) and the Manufactured Housing Association for Regulatory Reform (MHARR), on paper, both take largely a similar position on the enhanced preemption provision of the Manufactured Housing Improvement Act of 2000. Further, the first administrator for HUD's Office of Manufactured Housing Programs (OMHP) has taken a similar position, one of which is cited below. Note that Bill Matchneer, J.D., whom I know personally, has stated – and their is supporting evidence – that during his time at HUD, they issued letters to local towns where they felt federal preemption was being violated.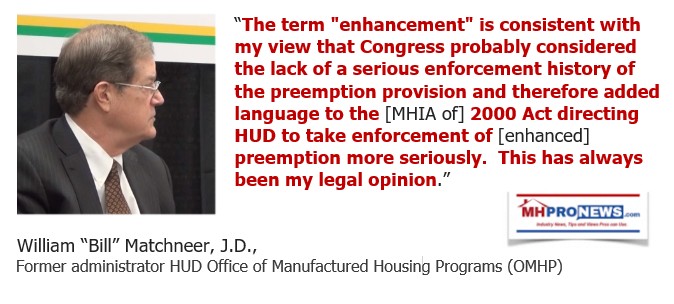 https://www.manufacturedhomepronews.com/10-big-items-manufactured-housing-institute-obviously-not-upset-by-include-defense-promo-of-industry-harm-from-mhis-p-e-p-efforts-plus-manufactured-housing-markets-update/
To save you a bit of reading, which may help you focus your response, Mark Weiss, J.D., is the President and CEO of the Manufactured Housing Association for Regulatory Reform (MHARR) said what follows about this topic in Ayden NC that you reportedly weighed in on. Weiss was part of the legal team that framed the language of the Manufactured Housing Improvement Act (MHIA) of 2000. His comment will be shown below, but first, this question.
Q2) I tend to doubt you have a better source than Mr. Weiss for a legal view on this specialized issue of federal law as it pertains to manufactured housing? But if so, please provide and explain that expertise. Again, please email your reply for our mutual accuracy in communications and our accuracy in quoting for our planned reporting. No word limits.
That question noted, per Google, at this time the subject of "enhanced preemption" for manufactured homes on this date has the following top results. Note that MHProNews, MHLivingNews, and CEO Weiss led MHARR are the top of all results.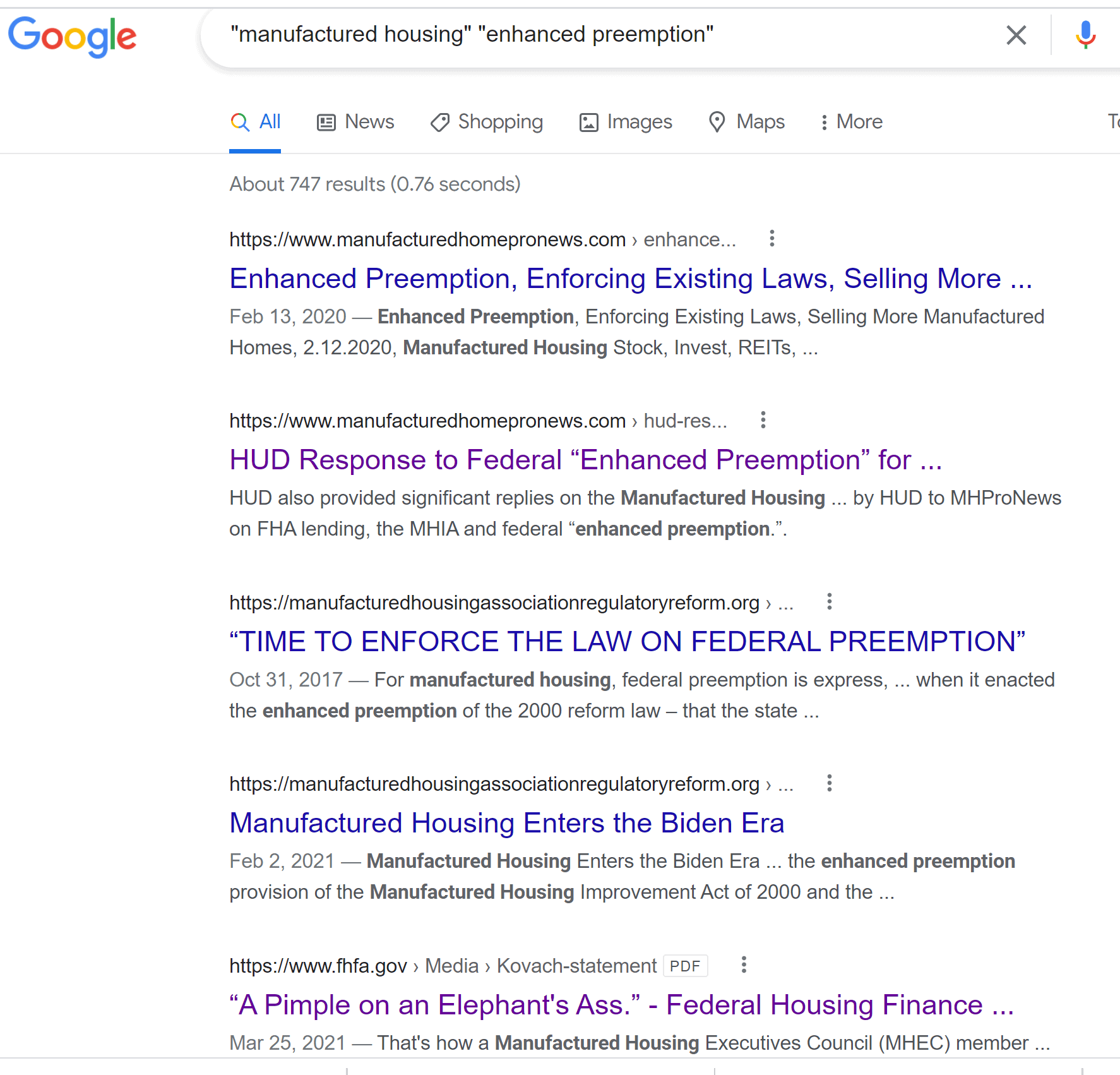 Here was Mark's reply to the email thread and related information found in the report linked here to Ayden city officials.
"I apologize for my delayed response.  The various references and third-party materials cited by Mr. Kovach are accurate.  MHARR's consistent position has been that modifications to federal manufactured housing law contained in the Manufactured Housing Improvement Act of 2000, and particularly, its enhancement of federal preemption, bar discriminatory local zoning mandates that exclude federally-regulated manufactured housing. His recitation of these issues is correct.
Thank you and please advise me if I can be of further assistance.
Mark Weiss
President & CEO
Manufactured Housing Association for Regulatory Reform (MHARR)
1331 Pennsylvania Avenue, N.W., Suite 512
Washington, D.C. 20004
Tel. (202) 783-4087
Fax: (202) 783-4075 …"
##
Again, the details are found in the report linked here.
Part of the information sent to Ayden officials were the attached document (see below) which is a letter from House Democrats who were part of the widely bipartisan group that enacted the Manufactured Housing Improvement Act of 2000 (MHIA or 2000 reform law). While the entire document is relevant, the closing quote shown below stresses the same point that Weiss and others cited in our reporting made.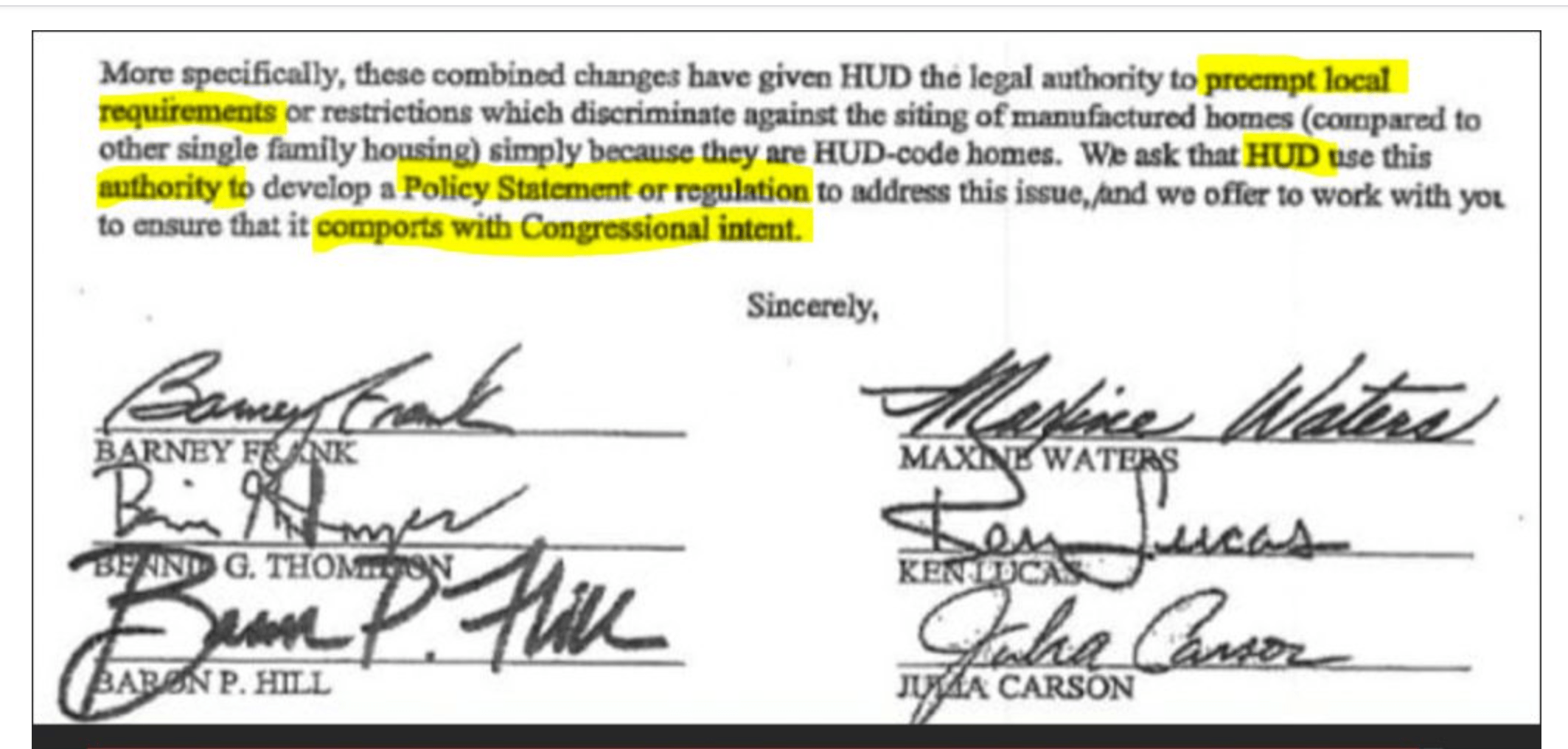 Against that backdrop, if indeed do you gave Scott Dixon the legal opinion he claims you shared with him, the following question.
Q3) Do you sincerely believe you know more about this issue than the lawmakers who passed the law and various attorneys and experts who deal with this law day by day? Again, type your reply below this question, no word limits.
Last but not least. We've been told that there are concerns about racial bias in this case. Some research we did this morning revealed the following.
The 5 largest ethnic groups in Ayden, NC are White (Non-Hispanic) (50.5%), Black or African American (Non-Hispanic) (41.3%), Other (Hispanic) (3.88%), Asian (Non-Hispanic) (1.97%), and Two+ (Non-Hispanic) (1.07%). … In 2019, the median property value in Ayden, NC was $117,400, and the homeownership rate was 55%.
https://datausa.io › profile › geo › a…
The chance of becoming a victim of either violent or property crime in Ayden is 1 in 32. Based on FBI crime data, Ayden is not one of the safest communities in America. Relative to North Carolina, Ayden has a crime rate that is higher than 73% of the state's cities and towns of all sizes.
https://www.neighborhoodscout.com › …
Ayden, NC Crime Rates – NeighborhoodScout
MHProNews is not taking a position on the statistics cited above. We would note that there are those in the U.S. that believe that increased home ownership is routinely a benefit to a household of whatever ethnic group.  There are those who claim that a lack of racial equity and household wealth is a fundamental problem that leads to increase crime and other issues.
Q4) That noted, do you really think that denying the Taft family their part of the American Dream benefits Ayden or the cause of racial, social, and economic justice?
In closing, please note that we plan to report either way. We document this inquiry by BCCing a few locals and others, including local media. Please provide by 5 PM Saturday evening, as we may make this our Sunday feature.
Respectfully,
Tony
L. A. "Tony" Kovach
MHLivingNews.com | MHProNews.com | LATonyKovach.com |http://www.linkedin.com/in/latonykovach
PS: We do not mind being politically incorrect in the search for the truth and holding the powerful to account, as the following reflects. We look for the evidence and then provide that to readers so that they can sort out the truth from the fiction and spin themselves.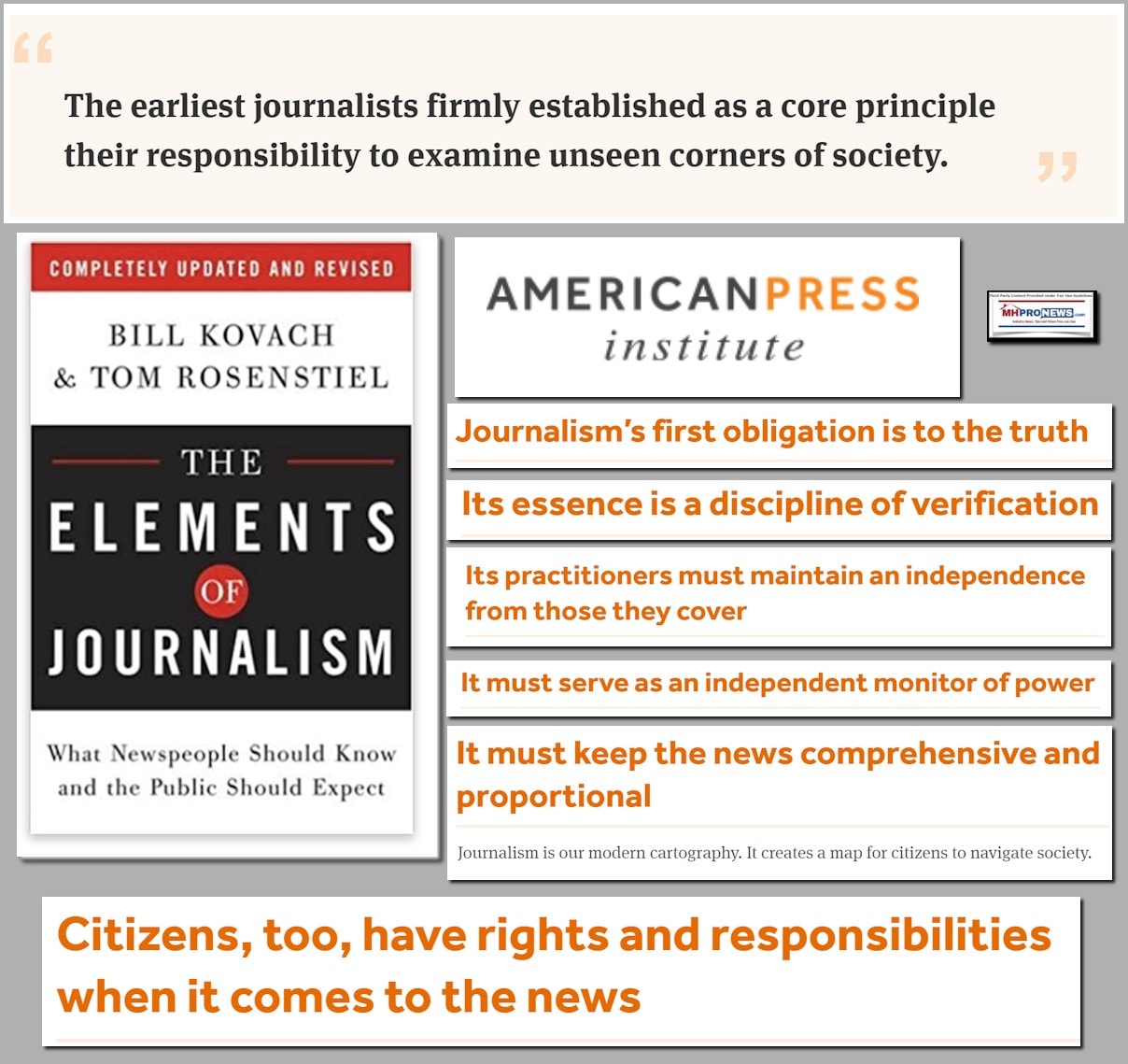 ##
Here was Law Professor David Owen's response.
| | |
| --- | --- |
| from: | Owens, David W. SOG.UNC.edu |
| to: | L. A. Tony Kovach at MHProNews/MHLivingNews |
| cc: | Scott Dixon at DAGLawyers.com |
| date: | Sep 10, 2021, 3:48 PM |
| subject: | RE: David Owen, media outreach for comment about Ayden Racial Bias and Manufactured Housing Placement Controversy – DBN |
Mr. Kovach,
The School of Government provides nonpartisan, nonadvocacy information and education. We are not advocates for policy positions, but rather seek to provide unbiased analysis and education. Our role is not to advise local governments and their staff and officials as to what the law should be, but rather provide our best assessment of what the law is.
The query I had from Mr. Dixon was simply whether in my view federal law preempted a local zoning regulation as to where within a city manufactured housing can be located. My assessment is that federal law preempts local or state construction standards for manufactured housing. It does not preempt local locational standards, even with the 2000 amendments to the law. A local government may, for legitimate land use considerations, allow manufactured housing in some zoning districts while prohibiting their placement in other zoning districts. I have attached an excerpt from the 2020 edition of my book, Land Use Law in North Carolina, that sets out the state statute and the state and federal case law that is the foundation for this assessment. You may of course disagree with this assessment, but that is the way the law has consistently been viewed in this state by our legislature, the courts, and local governments for the past several decades.
Racial and ethnic discrimination is indeed illegal, but that is a different question from the scope of the federal preemption for manufactured housing as is set out in the current law.
David W. Owens
Professor of Public Law and Government
School of Government
The University of North Carolina at Chapel Hill
CB 3330, Knapp-Sanders Building
Chapel Hill, N.C. 27599-3330
The attachment Law Professor Owens provided is linked here.
The two replies from MHProNews to Owens and Ayden's legal advisor, Scott Dixon, J.D. ought to be self-explanatory.
| | |
| --- | --- |
| from: | L. A. Tony K <latonyk@gmail.com> |
| to: | "Owens, David W." <owens@sog.unc.edu> |
| cc: | Scott Dixon <scottdixon@daglawyers.com> |
| bcc: | Local officials and media |
| date: | Sep 10, 2021, 5:25 PM |
| subject: | Re: David Owen, media outreach for comment about Ayden Racial Bias and Manufactured Housing Placement Controversy – DBN |
David,
I value your reply. I will read the attached. But there are several issues, pardon my being direct (don't take it as disrespect, please) that you have simply ducked.
You are the attorneys, I'm not. But I know enough about the law to know that if there were any question about the meaning of 'enhanced preemption,' then the courts will look to legislative intent. Feel free to correct me if you see that point of law differently.
It isn't just a few of the industry's attorneys that look at the enhanced preemption language as I've laid it out. All of those cited do.   That includes Bill Matchneer, who was the first administrator for the HUD Office of Manufactured Housing Programs (OMHP). That is Mark Weiss, who helped draft the language of that law. It is the attorneys for MHI (which we disagree with on several issues, as we've openly shared, but on paper they are correct on this point).
Most important, perhaps from a legal perspective, are the voices of those Democratic lawmakers.  Once more for emphasis and clarity.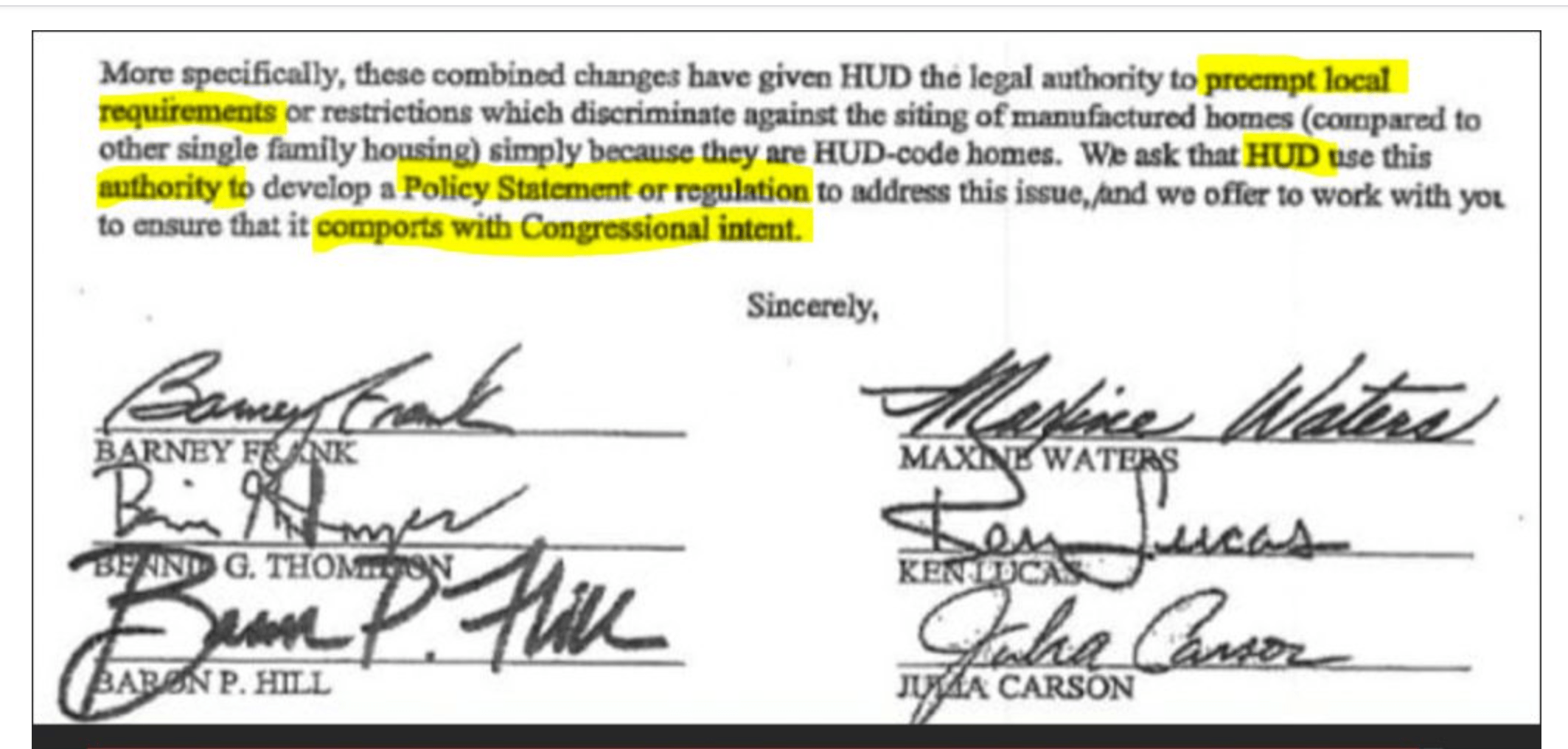 They said that the enhanced legal authority "preempt local requirements or restrictions" – that is not just construction standards.
So pardon me, but you and Scott are mistaken. I don't have to be an attorney to know basic logic and language.
Then, apart from that, there are the racial bias issues. Under the AFFH, I think your town could be headed for trouble. From what I've heard from locals, it would be my sense that your town would be wise to follow the federal law as written and intended.
Please re-read all those items previously sent. Because if you do so with an open mind, you'll come to the conclusion that attorneys Weiss, Matchneer, and those Democratic lawmakers, and others have.
Or you can decide to fight it. If you do, then you will have to make a legal argument why you are fighting it.  While I don't speak for the local media, they would likely cover the issue. I know our publications will do so.
I've been told by locals that the council was for this "Plant A Home" before it was flipped.  I think both federal law on manufactured housing and federal law on fair housing (race) are at work, from what I've heard.
We will report your reply. I'm hereby inviting a specific response to these concerns noted above. If you have a follow up of legal reasoning to these points, please send them. I would still ask that you send that by Saturday at 5 PM.  While I have not looked at your attachment yet, I can tell you that all of those I've seen fail on the points noted herein above. That said, I'll look. If it persuades me, I'll let you know.
Let me know your specific replies to the above concerns, please. While we disagree, I value the fact that you have made a response, which will be accurately reported in our follow up. I've quickly bcc'd a few locals. Please feel free to share this as needed.
Thank you.
Tony
… ##
###
Shortly after the above, after reviewing the attached (once more, linked here) provided by Professor Owens, MHProNews provided the following follow up to attorneys Owens and Dixon.
L. A. Tony Kovach for MHProNews/MHLivingNews
Fri, Sep 10, 2021 at 5:25 PM
To: "Owens, David W."

Cc: Scott Dixon

David and Scott,

I've briefly reviewed the attachment. With the prior disclaimers and framing in mind, again, pardon me, but your rationale is still lacking. I don't see any case law following the enactment of the Manufactured Housing Improvement Act of 2000 (MHIA) cited. That's the common experience I've seen in other such legal reasoning in other states.  Rulings prior to the MHIA are superseded by the new law and its enhanced preemption. That's why the arguments fail.

Therefore, the previous concerns and legal statements stand.  If you have a better argument, please advance it. If not, I respectfully suggest that you provide the Tafts what they were told they would get under the "Plant-A-Home" Program.

Let me give you a piece of free advice. I get it that, as your own research said, that some who may not be properly informed about modern manufactured homes may be unaware that the mobile homes of yesteryear are not the manufactured homes of today. Federal research by HUD's PD&R in 2011, during the Obama-Biden Administration made it plain that manufactured homes right next door to conventional housing does not negatively impact valuations. Other research confirms those findings.

See the article I previously provided you, the city leaders, and local media. There are reams of third-party research found on MHLivingNews.com.

I think you have legal problems, unless you change course. That's my layperson's view. But it happens to be supported by the law.

Do feel free to respond to these replies as you did earlier. We are happy to use your responses in our planned reports.

Respectfully,

Tony

…
##
As of 7.57 PM ET on 9.11.2021, there has been no reply from Owens or Dixon.  While silence or a lack of reply may have several possible causes, at this point, their legal rationale stands refuted. If Owens, Dixon, or others in Ayden, N.C. attempt to provide a more cogent rationale, MHProNews/MHLivingNews will plan to publish a follow up. ###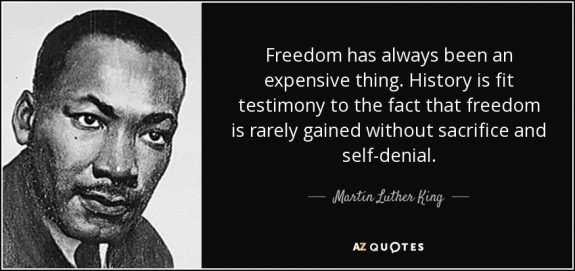 ##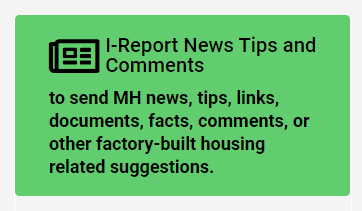 Our thanks to you, our sources, and sponsors for making and keeping us the runaway number one source for authentic "News through the lens of manufactured homes and factory-built housing" © where "We Provide, You Decide." © ## (Affordable housing, manufactured homes, reports, fact-checks, analysis, and commentary. Third-party images or content are provided under fair use guidelines for media.) (See Related Reports, further below. Text/image boxes often are hot-linked to other reports that can be access by clicking on them.)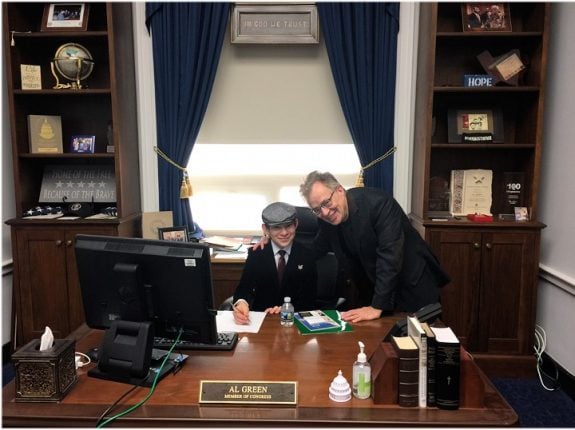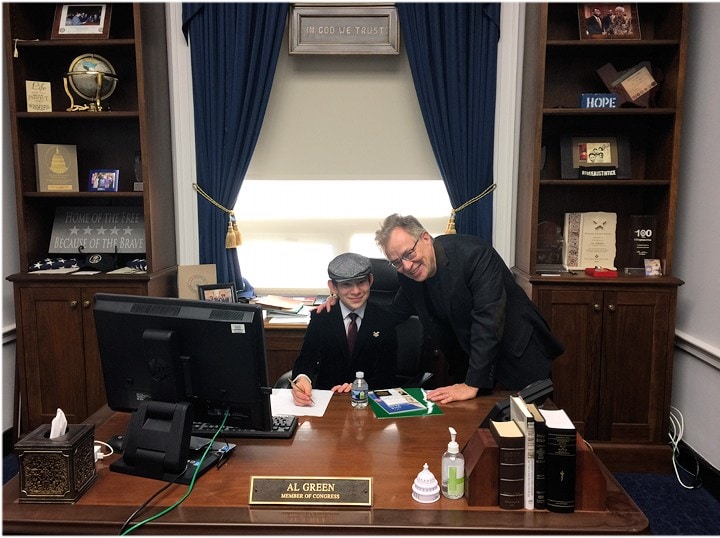 By L.A. "Tony" Kovach – for MHProNews.com.
Tony earned a journalism scholarship and earned numerous awards in history and in manufactured housing.
For example, he earned the prestigious Lottinville Award in history from the University of Oklahoma, where he studied history and business management. He's a managing member and co-founder of LifeStyle Factory Homes, LLC, the parent company to MHProNews, and MHLivingNews.com.
This article reflects the LLC's and/or the writer's position, and may or may not reflect the views of sponsors or supporters.
Connect on LinkedIn: http://www.linkedin.com/in/latonykovach
Related References:
The text/image boxes below are linked to other reports, which can be accessed by clicking on them.