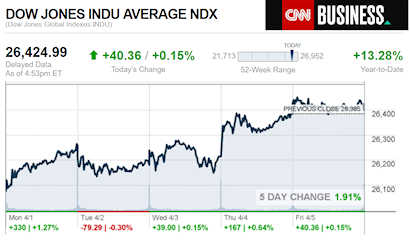 Market movers are many, and political or social headwinds are among them.  Some don't realize that there have been HUD Code manufactured homes built south of the border for years.  Others don't realize the significant effect that immigration – legal or illegal – has on the cost of labor, burdens on local, state, or federal governments, business and others.  On a day when the markets closed generally up, this evening we present 2 news videos on aspects of the growing border crisis, and what local, state, and federal officials who are dealing with the matter have to say.
If you're new, already hooked on our new spotlight feature – or are ready to get the MH professional fever – our headline report is found further below, after the newsmaker bullets and major indexes closing tickers.
The evolving Daily Business News market report sets the manufactured home industry's stocks in the broader context of the overall markets.  Headlines – at home and abroad – often move the markets.  So, this is an example of "News through the lens of manufactured homes, and factory-built housing." ©
Part of this unique evening feature provides headlines – from both sides of the left-right media divide – which saves busy readers time, while underscoring topics that may be moving investors, which in turn move the markets.
Readers say this is also a useful quick-review tool that saves researchers time in getting a handle of the manufactured housing industry, through the lens of publicly-traded stocks connected with the manufactured home industry.
This is an exclusive evening or nightly example of MH "Industry News, Tips and Views, Pros Can Use." © It is fascinating to see just how similar, and different, these two lists of headlines can be.
Want to know more about the left-right media divide from third party research?  ICYMI – for those not familiar with the "Full Measure," 'left-center-right' media chart, please click here.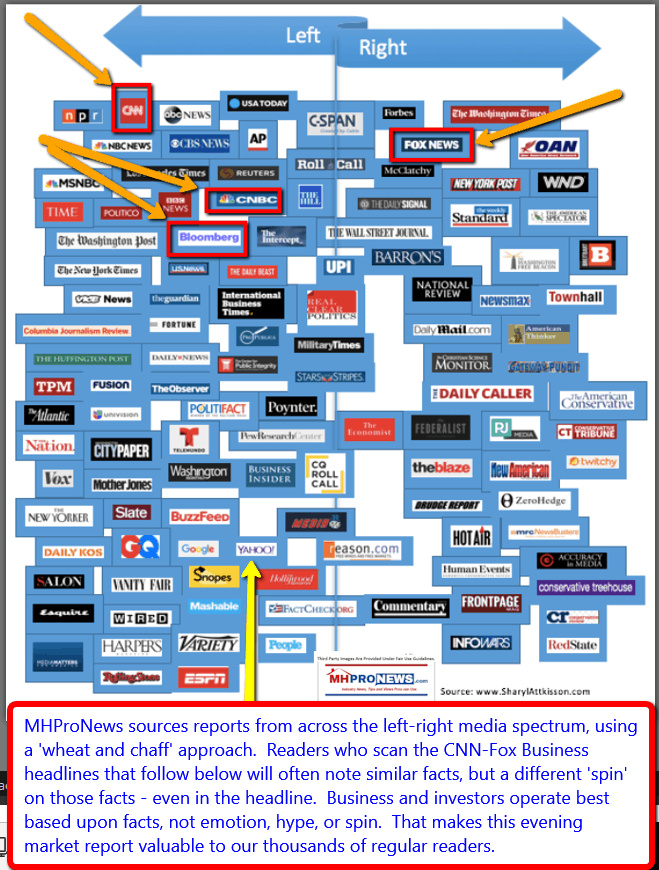 Select bullets from CNN Money…
The Fed has an unrivaled influence on the world economy. Politicizing it could be disastrous
The rules on CEO tweets weren't made for Elon Musk
LIVE UPDATES S&P 500 clinches longest winning streak since October 2017; Oil tops $63
The gender pay gap is getting worse at half of UK companies
EU accuses German carmakers of colluding to delay clean air technology
Google scraps its controversial AI ethics council days after it was announced
Trump to snub White House Correspondents' Dinner for third year in a row
Women are now running all three network morning shows for the first time ever
Amazon must let shareholders vote on limiting facial recognition sales, SEC says
Kathie Lee Gifford says she is 'evolving,' not retiring, as she exits 'Today'
MacKenzie Bezos will be worth at least $35 billion
Samsung warns its profits will drop 60% as smartphone demand slumps
Why 2.7 million Americans still get Netflix DVDs in the mail
Shopping Content by CNN Underscored
You can order Apple's 2nd Gen. AirPods now
Boeing will cut 737 Max production as it works to get plane back in the air
McDonald's is shrinking its late night menu
Why the remarkable stock market recovery could just be getting started
Can a free port rescue this steel community after Brexit?
The 10 most dire warnings from business on Brexit
EasyJet says Brexit uncertainty is hurting its business
'No way to run a country': Business frustration with Brexit chaos boils over
How DHL is preparing for Brexit
The US added 196,000 jobs in February, but a slowdown still looms
Taco Bell is throwing 'hiring parties'
The future of the American economy is Hispanic and female
American productivity is on the rise
Theranos employees struggle to put scandal behind them
Select Bullets from Fox Business…
Boeing cuts 737 Max production amid software overhaul
Dow, Nasdaq soar to highest levels of 2019
US job growth rebounds in March with 196,000 added
Trump admin offers Medicare insurers phase-in for controversial drug rebate rule
Investors weigh in on 2020: Here's who they think will win
Federal Judge reviewing CVS-Aetna $69 billion merger
Ray Dalio gives Connecticut $100 million, state's largest gift ever
Modern retirement: What 'snowbirds' should know before buying a second home
Trump's World Bank pick Malpass wins election
Here's where Americans with the highest incomes are buying homes
Rolling Stones front man on cutting edge of heart innovation
This is how Americans say they've cheated taxes
Boeing uncovers second software issue in 737 Max jetliner
Meet the new Sears: A glimpse inside the retailer's new test stores
Howard Schultz calls for universal catastrophic health care coverage
Here's what Trump has to say about potential Fed nominee Herman Cain
Trump would sideline USMCA for new auto tariffs
Samsung Electronics' profits plunge
Apple CEO Tim Cook says sports are 'a great unifier,' talks NCAA tournament
World's most expensive cookie covered in gold costs $1,000
What to know about the Bezoses' divorce
States where you are least likely to live paycheck to paycheck
Today's markets and stocks, at the closing bell…

Today's Big Movers
For all the scores and highlights on tracked manufactured home connected stocks today, see the Bloomberg graphic, posted below.
Today's MH Market Spotlight Report –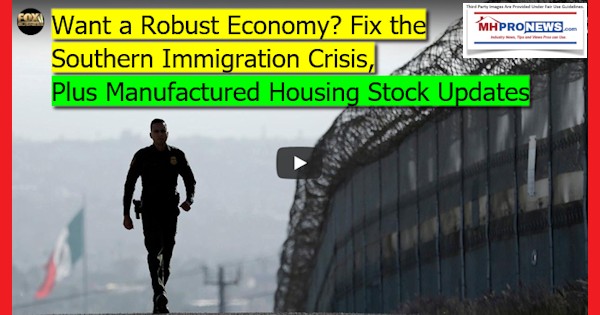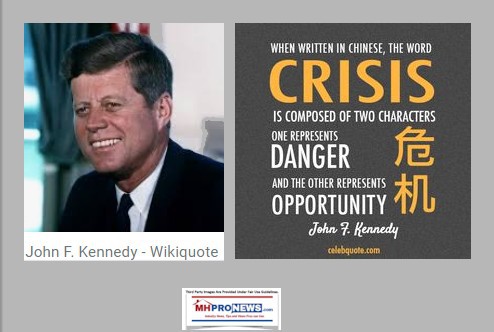 The Immigration Issue impacts our industry day by day, as one of the linked reports below makes clear.
The publishers of MHProNews include the son of legal immigrants, and this writer came to the U.S. legally from overseas too.  We are sensitive on several levels to the topic of immigration.  Immigration done properly can be healthy and good.
But we are pragmatic.  We believe that part of what makes America great is that it is a nation of laws.  Unenforced laws encourage lawlessness.  The human deaths, injuries, sexual trafficking, and other harms posed by illegal immigration is stark.
In one of the videos below, a sheriff explains that his deputies find 100 bodies a year tied to illegal border crossings.
MHProNews has examined this issue several times over the years, from the prism of various claims across the left-right spectrum.  There are relatively few Western nations allow what's happening on the Mexican border to happen in their countries.  Those that have allowed it, have suffered social, legal, and other upheavals.
With that tee up, two videos tonight, the first from Fox Business.
Former Border Patrol chief Mike Fisher on President Trump's comments about the southern border and the problems surrounding the U.S.'s immigration laws.
The second video is from a local Fox affiliate.
The first two minutes of their video below are largely silent handshaking, but at just after that 2 minute mark, President Donald J. Trump, along with a raft of sheriffs, immigration, and border officials each take turn speaking.

Per the local Fox affiliate, "The White House has touted a two-mile stretch of fencing President Donald Trump is visiting Friday as the first section of his proposed border wall to be built. In reality, the newly fortified structure commemorated with a plaque bearing his name and those of top immigration and homeland security officials was a long-planned replacement for an old barrier. It is one of a handful of projects that total $1 billion to replace existing barriers and build new ones across the border. As Trump promotes his signature campaign promise as the solution to the recent surge of migrant families crossing the border, here are questions and answers about the various barriers along the border and those that are in the works."
The facts the local, state, and federal officials lay out in these two videos stand in serious contrast to what is often portrayed by some media outlets.
Count on this to be a hot button topic for the 2020 campaign.
See the related reports, linked below.
Related Reports:
"Playing Politics" – Immigration, Border Battle, and Manufactured Housing
Visible Outrage, Passion on Immigration, Manufactured Housing Connections
Heartland Immigration Raids by ICE Are Targeting Businesses, Owners, Management – Plus Illegals
Follow the Money – 100s of Immigration Protests, MoveOn, George Soros, The Border, Mexico's AMLO, and Manufactured Housing
Our 50-State Border Crisis: How the Mexican Border Fuels the Drug Epidemic Across America
Bloomberg Closing Ticker for MHProNews…
NOTE: The chart below includes the Canadian stock, ECN, which purchased Triad Financial Services.
NOTE: The chart below covers a number of stocks NOT reflected in the Yahoo MHCV, shown above.
NOTE: Drew changed its name and trading symbol at the end of 2016 to Lippert (LCII).
Berkshire Hathaway is the parent company to Clayton Homes, 21st Mortgage, Vanderbilt Mortgage and other factory built housing industry suppliers.
LCI Industries, Patrick, UFPI and LP all supply manufactured housing.
AMG, CG and TAVFX have investments in manufactured housing related businesses.
Your link to industry praise for our coverage, is found here.
For the examples of our kudos linked above…plus well over 1,000 positive, public comments, we say – "Thank You for your vote of confidence."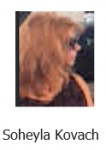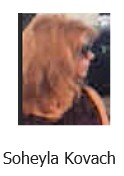 "We Provide, You Decide." © ## (News, analysis and commentary.)
(Image credits and information are as shown above, and when provided by third parties, are shared under fair use guidelines.)
Submitted by Soheyla Kovach to the Daily Business News for MHProNews.com.