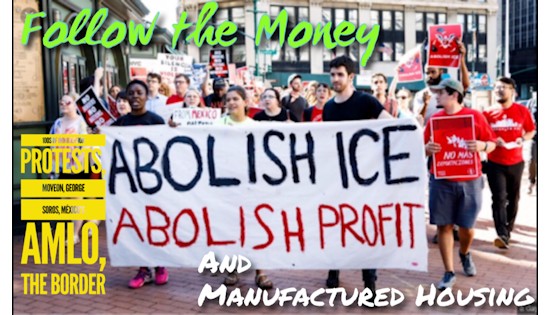 The economy is moving again. Hundreds of billions in capital have already poured back into the U.S. during the first quarter of 2018. But it could all be turned upside down, depending on the outcomes of the 2018 midterms. And big, "dark money" is backing efforts that led to hundreds of weekend protests that could stymie the economic recovery, and upend the progress being made for manufactured housing and investors.
The political left, centrists, and the supporters of President Donald J. Trump are making the border and immigration key issues in the approaching 2018 midterms.
Manufactured housing industry professionals know that illegal immigrants are among those who buy HUD Code manufactured homes, or even pre-HUDCode mobile homes.  
Some companies have set up special lending for those who are undocumented.
Several manufactured home producers found out the hard way that illegal immigrants are subject to arrest and deportation. MHProNews reported exclusively on a wave of ICE raids last year that impacted mostly independent producers of manufactured housing.
So immigration is a vexing, controversy-ridden hot-button issue for the industry and the nation.  
But with some of the lowest unemployment rates in the U.S. since federal record-keeping, recent polling indicates that the popularity of President Trump, and his economic plan are winning over Hispanics, blacks, women, and more independents. 
The coalition that former President Barack Obama and other Democrats before him organized, is being eroded. The normal playbook that progressive leaning politicos use against conservatives and the GOP in general has not worked as well against Donald Trump as it has against several others before him.
Democrats and their Supporters Are Concerned 
Chuck Todd from left-of-center NBC, whose coverage is largely anti-Trump per third party sources, said on Sunday that the president is winning. But that doesn't mean that the left is giving up. 
Those large rallies that reportedly drew hundreds of thousands nationally didn't spontaneously organize themselves. That many people requires planning, and money.  
Who's behind it? 
The Daily Business News will hereby pull back the veil, so that professionals and investors can see who are the groups behind the weekend protests curtain. Their own statements will tell an important tale.
Weekend Anti-Trump Immigration Rallies  
The main rally was held in Washington, D.C., but 628 sister rallies were planned for locations in all 50 states. 
"(The) family separation crisis is not over. We have a situation where the Trump administration seems to be aiming to detain families," said Karthik Ganapathy, a MoveOn.org spokesman, said per USA Today.
That took place even though on June 20, President Trump signed an executive order designed to stop family separations, which were a policy used to varying degrees by Presidents Bush and Obama too.
Beyond the president's executive order, on June 26, a federal judge in California ordered immigration authorities on the border to reunite families within 30 days. So why did the rallies occur, when the predicated reason for it the are already being addressed? 
What is MoveOn, and Where Did Their Money Come From?
"Whether it's supporting a candidate, passing legislation, or changing our culture, MoveOn members are committed to an inclusive and progressive future." So says the MoveOn website.  
"Our rapid-response organizing and campaigning, communications interventions, digital innovation, rigorous data science and testing, and culture of grassroots participation have repeatedly combined to produce real-world impact, changing outcomes and making our country better," according to MoveOn's about us page. 
In their short history section, MoveOn boldly states, "Since the 2016 election, we have formed a pillar of the Resistance to Trump."
"MoveOn came out big, endorsing Barack Obama before Super Tuesday in an unprecedented primary endorsement member vote," stated MoveOn's highlights page as of this morning.
MoveOn is strategic, and think big from the left.
In 2006, they touted their "unprecedented" mobilization efforts. "MoveOn member volunteers made 7 million phone calls, organized 7,500 house parties, and launched 6,000 in-district events."
"MoveOn led a multi-prong effort to brand the GOP as beholden to corporate special interests," their website brags. What is interesting about that is the fact that third-party research indicates that more big corporations and big foundations are Democratic or progressive in their political and social orientation.
A list of the anti-Trump rally supporting groups involved is the weekend rallies is attached to this report, based on the organizers' own website, and is found at this link here.  Many are reminders of a progressive organization's "who's who."  
In 2016, "MoveOn Political Action is in the midst of running an unprecedented campaign to draft Senator Elizabeth Warren into the presidential race." Warren, is the left-wing firebrand that President Trump has dubbed "Pocahontas," for her disputed claim for having Native American ancestry.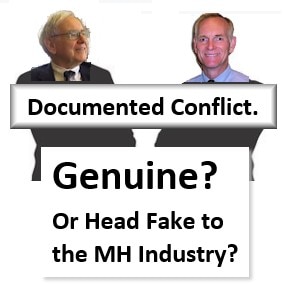 Warren was one of the driving forces behind Dodd-Frank, which former President Barack Obama championed.
Berkshire Hathaway chairman Warren Buffett supported POTUS Obama's and candidate Secretary Hillary Clinton's position on Dodd-Frank and the Consumer Financial Protection Bureau (CFPB).  The linked reports can be read later for greater insight. 
But interestingly, Warren has also come out against some of Warren Buffett's positions, as MHProNews previously reported at this link here. Buffett supported Secretary Hillary Clinton in 2016.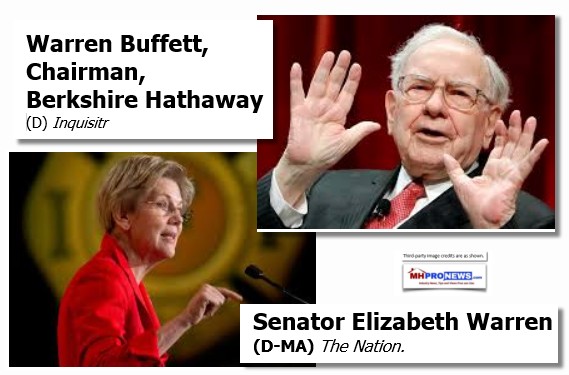 Follow the Money
MoveOn was started in 1998, says FactCheck, as a defense of President Bill Clinton, who faced impeachment. "Censure President Clinton and Move On to Pressing Issues Facing the Nation."  
FactCheck is supported by the "Annenberg Public Policy Center," and other sources.  
A major funder of MoveOn is billionaire George Soros, said FactCheck.
According to FactCheck, "Initial donors [to MoveOn] included billionaire George Soros, a major donor to liberal causes, who spent millions in 2004 trying unsuccessfully to defeat President Bush." 
Soros has been slammed by the Hungarian government's Prime Minister Viktor Mihály Orbán.  
Soros is a Hungarian by birth, and has supported open border policies in Europe as well as the United States. "Most recently, Soros has supported a liberal immigration policy in Europe as a response to the refugee crisis," said the Atlantic in December of 2017. 
MoveOn's "Political leanings: Democratic/Liberal," stated FactCheck.
Last year, CNN reported that Soros gave a stunning $18 billion dollars to fund organizations and causes he supports.
Per CNN, "…George Soros has moved $18 billion to his foundation — the majority of his estimated $24.6 billion fortune."
Sunday's Mexican Elections… 
Leftist Andres Manuel Lopez Obrado, is known by the acronym, AMLO. López has tried and failed twice before to capture México's presidency, noted the Times of Israel.
"Mexican presidential candidate and Bernie Sanders doppelganger Andrés Manuel López Obrador (AMLO) declared mass immigration to the United States a "human right" @realDonaldTrump to be prescient yet again in assessing the illegal immigration issue," said Thread Reader, just days before the 2018 election yesterday of AMLO as México's next president. That source claims Soros and his Open Society have been among those backing AMLO.  
AMLO promised Mexicans to end corruption in their country, and double the Mexican minimum wage.
The Trump Administration is currently in the process of seeking to revamp the NAFTA trade agreement. The U.S. reportedly had a $71.1 billion in 2017, per the United States Trade Representative (USTR.gov).
So with the election of AMLO, Mexico is apparently about to embrace policies that have tuned once more prosperous Venezuela into in a socialist basket-case economy in roughly a decade. Will the U.S. see even more border crossings in the days ahead, if the Mexican economy falters?
A 2009 Gallup poll found that 165 million globally would like to move to the United States. Those kinds of numbers would totally destabilize the U.S. and our economy.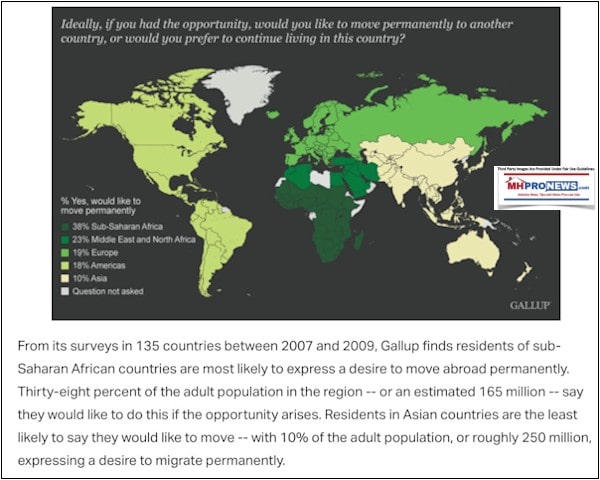 While the humanitarian concerns are often rooted in a sincere desire to help those afflicted. But illegal immigration leads to human trafficking, rapes, avoidable deaths, and drugs smuggling into the U.S. the FAIR – the Federation for Immigration Reform, in data also cited by Wikipedia, said in Sept 2017 that "FAIR estimates the economic impact of illegal immigrants to be over $115 billion annually." 
The president, whose own wife – First Lady Melania Trump – is an immigrant, has said repeatedly that he is for legal immigration, but is opposed to all of the woes caused by illegal immigration. MS13 and angel parents – those who have lost children to crimes committed by illegal immigrants – are frequently by the Trump Administration as reasons for his proposed $25 billion dollar border wall.
Stage Managing News to Manipulate?
Protests are routinely followed by local, regional, or national news. So when hundreds of thousands turn out, and paint the Trump Administration as evil anti-immigrant racists, it's clearly an effort to mobilize voters, and to tug at emotional heart-strings. 
But is it working?
On June 22, UPI reported that "More than half of American voters say parents are to blame when child migrants are separated from families illegally crossing the U.S.-Mexico border, according to a Rasmussen…"
Fundraising on the left and the right are pointing to the immigration issue. While anything can happen between now and the midterms, this is the front-and-center issue in the past few weeks.
Abraham Lincoln said, "You can fool all the people some of the time, and some of the people all the time, but you cannot fool all the people all the time."  
Lincoln, America's 16th President, also said that "America will never be destroyed from the outside. If we falter and lose our freedoms, it will be because we destroyed ourselves." – according to BrainyQuotes. 
That doesn't mean that there aren't Benedict Arnold's at work in America. Some of those who undermine America may have been immigrants to the U.S., and can we offer  the example of billionaire MoveOn backer George Soros? "We Provide, You Decide." ©
"That's News Through the Lens of Manufactured Homes, and Factory-Built Housing." ©
## (News, analysis, and commentary.)
(Third party images are provided under fair use guidelines.)
Related Reports:
"I Hate Politics!" – Bedminster Watch, and Manufactured Housing Shipments
http://www.mhmarketingsalesmanagement.com/blogs/industryvoices/the-importance-for-businesses-and-investors-in-manufactured-housing-for-selecting-the-next-supreme-court-justice/
People are "Creatures of Habit," Says New Study, Valuable Manufactured Housing Industry Professional Insights
Influencing the Socialists in Your Office, the Best Way Out of Poverty
Buffett, Dimon, Housing, Economic, Political Freedom, IG, Deep State, and Manufactured Housing Industry Progress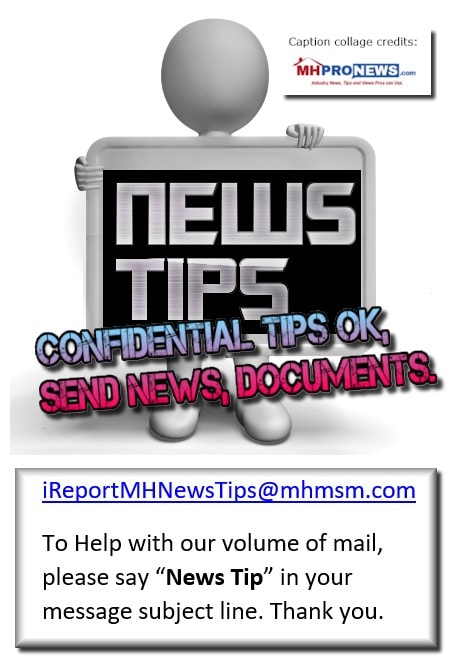 1) To sign up in seconds for our MH Industry leading emailed news updates, click here.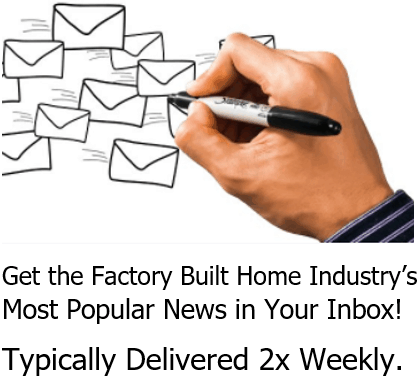 2) To provide a News Tips and/or Commentary, click the link to the left. Please note if comments are on-or-off the record, thank you.
3) Marketing, Web, Video, Consulting, Recruiting and Training Resources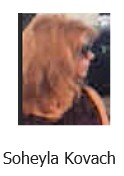 Submitted by Soheyla Kovach to the Daily Business News for MHProNews.com. Soheyla is a managing member of LifeStyle Factory Homes, LLC, the parent company to MHProNews, and MHLivingNews.com.