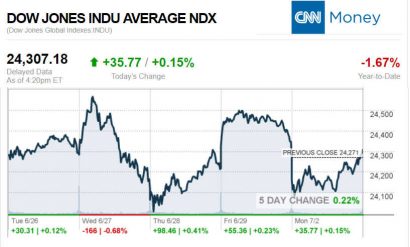 It's the kind of report that you won't find anywhere else in MHVille, but will be our Daily Business News focus report for reasons that the industry's thinkers will rapidly grasp.  This evening, our focus is the viral hashtag, #WalkAway. We'll take a look across the left-right media divide on this developing story.
If you're new, already hooked on our new spotlight feature – or are ready to get the MH professional fever – our headline reports are found further below, just beyond the Manufactured Housing Composite Value for today.
The evolving Daily Business News market report sets the manufactured home industry's stocks in the broader context of the overall markets.
Part of this unique feature provides headlines – from both sides of the left-right media divide – that saves readers time, while underscoring topics that may be moving investors, which in turn move the markets.
Readers say this is also a useful quick-review tool that saves researchers time in getting a handle of the manufactured housing industry, through the lens of publicly-traded stocks connected with the manufactured home industry.
MH "Industry News, Tips and Views, Pros Can Use." ©
ICYMI – for those not familiar with the "Full Measure," 'left-right' media chart, please click here. 
Selected headlines and bullets from CNN Money:
HTC to lay off 1,500 employees
EU warns Trump's car tariffs threaten $300 billion of US exports
Roger Federer ditches Nike for Uniqlo
Tesla finally hits Elon Musk's target for the Model 3
US box office has record quarter thanks to a string of summer hits
Brian Ross and longtime producer to leave ABC News months after Michael Flynn error
Canada hits $13 billion of US goods with new tariffs
Hedge fund billionaire slams Nestle's 'muddled' strategy
School security is a rapidly growing business
Growing pains across America's biggest oilfield
Draft proposal would allow Trump to ignore key WTO principles
On the test track in Porsche's most powerful plug-in hybrid
The power of more than one woman on a board
Borrow like the big investors (with a lot less)
Despite lessons from the past, US cities are optimistic for 2026 World Cup
Trump asks Saudi Arabia to increase oil production
Japanese company snaps up Quartz from Atlantic Media
India's shopkeepers take to streets to protest Walmart-Flipkart deal
ZTE shakes up management as part of deal with US
Tesco and Carrefour join forces to keep prices down
The US-China trade war will spill into other Asian economies
Trump tariff would make the Toyota Camry $1,800 more expensive to build
GM warns tariff could force job cuts, raise cost of cars
Companies that want out of new steel tariffs describe a nightmare
Halftime report: Why the ride for global markets got so bumpy
Two assignments for Capital Gazette journalists: healing and reporting
Lessons you can learn in business school that aren't taught in class
China opens up more of its economy to foreign companies
Washington Post's Marty Baron: People have taken the press for granted
BBC apologizes to underpaid editor. She gives her settlement cash to charity.
Are your credit card perks shrinking?
How can I simplify my retirement investments?
Australia picks BAE Systems for $26 billion warship deal
Sharp cancels $1.8 billion share sale over trade tensions
H&M needs to offload $4 billion in unsold clothes
Instagram Stories is now twice as popular as Snapchat
Hedge fund billionaire to Murdoch: Give Comcast a chance
Selected headlines and bullets from Fox Business:
Trump: WTO needs to change ways or US will do 'something'
S. manufacturing surged in June
Stocks inch out gains as 3Q begins
You're probably approaching your Social Security claiming decision all wrong
Being shortsighted could wind up costing you a lot of money.
These tax changes go into effect in July
Pizza to toilet paper: The items targeted by Canada's tariffs
Trump, Kim Jong-un could meet again in NYC
LeBron James jersey sales booming after Lakers signing
Kathy Ireland ventures into shipping container business
Airline ratings: Here are the world's best (and worst) carriers
The business that's trying to stop the truck driver shortage
160 Driving Academy is a school that offers truck-driving classes.
Trump refuses to back down from the China tariffs
You're probably approaching your Social Security claiming decision all wrong
Trump: WTO needs to change ways or US will do 'something'
20 Investing Lessons From a 20-Year Motley Fool Member
Every Manager Should Want to Hire the Best — but Not Every Manager Does
Today's markets and stocks, at the closing bell…

Manufactured Housing Composite Value (MHCV)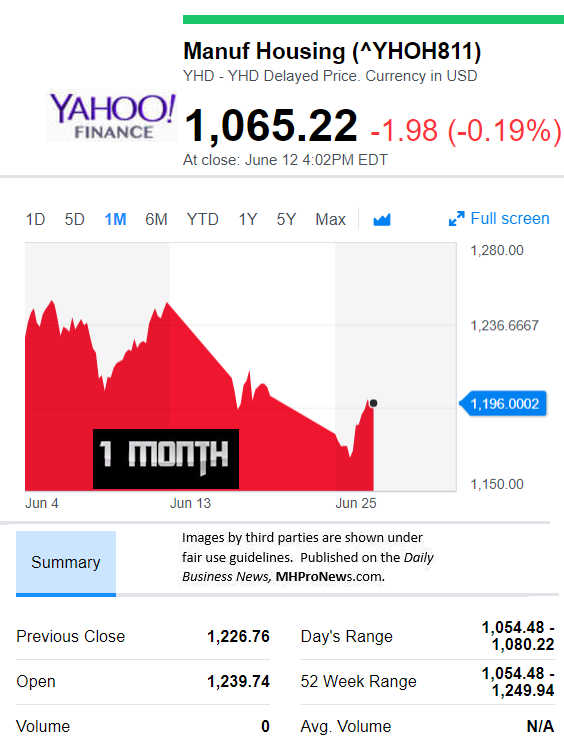 Today's Big Movers
For all the scores and highlights on tracked manufactured home connected stocks today, see the Bloomberg graphic, posted below.
Today's MH Market Spotlight Report –
Let's begin our evening look across the left-right media divide on this developing story.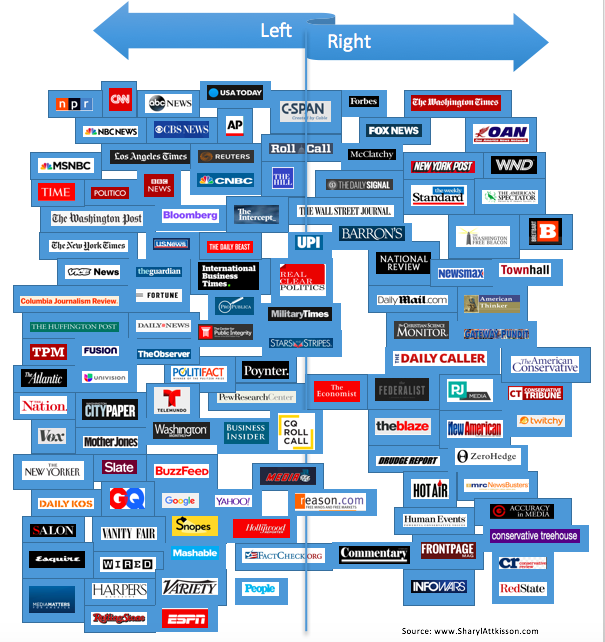 "#WalkAway, the hashtag, went viral this weekend, as something of a delayed reaction to a popular video renouncing liberalism by Brandon Straka," said the left-of-center Washington Post.
"Once upon a time, I was a liberal. Well, to be honest, less than a year ago, I was still a liberal," begins Brandon Straka, in a report in right-of-center Brietbart that says that over 5 million have seen the second video at that point in time.
The Epoch Times was one of the first to chronicle the latest blow at the Democratic coalition that swept then Senator Barack Obama into the White House.
While many hold to #IHatePolitics, the Daily Business News recently challenged that notion.
All those who abandon the political field, are obviously surrendering their voice to those who remain.
Much of what happened to manufactured housing in the last 20 years has arguably been a result of political and capital forces, leveraging their influence and power in ways that by intent or accident, harmed our industry's new home retail sales, and thus shipments.  The report linked below can be read later, for greater depth on this issue.
"I Hate Politics!" – Bedminster Watch, and Manufactured Housing Shipments
Against that backdrop is #WalkAway.
"When actor James Woods tweeted out the hashtag "#WalkAway" in late June, even the alt-right missed the enormity of what lay beneath it. The Democratic Party had, in fact, struck an iceberg," said the Epoch Times.
Here's an extended quote:
"Some 5 million people on Facebook and YouTube have seen the video by now. A very handsome gay man, who you just assume is about to scold you on progressive talking points, instead says this:
"Once upon a time, I was a liberal. Well, to be honest, less than a year ago, I was still a liberal.
"I reject a system which allows an ambitious, misinformed and dogmatic mob to suppress free speech, create false narratives, and apathetically steamroll over the truth."
And then this devastating line—the Rosa Parks moment of the video:
"I reject hate."
"If Democratic strategists were still able to watch the rest of the video without suffering a nervous breakdown, they'd see that it quickly got worse."
"These are the reasons why I became a liberal. And these are the same reasons why I am now walking away."
Tidal Wave
"Meet Brandon Straka, the unlikely liberator and new face of the "silent minority" of Americans who've been cast out by family and friends, fired from jobs, and forced into silent social ghettos for their failure to "get it" about how hateful and dangerous Donald Trump is, and why he and all his supporters should be subjected to an ever-expanding social and professional fatwah.
Since Straka published his confessional video on May 26, his life as a New York City hairdresser and aspiring actor has been overtaken by a tidal wave.
While speaking to The Epoch Times about the explosion of his #WalkAway campaign, Straka had to occasionally stop to go style a client's hair, all while fielding a constant barrage of newcomers' testimonial letters, videos, and emails—over 1,000 a day."
You get the idea.  A video by right-of-center Fox Business on the topic is posted below.
Straka's video that the Epoch Times is waxing eloquent about is posted below.
Taken in conjunction with a growing wave of walk-aways from the Democratic Party's near monolithic hold on the black vote, as report in articles like the one linked below, what does that mean for the boasted blue wave touted just 6 months ago?  Could it be that a red tide – or a red wave – will hit by election day in November 2018?
Time will tell, but investors and professionals on both sides of the aisle have a stake in the outcome.  For related reports, see the below.
Kanye Controversy, Universal Income, Venezuela, President Trump, Manufactured Housing, First Principles, and You
Doug Schoen, Clinton Adviser, warns – "Democrats must advance an agenda…to create a society of opportunity for all – not guaranteed outcomes achieved through wealth redistribution."
Bloomberg Closing Ticker for MHProNews…
NOTE: The chart below includes the Canadian stock, ECN, which purchased Triad Financial Services.
NOTE: The chart below covers a number of stocks NOT reflected in the Yahoo MHCV, shown above.
NOTE: Drew changed its name and trading symbol at the end of 2016 to Lippert (LCII).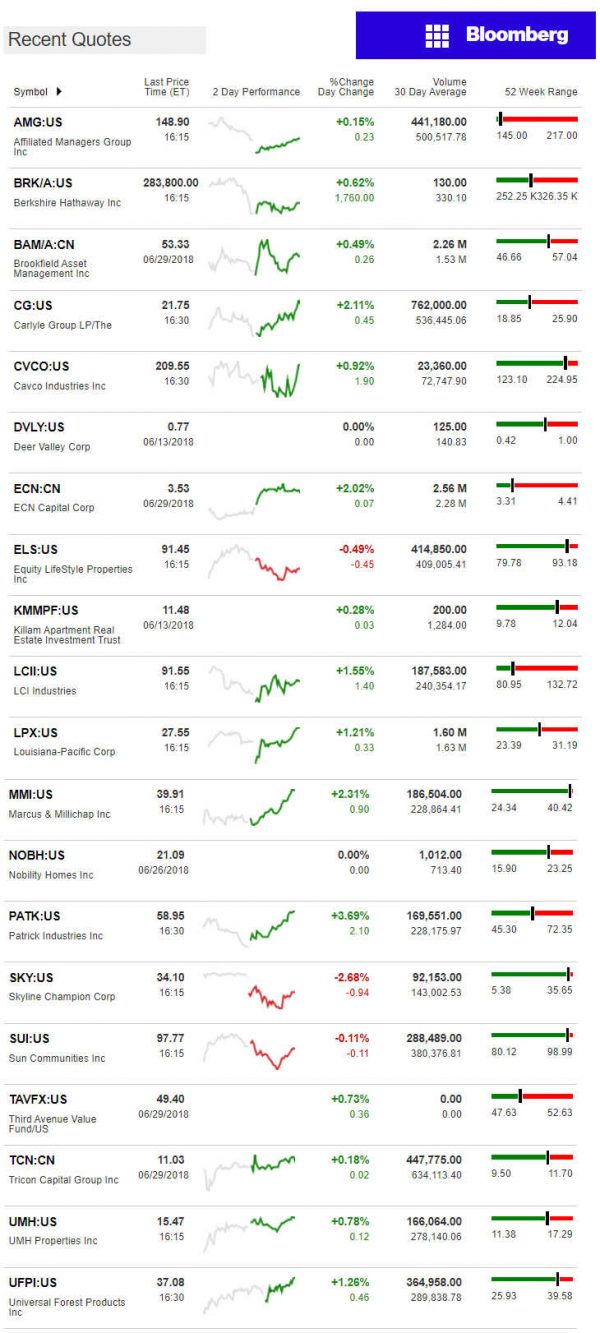 Berkshire Hathaway is the parent company to Clayton Homes, 21st Mortgage, Vanderbilt Mortgage and other factory built housing industry suppliers.
LCI Industries, Patrick, UFPI and LP all supply manufactured housing.
AMG, CG and TAVFX have investments in manufactured housing related businesses.
Your link to industry praise for our coverage, is found here.
For the examples of our kudos linked above…plus well over 1,000 positive, public comments, we say – "Thank You for your vote of confidence."
"We Provide, You Decide." © ## (News, analysis and commentary.)
(Image credits and information are as shown above, and when provided by third parties, are shared under fair use guidelines.)
Submitted by Soheyla Kovach to the Daily Business News for MHProNews.com.