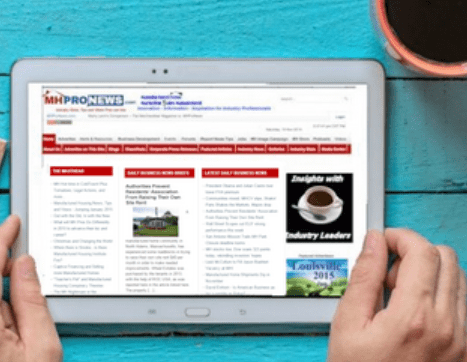 What's New in public focused Manufactured HomeLivingNews.com
Bad and Good – Two Sides – Manufactured Home Living and News Reporting
What's New in Manufactured Housing Industry Professional News
Ishbel Dickens refuses debate with Carla Burr over PBS NewsHour report. Part of MHC to close. Jurisdiction ready to impose master meter on MHC. Dems want Justice to Investigate Clayton. Manufactured homes go to pot. MH Reits return over 25 percent. Some protest, some accept modular homes in Dublin, Ireland. New tax law will only minimally contribute to affordable housing. New First Nations modular homes uninhabitable, while Green modular designed to last 300 years. Indiana city relaxes tough stance on MH siting. And much, much more in news and views for you to peruse.
Saturday, Jan. 16, 2016
Carlyle Group is one Resident Away from Updating Coastal MHC in CA
Friday, Jan. 15
Township Set to Impose Master Meter System on Manufactured Home Community
Cost of Extensive Utility Upgrades to MHCs will be Borne by all Ratepayers
Dow Plunges Nearly 400 Points; MHCV Drops Two Percent
New Tax Law will only Increase Affordable Housing Units Tepidly
Skyline Reports Earnings Per Share Increase
Manufactured Home Retailer Allegedly Absconds with Customers' Funds
Thursday, Jan. 14
Government Sponsored Enterprises Grew Multifamily Loans in 2015
Skyline Gained Sharply, while the Dow reclaimed +227.64 points
Existing Home Sales Fall, perhaps due to New Disclosure Rules
Why did Ishbel Dickens/NMHOA decline a Debate with Carla Burr about PBS NewsHour's Manufactured Housing Report?
Unique Homes may be Tough to Finance
Wednesday, Jan. 13
Portion of Manufactured Home Community to Close
UMH to Release Financials in March
Nobility Spikes, Patrick Falls, the Dow Plummets again
Manufactured Homes have Gone to Pot
Democratic Lawmakers want DOJ to Investigate Clayton Homes, lenders in wake of Seattle Times/BuzzFeed report
Balbriggan Neighbors Okay with Modulars in Neighborhood
Tuesday, Jan. 12
Aussie 578 Site Manufactured Home Community Iced
Problems with New Modular Homes Wreaking Havoc on First Nations Land
Skyline, Cavco, UFPI Gain in Three Figures; Dow Moves Up
Indiana City Relaxes Restrictions on Replacing Manufactured Homes
NW City Addressing Community Closures Proactively
Monday, Jan. 11
Plans for Modular Home Production did not Materialize
Green Modular Home Designed to last 300 Years
Dow Changes Direction; Several MH-related Stocks Look Up
Protests Mount against Modular Homes for the Homeless in Dublin
Manufactured Housing REITs Return Over 25 Percent
Sunday Morning Recap-Manufactured Housing Industry News Jan. 3 -Jan. 10, 2016 ##
(Photo credit: MHProNews)

Article submitted by Matthew J. Silver to Daily Business News-MHProNews.