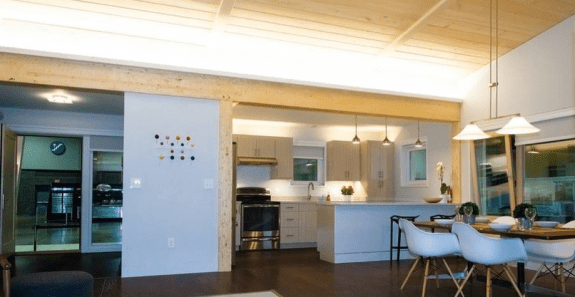 Tedd Benson at Bensonwood in Walpole, New Hampshire approaches modular home design by considering the function and usable life of six distinct interconnected layers: site, structure, skin, space plan, systems, and stuff, as treehugger informs MHProNews..
The structure is designed to last 300 years, wrapped in an extremely-efficient thermal envelope, but designed with easy access to the plumbing, electrical and other mechanical systems, keeping in mind that those systems will likely be improved upon in years to come and can be more easily replaced. This also helps locate where electronics, appliances and furnishings can be placed.
Not underestimating the importance of a healthy home, a lot of the materials and the finishes and furnishings qualify under the greener chemicals banner, even with a big heat recovery ventilator.
The panels in the wood ceiling (as shown in the picture) can be popped up to access the wiring and ductwork. ##
(Photo credit: treehugger–green modular home by Unity Homes)

Article submitted by Matthew J. Silver to Daily Business News-MHProNews.