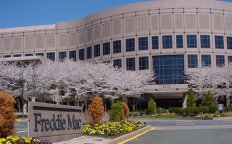 GSEs Fannie Mae and Freddie Mac both increased their multifamily loans and credit enhancements business in 2015, totaling $89.6 billion on the year. Freddie edged out Fannie in volume, with Freddie writing $47.3 billion, a 67 percent increase from 2014's $28.3 billion, while Fannie reported $42.3 billion, a 46% increase from the $28.9 billion mark set in 2014.
Of Freddie's new business volume, $17 billion was not subject to the FHFA $30 billion cap and was used for manufactured home loans as well as for senior housing, smaller multifamily projects and affordable housing.
David Brickman, executive vice president for Freddie's multifamily, said, "Our financing is in every corner of the multifamily market and more diverse than ever. We are focused on increasing the availability of mortgage capital, especially to the affordable and workforce housing sectors where demand continues to far outstrip supply."
Ninety percent of Freddie Mac loans support rental units for low- and moderate-income households. Further, the majority of the $47 billion purchased in multifamily mortgages were then securitized transferring most of the credit risk from taxpayers to private investors.
At Fannie Mae, Bob Simpson, vice president of affordable, green, and small-loan business at the company, said last year there was considerable growth in in its affordable housing loans.
"We rolled out a competitive bridge-loan product this year called the ARM 7-4," Simpson said in September. "Basically, it provides borrowers with a seven-year, variable-rate loan with a 4% embedded cap. It comes with a one-year lockout, a 1% prepay premium, and a fixed-rate conversion option. We've seen a tremendous amount of growth with this product for preservation deals because it provides borrowers with the flexibility of a bridge loan so they can acquire a property and turn it into a tax credit deal a year or two down the road, or they can convert it to a permanent fixed-rate loan if their plans change." ##
(Photo credit: globest–Freddie Mac headquarters)

Article submitted by Matthew J. Silver to Daily Business News-MHProNews.