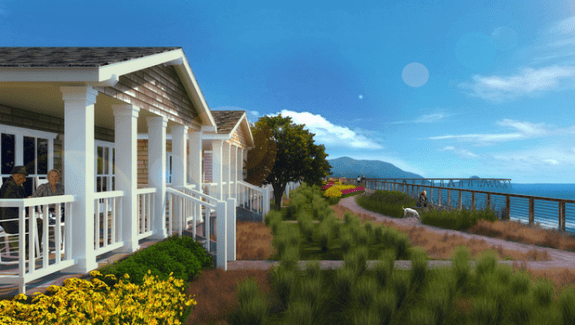 MHProNews published a story Sept. 22, 2015 regarding private equity firm The Carlyle Group's collaboration with Pacific Skies Estates, a 93 site manufactured home community (MHC) on the Pacific, and investing $42 million to upgrade the community with new, high-end MH that will be rented. The plan includes building a 1,000 foot boardwalk along a cliff overlooking the Pacific.
The community is mostly vacant as construction crews remove the abandoned homes, according to smdailyjournal, having offered $10,000 to $15,000 to residents in relocation expenses. One resident, Susan Burwell, 69, has refused the offer saying it will do her little good because she receives $1,296 in monthly SS payments, and her monthly rent is $1,200.
While the community is subject to a rent control ordinance, it only applies to those who own their homes, and Pacific had steadily bought the majority of the homes in the community over several years.
While the city of Pacifica had agreed to the renovation, the California Coastal Commission called it a "complete redevelopment" which requires a permit from the commission to proceed. Burwell, now with the assistance of the Legal Aid Society of San Mateo County, says the work being done is illegal because the community has not been issued a permit.
The average rent in San Mateo county for a one-bedroom apartment is now $2,516, having increased over 50 percent in four years.
Burwell has been given until the end of January to vacate. In the meantime, a friend has started a GoFundMe page to help fund Burwell's move. ##
(Image credit: CRP/PSE Seaside Pacifica Venture)

Article submitted by Matthew J. Silver to Daily Business News-MHProNews.