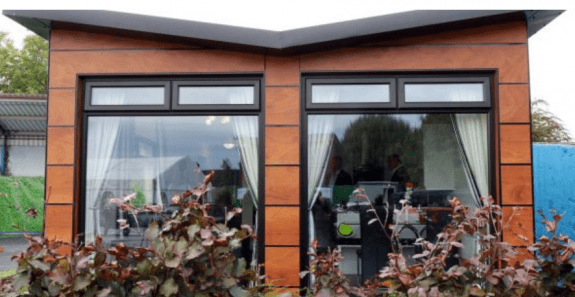 Following MHProNews' post regarding the city of Dublin, Ireland's embattled attempts to provide modular housing for the homeless, Sandra Devlin of the Finglas Action Group that opposes the proposed 40 housing units on St. Helena Drive said there is a breach of constitutional rights, and the issue will be taken to court.
Noting the area where the modular units are slated to be sited already has a reputation for anti-social behavior, and fearing the modular homes will lead to a ghetto, "We will block the sites if we need to. We don't want to do it, we have to do it," said Ms. Devlin. "We need to insist on proper planning on every site in Finglas."
Demonstrators held signs calling for "integration, not segregation" of area housing. Former Labor Councillor John Redmond said the neighborhood would welcome the homeless families but that more affluent neighborhoods should also be willing to accept some of the housing.
He added that Finglas needs brick homes that people can get a mortgage on as well as proper social housing, not just a quick-fix for a long-term problem, according to herald.ie.
A spokesperson for the Dublin City Council, noting the plans were approved by the local authority, said "It is our objective to acquire a mix of housing types across all five administrative areas of the city, endeavouring to meet demand."
As MHProNews posted Jan. 6, 2016, protesters caused a work stoppage at a site in Ballymun where 22 modular homes were planned, followed by threats by hooded thugs to burn some of the equipment, further delaying the site preparation in that neighborhood.
Additionally, MHProNews reported Dec. 10, 2015, the Drimnagh Residents Association has also threatened legal action to prevent the siting of 29 modular homes for the homeless on Curlew Road in another part of Dublin. ##
(Photo credit: irishtimes-Nick Bradshaw-proposed modular homes for homeless in Dublin, Ireland)

Article submitted by Matthew J. Silver to Daily Business News-MHProNews.