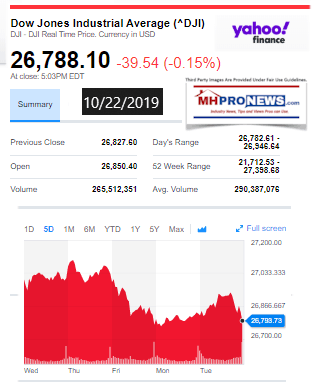 Stating the obvious, WeWork isn't manufactured housing. The once high-flying firm with SoftBank's backing may be a reminder of the .com bubble of the 1990s. While there are clear distinctions, it may also be a reminder that even high-level investors can be deceived in potentially spectacularly shocking ways. Our focus this evening will be WeWork, to scour it's scarred reputation for clues that may be useful for manufactured housing professionals, investors, researchers, and public officials, among others.
Let's note that the report that follows further below on tonight's WeWork and related relies on data from left-of-center CNBC, plus others. But the analysis and commentary are that of MHProNews. With that reminder, let's swing toward our left-right headline and other data snapshot review, prior to our featured report.
Regular readers please note there are a few tweaks to some of the standard portions of our evening market/investing report. Read carefully as some changes of the 'standard text' that follows before our left-right headlines and also in other features near the end of tonight's reports.
Every evening our headlines that follow provide snapshots from two major media outlets on each side of the left-right news spectrum that reflect topics that influence or move investor sentiment. In moments on this business evening report, you can get 'insights-at-a-glance.'
This report also sets the broader context for manufactured housing markets, in keeping with our mantra, "News through the lens of manufactured homes and factory-built housing" ©.
We begin with headlines left-of-center CNN followed by right-of-center Fox Business. We share closing tickers and other related data courtesy of Yahoo Finance, and more. 5 to 10 minutes reading this MHProNews market report every business night could save you 30 minutes to an hour of similar reading or fact-gathering elsewhere.
Perhaps more important, you will get insights about the industry from experts that care, but also dare to challenge the routine narrative that arguably keeps manufactured housing underperforming during an affordable housing crisis.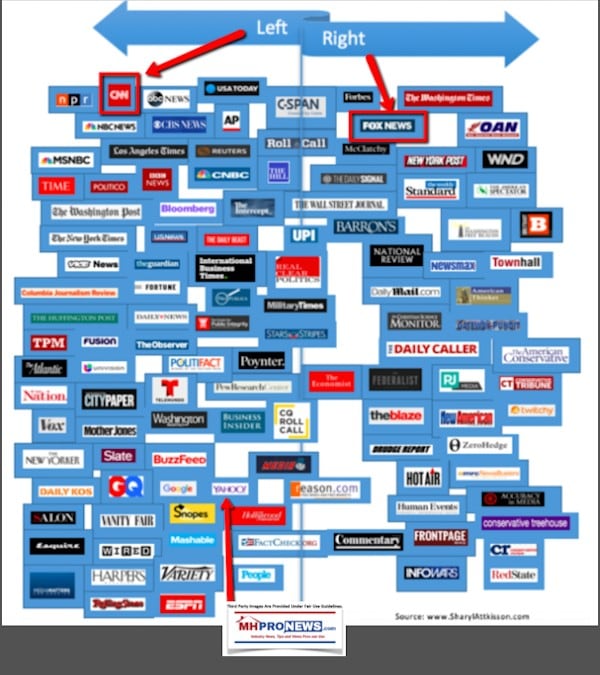 Newsy, Peeling Back Media Bias, Manufactured Housing Sales, Investing, Politics, and You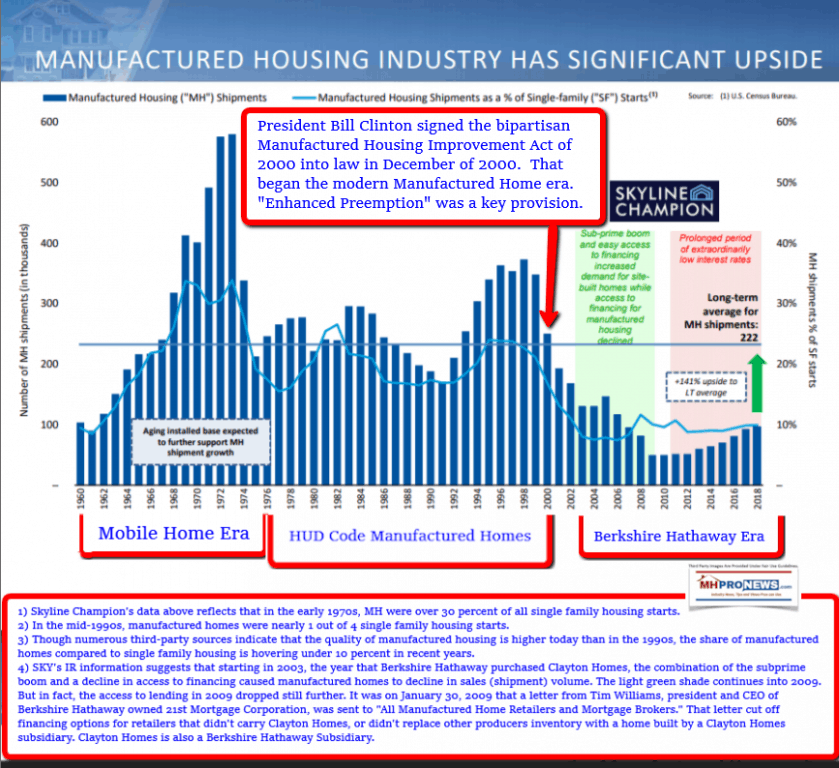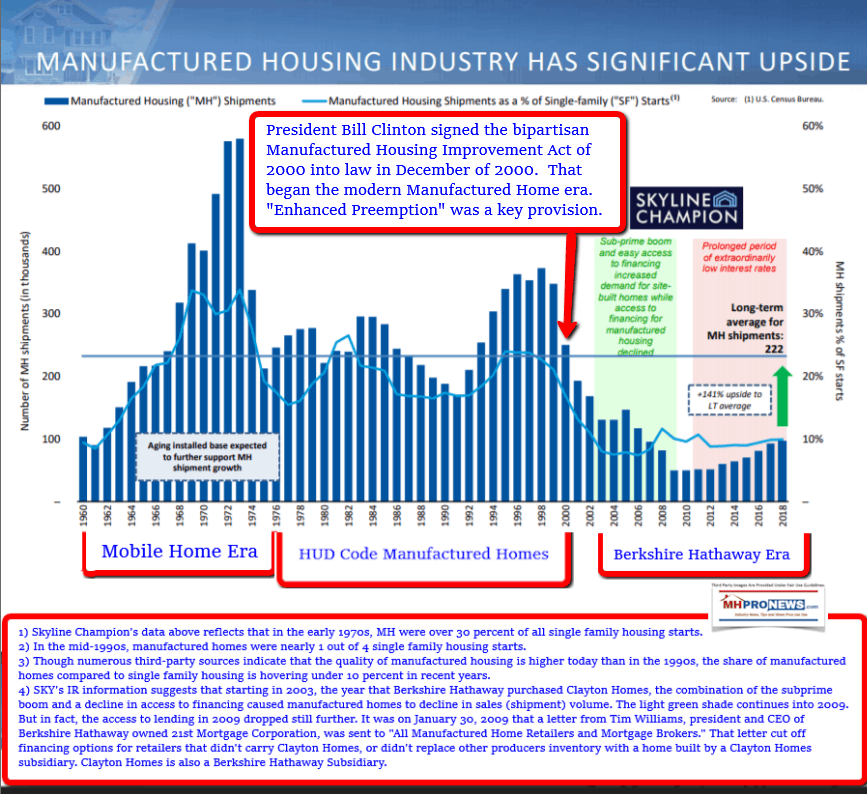 Headlines from left-of-center CNN Business.
Housing keeps booming
Workers carry a wall frame for a home under construction at a K. Hovnanian Homes development in Plano, Illinois, U.S., on Wednesday, May 15, 2019. A stronger-than-expected increase in housing starts at the beginning of the second quarter bodes well for residential investment to make a contribution to GDP growth after five quarters of declines.
That's good news for a US economy that may need housing to keep the current recovery alive
How bad are things for Boeing? Investors are about to find out
Mark Parker to step down as Nike CEO after 13 years
WeWork takeover by SoftBank reportedly includes a big payout for former CEO
TD Ameritrade CEO: We're ready for battle in the zero commission wars
Elizabeth Warren is alarmed about turmoil in overnight lending markets
Hasbro plunges 17% after getting hit hard by tariffs
How to handle a passive-aggressive colleague
Opinion: Brexit could provide the US huge economic opportunity
Mark Zuckerberg heads back to Capitol Hill with Facebook under more scrutiny than ever
Facebook's antitrust headache gets worse: 47 attorneys general now investigating
McDonald's shares fall 5% as competition heats up
Renewable energy isn't growing fast enough to fight climate change
Under Armour founder steps down as CEO
Pizza Hut spent about two years developing a round pizza box
Domino's is losing the pizza wars on Wall Street
Papa John's names head of Arby's as new CEO
The NFL is helping Pizza Hut make a comeback
Why Pizza Hut brought back its original logo
World's biggest brewer says rival stole secret Bud Light recipe
Craft breweries are changing South Africa's beer industry
Carlsberg is working on beer bottles made of paper
How a 500-year-old brewery started a new beer trend
AI technology will decide who's next in line at the bar
I report on technology. And I got hacked.
Facebook says Russian trolls are back for 2020
Stelter: These aren't news cycles, they're shock cycles
Full Range Virgin Galactic and Under Armour Spacewear System for Private Astronauts
Virgin Galactic's Under Armour spacesuits
Why this startup is making honeybees smarter
Headlines from right-of-center Fox Business.
Here's how much Under Armour CEO will bank as he steps down
Under Armour shares spiked on news CEO Kevin Plank will step down at the end of the year.
This exec will succeed him
Boeing books 787 Dreamliner order from secret customer
Stocks slide as Brexit vote fails, Turkey cease-fire expires
Lori Loughlin, 10 other parents socked with new college cheating charges
Solar power predicted to fuel 50% growth in renewable energy
This Google Maps feature could be putting police officers in danger
'Don't flaunt your body': Ernst & Young under fire after bombshell docs emerge
Longtime Nike CEO Mark Parker to step down in January, replacement named
US endorses this tobacco product as less risky than cigarettes
Pizza Hut says new, eco-friendly box will make pizza taste better
Michael Jordan takes a not-so-subtle jab at 3 time NBA champ Steph Curry
Judge says Chicago can sue Jussie Smollett for this much money
One small bright spot for US economy starts to dim
Porn star gets special treatment from America's largest police force: report
Boris Johnson wins one Brexit vote, but Parliament rejects fast-track timetable
SEE PICS: Gulfstream G700 boasts most spacious cabin in the sky
These US airports will now let passengers through security without a ticket
This NFL team's fans will get unlimited food, drinks in 2020
Here's why the next recession could hit US banks extra hard
Tobacco giant aims to replace cigarettes 'as fast as possible'
Crane collapse in New Orleans is costing the city a fortune every single day
Mark Zuckerberg to defend Libra cryptocurrency on Capitol Hill
WeWork, worth $47B three months ago, now too broke to lay off employees
Amazon's 'The Boys' racks up big viewership ⁠— or did it?
This soccer star makes staggering amount of money from Instagram
Miller Lite pouring free beer in splashy new ad campaign
Rapper Pitbull loses his manager to…mac and cheese
500K PG&E customers may lose power as San Jose revolts with buyout proposal
These cigarettes aim to offer vapers alternative habit
US employees views on #MeToo changes wildly in short time
Obamacare insurance premiums drop slightly
How UPS, CVS are reinventing the delivery business
How a major US farm lender left a trail of defaults, lawsuits
Arizona to give Medicaid to people who don't work in blow to Trump's plan
How realtors are using tech to squeeze every dollar out of homebuyers
A surprising first for New York City's Central Park
World's most expensive drug boosts Novartis forecasts
McDonald's profit misses for first time in 2 years
Inside Netflix's worst ever cash burn, and how it could tank the company
These women say there's trouble in the 'happiest place on earth'
CEI's Trey Kovacs: Chicago teachers strike — What benefits the union vs what benefits teachers and students
Jason Oxman: What anti-tech crusaders on social media get wrong — American innovation is critical
Jocko Willink: Why all your problems are leadership problems (and what to do about it)
Mark Minnella: Timothy Plan rings bell at NYSE, marking significant milestone for Christian investors
Tim Cook needs to ensure Apple doesn't obey the whims of China: Ted Cruz
Ted Cruz, (R-TX), on Apple CEO Tim Cook serving as chairman of the board at a Chinese business school.
Trump vs. China is the topic of our time: Newt Gingrich
San Francisco 49ers president on unlimited food and drink at Levi's Stadium
Eric Trump: 2020 Democratic candidates 'don't have' what Barack Obama, Bill Clinton did
Turkey is our ally, foreign affairs expert says
Lori Loughlin, 10 others socked with new college cheating charges
Obamacare insurance premiums drop slightly
Three US airports now letting passengers through security without a ticket
Tech husband of Serena Williams fights for paid family leave
Varney: Warren's plans are a 'dangerous game' for the US economy
10 Market Indicator Closing Summaries – Yahoo Finance Closing Tickers on MHProNews…

Tonight's Business/Market/Political Impact Spotlight –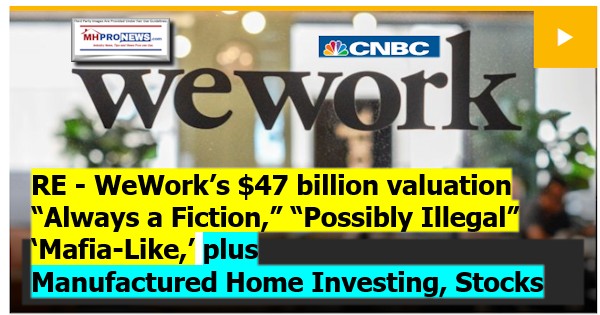 Let's be clear in our tee-up. The reason that the WeWork matter is of interest is the possible parallel between their scenario and that of manufactured housing.
WeWork is in part an example of how even savvy investors – JP Morgan, Goldman Sachs, others – could for a time misread the reality of that firm. In a mildly similar way, manufactured housing can be misread – both for good and ill – because a relative few power players can maneuver perceptions, which impacts valuations.
In the case of WeWork, the misread was for a time upward.
In the case of manufactured housing, the misread is downward.
With that tee-up, following the graphical snapshot immediately below, let's then look at what CNBC said, which we'll link up some additional information that is more manufactured housing specific.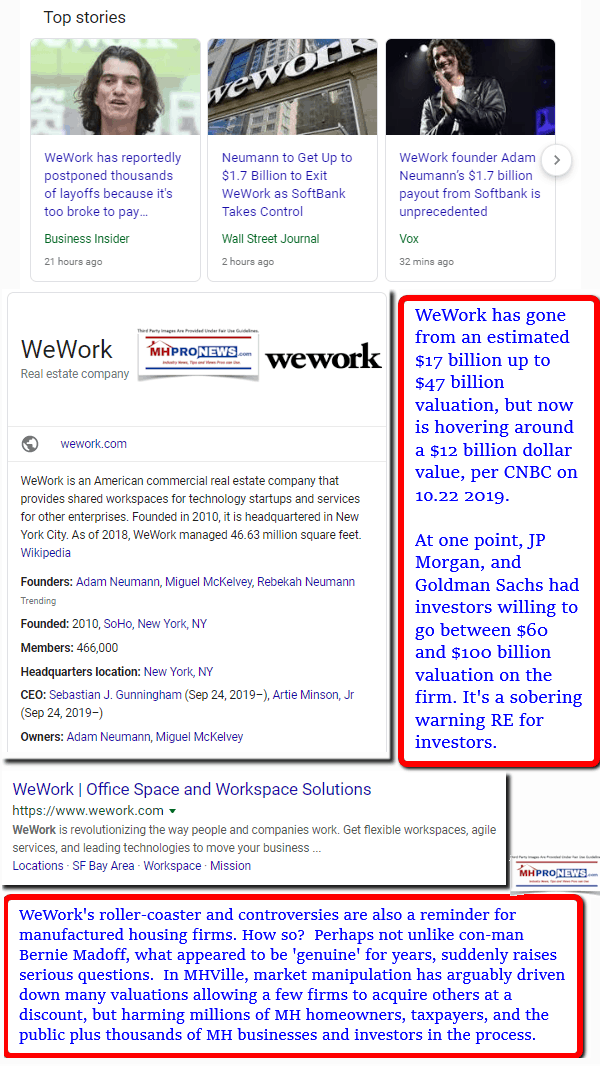 Per CNBC:
SoftBank investments pushed WeWork's valuation from about $17 billion to $47 billion, paving the way for the company's failed IPO.
SoftBank is now once again setting a value for WeWork, at a post-money valuation of about $12 billion.
In hindsight, WeWork co-founder Adam Neumann may have been wise to turn down the inflated valuations.
When business school professors are writing their WeWork case studies years from now, one of the biggest practical lessons may be this: WeWork should have taken far less money from SoftBank's Masayoshi Son.
The plight of WeWork over the past several months has cast SoftBank in the role of mafia boss. SoftBank invested a lot of money — $10.65 billion — in a company that it expected to go public at a valuation higher than $47 billion. As anyone who's watched a mafia movie knows, if you take money from the godfather, you better deliver.
The irony is Neumann didn't really fail to deliver for Son. Sure, Neumann's quirks, and possible illegal activities,have cast him as an irresponsible CEO. But it's not like he mismanaged WeWork between January, when he accepted SoftBank's $47 billion valuation, and September, when WeWork readied an IPO.
Rather, Neumann failed to deliver for his employees and other investors by selling too much of WeWork to SoftBank at too unrealistic a price. By selling nearly 30% of the company's equity to SoftBank and its associated funds, Neumann lost control of his company when Son decided WeWork's prospects would be better without him. Son's move against Neumann last month cost him his CEO job and will likely cost him his board seat.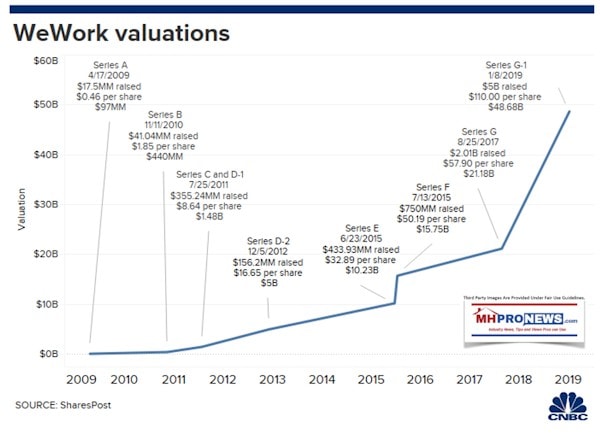 MHProNews Analysis
For some time, MHProNews has used various analogies to help paint the picture of what has been – and continues to be – occurring in and to the manufactured housing industry. All analogies limp at some point, but they can pry open the mind enough to assist the sober thinker into realizing what the purported cons don't want to be understood.
Manufactured housing has a fabulous story to tell. It is in fact being told by thousands of firms and organizations of all sizes. But there is a counter-narrative that is also being told. In numerous cases, those counter-narratives – which serve to depress interest and demand in manufactured housing – is almost shouting at the general public, while the positive voices are more of a whisper.
Manufactured Homes Aren't "Trailers" in "Trailer Parks" – HUD Secretary Ben Carson on Affordable Housing, Manufactured Homes, Zoning and Placement Barriers
An example of the positive are linked above and below.
Joe Stegmayer, Cavco Industries, MHI Chairman, Insights from Innovative Housing Showcase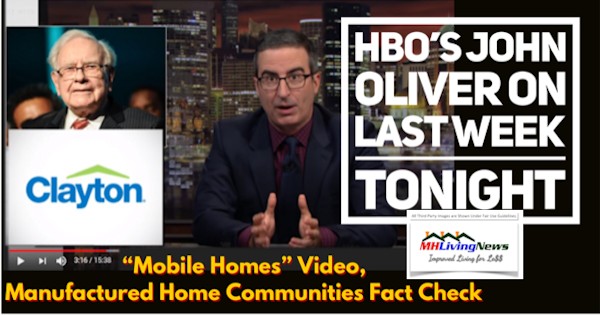 Examples of the negative narrative are linked above and below. Note that in each case, MHI connected companies are involved. Note too that Berkshire Hathaway Chairman Warren Buffett's donations can be traced through so-called 'dark money' nonprofit channels to organizations that in turn slam manufactured housing. The vides favoring manufactured homes are seen by thousands, but the videos above and below have been seen by millions.
"Going Mobile," "Midas Mike," "Okay, Trailer Park it Is" – CBS' NCIS Spoofs Manufactured Home Community Living, Including Frank Rolfe Type Character
Let's note that while those two examples are from 2019, this pattern has been at play for several years. One collection helps paint that picture. To document the negative impact on the manufactured housing market, we turn to third-party Zillow's data, which reflects that interest in manufactured housing is declining over a two year period.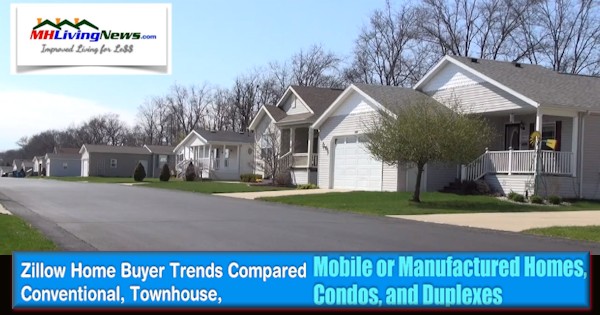 There is no lack of evidence that manufactured housing has been 'weaponized' on several levels. For our executive summary and other relevant information, see the related reports below.
The bottom line is this. Manufactured housing ought to be soaring. There is an affordable housing crisis. Ours is the most proven form of affordable housing in modern American history. Causing underperformance has fostered consolidation at a discounted value. Isn't the classic Warren Buffett?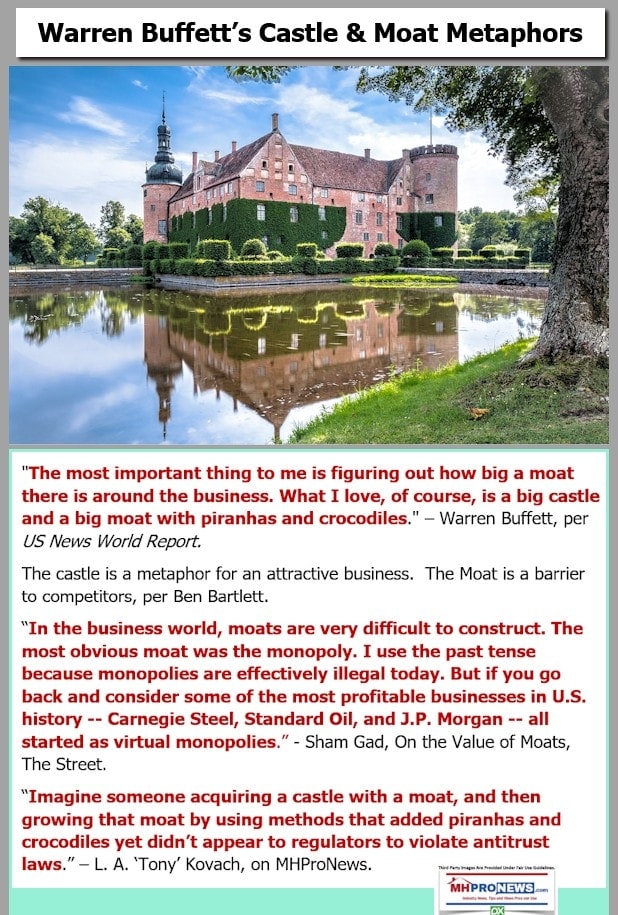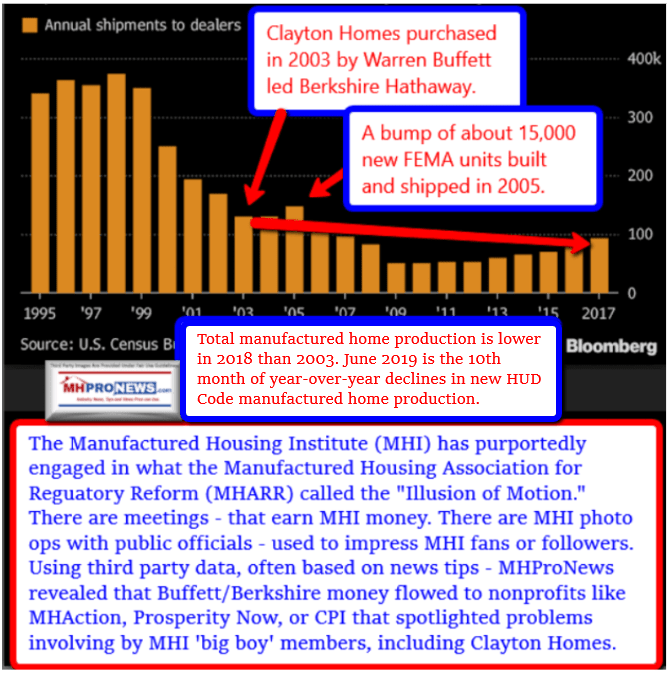 Related Reports: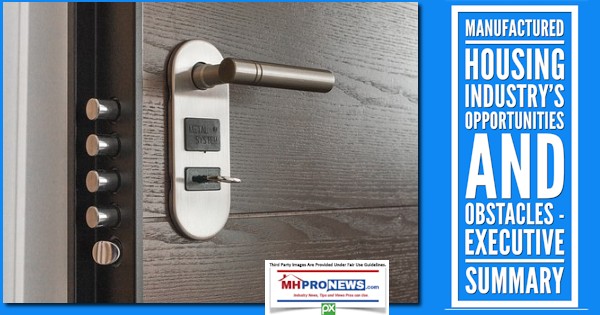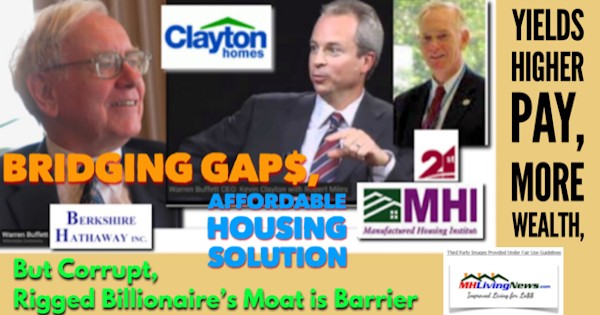 Manufactured Housing Industry Investments Connected Closing Equities Tickers
Some of these firms invest in manufactured housing, or are otherwise connected, but may do other forms of investing or business activities too.
NOTE: The chart below includes the Canadian stock, ECN, which purchased Triad Financial Services, a manufactured home industry lender
NOTE: Drew changed its name and trading symbol at the end of 2016 to Lippert (LCII).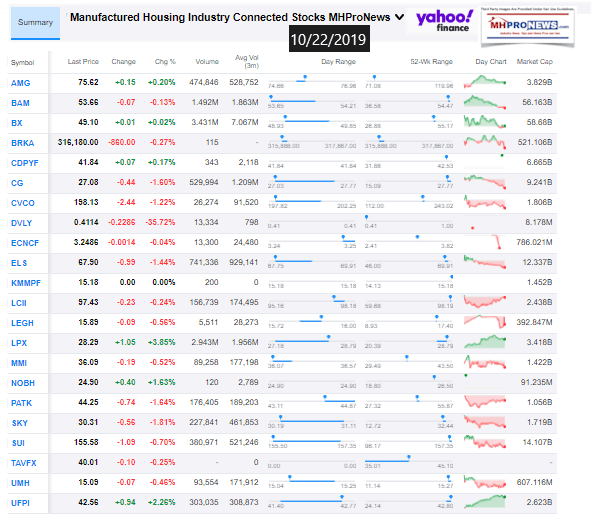 Updated for Fall 2019…
Berkshire Hathaway is the parent company to Clayton Homes, 21st Mortgage, Vanderbilt Mortgage and other factory built housing industry suppliers.
· LCI Industries, Patrick, UFPI, and LP each are suppliers to the manufactured housing industry, among others.
· AMG, CG, and TAVFX have investments in manufactured housing related businesses.
For insights from third-parties and clients about our publisher, click here.
Enjoy these 'blast from the past' comments.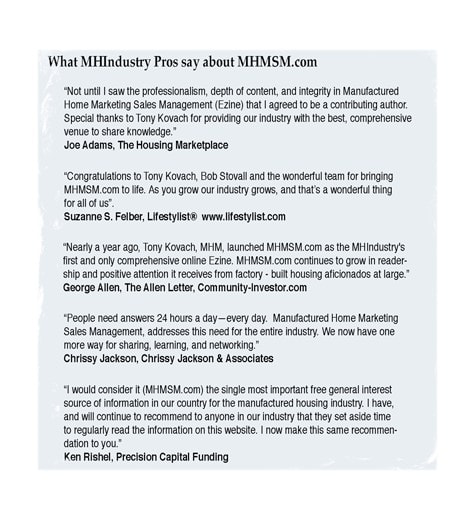 Celebrating 10 Years of Goal- and Solution-Oriented Manufactured Home Industry Innovation Information, and Inspiration for Industry Professionals
· For expert manufactured housing business development or other professional services, click here.
· To sign up in seconds for our industry leading emailed headline news updates, click here.
Disclosure. MHProNews holds no positions in the stocks in this report.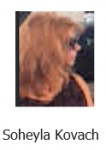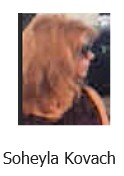 "We Provide, You Decide." © ## (News, analysis and commentary.)
(Image credits and information are as shown above, and when provided by third parties, are shared under fair use guidelines.)
Submitted by Soheyla Kovach, co-managing member of LifeStyle Factory Homes, LLC and co-founder for MHProNews.com, and MHLivingNews.com.