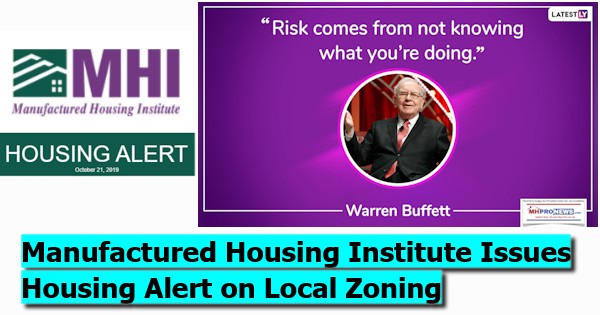 Programing Notice: the Arlington, VA based Manufactured Housing Institute (MHI) is in flux, as some new and exclusive upcoming reports will reflect.
That noted, yesterday MHI sent out the following to their members. An analysis and commentary will follow.

Senate Appropriations Committee Calls on Localities to Consider Manufactured Housing in Affordable Housing Plans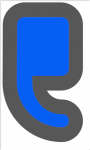 "The Senate Appropriations Committee has included language in its 2020 spending bill encouraging local governments to consider manufactured housing as a part of their affordable housing strategies. The language reflects MHI's ongoing advocacy on Capitol Hill to ensure manufactured housing is at the forefront of efforts to address the nation's affordable housing shortage.
It its 2020 Transportation, Housing and Urban Development, and Related Agencies Appropriations bill, the Senate Appropriations Committee directed HUD to issue guidelines for local authorities on assessing the inclusion of manufactured homes in a community's housing affordability strategy and community development plans. Such plans are required under Part 91 of Title 24 of the Code of Federal Regulations to receive federal funds under HUD's formula grant programs for jurisdictions and for assessing performance and tracking results.
The inclusion of this language comes from MHI's constructive and consistent advocacy to ensure manufactured housing is included in federally-funded state and local affordable housing initiatives. According to the bill language, "the Committee recognizes that manufactured housing is a significant source of unsubsidized affordable housing," and that "making manufactured housing more available is an important tool to increase the overall supply of affordable housing."
The Senate Appropriations Committee incorporated this language from S. 1804, bipartisan legislation introduced by Senators Cortez Masto (D-NV), Scott (R-SC), Smith (D-MN),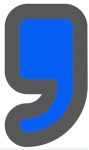 Cramer (R-ND), and Young (R-IN), which MHI endorsed when it was introduced in June 2019. Prior to introduction, MHI worked with the bill sponsors to ensure the bill would positively promote manufactured housing across America.
MHI will continue to cultivate strong bipartisan support on Capitol Hill for manufactured housing and ensure that manufactured housing is a part of federal efforts to address the nation's affordable housing challenges."
###
Follow Ups Questions to MHI…
MHProNews asked several follow up questions to MHI and one of their outside attorneys. At this time, there has been no response.
Among the questions asked was this. Why doesn't MHI mention the enhanced preemption portion of the Manufactured Housing Improvement Act of 2000 (MHIA) with respect to getting forward motion in local zoning issues?  New readers should recall that MHI sent a letter to HUD Secretary Ben Carson last summer asking him to do that. Why isn't that important issue raised repeatedly?
Under Pressure, MHI Pivots "HUD Must Implement and Enforce its Enhanced Preemption Authority"
The View from Washington, D.C.
A similar question was put to the Manufactured Housing Association for Regulatory Reform (MHARR) earlier today regarding MHI's statement to their members. MHARR provided the following on-the-record response.
"You [MHProNews] are correct. The enhanced preemption of the 2000 Reform Law provides the industry with the vital weapon that it needs to compel (not "call on" as MHI has put it) localities to include manufactured housing in their residential area zoning plans, the same as other types of housing,
The problem is that MHI does not appear to be serious about helping to fully implement and enforce existing law, including most particularly, the 2000 reform law [MHIA] and the Duty to Serve.  MHARR is – and has been — doing its part to fully and properly implement the production-related aspects of the [MHIA] 2000 reform law, but the post-production sector aspects of these laws are in a free-fall because of the absence of strong and consistent pressure from that sector to fully and properly implement those provisions.
Put differently, all these people know is how to go to Congress and seek new laws that will also languish, at best. 
Instead, why not put those same resources to work to FULLY AND PROPERLY IMPLEMENT EXISTING LAWS? For an industry that is notorious in the Washington for its inability to advance existing law for the benefit of its post-production sector and consumers, the last thing anyone needs is another law that most likely will end-up on the shelf at HUD (or elsewhere).
Washington DC is a graveyard for well-intended laws, which are never implemented.  As Danny [Ghorbani] noted in his email to you a couple of days ago, in essence, these folks [MHI] are not serious about resolving the industry's two main post-production sector roadblocks — consumer financing and discriminatory/exclusionary zoning (the latter as evidenced by state associations not taking advantage of MHARR's offer to help them litigate a resolution of their zoning problems in federal court, as far as necessary).
The needed provisions are already there, new laws are not necessary." So said Mark Weiss, J.D., President and CEO of MHARR.
The update on the offer by MHARR to assist state associations to fight discriminatory zoning is covered in their release here. Note that MHProNews has not yet published Ghorbani's remarks, mentioned by Weiss, above.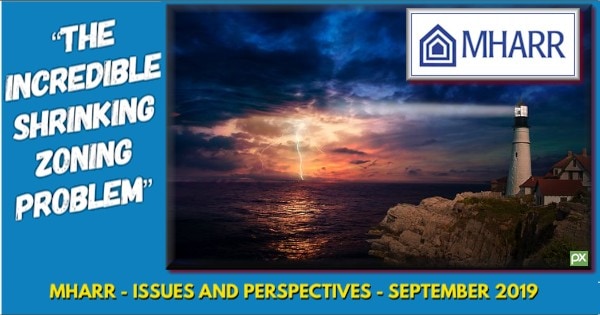 MHProNews Analysis
The MHI letter is much like other official statements that they have sent for some time, including recent ones reviewed further below the byline and notices. While it might in theory be useful to have the 'carrot' of some federal funding for inclusion of manufactured housing in local affordable housing plans, the stick of existing law – the enhanced preemption provision that MHI claims to support – is not even mentioned by MHI to their own members in their email yesterday, much less on their own website.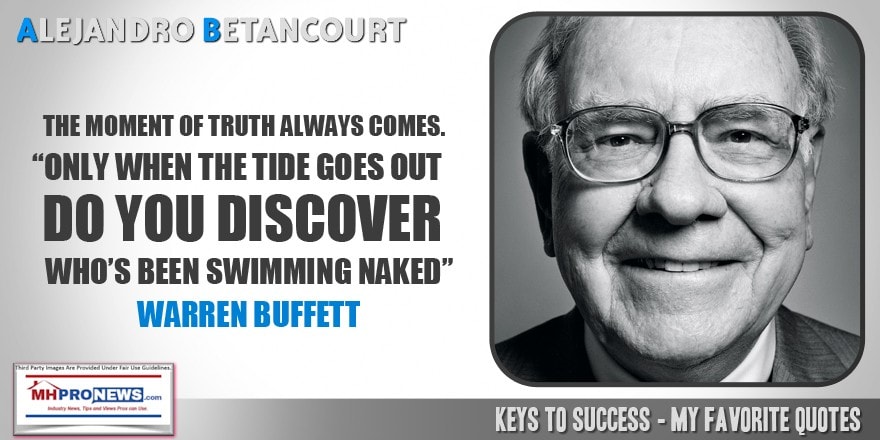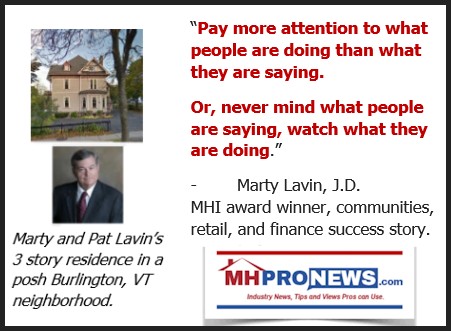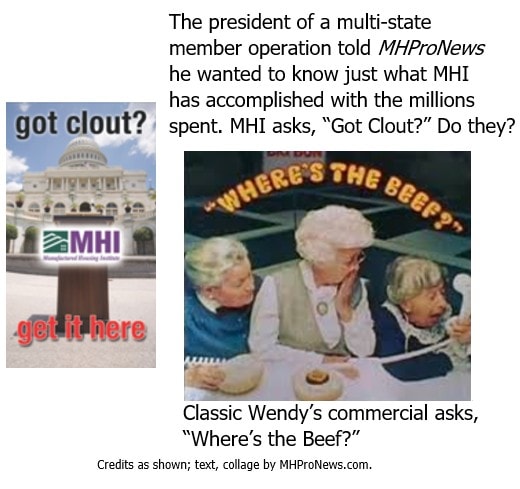 Where is MHI's sense of urgency? Or is this "Illusion of Motion" precisely what they want?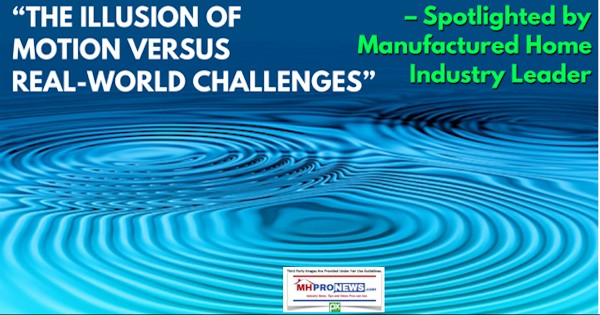 MHI – and your Omaha-Knoxville-Arlington axis allies – the industry's independents are waiting.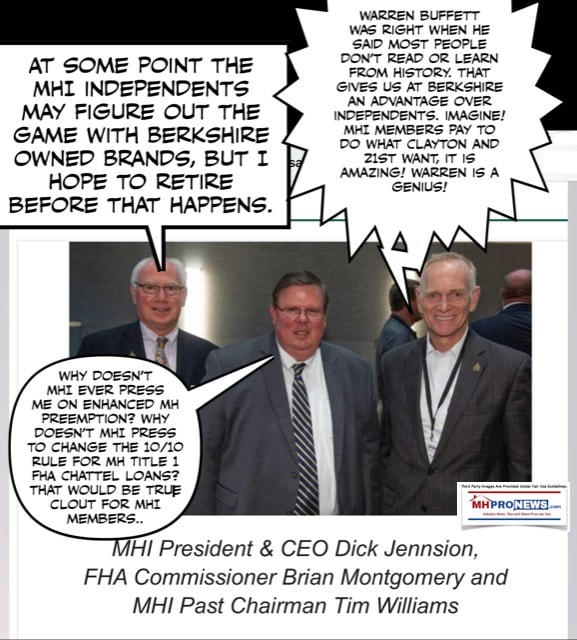 As a closing note to our growing number of first time or newer readers. MHProNews has been tracking this pattern for years. Every one of our articles are published with several cross links so that someone can dive more deeply to see the fact and evidence pattern for themselves.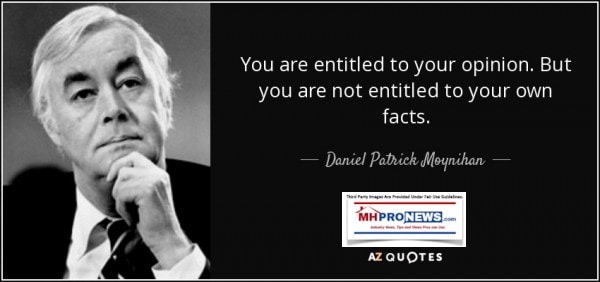 That is your second installment today of manufactured housing industry "News, Tips, and Views Pros Can Use," © where "We Provide, You Decide." © ## (News, analysis, and commentary.)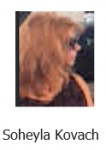 Submitted by Soheyla Kovach for MHProNews.com.
Soheyla is a managing member of LifeStyle Factory Homes, LLC, the parent company to MHProNews, and MHLivingNews.com. Connect with us on LinkedIn here and and here.
Related Reports:
Click the image/text box below to access relevant, related information.
Wow! Giving Credit, Interesting – What Rick Robinson, MHI's General Counsel, Said About Zoning Battles
Manufactured Housing Institute EVP Lesli Gooch, Industry Progress in Her Words, Manufactured Housing Improvement Act, and Enhanced Preemption
Paul Barretto, Sr. Manager Fannie Mae, Manufactured Housing Initiatives, FHFA Lobbying Regulations, Duty to Serve, and Manufactured Housing Institute
Frank Rolfe, Mobile Home University, Protests, Black-Eye News, and "Investing" – Ultimate Video Collection
"Going Mobile," "Midas Mike," "Okay, Trailer Park it Is" – CBS' NCIS Spoofs Manufactured Home Community Living, Including Frank Rolfe Type Character
Comparing Manufactured Home Industry Trade News Claims, MHInsider, MHReview, EducateMHC, George Allen Says "Gaslighting" – What Data, SPJ Reveals
Attorney General Files Suit Against Manufactured Home Community Owner – Pleadings, Official Statements, and Videos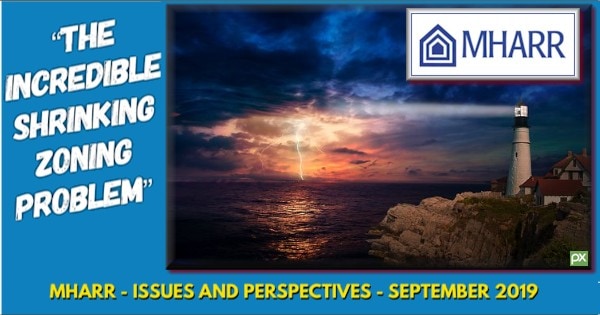 Great or Gone? Obstacles and Opportunities in Manufactured Housing, plus Sunday Morning Headlines Week in Review 10.6 to 10.13.2019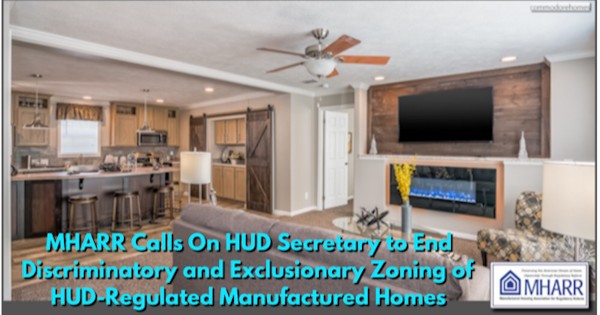 "We Seem to Have Lost Common Sense," HUD Secretary Ben Carson – Homeless, Affordable Housing Crisis
Fair is Fair, Fine New Letter by Manufactured Housing Institute EVP Lesli Gooch to HUD Secretary Ben Carson Examined
Manufactured Housing Institute 'Studies' Threat of National Rent Control, Allen Shivvies MHI, Berkshire Brands
"One Check Away from Homelessness," HUD Secretary Carson vs. CA Gov. Gavin Newsome, Zoning, and Manufactured Housing
Long-Time HUD Attorney's Formal Statement on Manufactured Housing Enhanced Preemption