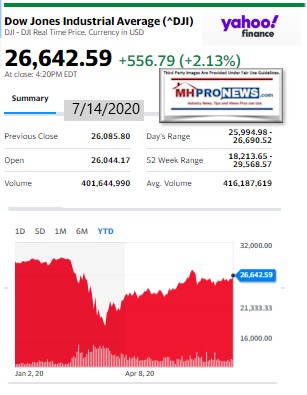 Earlier this evening, left-of-center CNBC reported the following.
President Donald Trump said he signed legislation to impose sanctions on China in response to its interference with Hong Kong's autonomy.
Trump also said that he signed an executive order ending the preferential treatment that Hong Kong has long enjoyed.
The Trump administration has previously blamed China for the unfolding health crisis caused by the coronavirus, and it has criticized Beijing for its illegal territorial claims in the South China Sea.
A video of part of that press conference is below.
"Hong Kong will now be treated the same as mainland China," said President Trump during a speech in the White House Rose Garden that moved from China, legislation and sanctions towards 2020 campaign issues.
"No special privileges, no special economic treatment and no export of sensitive technologies. In addition to that, as you know, we are placing massive tariffs and have placed very large tariffs on China."
The Hong Kong Autonomy Act puts mandatory sanctions on Chinese officials and companies that helped back Beijing's imposition of a security law that clamps down on dissent in Hong Kong. The sanctions bill passed both houses of Congress earlier this month.
The president has also said he is no longer pursuing a phase two trade deal with China. There are growing storm clouds over the relationship. Will more supply chains be leaving China in the near term as a result?
The Trump administration has been critical of Beijing's national security law that limits Hong Kong's autonomy and bans literature critical of the Chinese Communist Party (CCP).
Earlier this month, Secretary of State Mike Pompeo described the new law as an "Orwellian move" and an assault "on the rights and freedoms of the people of Hong Kong."
The feature focus this evening will be the president's shots at former Vice President Joe Biden.
With the November elections less than 4 months away, the balance of the featured focus segment of this evening's report is found beyond the left-right headline news bullets and 2 of our 3 market snapshots at the close today. The manufactured housing industry connected stocks are near the end of the report each evening, after the featured focus and the related/recent report links.
Quotes That Shed Light – American Social, Industry, National Issues…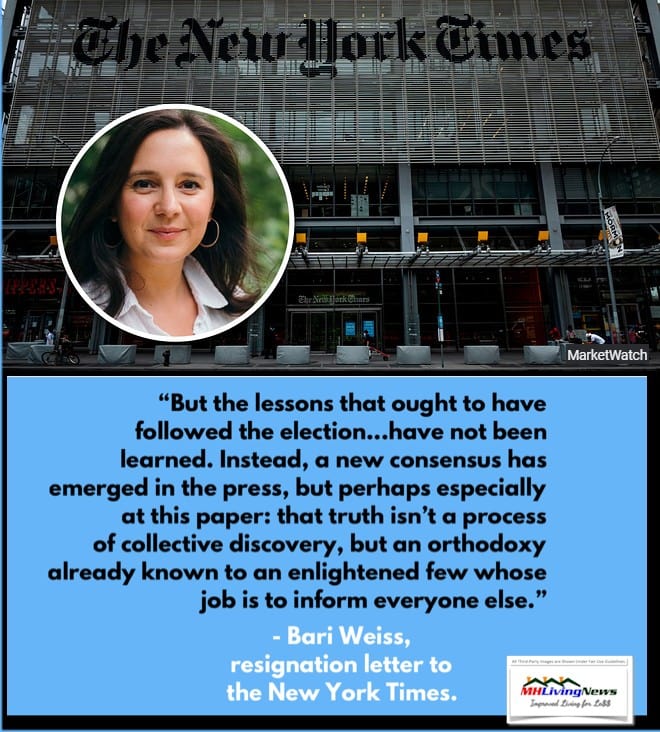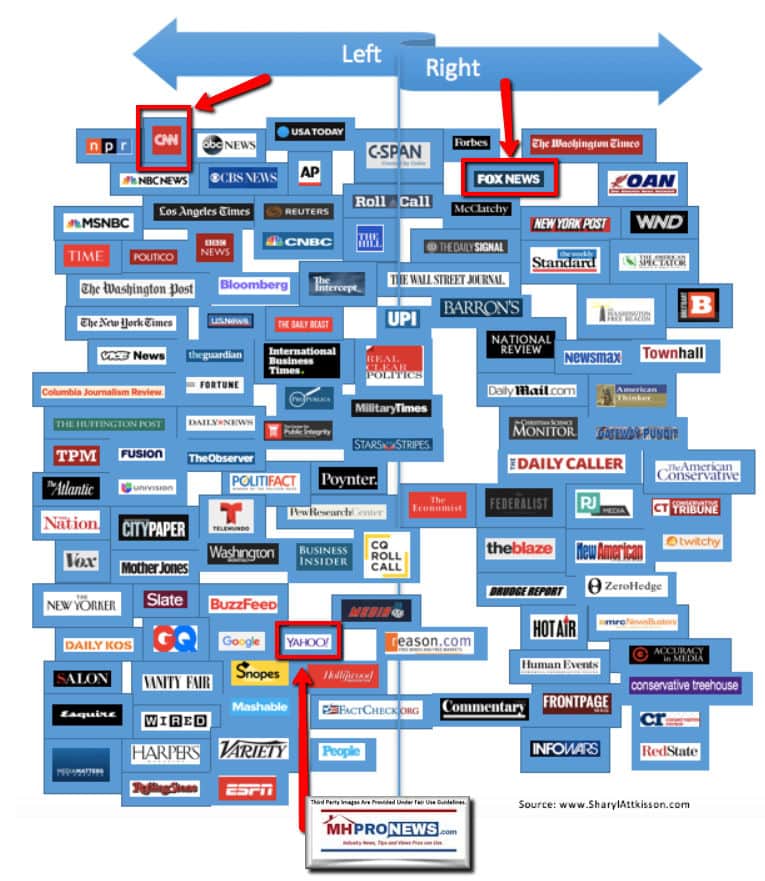 Headlines from left-of-center CNN Business
Food prices keep going up
A shopper looks beef at a Kroger store in Atlanta underneath a sign limiting shoppers to three packages of ground beef on Tuesday, May 5, 2020. Kroger is limiting meat purchases, like a number of other grocery retailers, due to supply concerns amid the COVID-19 pandemic.
Here's what's getting more expensive — and cheaper — at the grocery store
Stocks surge even as banks signal a choppy recovery ahead
Verizon is retraining thousands of employees to avoid letting workers go
JPMorgan's profit plunges as credit costs spike on economic uncertainty
Lawmakers slam Robinhood after apparent suicide by 20-year-old trader
This student's TikTok video got Disney's attention
Oatly gets $200 million from investor group that includes Oprah and Natalie Portman
Delta posts worst loss since 2008 and cuts flights
Controversial opinion writer Bari Weiss resigns from The New York Times, blasting paper for 'illiberal environment'
Longtime columnist and blogger Andrew Sullivan resigns from New York magazine
This illustration photo taken on July 11, 2020 shows a selection of Goya food products in a Los Angeles supermarket.
Julián Castro: The lesson CEOs should learn from Goya's fumble
A ZipCar car parking area, featuring a parking sign and rental cars parked at the curb in Pasadena, California on January 31, 2020.
Zipcar's customer service outrages its users
Diageo has created the world's first ever 100% plastic free paper-based spirits bottle, made entirely from sustainably sourced wood. The bottle will debut with Johnnie Walker, the world's number one Scotch Whisky, in early 2021.
Johnnie Walker whisky will be sold in paper bottles next year
MARKETS
ELECTRIC CARS
In this Sunday, June 28, 2020, photograph, a long line of unsold 2020 Model Y sports-utility vehicles sits at a Tesla dealership in Littleton, Colo.
Tesla scraps plans for its bargain version of the Model Y
Fisker plans to go public in a $2.9 billion deal
Rivian raises another $2.5 billion in funding
Nikola is the hot new electric truck stock
Tesla is now worth more than Toyota, Disney and Coke
WHAT TO WATCH
The NBCUniversal Inc. Peacock streaming service is displayed on a laptop computer in an arranged photograph taken in the Brooklyn Borough of New York, U.S., on Monday, April 20, 2020. When the coronavirus quickly spread around the world, NBC had a big decision to make. Move forward with the April launch of Peacock, its new streaming service? Or postpone?
What you need to know about NBCUniversal's new streaming service
Few people are subscribing to Quibi, analysis says
Goldman Sachs is super bullish on Netflix
The pandemic is making streaming more social
'Gone with the Wind' returns to HBO Max … with a disclaimer
Headlines from right-of-center Fox Business (Notice: typos below are in the original)
MARKETS
Top investors are souring on the idea of a miraculous economic recovery
Fund managers increased their cash piles amid a declining belief the U.S. economy will see a rapid V-shaped recovery.
Citigroup profit falls 73% as it girds for coronavirus economy
Rock-bottom mortgage rates cushion banks during coronavirus pandemic
MONEY
IRS glitch could force Americans to change how they file last-minute return
What happens if I owe money on my taxes but don't pay?
CARS
Limited-production Ford Bronco First Edition already 'sold out'
95%
DEVELOPING
MARKETS
Dow soars 557 points, energy, materials drive broad gains
Boeing 737 MAX cancellations top 350 planes in first half of 2020
MARKETS
Coronavirus calculation: No child care, no economic recovery
TAX HIKE COMING
POLITICS
Biden unveils $2T clean energy and infrastructure plan
AN 'OK' LOCATION?
TESLA
Tulsa entices Tesla, state leaders pull out stops to win factory
FLORIDA HEATING UP
CORONAVIRUS
Florida sets single-day record for coronavirus deaths
AMERICA'S NEW FAVORITE DRINK?
MONEY
Hard seltzer reached record sales July 4 week: Nielsen
SCOOP THIS
FOOD & DRINKS
Chemical found in weedkiller detected in popular food
NO FUN IN THE SUN
TRAVEL
Coronavirus surge prompts Miami Beach to prohibit vacation rentals
'FLIGHT RISK'
CRIME
Epstein pal Ghislaine Maxwell denied bail
SPORTS
Cam Newton explains what it's like to replace Tom Brady on the Patriots
BROWN LIQUOR, GREEN PACKAGE
FOOD & DRINKS
Johnnie Walker to be sold in paper bottles in 2021
'SENSITIVE' IMAGE CANNED
POLITICS
Twitter says it censored photo of Goya products 'in error'
BACK IN THE SWING
NFL
Myles Garrett, Browns close to $125M contract extension after helmet incident
MILLIONAIRE'S RETREAT
REAL ESTATE
Media mogul pays $27 million for contemporary Aspen mansion
LIFESTYLE
Kanye West looks to build a warehouse for his fashion brand in this rural state
NIKE
Nike sets Grateful Dead sneaker release date
LIFESTYLE
American tree nut farmers hit with surplus amid international trade complications
TECH
Burger chain hires 'Flippy' the robot to do these tasks
LIFESTYLE
Gym chains impacted by coronavirus closures adapt with outdoor classes
FOOD & DRINKS
Burger King debuts Whopper made cows that eat a special ingredient
JOBS
State sues Uber, Lyft over driver pay, companies say jobs at risk amid 'crisis'
HEALTH CARE
Amazon tests health care center
LIFESTYLE
Chick-fil-A postpones annual Cow Appreciation Day amid rise in coronavirus cases
TECHNOLOGY
Google steers users to YouTube over rivals
LIFESTYLE
Record numbers of Americans try to buy guns
LIFESTYLE
Iconic childhood brands team up for new gaming system
MARKETS
Dimon warns on economic future, JPMorgan profits better than expected
FOOD & DRINKS
Beyond Meat expands retail launch in China grocery stores
OPINION
Varney: New York City has been ruined by its leadership
POLITICS
Cutoff in extra unemployment aid may hurt 2020 battleground states the most
POLITICS
Melania Trump posts photo in face covering, promotes mask-wearing
LIFESTYLE
Ghislaine Maxwell's legal team includes 'El Chapo' prosecutor
DEFENSE
Boeing awarded nearly $23B Air Force contract for F-15EX fighter jet program
LIFESTYLE
Hallmark Channel releases wine based on Christmas programming
POLITICS
Cuomo takes heat over NY nursing home study
TECHNOLOGY
Why this country is banning new Huawei equipment
MONEY
5 ways to pay student loans that will also save you money
10 Market Indicator Closing Summaries – Yahoo Finance Closing Tickers on MHProNews…
Featured Focus –
Where Business, Politics and Investing Can Meet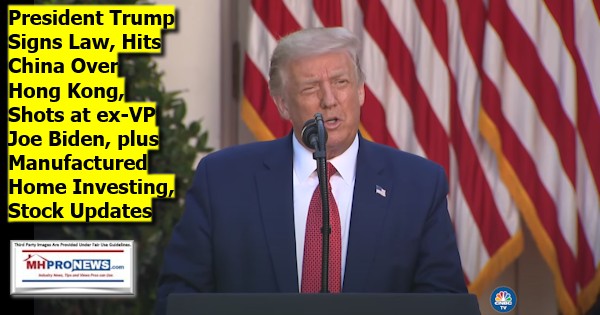 President Trump used the second part of his press conference to focus on critiques of his presumed Democratic former VP Joe Biden, said Fox Business and CNBC this evening.
"In contrast [to the tough steps taken by the Trump Administration], Joe Biden's entire career has been a gift to the Chinese Communist Party and to the calamity of errors that they've made," the 45th president said. "They made so many errors and it's been devastating for the American worker. China has taken out hundreds of billions of dollars a year from our country and we rebuilt China. I give them all the credit in the world. I don't give the credit for the people that used to stand here because they allowed this to happen."
The Biden campaign is trying to portray the president as someone who talks tough but fails to follow through. They are also taking lots if shots at his handling of the coronavirus crisis, without acknowledging that the former VP has shifted his stance on that topic multiple times since January.
Biden's "entire career has been a gift to the Chinese Communist Party (CCP)," Trump said per CNBC, adding that "it's been devastating for the American worker." Former President Obama, with whom Biden served, said that the jobs lost to China, Mexico and other countries were not coming back. Prior to COVID19, the Trump Administration was proving the 44th president and his VP Biden wrong.
"Biden expressed more fawning praise about China on an ordinary day than about America," Trump said. He quoted Biden saying recently that the U.S. has "never lived up to" its founding ideals.
President Trump ripped the several parts of the Biden's campaign platform. The president attacked Biden on issues including immigration, energy policy, school choice and military funding, among others. CNBC didn't mention in their written report these specifics that were spotlighted by the president in his remarks, taken from the Biden campaign platform, which was crafted in conjunction with self-described Democratic Socialist Senator Bernie Sanders.
the former VP – if elected – would dramatically change immigration policy, by stopping all deportations.
Biden has pledged to enact trillions in "Green New Deal" concepts that would arguably harm the affordable housing market and the values of mainstream housing, along with commercial real estate buildings.
Biden's plan says he would give amnesty to immigrants living in America.
Would plan to give medical benefits and welfare benefits to those in or coming to the U.S., even illegally.
Plans to do nationally with police and bail laws what is already causing a crime wave in New York.
Would dramatically cut the military at the very time that China's military might is growing.
There was more, as the video shown will reflect.
"There's never been a time when the two candidates were so different," President Trump said.
POTUS Trump also said he will be signing a "very powerful" merit-based immigration act, without providing specific details, other than mentioning that he would fix DACA.
Biden's campaign did not immediately provide a response to the president's attacks.
The Trump administration has hinted for months that the U.S. would take steps to punish China for failing to prevent the virus, which was first observed in the Chinese city of Wuhan, from spreading throughout the globe.
The pandemic has killed more than half a million people worldwide and wrought havoc on the global economy, said CNBC. The United States has reported more deaths and infections from Covid-19 than any other nation, and a recent surge of new cases in numerous states suggests the crisis is far from over, but CNBC failed to note that China, Iran, and Russia are among the nations widely believed to be underreporting case numbers and deaths.
The president has blamed the devastation on China, frequently referred to the coronavirus in terms that associate it with the country – such as the "Chinese Virus."
"China's secrecy, deceptions and cover-up allowed it to spread all over the world … and China must be held fully accountable," Trump said in an Independence Day speech at the White House.
In a CBS News interview earlier Tuesday, Trump doubled down: "Look, we made a great trade deal but as soon as the deal was done, the ink wasn't even dry and they hit us with the plague. So right now I'm not interested in talking to China about another deal. I'm interested in doing other things with China."
The election is less than 4 months out. Both campaigns are spending millions in ads on battle ground states.  Recent polling reflects that the edge that former VP Biden has has narrowed. It is a jump ball.
Related, Recent and Read Hot Reports
"I Can't Keep Doing This" – Small Businesses Quitting. MHPros, Small Business, Investing Impacts – Equity LifeStyle Chair Sam Zell Sounds Off
'Fighting to Tear Down Oppression…in Housing, Education…Employment' – Rep Ilhan Omar Declares Marxist-Socialist War on American Economic System, Video
Demographic Trends, New RV Industry Data, Profit-Potential Laced Insights for Manufactured Housing Industry
Arrest, Indictment of Ghislaine Maxwell, Jeffrey Epstein "Madam," Returns Bill Gates–Warren Buffett, Gates Foundation, Donald Trump, Bill Clinton, Others – to Sexual Predator's Spotlight
"Enough is Enough" – Democratic Mayor in Ranking MH State Pleas for End to Black-on-Black Violence, Murder – Crime Wave Spreads
Dark Money-Billionaires Buffett, Gates, Soros Funding Black Lives Matter, Antifa – Named by AG Barr in Riots, Looting – Hijacking Peaceful George Floyd Death Racial Justice Protests
When Will POTUS Trump Finger Pointing Stop, Consequences Start With China? Trump Administration's Peter Navarro Speaks. Plus, Manufactured Home Investing, Stock Updates
'Stop Trump!' Group Supported by Billionaires Soros, Buffett, Gates Vows to Defeat President Trump in 2020
Warren Buffett Declared "Class Warfare," Buffett Says Fellow Billionaires – "We're Winning"
History, Financial Ties-Black Lives Matter, Antifa, Billionaires Warren Buffett, Bill Gates & George Soros–Economic, Political Upheaval Spotlighted by Mary Walter, Tony Kovach on Brian Kilmeade Show
Trump Admin Signals October Surprise? AG Bill Barr's Hot Biz-Economic Trial Balloon, plus Manufactured Housing Investing, Stock Updates
Black Lives Matter-Slavery, Racial History, Economic Inequality, Affordable Home Ownership–White Billionaires Getting Richer
Fear & Frustration-Constitutionality of Business, Religious Shutdowns, Other Restrictions Challenged, plus Sunday Headlines Review 6.28 to 7.5.2020
"The way to defeat bad ideas is by exposure, argument, and persuasion, not by trying to silence or wish them away." JK Rowling, Gloria Steinem, Noam Chomsky, 150 Others Decry Censorship in "Letter on Justice and Open Debate," Harpers
Manufactured Housing Industry Investments Connected Closing Equities Tickers
Some of these firms invest in manufactured housing, or are otherwise connected, but may do other forms of investing or business activities too.
NOTE: The chart below includes the Canadian stock, ECN, which purchased Triad Financial Services, a manufactured home industry lender
NOTE: Drew changed its name and trading symbol at the end of 2016 to Lippert (LCII).
Summer 2020…
Berkshire Hathaway is the parent company to Clayton Homes, 21st Mortgage, Vanderbilt Mortgage and other factory built housing industry suppliers.
· LCI Industries, Patrick, UFPI, and LP each are suppliers to the manufactured housing industry, among others.
· AMG, CG, and TAVFX have investments in manufactured housing related businesses. For insights from third-parties and clients about our publisher, click here.
Enjoy these 'blast from the past' comments.
MHProNews. MHProNews – previously a.k.a. MHMSM.com – has celebrated our tenth anniversary and is in year 11 of publishing.
Learn more about our evolutionary journey as the industry's leading trade media, at the report linked below.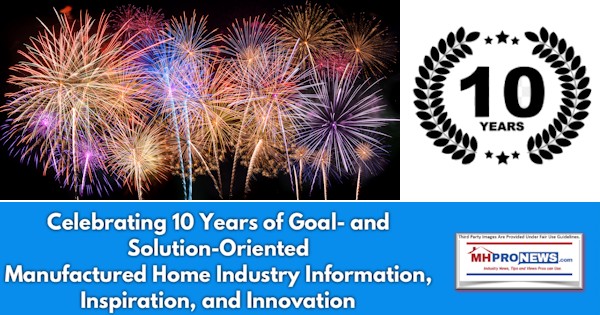 · For expert manufactured housing business development or other professional services, click here.
· To sign up in seconds for our industry leading emailed headline news updates, click here.

Disclosure. MHProNews holds no positions in the stocks in this report.
2019 Year-End Totals Reveals Decline in New HUD Code Manufactured Home Production, Shipments vs. 2018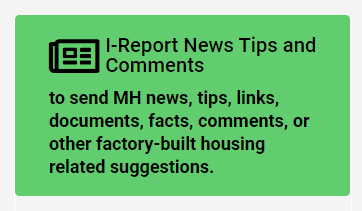 That's a wrap on this installment of "News Through the Lens of Manufactured Homes and Factory-Built Housing" © where "We Provide, You Decide." © (Affordable housing, manufactured homes, stock, investing, data, metrics, reports, fact-checks, analysis, and commentary. Third-party images or content are provided under fair use guidelines for media.) (See Related Reports, further below. Text/image boxes often are hot-linked to other reports that can be access by clicking on them.)
By L.A. "Tony" Kovach – for MHLivingNews.com.
Tony earned a journalism scholarship and earned numerous awards in history and in manufactured housing. For example, he earned the prestigious Lottinville Award in history from the University of Oklahoma, where he studied history and business management. He's a managing member and co-founder of LifeStyle Factory Homes, LLC, the parent company to MHProNews, and MHLivingNews.com. This article reflects the LLC's and/or the writer's position, and may or may not reflect the views of sponsors or supporters.