A Pew Charitable Trust research report on 7.7.2022 by Tracy Maguze & Tara Roche touted HUD's April 2022 "Equity Action Plan" that "aimed at eliminating the racial homeownership gap and boosting equity in homeownership in part by improving access to financing for homebuyers." Pew specifically mentions manufactured housing, noting that HUD's plan includes manufactured homes. Quite so. What Pew's largely favorable report failed to mention is this key early pull-quote from the HUD Equity Action Plan: "The Biden-Harris Administration's HUD is eager to use HUD's authorities to reverse the deep-seated detriment caused by prior federal policies and prioritize equity in all HUD programs." But Pew did note that: "Pew's analysis of U.S. Census Bureau data, the difference between rates of Black and White homeownership was 24 percentage points in 1970 and 30 percentage points in 2020." That Pew research factoid illustrates the concern that government 'plans' that are touted as 'helping' minorities or other groups have often backfired and produced a result that was quite different than the initial claims.
That and another HUD PD&R research statement from 9.7.2021 tends to support a new 'white paper' issued by the Manufactured Housing Association for Regulatory Reform (MHARR). That MHARR white paper asserts that years of federal plans that mention manufactured housing being qualified for this or that support – when analyzed after said plans are implemented – routinely reveal little or no actual benefit to manufactured housing.
Pew's research – published originally at this link here – cites the HUD Equity Action Plan, which is linked here as a download.
Pew said: "Importantly, it focuses on the limited availability of small mortgages to purchase low-cost site-built and manufactured homes as a barrier to equitable homeownership and steps to increase access to financing for manufactured housing."
A word-search of the federal document Pew referenced reveals that the term "manufactured housing" is mentioned 3 times in 5142 word report. Those three uses are found in these two paragraphs from page 12 of 16 pages in their 2022 HUD Equity Action Plan:
Efforts to ensure manufactured housing is a thriving source of affordable, quality, durable, and safe housing for Americans include implementing up-to-date Manufactured Housing Construction and Safety Standards.
Expanding access to financing for affordable housing types like manufactured housing through updates to the Title I program.
With that backdrop, here is the text of the Pew report with two of their graphs/illustrations.  The original with all of their accoutrements is linked here.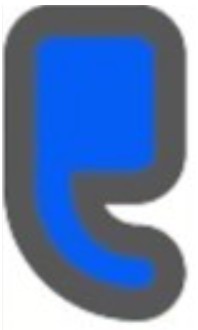 HUD Equity Action Plan Aims to Improve Access to Home Financing in Many Underserved Communities
Small mortgages are a key focus of the agency's initiative
ARTICLE July 7, 2022 By: Tracy Maguze & Tara Roche Read time: 3 min
Projects: Home Financing
The U.S. Department of Housing and Urban Development (HUD) in April released its Equity Action Plan, aimed at eliminating the racial homeownership gap and boosting equity in homeownership in part by improving access to financing for homebuyers. The plan is part of the Biden administration's broader whole-government equity agenda and the first from any of the housing or mortgage agencies to be unveiled this year.
Homeownership rates have risen across the board in recent years, but the racial homeownership gap is at its widest in half a century. According to Pew's analysis of U.S. Census Bureau data, the difference between rates of Black and White homeownership was 24 percentage points in 1970 and 30 percentage points in 2020.
The HUD plan calls for a range of measures to address the gap. It would leverage technology to improve the efficiency of the Federal Housing Administration (FHA) loan program and increase home financing options, among other initiatives. Importantly, it focuses on the limited availability of small mortgages to purchase low-cost site-built and manufactured homes as a barrier to equitable homeownership and steps to increase access to financing for manufactured housing.
Expanding the availability of such mortgages also could help alleviate buyers' reliance on riskier, costlier alternative financing when attempting to purchase low-cost homes—those valued at less than $200,000. The alternative financing options include land contracts, seller-financed mortgages, lease-purchase agreements, and personal property loans.
Millions turn to risky alternative financing to purchase homes
Some homebuyers turn to alternative financing to purchase low-cost homes in part because of a lack of small mortgages, those for less than $150,000. In 2021, Pew conducted a first-ever national survey on alternative financing and found that 36 million Americans have used these arrangements at some point—sometimes more than once—to attempt to purchase a home. Although some arrangements have more safeguards than others, in general, they have fewer consumer protections and higher costs than mortgages.
Pew's survey found disparities in reliance on alternative financing by race, ethnicity, and income, reflecting inequities found in the housing market more broadly. Hispanic home borrowers, in particular, are more likely to have used these arrangements than any other race or ethnicity.
Figure 1
Lower-income borrowers also are more likely to use alternative financing. Among all current borrowers, those with annual household incomes under $50,000 were more than seven times as likely to be using alternative financing to buy their homes than individuals with annual household incomes of $50,000 or more (23% versus 3%, respectively).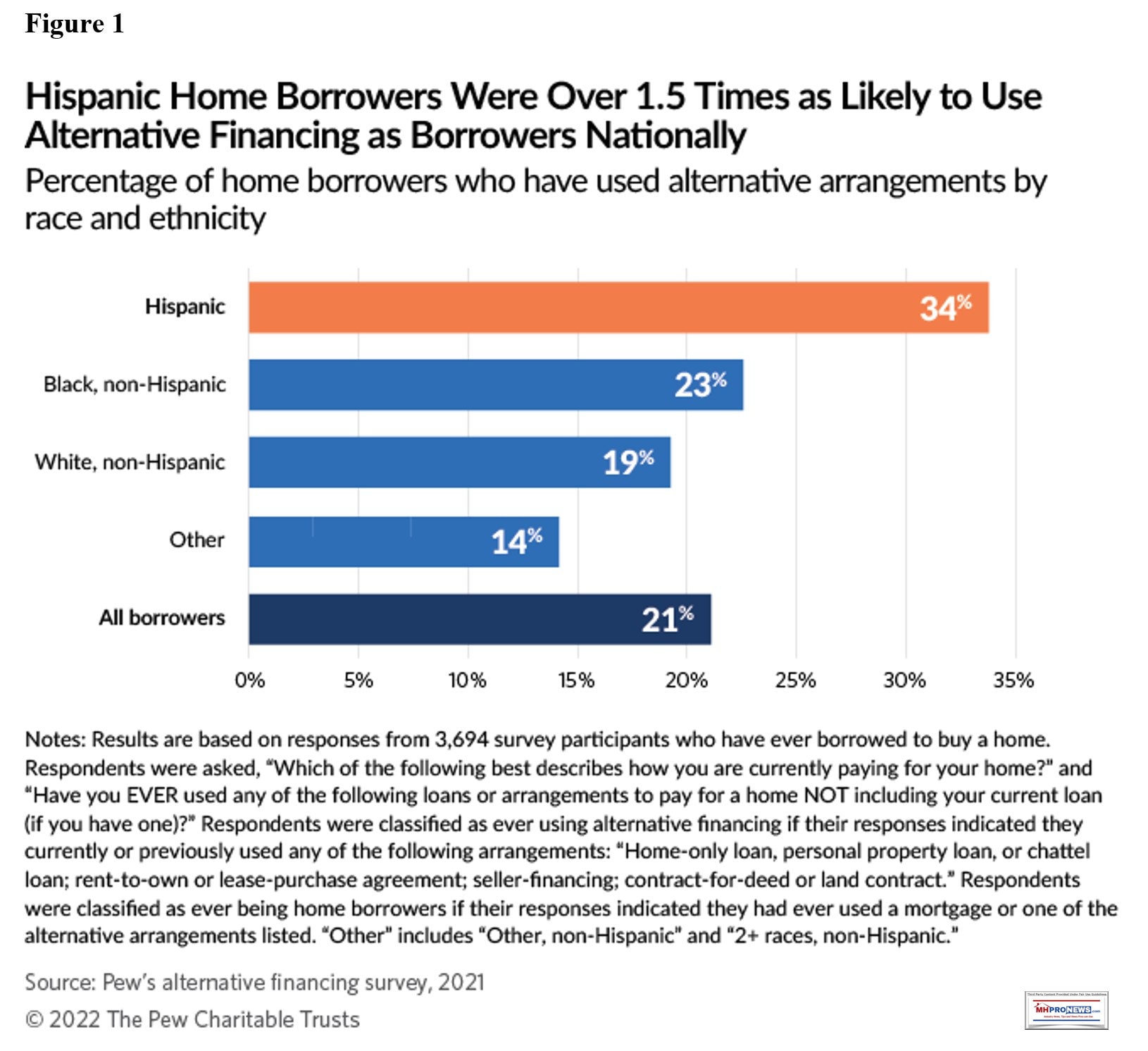 Figure 2
Reliance on alternative financing is not, however, a story about income alone. The disproportionate use of these arrangements by lower-income families reflects disparities in access to mortgages. Traditional mortgages are the gold standard in home financing because they often have lower costs and more consumer protections than other options. Although low- to moderate-income home borrowers are more likely to seek low-cost homes, and ideally these homes would be financed with a small mortgage, the only option available often turns out to be alternative financing. That tends to be the case even if borrowers are mortgage-ready, meaning they could reasonably qualify for and repay a mortgage.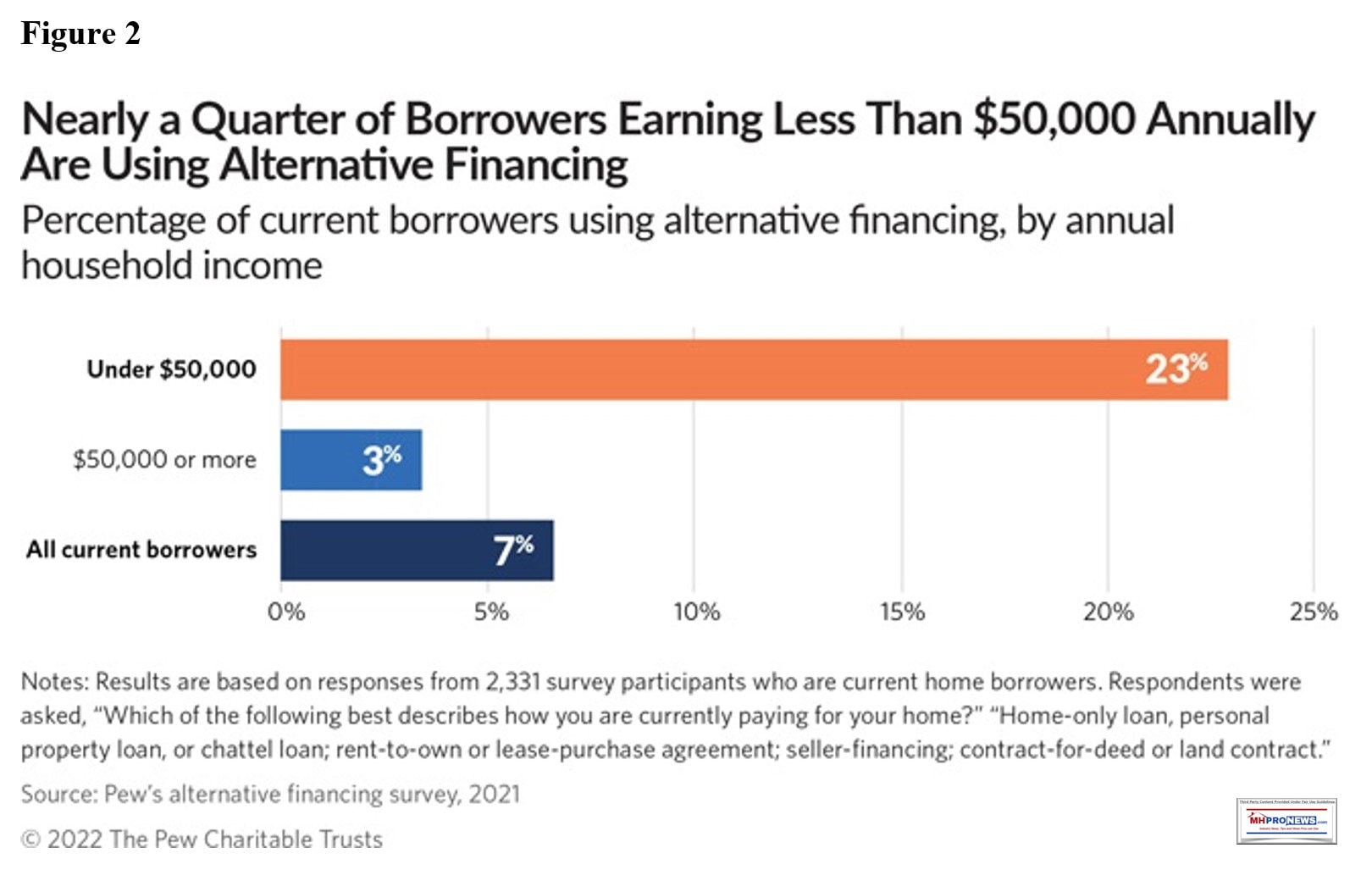 As HUD noted, small mortgages are generally difficult and costly for lenders to originate—regardless of a borrower's income. And previous research has established that is not because applicants are not creditworthy.
Improving equity in homeownership begins with small mortgages
Low levels of small-mortgage lending relative to available homes disproportionately affects first-time homebuyers, low- to moderate-income families, and borrowers of color who are more likely than others to rely on small mortgages to buy low-cost properties.
One way to increase equitable access to mortgages and reduce the homeownership gap is by addressing the barriers that limit small-mortgage origination. For example, the fixed costs to originate a mortgage and lenders' commission-based compensation affect the profitability of small mortgages. That reality incentivizes lenders to focus on higher-balance loans. Mortgage regulations, which are necessary to protect borrowers, sometimes feed these costs by adding to lenders' compliance obligations and exposure to legal and reputational risk.
HUD's plan to analyze mechanisms to increase the availability of small mortgages and expand access to financing for manufactured housing could help millions of mortgage-ready borrowers who might otherwise turn to riskier alternative financing. As the agency moves forward with its plans, staff have an opportunity to think broadly about the many ways Americans pay for their housing and monitor the usage of and disparities within alternative home financing.
Tracy Maguze is an officer and Tara Roche is a manager with The Pew Charitable Trusts' home financing project. ##
Additional Information with more MHProNews Analysis and Commentary
Perhaps another relevant point that Pew – and HUD – could have made with respect to this "Equity Action Plan" is what HUD PD&R Researchers Pamela Blumenthal and Regina Gray said almost a year ago (9.7.2022), namely: "The regulatory environment — federal, state, and local — that contributes to the extensive mismatch between supply and need has worsened over time. Federally sponsored commissions, task forces, and councils under both Democratic and Republican administrations have examined the effects of land use regulations on affordable housing for more than 50 years. Numerous studies find land use regulations that limit the number of new units that can be built or impose significant costs on development through fees and long approval processes drive up housing costs. …" Put differently, promises have been made for decades that have not been kept. Some weeks prior to Blumenthal and Gray's insightful Edge report, MHLivingNews – citing another HUD research document – made a similar evidence-based observation.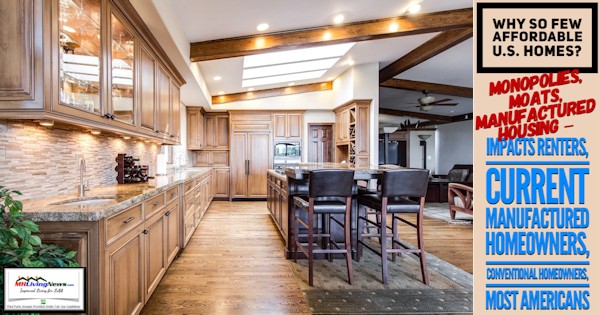 Similar research to the above and like themes to what is presented by Pew and the Biden Administration's HUD are hardly new.  For instance, a research report by the Minneapolis Federal Reserve Donna Feir, Ph.D., noted the disparity in access to competitive lending a few years earlier.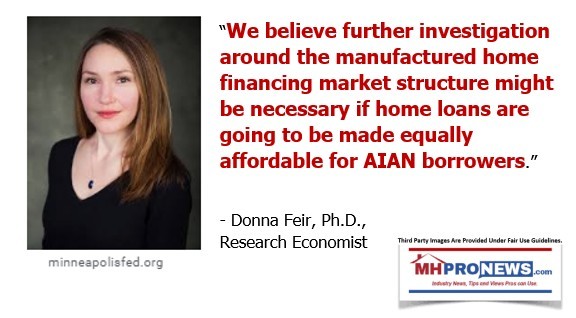 Then, the Manufactured Housing Institute's CEO Lesli Gooch, Ph.D., promoted this notion over a year ago. How sincere she was in that was questioned by a black community leader, see those contextual items linked further below.
But as MHProNews spotlighted, former Obama-Biden Administration official Van Jones on CNN recently observed that for the black community, life under the Biden-Harris Administration is not as good as it was under President Donald J. Trump.
CNN's Van Jones says the economy has gotten "worse" for Black Americans since Biden took office.

"The rising gas prices, food prices have really walloped the Black community" pic.twitter.com/IEA1RynEd8

— RNC Research (@RNCResearch) July 21, 2022
News Roundup–ICYMI–Mortgage Demand Facts; Obama Official-CNN's Van Jones–Life Under Biden for Blacks; Biden's Promise on Covid Vax 1 Yr Ago; Biden's Hispanic Approval Poll; MHC REITs-MHEquities
MHProNews reported on, but critiqued as posturing, MHI CEO Lesli Gooch's prior missive on blacks and racial equity.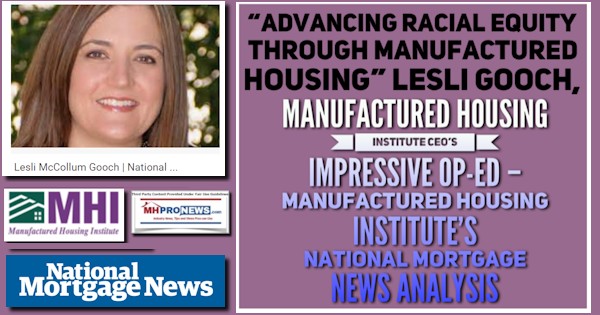 Later, MHLivingNews highlighted how black civic leader Ivory Mewborn. Note how Gooch responded to Mewborn vs. what she and MHI actually did.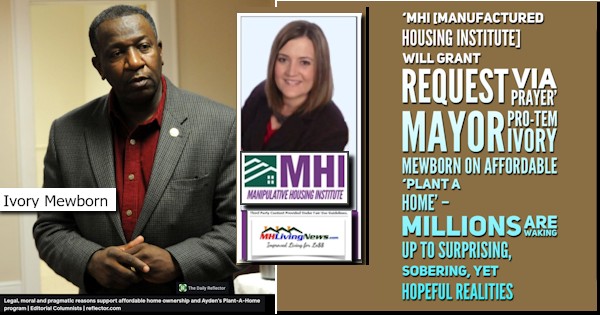 A new manufactured housing White Paper spotlighted the disconnect in the history of claims by federal programs and official for manufactured housing inclusion vs. the actual outcomes. That deep dive is shown below.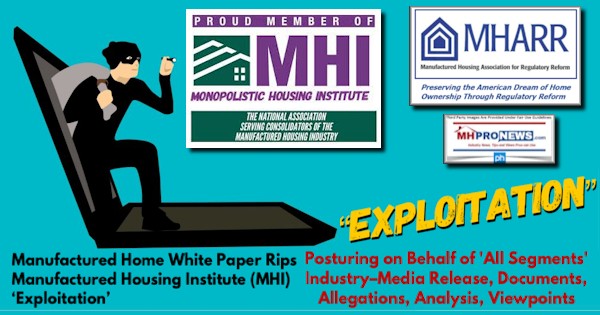 Based on the White Paper's analysis, what should manufactured housing investors and professional expect from these Pew and HUD claims? Short answer? Not much and not quickly. Other research beyond what's mentioned makes that point.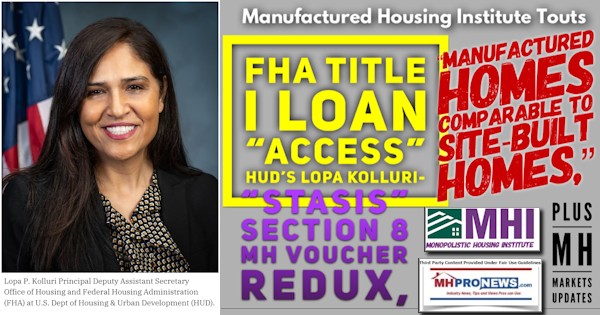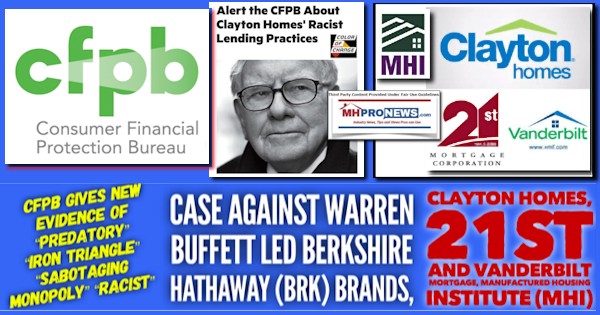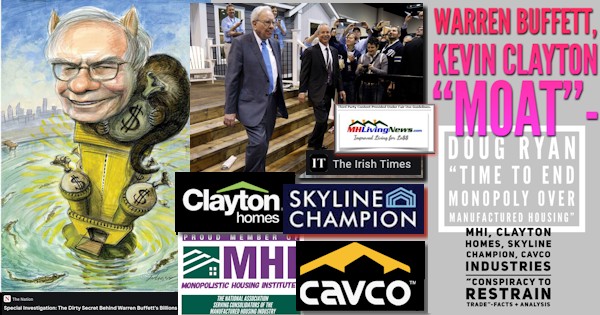 Next up is our daily business news recap of yesterday evening's market report, related left-right headlines, and manufactured housing connected equities.
The Business Daily Manufactured Home Industry Connected Stock Market Updates.  Plus, Market Moving Left leaning CNN and Right-leaning (Newsmax) Headlines Snapshot. While the layout of this daily business report has been evolving over time, several elements of the basic concepts used previously are still the same. For instance. The headlines that follow below can be reviewed at a glance to save time while providing insights across the left-right media divide. Additionally, those headlines often provide clues as to possible 'market-moving' news items.
Market Indicator Closing Summaries – Yahoo Finance Closing Tickers on MHProNews…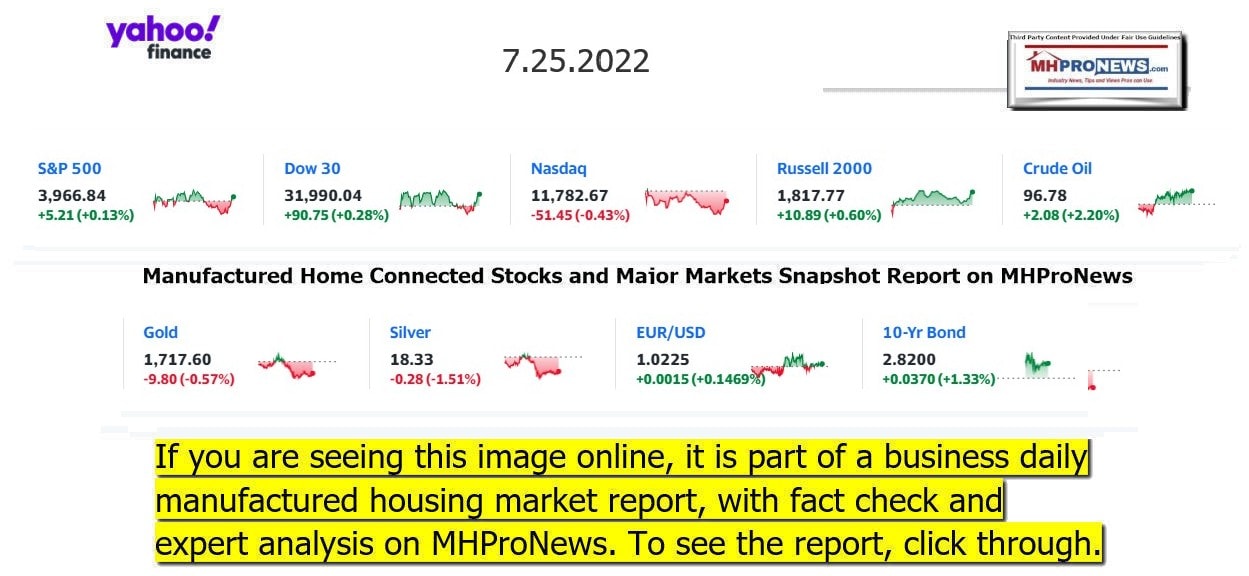 Headlines from left-of-center CNN Business – from the evening of 7.25.2022
The great debate
People walk by the New York Stock Exchange on May 23, 2022 in New York City.
Analysis: Public disagreement over the odds of a recession has reached a fever-pitch
Could we talk ourselves into a recession?
You're not the only one who's confused about the economy
Farmers forced to sell their cows as drought conditions worsen
Elon Musk denies affair with Sergey Brin's wife Nicole Shanahan
Why these 'unretirees' went back to work
Ultra-fast delivery was all the rage during the pandemic. Now these startups are trying to survive
The NFL is debuting a streaming service — with some major caveats
Post-Covid, Elvis Presley's Graceland bonds default
See moment chess-playing robot breaks boy's finger
R-rated movies have come to Disney+
T-Mobile agrees to pay customers $350m in settlement over data breach
Traders work on the floor of the New York Stock Exchange (NYSE) on July 25, 2022 in New York City.
Stocks are on track for the best month of the year — for now
7 things you're wasting money on
Components are seen on the assembly floor at the Boeing Defense, Space & Security facility in St. Louis, Missouri, U.S., on Monday, July 24, 2018.
Another major company's workers are set to go on strike
Headlines from right-of-center Newsmax 7.25.2022
Biden Admin Seeks to Issue ID Cards to Illegal Immigrants
Migrants are apprehended by US Border Patrol and National Guard troops in Eagle Pass, Texas, near the border with Mexico. (Chandan Khanna/AFP via Getty Images)
The Biden administration wants to provide temporary identification cards to illegal immigrants who are awaiting final decisions on their cases, Axios reported. [Full Story]
Russian Invasion of Ukraine
Lavrov: Russia's Ukraine Goal Is Zelenskyy's Ouster
Gazprom to Cut Gas Through Nord Stream 1 to 20% of Capacity
Ukraine Hopes First Grain Shipment Under UN-Brokered Deal Will Be This Week
Ukraine Ambassador Calls for More Weapons After Odesa Attacks | video
Why Putin Must Be Defeated
MI6 Chief: Russia Losing Steam in War as Spy Network Stymied
Ukraine: Odesa Strike Shows Grain Exports Won't Be Easy
Trump: Biden Sends $60B to Ukraine for Weapons to Be 'Obliterated' by Russia | video
Newsmax TV
Comer: Dems 'Hope and Pray' Hunter Biden Goes Away | video
Zeldin: Suspect Arrested Only Because I'm in Congress | video
Jim Lamon: Trump Made 'Bad Endorsement' in Arizona GOP Senate Race | video
Dick Morris: Dems Trying to 'Divide and Conquer' GOP | video
Zeldin: Violence No Way to Settle Political Scores | video
Norman: Bannon's Guilty Verdict a 'Dog-and-Pony' Show | video
Lesko: Biden Climate Actions 'Hypocritical' | video
Newsfront
AOC 'Absent' From District Says Fellow N.Y. Progressive
Alexandria Ocasio-Cortez, D-N.Y., over the weekend came under fire by a fellow New York progressive legislator who accused her of being "absent" from her home district…. [Full Story]
Video Report: WHO Calls Monkeypox Health Emergency
The World Health Organization (WHO) has activated its highest alert [Full Story]
Newsmax to Carry Trump's D.C. Speech Live
Former President Donald Trump'sspeech in Washington, D.C., on [Full Story]
House Staffers Arrested After Protesting in Schumer's Office
Six House staffers on Monday were arrested by Capitol Police after [Full Story]
Video Reports: Fewer Coming to Florida to Get Abortion
Newsmax correspondent Leonardo Feldman details how many women are [Full Story] | video
US Is 'Light-Years' Behind in Hypersonic Space Race
The American effort to develop cutting-edge space weaponry and track [Full Story] | Platinum Article
Video Report: DeSantis Hails Florida Turning More Red
Newsmax correspondent Leo Feldman covers Florida turning more and [Full Story] | video
'Tone Deaf' White House Slammed for 'Hypocritical' Biden COVID Updates
The White House's flippant and dismissive responses to questions [Full Story] | Platinum Article
Josh Hawley Blasts Biden Hire of Big Tech Executive
Josh Hawley, R-Mo., slammed President Joe Biden for adding a [Full Story]
Video Report: Pope Francis Travels to Canada to Apologize
Newsmax Foreign Correspondent Alex Salvi details Pope Francis' trip [Full Story] | video
Colorado Voter Pleads Guilty to Forging Missing Wife's Ballot in 2020 Election
A Colorado man pleaded guiltyto a voter fraud case last week, in [Full Story]
Energy Dept to Loan GM Battery Joint Venture $2.5B
The U.S. Energy Department announced Monday it intends to loan a [Full Story]
'Goodfellas,' 'Law & Order' Actor Paul Sorvino Dies at 83
Paul Sorvino, an imposing actor who specialized in playing crooks and [Full Story]
Dallas Police: Cop Shoots Woman Who Opens Fire at Love Field Airport
A 37-year-old woman fired several gunshots, apparently at the [Full Story]
Fed Set to Impose Another Big Rate Hike to Fight Inflation
Conflicting signs about the health of the U.S. economy have thrust [Full Story]
Report: Seniors Struggling to Afford Basic Living Expenses
While soaring inflation and higher costs of living have impacted [Full Story]
Biden Admin Seeking ID Cards for Illegal Immigrants
The Biden administration wants to provide temporary identification [Full Story]
Gazprom to Cut Gas Through Nord Stream 1 to 20% of Capacity
Russia's Gazprom said Monday that it would further reduce natural gas [Full Story]
Joni Mitchell Returns to Stage With Rare Performance Since Brain Aneurysm
Joni Mitchell marked her return to the stage after several years with [Full Story]
Minnesota National Guard Advertises for Recruits in LGBTQ+ Magazine
The Minnesota Army National Guard has launched an advertising [Full Story]
Ticketmaster Defends Springsteen Concert Prices
Ticketmaster responded to backlash over Bruce Springsteen's concert [Full Story]
Lori Loughlin Admits to Feeling 'Down and Broken' Since College Admissions Scandal
Lori Loughlin has opened up about her life after serving a two-month [Full Story]
Gallup: Republicans' Environmental Worry Varies by Age
Younger Republicans are much more concerned about the environment [Full Story]
Biden's Poll Numbers Alarm Democrats as November Midterms Loom
With little over three months to go until the midterm congressional [Full Story]
Manchin Tests Positive for COVID
Joe Manchin, D-W.Va., announced he had tested positive for [Full Story]
DeSantis: Chinese Investors Shouldn't Be Allowed to Buy US Real Estate
Florida GOP Gov. Ron DeSantis said that people and businesses with [Full Story]
Lindsey Graham: Raise Mandatory Commercial Pilot Retirement Age to 67
Republican Senator Lindsey Graham said Monday he is proposing [Full Story]
Dick Morris to Huckabee: God Spared Me to Get Trump Reelected
Speaking on "Huckabee," Dick Morris, author of the bestselling new [Full Story]
Related
Dick Morris to Newsmax: Dems Trying to 'Divide and Conquer' GOP |video
Doctor: Biden's COVID Symptoms 'Almost Completely Resolved'
President Joe Biden's COVID-19 symptoms have "almost completely [Full Story]
Aussie Rugby Players Refuse to Wear Gay Pride Jerseys
A group of Australian rugby players plan to boycott their team's [Full Story]
NFL Enters Media Streaming With NFL+
The NFL is making its move into offering its own media streaming [Full Story]
Finance
Fed Set to Impose Another Big Rate Hike to Fight Inflation
Conflicting signs about the health of the U.S. economy have thrust the Federal Reserve into a difficult spot…. [Full Story]
US Housing Cooldown Is Recession Red Flag
Bishop Robbed of Jewelry During Livestreamed Sermon
Peter Reagan: Why Oil Sanctions Are a Gold Investor's Best Friend
Biden to Meet Virtually With CEOs on Chips Legislation
Health
How to Stay Safe During Record High Temperatures
As blistering temperatures blanket much of the country, more people are at risk heat exhaustion and potentially fatal heat strokes. One expert offers tips on how to avoid the dangerous effects of record-breaking temperatures. While anyone can develop heat-related illness…… [Full Story]
Studies: Common Virus Linked to Severe Hepatitis Cases in Children
Depression After Stroke is Common, Often Goes Untreated
Kids Are Getting Long COVID, Too
COVID Reinfections Have Doubled: How to Decide if You Need a Booster
MHProNews has pioneered in our profession several reporting elements that keep our regular and attentive readers as arguably the best informed in the manufactured housing industry. Among the items shared after 'every business day' (when markets are open) is our left-right headline recap summary. At a glance in two to three minutes, key 'market moving' news items are covered from left-of-center CNN Business and right-of-center Newsmax. "We Provide, You Decide." © Additionally, MHProNews provides expert commentary and analysis on the issues that others can't or won't cover that help explain why manufactured housing has been underperforming during the Berkshire era while an affordable housing crisis and hundreds of thousands of homeless in America rages on. These are "Industry News, Tips, and Views Pros Can Use" © features and others made and kept us the runaway #1 in manufactured housing trade publisher for a dozen years and counting.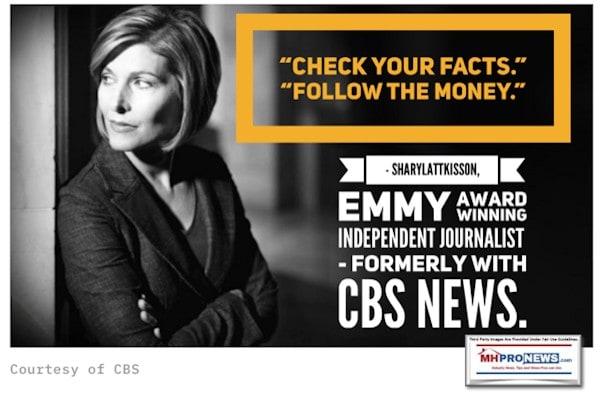 Manufactured Housing Industry Investments Connected Equities Closing Tickers
Some of these firms invest in manufactured housing, or are otherwise connected, but may do other forms of investing or business activities too.
NOTE: The chart below includes the Canadian stock, ECN, which purchased Triad Financial Services, a manufactured home industry lender
NOTE: Drew changed its name and trading symbol at the end of 2016 to Lippert (LCII).
NOTE: Deer Valley was largely taken private, say company insiders in a message to MHProNews on 12.15.2020, but there are still some outstanding shares of  the stock from the days when it was a publicly traded firm.  Thus, there is still periodic activity on DVLY.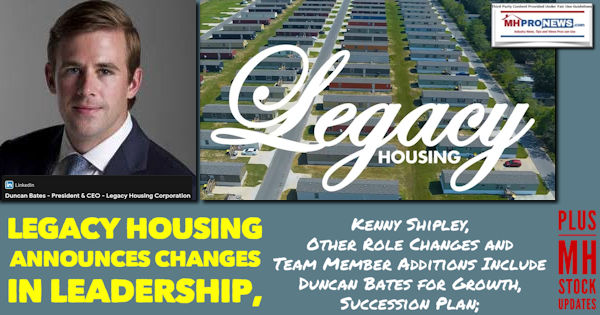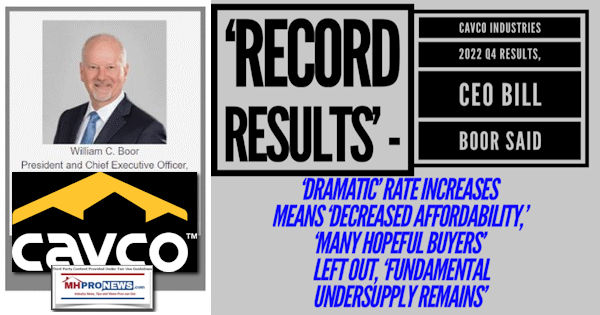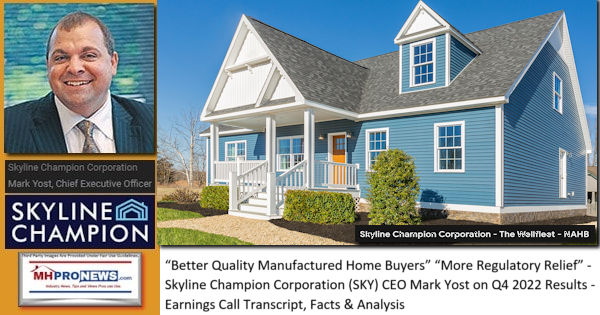 Manufactured Home Communities (a.k.a. 'Mobile Home Parks' – SIC) – Exploring UMH Properties; Fellow Manufactured Housing Institute Member Yes! Communities Suits and Settlements; plus MH Markets Updates
'Announcing!' 'Manufactured Community Owners' Association of America' 'Finally Bringing Fight To Manufactured Home Community Sector of the Industry' – plus Sunday Weekly Manufactured Housing Headlines Review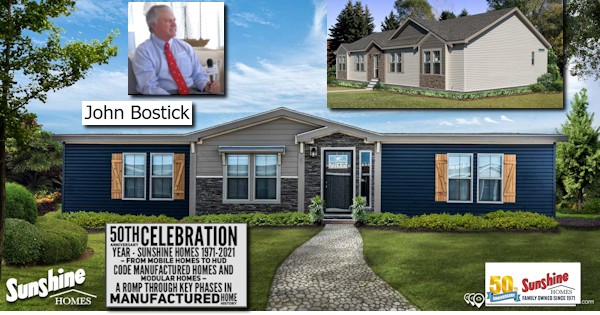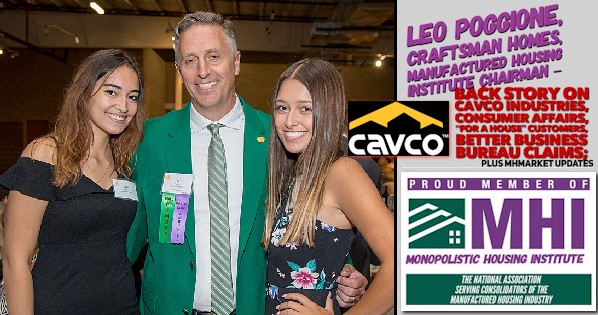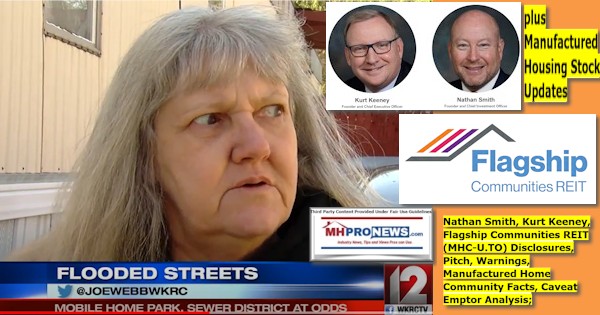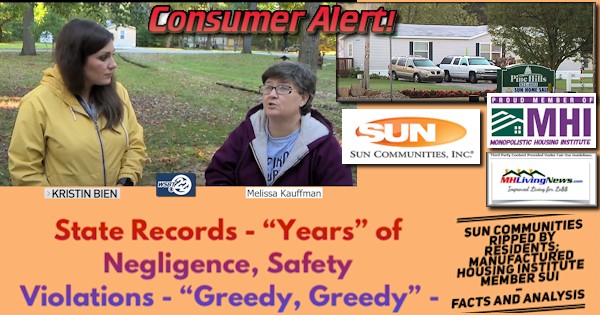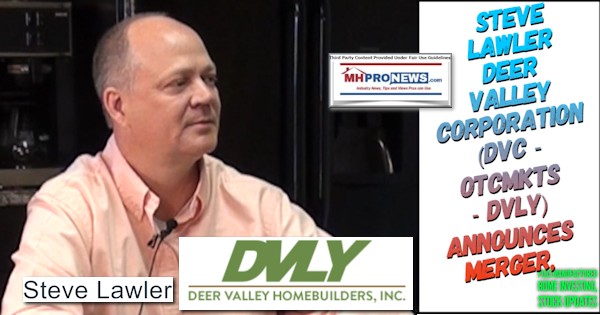 2022

…

Berkshire Hathaway is the parent company to Clayton Homes, 21st Mortgage, Vanderbilt Mortgage and other factory-built housing industry suppliers.


·

LCI Industries, Patrick, UFPI, and LP each are suppliers to the manufactured housing industry, among others.




·

AMG, CG, and TAVFX have investments in manufactured housing related businesses.

For

insights from third-parties and clients about our publisher

, click here.


Enjoy these 'blast from the past' comments.

MHProNews. MHProNews – previously a.k.a. MHMSM.com – has celebrated our 11th year of publishing and have completed over a dozen years of serving the industry as the runaway most-read trade media.
Sample Kudos over the years…
It is now 12+ years and counting…
Learn more about our evolutionary journey as the industry's leading trade media, at the report linked below.
· For expert manufactured housing business development or other professional services, click here.
· To sign up in seconds for our industry leading emailed headline news updates, click here.

Disclosure. MHProNews holds no positions in the stocks in this report.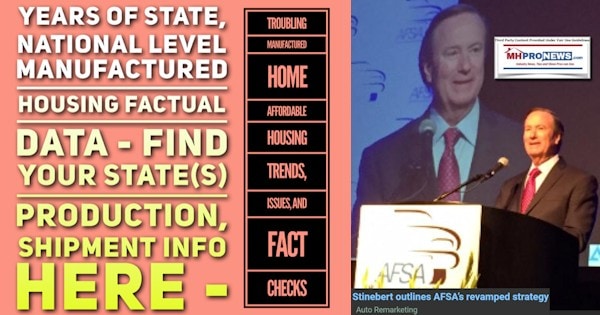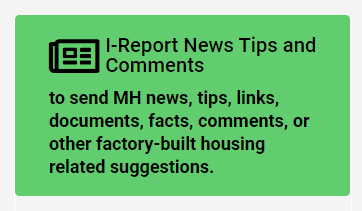 That's a wrap on this installment of "News Through the Lens of Manufactured Homes and Factory-Built Housing" © where "We Provide, You Decide." © (Affordable housing, manufactured homes, stock, investing, data, metrics, reports, fact-checks, analysis, and commentary. Third-party images or content are provided under fair use guidelines for media.) (See Related Reports, further below. Text/image boxes often are hot-linked to other reports that can be access by clicking on them.)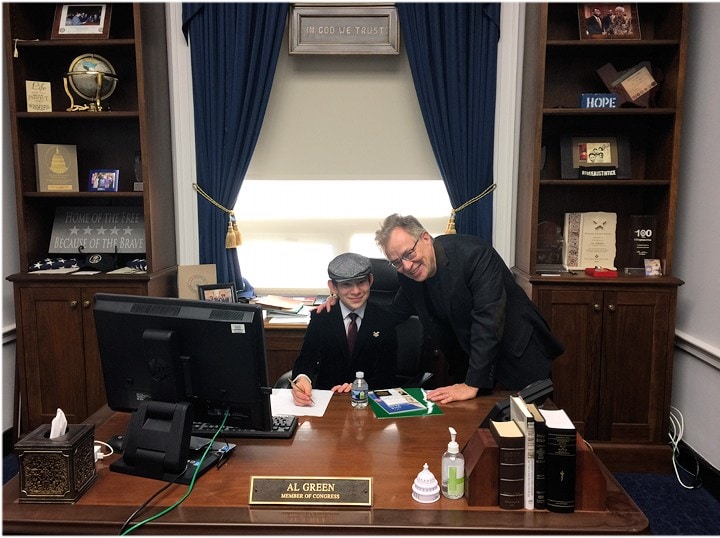 By L.A. "Tony" Kovach – for MHProNews.
Tony earned a journalism scholarship along with numerous awards in history. There have been several awards and honors and also recognition in manufactured housing. For example, he earned the prestigious Lottinville Award in history from the University of Oklahoma, where he studied history and business management. He's a managing member and co-founder of LifeStyle Factory Homes, LLC, the parent company to MHProNews, and MHLivingNews.com. This article reflects the LLC's and/or the writer's position and may or may not reflect the views of sponsors or supporters.