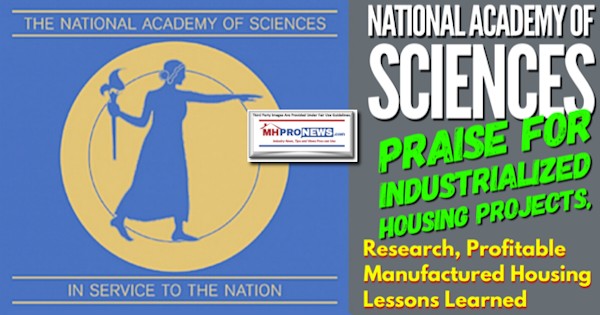 According to LinkedIn, Todd Richardson is the General Deputy Assistant Secretary, Policy Development and Research at U.S. Department of Housing and Urban Development (HUD), in Washington, District Of Columbia (D.C). He has been with HUD since September 1991.
Richardson – in extended quotes that will follow further below – is a reminder of the value of institutional memory. But let's take a segue before diving into the headline, because it is all interlaced.
At present, at the Manufactured Housing Institute (MHI), there is no one with a significant degree of institutional memory of the manufactured housing industry as it existed prior to 2003. By contrast, the Manufactured Housing Association for Regulatory Reform (MHARR) – a fraction of the size of MHI – has decades of more institutional memory than does MHI.
Hold that thought for another time, because perhaps as soon as next week, that point will be revealed as a far more significant than many industry professionals might, investors, and manufactured housing advocates may think.  That may be a good spot to remind professionals to sign up for our emailed-headline news. It's the hottest ticket for the most read site on all of manufactured housing trade media.
A tip has brought us that upcoming exclusive. The teaser of headline news that we already know will be coming aside, let's swerve back to Richardson at HUD's PD&R department.

HUD PD&R At Work – and Manufactured Housing Related Research
In an undated post that appears to have been published circa 2017-2018, Richardson made a similar point about the value of institutional memory. Here is how he phrased it.
"Periodically, I find it helpful to look back at the early days of the Office of Policy Development and Research (PD&R)."
That's an important principle Richardson is stating, as keen minds looking for more opportunities and profits could discover.  Insights from the past are often clues to opportunities from the future.  Let's return to the HUD professional's comments.
According to Richardson, in the late 1960s and early 1970s, HUD PD&R ran a demonstration project called Operation BREAKTHROUGH. According to then-Assistant Secretary for PD&R Michael Moskow in 1974, "The Department of Housing and Urban Development launched Operation BREAKTHROUGH in 1969 to stimulate volume production of quality housing for all income levels. Factory building offered a logical means — then as it does now — for the housing industry to grow and progress. We set ambitious objectives for that growth. BREAKTHROUGH tested many techniques of industrialization."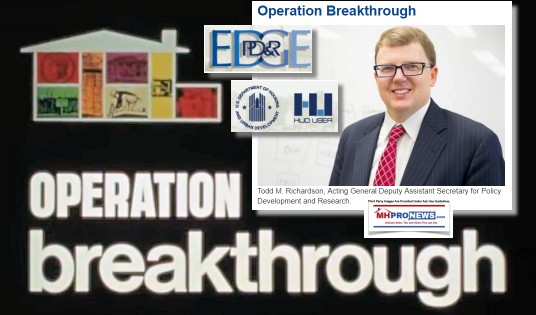 That document – that specific HUD PD&R – can be accessed from the report linked here. But please wait until next week, because what may seem like magic, a new document will appear there to replace another.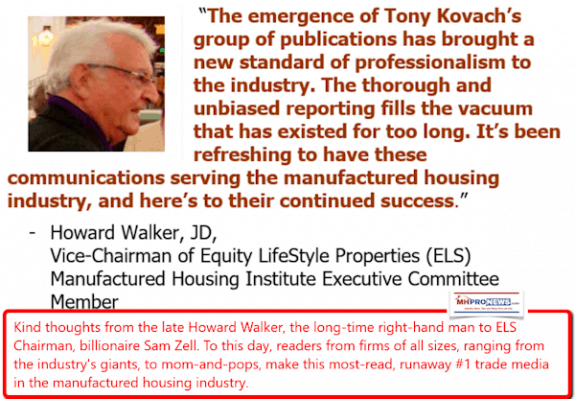 Back to Richardson's narrative.
"This demonstration [i.e. Operation BREAKTHROUGH]," wrote Richardson, "involved complex partnerships with multiple "Housing System Producers" (including General Electric and Alcoa) and "Prototype Site Developers" (including the Boeing Company). The report states that between 1971 and 1973, "on the nine prototype sites are 2,938 housing units, 2,794 representing BREAKTHROUGH systems…. Those producers, assigned to 44 separate parcels or micro-sites, erected a variety of single family and multi-family dwelling types. There are 45 different combinations of producer and type…"
Now stop and think for a moment about just how huge GE and Alcoa were at that time.  Bear in mind the points that the Daily Business News on MHProNews has made for years about big firms – such as Amazon – poised to enter MHVille and/or factory-building in a more serious way. Affordable housing is a huge magnet. The profit potential is immense. From the days of Sears' precut-homes going on, various types of prefab housing has long held promise in the U.S. It continues to do so.
Back to Richardson.
"…Probably almost as interesting as the technology and site plans was the financing…"
"Notably, in 1971 Congress funded $30 million ($192 million in 2017 dollars) toward PD&R's Research and Technology Account to subsidize various aspects of the demonstration," said Richardson.
Then comes Richardson's tee up to what will be the punch line. "When the National Academy of Sciences reviewed PD&R in 2008, it summarized the core lessons from Operation BREAKTHROUGH as follows:..
First, General Deputy Assistant Secretary Richardson says what the misses were. But then he laid out what the National Academy of Sciences said we're some of the hits or successes from Operation BREAKTHROUGH.
"However, one generally unrecognized success of Operation Breakthrough is the recent marketplace acceptance that increased factory production of housing improves construction efficiency, quality, and affordability. Factory production can be achieved not only by complete factory production of housing units as in manufactured housing, but also with factory production of increasingly sophisticated building components that are then assembled in the field into traditional single and multifamily housing."
So, Manufactured housing was spotlighted by the National Academy of Sciences, by name, as a key lesson.
Hold that thought.
Bear in mind, that in the late 1960s or early 1970s, there were mobile homes, modulars, and various forms of prefabricated construction. There were no manufactured homes, yet.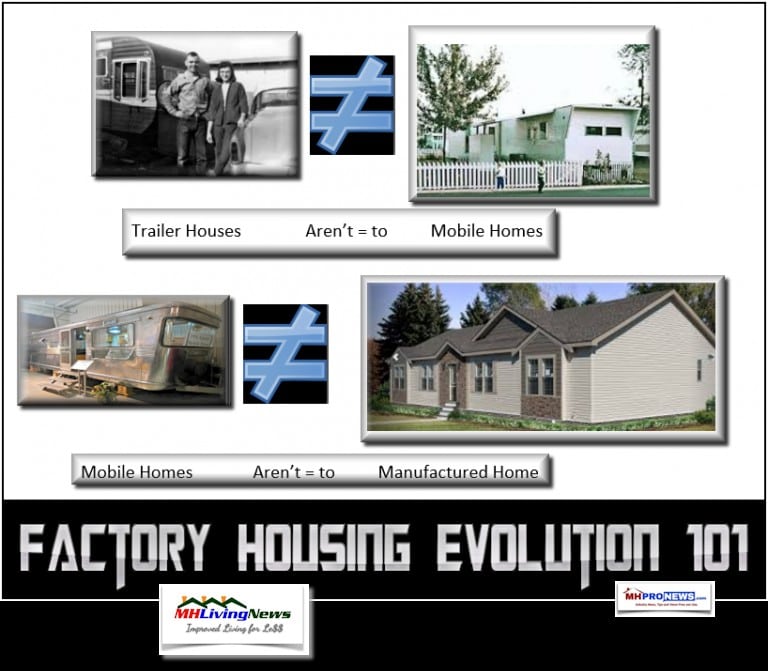 But in 1974 those manufactured housing construction and safety standards were passed into law. After June 15, 1976, there were no longer any mobile homes being built, because that was the day manufactured housing units were on assembly lines in states from coast-to-coast.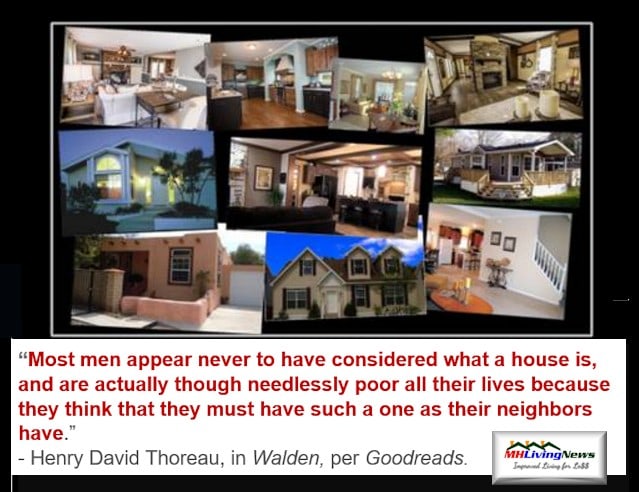 Back to what the National Academy of Sciences said, per HUD's Richardson.
"The latter concept of factory production has grown dramatically in the last two decades. The structural building component industry consisting primarily of factory-built wood trusses and walls has grown in sales in a decade by over 120 percent, from approximately $6.9 billion in 1996 to $15.3 billion in 2006 (SBC Legislative, 2007). The leadership shown in developing an idea that has continued to grow in the housing industry can be viewed as an Operation Breakthrough success. But, it is important not to overlook the lesson that the government's role in sponsoring research and technological leadership has boundaries that must be compatible with marketplace conditions."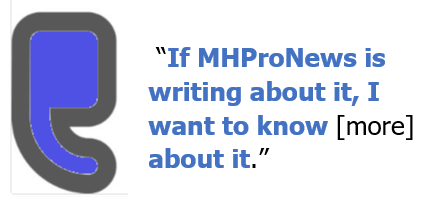 Now, as the annual Berkshire Hathaway annual event is approaching in May, so too are the annual insights into the performance of Clayton Homes and their associated lending units. An example of a prior year's fact check is here.
Bear in mind that Clayton Homes has been digging deeper into conventional housing. But Clayton are doing so in part, per sources, with an eye on industrialized or factory-building techniques being applied in on site-construction. At least some of the housing producers they bought were already into it.  Clayton will arguably help them scale that potential.  They have said as much in their own statements.
Step-by-step, thoughtful readers here can discern how these topics interrelate.
Head Fakes?
There are blathering commentators in MHVille who posture knowledge about the manufactured housing industry. They may indeed have even a significant level of experience in the industry.  But there are degrees of experience and understanding in any profession.  More to the point, some want to provide accurate information, others may want to provide spin useful to some special interest(s).
Some of the industry's commentators include one that has an ugly blog, another has a slick appearing publication. But both of those arguably have a problem with factual accuracy, as a link here and here demonstrates.
Note that neither of them as made any public effort to correct factual errors, as the Society of Professional Journalists Code of Ethics arguably ought to motivate them to do.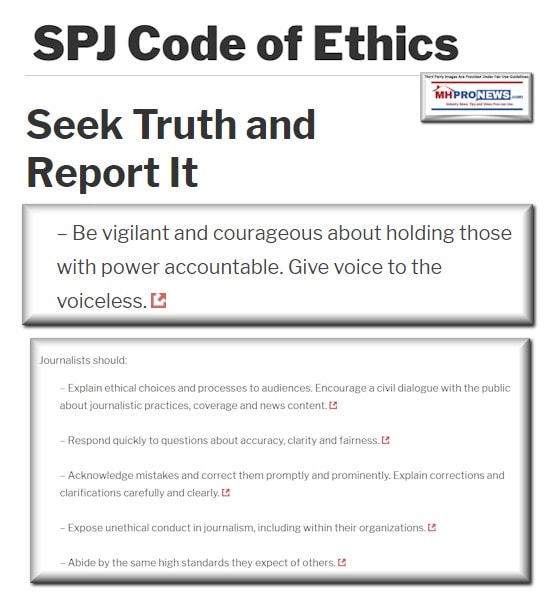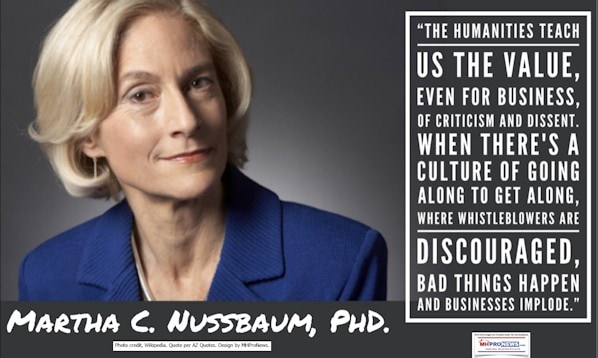 Truth Can Be Stranger Than Fiction, But Fiction Can Be Useful
The closing thoughts for today starts with this gem from novelist George Orwell, per Goodreads. "He who controls the present controls the past. He who controls the past controls the future."
Orwell is famous for Animal Farm and 1984. Our publisher says those used to be required reading when he was in junior high and high school.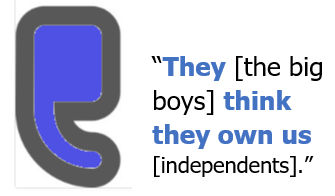 Information control is an attempt to control companies, and investors.
The manufactured home industry and its professionals are getting a steady stream of what debatably could be called propaganda. They get that spin directly from MHI, but also from MHI mouthpieces or periodic surrogates like the ones linked here and here.
The Daily Business News on MHProNews periodically calls each of them out for their disinformation. Our publisher periodically challenges MHI, their puppet masters, and those competing trade outlets to debate those fact-checks and analysis in public.
When an outgoing MHI president has de facto taken a slap at his former organization, that should speak volumes. MHProNews sources include past and present professionals with direct MHI ties.
But veering back to fact checks, the most recent such outreach to invite the powers-that-be and their trade media surrogates to debate in public was earlier this week. They have yet to accept, even though such offers have been extended over a period of several years. That offer was well documented.
That begs the question, why won't they discuss or debate the issues in public?  If they are correct, and we were wrong, what can they lose?
Those arguably spin outlets and MHI provide a mix of accurate and inaccurate information, which to the undiscerning eye might mistakenly be accept as accurate, because some of what is said appears to be real. That's why fact-checks are useful, to separate the 'wheat from the chaff.'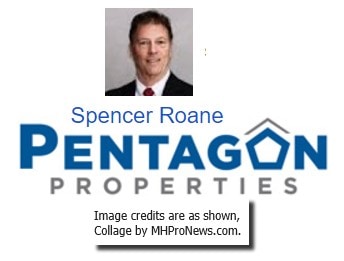 So as recently as this week, that offer to dispute our fact checks and analysis have gone unaccepted. But one-time MHI member, Spencer Roane, a longtime buddy of blogger and self-proclaimed industry historian George Allen wrote this to MHProNews, as part of a longer message. Bold and brown were added by MHProNew, as is our custom on direct quotes, but the text is as shown from Roane. "…The Jacksonville newspaper post is about the need for affordable housing.  Hard to argue w/ that.  The only fact-checking appears to be Kovach's, and that involves MHI membership and Buffet affiliations.  So what?  Other than sharing the interest of many in the industry about overly aggressive community owners/managers, none of this has anything to do w/ me.
Regards, Spencer Roane."
The significance is nuanced.
Roane did not defend Allen.
Rather, Roane claims that "…none of this has anything to do with me…" Interesting…
The link that follows is being edited in, so that readers can follow what Roane is referring to. Let's unpack this more carefully, for reasons that will become clear.
Roane – who publicly is no fan of ours, but who sources say is a regular reader here – says it is "Hard to argue w/ that" fact check published in the Jacksonville newspaper." Meanwhile he dismissively says "so what" about "The only fact-checking appears to be Kovach's, and that involves MHI membership and Buffet affiliations," he went onto admit that "Other than sharing the interest of many in the industry about overly aggressive community owners/managers…"
In analyzing that, it is tied to institutional memory and what is occurring in the manufactured housing industry, including the community sector that Allen and Roane claim to care so deeply about.  Thousands of industry professionals have never experienced the industry's more successful times.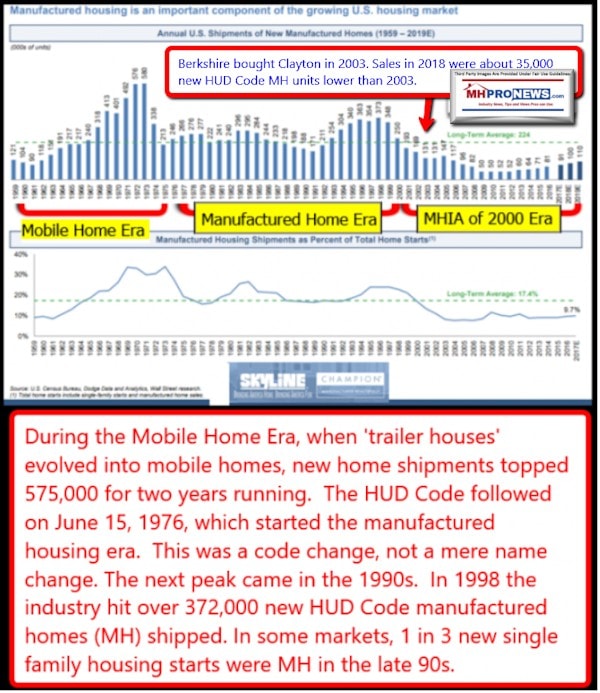 As a community owner himself, Roane admits that "aggressive community owners/managers" are an area of concern. Rightly so. There is blowback on the industry-at-large from the John Oliver "Mobile Homes" viral satirical video that Roane correctly said has only been fact-checked here and on MHLivingNews.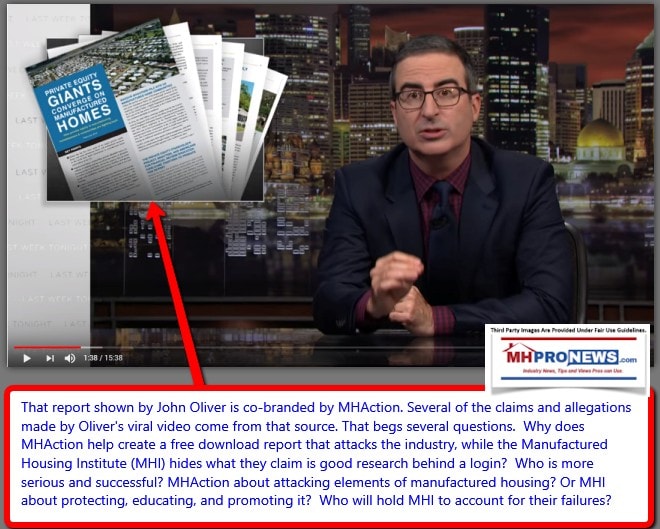 Coming from Roane, that and the Jacksonville newspaper observation are both back-handed compliments.  In effect, he's saying that Allen's public posturing about the John Oliver satirical video hit has been ineffective. He's also said that ours is the only one.
There has been no other fact-checks useful to independent manufactured home industry professionals or investors published that we are aware of either. How could Allen, or MHInsider effectively do so? After all, they are part or full time defenders of MHI and those who are in the tank with MHI.
How could MHI fact-check Oliver, given that they would be exposing themselves and their Omaha-Knoxville masters in the process?
Roane arguably let the cat-out-of-the-bag, albeit obliquely.
The evidence mounts that Omaha-Knoxville with cover from MHI and big boy members – are engaged in practices that objectively appear to be harmful to the long-term interests of independents in the community, retail, production, lending, suppliers, and other segments of the industry.  That means it is harmful to the interests of investors in those segments too.
Bear in mind that the Oliver video – to a casual observer – may have appeared to have come out of nowhere.
But to dedicated, careful, MHProNews readers, they already had the heads up to the background behind the Oliver video, which is MHAction and their so-called white paper. MHLivingNews reader/viewers already knew about Clayton-21st and their historic or more recent machinations, and they already knew that MHAction was apparently getting the benefit of Buffett's money through dark money channels, as was previously reported here.
Those are among the reasons that industry professionals logon here daily by the thousands, far and away more than any other publication.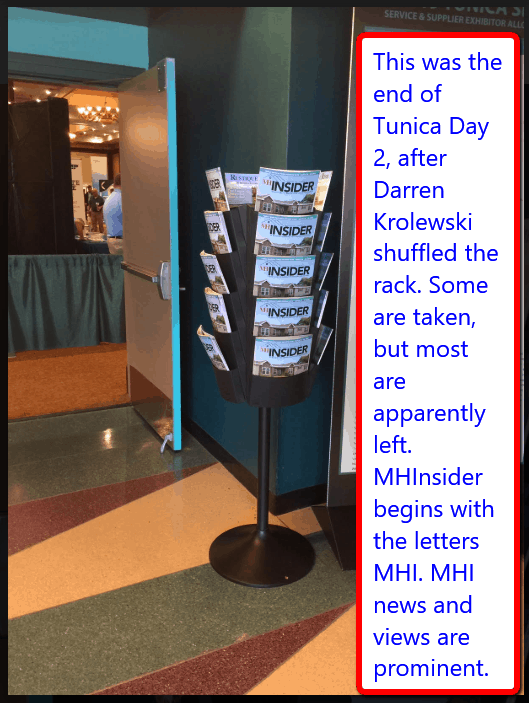 That others are aware of those moves, and are fighting it in their own way, was reported at the link below. ICYMI, click on the text-image box for more details.
They are industry professionals that currently hail from primarily south-central or southern states. They may hunt, fish, go to the honky-tonk, or go four wheeling in the mud for fun. They're routinely patriots – people of faith, flag, and family, who love the constitution and their second amendment protected guns.
The truth can be stranger than fiction.  Who would have thought that Buffett would fund his own opposition?
We at MHProNews did, because of a combination of institutional memory, numerous insider tips, and years of research.
See the related reports below the byline for more insights that publicly stand unrefuted by the powers that be, their allies, or sycophants.  Watch for some significant new insights tomorrow, and exclusive reports early next week.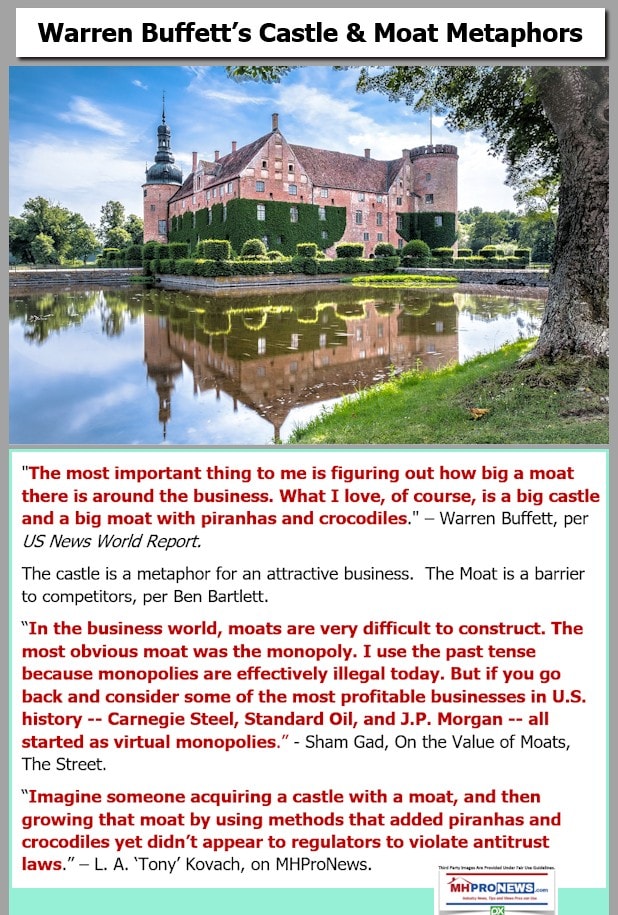 To survive and profitably thrive in manufactured housing's shark-infested waters, one needs a combination of factors.  One is useful intelligence.

That's your Saturday edition of "Delivering to Manufactured Home Independents & Investors Useful Intelligence for Your Professional Life." © where "We Provide, You Decide." © ## (News, analysis, and commentary.)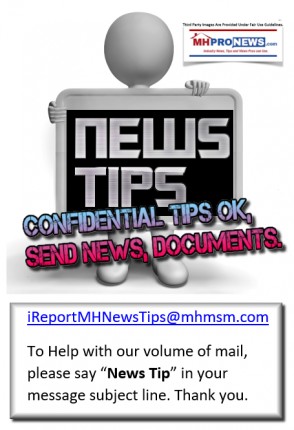 Your link to industry praise for our coverage, is found here.
For the examples of our kudos linked above…plus well over 1,000 positive, public comments, we say – "Thank You for your vote of confidence."
"We Provide, You Decide." © ## (News, analysis and commentary.)
(Image credits and information are as shown above, and when provided by third parties, are shared under fair use guidelines.)
Submitted by Soheyla Kovach to the Daily Business News for MHProNews.com.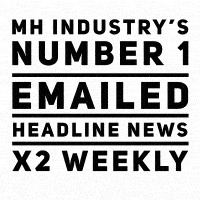 2) To pro-vide a News Tips and/or Commentary, click the link to the left. Please note if comments are on-or-off the record, thank you.
3) Marketing, Web, Video, Consulting, Recruiting and Training Re-sources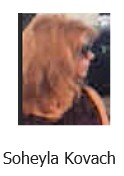 Submitted by Soheyla Kovach to the Daily Business News for MHProNews.com. Soheyla is a managing member of LifeStyle Factory Homes, LLC, the parent company to MHProNews, and MHLivingNews.com.
Related Reports

:
You can

click on the image/text boxes

to learn more about that topic.
For Want of a Nail For want of a nail the shoe was lost. For want of a shoe the horse was lost. For want of a horse the rider was lost. For want of a rider the message was lost. For want of a message the battle was lost.
Jujitsu – Last Week Tonight John Oliver "Mobile Homes" Video Fact-Check Revelations
The last decade-plus has not been especially kind to the manufactured housing industry and consumers of affordable housing. The 21 stCentury began with a great deal of promise for the industry and consumers alike.