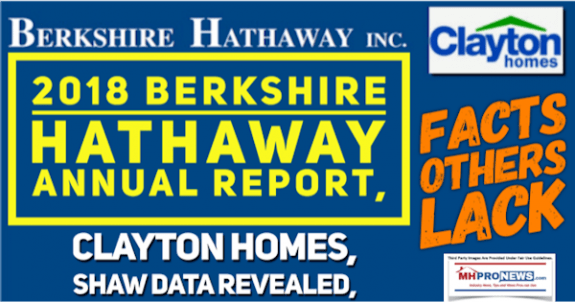 The Daily Business News on MHProNews noted yesterday that 6 words that were missing from Chairman Warren Buffett's cover letter to Berkshire Hathaway annual report.
By contrast, the formal part of the annual report must provide information for shareholders and prospective investors, as a matter of regulatory law. For those into the psychology behind choices, note that the Berkshire annual report cover is in blue, a confidence color.
What's not mentioned in the text and related data, taken verbatim from the relevant portions of the Berkshire Hathaway (BRK) annual report, are concerns about allegations of collusion and market rigging.  For insights into that, see the report linked here.
Nor is there any mention of the departing shot from a former Manufactured Housing Institute (MHI) president, linked here.
From pages K-17, as well as 47-48, are the following manufactured home connected items.  This will be followed by research and related items found from MHProNews.
Building Products Clayton Homes Clayton Homes, Inc. ("Clayton"), headquartered near Knoxville, Tennessee, is a vertically integrated housing company utilizing manufactured, modular and site built methods. Clayton's homes are marketed in 48 states through a network of 2,149 retailers, including 366 company-owned home centers and 280 subdivisions. Home finance and insurance products are offered through its subsidiaries primarily to purchasers of manufactured and modular homes. Clayton acquired its first site builder in 2015 and, thereafter, added seven additional site builders. Clayton delivered 51,569 homes in 2018 at various price points. Clayton competes based on price, service, delivery capabilities and product performance and considers the ability to make financing available to retail purchasers a factor affecting the market acceptance of its products. Clayton's financing programs support company-owned home centers and select independent retailers. Proprietary loan underwriting guidelines have been developed and include ability to repay calculations, including debt to income limits, consideration of residual income and credit score requirements, which are considered in evaluating loan applicants. Currently, approximately 61% of the loan originations are home-only loans and the remaining 39% have land as additional collateral. The average down payment is approximately 15%, which may be from cash, trade or land equity. Certain loan types require an independent third-party appraisal. Originated loans are at fixed rates and for fixed terms. Loans outstanding include non-government originations, bulk purchases of contracts and notes from banks and other lenders. Clayton also provides inventory financing to certain independent retailers and community operators and services housing contracts and notes that were not purchased or originated. The bulk contract purchases and servicing arrangements may relate to the portfolios of other lenders or finance companies, governmental agencies, or other entities that purchase and hold housing contracts and notes. Clayton also acts as an agent on physical damage insurance policies, homebuyer protection plan policies and other programs.
Shaw Industries Shaw Industries Group, Inc. ("Shaw"), headquartered in Dalton, Georgia, is a leading carpet manufacturer based on both revenue and volume of production. Shaw designs and manufactures over 3,900 styles of tufted carpet, wood and resilient flooring for residential and commercial use under about 30 brand and trade names and under certain private labels. Shaw also provides project management and installation services. Shaw's manufacturing operations are fully integrated from the processing of raw materials used to make fiber through the finishing of carpet. In 2018, Shaw acquired Sanquahar Tile Services in Scotland, which manufactures and distributes carpet tile throughout Europe. Shaw also manufactures or distributes a variety of hardwood, vinyl and laminate floor products ("hard surfaces"). In 2016, Shaw acquired USFloors, Inc., which is a leading innovator and marketer of wood-plastic composite luxury vinyl tile flooring, as well as cork, bamboo and hardwood products. Shaw's carpet and hard surface products are sold in a broad range of patterns, colors and textures. Shaw operates Shaw Sports Turf and Southwest Greens International, LLC, which provide synthetic sports turf, golf greens and landscape turf products. Shaw products are sold wholesale to over 39,000 retailers, distributors and commercial users throughout the United States, Canada and Mexico and are also exported to various overseas markets. Shaw's wholesale products are marketed domestically by over 2,700 salaried and commissioned sales personnel directly to retailers and distributors and to large national accounts. Shaw's seven carpet, seven hard surface and two sample full-service distribution facilities and 26 redistribution centers, along with centralized management information systems, enable it to provide prompt and efficient delivery of its products to both its retail customers and wholesale distributors. Substantially all carpet manufactured by Shaw is tufted carpet made from nylon, polypropylene and polyester. In the tufting process, yarn is inserted by multiple needles into a synthetic backing, forming loops, which may be cut or left uncut, depending on the desired texture or construction. During 2018, Shaw processed approximately 95% of its requirements for carpet yarn in its own yarn processing facilities. The availability of raw materials continues to be good but costs are impacted by petro-chemical and natural gas price changes. Raw material cost changes are periodically factored into selling prices to customers. The floor covering industry is highly competitive with more than 100 companies engaged in the manufacture and sale of carpet in the United States and numerous manufacturers engaged in hard surface floor covering production and sales. According to industry estimates, carpet accounts for approximately 50% of the total United States consumption of all flooring types. The principal competitive measures within the floor covering industry are quality, style, price and service.
K-14
Building products
2018 versus 2017
Revenues of the building products group in 2018 were approximately $18.7 billion, an increase of 10.2% compared to 2017. Pre-tax earnings of the building products group were approximately $2.3 billion in 2018, an increase of 8.8% versus 2017. Overall, pre-tax earnings as a percentage of revenues were 12.5% in 2018 and 12.7% in 2017. The pre-tax earnings increase was primarily due to higher earnings from Clayton Homes and Shaw, partly offset by lower earnings from Johns Manville.
Clayton Homes' revenues were $6,046 million in 2018, an increase of $1,036 million (20.7%) over 2017. The increase was driven by an increase in revenues from home sales of $971 million (28.2%), primarily due to a 105% increase in unit sales of site built homes attributable to businesses acquired over the last two years. Unit sales of manufactured homes in 2018 also increased 4.9% compared to 2017. Average unit prices of site built homes are considerably higher than traditional manufactured homes. In addition, interest income from lending activities increased 4% in 2018 compared to 2017 primarily due to increased average outstanding loan balances.
K-47
Management's Discussion and Analysis (Continued)
Manufacturing, Service and Retailing (Continued)
Building products (Continued)
Clayton Homes pre-tax earnings were $911 million in 2018, an increase of $145 million (19.0%) compared to 2017. The increase in earnings in 2018 was primarily attributable to a significant increase in earnings from home building (manufactured housing and site built homes) activities, which reflected the impact of increased home sales and margins, as well as increased earnings from lending activities. A significant part of Clayton Homes' earnings derives from manufactured housing lending activities. Pre-tax earnings from lending activities in 2018 declined 2% compared to 2017, reflecting increased interest expense, attributable to higher average debt balances and interest rates and higher operating costs, which more than offset the increase in interest income. As of December 31, 2018 and 2017, aggregate loan balances outstanding were approximately $14.7 billion and $13.7 billion, respectively.
Revenues of our other building products businesses increased 5.8% in 2018 to approximately $12.6 billion compared to 2017. In 2018, Shaw's sales increased 7.9% and Johns Manville's sales increased 7.2% as compared to 2017. The increases reflected higher average selling prices, product mix changes and overall unit volume increases.
Raw material and production costs of our building products businesses were generally higher in 2018. In particular, costs for steel, titanium dioxide and petrochemicals were substantially higher in 2018 than in 2017, as were product delivery costs, due in part to the shortage of truck drivers in the U.S. These cost increases precipitated sales price increases, although such increases have lagged the increases in raw materials costs. As a result, the increase in pre-tax earnings in 2018 of our other building products businesses ($43 million or 3.1%) lagged the 5.8% increase in revenues.
2017 versus 2016
Building products revenues were approximately $16.9 billion in 2017, an increase of approximately $1.9 billion (13.0%) compared to 2016. The increase was primarily attributable to bolt-on business acquisitions by Clayton, Shaw and MiTek. The remainder of the increase reflected sales volume increases at MiTek, Benjamin Moore and Johns Manville, partly offset by changes in prices and product mix.
Clayton Homes' revenues were approximately $5.0 billion in 2017, an increase of $780 million (18%) compared to 2016. The increase was primarily due to sales from newly-acquired site built home businesses, an increase in overall unit sales (9%) and higher average prices. Interest income from lending activities and other and financial services revenues increased 2% in 2017 compared to 2016.
Building products pre-tax earnings were $2.1 billion in 2017, an increase of $225 million (11.7%) compared to 2016. Pre-tax earnings as a percentage of revenues were 12.7% in 2017 and 12.8% in 2016. Clayton Homes' pre-tax earnings increased $21 million (2.8%) in 2017 compared to 2016. Pre-tax earnings in 2017 from manufacturing, retailing and site built activities increased, while earnings from finance activities declined slightly. Clayton Homes' earnings in 2017 also included a gain from a legal settlement, offset by increased employee healthcare, technology, marketing and other expenses. The comparative earnings increase reflected the effects of asset impairment, pension settlement and environmental claim charges of $107 million recorded in 2016 by Shaw and Benjamin Moore. The comparative earnings increase also was a result of bolt-on acquisitions, partly offset by comparative declines in average gross sales margin rates due to higher raw material and other production costs.
K-48
The full Berkshire Hathaway annual report is linked here.
There is no media outlet – none, zero, zippo – in manufactured housing that have provided more independent reports and analysis on Clayton Homes, and other Berkshire Hathaway connected individuals and operations than MHProNews.  Some of our recent reports are found below.
Note to researchers, investors, and other media.  MHProNews has routinely reached out to officials in the Knoxville metro, as well as the purportedly Clayton-dominated Arlington, VA based Manufactured Housing Institute (MHI), for replies, rebuttals, or other comments.  Direct replies have been declined, which is of course, there right.
More recently, 21st Mortgage Corp, a Berkshire Hathaway brand, was essentially unable to avoid a reply to allegations filed with the Consumer Financial Protection Bureau (CFPB), which more recently has been using the name Bureau of Consumer Financial Protection.  That report, which includes their attorneys response, is among those find below.
You can roughly compare Clayton's performance with the rest of the industry, by looking at the 2018 manufactured home production data linked further below
To learn more about the Berkshire owned brands, see the related reports, below the bylines, offers, and email headline news sign up, below. That's MH "Industry News, Tips, and Views Pros Can Use," © where "We Provide, You Decide." © ## (News, analysis, and commentary.)
NOTICE: You can get our 'read-hot' industry-leading emailed headline news updates, at this link here. You can join the scores who follow us on Twitter at this link. Connect on LinkedIn here.

NOTICE 2: Readers have periodically reported that they are getting a better experience when reading MHProNews on the Microsoft Edge, or Apple Safari browser than with Google's Chrome browser. Chrome reportedly manipulates the content of a page more than the other two.
(Related Reports are further below. Third-party images and content are provided under fair use guidelines.)
1) To sign up in seconds for our MH Industry leading emailed news updates, click here.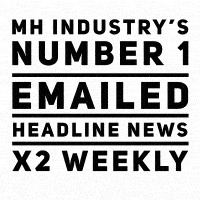 2) To pro-vide a News Tips and/or Commentary, click the link to the left. Please note if comments are on-or-off the record, thank you.
3) Marketing, Web, Video, Consulting, Recruiting and Training Re-sources
Submitted by Soheyla Kovach to the Daily Business News for MHProNews.com. Soheyla is a managing member of LifeStyle Factory Homes, LLC, the parent company to MHProNews, and MHLivingNews.com.
Related Reports

:
You can

click on the image/text boxes

to learn more about that topic.
Manufactured Housing Institute February 2019 Monthly Economic Report, with 2018 Revelations
"Mobile Home Militia," Retail/Production Sources, Sound Alarm Against Clayton Homes, CMH, New "Anti-Competitive Practices" Allegation
News Tip, Document – Is Clayton Homes Engaged in False Down Payments? Deceptive Trade Practices?
CFPB and 21st, Second Shoe Drops? Flooring w/21st Mortgage Corp? Insider Tips
America woke up today to division. But perhaps 75 percent (+/-) of the nation's people could come together on a plan that demonstrably could do the following. Increase the U.S. Gross Domestic Product (GDP) by some $2 Trillion Annually, without new federal spending.
MHI Allies Respond, Provide Confirmation to #NettlesomeThings, Facts, and Clayton/Berkshire Exposés
New York Times-David Leonhardt-"The Monopolization of America," Manufactured Housing Slant
https://manufacturedhomepronews.com/masthead/manufactured-housing-institutes-three-stooges-seco-leaders-george-f-allen-spencer-roane-tom-lackey-and-rent-to-own-scams/
https://manufacturedhomepronews.com/masthead/radically-aspirational-black-history-affordable-housing-social-justice-and-manufactured-homes/
Duty To Serve, "Complete Waste of Time" per Tim Williams, CEO/21st Mortgage; POTUS Trump, Warren Buffett Insight$
Manufactured Housing Institute VP Revealed Important Truths on MHI's Lobbying, Agenda
CFPB and 21st, Second Shoe Drops? Flooring w/21st Mortgage Corp? Insider Tips
Independent Clayton Retailers – Insiders, High Cost of Going Along to Get Along?
Manufactured Home Production Slide Continues – Call it Corruption, Collusion, Incompetence, Attempted Coverup – Self-Evident Failures Mount
MHVillage's MHInsider on Clayton Homes, Manufactured Housing Industry Fact Check – Why Correct Data Matters
A recent article in the Washington Post regarding the HUD manufactured housing program and the reassignment of former program administrator, Pamela Danner, vividly highlights the glaring need for a new, independent, collective, national trade association to more effectively represent the industry's post-production sector.
Washington, D.C., February 4, 2019 – The Manufactured Housing Association for Regulatory Reform (MHARR) reports that according to official statistics compiled on behalf of the U.S. Department of Housing and Urban Development (HUD), HUD Code manufactured home production declined again in December 2018.
Motion – or, more accurately, activity – in and of itself, is not necessarily synonymous with, or equivalent to, realprogress, or, in fact, any progress at all.