As the Masthead reported earlier this week, it is June, which is National Home Ownership Month. Unlike the national Manufactured Housing Institute, in a press release, the Michigan Manufactured Housing Association (MMHA) touted their latest effort at reaching out to the public to encourage shoppers to consider buying a manufactured home. It is worth noting that the once more independent MMHA, formed in 1941, is now part of a larger group of state trade associations. "The Michigan Association of Recreation Vehicles and Campgrounds (MARVAC) is a division of the Michigan Manufactured Housing, RV and Campground Association (MMH & RVCA), which is a full-service, non-profit, state trade association, representing the manufactured housing, recreation vehicle and private campground industries in the state of Michigan," per their website. Michigan was long a stronghold for manufactured homes. It is still home to numerous manufactured home communities. But much has changed since the Warren Buffett-led Berkshire Hathaway era of manufactured housing began in 2002 and the subsequent decimation of the manufactured housing independent "street retailer" base.
The video below, posted in August 2016, is approaching 5 years online and as of 5:08 AM on 6.4.2021 it has had 656 views. That's about an average of 11.3 views monthly. In fairness to MMHA, MHI has videos with similar levels of viewership too.
Let's look at the MMHA pitch to prospective manufactured home buyers, which will be followed by an MHProNews analysis. The equities market reports and related headlines will be further below. Note that the logos and comments on the photo below were added by MHProNews, but the balance of the content is as was otherwise shown in their media release.
Some Tips for Buying a Home in a Hot Seller's Market from the Michigan Manufactured Housing Association (MMHA)
OKEMOS, MI / ACCESSWIRE / June 2, 2021 / Welcome to the crazy 2021 spring home buying season, with homes selling at breakneck speed. The widespread shortage of home inventory (both manufactured homes and site-built homes) makes it a hot seller's market. But, if you're planning to BUY, here are a few things you'll want to do to grab your dream home.
Review your wish list. Compare your wish list to what's out there for sale, and be prepared to compromise a bit. Is a white kitchen really a must? Could you go with a smaller home? But, also know which home features you are NOT willing to give up … such as a particular school district, or the number of bedrooms, and keep shopping until you find the right home for you and your family's needs.
Stick to your budget. Your money may not go as far as you'd like with home inventory down and lumber prices up, but don't let emotion and a time crunch cause you to rush your decision. A lot of buyers get swept up and offer more than their budget allows because they feel pressure to make a move.
Think about your time frame. If you have some flexibility, ordering a new manufactured home may be the best option. Construction times are a bit longer right now across the industry, but you'll get just the home you want. Plus, if you're selling your current home and downsizing, you may find you make more money on your home now, and can use that to buy exactly the home you want. You may have to move into a rental or with family for part of the year, but a small sacrifice for a long-term investment. Assess your particular situation, and make it work.
Be ready to pounce. Homes are selling in days (and even hours), so you need to have your ducks in a row. Have your finances and credit score in order, your down payment saved, line up your lender and get preapproved for a loan. If you know that you'd like to live in a particular neighborhood or manufactured home community, keep in contact with the sales staff or local agent and they will contact you as homes are on the market.
Stay open to some updates. Buyers who are open to purchasing a fixer-upper may still be able to find a great deal. Most buyers are looking for move-in ready homes, so if you're willing to put in some work, you may have more options. You can find pre-owned manufactured homes in both communities (see the community manager or sales office) and on private land (watch real estate listings or contact a buyer's agent).
Overall, be prepared for a longer house hunt. As much as you want to be in your new house right now, you might have to come to terms with waiting a bit-especially if you're a first-time home buyer. Don't get discouraged if you get outbid, can't find the right home, or have to wait for a new home to be built. It will all be worth the wait! Ready to start your house hunt? Check out the manufactured home search options on www.michhome.org.
The Michigan Manufactured Housing Association is dedicated to educating the public about the benefits of manufactured and modular home living and connecting people interested in finding a community or home with its members. MMHA is one of Michigan's oldest trade associations, founded in 1941. MMHA is a nonprofit association representing the manufactured and modular home industry in Michigan. MMHA works to improve the image of manufactured and modular housing by educating consumers, media and government about the quality, affordability, design and beauty of the homes. For more information, visit the Michigan Manufactured Housing Association at www.michhome.org or contact MMHA, 2222 Association Drive, Okemos, MI 48864-5978; 517.349.3300.
SOURCE: Michigan Manufactured Housing Association
##

The video above was part of a previous campaign, and that fact check and analysis on that and another about MMHA are linked below. Let's note for now that as of 5:48 AM, 6.4.2021 this April 9, 2019 video has had 512 views. That's on average about 19.6 views per month. That noted, to their credit, what the video underscores is appeal and value. So, why is that message not breaking through to the public?
What is OTM? What Does a Pro-Manufactured Home Association's "Operation" Tell Manufactured Housing Professionals, Investors, Advocates, and Others?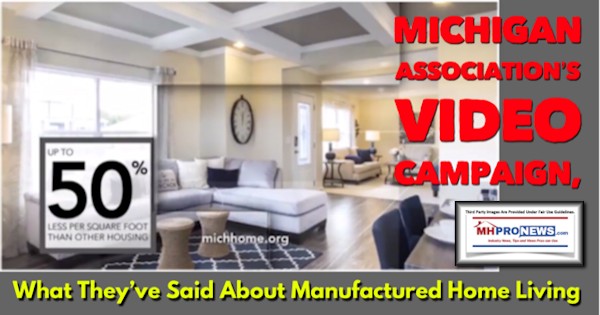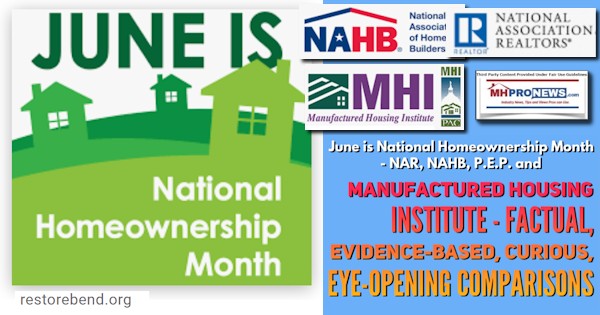 More Information, MHProNews Analysis, and Commentary 
The value proposition for manufactured housing is simply unmatched by conventional builders. Nevertheless, the industry is underperforming.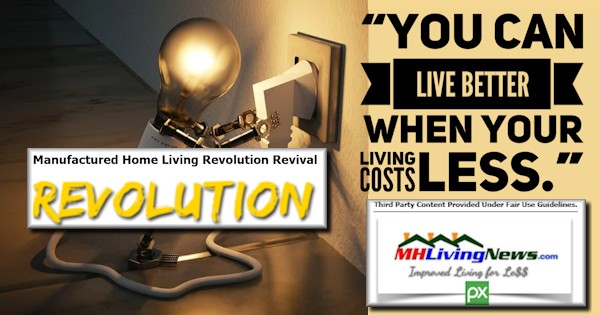 Investors, professionals, and other interested parties must take note. There has to be accountability from the industry's post-production trade groups. MHProNews – or MHARR – can and do shine a light on these issues. But it is up to association members to press their leaders to make the needed changes. If members fear their leaders, then they are not members, are they? If they are in a trade group out of some compelled sense, isn't that more like a protection racket than a trade group?
There are clearly significant disconnects in the manufactured housing industry's various 'efforts' to 'promote' the industry. That is apparent because the facts make clear that the industry is at only a fraction of its former glory days. Conventional housing is roaring. Affordable housing is in crisis. Yet, due to a range of issues that harm our industry's image in ways that often trace back to so-called 'bad actors' and 'predatory' brands associated with MHI, the industry is still just a fraction of where it still only about 1/4th the production levels it was in 1998.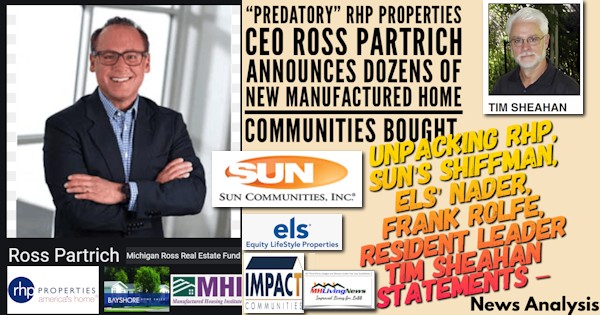 While there may be an occasional lament on this or that blog beyond MHProNews and our MHLivingNews sister site, the case can be made that no other rival publication or blog that has seriously documented and then dealt with these concerns in a manner that consistently calls for:
accountability from MHI,
its dominating brands,
and its affiliates.
While there are no doubt white hats in the industry – and in those arguably problematic trade groups – to the extent that they fail to hold their trade group to account, it may become a problem.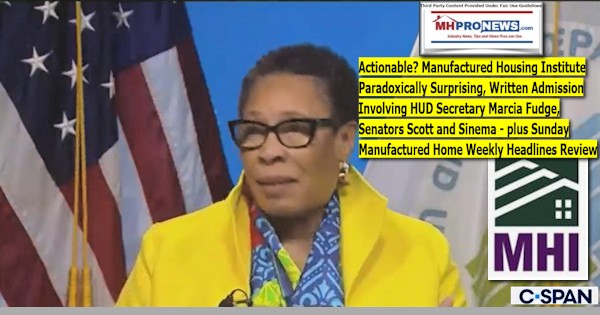 In fairness, MHProNews has for years noted state association efforts to do public days or other campaigns like the ones shown and linked above. But the facts should to some extent speak for themselves.
MHI admits that about 1/3 of all shipments are going into land lease communities. A significant percentage of those are being sold to community operators by producers for rental housing purposes.
The industry's business model has dramatically changed. Significant parts of that need to be connected to the entry of Berkshire Hathaway into the industry.
Yes, manufactured home shipments are finally on the rise, as our report linked below reflects.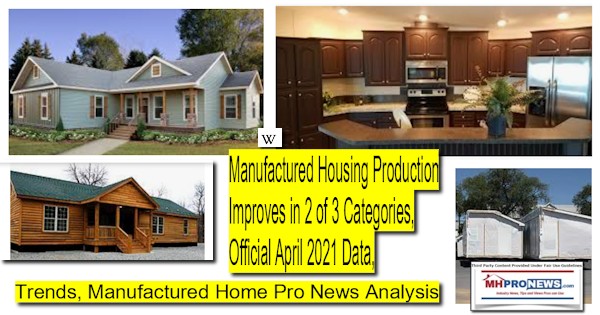 But for 2½ years, MHI has laughingly claimed without apparent shame that they have been promoting the industry. The screen capture below of MHI's self-promoting, self-congratulatory video speaks volumes.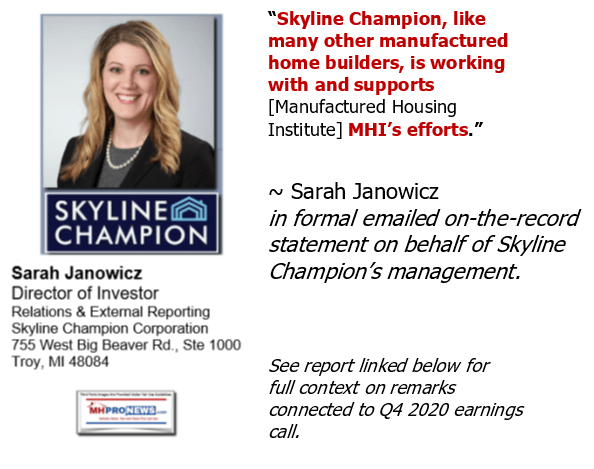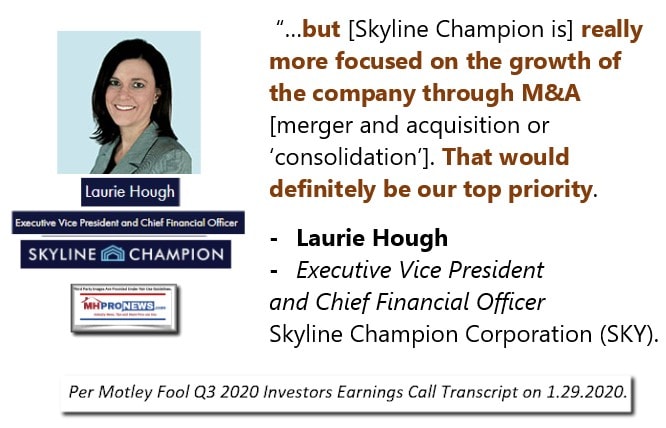 The independent producers trade group, the Manufactured Housing Association for Regulatory Reform (MHARR) is regulatory focused, and they say so very clearly. They have also said for years that the post-production sector of the industry needs new collective representation.
Even the MMHA press release above, while certainly better than no effort at all, oddly fails to connect their pitch to National Home Ownership Month. It also refers to the Spring of 2021. While summer may not technically start until June 20, many think of the Memorial Day weekend as the start of 'the 100 days of summertime.'
Nothing is changed until it is challenged.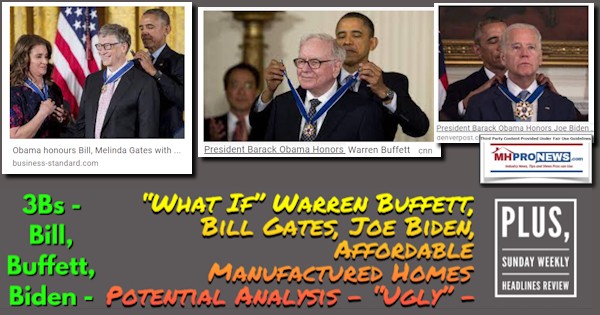 While new HUD Code manufactured home sales are finally rising, it is almost self-evident that the industry's giants want to keep the industry underperforming. When leaders at Clayton Homes, 21st Mortgage, and MHI were asked early this week to respond to the allegations made against them, they have once more stood silent.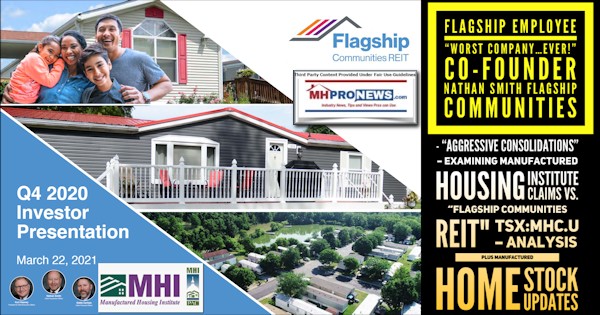 Programming Notes:
MHProNews has developed some exclusive new information from federal officials. Watch for a report in the days ahead, perhaps as soon as Sunday.
MHProNews has developed exclusive insights into the high cost of lumber. That report may be available as soon as tomorrow.
Cavco Industries (CVCO) has been asked by MHProNews to clarify a few items. There are perhaps surprising revelations there too. Watch for that next week.
As to MMHA's efforts, at least they made them. But the case can be made that until the root causes of our industry's image issues are addressed, such meek efforts will be met with a tepid response. And those image issues all too often trace back to black hats in the industry.
A white hat industry trade group is needed. Yes, manufactured home sales may rise given the hyper-heated demand for housing. But it should not create a false sense of complacency. White hats should organize, before potentially newcomers upstage them, even as MMHA apparently upstaged MHI on June 2, 2021.

Stock Market Updates and Business Daily Market Moving Left (CNN) – Right (Newsmax) Headlines Snapshot. While the layout of this business daily report has recently been modified, several elements of the basic concepts used previously are still the same. The headlines that follow below can be reviewed at a glance to save time while providing insights across the left-right media divide. Additionally, those headlines often provide clues as to possible 'market moving' items.
Market Indicator Closing Summaries – Yahoo Finance Closing Tickers on MHProNews…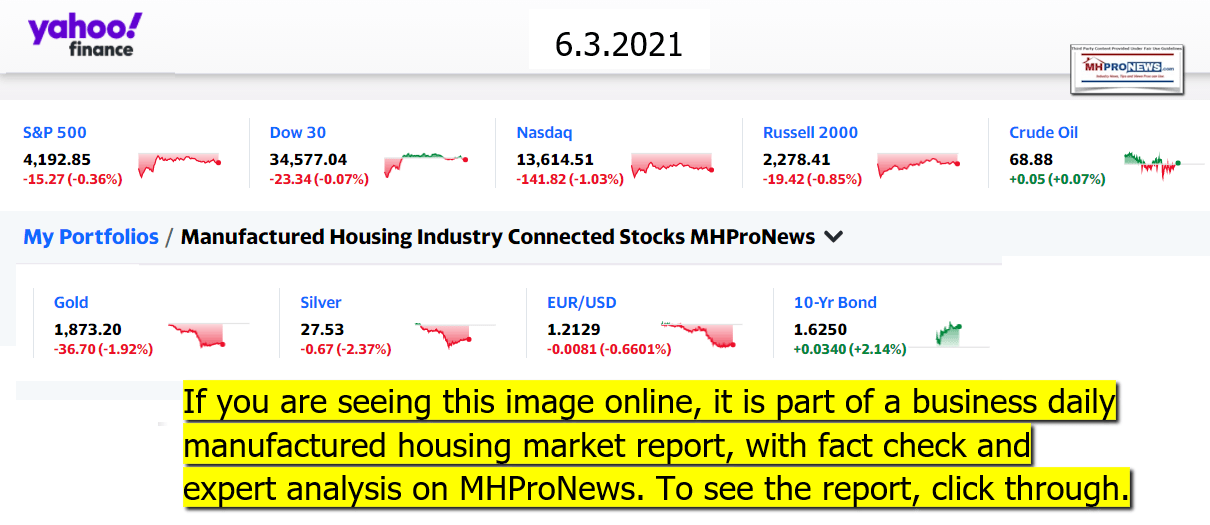 Headlines from left-of-center CNN Business = evening of 6.3.20
United's supersonic plans
The airline plans to carry passengers on the ultra-fast planes by 2029
Amazon thrived during the pandemic. These drivers say they paid the price
The Fed will start winding down a program that saved the economy
Opinion: Everyone you know is talking about crypto. Uh oh
Why Republicans' main attack on Biden's infrastructure plan doesn't work
Global inflation hasn't been this high since 2008
Taking the 'cyber' out of cyberattacks: Why hackers are going after physical infrastructure
Walmart gives 740,000 associates a free Samsung smartphone
Climate change could ignite a financial crisis, IMF official says
Helicopters, a patrol car and virtual bodyguards: Inside Citizen's scattered push to upend public safety
All-cash offers are king in this hysterical real estate market
Disney unveils one of its most 'innovative' attractions
How to invest in IPOs
People walk past an AMC and IMAX movie theatre in the theatre district near Broadway on May 6, 2021 in New York City. – New York Governor Andrew Cuomo announced that Broadway will reopen on September 14, 2021 at one hundred percent capacity, with some tickets going on sale starting today.
AMC's stock is up 3,000% this year. But the theater chain's problems aren't over
Shipping containers are unloaded from ships at a container terminal at the Port of Long Beach-Port of Los Angeles complex, amid the coronavirus disease (COVID-19) pandemic, in Los Angeles, California, U.S., April 7, 2021.
US announces new delayed tariffs against six countries
Cari Gundee rides her Peloton exercise bike at her home on April 06, 2020 in San Anselmo, California. More people are turning to Peloton due to shelter-in-place orders because of the coronavirus (COVID-19). Peloton stock has continued to rise over recent weeks even as most of the stock market has plummeted. However, Peloton announced today that they will temporarily pause all live classes until the end of April because an employee tested positive for COVID-19.
Peloton's app is getting cheaper for millions of people
Headlines from right-of-center Newsmax – evening of 6.3.2021
Trump Says Fauci Was Exposed, China Should Pay $10T in Damages
Former President Donald Trump on Thursday blasted infectious disease expert and White House medical adviser Anthony Fauci for early misinformation on the coronavirus pandemic — and demanded China pay the United States $10 trillion for "the death and destruction they have caused."
Related Stories
Sen. Paul: Fauci's Emails Prove He Knew About Gain of Function Research
Trump's Fauci Statement: Full Text
Newsmax TV
Nicole Malliotakis to Newsmax: 'National Disgrace' to Fly Black Lives Matter Flag at Embassies
Thomas Massie to Newsmax: House Mask Rules 'About Theater' |
Gov. Greg Abbott: I'm Going to Do Biden's Job on Border |
Dr. Scott Atlas: Regarding the Released Fauci Emails, 'the Truth Will Prevail' |
Rep. McCaul: Wuhan Leak, 'Worst Coverup in Human History' |
Stephen Moore: Another Stimulus Could Wreck the Economy |
Newsfront
US Postmaster General DeJoy Confirms FBI Probe, Denies Wrongdoing
Postmaster General Louis DeJoy says the FBI is investigating campaign fundraising activity at his former business, but he is denying wrongdoing…
Biden Wants $1T New Infrastructure Spending, Offers Change to Corporate Tax Hike
President Joe Biden wants $1 trillion in new infrastructure spending
House GOP to Dems.: It Is
House GOP to Dems.: It Is "Imperative" for Fauci to Testify Before Congressional Committees About COVID-19 Origin, Emails
House Republicans say it is "imperative" for Dr. Anthony Fauci to
Newsmax Podcast: 'Fauci Lied. People Died.'
Plus: Special guest Texas Attorney General Ken Paxton discusses Dems
Permanent Pandemic: COVID-19 Rules That Could Stick Around
In order to maintain the stay-at-home orders and other
Iran Is Flexing Its Muscles in Latin America
Two Iranian naval vessels believed to be bound for Venezuela could
Vernon Jones: We Must Stand With Israel and Jewish Americans
Condemn the hatred against Israel, and condemn the hatred here in the
Matthew McConaughey May Run for Governor, So What Does He Believe?
He's played cops, lawyers, bank robbers, beach bums and psycho [Full Story] |
Nicole Malliotakis to Newsmax: 'National Disgrace' to Fly Black Lives Matter Flag at Embassies
Rep. Nicole Malliotakis, R-N.Y., told Newsmax on Thursday that it's
Trump Says Fauci Exposed, China Should Pay $10 Trillion in Damages
Former President Donald Trump on Thursday blasted infectious disease
Study: Unemployment Claims in Florida Are Almost 97% Lower Than Last Year
Florida's unemployment claims are down 96.49% from the same week in
Noem: No Mount Rushmore Fireworks Because Left Won't Celebrate America
The "radical left" doesn't want to celebrate America or its freedoms, [Full Story]
10K Olympic Volunteers Quit; Organizers Say Tokyo Games Not in Jeopardy
Olympic officials are downplaying concerns that the loss of thousands
Daily US COVID-19 Cases Fewest Since March 2020
U.S. coronavirus infections are at their lowest level since the early
Florida Launches No out of Pocket Cost Solar Program
Sunnyside
Last week President Trump was on Newsmax TV for special interviews –
Cuomo Wins Dismissal of Suit Over NY's Covid Quarantine Rule
New York Gov. Andrew Cuomo won a fight over his authority to control
California to Pay $2M Church Legal Fees Over COVID Closures
The state of California has agreed not to impose greater coronavirus
Todd Starnes: Snopes Labels Attack on Rep. Nancy Mace's Home as a 'Rumor'
Mace announced on social media earlier this week that her Charleston
Nikki Fried Amended Financial Disclosures Before Announcing Run for Fla. Governor
A Democrat running for governor in Florida was forced to fix her
Biden Sending 25M COVID Vaccines Around the World
President Joe Biden on Thursday announced how the United States would
Ex-CDC Chief Got Death Threats From Scientists for Lab Leak Theory
Former Centers for Disease Control Director Robert Redfield on
NC County Aims to 'Cancel Coke' With Vending Machine Ban
A North Carolina county is banning Coca-Cola vending machines from
US Jobless Claims Fall Below 400,000 for First Time in Pandemic
Applications for U.S. state unemployment insurance dipped below
Uyghur Exiles Describe Forced Abortions, Torture by Chinese Authorities
Three Uyghurs who fled from China to Turkey have described forced
Rep. McCaul to Newsmax: Wuhan Leak, 'Worst Coverup in Human History'
Texas Rep. Michael McCaul condemned China on Newsmax on
Judge: No July Fourth Fireworks 'Bursting in Air' Over Mount Rushmore
A South Dakota federal judge has further denied Republican Gov.
Report: North Korea Acquired Two New Oil Tankers Last Year to Evade Sanctions
Pyongyang avoided global sanctions and obtained two new oil tankers
Arizona Election Audit Draws Pennsylvania Republicans
Three Pennsylvania lawmakers were in Arizona on Wednesday to check
Taxpayers, Not Cuomo, Paying $2.5M to His Legal Team
Taxpayers are set to foot the bill for a $2.5 million contract for
Mask-Burning Ohio Republicans Celebrate End of COVID-19 Restrictions
Celebrations by Republicans in Ohio abounded as some of the state's
This Is Who Actually Makes Costco's Kirkland Items
More Newsfront
Finance
US Labor Market Worse than it Appears, Fed Paper Suggests
U.S. labor market signals are conflicting to an "unprecedented" degree, but those suggesting labor market slack should be given more weight than those pointing to tightness, according a paper prepared by the San Francisco Federal Reserve Bank.
Amazon 'Forcing Employees to Brand Themselves With Stickers' If They're Vaccinated
GM Raises Forecast, Says Chip Shortage Not as Bad as Feared
Yellen Calls for Standardized Measurements on Green Investments
Meredith Corp Accepts Revised $2.8B Bid to Sell TV Stations to Gray Television
More Finance
Health
Surprising Number of Hospital Workers Refuse the COVID-19 Vaccine
Many hospital workers remain unvaccinated despite the fact they were first in line to be eligible for COVID-19 vaccinations. In a recent survey, some hospitals reported that only half their staff, which includes doctors and nurses along with support workers, are fully…
Allergic to Seafood? Don't eat Swarming Cicadas, US Warns
Coffee Falls Short When Sleep Deprived, According to New Study
Do I Need to Get Tested for COVID-19 If I'm Vaccinated?
Good News: Study Reveals COVID-19 Antibody Protection Persists
Manufactured Housing Industry Investments Connected Equities Closing Tickers
Some of these firms invest in manufactured housing, or are otherwise connected, but may do other forms of investing or business activities too.
NOTE: The chart below includes the Canadian stock, ECN, which purchased Triad Financial Services, a manufactured home industry lender
NOTE: Drew changed its name and trading symbol at the end of 2016 to Lippert (LCII).
NOTE: Deer Valley was largely taken private, say company insiders in a message to MHProNews on 12.15.2020, but there are still some outstanding shares of  the stock from the days when it was a publicly traded firm.  Thus, there is still periodic activity on DVLY.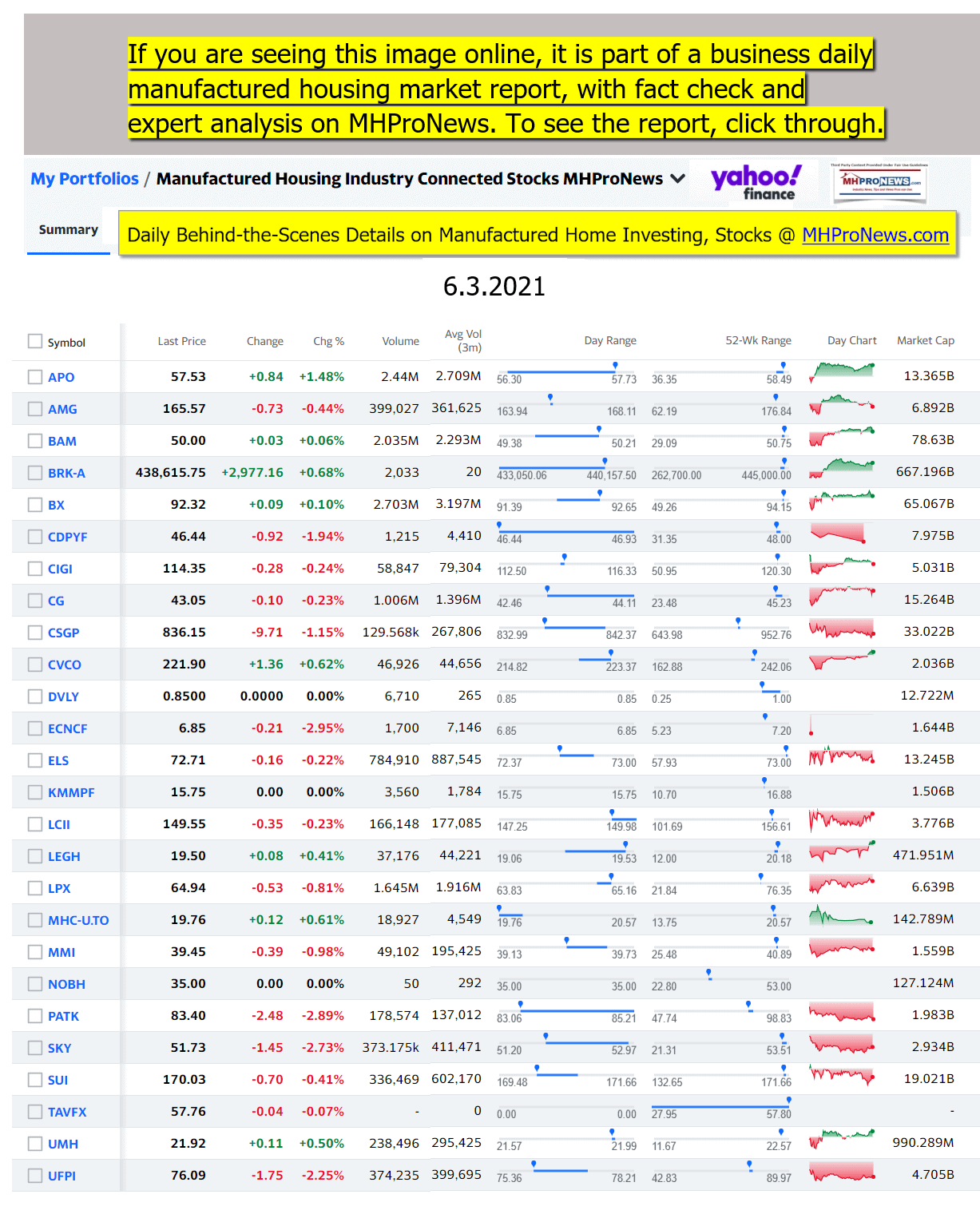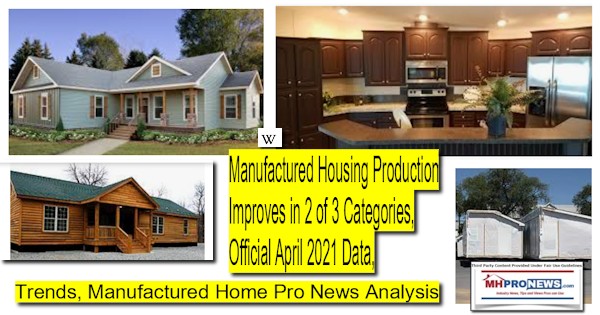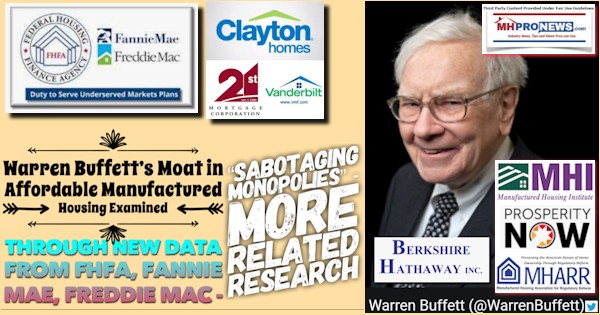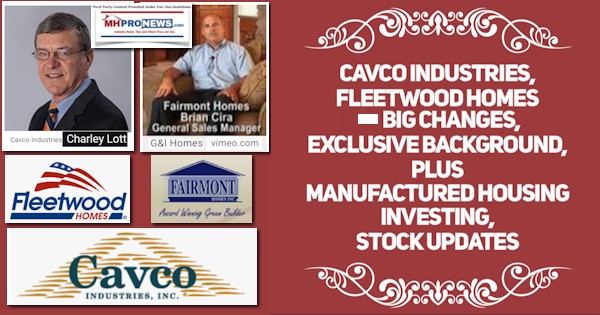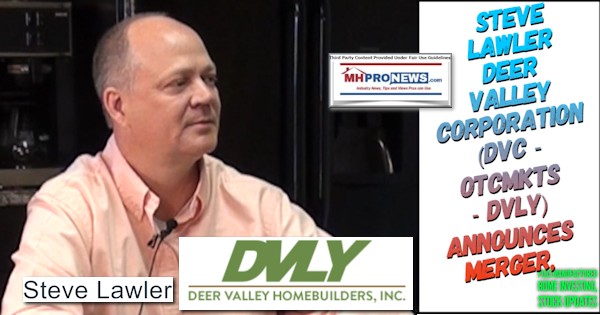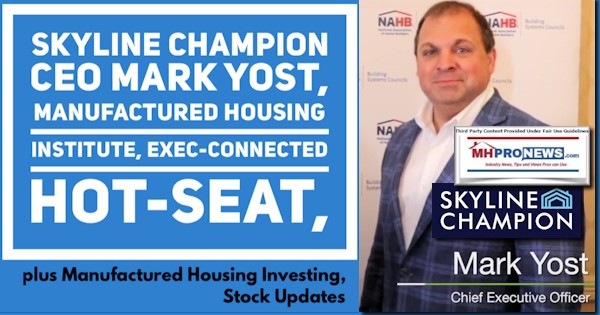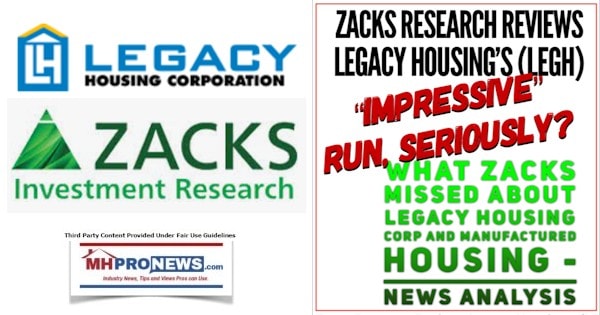 Spring 2021…
Berkshire Hathaway is the parent company to Clayton Homes, 21st Mortgage, Vanderbilt Mortgage and other factory built housing industry suppliers.
· LCI Industries, Patrick, UFPI, and LP each are suppliers to the manufactured housing industry, among others.
· AMG, CG, and TAVFX have investments in manufactured housing related businesses. For insights from third-parties and clients about our publisher, click here.
Enjoy these 'blast from the past' comments.
MHProNews. MHProNews – previously a.k.a. MHMSM.com – has celebrated our 11th year of publishing, and is starting our 12the year of serving the industry as the runaway most-read trade media.
Sample Kudos over the years…
It is now 11+ years and counting…
Learn more about our evolutionary journey as the industry's leading trade media, at the report linked below.
· For expert manufactured housing business development or other professional services, click here.
· To sign up in seconds for our industry leading emailed headline news updates, click here.

Disclosure. MHProNews holds no positions in the stocks in this report.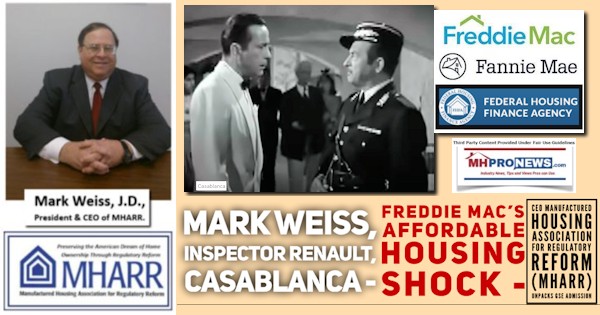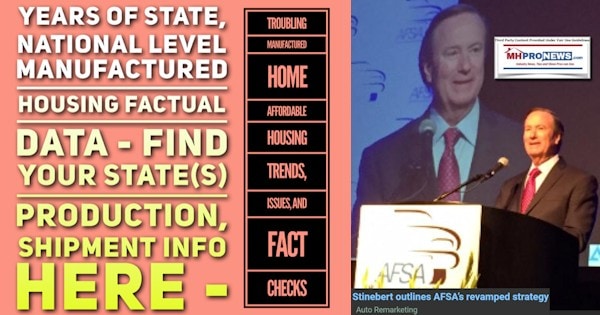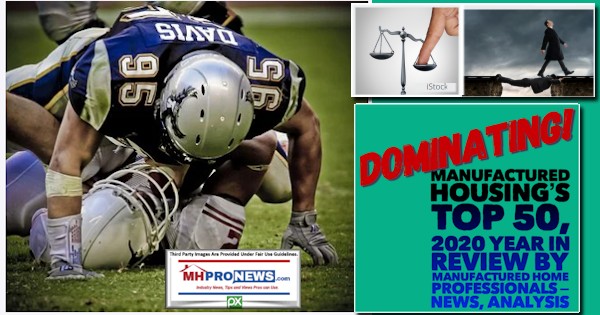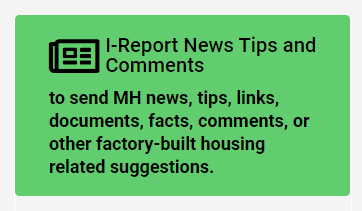 That's a wrap on this installment of "News Through the Lens of Manufactured Homes and Factory-Built Housing" © where "We Provide, You Decide." © (Affordable housing, manufactured homes, stock, investing, data, metrics, reports, fact-checks, analysis, and commentary. Third-party images or content are provided under fair use guidelines for media.) (See Related Reports, further below. Text/image boxes often are hot-linked to other reports that can be access by clicking on them.)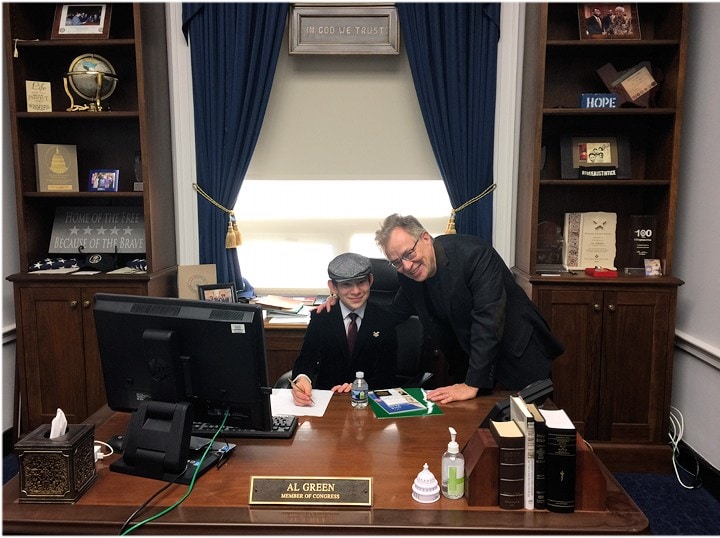 By L.A. "Tony" Kovach – for MHProNews.
Tony earned a journalism scholarship and earned numerous awards in history and in manufactured housing. For example, he earned the prestigious Lottinville Award in history from the University of Oklahoma, where he studied history and business management. He's a managing member and co-founder of LifeStyle Factory Homes, LLC, the parent company to MHProNews, and MHLivingNews.com. This article reflects the LLC's and/or the writer's position, and may or may not reflect the views of sponsors or supporters.