In fairness, Flagship Communities Estate Investment Trust (TSX: MHC.U) ("Flagship REIT") rating on Indeed on 6.2.2021 was a stellar 2.5 out of 5 stars. That noted, the very first statement by a "property manager" dated 5.21.2021 headline stated, "Worst company I've ever worked for!"  Reporting the facts and quoting accurately from the various sources, including from Flagship Communities own statements at length further below. To continue what Indeed stated, "Worst company I've ever worked for! They do not care about their employees or the people trying to buy homes. Don't expect vacation days after 6 months and even with giving a notice, they won't pay you your unused vacation or commission on homes that you worked for when you leave. Six days a week and you're on call with a cell phone 24/7…don't waste your time, keep searching."
Ouch. But perhaps the bigger ouch is that another rating of 4 stars that Indeed credited to them was apparently mis-filed by Indeed, because Nathan Smith et al's Flagship is not in Florida doing condos. What that means is that the actual Indeed rating should be…wait for it…1 star, not 2.5.
It is fair to say that Nathan Smith and his colleague Kurt Keeney are higher profile Manufactured Housing Institute (MHI) National Communities Council (NCC).
On 6.2.2021 after MHI was asked to comment on the report linked here and others further below, MHI sent this out to their members.
"Legal Trends, Media Tips & Best Practices for Manufactured Housing Community Owners and Operators" it was "Sponsored by Lutz, Bobo & Telfair, P.A. and Rent Manager." The fee-based online 'education' made the following claim.
"This month's webinar focuses on trends in legislation and regulations relevant to community owners and operators such as source of income, land use restrictions, and fair housing. Learn how to tell your story to create a positive perception of land-lease communities among policymakers, media and potential customers. Join industry professionals involved in land-lease manufactured housing community operations as they share their insights about trends they are currently seeing in the market, where the industry is headed and best practices for creating a resident-focused community culture."
Let's unpack that apparent B…S before pivoting back to Flagship, because they are arguably inter-related.
Many if not most of the negative news stories that are generated about manufactured home communities seem to involve MHI/NCC members.
Others that do not involve an MHI/NCC member often have ties to an MHI state affiliate.
That said, the MHI pitch to charge for education by "Lutz, Bobo and Telfair" smacks of paltering and sheer chutzpah. How so?
MHI insiders have told MHProNews that MHI shamelessly ignores the so-called "bad actors" in the profession who are sparking those state or federal level inquiries, which are then often turning into rent-control or other legislation. As recently as yesterday a source within MHI confirmed that there is no known case of MHI invoking their so-called National Communities Council (NCC) code-of-ethical conduct.
But there is more. Because MHI leaders promised years ago to do for the industry – i.e. promote, educate, and correct bad information – what they are now trying to push down to their members, as evidenced by the pitch for their fee based "webinar." Ponder the obvious disconnect. MHI charges members, saying they will do certain functions on their behalf. Then later, MHI turns to members and charges 'education,' and apparently continue to ignore their own claimed standards and promises. More on the evidence for that below, as we pivot back to the Flagship update.
The case can be made, using the example above and what follows below, that Flagship and other so-called predatory or black hat operations stir up trouble that in due time they benefit from.
To restate that for emphasis, consider the following. Problems are created by companies that are often MHI member firms. Then, regulatory, financial, or other barriers of entry, persistence, and exit are increased. When smaller operators finally weary of the trend of threatened tax increases, regulatory burdens (for issues that white hats do not cause), who do they vexed white hats turn to for selling their communities? Often to black and gray hat operators, who routinely are MHI members and/or members of their state affiliates.
Problems, are in several instances, are created. They do not just 'happen.'
Problems which are not mitigated, then fester. Yet, these kinds of issues are an important part of what the national trade association tells its members it will do.
The problematic behaviors are not formally condoned by the "code of ethical conduct," but then the said "code" is not enforced.
The winners in that toxic brew? The black and gray hats that want to consolidate other people's operations at the most favorable price and terms possible.
Is there any evidence for this claimed pattern? Yes. Look at the two reports linked below, and more that will follow. Then we will see how that purported pattern applies specifically to Flagship Communities. Because the evidence-based argument can be made that Flagship and others at MHI are doing so too.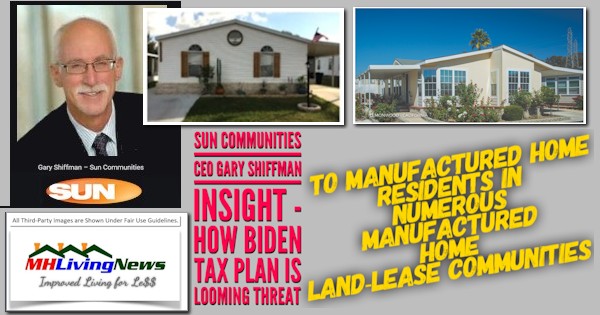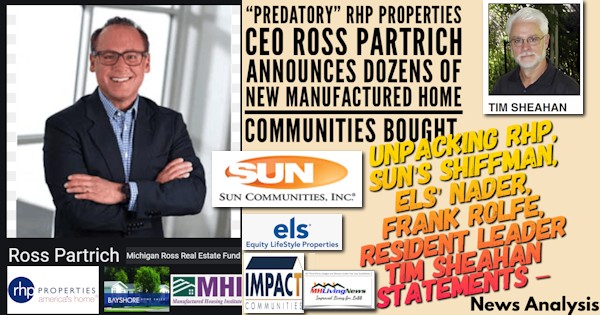 With the above in mind, Flagship in their update investor relations pitch deck said the following.
Flagship says the Manufactured Home Community (MHC) Industry has "external growth opportunities."
Their bullets are:
Continuing acquisitions and consolidations.
Highly fragmented sector allows for aggressive consolidations.
Look to acquire MHCs with strong operations synergies.
Build-out our geographic footprint and adjacent states.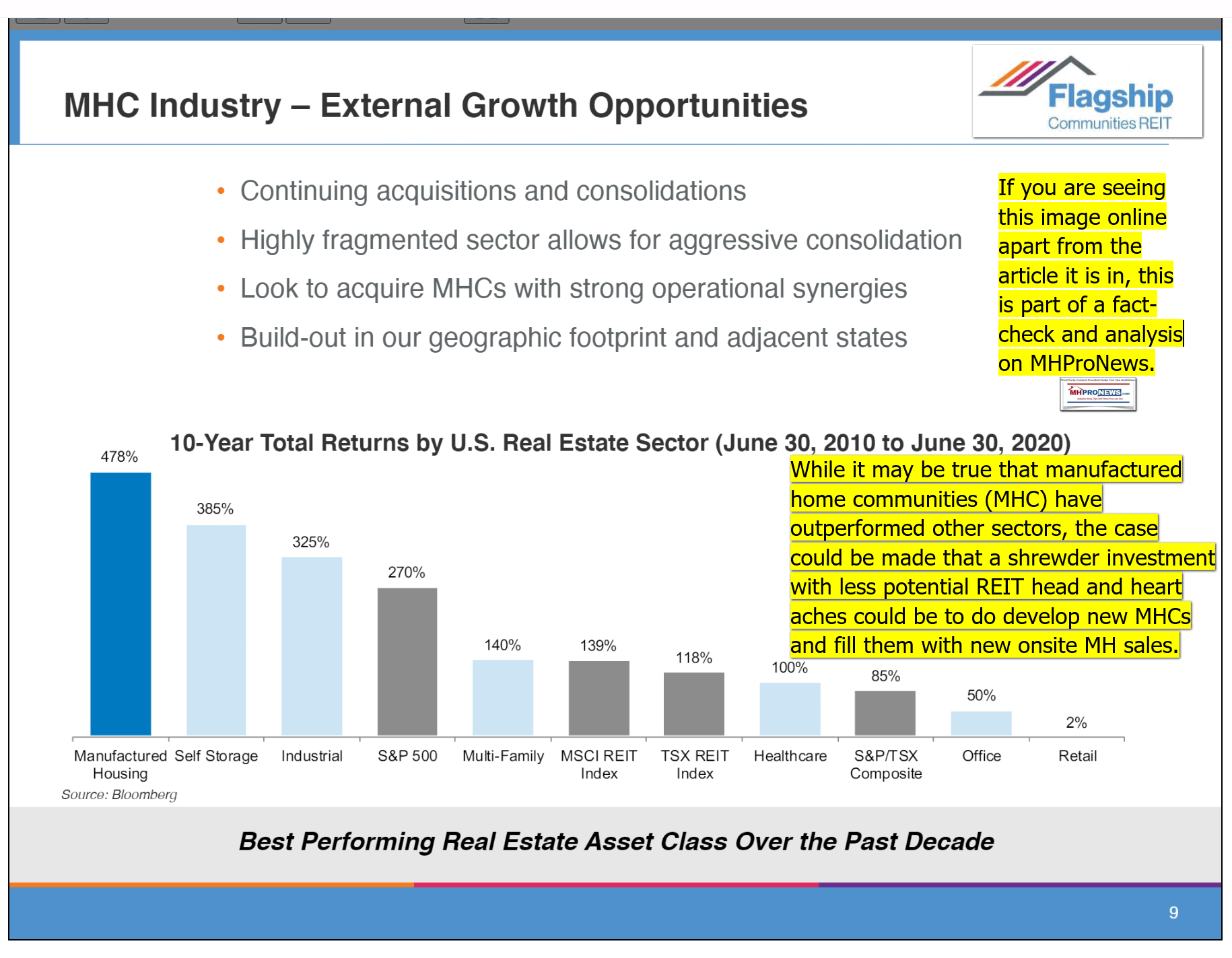 Well, that pattern of aggressive consolidation mated with growing claims of predatory behavior are driving a push for national legislation. State based actions are at play too.
"Predatory"-MHC Curbs-New U.S. Laws, One Supported by Manufactured Housing Institute (MHI), Would Impact "Manufactured Housing Communities," "Mobile Home Parks" Nationally – U.S. House Reps Axne Khanna Official Statements, Report, Analysis
Who is part of that mix? As the report linked above indicates, MHI. But also, there are nonprofits that are connected to Buffett-bucks, which are pushing these laws.
Much that Flagship says is factually accurate. But it may lack some nuance and details that ethically minded investors, regulators, and others should be concerned about.
The Buffett moat method is hardly a secret. It has been decried by others. There are several ways that moat apparently relates to manufactured home communities, financing, production, retail, lending, and nonprofits too. That is not merely the evidence-based perspective of this publication, others have said so too.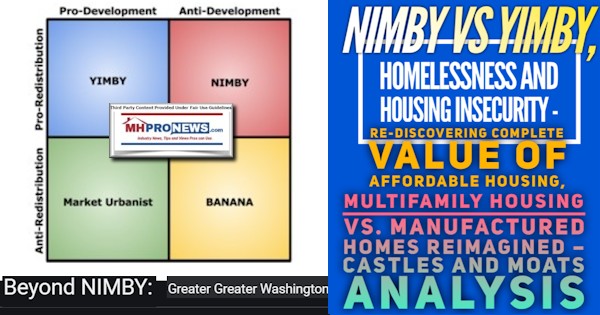 But what is missing at times from others are missing dots of evidence that could cross the line from being immoral to illegal. Who says? Samuel Strommen at Knudson Law, among others.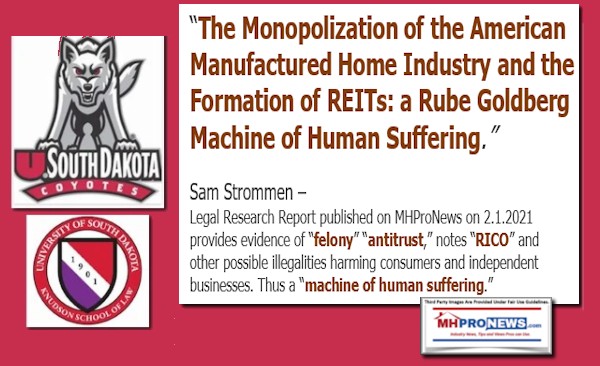 Those points noted, here is the most recent Flagship press release bragging about how this system is working for them financially. The highlighted items below are added by MHProNews. On the far side of this PR from Flagship – which readers should not construe as being endorsed by this publication – will be additional MHProNews analysis and commentary, followed by the latest manufactured housing market reports.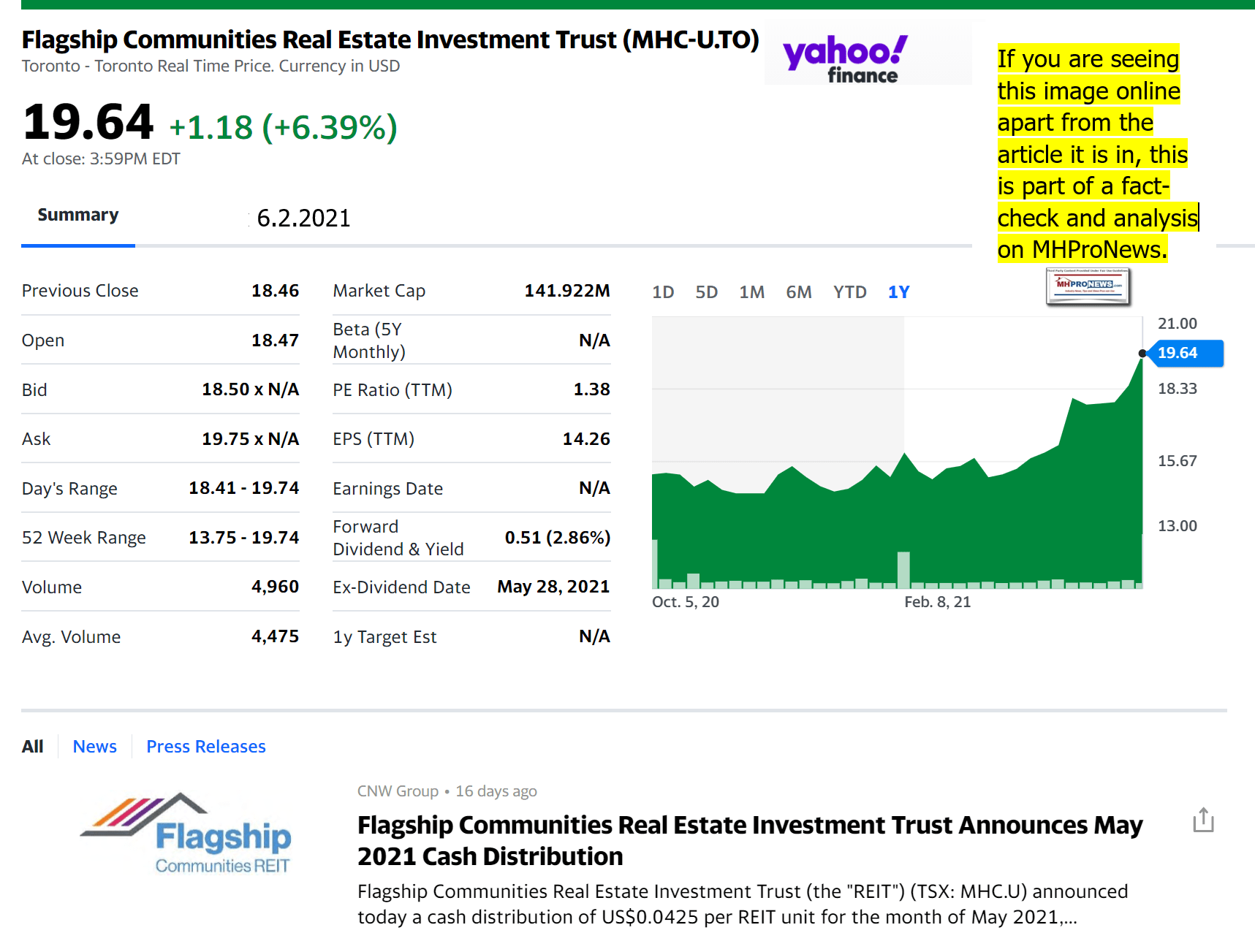 TORONTO, May 10, 2021 /CNW/ – Flagship Communities Real Estate Investment Trust (TSX: MHC.U) ("Flagship REIT" or the "REIT") today released its first quarter 2021 results for the three months ended March 31, 2021. Results are presented in U.S. dollars unless otherwise noted. The results presented are compared to the financial forecast contained in the REIT's initial public offering ("IPO") prospectus dated September 28, 2020 (the "forecast").
Summary of First Quarter 2021 Results:
Revenue was $9.6 million, approximately $0.7 million higher than the forecast due to the acquisitions completed since the REIT's IPO as well as higher than forecasted utility reimbursements and other revenue sharing agreements
Same Community Revenue was $9.1 million, which is approximately $0.1 million higher than the forecast
Net Income and comprehensive income was $6.6 million, which is approximately $4.5 million higher than the forecast
Net Operating Income ("NOI", see "Non-IFRS Financial Measures" below) was $6.4 million, which is approximately $0.6 million higher than the forecast
NOI Margin (see "Non-IFRS Financial Measures" below) was 66.7% which exceeded the forecast of 64.9%
Adjusted Funds from Operations ("AFFO", see "Non-IFRS Financial Measures" below) was $3.0 million, which exceeded the forecast by 23.8%
Same Community Occupancy (see "Non-IFRS Financial Measures" below) increased by 0.6% as of March 31, 2021, compared to December 31, 2020.
Rent collections for the three months ended were 99.0%, which was a slight increase quarter-over-quarter and consistent with prior periods
Partnered with Northern Kentucky Health Department to deploy COVID-19 vaccines to communities
Subsequent to quarter-end, filed a short form base shelf prospectus to provide the REIT with the flexibility to access the debt and equity markets on a timely basis
"We began the first few months of 2021 much like we ended last year, by continuing to grow our revenues and exceeding many of our financial and operational forecast metrics," said Kurt Keeney, President and Chief Executive Officer. "We are committed to maintaining our solid track record of performance, increasing long-term unitholder value, being good corporate citizens, and increasing the quality of life for our residents in our communities."
Financial Performance Overview
($000s except per share amounts)
For the three months ended

March 31, 2021

Actual
Results
Forecast
Variance
Revenue, Total Portfolio
9,649
8,988
661
Revenue, Same Community1 Properties
9,097
8,988
109
Revenue, acquisitions
552
–
552
Net Income (loss) and comprehensive income (loss)
6,631
2,090
4,541
NOI1, Total Portfolio
6,440
5,834
606
NOI1, Same Community1 properties
6,160
5,834
326
NOI1, Acquisitions
280
–
280
NOI Margin1, total portfolio
66.7%
64.9%
1.8%
NOI Margin1, Same Community1 properties
67.7%
64.9%
2.8%
NOI Margin1, Acquisitions
50.7%
–
50.7%
FFO1
3,498
2,813
685
FFO Per Unit1 (excluding over allotment)
N/A
0.240
N/A
FFO Per Unit1 (including over allotment)
0.276
0.222
0.054
AFFO1
3,028
2,445
582
AFFO Per Unit1 (excluding over allotment)
N/A
0.209
N/A
AFFO Per Unit1 (including over allotment)
0.239
0.193
0.046
AFFO Payout Ratio1 (excluding over allotment)
N/A
61.1%
N/A
AFFO Payout Ratio1 (including over allotment)
53.3%
66.0%
(12.7%)
1These measures are not recognized under International Financial Reporting Standards ("IFRS") and do not have standardized meanings prescribed by IFRS. See "Non-IFRS Financial Measures" for more information.
Revenue of $9.6 million during the first quarter 2021, was approximately $0.7 million higher than the forecast, primarily due to the acquisitions completed since the REIT's IPO as well as higher than forecasted utility reimbursements and other revenue sharing agreements. NOI and NOI Margin for the first quarter 2021 was $6.4 million and 66.7% respectively, which is $0.6 million and 1.8% higher than the forecast, due in part to the REIT's cost containment initiatives.
AFFO and AFFO per Unit was $3.0 million and $0.239 per unit respectively, both of which exceeded the forecast by 23.8% during the first quarter 2021.
Net income and comprehensive income was $6.6 million, which is approximately $4.5 million higher than the forecast primarily as result of the fair value gain on investment properties partially offset by the fair value loss on class B units of the REIT's subsidiary, Flagship Operating, LLC ("Class B Units"), neither of which were considered in the forecast.
Same Community Occupancy increased by 0.6% as of March 31, 2021 compared to December 31, 2020. The Same Community Occupancy rate remained steady primarily due to the affordability of manufactured housing communities ("MHCs") and in part, by the ongoing COVID-19 pandemic since unlike multi-family apartments, MHCs are detached structures that do not share walls, utilities, air conditioning or heating with any other homes and typically have a deck, yard, driveway and in-home laundry.
Rent collections for the first quarter 2021 were 99.0%, which was a slight increase quarter-over-quarter and consistent with prior periods, further demonstrating the strength and predictability of the MHC sector.
As at March 31, 2021, Flagship REIT's total cash and cash equivalents were $6.5 million with no near-term debt obligations.
Operations Overview
As of March 31, 2021, the REIT has 54 MHCs and 8,793 manufactured housing lots. The table below provides a summary of Flagship REIT's portfolio:
MHC Portfolio as of March 31, 2021
Total MHCs
(#)
54
Total Manufactured Housing Lots
(#)
8,793
Total Lot Occupancy
(%)
80.2
Total Lot Average Monthly Revenue
(US$)
361
COVID-19 Update
A sizable number of Flagship REIT residents have been able to maintain their employment through the COVID-19 pandemic or are on fixed incomes from retirement, pensions, or disability income. Overall, the majority of Flagship REIT's residents recently received stimulus checks from the President Biden stimulus bill. For an average family of four, this amount was approximately $5,600, which is a significant amount for residents within Flagship REIT's communities. These stimulus checks are in addition to jobless benefits, child tax credits, health insurance subsidies and rent relief.
During the first quarter 2021, Flagship REIT partnered with The Northern Kentucky Health Department to deploy COVID-19 vaccines to residents of several Flagship REIT communities. To date, vaccine clinics have operated at Heartland Pointe in Elsmere, Kentucky, Derby Hills in Alexandria, Kentucky and Mosby's Pointe in Florence, Kentucky. Nearly 700 community residents received their vaccines.
Flagship REIT believes COVID-19 has amplified the benefits of MHCs versus multi-family apartments.
Multi-family apartments typically have smaller living spaces, fewer bedrooms and bathrooms, shared indoor walls, shared laundry facilities, common areas and HVAC systems. Given the current landscape, these conditions, especially the shared facilities and common areas, are sub-optimal when everyone is mindful of social distancing requirements.
Flagship REIT will continue to closely monitor COVID-19 developments and will update health and safety policies as required to ensure the highest level of safety for the REIT's residents and employees.
Outlook
Flagship REIT was formed to provide investors with the opportunity to invest in the MHC industry in the United States, while benefiting from the investment and operational expertise of Flagship's vertically integrated management platform.
The REIT believes the MHC sector to be a prudent investment strategy that will create long-term value for a number of reasons:
Defensive investment characteristics relative to other real estate asset classes

;
Consistent track record of outperformance irrespective of economic cycles;

High barriers to entry for any competitors and new supply

;
Stable occupancy and growing rents;
Lower capital expenditure requirements than many other real estate asset classes;
Growing public sentiment toward a detached home relative to a multi-family apartment.
Flagship REIT believes that macro characteristics and trends in the United States real estate and housing industry, as well as the MHC industry specifically, offer investors significant upside potential. These characteristics and trends include:
Increasing household formations;

Lower housing affordability

;
Declining single-family residential home ownership rates;

Lack of new manufactured housing supply

.
Flagship REIT believes it is well positioned to benefit from these dynamics in the residential real estate and housing industry.
Non-IFRS Financial Measures
The REIT uses certain non-IFRS financial measures, including certain real estate industry metrics such as FFO, FFO Per Unit, AFFO, AFFO Per Unit and Same Community, to measure, compare and explain the operating results, financial performance and financial condition of the REIT. The REIT also uses AFFO in assessing its distribution paying capacity and NOI is a key input in determining the value of the REIT's properties. These measures are commonly used by entities in the real estate industry as useful metrics for measuring performance. However, they do not have any standardized meaning prescribed by IFRS and are not necessarily comparable to similar measures presented by other publicly traded entities. These measures should be considered as supplemental in nature and not as a substitute for related financial information prepared in accordance with IFRS.
FFO is defined as IFRS consolidated net income adjusted for items such as distributions on redeemable or exchangeable units recorded as finance cost under IFRS (including distributions on the Class B Units, unrealized fair value adjustments to investment properties, loss on extinguishment of acquired mortgages payable, gain on disposition of investment properties and depreciation. The REIT's method of calculating FFO is substantially in accordance with the recommendations of the Real Property Association of Canada ("REALPAC").
AFFO is defined as FFO adjusted for items such as maintenance capital expenditures, and certain non-cash items such as amortization of intangible assets, premiums and discounts on debt and investments. The REIT's method of calculating AFFO is substantially in accordance with REALPAC's recommendations. The REIT uses a capital expenditure reserve of $60 (dollars/annual) per lot and $1,000 (dollars/annual) per rental home in the AFFO calculation. This reserve is based on management's best estimate of the cost that the REIT may incur, related to maintaining the investment properties.
NOI is defined as total revenue from properties (i.e., rental revenue and other property income) less direct property operating expenses in accordance with IFRS.
Same Community results are the results of the MHCs owned throughout the applicable period and such measure is used by management to evaluate period-over-period performance of investment properties. These results remove the impact of dispositions or acquisitions of investment properties.
Please refer to the REIT's Management Discussion and Analysis for the period ended March 31, 2021 for further detail on non-IFRS financial measures, including reconciliations of these measures to standardized IFRS measures.
Forward Looking Statements
This news release contains statements that include forward-looking information (within the meaning of applicable Canadian securities laws). Forward-looking statements are identified by words such as "believe", "anticipate", "project", "expect", "intend", "plan", "will", "may", "can", "could", "would", "must", "estimate", "target", "objective" and other similar expressions, or negative versions thereof, and include statements herein concerning: the REIT's investment strategy and creation of long-term value; macro characteristics and trends in the United States real estate and housing industry, as well as the MHC industry specifically; and other statements under "Outlook". These statements are based on the REIT's expectations, estimates, forecasts and projections, as well as assumptions that are inherently subject to significant business, economic and competitive uncertainties and contingencies that could cause actual results to differ materially from those that are disclosed in such forward-looking statements. While considered reasonable by management of the REIT as at the date of this news release, any of these expectations, estimates, forecasts, projections or assumptions could prove to be inaccurate, and as a result, the forward-looking statements based on those expectations, estimates, forecasts, projections or assumptions could be incorrect. Material factors and assumptions used by management of the REIT to develop the forward-looking information in this news release include, but are not limited to, the REIT's current expectations about: vacancy and rental growth rates in MHCs and the continued receipt of rental payments in line with historical collections; demographic trends in areas where the MHCs are located; the impact of COVID-19 on the MHCs; further MHC acquisitions by the REIT; the applicability of any government regulation concerning MHCs and other residential accommodations, including as a result of COVID-19; the availability of debt financing and future interest rates; expenditures and fees in connection with the ownership of MHCs; and tax laws. When relying on forward-looking statements to make decisions, the REIT cautions readers not to place undue reliance on these statements, as they are not guarantees of future performance and involve risks and uncertainties that are difficult to control or predict. A number of factors could cause actual results to differ materially from the results discussed in the forward-looking statements, including, but not limited to, the factors discussed under the heading ""Risks and Uncertainties" herein. There can be no assurance that forward-looking statements will prove to be accurate as actual outcomes and results may differ materially from those expressed in these forward-looking statements. Readers, therefore, should not place undue reliance on any such forward-looking statements. Further, certain forward-looking statements included in this news release may be considered a "financial outlook" for purposes of applicable Canadian securities laws, and as such, the financial outlook may not be appropriate for purposes other than to understand management's current expectations and plans relating to the future, as disclosed in this news release. Forward-looking statements are made as of the date of this news release and, except as expressly required by applicable law, the REIT assumes no obligation to publicly update or revise any forward-looking statement, whether as a result of new information, future events or otherwise.
First Quarter 2021 Results Conference Call and Webcast
About Flagship Communities Real Estate Investment Trust
Flagship Communities Real Estate Investment Trust is a newly-created, internally managed, unincorporated, open-ended real estate investment trust established pursuant to a declaration of trust under the laws of the Province of Ontario. The REIT has been formed to own and operate a portfolio of income-producing manufactured housing communities located in Kentucky, Indiana, Ohio and Tennessee; including a fleet of manufactured homes for lease to residents of such housing communities.
SOURCE Flagship Communities Real Estate Investment Trust
##
When those highlighted segments are gathered and then examined in the light of known facts and evidence, here are what they amount to for those who understand the laws and market realities impacting manufactured housing.
It is questionable how Flagship can assert good citizenship or sincere concerns for their residents. Why? Because the pre-IPO history of the brand in its previous name of SSK Communities drew numerous regulatory, legal, and negative media attention. The Better Business Bureau (BBB) rated the firm an "F."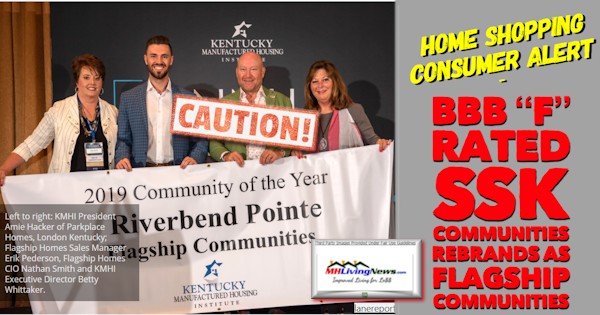 Some of those highlights are apparent part of the 'durable competitive advantage' that Buffett's moat method describes.
What is perhaps not explicitly enough cautioned against above from Flagship are the legal ramifications of manipulating a marketplace in purportedly predatory ways. An example is linked here.
Prominent MHI member Frank Rolfe boldly said that there should be no more new manufactured home communities built. When Smith-Flagship speak about supply or limits on new manufactured housing, the case can be made that those limits are being fostered artificially. When prominent brands are behind limits of new construction, and the trade group apparently goes along with that, certainly ethical, but also legal issues arise.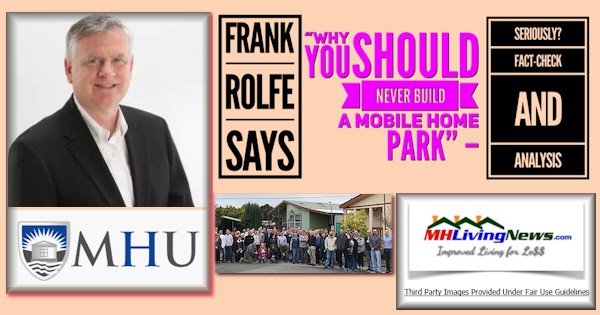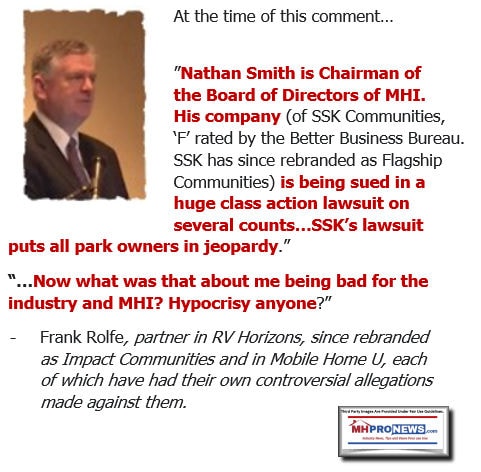 To learn more about how such issues could impact individual MHI member firms, see the reports linked below.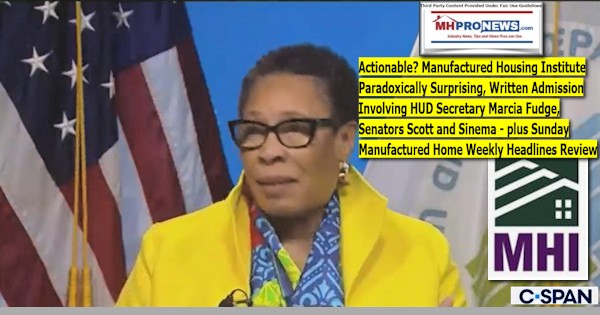 MHProNews plans to circle back to other items of interest from the Flagship pitch deck and related. But let's close on this point. It is absolutely true that manufactured homes are a valuable affordable housing solution. For evidence-based reasons, it is arguably true (see the linked reports, or research by MHARR, others) that the industry has a relatively small number of insider firms that are manipulating the market. Among those would be Flagship. If and when regulators, public officials, or plaintiffs attorneys catch onto these facts, the risk of a large class action or other legal pitfalls will likely grow.
What to do? In many cases, the public firms, plus bipartisan researchers out of Minnesota have made the case that new communities could be developed for similar or lower costs. The advantage of that is that doing so actually adds to the affordable housing pool. It further would benefit from not having the legal, negative media, regulatory, and other overhang attached to it.
Indeed, by drawing a bright line distinction between black or gray hats and white hat operations, it may make sense to create new communities, with new homes, and have them operated properly and consistently. Doing it the right way could pay off. Because as Buffett himself admitted, you can't make a good deal with a bad person (or brand).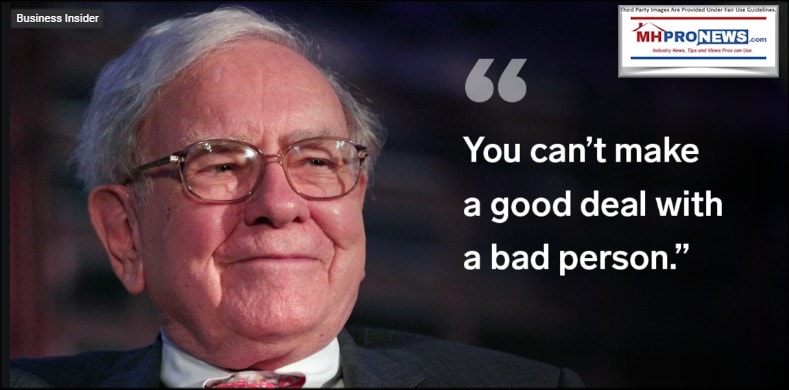 Stock Market Transition Notice: While the layout of this business daily report has recently been modified, several elements of the basic concepts used previously are still the same. The headlines that follow below can be reviewed at a glance to save time while providing insights across the left-right media divide. Additionally, those headlines often provide clues as to possible 'market moving' reports.
Market Indicator Closing Summaries – Yahoo Finance Closing Tickers on MHProNews…

Headlines from left-of-center CNN Business = evening of 6.2.20
Box office hit
Moviegoers sit, waiting for their movie to start at the AMC Burbank theatre on reopening day in Burbank, California, March 15, 2021.
AMC shares jump more than 120% to an all-time high thanks to a hot start for summer movies
JBS is resuming operations after its cyberattack. But for some employees, that's too late
Your questions about the JBS hack, answered
LIVE UPDATES Dogecoin surges after its debut on Coinbase
Ally Bank eliminates overdraft fees
Tyson CEO steps down after less than a year
Cannabis stocks primed for a breakout thanks to Reddit and Amazon
Amazon changes employee policies for time off and marijuana
Amazon announces dates for this year's Prime Day
Chamber of Commerce: Worker shortage can't be solved without ramping up immigration
Dollar stores are starting to offer fresh food after years of criticism
Watch Carl Sagan in 1985 predict what year humans will land on Mars
Etsy is buying Gen Z-focused resale site Depop for $1.6 billion
President Donald Trump speaks in the Diplomatic Room of the White House on Thanksgiving on November 26, 2020 in Washington, DC. Trump had earlier made the traditional call to members of the military stationed abroad through video teleconference.
Trump shuts down his blog after less than a month
A view of a Steamship Authority ferry leaving the Nantucket Terminal on April 25, 2020 in Nantucket, Massachusetts. The Steamship Authority is receiving 9 million dollars from the CARES Act Stimulus funding to keep ferries running between Cape Cod, Marthas Vineyard, and Nantucket. The boats have been running on a decreased schedule since ridership has cratered due to the COVID-19 (coronavirus) pandemic.
Martha's Vineyard ferry disrupted by ransomware attack
This home in Short Hills, N.J. sold in April for $1.425 million as an all cash purchase.
All-cash offers are king in this hysterical real estate market. Here's what you need to know
TECH
A contractor working for Amazon.com cleans a delivery truck in Richmond, California, U.S., on Tuesday, Oct. 13, 2020.
Amazon changes employee policies for time off, marijuana
Silicon Valley may look very different after the pandemic
Signage is displayed outside the JBS USA pork processing plant in Louisville, Kentucky, U.S., on Friday, June 5, 2020. JBS USA and three other meat processors were accused in Minneapolis federal court of conspiring to inflate the price of beef through an industrywide scheme that's coming to light thanks to federal investigations prompted in part by shortages during the coronavirus pandemic.
Major meat producer JBS USA hit by cyberattack, likely from Russia
Tesla CEO Elon Musk uses his mobile device as he sits in the car arriving to the construction site for the new plant, the so-called "Giga Factory," of US electric carmaker Tesla in Gruenheide near Berlin, northeastern Germany. – The site still has only provisional construction permits, but Tesla has been authorised by local officials to begin work at its own risk. Tesla is aiming to produce 500,000 electric vehicles a year at the plant, which will also be home to "the largest battery factory in the world" according to group boss Elon Musk.
Two Elon Musk tweets have violated SEC settlement agreement, report says
Headlines from right-of-center Newsmax – evening of 6.2.2021
Trump Slams Biden For Dismantling 'Remain in Mexico' Policy
Newsmax TV
McCaul: Putin 'Absolutely' Testing Biden With Cyberattacks
Stephen Moore to Newsmax: Another Stimulus Could Wreck the Economy |
Gordon Chang: Biden COVID Report May Conceal US Complicity |
Fred Grandy: Gavin MacLeod Was 'Quiet Commander' |
Mark Moores: The Breathe Act is Anti-Police
Rick Crawford: AIM Act Would Fight Cyberattacks on Agriculture |
More Newsmax TV
Newsfront
Firefighters Had Job Dispute Before Fatal Attack
A Los Angeles County firefighter appeared to have a longstanding job-related dispute with the colleague he shot and killed at their small, rural fire station in what became California's second deadly workplace shooting in less than a week, authorities said Wednesday.The…
Hillary Clinton Praises Tennis Star Osaka's 'Courage' Amid News Conference Flap
Press-wary Hillary Clinton on Wednesday came to the defense of tennis
Chinese Media Urges Preparing for Nuclear War With US
Chinese state media is calling on a nuclear buildup as a "strategic
Related
Chinese Media Openly Talk of China-Russia Alliance to Defeat US
Amid Hiring Troubles, Rising Prices, US Growth Gains Speed: Fed
The U.S. economic recovery accelerated in recent weeks even as a long
PAPA JOHN SCHNATTER: America's Small Business Economy Can survive COVID, But Not Tax Hikes
We are at the cusp of a real recovery. Unfortunately, some at the top
Netanyahu Could Soon Face Criminal Charges, Here's What's Possible
Benjamin Netanyahu has been in plenty of tight squeezes during 17
Guy Reschenthaler to Newsmax: Don't Give Fauci 'the Benefit of the Doubt'
Guy Reschenthaler, R-Penn., told Newsmax on Wednesday that
Woke Threats Energized DeSantis to Protect Girl Sports
Pressure from woke corporations such as the NCAA "strengthened" Gov.
McCaul: Putin 'Absolutely' Testing Biden With Cyberattacks
Russian President Vladimir Putin is "absolutely" testing President
Ex-Amb. Danon to Newsmax: It Would Be 'Mistake" For US to Re-Enter Iran Nuke Deal
Former Israeli Ambassador to the United Nations Danny Danon said
2 Iranian Navy Ships Could Reach Atlantic Ocean Soon
Two Iranian Navy ships believed to be heading to Venezuela are
Gun Sales Continue to Surge Amid Fear of Violence, Crime
Concerns about increased violence and crime continue to fuel a surge
Duke's Krzyzewski to Coach Last Season in 2021-22: AP Source
Duke Hall of Fame coach Mike Krzyzewski will coach his final season
Medina Spirit Drug Test Confirmed; Derby Win in Jeopardy
Bob Baffert's lawyer said Wednesday that a split-sample test of
Florida Launches No out of Pocket Cost Solar Program
Sunnyside
Trump Seeks More Donations by Offering Free Trip to His 1st Post-Presidency Rally
Former President Donald Trump sent out two email appeals for
Jason Miller: Trump Desk Shutdown to Lead Into New Project
The shutdown of former President Donald Trump's Desk page on his
Trump Endorses Sen. Kennedy: He's the 'Real Deal,' 'Brilliant'
One of the staunch conservatives in the Senate has drawn the emphatic
Texas Gov Declares State of Emergency Over Border
Texas Gov. Greg Abbott this week issued a state of emergency for the
Massive Fire Breaks Out at Oil Refinery Near Iran's Capital
A massive fire broke out Wednesday night at the oil refinery serving
Related
Iran's Largest Warship Sinks After Catching Fire
Cuomo to Host $10,000-a-Ticket Campaign Fundraiser in NYC
Andrew Cuomo will host a campaign fundraising event in New York
NFT Craze Rakes in Millions – Will Prices Soar for Sports?
Everyone from sports memorabilia collectors to high-end art
Texas Foundation Ready to Lead Legal Fight Against CRT in Public Schools
A Texas foundation is reportedly poised to take the lead in legal
Trump Slams Biden For Dismantling 'Remain in Mexico' Policy
Former President Donald Trump on Wednesday issued a statement
Rasmussen Poll: Most Voters Don't Think Race Relations Have Improved Under Biden
Most voters – including Black voters – don't believe race relations
Herd of Elephants Approaches Chinese City of 7 Million
A herd of 15 wild elephants that walked 500 kilometers (300 miles)
Work to Unwind Epic Fraud Goes on After Madoff's Death
Epic Ponzi scheme mastermind Bernard Madoff is dead. But the effort
Trump Organization Puts Its Washington Hotel on Market Again
The Trump Organization has revived efforts to sell the lease on its
Democrats' Infrastructure Push Could be Complicated by Senate Ruling
A new ruling by the Senate parliamentarian could complicate the
Democrats Retain New Mexico House Seat in Special Election
Democrats held off a Republican challenge in New Mexico's 1st
Report Tells of Sexual Assault, Racism at VMI
The Virginia Military Institute has tolerated and failed to address
More Newsfront
Finance
US Labor Market Worse than it Appears, Fed Paper Suggests
US Labor Market Worse than it Appears, Fed Paper Suggests
S. labor market signals are conflicting to an "unprecedented" degree, but those suggesting labor market slack should be given more weight than those pointing to tightness, according a paper prepared by the San Francisco Federal Reserve Bank.
AMC Rewards Retail Traders With Free Popcorn
Mexico Set to Welcome Private Lithium Miners
Etsy to Buy Fashion Reseller Depop for $1.63B
White House: Ransomware Attack on Meatpacker JBS Likely From Russia
More Finance
Health
Osaka's Departure Puts Focus on Mental Health in Sports
Mental health issues in sports were once stigmatized, but today more professional athletes are stepping forward to acknowledge the pressures they face. Tennis player Naomi Osaka's withdrawal last Monday from the French…
Good News: Study Reveals COVID-19 Antibody Protection Persists
New Blood Sugar Test Uses Sweat, Not Blood
S. Blood Supply Is Safe From Coronavirus, Study Finds
The Best Time of Day to Exercise to Metabolize Fat
Manufactured Housing Industry Investments Connected Equities Closing Tickers
Some of these firms invest in manufactured housing, or are otherwise connected, but may do other forms of investing or business activities too.
NOTE: The chart below includes the Canadian stock, ECN, which purchased Triad Financial Services, a manufactured home industry lender
NOTE: Drew changed its name and trading symbol at the end of 2016 to Lippert (LCII).
NOTE: Deer Valley was largely taken private, say company insiders in a message to MHProNews on 12.15.2020, but there are still some outstanding shares of  the stock from the days when it was a publicly traded firm.  Thus, there is still periodic activity on DVLY.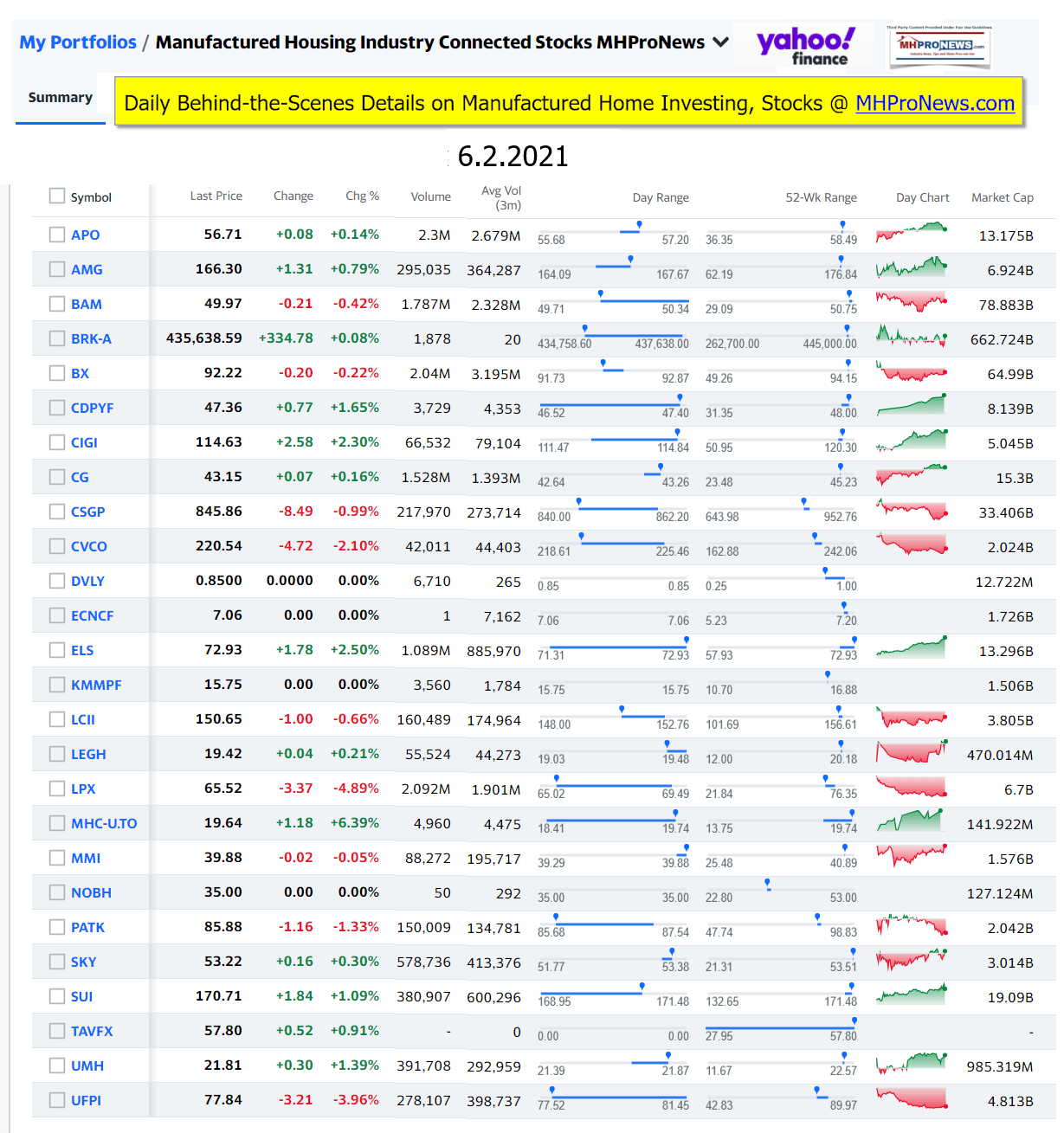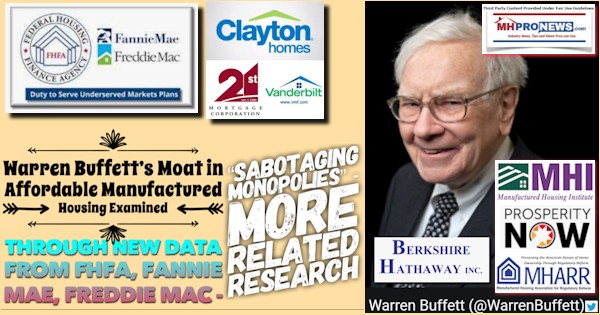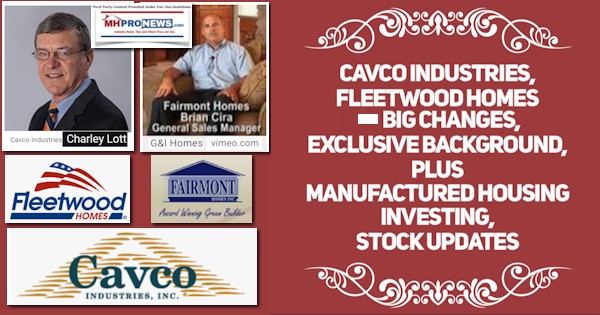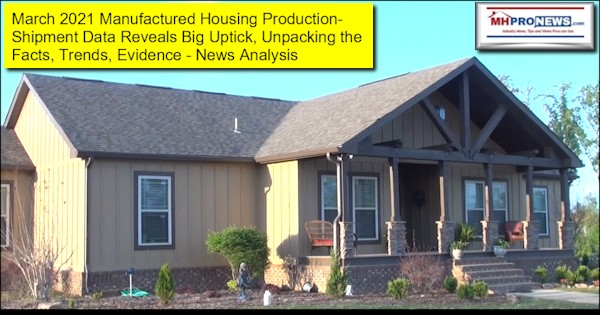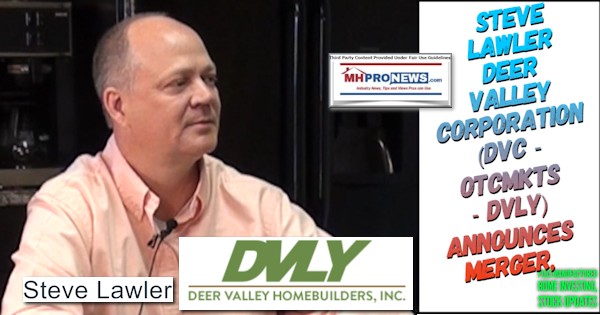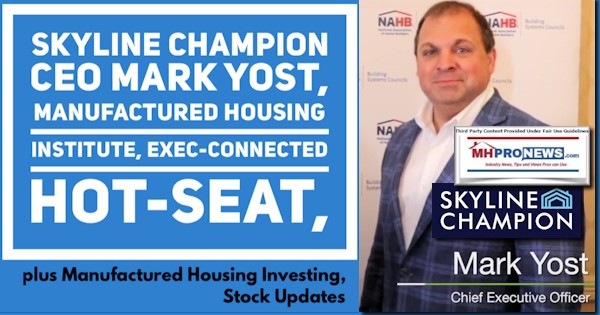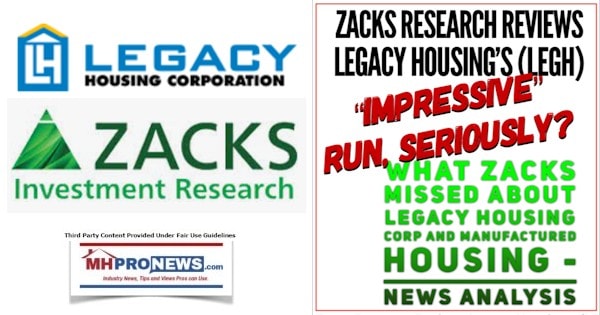 Spring 2021…
Berkshire Hathaway is the parent company to Clayton Homes, 21st Mortgage, Vanderbilt Mortgage and other factory built housing industry suppliers.
· LCI Industries, Patrick, UFPI, and LP each are suppliers to the manufactured housing industry, among others.
· AMG, CG, and TAVFX have investments in manufactured housing related businesses. For insights from third-parties and clients about our publisher, click here.
Enjoy these 'blast from the past' comments.
MHProNews. MHProNews – previously a.k.a. MHMSM.com – has celebrated our 11th year of publishing, and is starting our 12the year of serving the industry as the runaway most-read trade media.
Sample Kudos over the years…
It is now 11+ years and counting…
Learn more about our evolutionary journey as the industry's leading trade media, at the report linked below.
· For expert manufactured housing business development or other professional services, click here.
· To sign up in seconds for our industry leading emailed headline news updates, click here.

Disclosure. MHProNews holds no positions in the stocks in this report.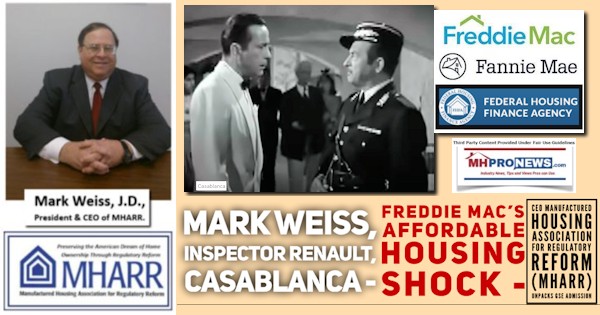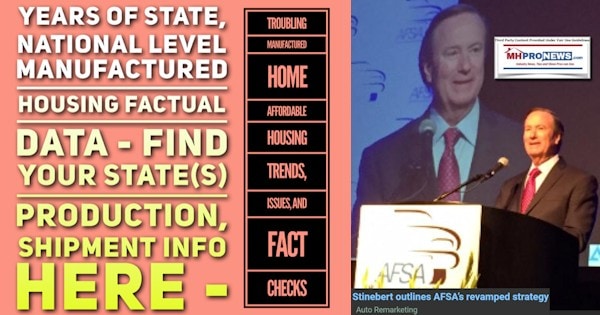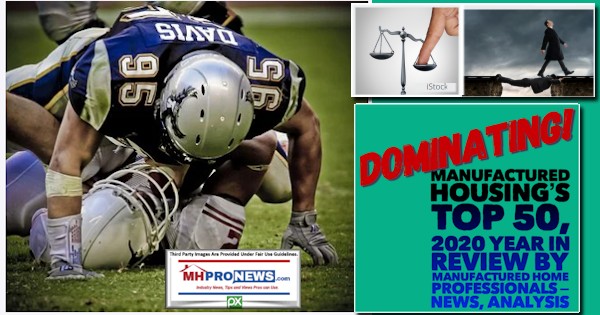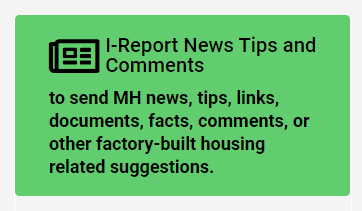 That's a wrap on this installment of "News Through the Lens of Manufactured Homes and Factory-Built Housing" © where "We Provide, You Decide." © (Affordable housing, manufactured homes, stock, investing, data, metrics, reports, fact-checks, analysis, and commentary. Third-party images or content are provided under fair use guidelines for media.) (See Related Reports, further below. Text/image boxes often are hot-linked to other reports that can be access by clicking on them.)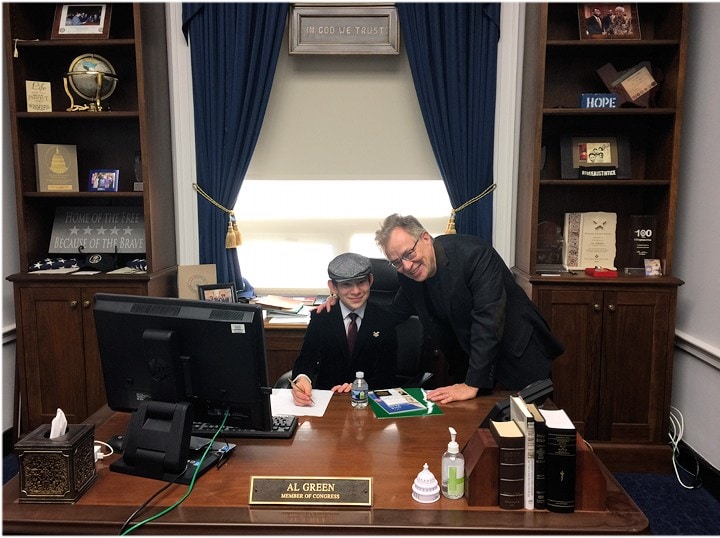 By L.A. "Tony" Kovach – for MHProNews.
Tony earned a journalism scholarship and earned numerous awards in history and in manufactured housing. For example, he earned the prestigious Lottinville Award in history from the University of Oklahoma, where he studied history and business management. He's a managing member and co-founder of LifeStyle Factory Homes, LLC, the parent company to MHProNews, and MHLivingNews.com. This article reflects the LLC's and/or the writer's position, and may or may not reflect the views of sponsors or supporters.