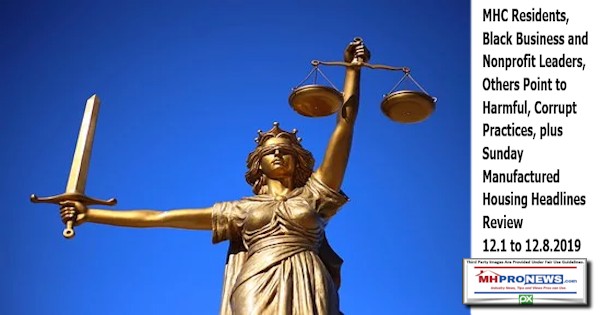 The recent Federal Housing Finance Administration (FHFA) listening session in Washington, D.C. and their aftermath have added wrinkles to a growing body of evidence of corrupt and harmful practices purportedly involving federal officials, Fannie Mae, Freddie Mac, certain business and related nonprofits.
To oversimplify, aspects of federal laws that aimed at making housing more affordable have been turned on their heads. Black non-profit and business leaders indicated that the data is clear. Minorities are suffering a vast injustice in how Fannie and Freddie treat them vs. whites.
The cumulative effect of that racial inequality could top a trillion dollars. Failure to deal with that issue could result in serious upheaval. Some 50 years after the Kerner Commission, laws meant to rebalance social injustice are arguably being twisted to add to them. It is a staggering injustice that merits a separate article planned for the days ahead.
Housing, Jobs, Poverty, Opportunity – Kerner Commission Remix, HUD and Manufactured Homes
Manufactured home community residents made their case that when the Government Sponsored Enterprises (GSEs or Enterprises) of Fannie Mae or Freddie Mac are financing certain companies with problematic business practices, they are making living in those communities less affordable.
Those residents specifically named Manufactured Housing Institute (MHI) member companies Havenpark Capital and 'Frank and Dave' run RV Horizons – now Impact Communities. In their own words, they explained how the GSEs financing or refinancing land-lease communities makes more money for those who in turn are jacking up site fees (a.k.a. 'lot rents') at rates far higher than MHI EVP and CEO-elect Lesli Gooch wants to admit occurs. After listening to several testify to their experience of double digit rent hikes, in an arguably tone-deaf fashion, she restated MHI's claim that the average increase in lot rents are only 3 percent. Perhaps so…for non-predatory community operators.
Others in articles linked below likewise sounded alarms. Of course, there are defenders of the GSEs and FHFA. It is interesting to note that some of them have arguably benefited from the status quo.
Thus, reasonably nestled near the heart of all these troubling claims is this notion. This couldn't occur without some level of collusion and corruption between officials at FHFA, Fannie and Freddie. That would have natural tie-ins with certain nonprofits and corporate interests that give them cover, because they benefit from the existing state of affairs.
In art and sculptures, 'Lady Justice' is often depicted as being blindfolded. She holds scales in one hand, a sword in the other. The meaning is symbolic. Justice is supposed to be equally applied. Issues like race, wealth or positions of power are what justice is supposed to ignore – rigorously enforcing the law with the power of the sword.
Just as good laws meant to foster more affordable home ownership are being turned on their heads, the meaning of the blindfolded lady justice symbolism is capable of a new meaning. Justice that ignores the plight of minorities, the elderly, those seeking to protect or obtain affordable housing are getting the 'blind eye.' Those eyes blindfolded to the outcry in Washington, D.C. or prior listening sessions merit attention and remedial action.
Despite the claim that there is 'transparency' in the process, a simple Google search reveals something rather different. Isn't it obvious that FHFA, Fannie, Freddie – or others – could have brought mainstream media attention to these listening sessions? While there are search results to be found under the 'all results' tab, for those looking specifically for news there is at this time no result found.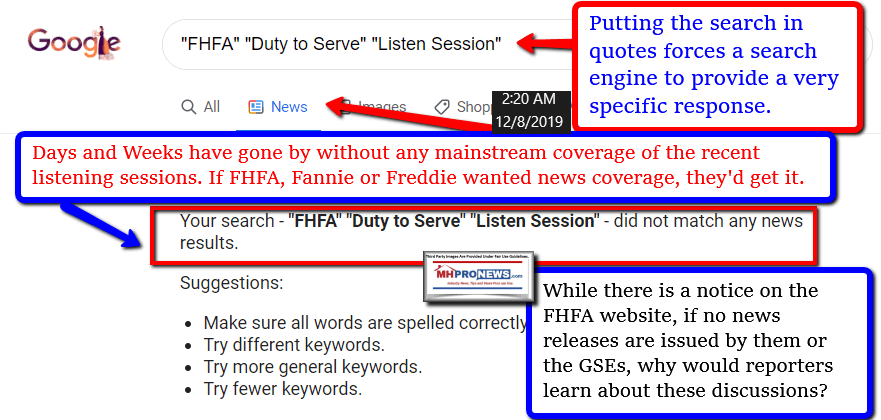 Which begs the question. Is this transparency? Or are these listening sessions merely a mechanism to allow people to vent and hopefully go away?
As usual, there are an array of topics in the articles below. The latest general housing and manufactured home production and shipment data are among them. More on DTS along with other issues awaits.
So, with no further adieu, let's look at the headlines and the text/image boxes linked to their respective reports. These cover reports, fact-checks, and commentary from 12.1 to 12.8.2019.
What's New on Manufactured Home Living News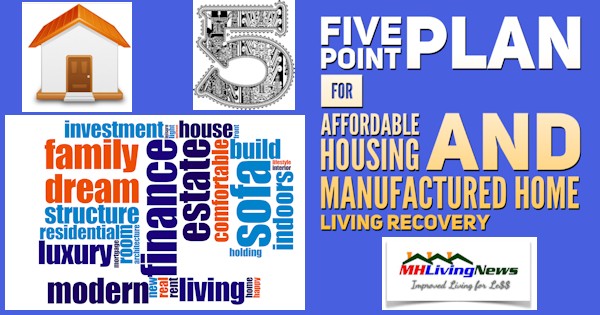 What's New from Washington D.C. from MHARR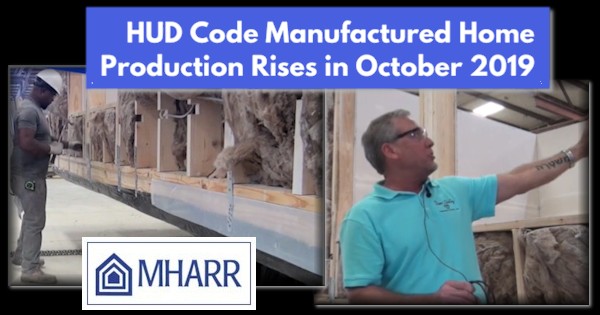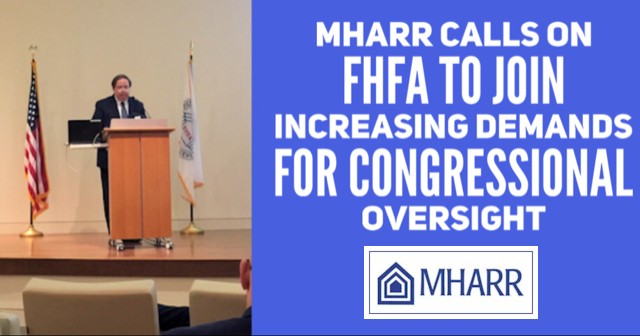 What's New on the Masthead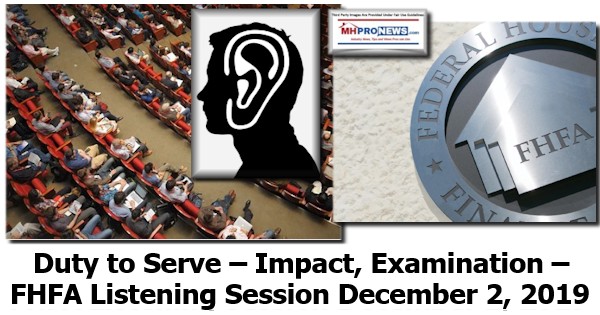 What's New on the Daily Business News on MHProNews
Saturday 12.7.2019
Remember Pearl Harbor, Freedom Isn't Free – Plus, Michael Moore vs. Rush Limbaugh – MHVille Lessons
Friday 12.6.2019
Employment Hits 50 Year Best, Stocks Soar, MHVille Impacts? Plus, Manufactured Home Investing, Stock Updates
SEC, Cavco Industries, Duty to Serve Lending, Investing and Claimed Manufactured Housing Institute Corrupt Practices – Facts & Analysis
Thursday 12.5.2019
Conventional Housing News Could Be Manufactured Housing Bright Spot, plus Manufactured Home Investing, Stock Updates
Giant RHP Properties, Manufactured Housing Institute National Communities Council Member, Facing Senator's Claim They're Violating State Law
Wednesday 12.4.2019
21st Mortgage News Tip – Not Just DTS Chattel Lending Being Diverted, plus Manufactured Home Investing, Stock Updates
More Mixed News on October 2019 Manufactured Housing Production, Shipment Data
Tuesday 12.3.2019
#1 Texas Latest Oct 2019 Shipment Data, plus Manufactured Home Investing, Stock Updates
Study in Contrasts-Lesli Gooch v Mark Weiss, Manufactured Housing Duty to Serve Presentations Spotlight Lack of Proper Lending
Monday 12.2.2019
"I was Moved, Literally Crying" – Duty to Serve Manufactured Housing, Underserved Markets DC Meeting – plus Manufactured Home Investing, Stock Updates
Huge "Landmark Case" – Law Firm Wins Millions for Manufactured Home Community Residents, Broader Industry Impacts Ahead?
Sunday 12.1.2019
Pendleton, Harper, Bowersox – Manufactured Housing Associations Carrots & Sticks Report – plus Sunday Weekly Industry Headlines Review 11.24 to 12.1.2019
That's a wrap on this edition of the manufactured housing trade media's #1 source for "Industry News, Tips, and Views Pros Can Use," © where "We Provide, You Decide." © (Sunday weekly headlines recap, news, fact-checks, analysis, and commentary.)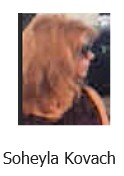 Submitted by Soheyla Kovach for MHProNews.com.
Soheyla is a co-founder and managing member of LifeStyle Factory Homes, LLC, the parent company to MHProNews, and MHLivingNews.com. Connect with us on LinkedIn here and here.
Related Reports:
Click the image/text box below to access relevant, related information.
Vexing Questions Dogging Manufactured Home Industry Go Unanswered by Key Figures
HUD's Brian Montgomery – William 'Bill' Matchneer Exposé – If the Shoe Fits, Affordable Housing, Manufactured Homes – Impacting American Dreams?
Retailer, Producer, Finance Exclusive – Interview with New Class of Manufactured Housing "CrossMod Homes" Developer-Seller
Fannie Mae Announces 11.26.2019 New Details on Manufactured Home Lending Program
Freddie Mac ChoiceHome – Next Generation Factory-Built Housing, Manufactured Housing Fact-Check, Analysis
Affordable Manufactured Housing's Puzzling Contemporary Condition Revealed by Quotable Quotes from Residents, Professionals, Expert Researchers, Advocates, Public Officials, Graphics, and Reports