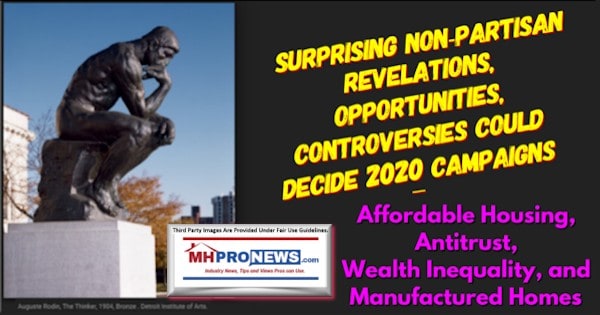 Senator Cory Booker (NJ-D), 2020 Democratic Presidential hopeful, President Donald J. Trump, and Vice President Mike Pence have used a similar phrase. "Enforce…the law."
Senator Bernie Sanders, another 2020 Democratic Presidential nomination candidate and President of the United States (POTUS) Trump have similarly used a phrase, "the system is rigged," while differing on how to unrig the system.
Warren Buffett –
perhaps the third richest person on the planet,
well known Democratic supporter,
Chairman of the Berkshire Hathaway conglomerate that includes Clayton Homes, 21st Mortgage Corporation, and other brands involved in affordable manufactured homes –
– said the following.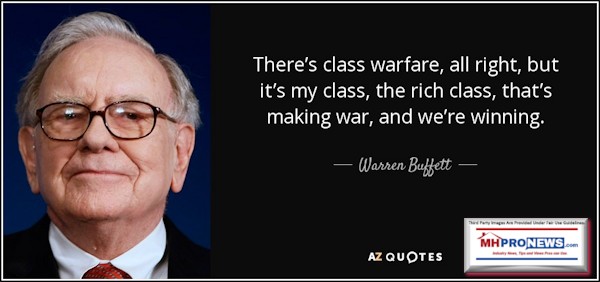 Don't jump to conclusions. By definition, only those with an open mind can be reasoned with.
The Code
People say things for a variety of reasons. Some things are said that are simply a statement of what is – or appears to be – objectively true.
The quote from Buffett – with whose strategic Moat and several other business practices this writer disagrees with on ethical and legal grounds – nevertheless spoke the bare-knuckles truth in the AZ Quote immediately above. It's an example of separating wheat from chaff, with all people, organizations, and things.
Some statements are made in a more slippery fashion. It's code.
Things are said that may sound appealing, but when carefully examined, may only be a veneer for obscuring reality or misleading people in a way that the speaker believed will benefit himself/herself, their group, or organization.
Discerning what is sincere from what is coded language is thus imperative in an era in which the majority – per public polling – now believe that the phrase 'Fake News' represents something quite real.
Surveys also suggest that tens of millions believe that the American system is rigged.
For an example of both of those last two sentences. Right or wrong, millions of Americans were led to believe that the Trump campaign colluded with the Russians to win the 2016 election. But at least four federal investigations have disproven that claim, counting the one led by Special Counsel Robert Mueller which included a team of attorneys made up of Democrats and Clinton-connected supporters. Mueller's legal conclusion, "no collusion." No Americans were charged with colluding with Russians in connection to the 2016 campaign. The claimed 'obstruction' item debate is for another time.
We are living in an Orwellian era. Tens of millions believe things that are demonstrably untrue. Those millions can vote with the same weight to their ballot as your vote or mine carries on Election Day.
That outlines slivers of vexing realities. But ironically, those factors hold a key to understanding how to win – or lose – the 2020 presidential and congressional races.
The College…
Some think the Electoral College system established by the U.S. Constitution is flawed. Others think the Electoral College represents the enduring genius of the founders. Whichever way you see it, the reality is at the state and Congressional district levels, the popular vote will rule.
America can be divided in a variety of ways. Race, gender, religion, political viewpoints, sexual orientation, income brackets, homeowners vs. renters, have vs. have nots. These are just some of the ways that political and corporate thinkers view the national scene.
Of the groups below, owners of conventional housing make up the largest category. But renters – or even owners of mobile/manufactured homes – could easily be the 'swing vote' in tight races.
Homeowners – "In 2018, there were about 127.59 million households in the United States. According to the U.S. Census Bureau, a household consists of all the people who occupy a housing unit," per Statista.
Renters – 111 million in 2018, per Apartment List.
Mobile/Manufactured Homeowners – some 22 million, per the National Association of Realtors (NAR) and the Manufactured Housing Institute (MHI)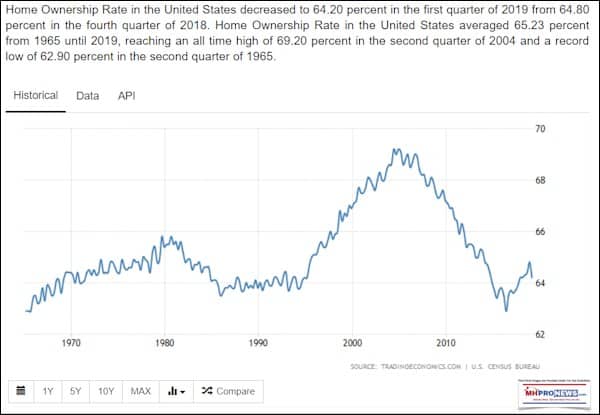 HUD Secretary Ben Carson, and 2020 Election Game-Changing Issues
The next bulleted issues have heated up. How they are handled by candidates and office holders could influence the votes of millions.
In many 'battleground' states, only a few percentage points are necessary for victory. As little as 1 or 2 percent in some states or districts could decide an electoral contest in 2020, as experts and keen observers know.
The 2020 game is on. It has been since the 2016 and 2018 election results were known. Let's review some hot topics and see how they may hold the key to victory for politicos in tough intra-or inter major party – or even independently run – electoral contests.
Consolidation, monopolization, and antitrust. Monopolistic power influences markets. That in turn can harm smaller firms that traditionally create the most jobs. That means monopolization can harm the interests of workers and compensation. One must bear in mind, that per experts, there are several legal tests that may trigger antitrust law. Sheer size may or may not trigger antitrust law in America, but certain 'bad behaviors' can. The left and right increasingly agree that certain firms, often the so-called FAANG or tech giants, may be exercising monopolistic power that violates one or more provisions of antitrust or other laws. In manufactured housing, beyond those tech overlords, Berkshire Hathaway – parent to Clayton Homes, 21st Mortgage and other companies – is a topic of concern. But so is the Manufactured Housing Institute (MHI), which is being credibly alleged to fostering consolidation. Given multiple opportunities to explain away evidence related to those concerns, the Omaha's Berkshire brands that are headquartered in the Knoxville, TN metro and Arlington, VA based MHI have declined comment on issues like those documented here, here, here, here, and here.
HUD Secretary Ben Carson – affordable housing, homelessness, and some 1/3 of Americans renting with dramatically reduced chances for wealth accumulation. By chance and/or by intent, Housing and Urban Development (HUD) Secretary Ben Carson, M.D., has spotlighted in recent weeks a surprising solution to the affordable housing crisis, as a video by left-of-center Bloomberg with other commentary posted here reflects. Much of what Secretary Carson has said and done is factually spot on. It should be widely embraced by the manufactured home industry's dominant firms and MHI. Which is why it may seem odd at first that those same firms that Dr. Carsons' recent address in New Orleans and his June 1-5th Innovative Housing Summit (IHS) on the National Mall in Washington, DC have given only a token or fig leaf support to messages and efforts that on the surface seem so useful to them.
There are, however, two words missing from Secretary Carson's efforts that are legal in nature. Those two words, "enhanced preemption" could hold the key to overcoming most regulatory, zoning, and placement hurdles that are locking millions out of potential affordable home ownership, and/or lower cost rentals. The fact that Secretary Carson seems to be unaware of "enhanced preemption" – which officials at HUD have declined responding to that concern – raises a 'swamp' or crony capitalist question. Have major companies, MHI, and officials at HUD obscured or withheld key truths that could help Secretary Carson rapidly unlock the door to home ownership opportunities for millions? Without the need for new legislation? If so, how that topic is handled in the next few months may tilt the outcome of the 2020 races in numerous states. Why?
Because wealth inequality and a growing distrust of capitalism are other key issues, often more so among millennials. Notably, "enforcing the law" and properly exposing a "rigged system" that has sprouted "fake news" are keys to unlocking those doors. Because at its root, the interest in 'socialism' is perhaps best understood as concerns over bad behavior by uber capitalists that have manipulated the system to their own benefit. That's Buffett's point, in the pull quote, further above.
Secretary Carson is not alone in having elevated the value of modern manufactured homes. As a report linked below makes clear, manufactured homes – properly understood – are safer, stronger, more appealing, and are often embraced in a bipartisan way.
For years here on MHLivingNews and our professional sister site, MHProNews, we've worked with a simple premise. Affordable quality living is a non-partisan issue. Rephrased, that means it should be a bipartisan effort to understand and promote the most proven kind of affordable housing that America has ever known.
The MHI video below captures a sense of that, by showcasing legislators from both major parties praising what they toured on the National Mall at IHS last week.
The report linked from the text-image box below outlines one possible case for antitrust action involving the manufactured housing industry.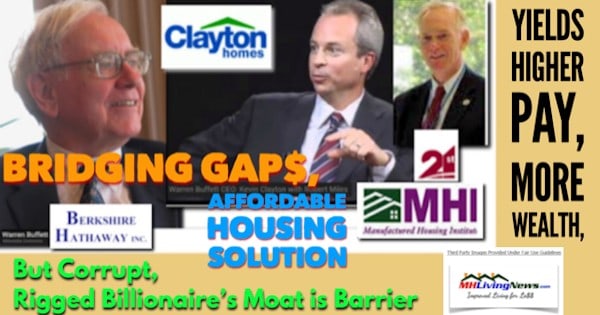 The report linked here could potentially attract numbers across the left-right divides. Rephrased, these concept – properly understood – can tap into millins of voters that they impact, and thus could help win elections. The strategies outlined are legal ones that don't require changing or passing any new laws.
Let's be blunt. Manufactured homes evoke stereotypical images that Secretary Carson is seeking to debunk, based upon demonstrable facts. There are obviously those who believe they benefit from those stereotypes of manufactured homes as 'trailers' in 'trailer parks' that they may mistakenly call 'mobile homes' when there have been no mobile homes built in the USA since June 15, 1976.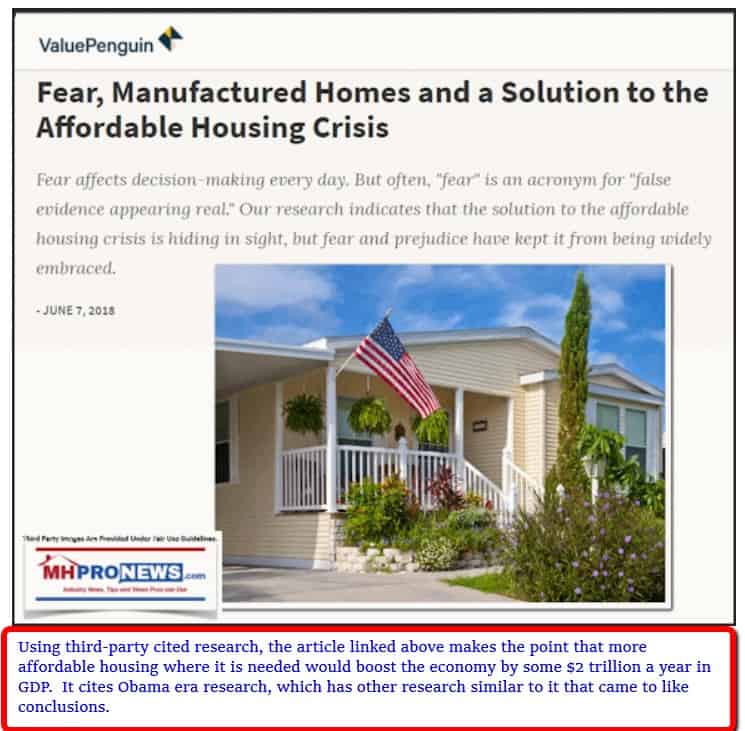 If millions of Americans knew the facts about manufactured homes, outlined in the 2018 reports above and below, concerns held by millions of conventional housing owners would melt.
Fear affects decision-making every day. But often, " F.E.A.R." is an acronym for " False Evidence Appearing Real." Our research indicates that the solution to the affordable housing crisis is hiding in plain sight, but fear and prejudice have kept it from being widely embraced.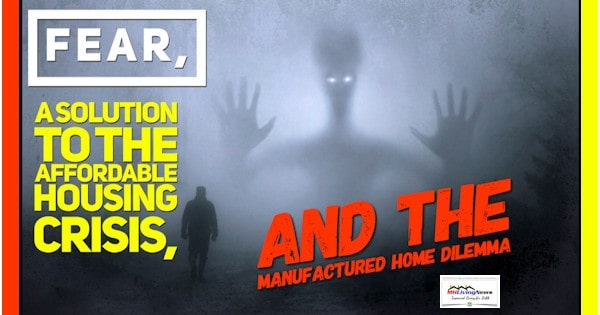 It is in the interest of the long-term economic interests of the vast majority of Americans for their to be more affordable housing, and more affordable home ownership. Given those evidence-based truths, how does one explain the fact that the realities about manufactured homes has become so obscured? Interesting and uncontested fact prove useful in answering that query.
First, since Warren Buffett made the decision to buy Clayton Homes, manufactured housing as an industry has shrunk in size.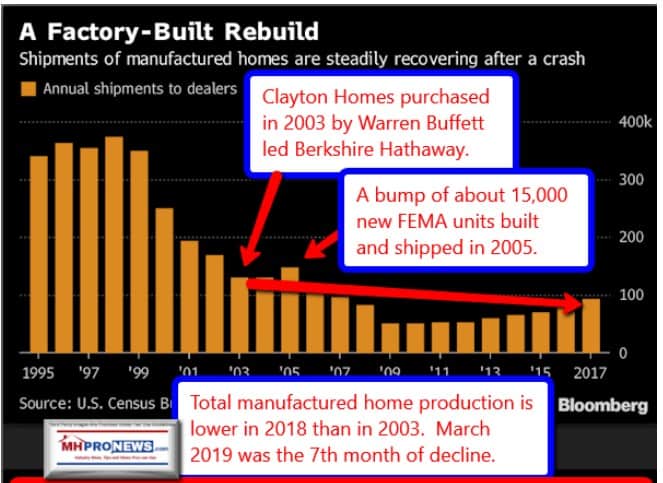 Logically, it is difficult to dispute that Berkshire Hathaway has the cash, expertise available, media assets, and media influence necessary for their organization to single-handedly debunk the very concerns about manufactured homes that Secretary Carson's efforts in 2019 and previously are attempting. Buffett led-Berkshire had $112 billion cash-on-hand in February, 2019, per the Motley Fool investor website. Are we to believe that a tiny fraction of that couldn't be allocated to changing the dynamics of manufactured housing?
Which begs the question, why has manufactured housing not received that kind of support from Berkshire?
It must be noted that Kevin Clayton, President and CEO of Clayton Homes, brags in a video posted on the report linked here that "Warren" told him that they have 'plenty of money' to do whatever they need or want. In that same 2011 video, Kevin said they were planning an image and educational campaign. What happened to that effort? That same video made a point that Secretary Carson made last week, about how 'resilient' manufactured homes that are properly installed are during a windstorm. It is often older 'mobile homes' that were not properly anchored that are the subject of media headlines, and those are only a few a year to a few dozen, out of some 8.8 million units. Fact – dying in a bath tub, shower, car, or boat are far more common than dying in a mobile or manufactured home hit by a tornado or hurricane.
So why is there so much misleading impressions and misinformation? Why has the RV industry, to pick but one possible comparison, surpassed manufactured housing by some 5 to 1 since 1998, when manufactured homes used to outsell RVs 3 to 2?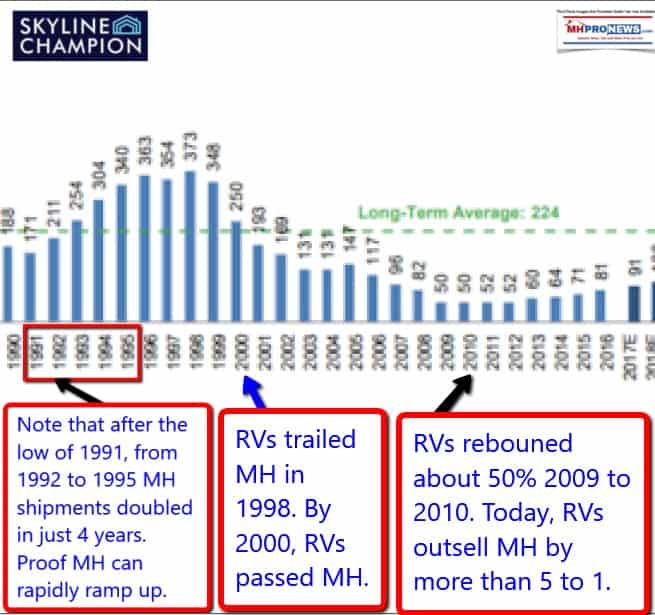 To answer such questions, one must first grasp that millions of Buffett's donations have flowed via 'dark money' channels through various left-wing nonprofits into efforts that have literally attacked manufactured housing business interests. See the details found in the report via the hot-linked text-image box below.
For those among the manufactured housing industry's professionals, state association, or investment categories who stated a hope that the John Oliver video would blow over soon, guess again. "They're [pro-MHI state execs] all drinking each other's bath water with no objectivity left, whatsoever," said a recent news tip to MHProNews included …
That in turn means that Buffett has funded both sides of several political and image fights in manufactured housing. A closer look at the facts reveals that by 2005, controversies involving Clayton Homes have periodically sparked outrage that has cast a shadow over manufactured housing. Mainstream media videos, that span the left-right divide, are posted below that make the point.
No one in the Omaha-Knoxville-Arlington axis has yet to deny the evidence from the articles linked herein.
Facts and patterns of behavior, when laid out and connected in a puzzle-like fashion fit together to establish the following image.
By restricting or diverting access to capital in various ways, such as the one linked here as well as other possible examples – including possible FHA Title I and Title II, USDA, VA and other reforms – Clayton Homes has gone from 13 percent market share in 2003 to some 48 to 50 percent market share by 2018, depending on whose data you use.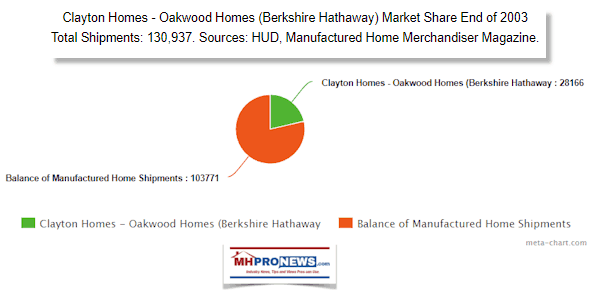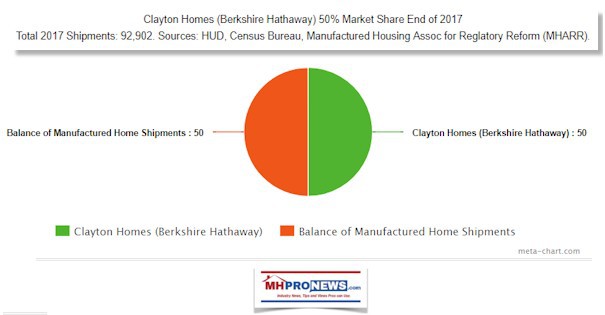 Rephrased, by constricting the market Buffett led Berkshire's Clayton Homes, 21st and other lenders – with a wink and a nod by MHI – consolidated the market at a discounted value.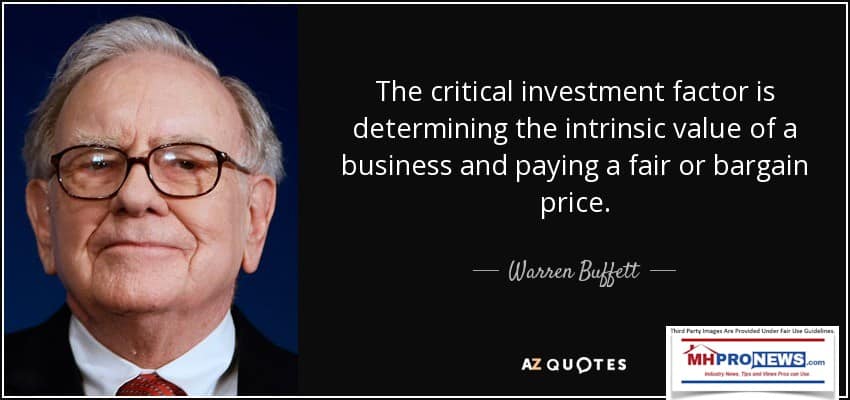 It bears mention how that fits the Buffett quote above. It also has the benefit of potentially escaping regulatory scrutiny.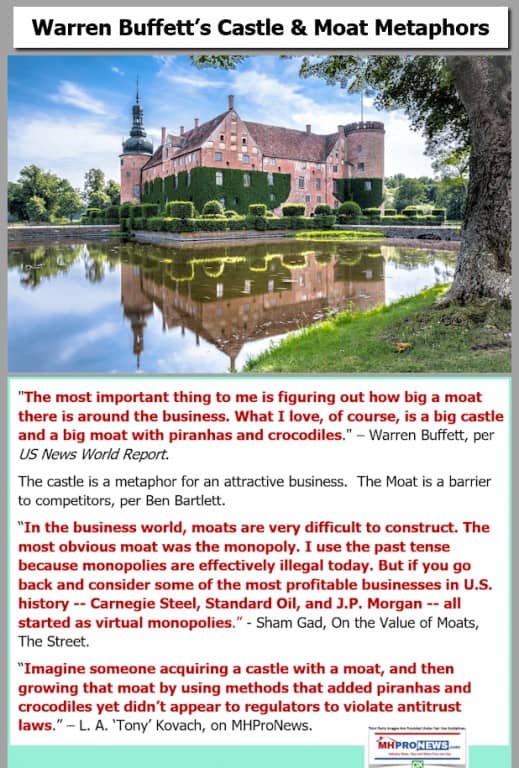 It is precisely that kind of behavior that millions of millennials and others find distasteful about 'capitalism' that makes 'socialism' seem appealing to them. But that is a distortion of capitalism, it is crony or corrupted crony or vulture capitalism, quite different from free enterprise.
There are a few relatively simple concepts that if existing laws were applied could tip the 2020 election.
A proper understanding and enforcement of antitrust and other laws, that may include, but is not necessarily limited to fraud, deceptive trade practices, a misuse of the wires, and U.S. Mail (RICO or IRS regulations).
A proper understanding of manufactured homes, which Secretary Carson and bipartisan efforts have been striving to do, plus the implementation of federal enhanced preemption of HUD Code manufactured homes.
Making a sustainable use of the Duty to Serve (DTS) manufactured housing, plus specific reforms of FHA, VA, USDA lending could fuel the ability of millions now trapped in renting to buy a manufactured home for less than rent.
As 2018 research by FHFA, the National Association of Realtors, and other third-party studies reflect, manufactured homes can appreciate in value. Other third-party research reveals that manufactured homes do not negatively impact the value of neighboring conventional housing.
The legal principle of Affirmatively Furthering Fair Housing (AFFH), which falls in part in Secretary Carson's jurisdiction, could also use existing legal principles to combat a problem with a solution that requires no new legislation.
There is a case to be made that certain 'big boy' companies that dominate MHI are battling forces that are fueled by Buffett's documented donations to specific nonprofits. Buffett's money is demonstrably traced to both sides of several fights. Even if it was legal, it is arguably Machiavellian. There has been no whimper from Berkshire dominated MHI about that problem.
Furthermore, the last 3 MHI Chairman have oddly all had some sort of legal scandal attached to them. Coincidence?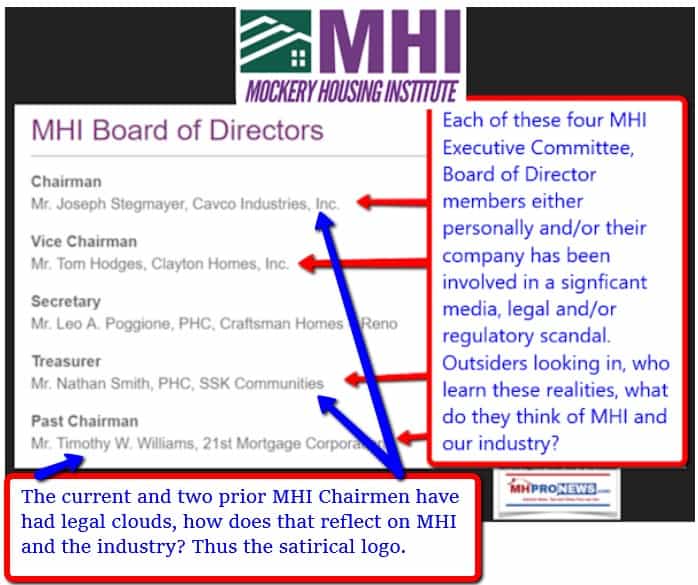 There are candidates in both major parties that may well be willing to take on such topics that are only thorny because they deal with some of the richest people and corporations in America and the world.
We state the points herein as believers in free enterprise and the principles of constitutionally limited government that founded this Republic. We believe in equal justice under the law, which at present,
https://www.manufacturedhomepronews.com/shocking-true-state-of-the-manufactured-housing-industry-plus-solutions-for-profitable-sustainable-growth-may-2019/
A variation that summarizes these issues can be found at the link here and in the hot-linked text image box above, that also cites various outside media and federal investigations into these same issues.
Perhaps no one in manufactured housing has interviewed more unpaid third-parties – including home owners – like the ones below, to provide others with an objective perspective of how the masses and experts think about manufactured home living. While our sites and videos have sponsors, that doesn't change what unpaid and unrewarded people have said. The views shared below are common, not the exception. The husband in this video is an engineer, the wife, a professional as well. Their statements fly in the face of commonly held beliefs. Numerous such videos like these are found on MHLivingNews.com.
Summary
There is a growing agreement that spans the left-right political and media divisions in America that the United States faces a growing crisis in affordable housing.
There is a similarly growing agreement between voices in the two major parties that the consolidation or monopolization of varied U.S. economic sectors is occurring. Each of these trends are impacting manufactured homes, the millions who live in them, and those working or investing in the manufactured housing industry.
Some arguably believe they benefit from these trends. It is no surprise that those will raise no voice of alarm. Indeed, some of them will deny or attempt to obscure the notion that increasingly self-evident problems exist. For more on that, see some of the linked related reports, further below the byline and notices.
Stating the obvious can clarify issues. Citing facts, reasoned, and evidence-based allegations herein can orient those of good will that seek the greater good of the American public. That in turn benefits thousands of individual business owners, and untold thousands of investors.
To oversimplify, relatively few benefit from the trends and concerns outlined herein, while the vast majority of Americans are being harmed. So, there is natural tension.
Millions in lobbying dollars and other forms of influence peddling are flowing in an attempt to avert the serious need to investigate these problems Antitrust, and other legal measures that are already law could be used to break up and/or otherwise punish bad actors of which political parties they may be currying favor.
Why is such a scheme even contemplated?
Because housing is over a trillion dollar a year industry.

The 'secrets hiding in plain sight' outlined herein could be worth billions annually to those who have purportedly manipulated the system.
Our sources tell us that these issues are on several federal agency radars. The Knoxville metro news report is but one example. Keep in mind that the Seattle Times, and our own sources, indicate that there are other federal investigations beyond those noted in the next video.
Senator Elizabeth Warren and several 2020 Democrats have raised similar issues. The Trump Administration has recently been reported to be investigating big tech, but what has not yet been reported in the mainstream is any investigation into possibly corrupt or illegal actions by Berkshire Hathaway that is costing Americans a fortune.
Congress should hold public hearings on these matters. Why?
Because the harm that has been done is public harm. Thousands of independent, small businesses have been harmed by such challenges. Calling in leaders like Warren Buffett, Kevin Clayton, Tim Williams, Joe Stegmayer, Nathan Smith, Richard 'Dick' Jennison, Lesli Gooch, and Jason Boehlert – among others – to testify under oath before Congressional committees in the House and Senate could prove revealing.
It may also educate the public in the various ways that Secretary Carson has been promoting, that could boost economic opportunities and affordable housing options that could lift the boats of millions of Americans.
Carson has made himself available to sources across the left-right media divide to promote both Opportunity Zones, but also manufactured homes. He's woven these issues together, arguably because they interlace.
There are debatably 3 possible scenarios that explain how a key solution to the affordable housing crisis that Secretary Carson and others have correctly said includes manufactured homes could be so misunderstood.
One must either believe that one of the smartest and most successful business investors of all time can't figure out how to support Clayton Homes and their executive team in growing the sales of manufactured housing, OR
One must believe that Berkshire, Clayton, and the professionals at MHI are incompetent; neither of those two bullets makes sense.
Or one must believe that there is a hidden agenda. That the system has arguably been rigged and manipulated in ways to obscure the truth that gives the "Illusion of Motion" without delivering any significant results. That in turn allows Buffett to consolidate the industry at a discount.
In fact, the recent IHS 2019 at the National Mall reveals that no BH Media group publication has as of yesterday covered the event. Why not? Why didn't MHI strongly promote that event, not to their members, but to the general public? Why doesn't MHI have Secretary Carson's speech in New Orleans – delivered to their own group – posted in full and prominently on their website. Are they inept? Incapable? Coincidence — or is it bullet #3 above? See the related reports below for more on these queries and the surprising facts.
We've researched and documented such concerns, layer by layer, over the course of several years. We've given the Omaha-Knoxville-Arlington axis repeated opportunities to respond, as they used to do promptly just two years ago. But since then, they've gone silent in the face of these evidence-based inquires.
The general public is arguably harmed by these challenges. Thousands of independent businesses – some that were successful for decades – folded after the events linked here and since. MHI's own president took a thinly veiled backhanded slap at them, in his own exit message.
There are more than enough reasons for federal and/or state agencies, and for Congress, to investigate the concerns that are costing the nation's citizens tens to hundreds of billions of dollars a year. It could be a scheme so bold that it makes Bernie Madoff look like a piker.
This isn't a Ponzi scheme, as was the case of Madoff. Rather, this is arguably an antitrust violation to rig the solution to the affordable housing crisis that some 4 to 12 people could have carried out. Using Buffett's well professed patience, their possible payoff could be in the tens of billions annually. That sounds suspiciously like possible motivation to me.
Why didn't MHI follow this pull quote from their own prior chairman? Or was that statement just posturing?

After years in the trenches of this industry, having been praised by some of the same people and organizations that we now critique, we think this outline best fits the facts, logic, and the otherwise inexplicable oddities.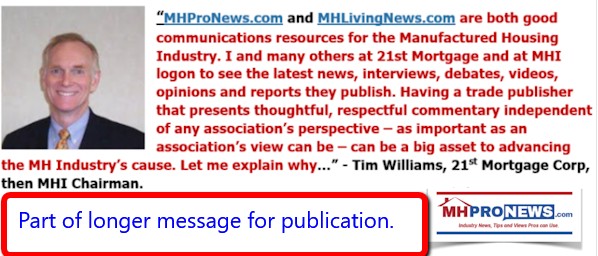 Review the evidence. Follow the links.
With enough patience, facts and patterns in dispute often reveal themselves more clearly to those with an open mind who are honestly seeking clarity. By definition, the closed-minded can't be reasoned with. This report will have two primary components. The first will be from the recent and positive Innovative Housing Showcase, held at the National Mall in Washington, D.C.
See if you can devise an alternative explanation that better fits the facts.
WAVY is one of several mainstream news outlets that came up in a Google search for " Innovative Housing Showcase" (IHS) and " Manufactured Homes " on 6.10.2019. That's more than a full week after the event – which ran from June 1-5, 2019 – began.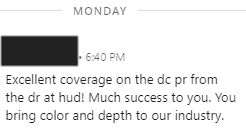 We'll continue to press these reports, plus much more, aimed at helping the industry achieve it legitimate potential while honestly serving millions. It is all right here on the manufactured home industry's largest and most-read trade media where "We Provide, You Decide." © ## (Industry news, commentary, fact-checks, and analysis.) ##
(See Related Reports, further below. Text/image boxes often are hot-linked to other reports that can be access by clicking on them. Third-party images and content are provided under fair use guidelines.)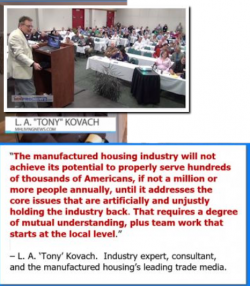 By L.A. "Tony" Kovach – for MHProNews.com.
Tony is the multiple award-winning managing member of LifeStyle Factory Homes, LLC, the parent company to MHProNews, and MHLivingNews.com.
Office 863-213-4090 |Connect on LinkedIn:
http://www.linkedin.com/in/latonykovach
Sign Up Today!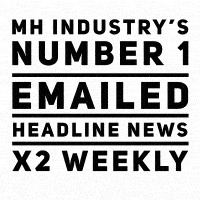 Click here to sign up in 5 seconds for the manufactured home industry's leading – and still growing – emailed headline news updates.
Related References:
The text/image boxes below are linked to other reports, which an be accessed by clicking on them.
For those among the manufactured housing industry's professionals, state association, or investment categories who stated a hope that the John Oliver video would blow over soon, guess again. "They're [pro-MHI state execs] all drinking each other's bath water with no objectivity left, whatsoever," said a recent news tip to MHProNews included …
There are several hot-button issues that are circulating in manufactured housing. They include, but are not limited to, the following. The failure of the Manufactured Housing Institute (MHI) to respond to the Bryan, TX "ban" and limitations places on new or pre-owned manufactured housing .
https://manufacturedhousingassociationregulatoryreform.org/lead-follow-or-get-out-of-the-way/
https://www.manufacturedhomepronews.com/kobayashi-maru-crime-kevin-clayton-darren-krolewski-mhinsider-state-of-manufactured-housing-industry/
Andy Gedo's LinkedIn profile says he is a "Partner at ManageAmerica." They are on online property management platform, that cites manufactured housing as one of their specialties. They are active at Manufactured Housing Institute (MHI) events, and per sources, an MHI member. To set the stage for the discussion that …
From 2010 until 2018, there's been an ongoing series of governmental, media, and other investigations into the post Haitian tragedy that involved Kevin Clayton, Bill and Hillary Clinton, Warren Buffett's led Berkshire Hathaway conglomerate which owns Clayton Homes. This Daily Business News report will update and review what was promised, and what took place.
As a disclosure, MHProNews has argued for years that however good it sounds, rent-control doesn't work in practice. That noted, as the affordable housing debate is only growing, and some are pushing rent control as a 'solution,' this morning the Daily Business News on MHProNews hereby presents two videos on …
What Are Federal Officials Researching About Manufactured Housing?
The ubiquitous Drudge Report linked up an interesting report from France 24 that said that there is another surge in interest in George Orwell and his writing, including the classic novel, 1984. Interesting, because MHProNews has recently used quotes from Orwell in various reports to spark thoughts that insightful soul previously pondered that should speak to our times.