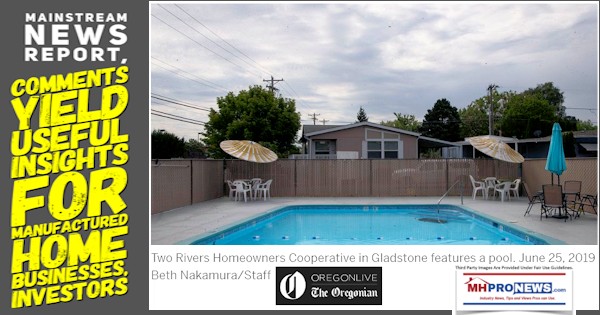 An article in the Oregonian was published last week under the headline, "One of Oregon's biggest stocks of affordable housing — the mobile home — is in peril, despite state interventions."
It describes the fact that dozens of manufactured home communities have been lost in recent years to redevelopment, and goes into details on common issues regarding land-lease communities.
We may look at that article in the days ahead, but will laser focus on just a few lines, quoted below. The terminology errors in their headline and the quotes below are in the original.
"Mobile home parks are disappearing at a disquieting pace. The state has tracked more than 73 park closures in the last two decades, amounting to 2,700 homes lost. For comparison, that's equivalent to the number of homes in the Portland bedroom community of Scappoose.
And in the last two years, another 40 mobile home parks have filed notices of intent to sell — likely meaning either an eviction or major rent hike for 3,200 households.
It's been decades, meanwhile, since anyone built a new park."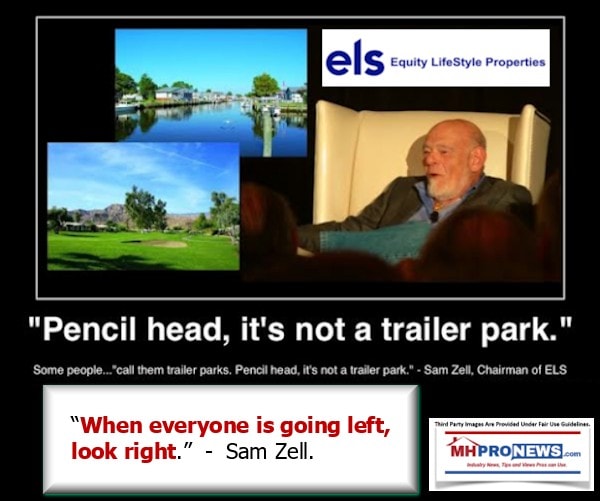 Insights from the Oregonian Report
We've previously noted that troubling trend of more manufactured home community closures than new communities opening, in our report linked here.  As important as that topic is, this report will spotlight the comments by the general public to that Oregonian found in the comments to their article at this link here.
On 7.19.2019 by around noon eastern, there was some 115 posted comments on their West Coast news story.  The following are a random sampling of some of the earlier comments.  It begins with the very first reader reactions to the Oregon Live report.  There will be a brief analysis following the quoted reader comments.
Each bullet reflects a different statement by the public. Spacing or other typos are in the original.
Posted Public Quotes:
John Oliver did a piece about this very recently. Posted to You Tube. Not saying he is right, but he does put effort into his research. – Jiffy Jeff.
At last, a report on how the nanny state government's "good intentions", have the absolute opposite effect.The inescapable conclusion is when the government sets out to "solve" a problem, they seem to always make it worse… at great expense. The same goes for transportation, housing, education, immigration, law enforcement and all aspects of, "…. we know what's BEST for you….".In governments' quest to solve the "affordable housing problem", they are actually making housing much less "affordable" and much less available.

Good work for a change Olive. I'm impressed. Try to keep it up. I won't hold my breath." – JHM2
Reply to @JHM2:  "they seem to always make it worse"Yes, when you view life through a single, biased lens, it certainly does "seem" a certain way." – MiddleOregon
Reply to @MiddleOregon: Would that be the "government intervention, land use, zoning , permits, fees & property tax "lens?"" – JHM2
Mobile Homes are not affordable. Factor in the constantly increasing space rent and write off the value of the home to near zero because of extremely poor quality and inability to cheaply move them. People who buy these things would be much better off renting for awhile until they can afford a real house." – Mflammed
Reply to @mflammed: Written like someone who's never really had to make the tough choices. – JakeJ
I will be curious to see what the new unrestricted zoning law does here. If a city really wants to make space for these small units the way to do that is take a a tax lot – let's say one that is 5,000 square feet and allow a developer to break it down to five 1,000 square foot tax lots. Drop a 25×25 small home on it with a little room left over for a garden and you have affordable housing where the homeowner can own the land." – Mirtis
uhhhhh government interventions always make things worse. – Akoniii
In retirement i plan to buy some land ( already looking) in a less exspensive area of the state. Then buy a manufactured home and place it n that land.
If you search there is still some places were land is cheap..some even on "city water and sewer" – Red1903
—-The state has quietly become a leader in an innovative program to recruit nonprofits to step in and buy the parks or allow residents to buy them. —-Good, because these parks often provide a nice, safe option to (subsidized) apartments.
But hopefully the owners are also prevented (as a group) from selling to developers. I have seen these parks disappear in the semi-rural area where I live. – Bingo
REPLY TO @BINGO: Reply to @Bingo: why should anyone be prevented from selling? Would you be okay if suddenly you were unable to sell? Real estate is an investment. – FriendlyPoet
REPLY TO @FRIENDLYPOET: Reply to @FriendlyPoet:
Hi, Poet. Thanks for the question.My opinion is that if the state is going "to ALLOW (emphasis added) owners to buy them", for the purpose of preserving the parks, then the state should also be entitled to prevent them from selling to developers.
If not, then the state should just stay out of it. – Bingo
So Oregon's land use laws are working as they should and are marginalizing the lower income and driving them out. – Tombdragon
Liberal rhetoric vs. Free market. – Vitaprime
Maybe a better idea would be to give the land owners of the parks a big tax incentives. especially those with 55 + parks? – Red1903
— End of quoted public comments. —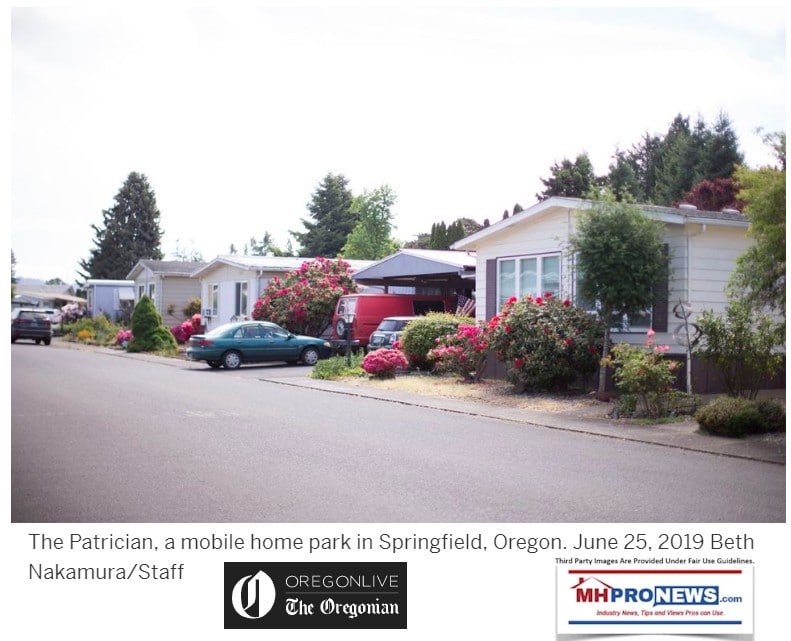 Anyone who surfs their report will find dozens of more, some inflammatory, some sad, outrageous, insightful, troubling, and so on.
While some of the points are accurate, some are problematic or untrue.  Where are the manufactured home industry responses to problematic claims?
On MHLivingNews our parent company for years has provided a third-party resource for the general public. We have tested the use of that resource as a way of debunking the concerns of the general public. We have done so from the hundreds of comments posted on our first YouTube video that addressed the fear people have about manufactured homes, tornadoes, hurricanes, and other windstorms.
While some of those replies go unanswered, some are moved or are even persuaded.
Importance of Third-Party vs. a Business Site
While a trade association might be better than a for-profit business site, the collection of topics and articles on MHLivingNews has been proving the value of such an approach since early into the platform's existence.
Unlike trade groups, that have proven time and again that they are often publicly toothless against a 'bad actor' in manufactured housing, MHLivingNews is in a position to spotlight 'white hats' but also draw attention to 'black hats.' Shopping tips on that site are useful to buyers, as reader feedback has demonstrated.
Tim Williams at 21st Mortgage Corp, while he was the chairman of the Manufactured Housing Institute (MHI) made the insightful point that there is a good argument to be made that every problematic report should be responded to by the industry.  In fact, over a decade ago, MHI used to do so, at least periodically.  Shipments were also higher then now.  Coincidence? It was part of the job of the MHI media relations person.  It was supposed to be so for the new ones, what happened to that part of the plan?
Beyond lawfully addressing concerns like those linked here, here, here, here, and here few things would make more of a difference in the acceptance of manufactured homes would be a sustained educational and information effort.
The fact that tens to hundreds of thousands often view tiny house videos within days, or in some cases millions of views over time, what has manufactured housing done that even compares to that phenomenon?
Comparing Tiny House Promo to Manufactured Housing Promotional Results, Part II
That said, perhaps the real takeaway from the tiny house trend is that for all of the viewers, relative modest numbers are being sold. What that suggests is that there is a vacuum that manufactured home producers could readily fulfill.  Some HUD Code builders designate a line of homes that they refer to as their 'tiny house.' While those may sell, the total numbers are still fairly modest. The proof is in the total annual shipments and available information from publicly traded firms.
When a company, location, or industry keeps doing the same things in the same way, they can only expect similar or the same result.
It is only by taking an objective look at trends, and then responding to those trends, facts, and opportunities that the industry will achieve its potential.
See the related reports, linked below.
That's the latest installment of manufactured home "Industry News, Tips, and Views, Pros Can Use" © where "We Provide, You Decide." © ## (News, analysis, and commentary.)
Submitted by Soheyla Kovach for MHProNews.com.
Soheyla is a managing member of LifeStyle Factory Homes, LLC, the parent company to MHProNews, and MHLivingNews.com. Connect with us on LinkedIn here and here.
Related Reports:
Click the image/text box below to access relevant, related information.
Texas, Florida Cities Plan Manufactured Home Ban, Legacy Housing, FMHA, Lance Inderman/Jessup Housing React
Hundreds of New Manufactured Home Communities Opened, But How Many Have Closed? Industry Research Result$
"Manufactured Housing Presents an Unparalleled Opportunity to Provide Market-Wide Relief," Says Non-Profit
Concern Addressed, HUD Staff "Waiting Out" Secretary Carson Tenure to "Return…Harsher…Costly…Unnecessary" Regulations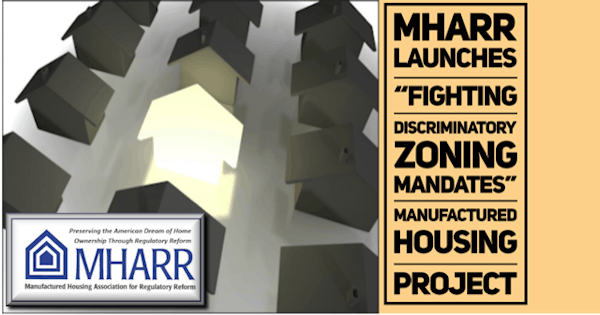 Giving Credit Where Due, HUD Secretary Ben Carson on Affordable Housing, Homelessness, and Manufactured Homes
'Affordable Housing Impacts Every State and Community, Urban and Rural Alike' – Senator Maria Cantwell (WA-D) – New Bipartisan Bill Examined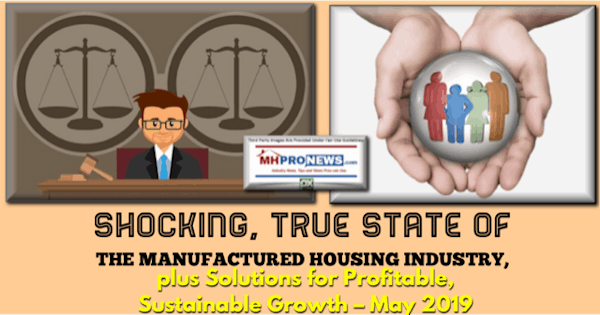 'Minorities Aren't Being Well Served in Housing Finance' Today, per Mozilo – Former Exec Near Eye of the 2008 Housing/Mortgage Storm
HUD's Website – Problematic, Purportedly Inaccurate Information on Manufactured Housing Improvement Act of 2000
Congress, HUD, Trump Administration Warned – "Profoundly Damaging Unintended Consequences" – Manufactured Housing Industry, Lower & Moderate-Income Americans