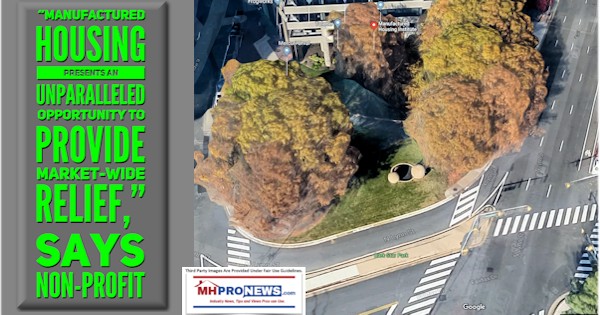 The headline above is a pull-quote from a non-profit organization that is routinely involved in manufactured housing advocacy. A nonprofit is given tax exempt status under Internal Revenue Service (IRS) regulations, but they also have reporting and other requirements. 
Prior to digging into the full text of the fascinating and largely helpful document that touts manufactured homes, MHProNews will first examine some elements of non-profit status for trade associations and other groups under federal law.
"Nonprofits are tax exempt or charitable, meaning they do not pay income tax on the money that they receive for their organization. They can operate in religious, scientific, research, or educational settings," says Wikipedia.
The following 5 paragraphs are from Investopedia, at the page linked here. It will be followed by the document that provides not only the headline quote above, but also an analysis that should be revealing to manufactured housing operations of all sizes.

What is a Nonprofit Organization?
A nonprofit organization is a business that has been granted tax-exempt status by the Internal Revenue Service (IRS) because it furthers a social cause and provides a public benefit. Donations made to a nonprofit organization are typically tax-deductible to individuals and businesses that make them, and the nonprofit itself pays no tax on the received donations or on any other money earned through fundraising activities. Nonprofit organizations are sometimes called NPOs or 501(c)(3) organizations based on the section of the tax code that permits them to operate.
Qualifications for NPO Status
A nonprofit designation and tax-exempt status are given only to organizations that further religious, scientific, charitable, educational, literary, public safety or cruelty-prevention causes or purposes. Examples of nonprofit organizations include hospitals, universities, national charities, churches, and foundations. 
A nonprofit must serve the public in some way, whether through the offering of goods, services, or a combination of the two. They're also required to make financial and operating information public so that donors can be informed about how—and how well—their contributions have been used. Nonprofits may also exist to collect income to dispense to other qualifying charities.
Before it can receive a tax exemption, an organization needs to request 501(c)(3) status from the IRS. Once registered and running, the organization has to maintain compliance with the appropriate state agency that regulates charitable organizations.
NPOs cannot be political, which helps explain why so many of them actively seek a non-partisan tone in their communications. Organizations seeking 501(c)(3) status must state explicitly in their organizing papers that they will not participate in any political campaign on the behalf of any candidate or make expenditures for political purposes. There are 501(c) groups that can engage in these activities, but not 501(c)(3) organizations.
##

Now, let's give credit where it is due, and to the extent that it is due.
What follows next in this fact-check are the contents of an interesting and often insightful document that was produced by the Arlington, VA based Manufactured Housing Institute (MHI).  MHProNews and our MHLivingNews sister site has long argued for separating wheat from chaff.  While there is some chaff, much of what follows from MHI is frankly wheat from the perspective of the manufactured housing industry.
However, there is a catch. This overall fine MHI document was sent via email to their own members.  It is not found on their website. Indeed, according to Google, 5 days after this was emailed to their members, it is not found anywhere online. See what the screen capture of the search reveals? No results.

Why would MHI provide a compelling narrative, and then share it only with their own member/readers? How does that help the industry grow?
This is arguably a classic example of what MHProNews and MHLivingNews and others have alleged for some time. Namely, that MHI is posturing in front of their own internal professional audience; to those industry members that read such reports.  It may seem on the surface – absent a fact-check and analysis like this – to demonstrate how MHI appears to be promoting the industry.  But in reality, what the evidence shows time-and-again is that potentially good material is not being used with the public at large.  It is only being used with a very limited group of industry pros, that they hope to attract or keep as dues paying members.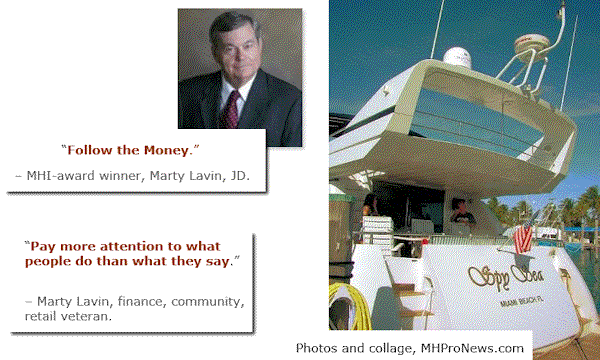 Rephrased, it is another example of MHI's clever posturing. If so, that may have federal legal implications, because it is being sent out via email to the Arlington-based association's own members and to others that may receive this.
Here's how that portion of MHI's 7.10.2019 email, which links to what follows, read.

"New Data Suggests Opportunity for Manufactured Housing
Recent reports reinforce concerns about a worsening housing supply shortage across the nation. As families across the country grapple with a housing market that currently fails to provide sufficient supply, driving up costs and setting attainable housing further out of reach, MHI is working with federal policymakers to ensure federal policies and regulations promote and support manufactured housing. As Department of Housing and Urban Development (HUD) Secretary Ben Carson has recently said, "manufactured housing is stepping out of the limestone, and into the limelight," thanks to MHI's efforts…" That was followed by the link to the document quoted at length further below.
That might have been written or inspired by MHProNews and/or MHLivingNews, though no such attribution is made. The headline quote would make a compelling case for investors, advocates of all kinds, and others. But that would imply more competition for Clayton Homes, other Berkshire Hathaway owned brands, or select 'big boys' that play along with this MHI pattern of activity which projects one thing to the industry's members, but masks or hides it entirely from others.
Keep in mind that the MHI website "Homes on the Hill" page which featured two largely positive videos during the month of June, have since been removed. Why would MHI hide or remove good news?  Neither they, nor Clayton, nor MHI's executive committee, nor their outside attorney have not answered our inquiries.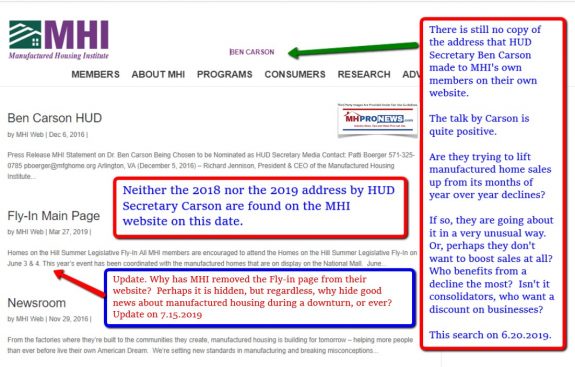 Consider the screen shots above and below from the MHI website.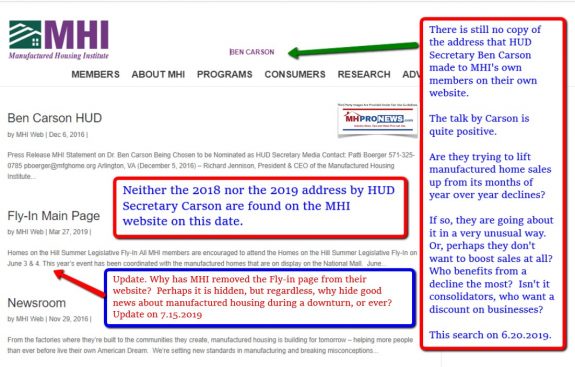 This is subtle but nevertheless substantive evidence for what the report below indicated weeks ago.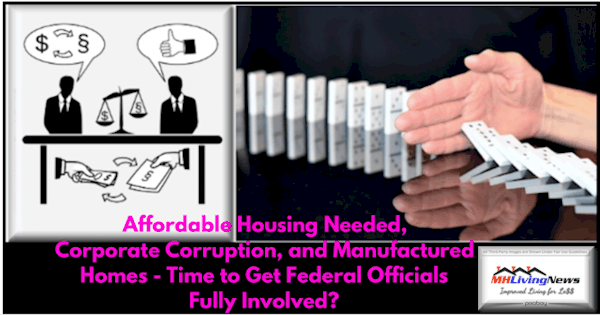 Having set the table, here is the body of MHI's email, which includes the headline pull quote. While there are nuances that could be quibbled over, it is arguably vastly superior to what they put out to the general public.  What should be noted is how often MHI pats itself on the back, even though new manufactured home shipments are now into their 9th month of year-over-year declines.
This MHI purportedly posturing document for their members will be followed by some added commentary before closing out this report.


New Data Suggests Opportunity for Manufactured Housing
Recent reports reinforce concerns about a worsening housing supply shortage across the nation. As families across the country grapple with a housing market that currently fails to provide sufficient supply, driving up costs and setting attainable housing further out of reach, MHI is working with federal policymakers to ensure federal policies and regulations promote and support manufactured housing. As Department of Housing and Urban Development (HUD) Secretary Ben Carson has recently said, "manufactured housing is stepping out of the limestone, and into the limelight," thanks to MHI's efforts.
Harvard's Joint Center for Housing Studies' (JCHS) "State of the Nation's Housing" report, presents analysis suggesting that if current inventory shortages persist, costs will continue to rise. In an accompanying press release, Chris Herbert, managing director of JCHS, stated, "To ensure that the market can produce homes that meet the diverse needs of the growing U.S. population, the public, private, and nonprofit sectors must address constraints on the development process." This is where manufactured housing presents an unparalleled opportunity to provide market-wide relief.
As efficiency in production is inextricably linked to a market's ability to meet supply demands, manufactured housing outperforms other housing production processes. The innovative methods and systems afforded by the factory building process allows manufactured homes to be produced at the highest quality standards, with remarkable efficiency; all of which are translated to the consumer in quality and cost savings.
In a market where families feel that homeownership is out of reach, with the biggest obstacle being affordability, or lack thereof, access to manufactured housing couldn't be more important. Freddie Mac recently reported that 82% of renters view renting as more affordable than homeownership – an increase of 15% from February 2018. Included in the same report, which details survey data on affordability issues, Freddie Mac presented the following data, illustrating Americans' experiences with housing affordability:
• 51% of Americans have made spending or housing changes to afford their monthly housing payment.
• 44% of renters and 35% of owners who had trouble affording their housing payment over the last two years reported having to move to afford housing costs.
• Over half of workers employed in the essential workforce (e.g., teachers, nurses and law enforcement) have made housing decisions with their student loan repayment obligations in mind.
• Half of owners and 44% of renters in the essential workforce say they had to make different housing choices to afford daycare.
Manufactured housing offers an alternative to consumers and MHI is working to make sure they have access to homeownership through manufactured housing. To help policymakers understand and join this effort, MHI worked with its members to ensure HUD Code manufactured homes were the centerpiece of HUD Secretary Carson's "Innovative Housing Showcase," which featured three fully-furnished manufactured homes on display on America's front lawn – the National Mall. Secretary Carson kicked off the showcase, highlighted manufactured housing in his remarks, explaining that manufactured housing's "dramatic cost savings in construction enable responsible citizens to secure housing that may be considerably less expensive than renting or purchasing a site-built home."
The event allowed Members of Congress, Administration officials, and the public the opportunity to see and experience the craftsmanship and quality of manufactured housing, first hand.
During an Open House hosted by MHI on the National Mall, Members of Congress, including Representatives Kathleen Rice (D-NY), Marc Veasey (D-TX), Michael Guest (R-MS), and Robert Aderholt (R-AL), walked from meetings and votes on Capitol Hill to learn more about the quality and attainability of today's manufactured homes.
Click here to see the remarks of Members of Congress that toured the homes during MHI's Open House.
###
As noted, several of the points here are similar to ones made by MHLivingNews and/or MHProNews. However, this is a case by MHI being made to their own very limited group of members. Even if a couple of thousand industry professionals see it, what is that in a nation of an estimated 329 million people? How does that help MHI fulfill their own stated goal of educating the public and changing perceptions about manufactured homes? MHI is the preacher preaching to their own choir, not the broader public that needs to hear this otherwise fine thinking time and again.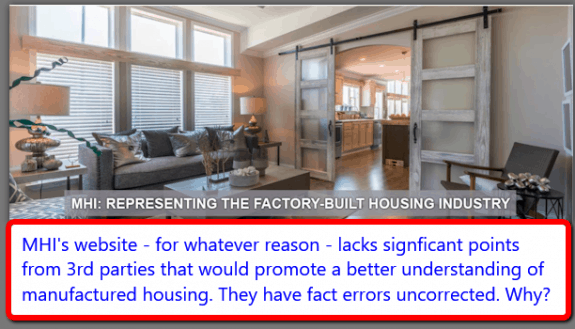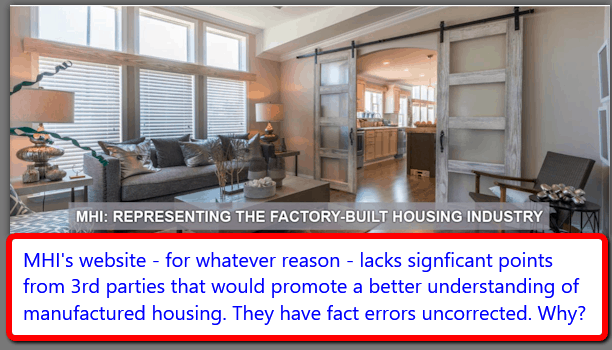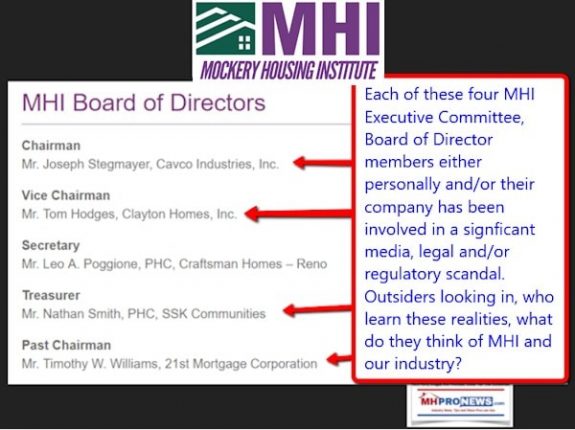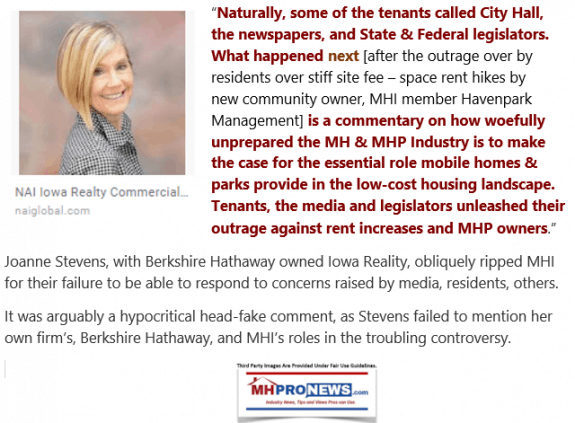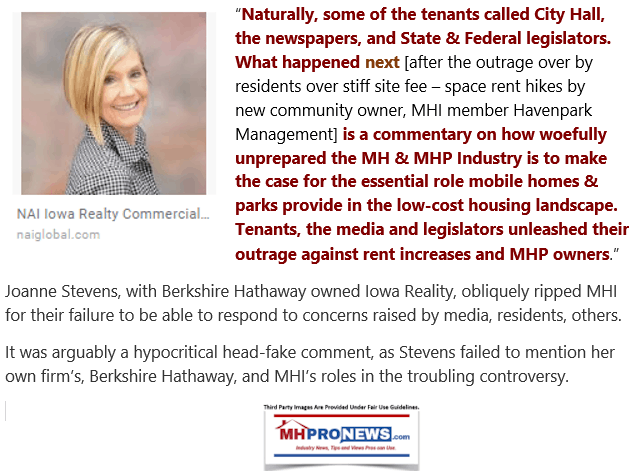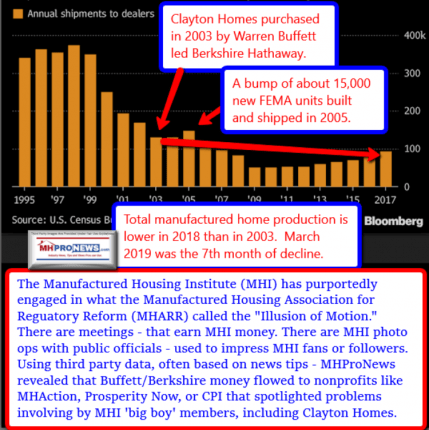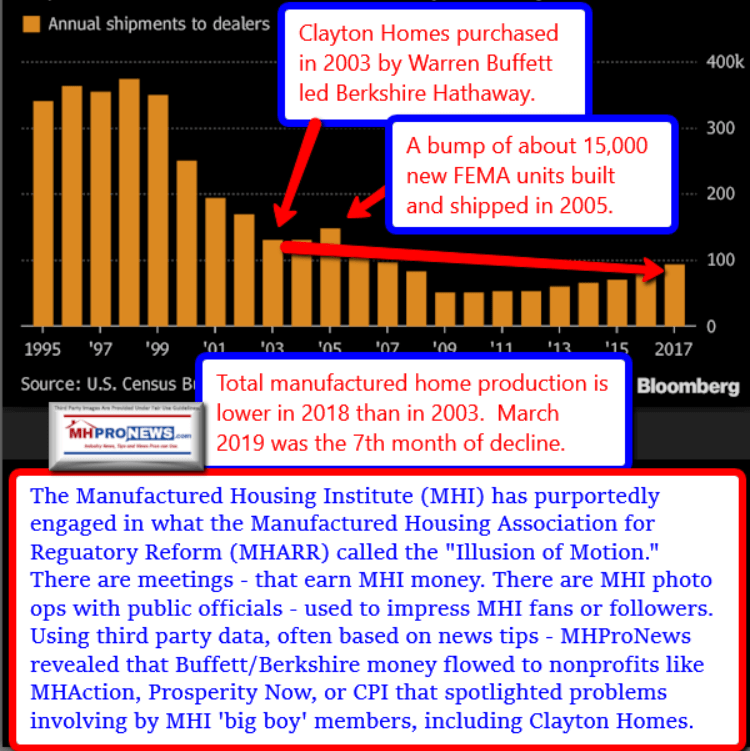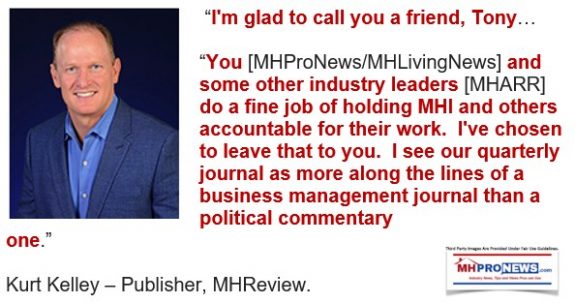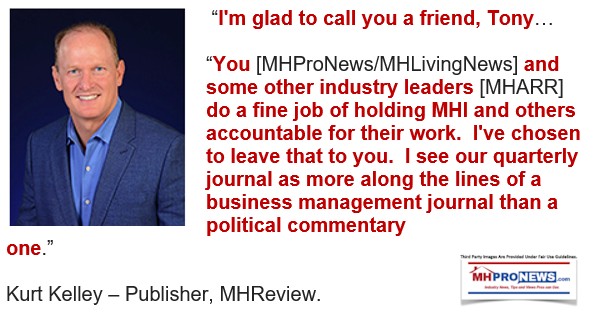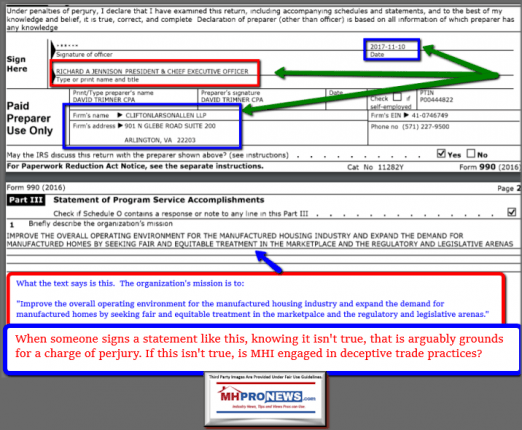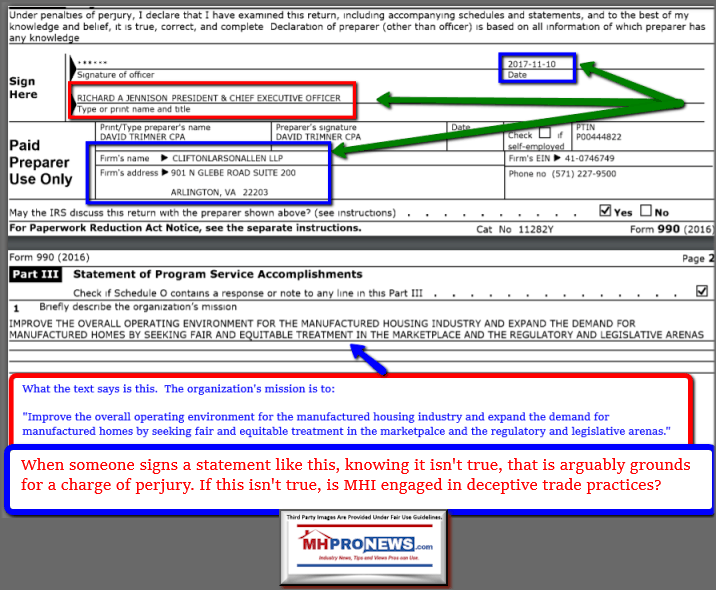 Since MHI says they have so much clout, why by their own account did so few Congressional representatives make the short walk to the National Mall?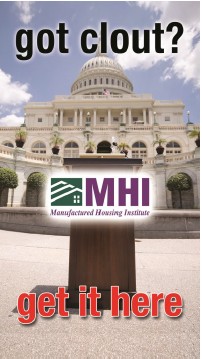 Since MHI says they have promoted the industry so effectively, why have less than 1,050 people seen this video, vs. the 6.3+ million that have seen the essentially Warren Buffett donor money that fueled John Oliver's viral attack on manufactured homes and communities?  Which will have greater impact in the marketplace? Their video below is fine, but how much impact is it actually having, when it is hidden even on MHI's own website?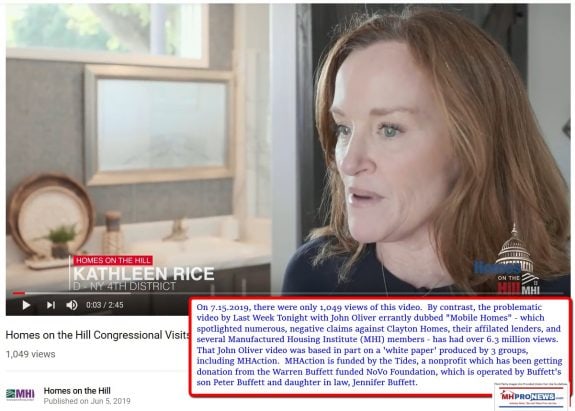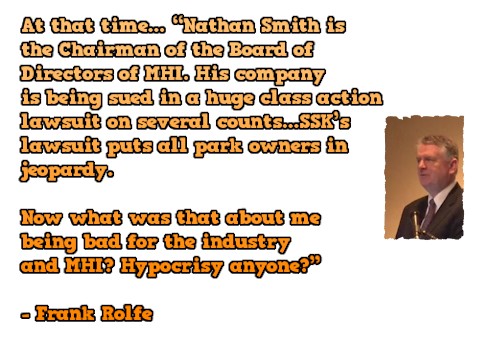 This is arguably a deep, sophisticated head fake designed to convince members that MHI is 'doing something.' It is arguably an example of what the Manufactured Housing Association for Regulatory Reform president Mark Weiss said is the "Illusion of Motion," earlier this year.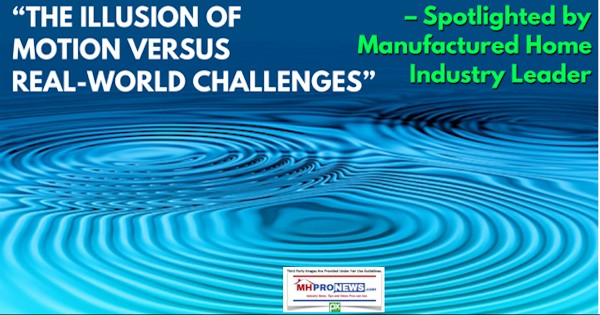 The industry is into 9 months of decline, which MHI's own data reflects As MHProNews and MHLivingNews alone have spotlighted among the industry's trade, MHI makes bold claims in their self-promotional materials.  They have photo opportunities with personalities in Washington, D.C. or elsewhere.  But where are the results?
Given that MHI and their leaders have repeatedly declined to answer such questions, or to discuss/debate them publicly, one is left with evidence that they are not doing what they claim to do in IRS documents. See the related report, linked here.
That's our second installment on this Monday, Monday of manufactured home "Industry News, Tips, and Views, Pros Can Use" © where "We Provide, You Decide." © ## (News, analysis, and commentary.)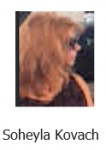 Submitted by Soheyla Kovach for MHProNews.com.
Soheyla is a managing member of LifeStyle Factory Homes, LLC, the parent company to MHProNews, and MHLivingNews.com. Connect with us on LinkedIn here and here.
Related Reports:
Click the image/text box below to access relevant, related information.
Concern Addressed, HUD Staff "Waiting Out" Secretary Carson Tenure to "Return…Harsher…Costly…Unnecessary" Regulations
Giving Credit Where Due, HUD Secretary Ben Carson on Affordable Housing, Homelessness, and Manufactured Homes
'Affordable Housing Impacts Every State and Community, Urban and Rural Alike' – Senator Maria Cantwell (WA-D) – New Bipartisan Bill Examined
Senate Democrats – Including 2020 Presidential Contenders – Ask CFPB Protect Consumers Against Predatory Lenders — Point Finger at Clayton Homes, Berkshire Hathaway Lending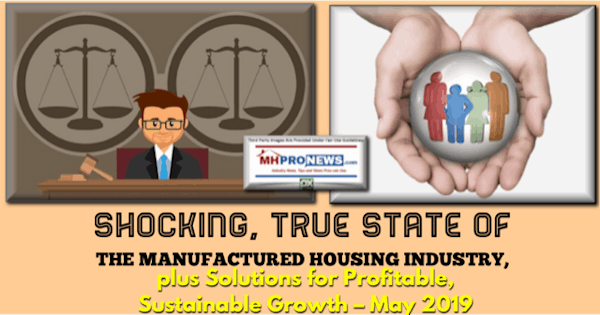 'Minorities Aren't Being Well Served in Housing Finance' Today, per Mozilo – Former Exec Near Eye of the 2008 Housing/Mortgage Storm
Sobering Federal Report on Manufactured Housing Lending – Retailers, Communities, Producers, and Finance Companies – Take Note
HUD's Website – Problematic, Purportedly Inaccurate Information on Manufactured Housing Improvement Act of 2000
Congress, HUD, Trump Administration Warned – "Profoundly Damaging Unintended Consequences" – Manufactured Housing Industry, Lower & Moderate-Income Americans