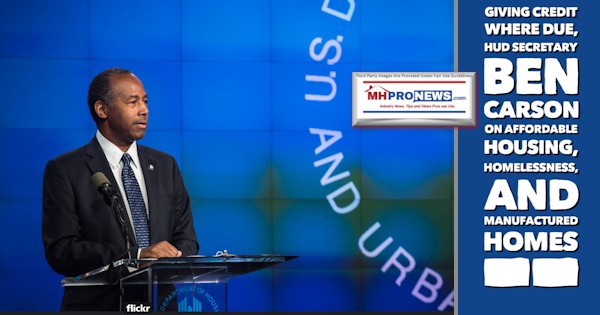 "It was a good event."
 – Manufactured Housing Institute member,
speaking about the Innovative Housing Showcase
"News is the first rough draft of history."
–   Maxim based upon phrase first attributed to Philip Leslie Graham (July 18, 1915 – August 3, 1963) was an American newspaperman. He served as publisher and later co-owner of The Washington Post, per Wikipedia who said "So let us today drudge on about our inescapably impossible task of providing every week a first rough draft of history that will never really be completed about a world we can never really understand."
"Those who cannot remember the past
are condemned to repeat it."
– George Santayana, philosopher, essayist, poet, and
novelist who loved history, per Wikipedia.
"What we learn from history is that people don't learn from history."
– Warren Buffett, per Value Investing, Quote Fancy, and other sources.
A multiple year top independent manufactured home retailer told MHProNews that some people in manufactured housing wake up, thinking about how to sell their next HUD Code home. Meanwhile, a few others are waking up, thinking about how to put someone out of business. That later group knows they have pockets deep enough to withstand temporary losses or other headaches in order to establish an environment that over the course of time will result in the failure of numbers of their competitors. That concern bears exploring. 
That second group has at its titular head a man who preaches, per Kevin Clayton, two things. Deepen and widen your Moat. And be a tough competitor. Kevin Clayton said that during a video interview where he discussed the Warren Buffett Way and the Moat in depth, and it is linked below.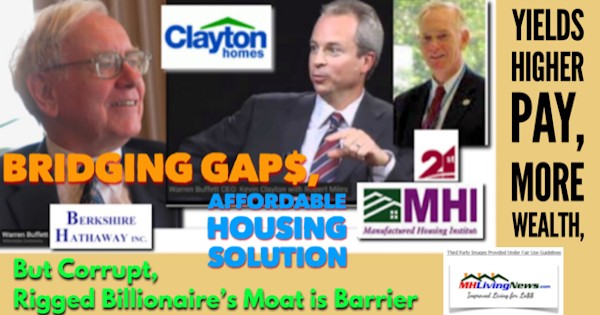 One cannot understand manufactured housing (MH) without making objective comparisons.
Those comparisons by definition include those housing options that are not manufactured homes. From early on following this most-read MH publication in the industry's modern history, MHProNews has made routine references to other forms of prefabricated, factory built, and modular homes. We covered the early evolution of the tiny house, container housing, panelized, and other forms of alternative construction to conventional 'stick built' housing. We report on mainstream housing too.
Don Carlson with the now defunct Automated Builder magazine made the point decades ago that much of conventional building was already using elements of factory-building on site. It's a point made by an engineer familiar with both kinds of construction. 
The video below reflects the views of a retailer that sells scores of customers every year that previously owned conventional housing, also reflects his call on Secretary Carson to enforce existing laws. 
Giving Credit Where Due
The members of the Manufactured Housing Institute (MHI) who pushed their association into displaying 3 HUD Code manufactured homes near Capitol Hill on the Washington Mall deserve credit for that action. MHProNews, while holding MHI accountable for its purported failures and missteps, has also said numerous times that one must separate the wheat from the chaff. What is good, should be kept. What is bad should be identified, hopefully learned from, and ideally not repeated.  The report below and others can be access by clicking on the linked text and image box.
Positive Congressional Reactions – Innovative Housing Showcase, HUD, MHEC, MHI, and Other Insights
MHI extended an invitation two years in a row to HUD Secretary Ben Carson to speak at their annual meeting, known as their Congress and Expo. We've previously published Secretary Carson's speech in 2019 at the linked image/text box below. It includes videos from both former HUD Secretary and 2020 Democratic presidential hopeful Julian Castro, as well as video of Secretary Ben Carson, in addition to his fine address.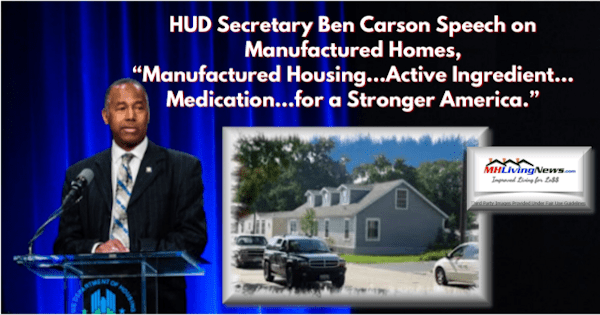 But we have not prior to today published all of the first address Secretary Carson made in Las Vegas. While we reported on it, having the speech itself is useful. Some future HUD Secretary or lower level HUD staffer could delete it some day for whatever reason.  Thus, there is good reason to preserve it for history. 
So here is that address by Dr. Carson. It will be followed by added commentary and analysis as to its ongoing relevance for manufactured housing professionals, and what is necessary to capitalize on such valuable developments. 
— Start of Secretary Carson Address, as written, per HUD —
DR. BEN CARSON
SECRETARY OF HOUSING AND URBAN DEVELOPMENT
MANUFACTURING HOUSING INSTITUTE 2018 CONGRESS AND EXPO
LAS VEGAS, ​APRIL 25, 2018
TITLE: A NEW ERA OF COOPERATION AND COORDINATION
Introduction
Good morning everyone!  And thank you, Joe, for the kind introduction and for the invitation to join you at this outstanding congress and expo.
I have been on the road for a number of days – from Iowa, talking to families at an opioid drug rehabilitation center, to Texas, rolling up my sleeves and taking part in a home build. Between us, I don't know if a pediatric neurosurgeon is the best person to be handed a chain saw. 
When I originally got the invitation to join you, I was quick to say yes. Back when my hair was less gray, when you thought of manufactured homes, you basically thought of a small box, on concrete blocks, with some uninspiring siding or trim. Times have certainly changed.
Just walking through the expo today, you come to better understand the truly amazing transformation of the manufacturing housing industry.  These are simply wonderful homes – with great amenities like fireplaces and special kitchen cabinets.
I appreciate your dedication to innovative building materials, cutting edge manufacturing techniques, and equally important, meeting the demands of the marketplace. What millennial wouldn't want power strips installed into countertops? Or a special wireless console to control everything from thermostat to blinds to baby monitors? 
In fact, I understand that your next speaker is from Ducker Worldwide, and that he will discuss shifting demographics and consumer tastes. It is vital that we all gain better insights into the various segments of homebuyers.   
Before I join Joe in a more detailed conversation, let me give you a quick update on what's going on at HUD and then discuss such issues as deregulation and making housing affordable.
Quick HUD Update
Last week, I was on Capitol Hill testifying before the Senate Appropriations Committee. At HUD, we're looking at a requested funding level of over $41.240 billion, which even in these times of fiscal restraint, represents a 1.4 percent increase over last year's budget.
Let me say straight out, at HUD, it is not about how much money we spread around. We define success not by the amount of money we pour into our programs, but by the number of people we help graduate from our services and become self-sufficient. Only then can we begin to help others in need of our resources.
HUD is working throughout all of nation's cities and communities to provide safe, fair, and affordable housing for the American people.  And we oversee a large number of programs and initiatives to help us reach our goals, especially in the way of bolstering economic opportunity and self-sufficiency.
It may seem hard to believe, but we are amid a major transformation in the way we tackle our challenges. It will take time, it will not be easy, but in the end, I think we will reinvigorate HUD – both in its mission, programs, and yes, in our extensive regulatory agenda—a point I will return to later.
It's no secret that the current model of public housing is unsustainable. We are now looking at several unique and innovative ways to assist families. For example:
We're working with public housing authorities to convert public housing assistance to vouchers — which would save taxpayer money and give families more choice in deciding where they live.

We are modernizing and streamlining existing rental assistance programs.

We're also looking at voluntary conversions of our nation's housing stock so assisted families and others can own their own units.

And we're spurring greater economic opportunity by connecting public housing residents to job training, financial education and childcare among other services through our Envision Center Initiative.
These are just some of the highlights of what HUD is currently involved with, as we drive for new efficiencies, transparency, and accountability in our large portfolio – or as some would call it, our alphabet soup of programs and services.
Affordability Challenges
It's now been over a year since I was sworn in as the Secretary of HUD and I can tell you, from my perspective, one of the biggest challenges we face is our nation's affordable housing crisis.
Given the high cost of housing along the east and west coasts, that should not come as a surprise. According to the economists, we are experiencing the biggest jump is housing prices in four years – prices are rising while the supply of housing is getting smaller. It's basic supply and demand.
That's why everyone in this audience and the manufactured housing industry is so important – and that's why I am here today.  You are a big part of the solution to providing unsubsidized, quality, affordable housing.
I can tell you without any qualification that this Administration appreciates all you are doing in the way of making homes more affordable and in creating good paying jobs. We especially applaud your use of American suppliers and products in your manufacturing plants.
You have brought the pride of craftsmanship back to our shores.   
I have looked at industry data and statistics and they're impressive.
The average new manufactured home is only $70,600. In several of our largest cities, you can pay nearly that for a parking space. With the median annual income of manufactured homeowners being around $30,000, you are already capturing an increasingly important segment of the of the housing market, like young married couples.
And as the suburbs continue to grow further out and land prices rise, it's no surprise that two-thirds of all occupied manufactured homes in the U.S. are located outside of major metropolitan areas.
Most of you already know these facts and figures. But it's important that the word gets out of regarding your accomplishments in creating jobs and affordable housing.  In fact, in my testimony to the Senate last week, I specifically noted how manufactured housing accounts for nearly 10 percent of the market and even a greater share in rural areas.
HUD can help you continue this success.  
Deregulation Challenge
I understand only too well that your industry wants and needs regulatory relief. The overall number of regulations on a local, state and national level that all American businesses must comply with, are damaging to everyone's bottom line. It's a stealth tax.
Overall, the Code of Federal Regulations has doubled in the past five years to more than 185,000 pages, which someone has calculated to be the equivalent of more than 100 Kings James Bibles. As for our contribution to this, I would say at least some of the first books of Moses.
The promise of the previous administration to eliminate burdensome rules and regulations was a false start, but not in the Trump Administration. One of the first actions by the President was to impose a two-for-one rule on new federal regulations. He ordered that for every new regulation, two old regulations must be eliminated.  
But the President went even further.
He challenged his Cabinet to find and remove every single outdated and excessive regulation currently on the books, so we can free our economy from years of federal overreach and intrusion.
Of course, not all regulations are "bad" or misguided. They can really do good for industry and for consumers.    
We would surely agree that rules and regulations established by the national Manufactured Housing and Construction and Safety Act, and our enforcement of these regulations, has brought about a significant improvement in the quality and safety of manufactured homes. 
I have heard how one of our senior engineers was thanked by an owner of a manufactured home in Florida after Hurricane Charley in 2004. His place survived a major storm while other homes built on-site didn't – all because of the high wind standards that are in place. 
Saving lives and property is as good as it gets when it comes to why we have rules and regulations.  
We would also agree that the HUD Code has delivered many benefits to the marketplace, including high standards for health, energy efficiency and durability.   
Finally, I think we would agree that the time is ripe for HUD and the Office of Manufactured Housing Programs to conform to the President's agenda on eliminating or streamlining regulations that are wasteful or inefficient. In short, to create a more cooperative and coordinated regulatory environment.
Deregulation issues
Of course, there are disagreements. Your leadership and fellow members have let us know where improvements can be made and what issues need to be addressed.  
We understand:
Some of our regulations lack clarity or do not always incorporate your feedback into our guidelines.

That we need to conduct more effective cost-benefit analysis, testing and research to update the HUD Code. And do so in a timelier manner.

Also, that we need to shift away from just writing rules and regulations to highlight and encourage best practices, as well as to provide for more regulatory flexibility.

Finally, that more needs to be done with FHA financing to encourage more buyers of manufactured homes.
I am sure I could go on but let me just say that as the Secretary of HUD, "I hear you."  As noted earlier, we are going to repeal two existing regulations for every new regulation. We now have a regulatory task force whose job it is to do a top to bottom review of all our manufacturing housing regulations and policies.
In January, we invited the public to comment on our policies and to assess the costs of complying with our rules and regulations. And we are now busy sorting and reviewing the more than 150 unique suggestions. I hear that they cover everything from on-site completion of construction of manufactured housing to guidance on establishing foundation requirements in freezing temperature areas.
The key to implementation of these comments will be the Manufactured Housing Consensus Committee managed by HUD, as they revise our standards and regulations. We anticipate meeting in September, but right now we're looking to fill seven vacancies before that happens. In fact, the nomination period closed just last week. 
Conclusion
Let me close on this note.
HUD is now positioned to usher in a new era of cooperation and coordination with your industry. Make no mistake, we understand how you are vital to our economy and to our agency's goal of making safe, quality, desirable and affordable homes for millions of hard working Americans.
Thank you again for the invitation to join you here today.
END
— End of Secretary Carson Address, per HUD —
Last night on right-of-center Fox News' The Story with Martha MacCallum, Secretary Carson was on near the end of her program. The topic was growing homelessness and affordable housing. That video is not yet available on YouTube as of this article's publication time.
Dr. Carson made a medical analogy. He said that in medicine, one looks to treat the underlying cause of a problem, not just the symptom. It was an apt metaphor and analogy. It was an analogy he made in his address to the industry's professionals in 2019 too. 
Secretary Carson specifically mentioned manufactured homes, modular housing, tiny houses and ADU's – Accessory Dwelling Units, all of which he felt were important tools to address the spread of tent cities and other forms of street homelessness. He also specifically mentioned the Innovations in Housing Showcase.
The HUD secretary also pointed out that it was in many cases local land use and zoning, and regulatory barriers that were part of the underlying causes. Mental illness and substance abuse was also mentioned as reason why some live on the streets, underpasses, parks and sidewalks.
Analysis and the Path Ahead for Sustainable, Ethical Manufactured Housing Growth
All of these issues have been uniquely covered in manufactured housing trade media in depth solely by MHProNews and MHLivingNews.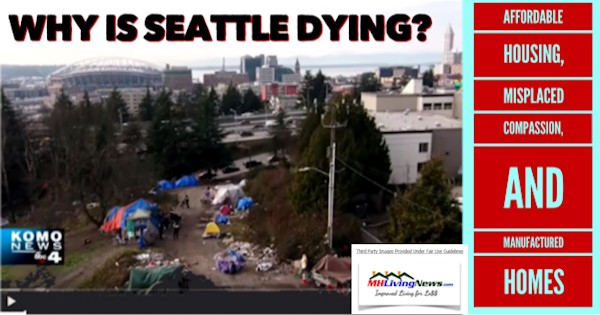 Who bought, sold, closed or opened what community, factory, retail center or other industry connected firm are all valid topics for our industry.  They are covered here too, and have been for approaching a decade, longer than any trade publication currently serving the industry.
But reporting alone is not and never was our goal. A key element of our purpose for MHProNews and MHLivingNews was and remains to address the underlying issues that keep manufactured housing from achieving its potential. Profitable, ethical, sustainable growth that serves millions well should be the goal.
With that in mind, then MHI members Ken Rishel and George F. Allen were among those that encouraged this writer to have our organization join MHI.  We did so.  As Tim Williams at 21st Mortgage and then MHI chairman and others observed, our team and this writer were routine attendees. Our work was praised there, until we began to question the effectiveness of the group.  We did so behind the scenes first, so as not to publicly embarrass MHI leadership.  The hope was that some people are more likely to change when they are given an opportunity to do so based upon private conversations. That regrettably after repeated efforts turned out to be futile.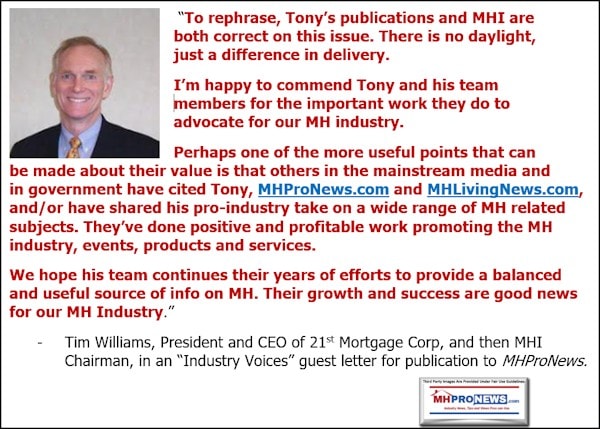 Indeed, as another MHI member pointed out, the group became increasingly hostile to what we did, even though – for example – we supported their Preserving Access to Manufactured Housing Act initiative while it was still supposedly in play. Note the quote from then chairman Williams, posted above.  From the beginning of our membership at MHI, before or since, we looked at the Manufactured Housing Association for Regulatory Reform (MHARR) position on a matter, and also at MHI's on the same topic. In MHI meetings, this writer would from time to time raise the point that MHARR took position X, and that their position seemed to make sense.  Perhaps that sort of independent thought was too much for MHI's leadership, despite their years of praise, to swallow.  Odd, given that MHI members include some that are dual members of MHARR.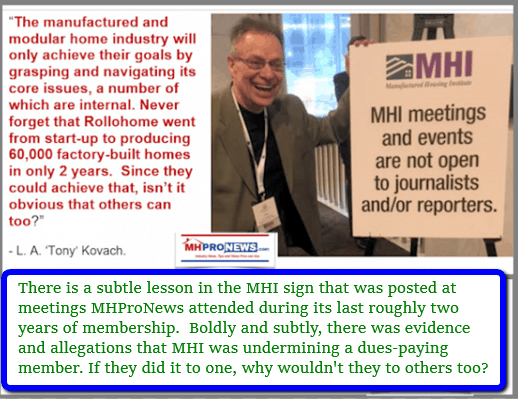 Having served for over 15 years in the trenches of this industry prior to our launch of this publishing platform, and continuing to do work with those on the front lines via consulting and business development services, it has been this writer's contention that MHARR should consider directly competing with MHI on meetings, trade shows, and other events.  MHARR's president, Mark Weiss took the step over 2 years ago to launch a website, which was one of the items suggested some years ago. The MHARR website ranks well, and on several important topics, far better than MHI who has been online for some 2 decades. MHARR is getting more contact from mainstream media and is getting other benefits as a result of their website. They've evolved on some things, why not consider some others?  Which leads us to the exploration below.
Musings on MHARR
While understanding the reasons that MHARR – which has a stated laser focus on federal regulations for producers – for doing what they have and still do, they themselves have clearly evolved since the passage of the Manufactured Housing Improvement Act of 2000.  History shows that it was MHARR that pushed that measure.  The obtained MHI and Texas' state association support, and then those groups brought that push ahead which resulted in the passage of the MHIA – important federal legislation.
MHARR previously, as will covered in an upcoming report, promoted the removable chassis on HUD Code homes. Had that been adopted, much of the stigma of manufactured housing could have been literally been removed after delivery. That was visionary on MHARR's part, it is environmentally sound, and the facts of the matter are part of federal and other records.
It was MHI – then pre-Berkshire Hathaway – that kept that removable chassis from becoming part of the federal law. So, in fairness, not every MHI action or inaction that has proved problematic for the industry is tied to Berkshire and their chairman Buffett, or his 'philanthropy' that supports MHAction and other ventures that arguably make life harder on the industry's independents.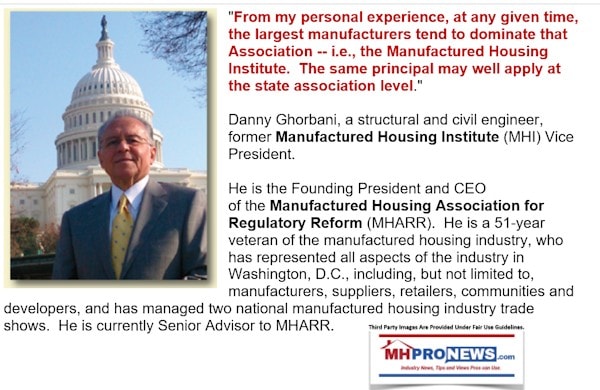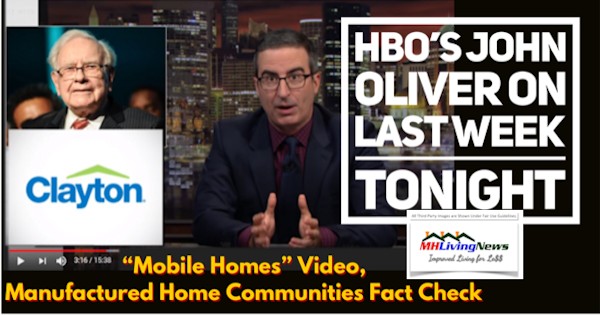 I recall one of my first MHI meetings when the speaker – whose business is based in Florida – made the statement during a session that 'the elephant in the room was Danny Ghorbani.'  That made little sense to me at the time.  My asking around about that comment brought no clarity then. That is mentioned only to say this, that MHI has long sought the elimination of MHARR. It is an ongoing effort. That begs the question, why the ongoing effort to silence MHARR's voice?
The elephant in the room is an expression – per Google – that means "a major problem or controversial issue that is obviously present but avoided as a subject for discussion because it is more comfortable to do so."  The industry was at the time was near its all-time low since its inception. Since MHARR was a production focused trade group, and MHI was an 'umbrella' trade group that dealt with post-production and – 'all segments of factory built housing' – how was the industry's woes MHARR or Danny Ghorbani related?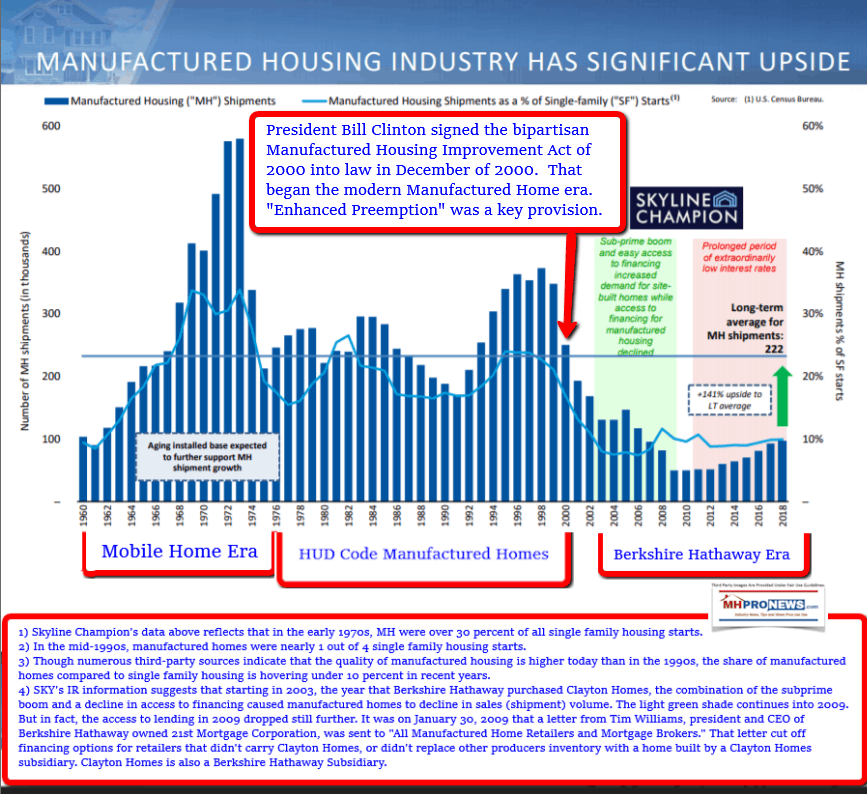 Rather, and this writer did not know it at the time, the elephant in the room was arguably the action taken by 21st Mortgage Corp and Clayton Homes, reported at this link here.  MHI did nothing about that problem that arguably put thousands of independents out of business. The Atlantic and IBISWorld documented the trends in mainstream media. But they did not identify the specific cause. That purported cause for the failure of thousands of independents was covered only here and on MHLivingNews in the past few years.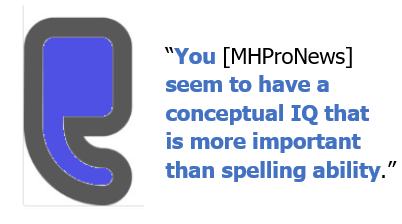 It is worth noting that a prior MHI president, as his final article on manufactured housing, essentially delivered a polite, back-handed slap at MHI and several of their practices. 
These links below from mainstream media reports don't spotlight any MHARR members as problematic, rather it is routinely MHI members who are so depicted.  Coincidence? 
·        The Atlantic, without specifying how the monopolization was being accomplished, noted that the independent retailers in manufactured housing were being rapidly eliminated/consolidated, their report is linked here.
·        GuruFocus said "Warren Buffett Can't Escape Unethical Strategic Moats," their specific points are linked here.
·        The Nation called it "The Dirty Secret Behind Warren Buffett's Billions…" and specifies Clayton Homes among those using the strategic moat in 'dirty' ways.
·        The Jacksonville Florida Times Union summarized the connection between the John Oliver viral hit video dubbed "Mobile Homes," MHI, Clayton Homes, and their related lenders. That op-ed was first fact-checked by an editor, before it was published not only in the one newspaper it was submitted, but at least in 5 Florida newspapers.
·        The New York Times had an interesting article on the historic trends, and named several industries being monopolized. While it doesn't mention manufactured housing, it bears consideration, because what that article describes is certainly being played out in our industry too.
Comparing MHARR, MHI, But the Need for More…
As has been previously stated, we supported MHARR while an MHI member on several issues, including, but not limited to, the issue of Enhanced Preemption.  MHI's posture on enhanced preemption never made sense while our organization was a member of the Arlington, VA based trade group.  It still fails to make sense today, if, IF the objective is sustainable, honorable industry growth. 
That begs the question.  Is MHI truly interested in growth?  If so, why do they still have nothing on their website on enhanced preemption today? Why do they still fail to have Ben Carson's address in Las Vegas or New Orleans on their website today?  We publish daily here on MHProNews, are they telling us that MHI can't find the time, talent, or treasure to publish on their website useful speeches that could help change and open minds?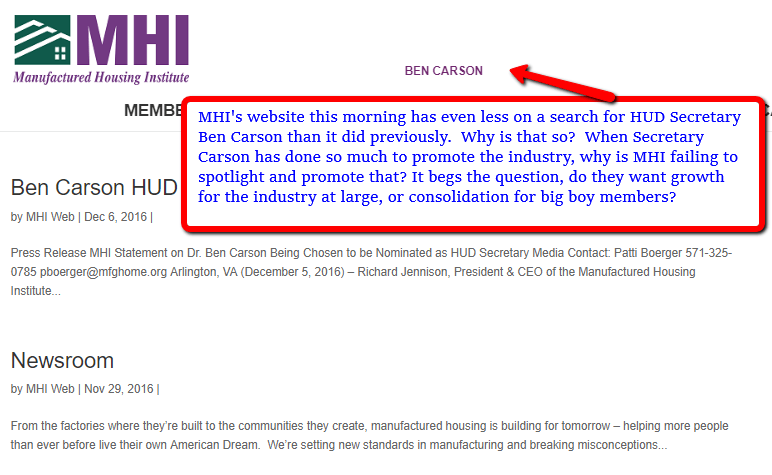 Specific MHI members made the Arlington based trade group pivot and enter into the HUD and National Association of Home Builders (NAHB) backed Innovative Housing Showcase.  Good for those firms that did so. As the quote at the top mentioned, it was a good event. Put differently, we applaud those specific members for that specific effort. 
However, since the event, other than posting on YouTube, what has MHI done with those videos?  They still have only a few thousand total views. By contrast millions have viewed the video that John Oliver's Last Week Tonight errantly named Mobile Homes spotlighted. But what that report failed to reveal is that each firm noted in that report had ties to MHI. Why hasn't MHI used their media contacts or issue press releases to tout those comments by Dr. Carson and others that praise manufactured housing?

Prior 
Third Path Proposals
JD Harper, the executive director of the Arkansas Manufactured Housing Association (AMHA) floated the notion some years ago that the industry should consider a third voice in Washington.  Dick Moore and Bob Crawford of Dick Moore Housing floated their own version of that notion.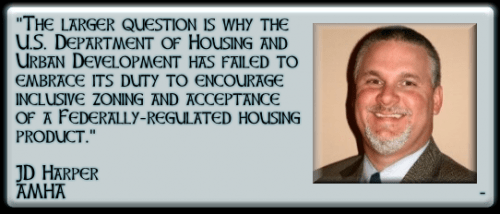 The National Association of Manufactured Housing Community Owners (NAMHCO) did what others have not done in recent years.  They acted on their disappointment in MHI.  They broke away.  While this publication's management questions NAMHCO's wisdom in supporting a bill that MHI and Prosperity Now  support, at least they now have their own voice.
MHARR has been right on issue after issue, time and again.  Perhaps it is because they want to keep their factories going and growing.  But isn't that part of the goal of a good trade organization? This comment on DTS by MHARR's president is but one of several such possible examples to make that point that went beyond their core mandate.

MHARR specifically considered – and rejected – the notion of broadening the scope of their organization to include post-production topics.  They instead promoted a white paper that encouraged the industry's post production sector to make such a new organization.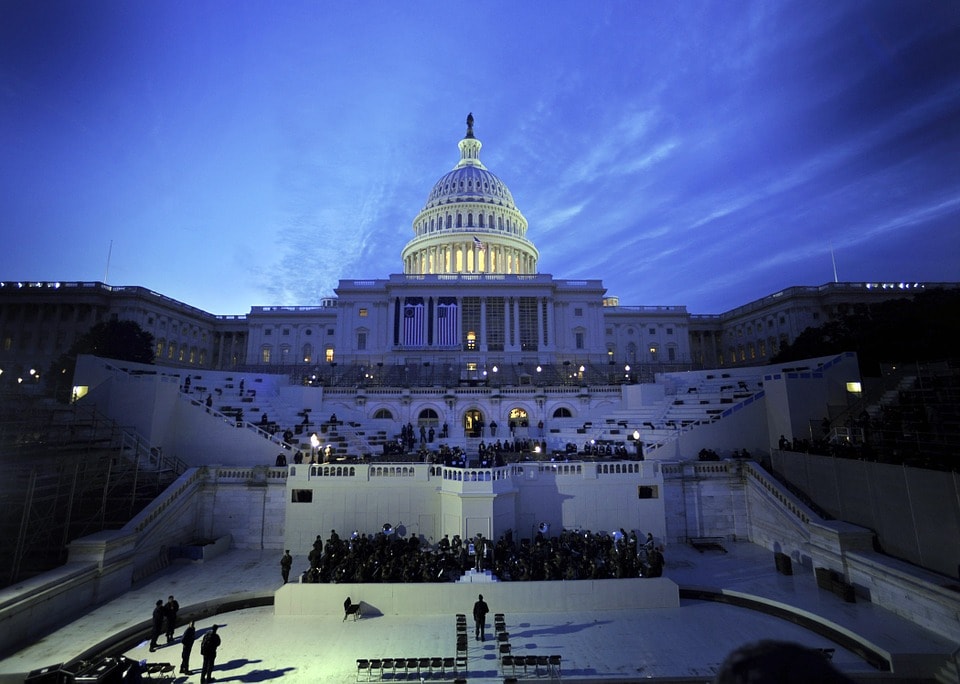 In real estate, there are numbers of trade groups, not just one.  Think for a moment about the NAHB (production), the National Association of Realtors (post production), the Mortgage Bankers Association (financing), the National Association of the Remodeling Industry (NARI), to name but a few.  Housing has numerous trade groups, not just one.
Something similar is true in automotive and RVs. There are production, post-production, repair and remodeling, finance, and other trade organizations.
Why is it that MHI thinks that they should be the only national trade group?  What have they done in the past 20 years that merits the industry's confidence in being the sole national trade group?

MHProNews has and will continue to promote one of two suggestions for the industry's growth-minded companies to consider.
Two Paths Ahead? 
·        MHARR should consider expanding and competing head-to-head with MHI. We respect their right not to do so. But they have in fact kept moving closer to that by entering into financing and other post-production topics like zoning and placement.  Outside looking in, there seems to be a logic for a trade group that is doing items that MHI is paid by dues to do, to consider opening up to membership those who would benefit from such efforts. Let us note on the record that we do not expect MHARR to take this step.  They've stated clearly and cogently that they want to remain a production-focused group. That's respected.  But to do a balanced analysis, the notion of MHARR expansion merits at least being floated as an idea. That said, MHARR stated and encouraged others to step up to the plate and form a new post-production trade group. They said they want to work with such a possible new post-production group for the benefit of the industry's growth, acceptance and profitability in serving potentially millions of more Americans. Having worked with MHI and MHARR, let me say, the later group is far more logical and approachable. There never seems to be any hidden agendas with the Washington, D.C. based group.
·        Or…in the absence of a MHARR expansion:
·        A new post-production trade group should be forged to supplant what MHI claims to do but has failed to accomplish for years. Whatever motivations one wishes to ascribe to MHI, this much is clear. For 9 months, the manufactured housing industry is moving in reverse. Weather, FEMA, inventory realignment, all sorts of excuses have been offered to explain 'why' this is so from MHI/their surrogates. Nonsense! Double-talk! More head fakes! There is weather every year. FEMA should not be ignored, but neither should it be what causes our production to rise or fall. There is, as HUD Secretary Carson said, an affordable housing crisis, and manufactured homes are an obvious option. Millions of housing units are needed. Why is MHI is failing at its own stated mission?  Why do they fail to effectively promote all of the useful, third-party research that debunks the misconceptions? Why does MHI allow purported black hat behavior by some prominent members to go unquestioned? Is there no code of professional ethics at MHI? If so, why is it unenforced?  Why is it that it is routinely MHI members who spark so much of the bad news that keeps millions from even considering a manufactured home?
Exploring Option 2
We have and will continue to explore creating a 'white hat' trade organization that has some clearly stated principles:
A.    A new national post-production trade group should not allow any one or a small group of members to dominate the entire body.  There are ways of accomplishing that goal.  That would avoid a repeat of what has arguably gone so terribly wrong at MHI.
B.    That new national post-production trade group should be robustly engaged in refuting publicly every mistaken notion every time it arises in the media, academic, governmental, or other circles. Tim Williams, while MHI chair, made the case for doing so himself. 
C.    A new post-production trade group should have a clear code of ethical conduct. If any member – after going through an appropriate and fair process – fails in that, there should be an accountability process that passes legal and ethical muster. In fact, what a smart post-production trade group should routinely do is blast the bad behavior of any housing operation, including those in the factory-building field. 
D.    Bullet C above would make for a wonderful reason for the public to consider doing business with any member of such a post-production trade group.  The sad examples of state or national association members getting 'awards' when they have an 'F' rating with the Better Business Bureau (BBB) is a disgrace. Every MHI and that state association's members should be embarrassed by such dubious behavior. What benefit is there to a company of whatever size to be associated via a trade group with operations that have for years caused the industry bad news and a problematic public image?
E.    A new national post-production trade group should constructively and respectfully work with resident groups on a routine basis.  There is potentially more in common with savvy resident leaders than some in MHI realize. 
F.    In conjunction with MHARR and manufactured homeowner groups, the federal government should be pushed into enforcing existing laws. The Duty to Serve (DTS) manufactured housing is part of the Housing and Economic Recovery Act (HERA) of 2008. Over a decade later – arguably due in no small measure to the interference of Berkshire Hathaway owned brands and MHI – DTS is still not a reality. That's a disgrace. There is a new man at FHFA, he has not yet settled in. He deserves time.  But a new trade group, MHARR and consumers should work with the FHFA and the GSEs to support lending on all HUD Code manufactured homes, not just a few new class homes that benefit a select few companies. The fallacy of that approach is proven in part by 9 months of sliding new home sales, year-over-year.
G.    In conjunction with MHARR and manufactured homeowner groups, the new post-production trade group should approach HUD Secretary Carson and make it clear to him that there are elements within HUD that have kept 'enhanced preemption' from being well known and applied. Those elements happen – coincidentally? – to benefit those MHI members who are consolidating the industry at a steady clip. HUD Secretary Carson has demonstrably done more for manufactured housing publicly than anyone in that role in the 21st century. Not since President Gerald Ford appeared at national mobile home trade group meeting at the time that the industry was transiting toward manufactured housing has such a prominent public figure taken the steps that Secretary Carson has.  That said, multiple sources tell us that Secretary Carson is not properly briefed on enhanced preemption.
H.    The new trade group should work with other association, such as retiree groups, affordable housing groups, and other housing organization in order to advance the cause of HUD Code integration into the fabric of American society.  Where necessary, like MHARR, the new group should be prepared to go it alone. Now that it is established by repeated research that manufactured homes can and do appreciate in value, what is needed is to make the financing as competitive and readily available as possible.  That in turn will support resale values for existing manufactured home owners.  That is a win-win-win for most save most notably for perhaps a few Berkshire Hathaway lenders.
I.     The new trade group should in conjunction with MHARR and homeowner groups work with NAR and others to educate the public. NAR has proven ready.  
J.     The new trade group in conjunction with MHARR and homeowners should work to establish regional trade events that have both public and industry days.  It is madness to pay associations that are dominated by MHI and their big boy backers to be the only ones doing trade events. Trade events are a possible profit center, but are also obvious marketing and educational tools.
K.    The new national trade group should have a legal arm that works with federal and local agencies to 'enforce existing laws.'  That means, the enhanced preemption required by the MHIA and DTS, among others.  That should be done in concert with MHARR and others so inclined. 
L.     The new trade group should work with HUD and other officials as possible to support MHARR's call for multiple family manufactured housing construction.
M.   There should be education of both industry members and the public. It is sad, but not enough members of our industry understand what is necessary to attract more site built customers.  With 111 million renting, and with millions every year upsizing, downsizing, or otherwise trading housing, the opportunities for manufactured housing are tremendous.  That's also why a small cabal is arguably working to purportedly monopolize as much of the industry as they can should not be allowed to corruptly foil the honest efforts of industry independents. The industry has tens of billions of dollars of annual potential, if not hundreds of billions, as Amazon's Alexa Fund said last year about new housing opportunities, when they entered into an agreement with Plant Prefab.
N.   There is more than these 14 points, but it can all be summed up with these three letters. P.E.P. Protect. Educate. Promote.

Let MHI's big boys with black hats keep their group. Their behavior and results speak for themselves. 
When we joined MHI it was with the notion that they sincerely wanted to see the industry return to its potential. We worked with the organization as much as possible, as messages like the one below documents.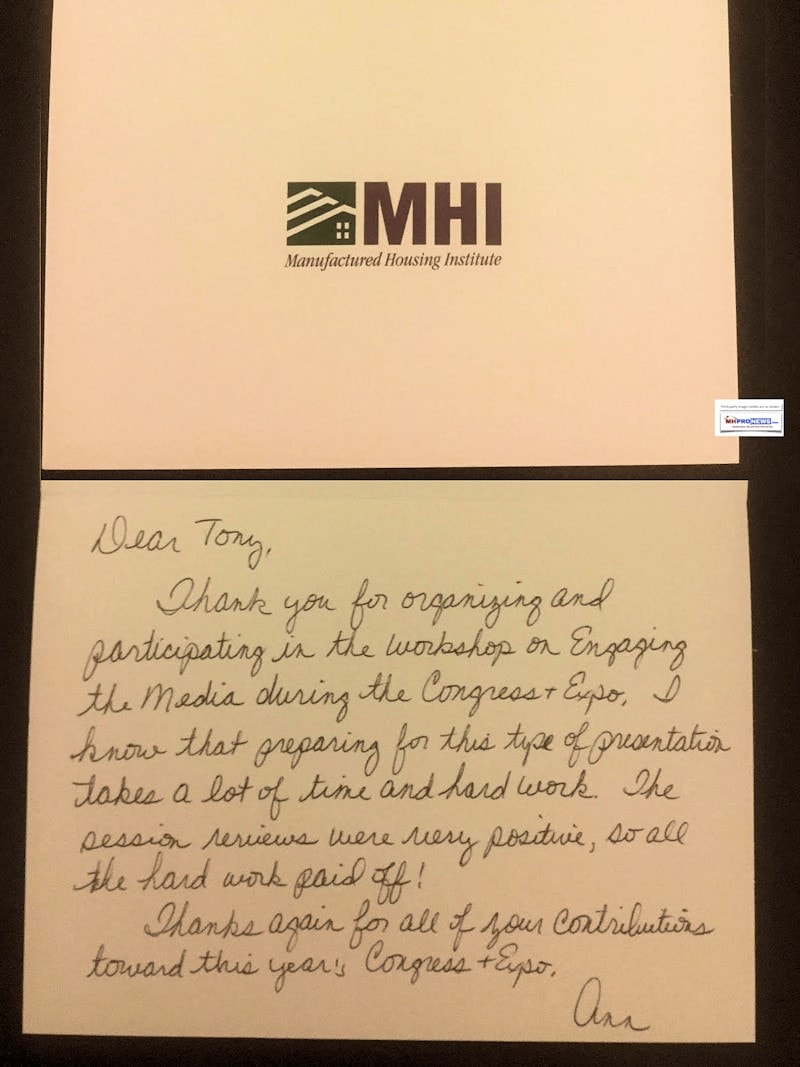 MHI disinvited us, for whatever reasons, and they hired an outside counsel and supposedly others to harass us. After years of invitations, which began while still an MHI member, the Omaha-Knoxville-Arlington axis won't discuss or debate the issues or their behavior and performance. Fine. We're still standing, which means others can stand up and resist them too. NAMHCO did it.  Why not others as well?  
The time to forge a new white hat trade group is obviously now. If not now, when? We stand ready to support that effort on several levels.
Warren Buffett said it himself.  He counts on people not learning the lessons of history. He counts on the chains of habit being too hard to break. Will you and/or your colleagues prove Buffett to be wrong, or right?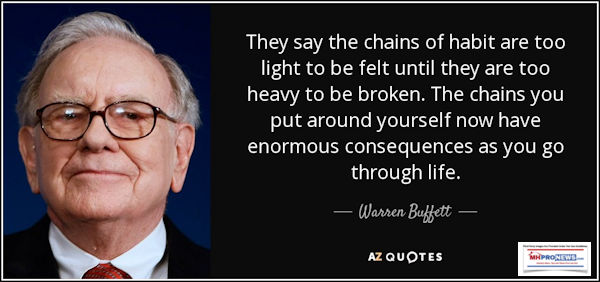 The history of manufactured housing, as in any industry, is mixed.  But the industry has done amazing things and has evolved tremendously. It is capable of amazing things.  It needs leadership that is laser focused on white hat behavior and the bullets above that will change the public and governmental perceptions.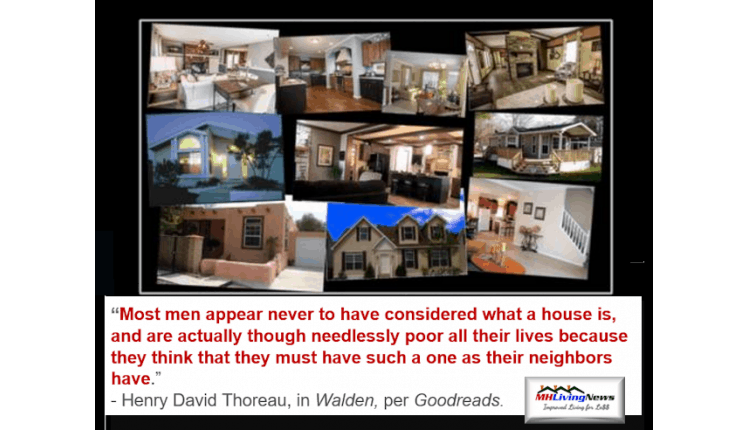 Secretary Carson's speeches to MHI are historic. So too was President Gerald Ford's.  There are 16 months to act before the next election. We know what Secretary Carson has tried to do.  What or who will follow him? How will the industry prepare for that transition?
The time to turn the page and enter into a new chapter of manufactured housing history is now.  The investors and professionals who are sustainable growth minded should step forward and make it happen. The opportunities would rival almost anything else, because the need for millions of affordable housing units already exists.
"We Provide, You Decide." © ## (Industry news, commentary, fact-checks, and analysis.) (See Related Reports, further below. Text/image boxes often are hot-linked to other reports that can be access by clicking on them. Third-party images and content are provided under fair use guidelines.)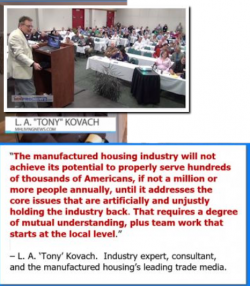 By L.A. "Tony" Kovach – for MHProNews.com.
Tony earned the Lottinville Award in history from the University of Oklahoma. He has earned multiple awards in manufactured housing and in history. He's a managing member of LifeStyle Factory Homes, LLC, the parent company to MHProNews, and MHLivingNews.com.
Office 863-213-4090 |Connect on LinkedIn:
http://www.linkedin.com/in/latonykovach
Sign Up Today!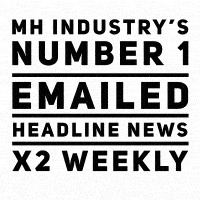 Click here to sign up in 5 seconds for the manufactured home industry's leading – and still growing – emailed headline news updates.
Related References:
The text/image boxes below are linked to other reports, which an be accessed by clicking on them.
WAVY, Mainstream TV – HUD Secretary Ben Carson, Innovative Housing Showcase – Clayton Homes, and Berkshire Hathaway Revelations
What Are Federal Officials Researching About Manufactured Housing?
In a truly free enterprise system, various needs are identified. Then a means of profitably yet honestly serving those needs are established. Ideally, both the customer and product/service benefit. The happy customer(s) then tell or send their friends. That pattern repeated often enough yields success. For millions, perception is reality.
George Orwell, All Issues Are Political Issues, Manufactured Housing Challenges, and You
Most of human history is a story of the struggle for authentic freedom against various forms of limitations, captivity, or enslavement. Much of history is the hidden or open battle between the truth and a captivating lie. People are often offended when lied to, and for good reason.