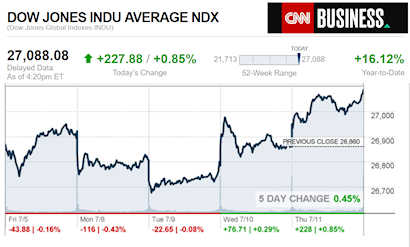 A good bit of the business news is about the Dow topping 27,000 for the first time.  It is important. But on the MHProNews we have historically looked at topics that get less attention, because they are more important to our professional and investor audiences on this industry-leading specialty site.  Our featured subject this evening is an exchange between Democratic freshman Representative Alexandria Ocasio-Cortez, Federal Reserve Chairman Jerome Powell, and National Economic Council Director Larry Kudlow's surprising – but fair-minded – praise for AOC on her insightful query, and the response it drew. For reasons that will be shown below, on a day when the markets largely rose, that will be our feature this evening.
If you're new, already hooked on our new spotlight feature – or are ready to get the MH professional fever – our headline report is found further below, after the newsmaker bullets and major indexes closing tickers.
The evolving Daily Business News market report sets the manufactured home industry's stocks in the broader context of the overall markets.  Headlines – at home and abroad – often move the markets.  So, this is an example of "News through the lens of manufactured homes, and factory-built housing." ©
Part of this unique evening feature provides headlines – from both sides of the left-right media divide – which saves busy readers time, while underscoring topics that may be moving investors, which in turn move the markets.
Readers say this is also a useful quick-review tool that saves researchers time in getting a handle of the manufactured housing industry, through the lens of publicly-traded stocks connected with the manufactured home industry.
This is an exclusive evening or nightly example of MH "Industry News, Tips and Views, Pros Can Use." © It is fascinating to see just how similar, and different, these two lists of headlines can be.
Want to know more about the left-right media divide from third party research?  ICYMI – for those not familiar with the "Full Measure," 'left-center-right' media chart, please click here.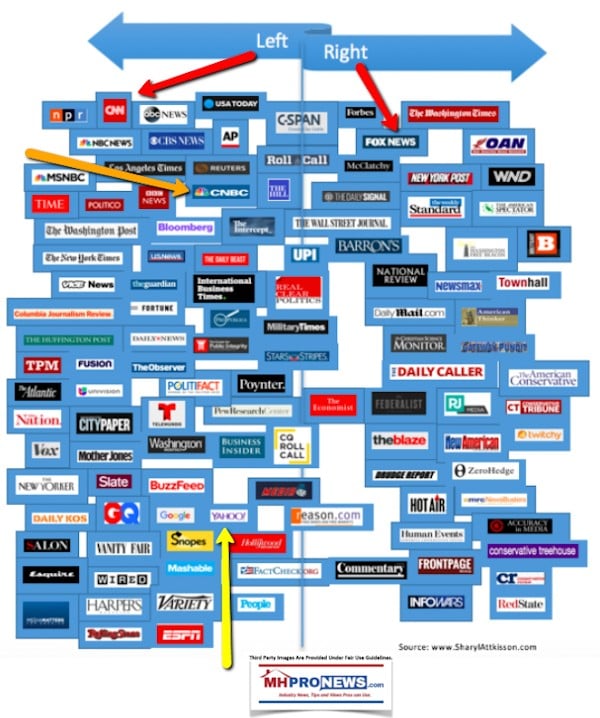 CNN Business
The $1 trillion club
Microsoft and Amazon are the only two companies on the stock market worth that much
Dow hits 27,000 for first time ever
Dollar General has a new strategy
Ford and VW set to unveil new details on electric and self-driving cars
This space technology revolutionized athletic footwear
The Texas oil boom is messing with OPEC's plans to keep prices high
OPINION Lowering interest rates is rooted in desperation. Watch out, investors
The US can raise the minimum wage to $15 without hurting jobs
Chinese real estate billionaire arrested for alleged child molestation
Trump is hosting a social media summit. The guest list is raising eyebrows
Bed Bath & Beyond is 'running out of time'
KRAKOW, POLAND – 2018/10/29: Twitter logo is seen on an android mobile phone.
Twitter is temporarily down
Airbus about to pass Boeing to become world's largest aircraft maker
Amazon will retrain 100,000 workers
Target announces big deals to compete with Amazon Prime Day
Amazon ordered to stop work on UK food delivery deal
9 challenges Amazon faces on its 25th birthday
TIMELINE Amazon's extraordinary evolution
Inflation may be creeping higher
Morgan Stanley has downgraded just about everything
Here's another scary sign from the bond market
What now for markets? Beware potential for Washington to create mischief
INTERACTIVE From Reagan to Trump: How stocks performed under each president
Fox Business
SECURITY RISK: ICE, FOOD, BLANKETS LOADED ON PLANES WITHOUT PROPER CHECK
Avocado prices shoot up but tariffs not responsible, report says
Amazon's new Georgia fulfillment center will add 1,000 jobs: governor
DOW TOPS 27,000 FOR FIRST TIME ON HEALTH CARE STOCK GAINS, RATE CUT HOPES
Ocasio-Cortez receives acclaim from top Trump adviser for her economic perspective
Jeffrey Epstein's attorneys submit $77M bail proposal secured by NY mansion, private jet
Free summer giveaways: Mark your calendar for these food freebies
Everything you need to know about the debt ceiling
Marco Rubio introduces bill to combat China's rare earth monopoly
WATCH: Medicare rapidly running out of money, says Alex Azar
Amazon Prime Day: Avoid these deals and items, experts say
Brooks Running selling limited-edition American flag shoe
Democrats' 'family feud' making debt ceiling deal difficult, top Republican says
Gatorade launches first major product in 20 years
Kanye West praised for turning $53M in debt into $1B Yeezy empire
You can't turn truck drivers into coders, Andrew Yang says of job retraining
TSA memo reveals flaws in security checks of food, other items
Facebook's Libra is a step beyond bitcoin: Tech analyst
Fed's Powell sets stage for interest rate cut
Today's markets and stocks snapshot, at the closing bell…

Today's MH Market Spotlight Report –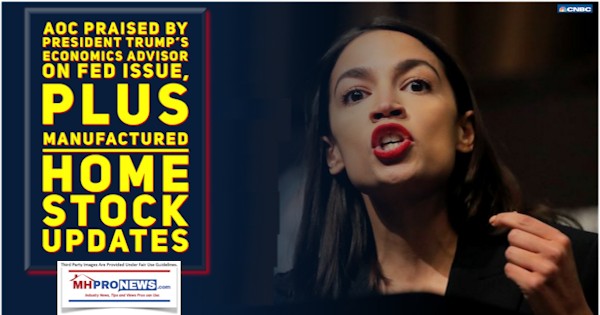 National Economic Council Director Larry Kudlow praised Democratic Rep. Alexandria Ocasio-Cortez on Thursday after the left-wing lawmaker urged Federal Reserve Chair Jerome Powell to keep monetary policy loose because inflation was not an issue, something that President Donald Trump and his administration have been pushing for.
Per left-of-center CNBC,  "I know I'm a supply side conservative and so forth, but I want to note in the hearings yesterday with Fed Chairman Jay Powell, it was Ms. AOC who asked him about the Phillips curve," National Economic Council Director Larry Kudlow told Fox News on Thursday. "Why is rising growth and low unemployment bad? Why does that cause higher inflation and interest rates? Powell said 'well, you're right. That thing hasn't worked in decades.'"
"I've got to give her high marks for that. She got that out of the chairman. By the way, that's been my position. That's been the president's position. Strong growth does not cause higher inflation," Kudlow said, adding he would like to discuss "supply-side economics" with Ocasio-Cortez in the future.
The Phillips curve is a mechanism that suggested that a lower unemployment rate will lead to stronger inflationary pressures. However, that supposed relationship deteriorated in recent years as inflation remains muted and the U.S. unemployment rate sits at 3.7%, around a 50-year low. Nevertheless, the Phillips curve remained part of the Fed's policymaking process for decades.
Powell testified in front of the House Financial Services Committee on Wednesday. During the Q&A portion of the testimony, Ocasio-Cortez said economists "are increasingly worried" that the Phillips curve is "no longer describing what is happening in today's economy." She then asked Powell, who responded in the affirmative, noting: "We have learned that the economy can sustain much lower unemployment than we thought without troubling levels of inflation."
 "Do you think that could have implications in terms of policy making? That there is perhaps room for increased tolerance of policies that have historically been thought to drive inflation?" Ocasio-Cortez asked Powell. "One of the arguments about minimum wage or other policies that directly target middle-class Americans is that they could drive inflation."
The signals continue to be that the Fed may initiate a rate cut.
It is obvious that lower rates can lead to increased housing affordability. It can also reduce business costs, or the cost for the federal government of others to borrow. So lower rates have a case to be made for them, based on all of the current dynamics.
But there is another case that won't likely be addressed until after 2020, and that is the purported value of the Federal Reserve system as it exists today.  It was established with the goal of evening out the ups and downs of the U.S. economy. But the great depression, the great recession, and several other economic upheavals have occurred since the Fed system as created. That's not to point the finger of blame at the Fed for past or current economic challenges.  It is to say that the Fed has not achieved its own stated purpose.
When the 2020 election results are over, that will be the time to look at this topic in earnest. In the meantime, there are bigger fish to fry, such as the problematic challenges caused by failures to enforce good laws on the books.  Those include, but are not limited to,
·        a robust enforcement of antitrust (anti-monopoly) laws,
·        the Duty to Serve manufactured housing mandated the Housing and Economic Recovery Act of 2008,
·        and the full implementation of the Manufactured Housing Improvement Act of 2000, which includes, but is not limited to, the enhanced preemption provision of the law.
The common thread between those three?  These words: "fully implement and enforce good existing laws."
With those measures put into place, manufactured housing would enjoy a renaissance that many in our industry today would not think possible.  Which is all the more curious as to why the Manufactured Housing Institute (MHI) has failed to promote those same three bullets, while the Manufactured Housing Association for Regulatory Reform (MHARR) has strongly pushed for the second and third bullets, and has given a nod to the first bullet in their own way.
See related reports below for more.
Related Reports:
Surprise! Champion Leads in #1 State of Texas, Factory Production Facts By HUD Code Manufactured Home Builder
Community Leader Calls for Rejection of Bill Backed by Manufactured Housing Institute, NAMHCO, Prosperity Now
Time Out Communities, Manufactured Housing Institute Connected Firm, Draws Resident Wrath, Negative Media
'Affordable Housing Impacts Every State and Community, Urban and Rural Alike' – Senator Maria Cantwell (WA-D) – New Bipartisan Bill Examined
Congress, HUD, Trump Administration Warned – "Profoundly Damaging Unintended Consequences" – Manufactured Housing Industry, Lower & Moderate-Income Americans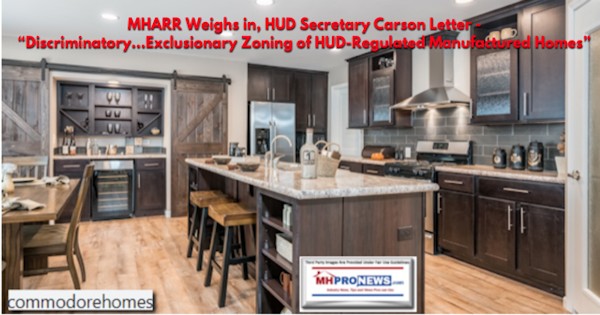 Yahoo Finance Closing Ticker for MHProNews…
NOTE: The chart below includes the Canadian stock, ECN, which purchased Triad Financial Services.
NOTE: Drew changed its name and trading symbol at the end of 2016 to Lippert (LCII).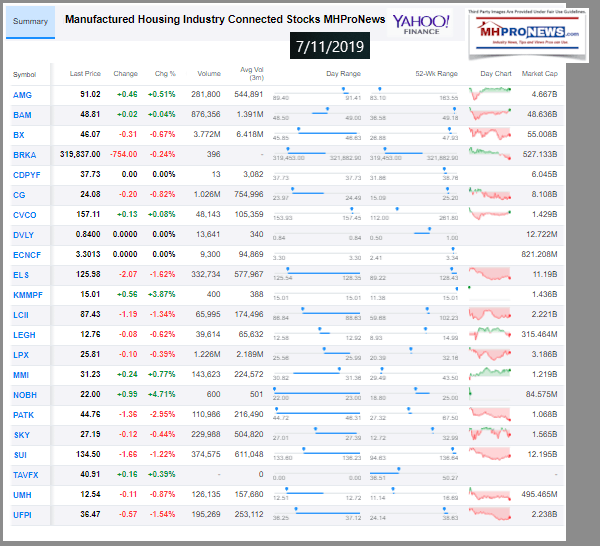 Updated:
Berkshire Hathaway is the parent company to Clayton Homes, 21st Mortgage, Vanderbilt Mortgage and other factory built housing industry suppliers.
LCI Industries, Patrick, UFPI, and LP all supply manufactured housing.
AMG, CG and TAVFX have investments in manufactured housing related businesses.
Your link to industry praise for our coverage, is found here.
For the examples of our kudos linked above…plus well over 1,000 positive, public comments, we say – "Thank You for your vote of confidence."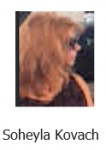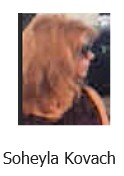 "We Provide, You Decide." © ## (News, analysis and commentary.)
(Image credits and information are as shown above, and when provided by third parties, are shared under fair use guidelines.)
Submitted by Soheyla Kovach to the Daily Business News for MHProNews.com.