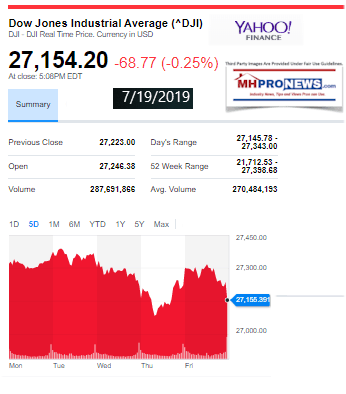 It's not a 'new' story, but it is a developing one that the Wall Street Journal and Fox Business are reporting on. MHProNews has provided examples of this inside the industry previously.  While the nation's business news are looking at Iran's seizure of oil tankers, the Fed, or more developments in trade, our feature will be on 'spying' by employers of employees. Following the headline recaps and some closing market snapshots, that will be our focus topic tonight.
Every evening our headlines snapshots from two major media outlets on each side of the left-right news spectrum reflects topics that influence, reflect, or move investor sentiment.  In moments, you can get insights-at-a-glance.  This sets the broader context for manufactured housing markets, in keeping with our mantra, "News through the lens of manufactured homes, and factory-built housing." ©. 
We begin with left-of-center CNN, then right-of-center Fox Business.  We share closing tickers and other related data courtesy of Yahoo Finance, and more. 5 to 10 minutes reading this MHProNews market report every business night could save you 30 minutes to an hour of similar reading or fact-gathering elsewhere.
Headlines from CNN Business.
·        A radically new Corvette The most recent model is the biggest change for the iconic sports car in 66 years
•             Wells Fargo allegedly discriminated against a DACA recipient by denying an auto loan
•             Huawei executive says US export ban will cost American jobs
•             Carl Icahn declares war over huge oil takeover
•             Smartphone apps can be more dangerous than you think
•             Libra is a great idea. But Facebook has to get out of the way
•             Pampers is making a 'smart' diaper. Yes, really
•             AB InBev sells Australian business after ditching huge Asian IPO
•             HBO is king, women rule comedy and other takeaways from this year's Emmy nominations
•             On ESPN, Dan Le Batard calls his own network "cowardly" for not addressing racism
•             Social influencers see stardom potential on LinkedIn and Pinterest
•             'The Lion King' could seal Disney's reign over the box office
•             Dollar stores are everywhere. That's a problem for poor Americans
•             OPINION The internet has become a dark place. I want the old one back
•             If cracks are forming in the US economy, banks didn't get the memo
•             The trade war isn't the only thing causing China's slump
•             UK will plunge into recession if it leaves Europe without a Brexit deal
•             The Fed is coming to the rescue. But there's no emergency
•             Europe is sleepwalking its way to another lost decade
•             Up to half of exiting CEOs don't quit. They get fired
•             Their job is teaching corporations to do the right thing
•             Even CEOs can suffer from impostor syndrome
•             How power couples make their lives work
•             More women are joining Fortune 500 boards than ever before
Headlines from Fox Business.
·        Iran seizes two UK-flagged oil tankers as tensions reach boiling point along disputed Hormuz waterway
·        ESPN throws flag at on-air talent with warning to steer clear of politics
·        McCain, Behar clash over Dems' 2020 prospects: If you can't beat Trump, 'what are you doing?'
·        Trump distances himself from 'send her back' chant: 'I disagree with it'
·        Trump dismisses plastic crackdown as campaign sells branded items
·        Fed up McDonald's customers ditch paper straws for coffee lids
·        Trump campaign unveils 'Pencil-neck Adam Schiff' T-shirts for sale
·        Meghan McCain reveals she suffered a miscarriage
·        Teen accused of spitting in drink, putting it back on shelf hit with felony charge
·        Family of Chicago infant cut from mother's womb billed $300G for his – and suspected killer's – care by hospital: report
·        Woman asks Warren about 'honesty' over her claim of Native American ancestry
·        Heat wave across U.S. affects millions, causes NYC Triathlon to cancel
·        Mom misdiagnosed with cancer underwent chemotherapy, mastectomy, lawyers claim
·        Professor under fire after suggesting US better off with 'fewer nonwhites'
·        Pensions in these 10 states have the biggest funding deficits
·        Apollo 11: Former officer on recovery ship USS Hornet recalls watching astronauts' 'amazing' return with President Nixon
·        Stats reveal surprising truth about border deaths under Trump
·        NEWT GINGRICH: Trump vs. Omar, AOC and more – Why 2020 will be all about patriotism vs. racism
·        Ex-New York Giants offensive lineman dies of heat stroke at age 32
·        2020 Chevrolet Corvette Stingray has a feature that lets you annoy everyone
·        Employers spy on their workers more than you think — here's how: report
·        Alec Baldwin's daughter Ireland's NSFW photo sparks responses from dad, uncle: 'I'm sorry. What?'
·        Trump to call Swedish prime minister to explore bringing rapper A$AP Rocky home
·        Miranda Lambert's husband on leave of absence from NYPD
·        Star says she's getting 'seemingly sicker' with MS
·        Students blast 'racist' statements, then learn they weren't Trump's
·        Nike counter-sues NBA superstar, says he 'seeks to re-write history' in logo spat
Yahoo Finance Closing Tickers on MHProNews…

Tonight's Business/Market/Political Impact Spotlight –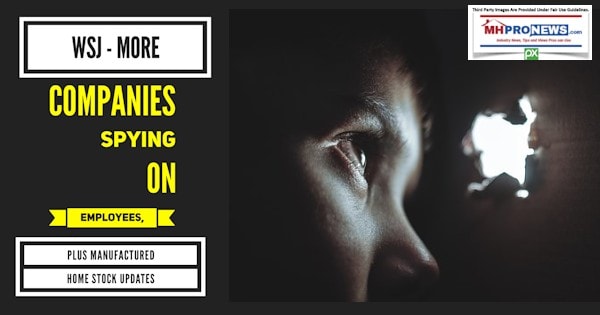 "There's what's legally right and what you need to do to maintain trusting relationships with your employees, and they are not always the same thing," Stacia Garr, the co-founder of RedThread Research, a firm that advises companies on issues related to human resources, told The Journal.
Aside from monitoring employees' emails, some companies are keeping track of texts, chat messages, phone calls and ID badges, The Wall Street Journal reported.
Companies are using data gathered from company emails or devices to track employee communications for a variety of reasons.
"Companies can use the data to monitor productivity and employee's relationships with clients and co-workers. They can also use it to keep intellectual property private when an employee leaves, The Journal reported," said Fox Business.
"For example, Microsoft keeps track of how often their workers are chatting, emailing and going to meetings using its Office 365 programs. Managers at the company are only able to look at groups of five or more workers, according to The Journal."
While companies have argued that monitoring employees can help them better manage their workers, The Journal reported, some people are wary of all the surveillance.

Clayton Homes and other Berkshire Hathaway brands have reportedly done this, but they should not be considered as the only ones doing so in manufactured housing.
Manufactured Housing Institute (MHI) and state association executives are also, per sources, having communications monitored.
Perhaps more concerning, there is 'spying' by Berkshire brands and some others of their competitors.  That isn't necessarily illegal. But how many professionals wonder if that 21st rep in their office is there to report on activities that they learn?
See the related reports, further below. 
Related Reports:
Clayton Homes and 21st Mortgage's Manufactured Housing "Spies"
Clayton Retail GM Earns Big Bucks, Insider Insights for Manufactured Housing
Joe Stegmayer, Cavco Industries, MHI Chairman, Insights from Innovative Housing Showcase
Kobayashi Maru, Crime, Kevin Clayton, Darren Krolewski, MHInsider – State of Manufactured Housing Industry
Andy Gedo, Partner at ManageAmerica, Raises Clayton Homes Monopolistic Practices Debate; Manufactured Housing Institute Related Issues
Clayton Homes, 21st Mortgage Corp, Vanderbilt Mortgage and Finance – Investor Lessons Learned
Manufactured Housing Industry Connected Closing Equities Tickers
Some of these firms invest in manufactured housing, or are otherwise connected, but may do other forms of investing or business activities too.
NOTE: The chart below includes the Canadian stock, ECN, which purchased Triad Financial Services.
NOTE: Drew changed its name and trading symbol at the end of 2016 to Lippert (LCII).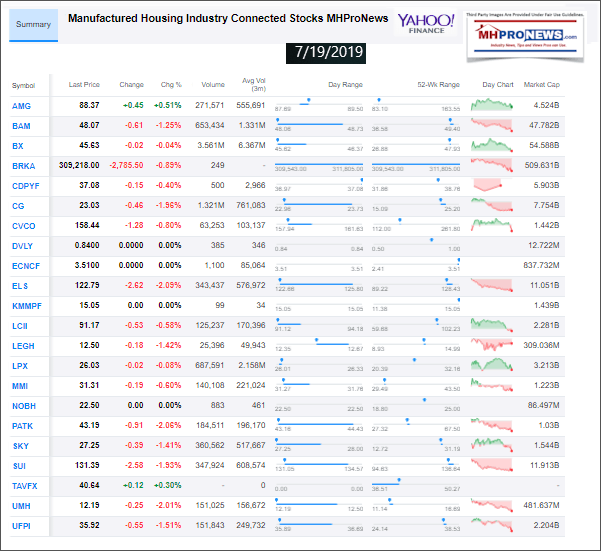 Updated:
Berkshire Hathaway is the parent company to Clayton Homes, 21st Mortgage, Vanderbilt Mortgage and other factory built housing industry suppliers.
LCI Industries, Patrick, UFPI, and LP all supply manufactured housing.
AMG, CG and TAVFX have investments in manufactured housing related businesses.
Your link to an example of industry praise for our coverage, is found here and here. For the examples of our kudos linked above…plus well over 1,000 positive, public comments, we say – "Thank You for your vote of confidence."
For expert manufactured housing business development or other professional services, click here.
Disclosure. MHProNews holds no positions in the stocks in this report.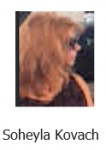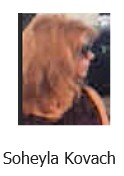 "We Provide, You Decide." © ## (News, analysis and commentary.)
(Image credits and information are as shown above, and when provided by third parties, are shared under fair use guidelines.)
Submitted by Soheyla Kovach, co-managing member of LifeStyle Factory Homes, LLC and co-founder for MHProNews.com, and MHLivingNews.com.