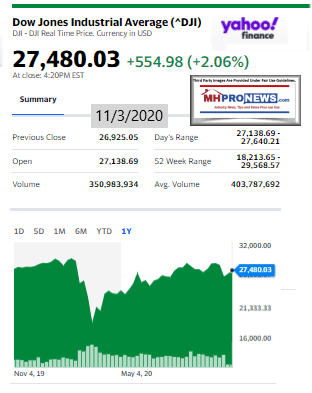 Programming Notice. It is perhaps no surprise that now that the election is upon us, the readership on election related reports has peaked. For some weeks, those general reports outpaced manufactured housing related reports on MHProNews, which is by far the most read industry trade site, per third-party data. Beyond some post-election items, there will be a planned pivot toward even more manufactured home industry specific reports.
That said, let's segue to this election night.
Goldman Sachs, per left-of-center CNN Business, signaled that what they think that despite weeks of hype that it could be days or weeks before we know the outcome, the result might be known in hours rather than days following the closing of polls and the tally of votes.
Goldman Sachs economists said in a note to their clients on 11.3.2020 that Obama-era Vice President Joe Biden's narrow polling leads in Arizona, Florida, Georgia and North Carolina. Their memo indicated that a Biden win in any of these Sun Belt battleground states would make President Donald Trump's path to reach 270 electoral votes very difficult.
Put differently, if the incumbent President Trump wins those states, the picture turns dark for the Democratic hopeful, Joe Biden.
"Since these states are likely to report results quickly, there is a good chance the presidential election outcome will be clear on election night," Goldman Sachs economists wrote in a note to clients Tuesday.
Raymond James strategist Ed Mills has similarly argued that Wall Street is very likely to declare the winner of the election before news networks. If Mills is right, the pre-election result stock surge today may be such an indicator of confidence in the outcome for the incumbent and his more pro-business, pro-growth policies.
"The Senate majority is likely to become clear on election night, but not the exact margin," Goldman Sachs wrote in their report to investors.
Meanwhile, right-of-center Fox Business said former New York Stock Exchange Chairman Dick Grasso said on Election Day that 401(k)s and IRAs "have never done better than under Donald Trump."
Grasso predicted that Trump would declare victory in the 2020 election, arguing that the markets are saying he will get reelected.
Grasso said "I think what markets are telling you is that Americans sat around the kitchen table and did a very simple analysis: Do we want an economy going forward, similar to the '09 to '16 economy, which never reached a 3% GDP [gross domestic product], produced these so-called shovel-ready jobs, which never appeared and all we ended up with is [collapsed solar company] Solyndra, a lot of people losing money."
"Or do we want a continuation of the economy created by Donald Trump in the years '17 through '19 where GDP was escalating to almost a 6% level and we had the fastest recovery in the history of America in terms of coming out of a recession," he continued.
As regular MHProNews readers know, the U.S. economy grew at a record-shattering pace in the third quarter as businesses reopened from the coronavirus shutdown.
Gross Domestic Product or GDP, the broadest measure of goods and services produced across the economy, surged by 33.1% on an annualized basis in the three-month period from July through September, the Commerce Department said in its first reading of the data Thursday. The previous post-World War II record was a 16.7% increase in 1950.
Fox Business noted that "TRUMP COULD CUT TAXES BY $1.1T OVER NEXT DECADE IF REELECTED, STUDY SHOWS."
Grasso told Maria Bartiromo that he thinks the reason President Trump will win the election is simple.
"I'm telling you that these markets, despite what Wall Street titans are saying, despite what the mega tech billionaires are saying, these markets are saying it's four more years of Donald Trump, growth and particularly economic success for the middle class who saw an incredible leap in their income during the president's first three years," Grasso said.
That teaser is a useful tee up for the balance of our report this evening. See that in the featured focus segment that follows the quotable quotes, two of our three market graphics at the closing bell today, and our signature left-right headline summary. The manufactured home industry specific stock performance at the closing bell today follows the featured focus and related and recent linked reports, further below.
Quotes That Shed Light – American Social, Industry, National Issues…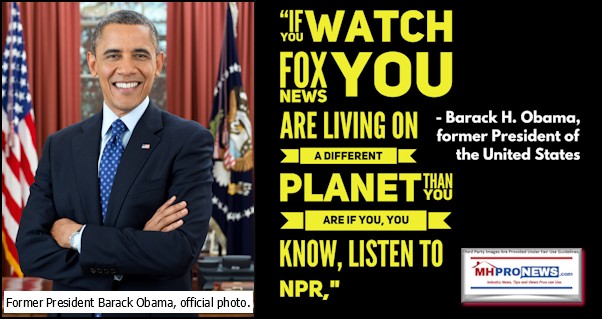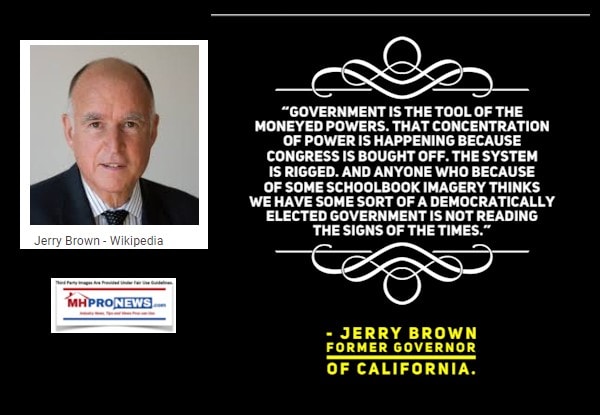 Headlines from left-of-center CNN Business
Election Day rally
In this photo provided by the New York Stock Exchange, specialist Gregg Maloney works at his post on the trading floor, Wednesday Oct. 28, 2020. The Dow Jones Industrial Average dropped 943 points Wednesday as surging coronavirus cases in the U.S. and Europe threaten more business shutdowns and pain for the economy.
Stocks traded sharply higher, and are set to post their best day in a month
The US dollar will remain weak no matter who wins the presidency
Goldman Sachs: There's a good chance the election outcome will be clear tonight
Wall Street's playbook: What investors are looking for
Analysis: What will TV and social networks do if Trump prematurely declares victory?
Election Night: How Wolf Blitzer and other news anchors are preparing
'This is it': Late night makes a case against President Trump
Watch: Seth Meyers has a replacement for Dr. Fauci
'Surreal': Reporters share what it was like to cover the Trump and Biden campaigns
MISINFO WATCH Twitter labels and restricts Trump post about voting in PA on election eve
Election unrest: Stores are boarding up windows
OTHER TOP STORIES
A contractor installs a SunRun Inc. solar panel on the roof of a new home at the Westline Homes Willowood Cottages community in Sacramento, California, U.S., on Wednesday, Aug. 15, 2018. California is the first state in the U.S. to require solar panels on almost all new homes as part of a mandate to take effect in 2020.
This solar company's stock has spiked 300% in 2020. Here's why
China pulls Ant Group's giant IPO after dust up with Jack Ma
Asia's richest man loses billions as oil slump hits Reliance shares
US cruise lines cancel sailings through at least end of 2020
He helps Americans get Italian passports. Business has never been better
Amazon worker lawsuit over coronavirus safety dismissed by New York judge
We're still disinfecting like mad. That's good for Clorox
Two major mall owners file for bankruptcy
Friendly's files for bankruptcy and puts itself up for sale
Burger King wants you to order from McDonald's
Headlines from right-of-center Fox Business
POLITICS
Biden makes final Pennsylvania appeal as Trump awaits results at White House
Both campaigns see Pennsylvania as crucial to securing the necessary 270 electoral votes to win the White House.
Trump campaign will use 'litigation' in Pennsylvania if necessary: McEnany
Biden pledges to 'run through the tape' during Election Day stop in native Pennsylvania
POLITICS
An incumbent president has never lost with economic ratings as high as Trump's
Ex-NYSE CEO: Trump reelection would lead to 'economic success' for middle class
POLITICS
Election Day Guide: Poll closing times, key races, when to expect a winner
2020 presidential election ballots cast so far
MARKETS
Stock market signals election outcome–here's the prediction
Election Day gives Dow, S&P run at best day since June
OPINION
Free speech hangs in the balance of election–no matter who wins: Parler execs
BARE NECESSITIES
CORONAVIRUS
Amazon to monitor price-gouging amid second wave of panic buying
DONE FOR THE YEAR
TRAVEL
Disney, Carnival, Royal Caribbean extend suspension of cruises
KEEP IT OPEN
ECONOMY
As Europe shuts down again, Kudlow says it's a 'bad idea
URBAN EXODUS
STARBUCKS
Starbucks shifts from city centers to suburbs to serve COVID-19 diaspora
THE PRICE OF SUCCESS
SPORTS
Seahawks' Russell Wilson spends $1M on recovery every year
FUTURE IN THE BALANCE
STOCKS
Firms try to prevent knee-jerk decisions by retirement investors in election fever
HIGH STAKES
DONALD TRUMP
A gambler just placed the biggest political bet ever
BONUS BUST
TRAVEL
Chicago man scams Delta Airlines bonus program for $1M
'VERY STRANGE STATEMENT'
ELECTION
Biden is worried about the election–here's the tell: Gundlach
FOOD AND DRINKS
Venison-flavored whiskey is New Hampshire distillery's latest creation
ELECTION
Many Americans fear the election outcome is going to cost them
REAL ESTATE
Jeffrey Epstein's Palm Beach mansion to be demolished
CARS
Ford president makes announcement on heavy-duty electric trucks
TECH
Walmart stays old school and ends robotic experiment
POLITICS
Here's what has business execs worried about the election
POLITICS
How Big Tech's new policies to fight misinformation could backfire
Organic elderberries recalled over possible salmonella contamination
PRODUCT RECALLS
Salmonella contamination causes grocery chain to recall elderberries
POLITICS
California ballot initiative on gig workers could be among costliest in state's history
DIGITAL
Massive IPO postponed as Jack Ma summoned to China's central bank
RETAIL
Retail sales dependent on election winner, survey finds
BUSINESS LEADERS
Twitter's Jack Dorsey remains CEO following activist challenge
LIFESTYLE
Here are some places you won't be able to go to on Election Day
EARNINGS
Wayfair's net revenue rises 67%
MEDIA
Fox profit, revenue rise driven by cable network programming, political ads
MARKETS
Pilots say FAA proposal for Boeing Max training needs work
ECONOMY
These GOP-run states have few COVID restrictions — and low unemployment
ECONOMY
Nike to cut 700 jobs at its Oregon headquarters by 2021
POLITICS
Trump Jr.: Another lockdown would destroy America for generations to come
MONEY
What this election may mean for your spending and saving habits
POLITICS
Senate Intel leader issues disinformation warning on eve of Election Day
MARKETS
AMC in talks with 'strategic investors' to raise capital in fight for survival
CORONAVIRUS
Clorox CEO: We're still not fully able to fill demand
OPINION
Trump's got my vote and it's OK for you to vote for him, too: Andy Puzder
MARKETS
PayPal gets pandemic boost, Venmo to hit $900M in revenue
Market Indicator Closing Summaries – Yahoo Finance Closing Tickers on MHProNews…
Featured Focus –
Where Business, Politics and Investing Can Meet
In his softball interview ABC News Townhall with George Stephanopoulos, a former Clinton Administration team member, Joe Biden said a few weeks ago that if he loses that could mean he isn't a very good candidate.
That's his words, not his opponents. It was Cory Booker, among others who said that when you listen to Joe, you just have to wonder if he can cross the finish line.
Former President Barack Obama didn't come out for his own VP Biden until the outcome was clear. He reportedly told close associates that someone can't underestimate his former vice presidents ability to screw something up.
Right-of-center Townhall said that there was a range of signals that the Biden campaign isn't nearly as confident as some think. That may be supported by the places that former President Obama and VP Biden went to campaign today and in the closing days of the campaign.
Before going through Townhall's examples, let's sum up what a real takeaways are from this campaign.
For the first time in modern presidential campaign history, a major party candidate – VP Biden – sat out most of the traditional retail campaigning.
When VP Biden went somewhere, the campaign itself said that it wasn't the general public invited, but rather, campaign staff or others that were specifically invited. Dozens to a few hundred would appear, vs. President Trump's rallies, where tens of thousands routinely came, often in cold, snowy or wet weather.
How could the Biden campaign think that months of such a 'hiding Biden' strategy could work? That's question points to the nexus.
The billionaire class were backing Biden-Harris big time. So too where big tech, much of big media, and Wall Street.
The essence of the Biden and Democratic campaigns was to make President Trump radioactive. Racist, Russian stooge, Orange Man Bad, nasty tweets, blunt talk, and proclaiming his handling of the coronavirus a failure were key Biden campaign talking points. Never mind that each of those could be unpacked to reveal a different reality than the claims.
Big time media ad buys widely favored Biden and his down-ballot supporters.
Biden was largely protected from his own record by big tech and big media.
The Democratic Party leadership has moved to the party of the rich and connected, while the Republican Party leadership has moved to a worker, middle class, and seniors party.

There are numerous reports that have been published here and on MHProNews that used information from both sides of the left-right media divide. When objectively reviewed, what the data reflected is that Biden has all of the earmarks of a man on the take with some form(s) of influence peddling that made a mere politician and his wife a very rich man. The absence of much of the left-leaning media digging deeply into that made the election closer than it would otherwise be.
Last but not least, by downplaying President Trump's accomplishments
on foreign policy, with multiple peace deals and serious progress on bringing U.S. troops home from the Middle Eastern wars,
quieting the bellicose threats from North Korea,
record income growth in recent decades, for women, and all ethnic groups,
the lowest unemployment rates in decades,
on coronavirus handling, apparently doing better than many Western nations which are having to lock back down again, while the U.S. is advancing on treatments and near a vaccine,
new trade deals, plus tax and regulatory cuts that refired the U.S. economy and began to bring manufacturing back to America,
completing over 400 miles of border wall, with more coming,
3 Supreme Court Justices, plus over 200 judges appointed to the federal court that are focused on applying the law as written as opposed to being activist judges,
protecting religious liberty, pro-life, and conscience clauses that used to be staples of American politics,
the list goes on.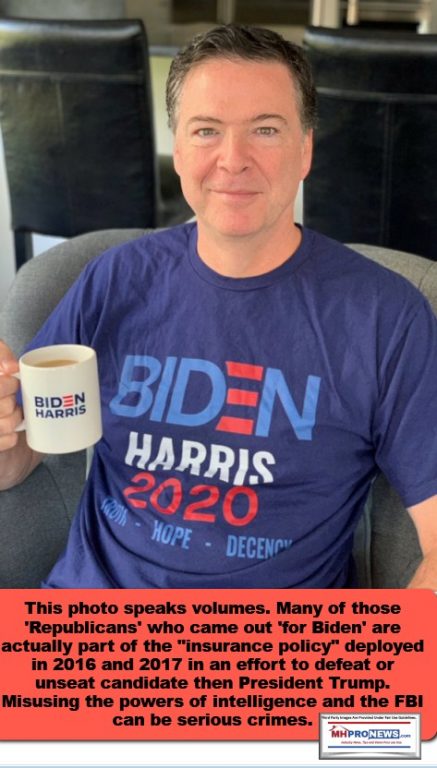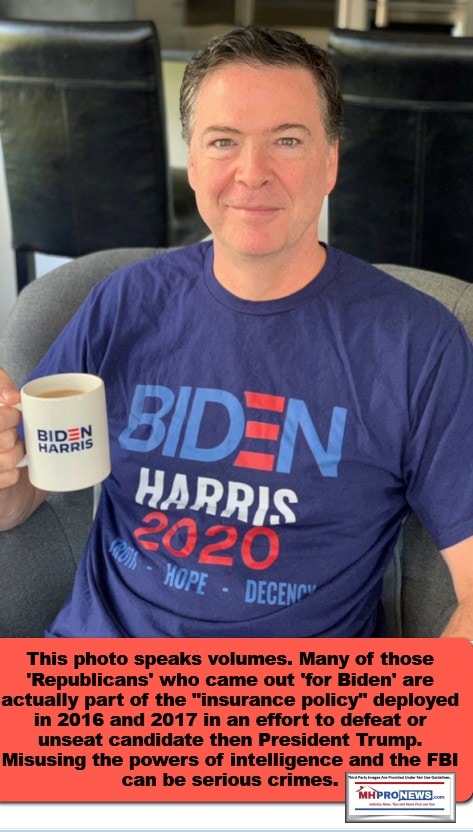 I watched that drama about you, The Comey Rule, it was so anti trump that I switched it off, he did right to fire you.

— Politically homeless conservative (@JulieBrexitdone) November 3, 2020
If the Biden campaign is publicly saying Trump is within one state of winning, imagine what they are seeing privately. https://t.co/z65s6C0GIg

— David Chapman (@davidchapman141) November 2, 2020
The Trump campaign just said on a press call that they have the following projected breakdown in Pennsylvania:

– Biden leads by approx 750,000 votes heading into Election Day
– Trump gets 2.6 million votes in Election Day
– Biden gets 1.5 million votes on election day

— Amber Athey (@amber_athey) November 2, 2020
Besides the location she and VP Biden were at today, note the 'black power' fist by Senator Kamala Harris (CA-D), who has been accused of being the most radical senator, left of Bernie Sanders?
Odd thing to for someone who is up 10 points in the latest NBC/WSJ poll. https://t.co/CxoxaAeIlY

— David Chapman (@davidchapman141) November 3, 2020
This poll shows 27% of Blacks in Pennsylvania supporting Trump: https://t.co/uSxCgVO88k

— PollWatch (@PollWatch2020) September 3, 2020
AZ update: https://t.co/osfO8QCBD3

— PollWatch (@PollWatch2020) November 3, 2020
Not bad. https://t.co/QZ02u2GSYV

— PollWatch (@PollWatch2020) November 3, 2020
More info from the IBD/TIPP poll:

Biden +2.7 with likely voters: 48.6% to 45.9%.

Hispanic Trump support: 36.5%
Black Trump support: 15%https://t.co/4Vxb7xqaZL

— PollWatch (@PollWatch2020) October 2, 2020
Without adjusting the white vote or turnout, Trump copies the 2016 map with these numbers pic.twitter.com/UAK6MWR8cX

— JacksonPackson (@JacksonPackson1) October 2, 2020
We could go through a lot of data and tweets like the above. We'll soon know, but whatever the outcome, what seems certain is that Big Tech, Big Media, the leftist Billionaire Class has shown themselves very clearly. That has to be a focus for redress post-election.
See the related reports, below.
Related, Recent, and Read Hot Reports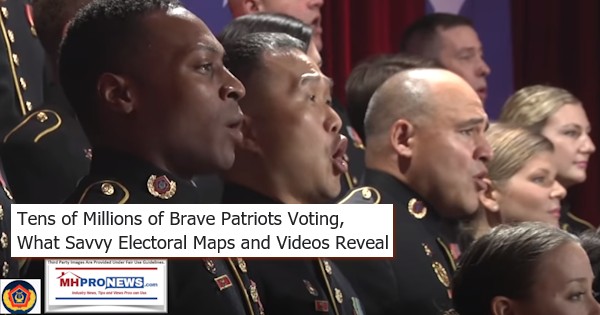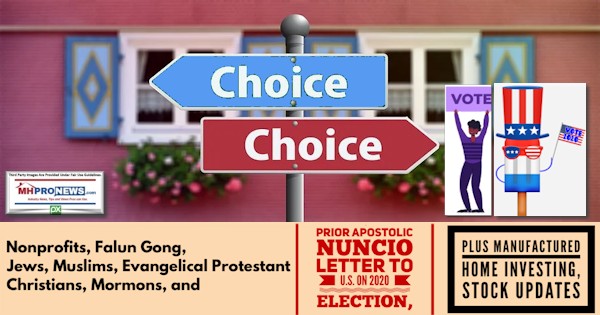 Warren Buffett–Joe Biden Spotlight, "Great American Recovery," 3rd Q GDP Blows Past Expectations, plus, Manufactured Home Investing, Stock Updates
Fair Warning – Prof David Faris Tells Democrats "It's Time To Fight Dirty," plus Manufactured Home Industry Investing, Stock Updates
Study Reveals "Total Failure" of "Education System," "Basic Dishonesty in Our Media and Popular Culture," plus Manufactured Home Investing, Stock Updates
"The Creepy Line"- DOJ Files Antitrust Lawsuit vs Google, Will Berkshire Hathaway, Other FAANGBM Brands Follow? What Warren Buffett, Bill Gates, Moat-Builders, Observers Said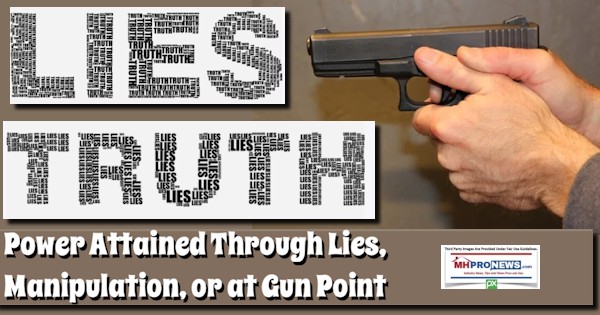 'Look at Message, Not Messenger,' HUD Sec Carson says "We Want People…to Have Choice." Biden Bombshell on CBS, plus Manufactured Home Investing, Stock Updates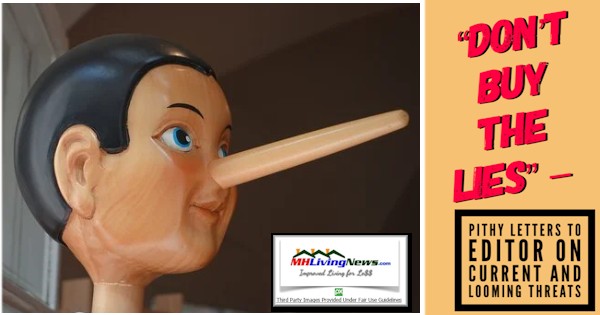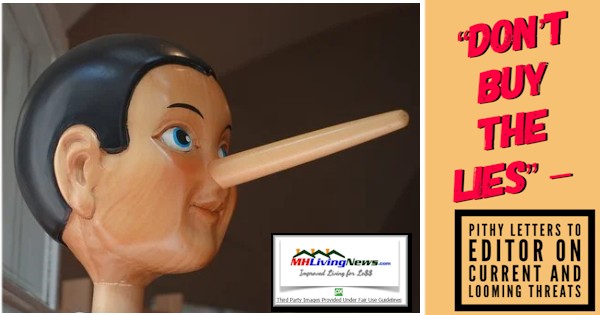 Grasping GIGO Yields More Personal, Professional Liberty, Opportunities, and Less Politicized America
"Witch's Brew" of Predatory Practices – Longtime MHI Member/Attorney Marty Lavin Rips Manufactured Housing Institute, Exposes Duty to Serve Financing Stonewall
AEI's Edward Pinto, Fortune – Housing Flips Recession Script, But Trouble Looms Just Ahead – Manufactured Housing Insights
"More Punitive Regulatory" Regime Looms Warns New Manufactured Housing Industry Insider
Dark Money-Billionaires Buffett, Gates, Soros Funding Black Lives Matter, Antifa – Named by AG Barr in Riots, Looting – Hijacking Peaceful George Floyd Death Racial Justice Protests
Manufactured Housing Industry Investments Connected Closing Equities Tickers
Some of these firms invest in manufactured housing, or are otherwise connected, but may do other forms of investing or business activities too.
NOTE: The chart below includes the Canadian stock, ECN, which purchased Triad Financial Services, a manufactured home industry lender
NOTE: Drew changed its name and trading symbol at the end of 2016 to Lippert (LCII).
Following Change, Manufactured Housing Institute Board of Directors and MHI Executive Committee Examined
Fall 2020…
Berkshire Hathaway is the parent company to Clayton Homes, 21st Mortgage, Vanderbilt Mortgage and other factory built housing industry suppliers.
· LCI Industries, Patrick, UFPI, and LP each are suppliers to the manufactured housing industry, among others.
· AMG, CG, and TAVFX have investments in manufactured housing related businesses. For insights from third-parties and clients about our publisher, click here.
Enjoy these 'blast from the past' comments.
MHProNews. MHProNews – previously a.k.a. MHMSM.com – has celebrated our 11th year of publishing, and is starting our 12the year of serving the industry as the runaway most-read trade media.
Sample Kudos over the years…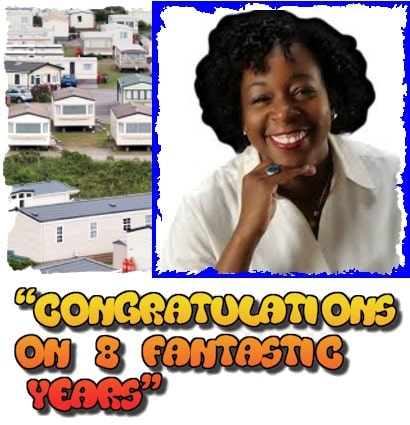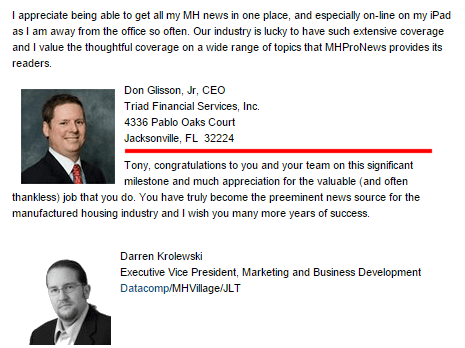 Learn more about our evolutionary journey as the industry's leading trade media, at the report linked below.
Correcting the Manufactured Housing Industry Record – Looking Back, Looking Ahead – Plus Manufactured Home Investing, Stock Updates
· For expert manufactured housing business development or other professional services, click here.
· To sign up in seconds for our industry leading emailed headline news updates, click here.

Disclosure. MHProNews holds no positions in the stocks in this report.
Evidence-Based State of the Manufactured Housing Industry, Fall 2020 Report – plus, Sunday Weekly Manufactured Home Headlines Review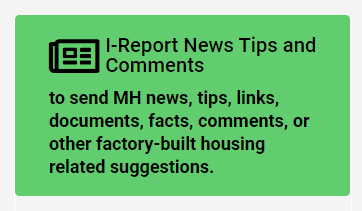 That's a wrap on this installment of "News Through the Lens of Manufactured Homes and Factory-Built Housing" © where "We Provide, You Decide." © (Affordable housing, manufactured homes, stock, investing, data, metrics, reports, fact-checks, analysis, and commentary. Third-party images or content are provided under fair use guidelines for media.) (See Related Reports, further below. Text/image boxes often are hot-linked to other reports that can be access by clicking on them.)
By L.A. "Tony" Kovach – for MHLivingNews.com.
Tony earned a journalism scholarship and earned numerous awards in history and in manufactured housing. For example, he earned the prestigious Lottinville Award in history from the University of Oklahoma, where he studied history and business management. He's a managing member and co-founder of LifeStyle Factory Homes, LLC, the parent company to MHProNews, and MHLivingNews.com. This article reflects the LLC's and/or the writer's position, and may or may not reflect the views of sponsors or supporters.