First, thank you for giving us a record start to October.  It seems that the sharper the fact-checks, the more our audience or professionals and investors eats it up.
Serious readers deserve facts, not pablum.
The pie-charts below are about manufactured housing production.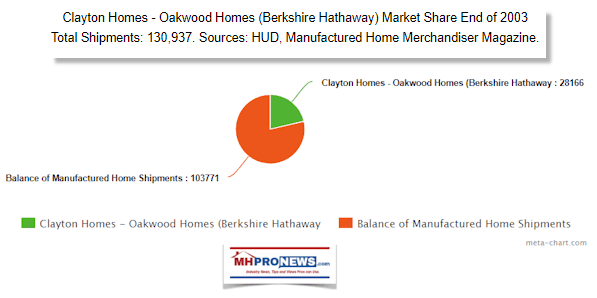 But they arguably represent similar trend-lines in retail, communities, suppliers, lending, transport, service, installers and other segments of the industry too.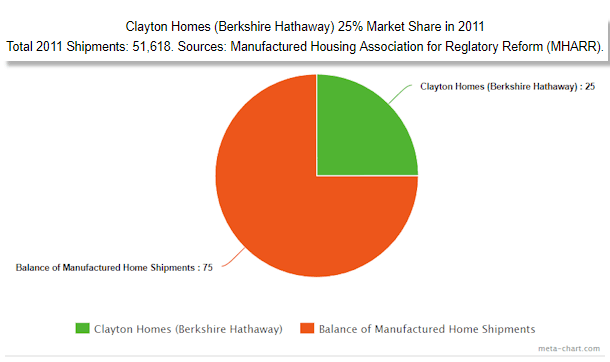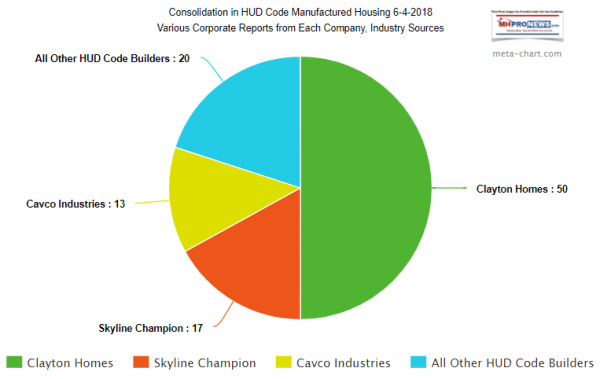 The Manufactured Housing Institute (MHI) brags about their big three members. When they created their videos, it was their big three members that were featured. If you are an independent, does the charts above and below inspire your confidence in their objectively supporting you?  Or does it make you see that the Big Three have taken over the lion share of the industry?
Third-party tracking data reflects that professionals among the manufactured housing industry's giants are as dedicated to reading us as are smaller- to mid-sized firms.
Working for a giant? There are many reasons for managers or those who aspire for more read us and become sources of news and tips. If they want more, history reveals that there is only so much you can make by working for the monopolistic "company store."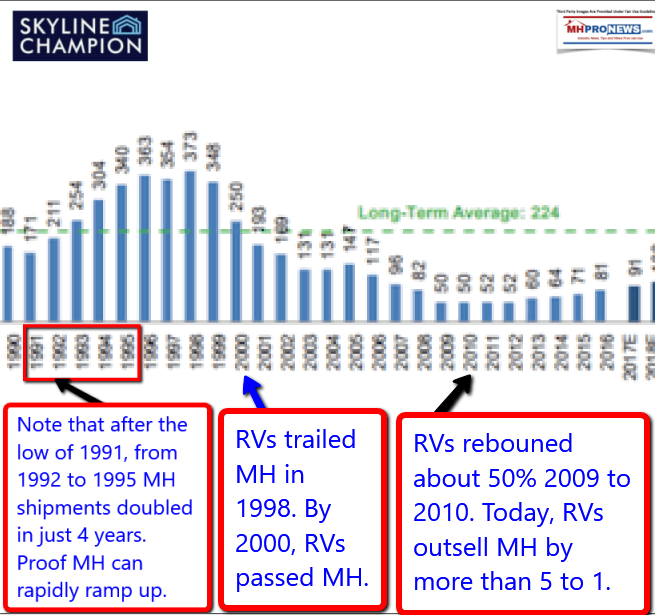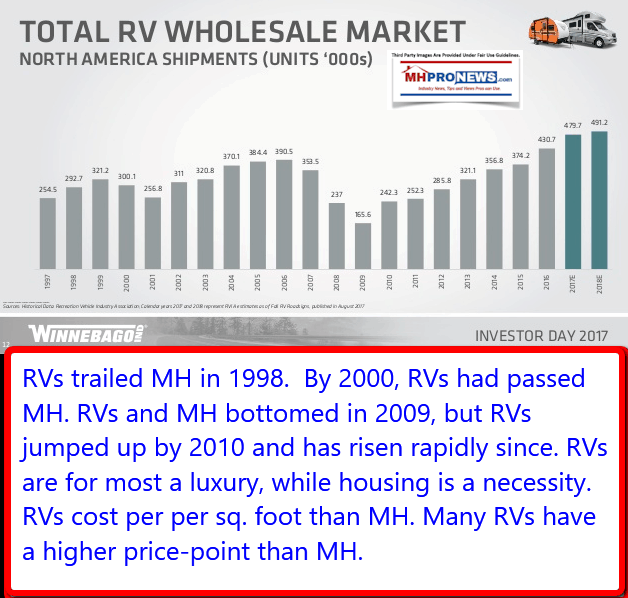 Monopolies and their cousin – oligopolies – purportedly harm every segment of society. Common sense says as much.
Fewer competitors, means there are fewer opportunities.
Fewer opportunities means lower pay.
Giants are more likely to automate, which makes a worker's or manager's position vulnerable.
The above are akin to the thoughts from experts in other fields that study monopolies and oligopolies.
During the last three presidential administrations, the foundations were established or fostered policies and practices that led our once thriving manufactured home industry to the relative low point that it exists today. Just think, if we get past the 100,000 shipment mark in 2018, that would still be about 73 percent lower than manufactured housing was 20 years ago.
There is an affordable housing crisis.  As MHProNews and MHLivingNews have documented, third-party housing experts that studied our industry believed in the late 1990s, and early 2000s that manufactured housing would thrive. But that didn't happen.
The more you think and look at the evidence,
the deeper you examine the facts and trends,
the more people of common sense see that "the system" has been rigged, as supporters of Bernie Sanders and POTUS Donald J. Trump broadly agree.
A rigged system hurts almost everyone, save the few that benefit from the system being rigged.
Monopolies of information and capital lead to monopolies of power.
The Manufactured Housing Institute has purportedly worked in concert with the majors in our industry to lead the many into habits and patterns of behavior that's cost thousands their businesses in the last decade alone.
We follow the facts, the evidence, and the money.  Who else in MHVille trade publishing does that?  Why do the others in MH publishing gladly take the money of the majors?  How has it influenced their content?  These are apt questions that Danny Glover's observation compels thinking people to ponder.
The following are facts.  Professionals like:
the Claytons',
Nathan Smith, and
numerous allies of Warren Buffett and Berkshire Hathaway are backing Democratic candidates to oppose Donald Trump's candidates in the GOP.
7 of the top 10 billionaires back Democrats. How could so many people not see that the Democrats are the party of the rich that have corrupted our system?  That's not to say that every GOP leader was pure. We strive to use a principle of separating the wheat from the chaff, with every source. But as independents, if you compare the two parties, looking at the facts, it becomes obvious that the mainstream media and money are largely with Democrats.
In MHVille, if you look beyond MHProNews, at the bloggers and publishers, most of them are bought and paid for by the big money people behind MHI, right?
Democrats are trying to buy elections. Billionaires and others are pouring money into Democratic campaigns.
That said, even push-polls are starting to reveal the shifting-tide away from candidates like Beto O'Rourke toward conservatives like Ted Cruz who are backing the pro-growth, pro-jobs, pro-independent businesses Trump Agenda.
Forbes estimates that the president's net worth has dropped about one billion dollars since his election. President Trump has said on the campaign trail, it's worth the loss of billions if he can help rally the nation so that we the people can together retake our country.
Check out the headline news that documents the facts and trends. There is a steadily growing throng – thousands of manufactured home industry professionals – who read here daily. Pros tell us that they are forwarding emails, and links to articles.
We're all for wealth honestly earned. We're all for free enterprise. We are all in on Constitutionally limited government that protects the rights of all and enforces equal justice.
We oppose and will continue to expose through facts, figures, insider tips those who are trying to limit, buy up at bargain prices, our once great Manufactured Home Industry.
ICYMI, see Saturday's insider tips story, and the one on Friday too.  They are all part of the most read reports in manufactured housing.  We thank you, and our sponsors, for making that possible.
Watch for more special reports in the days ahead. With just over 3 weeks to one of the most important midterms ever in the modern era, now is the time to educate and inform confused or wavering colleagues.  We said in 2016 that Donald J. Trump could win, months before most of the mainstream media got that wrong.  We say now that in 2018, the GOP Congressional allies of POTUS Trump can beat the historic trends, and hold onto the House and Senate. But it takes pros like you to make that a reality.
Investors want certainty.  Under the Trump Administration, pro-growth policies for business, workers and consumers alike have returned.
Faith, flag, family and fortune honestly earned.  Those are among the principles that made America the land of opportunity.  With no further adieu, let's dive into the headlines that let you learn more, to prepare you for approaching opportunities to earn more.
What's New on the Masthead
Let's stipulate that both President Donald J. Trump and his anti-Trump opponents at times error in various ways. No one is perfect. Let's note later why the bullets below matters for the cause of the economy, affordable housing in general, and manufactured homes in particular.
What's New on MHLivingNews
"2nd, 3rd, & 4th Chances," the "American Dream," "Mobile Homes" Movie, Video Trailer Reviews
A " Happy Days " sitcom actress died in 2017, after she moved to an Indiana manufactured home community. Morin was looking for a place to regroup and start over. She had played the role of Joanie Cunningham in the then popular 1970s TV show.
What's New at MHARR
Washington, D.C., October 11, 2018 – The Manufactured Housing Association for Regulatory Reform (MHARR), in written comments filed with the U.S. Department of Housing and Urban Development (HUD) on October 11, 2018 ( see, copy attached) has called on HUD to promote zoning and placement parity for federally-regulated manufactured homes as part of the Department's plan to amend its regulations for Affirmatively Furthering Fair Housing (AFFH).
Washington, D.C., October 3, 2018 – The Manufactured Housing Association for Regulatory Reform (MHARR) reports that according to official statistics compiled on behalf of the U.S. Department of Housing and Urban Development (HUD), strong year-over-year manufactured housing industry production growth continued in August 2018.
TO: INDUSTRY MANUFACTURERS, RETAILERS, COMMUNITIES RE: GSEs' "DUTY to SERVE UNDERSERVED MARKETS" PLANS FHFA REQUESTS INPUT ON PROPOSED MODIFICATIONS TO AND FINANCE COMPANIES Attached for your review and information is a copy of a notice issued by the Federal Housing Finance Agency (FHFA) on October 3, 2018, seeking public comment on proposed revisions to the initial "Duty to Serve Underserved Markets" (DTS) implementation plans submitted by Fannie Mae and Freddie Mac to FHFA in 2017.
FOR IMMEDIATE RELEASE (202) 783-4087 Contact: MHARR Washington, D.C., September 27, 2018 – The Manufactured Housing Association for Regulatory Reform (MHARR), in a submission (copy attached) to the House of Representatives' Financial Services Committee in conjunction with a September 27, 2018 oversight hearing on regulation of the two "Government Sponsored Enterprises" (GSEs) – Fannie Mae and Freddie Mac – strongly criticized the Federal Housing Finance Agency (FHFA), for failing to implement federal law and, instead, sanctioning the GSEs' continuing discrimination against lower and moderate-income American consumers seeking to purchase manufactured homes through personal property, or chattel loans.
What's News on the Daily Business News on MHProNews
Saturday 10.13.2018
Financing – Dramatic Shift – Manufactured Housing Institute (MHI) Insider News Tips
Friday 10.12.2018
Manufactured Homes, Conventional Construction, Hurricane Michael-Reports, Videos, Lessons Being Learned
Manufactured Housing, Money, & Midterms, From KNOXVILLE, TN, & Beyond – Plus MH Market Updates
Factory Rep's Tip–Manufactured Home Service & Satisfaction – ABC News, Clayton Controversy Follow-Up
Manufactured Housing Institute (MHI) PAC Supports Former Hillary Clinton VP, Senator Tim Kaine, Other Anti-Trump Agenda Democrats
Thursday 10.11.2018
News Tips, Manufactured Housing Industry Comments on Big City's Manufactured Home Promoting Commentary
Risk Taking! Kanye West, Jim Brown, POTUS Trump Oval Office Meeting, Plus MH Market Updates
Manufactured Homes – HUD Called to Affirmatively Furthering Fair Housing (AFFH) Remove Zoning, Placement and Consumer Financing Barriers to Manufactured Housing
Frank Rolfe. Manufactured Homes and Communities. Industry Politics. It's Complicated.
Wednesday 10.10.2018
Performer Taylor Swift, HUD Code Manufactured Homes, Manufactured Housing Institute (MHI) PAC Donations, and 2018 Midterms
Media Claims New Story/ICON Builds 3D Printed Housing for $4000, Fact Check & Analysis
Reminder to Clayton Homes. Cavco Industries, and Skyline Champion Employees
Tuesday 10.9.2018
NBC Video – Federal Authorities Investigating Clayton Homes, Maxine Waters Denounces Lending "Discrimination" Against Minorities
Notice. Articles with similar themes found on MHLivingNews and MHProNews are not identical. This is a professional site, with a professional view of a topic.  On MHLivingNews, a broader context is presented, which aims to appeal to the general public.
Monday 10.8.2018
"It's the Economy, Kavanaugh" – Ted Cruz vs Beto O'Rourke TX Senate Race, Plus MH Market Updates
LinkedIn, Manufactured Housing, and Manufactured Home Industry Professional Insights
Blueprint Robotics Disruptive Aim at Modular Housing, and Factory-Building Technology
Attracting and Retaining Sales Talent – Evidence and Data-Driven Potential in Manufactured Housing
Sunday 10.7.2018
It's Natural – Soccer, Home Town Pride, Lee Greenwood, Patriotism and Manufactured Housing – Sunday Weekly Recap 9.30.2018 to 10.7.2018
Their are still some professionals that tell us they'd rather not see anything political here on MHProNews. We understand and respect that view.  But we disagree, and here's why.  Warren Buffett and his buddies are highly political.  They debatably use politics to help get what they want for their businesses. Furthermore, placement issues are all about local or state politics.
Ignore political considerations at your own peril.
The manufactured housing industry is marching towards the midterms, now just over 3 weeks away. No one in manufactured housing even comes close to the kind of breadth of coverage for the issues that impact your business. Maybe that's why we're number 1. Our sincere thanks to readers like you, our business development clients and sponsors for making it so.
Together with honest people of good will, we can make our industry and our nation achieve its great potential. "We Provide, You Decide." © ## (Sunday Morning, weekly headline news review, analysis, and commentary.)
NOTICE: You can join the scores who follow us on Twitter at this link. You can get our 'read-hot' industry-leading emailed headline news updates, at this link here.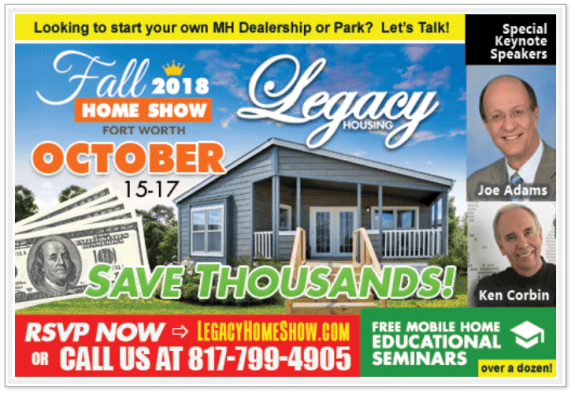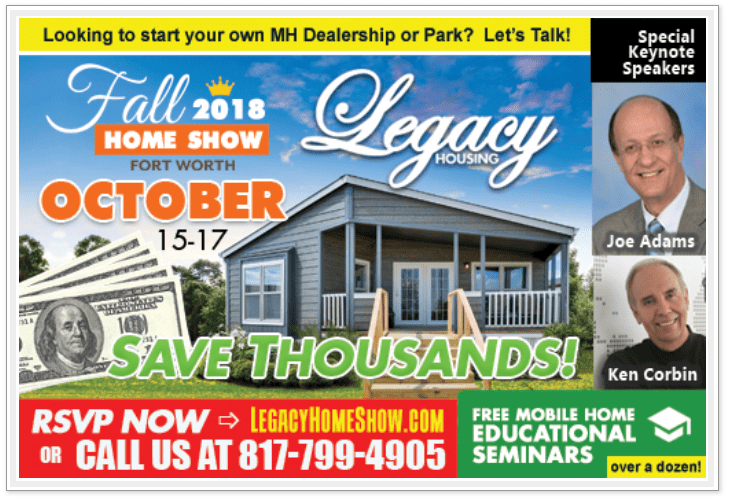 (Related Reports are further below. Third-party images and content are provided under fair use guidelines.)
1) To sign up in seconds for our MH Industry leading emailed news updates, click here.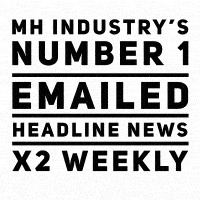 2) To pro-vide a News Tips and/or Commentary, click the link to the left. Please note if comments are on-or-off the record, thank you.
3) Marketing, Web, Video, Consulting, Recruiting and Training Re-sources
Submitted by Soheyla Kovach to the Daily Business News for MHProNews.com. Soheyla is a managing member of LifeStyle Factory Homes, LLC, the parent company to MHProNews, and MHLivingNews.com.
Related Reports

:
Biblical "Talents," Words, Ideas, Evidence, and Practical Impact on Manufactured Housing, Sunday Morning Recap, MHProNews Headlines Aug 26 to Sept 2, 2018
Clayton's Surprising Result – Sunday Morning Weekly Recap, MH Headline Reports and News in Review Aug 19 to Aug 26, 2018