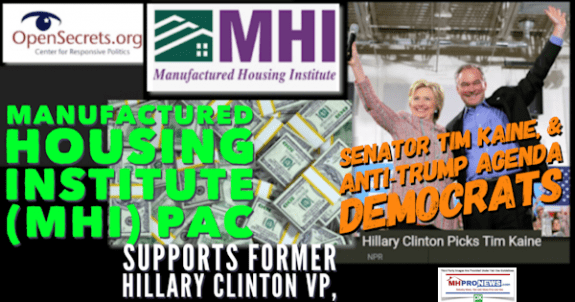 People can spin, but the unvarnished facts don't lie.
The facts about the headline will be revealed further below, as we tee up this timely topic.  Follow the money.  Follow the facts. What the money trail and facts reveal may surprise you, and/or your colleagues.
Affordable Housing Is Non-Partisan
In recent reports, as for previous years, MHProNews has made it clear that manufactured homes – affordable housing – is a non-partisan issue.
There have been several times when leaders from the pre-HUD Code mobile home industry, and the post-HUD Code manufactured housing industry came together with members of both major parties to get important legislation done.
That kind of bipartisan or nonpartisan engagement is how 'mobile homes' morphed through federal standards into HUD Code manufactured housing. That effort was signed into law by President Gerald R. Ford (GOP-R).  ICYMI, or want a refresher, you can see the related report, linked below.
U.S. President Praised "The Mobile Home Industry," Manufactured Homes are "Here to Stay"
Prior to POTUS Ford, President Richard M. Nixon promoted federally backed loans for mobile homes, in the pre-HUD Code home era.  Again, as a refresher or ICYMI, see that report, shown below.
Help Others "Get It" – Loans on "Mobile Homes" Promoted by Another U.S. President
The first full year of the HUD Code took place during President Jimmy Carter's (D) administration (1977).  Carter's brother Bill filled some higher profile roles for companies he served a few years later in manufactured housing.
There are Americans alive today who have lived in a true mobile home for over 50 years. The production of mobile homes in the U.S. ended on June 15,1976. Starting that day, mandatory federal construction, energy, durability, and safety standards went into effect.
MHProNews has lead-the-way in factory-built housing spotlighting reality, be it highly partisan divides, or bipartisanship by a wide margin.
Who Says Bipartisanship is Dead? House Passes Massive "JOBS & Investor Confidence Act" S 488 by 406 to 4 Vote
We strive to cite sources across the left-right media divide, and let reality speak.
Affordable Housing, Manufactured Homes, Bipartisanship, Bill, Newt, Sexual Scandals, and You
Having Established the Factual Track Record…
That said, it's important for the manufactured housing industry's professionals to understand what's happened in America until-2000 and what's happened since 2001 are strikingly different experiences.
While there is still bipartisanship, such as S 2155, there was arguable neglect of good laws on the books laws since 2000 under both Democrats and Republicans. But much of the more serious harm done to manufactured housing occurred during the POTUS Barack H. Obama Administration era.  The importance of reports like the one below paint a picture that investors and long-term professionals should grasp.  Because government action or inaction impacts your business day-by-day.
Nathan Smith, SSK Communities, From Mobile Home Resident to Manufactured Home Communities Owner, & Manufactured Housing Institute Leader
Heavy regulation – coupled with purported capital manipulation – during the Obama years were debatably part of what drove thousands of businesses out of business.  There is a stark contrast between the prior 8 years under former President Obama, and the first 21 months of the POTUS Donald J. Trump Administration.
Danny Glover, Presidents Barack Obama & Donald Trump, Promises Kept, and Affordable Manufactured Housing
While MHI understandably wants to work with both sides of the political aisle, they have also to admit that their own former government relations vice president publicly said in an exclusive to MHProNews that there was essentially no chance for Preserving Access to Manufactured Housing Act pass with Mr. Obama in the White House. Then why were millions spent by MHI, focusing on an issue – Preserving Access – that their own GR VP said had no chance?
While commentators will be picking over the remains of the 2012 elections for weeks to come and discussing what the political landscape will look like over the coming year and what impact the elections will have as Congress prepares to return for a lame-duck session, MHI wanted to provide members with some feedback and analysis of the immediate aftermath and outlook for the coming weeks.
Why Is MHI Backing Prominent Anti-Trump Candidates in Some Key Races?
According to Open Secrets, there is evidence that MHI has been supporting key Democratic candidates in tight races over Republican ones.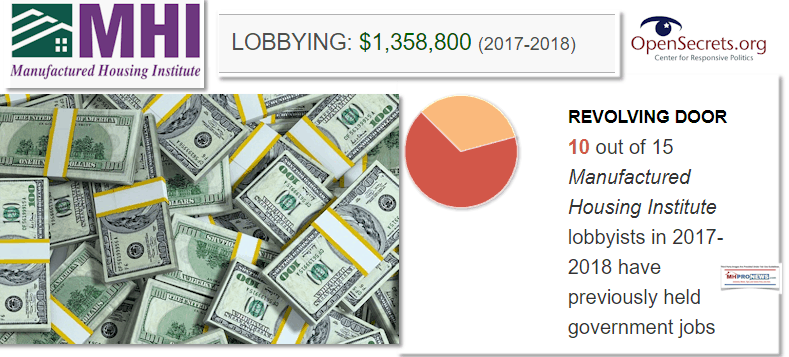 For example, some of those supported candidates are in key races for control of the U.S. Senate.
They include, but may not be limited to:
Sherrod Brown – (OH-D)
Joe Donnelly – (IN-D)
Kyrsten Sinema, (AZ-D) and
Jon Tester (MT-D)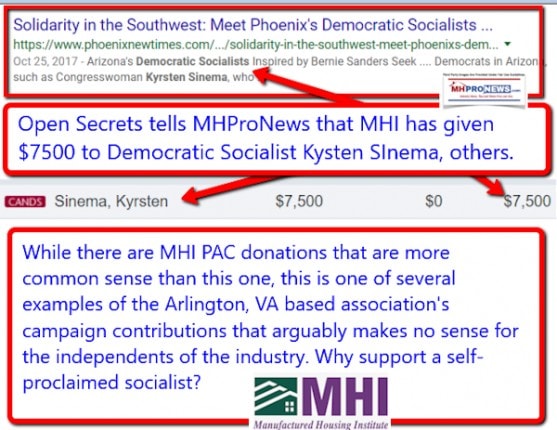 Can MHI explain the logic of MHI PAC money payments to Maxine Waters?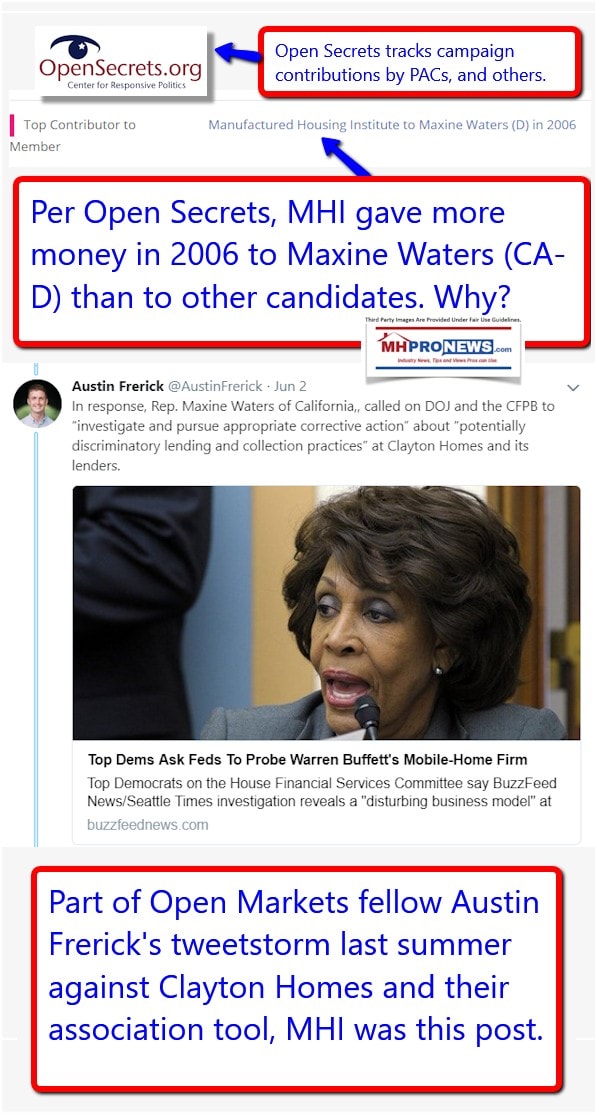 Or where was the logic in MHI PAC giving a "top contributor member" – per Open Secrets – to Barney Frank, co-author of the bill Dodd-Frank, that arguably harmed many industry members, and consumers?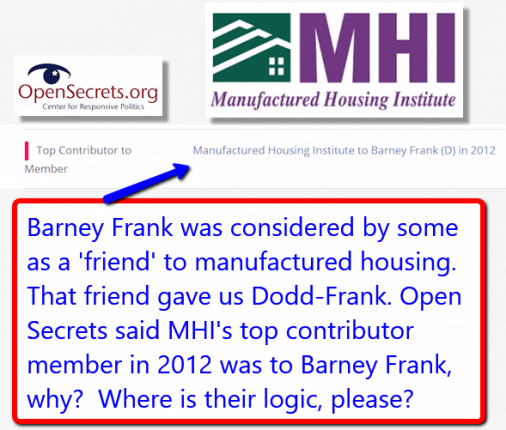 There is much more, but those should drive home this point. Where was or is the logic of the MHI PAC giving big contributions to those who oppose the interests of small to mid-sized manufactured housing industry companies? How does cutting off market-place options, or killing jobs, help consumers and taxpayers?
MHI and Elizabeth Warren
MHI may be tipping their Berkshire Hathaway hand once more, but putting out a message to their members last week, apparently promoting a program by Senator Elizabeth Warren (MA-D).  Warren was a strong supporter of the creation and protection of the Consumer Financial Protection Bureau (CFPB) and Dodd-Frank.
Facts & Analysis – Senator Elizabeth Warren re: Manufactured Housing Institute Memo to MHI Members, 10-3-2018
By Contrast, while MHI members were being treated in 2016 to two paid pro-Clinton speakers at their Chicago event, just days before the election, MHProNews worked over-time in 2016 to promote the election of a pro-growth, pro-jobs, pro-business president.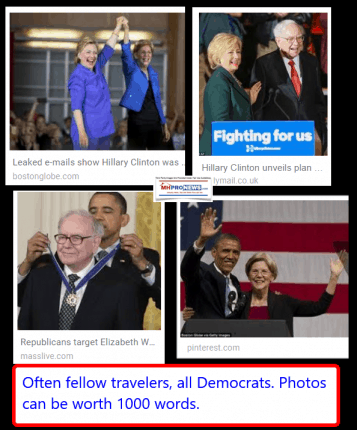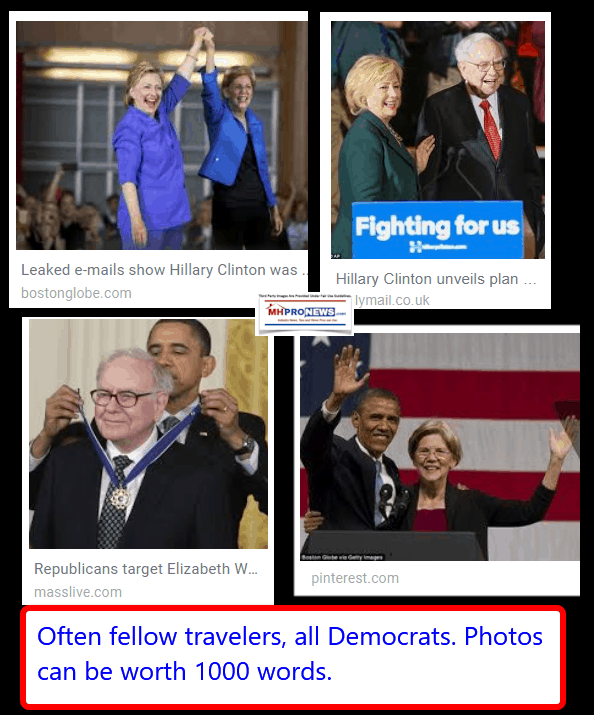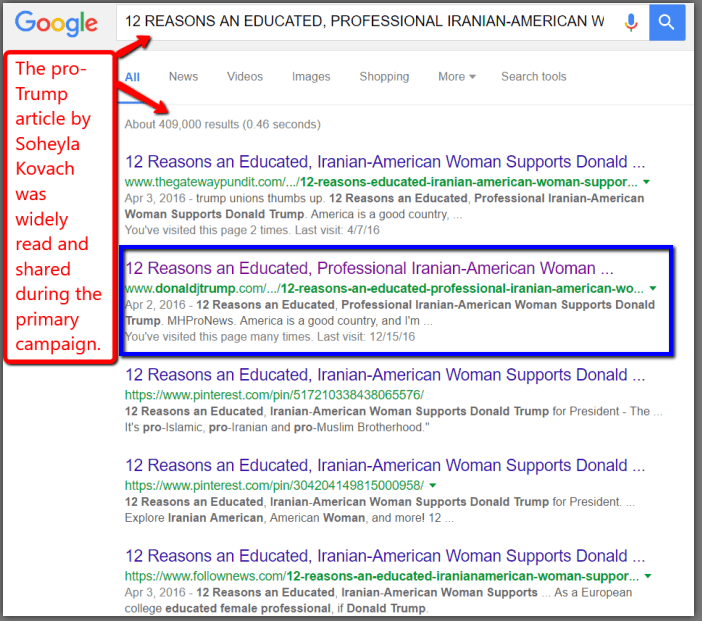 The Masthead features an analysis of what's happening in the run-up to the midterms, which are now only 4 weeks out.
Let's stipulate that both President Donald J. Trump and his anti-Trump opponents at times error in various ways. No one is perfect. Let's note later why the bullets below matters for the cause of the economy, affordable housing in general, and manufactured homes in particular.
Four states, says MSNBC,  already have early voting underway.
With other forms of robotic, 3D printing, and other kinds of imported factory-built housing emerging, HUD Code manufactured housing professionals need to be thinking strategically in their votes for the midterm.  The polling shows that several races in the Senate are now tilting Republican. But the House is still considered a toss-up.
Turnout will decide, as it always does.  Trump supporters shocked the world in 2016.  Will they do so again in 2020? Will the de facto endorsement of people like Kanye West continue to move more minority voters into the Trump camp?
Risk Taking! Kanye West, Jim Brown, POTUS Trump Oval Office Meeting, Plus MH Market Updates
Every race is about not just money, but in the end, about votes.
Democrats have more money, as MHProNews has previously documented.  Democrats have more money because they have more and richer billionaire backers, including Warren Buffett and his buddy Bill Gates.
But voting for pro-Trump candidates is how the continuation of regulatory rollback and tax-cuts made permeant can take place.  It's what organizations like the NFIB is working for with their manufactured housing, and 325,000 other small business members.  Do your home-work, help inform others, and vote. ICYMI, or need a refresher, check out the related reports, further below.
Non-Partisan MHARR
By contrast, MHARR is non-partisan.  They have no PAC.  But they have repeatedly supported the pro-growth, Trump agenda. A year ago, they gave the industry this heads up in this video interview.
Check out MHARR's latest call to remove the barriers that harm our industry. 
Washington, D.C., October 11, 2018 – The Manufactured Housing Association for Regulatory Reform (MHARR), in written comments filed with the U.S. Department of Housing and Urban Development (HUD) on October 11, 2018 ( see, copy attached) has called on HUD to promote zoning and placement parity for federally-regulated manufactured homes as part of the Department's plan to amend its regulations for Affirmatively Furthering Fair Housing (AFFH).
Editorially, MHProNews has formally supported the Trump pro-growth agenda since the spring of 2016.  MHProNews believes in working towards reforms that reduce the regulatory barriers and market manipulations that have harmed the small to mid-sized companies of our industry, that limits choices by consumers, and thus harms the nation.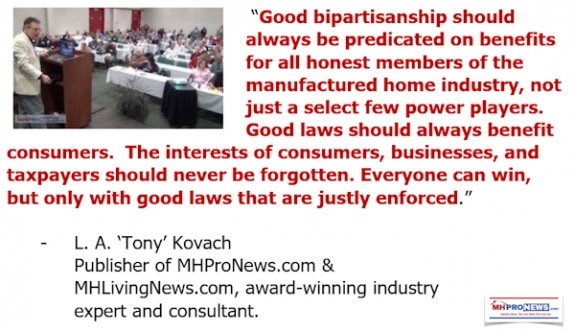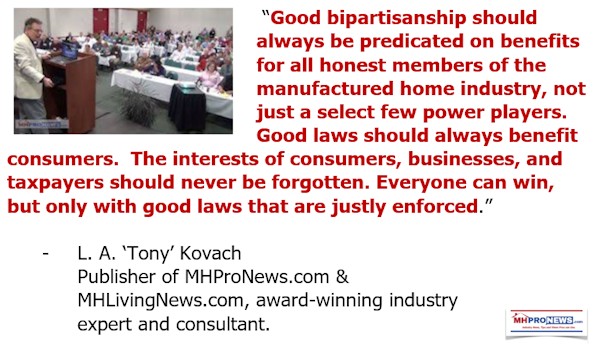 We follow the evidence, facts, statements, and money, for the sake of a brighter manufactured housing industry future. Only the truth will set us free. "We Provide, You Decide." © (News, analysis, and commentary.)
NOTICES: You can join the scores who follow or direct message us on Twitter at this link. You can get our 'read-hot' industry-leading emailed headline news updates, at this link here.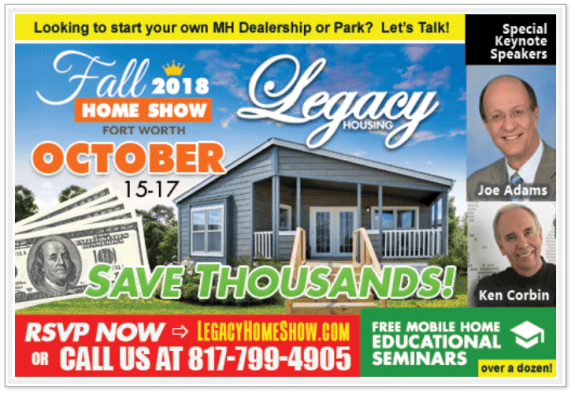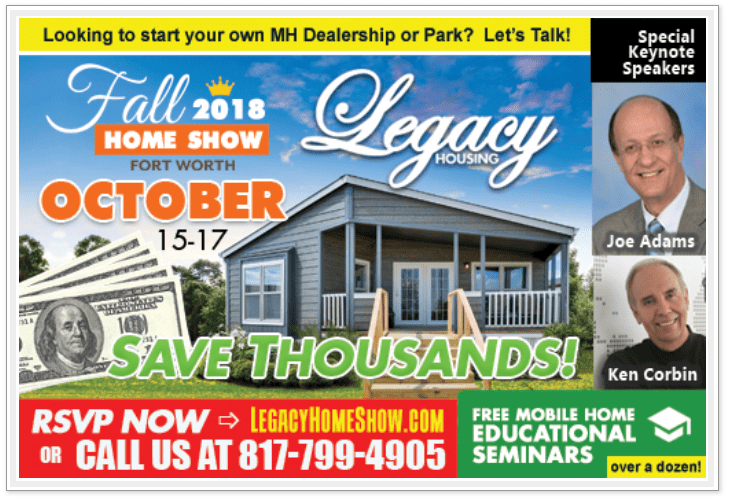 (Related Reports are further below. Third-party images and content are provided under fair use guidelines.)
1) To sign up in seconds for our MH Industry leading emailed news updates, click here.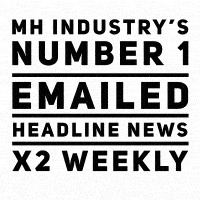 2) To pro-vide a News Tips and/or Commentary, click the link to the left. Please note if comments are on-or-off the record, thank you.
3) Marketing, Web, Video, Consulting, Recruiting and Training Re-sources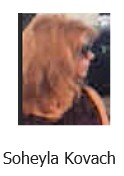 Submitted by Soheyla Kovach to the Daily Business News for MHProNews.com. Soheyla is a managing member of LifeStyle Factory Homes, LLC, the parent company to MHProNews, and MHLivingNews.com.
Related Reports

:
Performer Taylor Swift, HUD Code Manufactured Homes, Manufactured Housing Institute (MHI) PAC Donations, and 2018 Midterms
Warren Buffett Would be Okay With Clayton Homes Losing Money, Says Kevin Clayton – But Why?
President Donald J. Trump Visit to Manufactured Home Community, Video, Hurricane Florence Update
"A New Era of Cooperation and Coordination," is Promised by HUD Secretary Carson, Saying "I Hear You"
Greener, Stylish Manufactured Homes – Hidden Facts in the Washington Post Manufactured Housing Narrative