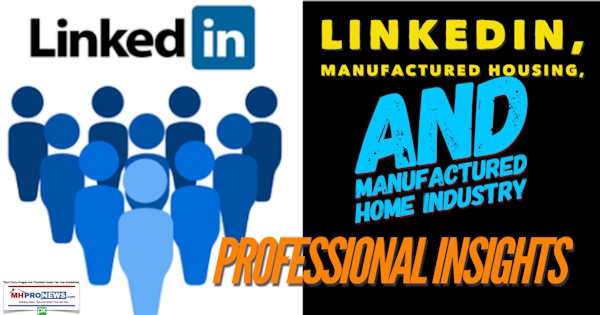 LinkedIn is a useful tool in several respects, one which thousands of manufactured home industry professionals enjoy.
While Facebook certainly has more MH professional users, LinkedIn provides a different look, feel, features, and experience.
Social media in many respects is 'public,' so on publicly posted messages, there is no expectation of privacy.  But so as not to discourage industry comments in social media, this Daily Business News on MHProNews item will not spotlight specific names in this post.
On a recent post by MHProNews on LinkedIn, a self-described Clayton Homes devote protested our coverage of a specific article that featured a mainstream media report by an ABC News affiliate.
That's fine, it is her right, and our publisher thanked her for her comments. In fact, it sparked a useful discussion, worth reading. Let's begin with the back ground.
ABC video reflected significant service problems on a manufactured home sold by one of their TRU producers.  As our publisher – L. A. 'Tony' Kovach – explained to that pro-Clayton industry professional on LinkedIn, this trade publication has for years done fact-checks, analysis and commentary on mainstream media reports about other companies in manufactured housing.  Perhaps she didn't carefully read that article or view that video, because the video was used in part to turn lemons into lemonade.
Clayton is therefore no exception to our coverage of problems attributed to an industry company that has drawn mainstream media attention, and/or our analysis of such coverage and news.  As the largest producer and retailing company in our industry, Clayton no doubt gets more such coverage, but that is true in mainstream media too.
How Hot Is That Clayton Homes Story?
That story about Clayton's service complaints is far and away the most popular read on MHProNews at this moment in October.  To understand the following data, as we've explained previously, MHProNews has numerous URLs and several C-panels.  Each of those has their own unique statistics and traffic. So, when we reveal 'back end' data, this is from only one c-panel, not all of them.  Rephrased, what follows is a fraction of the traffic, not all MHProNews traffic.
Per Webalizer – a third-party analytics provider – here is the data from one C-panel for our trade media site, as of Generated 08-Oct-2018 07:02 CDT.  The first number reflects the rank on that article on our website, the second the hits on that article, and the third rectangular box is the URL.
| | | | |
| --- | --- | --- | --- |
| 2 | 15523 | | https://www.manufacturedhomepronews.com/clayton-homes-ripped-by-customer-complaints-spotlighted-on-abc-news/ |
Clayton Homes Ripped by Customer Complaints Spotlighted on ABC News
Comparisons help someone get a better sense of that traffic. To give you a sense of just how hot that is, another Clayton article from September – for the entire month, not just 7.3 days, produced the following hit count. Again, the first is rank on our website from that URL at that time, the second is hits, the third is the URL.
| | | | |
| --- | --- | --- | --- |
| 13 | 10015 | https://www.manufacturedhomepronews.com/toxic-trailers-clayton-homes-warren-buffett-kevin-clayton-clintons-expose-videos/ | |
"Toxic Trailers" – Clayton Homes, Warren Buffett, Kevin Clayton, Clintons – Exposé Videos
Take Aways?
First, while there are routinely occasions when:
via social media, or in
calls and messages to MHProNews
gets feedback for, against or in between on a particular article.
There is often significant interest in articles on Clayton, 21st, Vanderbilt, their leaders and Berkshire Hathaway Chairman Warren Buffett.
Second, articles that fact-check the Manufactured Housing Institute (MHI) also get thousands of hits, as do a number of others every month. Manufactured Housing Association for Regulatory Reform (MHARR) reports gets thousands of hits, and the MHARR News module often gets 5 figures of hits.  MHI stopped providing articles directly to MHProNews some years ago (note: they did to the Journal as well, prior to their ceasing publication), but others often provide them, for the purposes of fact-checks.
One obvious takeaway is that thousands of industry professionals want to have information other than what is sanitized or weaponized by MHI, Clayton, 21st and their purportedly 'bought and paid for' trade media allies.
As MHProNews – which has long been the number #1 trade media in manufactured housing – is often the only source for such reports, analysis and fact-checks, it is no surprise that 'inquiring minds want to know.'  Others print items of interest, but debatably the reason that we dominate is because we cover topics and issues that others can't, don't or won't.
As a result, MHProNews traffic has more than doubled since November of 2017, both in visits daily and in page views, as the Webalizer screen capture below reflects.  Again, this is one of numerous URLs – only one C-panel of statistics, a fraction of total MHProNews traffic, not all traffic.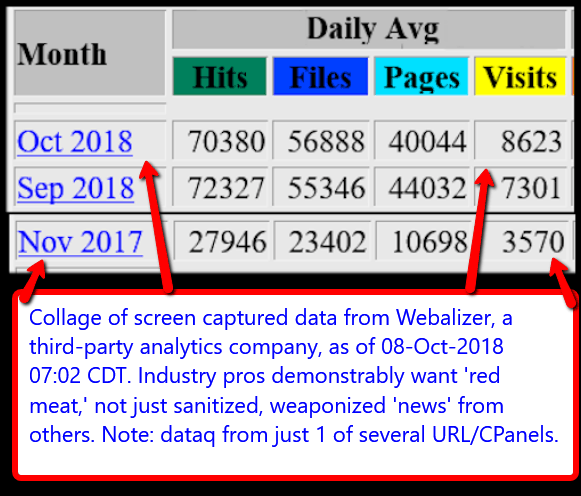 Why Does It Matter?
That community professional's LinkedIn comments were largely polite, and ostensibly at her own initiative. When Tony asked her after the industry was broken off after the post linked below with Clayton, 21st et al, or would it be better off if those giants were broken up under anti-trust laws
The industry gets MHI and their 'big boy' backers news shoved down their throats from several third parties, and/or directly. MHI provides no diversity of opinion. When we provide MHI, Clayton or others a chance to respond, their responses are routinely off the record, not on, if they come at all.
Clayton Homes Consumer Complaints Saga Continues, Mold and More
Off-the-record replies from Clayton Homes team members on this ABC news controversy are found at the link above.  Keep in mind, that in the regrettably smaller world of manufactured housing, negative news that hits them, often unjustly spills over to others in the industry.
It arguably matters to the bottom line of independents and others, even if you don't carry Clayton product.  Hopefully, by spotlighting them, they'll not only address this consumer's concerns, but others before they hit the mainstream media to further impair the industry's public image.
Note that MHProNews has also raised the issue that conventional housing can have similar problems on homes that are often many times the cost of a manufactured home.  See the related reports, linked further below.
We'll close this by noting that industry professionals feedback is encouraged, as are topic suggestions and news tips.  Several stories that we do are published because of tips from readers. "We Provide, You Decide."  © ## (News, analysis, and commentary.)
NOTICE: You can join the scores who follow us on Twitter at this link. You can get our 'read-hot' industry-leading emailed headline news updates, at this link here.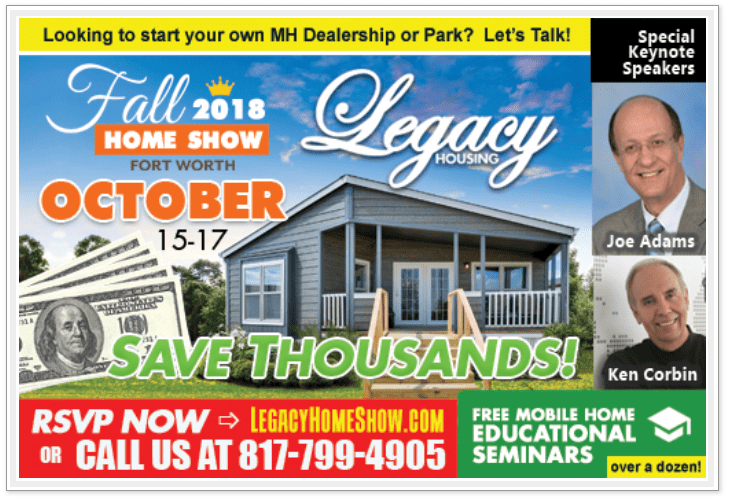 (Related Reports are further below. Third-party images and content are provided under fair use guidelines.)
1) To sign up in seconds for our MH Industry leading emailed news updates, click here.
2) To pro-vide a News Tips and/or Commentary, click the link to the left. Please note if comments are on-or-off the record, thank you.
3) Marketing, Web, Video, Consulting, Recruiting and Training Re-sources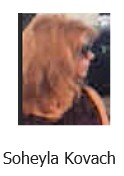 Submitted by Soheyla Kovach to the Daily Business News for MHProNews.com. Soheyla is a managing member of LifeStyle Factory Homes, LLC, the parent company to MHProNews, and MHLivingNews.com.
Related Reports

:
ABC News did the following exposé about the host of problems found in the conventional "site-built" housing industry. The above is one of many such videos. See another example in a local news video, below. This isn't to pick on what D.R. Horton, or any other conventional 'site-builder.'
Smoking Gun 3 – Warren Buffett, Kevin Clayton, Clayton Homes, 21st Mortgage Corp Tim Williams – Manufactured Home Lending, Sales Grab?
Seattle Times -Federal Investigations-Berkshire Hathaway's Clayton Homes, GuruFocus Spotlights Buffett's Clayton's "Unethical," Monopolistic Moat
Warren Buffett Would be Okay With Clayton Homes Losing Money, Says Kevin Clayton – But Why?