"I am a long time reader of your site but have never sent in a tip…below is the link to an article that ran in the Boston Globe last week. As someone in the industry…I have my own opinions on what is said and how the article is written but as the saying goes any publicity is good publicity," read one of the news tips on this particular topic.
Another off-the-record comment among others re: that this same article from the Boston Globe points to "a once in a lifetime opportunity" for manufactured housing, if the industry makes the changes needed to do things right.
Here' was the Globe's featured image and headline.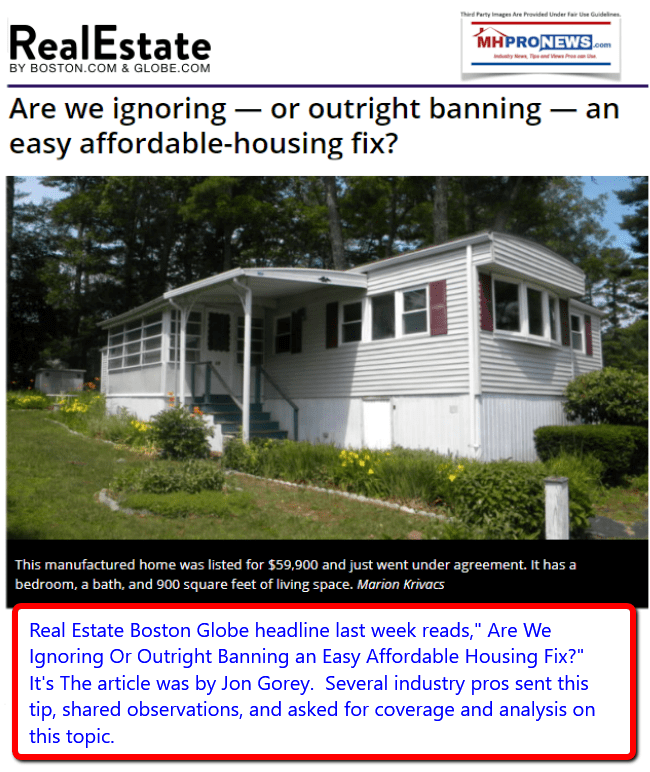 On-the-record was the following.
"This [Boston Globe] article shows the need for strong HUD leadership on the two post-production issues that are hampering the industry's return to production levels in the hundreds-of-thousands of homes — zoning/placement and consumer financing," said Mark Weiss, President and CEO of the Manufactured Housing Association for Regulatory Reform (MHARR).
MHARR has recently sounded off on the Duty to Serve aspect of financing, as part of the issue that is keeping manufactured housing from reaching its potential.
TO: INDUSTRY MANUFACTURERS, RETAILERS, COMMUNITIES RE: GSEs' "DUTY to SERVE UNDERSERVED MARKETS" PLANS FHFA REQUESTS INPUT ON PROPOSED MODIFICATIONS TO AND FINANCE COMPANIES Attached for your review and information is a copy of a notice issued by the Federal Housing Finance Agency (FHFA) on October 3, 2018, seeking public comment on proposed revisions to the initial "Duty to Serve Underserved Markets" (DTS) implementation plans submitted by Fannie Mae and Freddie Mac to FHFA in 2017.
"On zoning and placement, HUD should use its pending revision of Affirmatively Furthering Fair Housing [AFFH] regulations and its enhanced preemption authority under the Manufactured Housing Improvement Act of 2000 [MHIA], to end the discriminatory exclusion of affordable manufactured homes from compatible areas. On financing, HUD should not only seek market-significant support for manufactured home chattel loans under the "Duty to Serve," but should also act to revive and expand the FHA title I Manufactured housing program," said Weiss to the Daily Business News on MHProNews.  
Jon Gorey – Globe Correspondent on Manufactured Housing
"It's notoriously tough to afford a home around Boston, a fact of life threatening not just new home buyers and low-income residents, but arguably the economic vitality of the region itself," wrote Gorey, linked to a report that says that by 2020, there could be a recession.  While several possible contributing factors are cited, one of them is a lack of affordable housing.
"Home prices, meanwhile, have risen in step with the economic expansion. The median sales price of a single-family home in the Boston area rose 54 percent, to $652,500, in June 2018 compared to $423,500 in June 2009, according to the Greater Boston Association of Realtors," per the Boston Globe cited by Gorey.
That same link includes a quote from the National Association of Realtors Chief Economist Lawrence Yun. Per Yun, the length of the current economic expansion may prompt questions of when it might end, but he doesn't see any fundamental reasons for a recession. "I would say the probability over the next couple years is still low,'' Yun said. "The fundamentals are very solid in terms of the wealth of the country, company profits, [and] the borrowing level not being too excessive.''
Yun was cited by the Globe as noting what the Daily Business News on MHProNews has been spotlighting for years. Conventional housing inventory is scarce, especially at the lower end of the market. Due to the forces of supply and demand, that means housing prices are unlikely to fall. "Even with a recession, I don't think entry-level home prices would decline. There's a pent-up demand ready to pounce if there's any softness in prices,'' Yun said.
"Hungry for housing solutions, leaders are pressing for more low- and moderate-income units or to loosen local zoning restrictions on high-density, transit-oriented development," stated Gorey. "But we might be overlooking — or even snubbing — one of the least expensive and most effective means of addressing our housing woes: mobile homes."
Gorey doesn't immediately clarify his interchangeable mixed use of the terms, "mobile homes"1 and "manufactured homes", as does author and researcher, Esther Sullivan, whom he quotes as follows.
"Mobile homes1 are this country's single largest source of unsubsidized affordable housing,'' said Esther Sullivan, who authored "Manufactured Insecurity: Mobile Home Parks1 and Americans' Tenuous Right to Place.''  Sullivan has both praised and criticized the industry for years, and is an assistant professor of sociology at the University of Colorado, Denver. "They provide housing at an unmatched level of deep affordability.''
The video below was not part of the Boston Globe column, but features Esther Sullivan.
"With a median household income of $33,400, most manufactured home residents in the United States would qualify for subsidized housing — if there was enough available, which there isn't. To bridge that gap, they've found an imperfect but mathematically viable workaround in the private sector. While the median price of a single-family home in Massachusetts was $423,250 in July — and at $398,950, the median-priced condo wasn't much cheaper — the average manufactured home doesn't even fetch six digits brand new," said Gorey.
It's a similar data point that was cited last summer on MHProNews in the research by NAR's Certified Business Economist (CBE) Scholastica 'Gay' Cororaton.  She went on to point out in a follow up that the income of renters and manufactured home owners is virtually the same, which suggests that in terms of payments, they could easily make the change, because it would save them money.
Realtor University, Journal for the Center of Real Estate Studies, Makes Corrections– "The Market for Manufactured Homes," by Scholastica 'Gay' Cororaton, CBE
"Before we go any further, let's define some terms," Gorey wrote. "A manufactured home is essentially a mobile home1 built after 1976, when the Department of Housing and Urban Development established a nationwide building code to ensure all manufactured housing was constructed to new standards of safety, quality, and efficiency."
As the off-the-record quote above suggested, this is one of those points that is less than ideally defined.
Today we'll keep it shorter than normal, because we want you to be able to focus on the infographic and data provided below. We could sum this up like this. There is a lot of misinformation about modern manufactured homes, starting with terminology. From there, one can move on to issues of quality, durability, appreciation, and more.
But Gorey regains ground by quoting another urban planning expert.
"The HUD Code was the first preemptive national building code in the world,'' stated George "Mac'' McCarthy, president and CEO of the Lincoln Institute of Land Policy in Cambridge. That means it supersedes all local building codes, making it possible to complete and inspect a home at the factory. "A lot of people act as if it's a problematic housing stock, but that's because they're looking at stuff built before the HUD code,'' McCarthy said.
Rephrased, McCarthy is saying that manufactured housing are evolutionary distinct from mobile homes, that merit the name change to clarify that distinction. There are hundreds, if not thousands, of professionals in our own industry who do as Gorey does. Namely, using the term interchangeably.
But McCarthy's point is that terminology matters. He sounds a bit like LMHA's Steve Duke.
Gorey continues his effort at definitions.
"Modular (sometimes called "pre-fab'') homes are likewise factory built, but delivered in sections and then assembled on site. That means they share some efficiencies of off-site construction — there are no weather delays on the factory floor — but they're still subject to local building codes. He then returns to quoting McCarthy. "The problem with modular is you can't bring it to the site ready for occupancy, you have to leave the walls open so local inspectors can inspect the electrical and plumbing. But you can still displace a lot of the construction cost, and you minimize waste.''
What makes housing unaffordable in Boston – or other cities – per McCarthy, goes beyond the high price of land — "though that's a very large part of it" said Boston's writer.  It is also the cost of local labor and construction.
"And that's where the waste-reducing, assembly-line efficiency of manufactured housing yields big savings. The median site-built home in the Northeast cost $135.10 per square foot to build in 2017; a manufactured home averages just $50.42 per square foot, or less than half the price," states Gorey.
McCarthy is cited as saying that a 1,600-square-foot single-family home can be produced in the $80,000 range, which could in some markets include higher-quality materials and Energy Star-rated efficiency. "There's no way you could touch that with on-site construction,'' McCarthy said.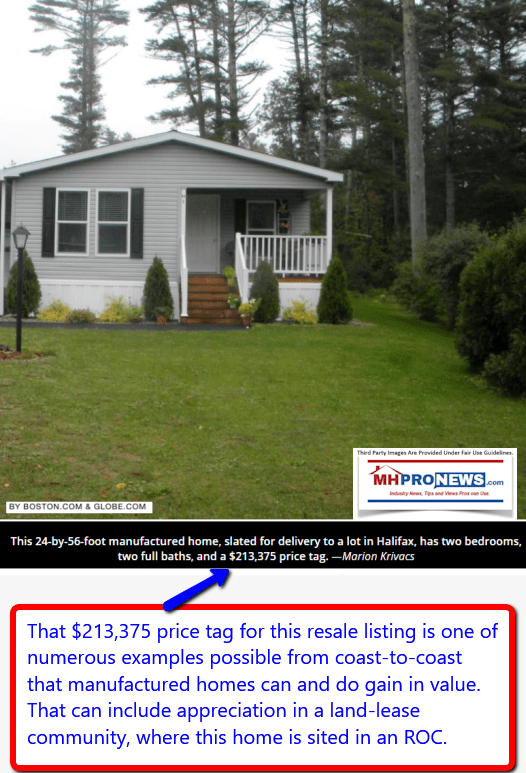 What's Behind the Curtain?
"Those numbers should grab the attention of sticker-shocked house hunters and affordable-housing advocates alike," said Gorey, adding, "But manufactured housing also faces a few mostly external obstacles."
That last point is evocative of the Urban Institute, which asked in January, why aren't more manufactured homes being sold, given the affordable housing crisis?
It's an advantage for MHProNews readers to understand that our insights into media and journalism are useful in approaching an article like this one on Boston. There are tell-tale clues that this is a commissioned report, a higher class 'advertorial.'
MHProNews reached out to writer Jon Gorey, and asked him specific questions about Clayton Homes, and/or the Manufactured Housing Institute's potential role in this article.
Why?
The following is a composite of screen captures, with observations by MHProNews, taken from Gorey's website. What does it mean? In brief, Gorey writes articles for others, and gets paid for that, and some of those end up in mainstream media outlets.
Rephrased, when you look at the Boston article – which lacks several points, video, and illustrations we've provided here for MHProNews readers – to the vast majority of Americans it looks like a 'real' mainstream article.
This may get some industry pros excited.  Hold that for a few moments, because it is in part a purported effort at
deflecting concerns about Clayton Homes, Berkshire Hathaway affiliated manufactured housing lending, and MHI.
It can also be seen as a way of promoting Clayton Homes, using a variation on product placement. High cost conventional housing is shown.
Photos of manufactured homes in their market are shown. Then you have two illustrations that bear the Clayton name, which look better than the other two illustrations. The comparison is meant to make the Clayton product seem like a super bargain, which any new manufactured home compared to those conventional or photographed home would look good by comparison.
Don't miss the above, because it speaks volumes.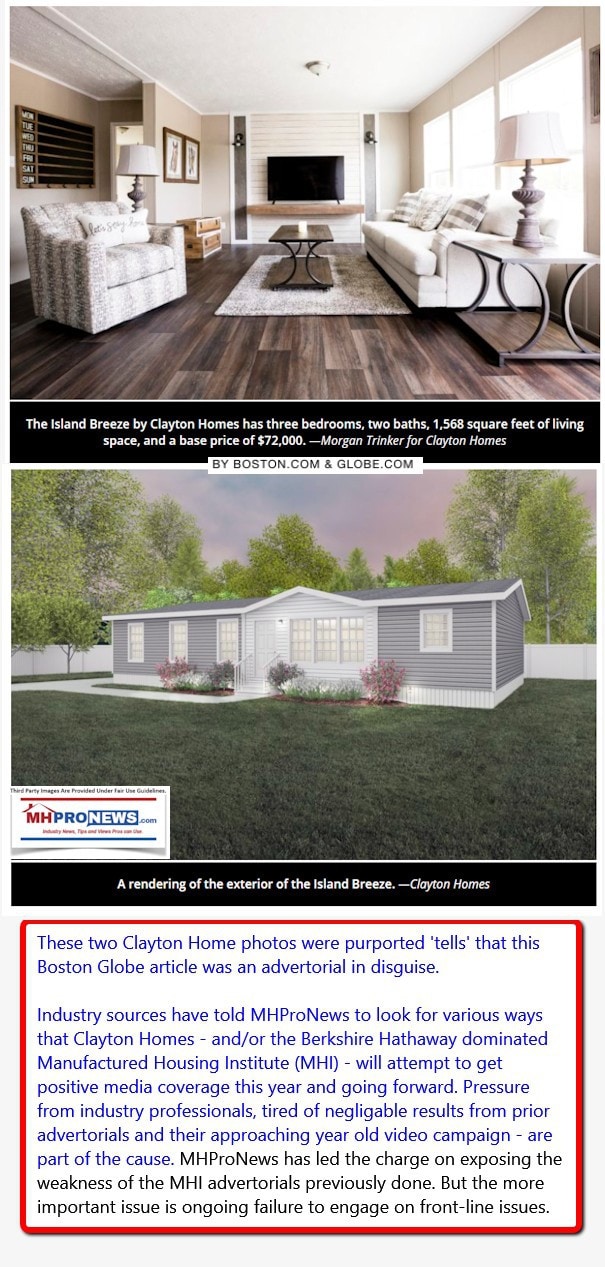 That said, this isn't the first or likely the last time that the Boston Globe did a positive write up, promoting manufactured housing.  MHLivingNews featured such a story a few years ago.
Recent positive stories in the mainstream media have brought more attention and interest in using modern manufactured homes in a metropolitan setting. This is already being done in other countries, and could just as easily be taking place here in the United States.
It should be noted that ROC USA, and Paul Bradley, was spotlighted in this same article. It is a common theme for many progressive publications, promoting coops over investor owned properties, even though Bradley himself has said to MHProNews that there are numerous good, investor/family owned land-lease community operations.
Sullivan Debunks "Trailer Trash"
"There's nothing about this housing structure that makes people 'trash,' '' said Sullivan, who lived in two manufactured home communities for over a year while researching her book. "In my own experiences, I found these places to be really vibrant, supportive communities of neighbors.'' But she points out that the decades-old stigma against manufactured homes "is codified in law in the form of zoning and local planning ordinances.''
The Boston Globe purported advertorial is found at the link below. FYI, for those professionals that want to do something like this the right way with mainstream media, check out this link here.
It's notoriously tough to afford a home around Boston, a fact of life threatening not just new home buyers and low-income residents, but arguably the economic vitality of the region itself. Hungry for housing solutions, leaders are pressing for more low- and moderate-income units or to loosen local zoning restrictions on high-density, transit-oriented development.
In fairness, this Boston Globe article is a better effort than the advertorials that MHI has bragged about, but which have demonstrably failed to advance industry sales or the acceptance of our homes.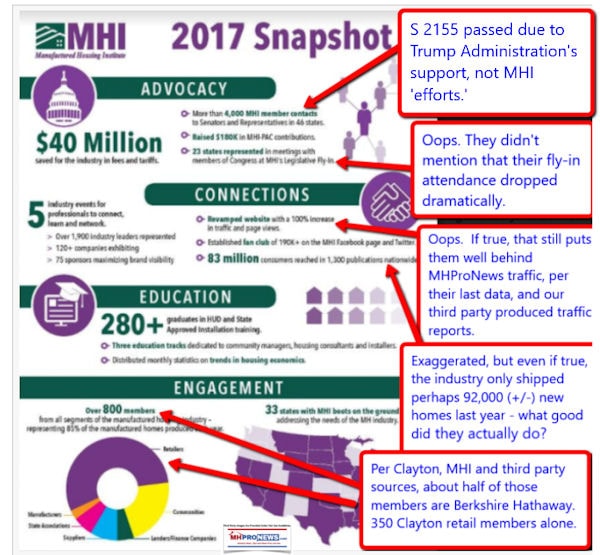 But until MHI, and companies like Clayton Homes, engage on front line issues, and directly engage the media in an authentic way, this is unlikely to make much difference in sales for MHVille. Watch and see.
Check out related reports, linked further below the banner ad.
"We Provide, You Decide."© (News, analysis, and commentary.)
NOTICES: You can join the scores who follow or direct message us on Twitter at this link. You can get our 'read-hot' industry-leading emailed headline news updates, at this link here.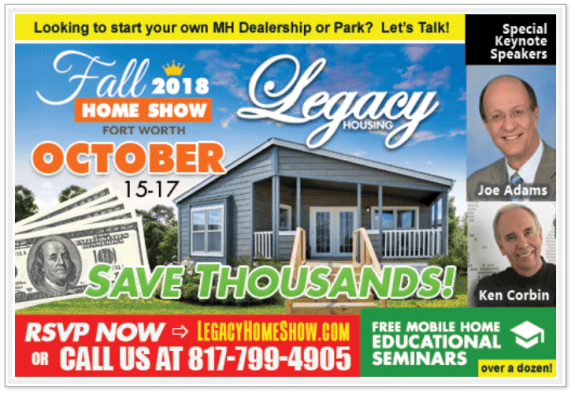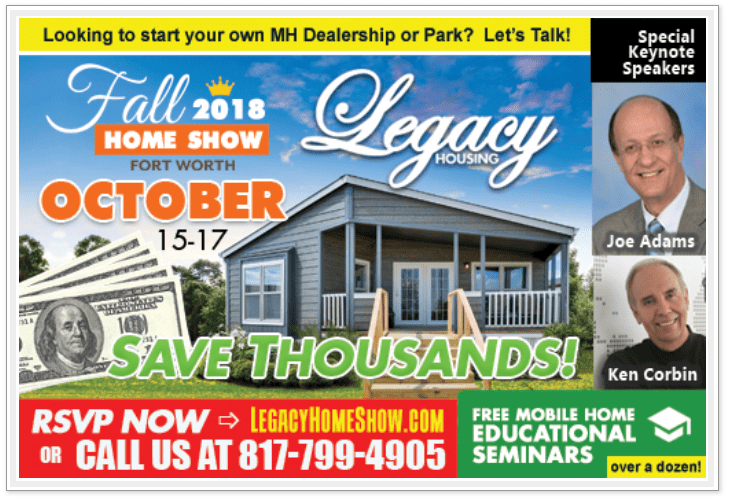 (Related Reports are further below. Third-party images and content are provided under fair use guidelines.)
1) To sign up in seconds for our MH Industry leading emailed news updates, click here.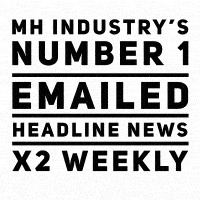 2) To pro-vide a News Tips and/or Commentary, click the link to the left. Please note if comments are on-or-off the record, thank you.
3) Marketing, Web, Video, Consulting, Recruiting and Training Re-sources
Submitted by Soheyla Kovach to the Daily Business News for MHProNews.com. Soheyla is a managing member of LifeStyle Factory Homes, LLC, the parent company to MHProNews, and MHLivingNews.com.
Related Reports

:
NBC Video – Federal Authorities Investigating Clayton Homes, Maxine Waters Denounces Lending "Discrimination" Against Minorities
Washington, D.C., October 11, 2018 – The Manufactured Housing Association for Regulatory Reform (MHARR), in written comments filed with the U.S. Department of Housing and Urban Development (HUD) on October 11, 2018 ( see, copy attached) has called on HUD to promote zoning and placement parity for federally-regulated manufactured homes as part of the Department's plan to amend its regulations for Affirmatively Furthering Fair Housing (AFFH).
Facts & Analysis – Senator Elizabeth Warren re: Manufactured Housing Institute Memo to MHI Members, 10-3-2018
LinkedIn, Manufactured Housing, and Manufactured Home Industry Professional Insights
Washington, D.C., October 3, 2018 – The Manufactured Housing Association for Regulatory Reform (MHARR) reports that according to official statistics compiled on behalf of the U.S. Department of Housing and Urban Development (HUD), strong year-over-year manufactured housing industry production growth continued in August 2018.