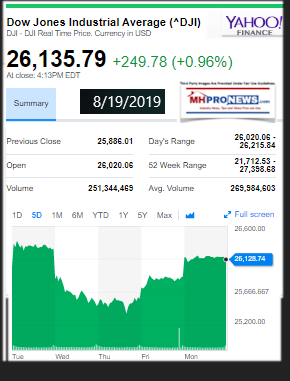 There are already federal investigations of Google and others in Big Tech – notably the so-called FAANG companies – underway. There are already voices that have said that Google and other FAANG operations have attempted to tip the scales in favor of progressive views as opposed to conservative ones. To the credit of some on the political left, there are Democratic voices that are as alarmed as are some Republicans, minor parties, or political independents.  The whistleblower that will be our focus this evening may seem to have zero to do with manufactured housing, but never forget Google's search result for the definition of a manufactured home, linked here.  This isn't just about politics, it is an intersection of politics, business, culture, and more.  If knowledge is potential power, then those who can manipulate the access to online information could dominate modern society in ways few dared imagine just 15 years ago.  On a day when the markets continued to recover from the last drop, the headline topic will be today's featured report.
Every evening our headlined provide snapshots from two major media outlets on each side of the left-right news spectrum that reflect topics that influence or move investor sentiment. In moments on this business evening report, you can get insights-at-a-glance.
 This report also sets the broader context for manufactured housing markets, in keeping with our mantra, "News through the lens of manufactured homes and factory-built housing" ©.  
 We begin with left-of-center CNN followed by right-of-center Fox Business. We share closing tickers and other related data courtesy of Yahoo Finance, and more. 5 to 10 minutes reading this MHProNews market report every business night could save you 30 minutes to an hour of similar reading or fact-gathering elsewhere.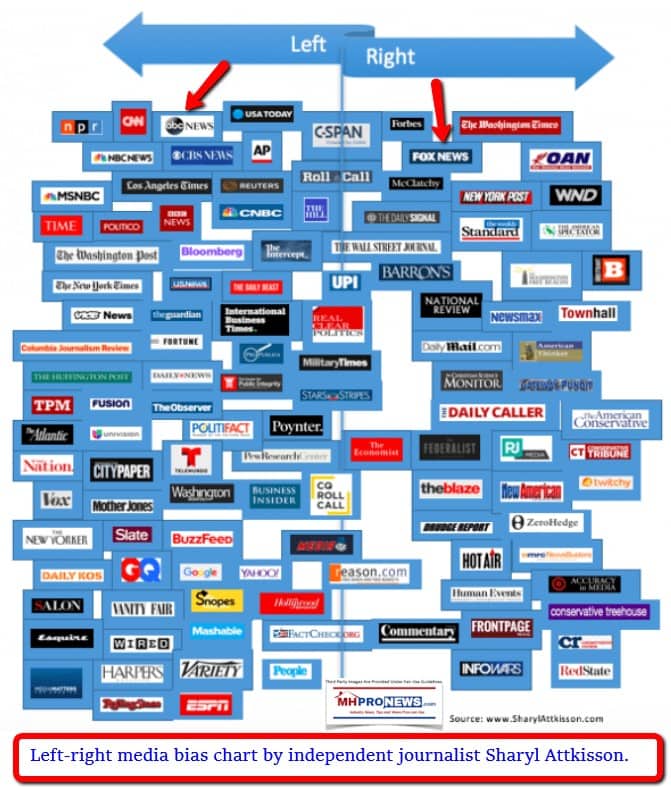 Headlines from left-of-center CNN Business.
·        China's covert campaign to sow discord
·        Facebook and Twitter say Beijing is using social media to undermine the protests in Hong Kong
·        Dow jumps 250 points on hopeful signals about trade
·        China's central bank is cutting interest rates by stealth
·        Here's how YouTubers make money off platform
·        US broadens Huawei blacklist but extends a limited reprieve for companies to do business with China tech giant
·        Disney reveals when it's streaming service will go international
·        Bernie Sanders wants to stop police from using facial recognition software
·        Gamescom: What was announced at the world's biggest video game conference
·        Nintendo announces dozens of new indie games coming to the Switch
·        Hong Kong's richest man cuts $5.6 billion deal for a British pub chain
·        Germany's central bank issues recession warning
·        Nike expands protections for pregnant athletes after backlash
·        An Amazon Echo Plus smart speaker photographed on a kitchen counter, taken on January 9, 2019. (Photo by Olly Curtis/Future via Getty Images)
·        Yes, tech companies may listen when you talk to your virtual assistant. Here's why that's not likely to stop
·        America's CEOs just made a significant, if mainly symbolic, change
·        Starbucks Delivers expands in U.S. powered by Uber Eats
·        Fast food companies are betting big on delivery. It might not pay off
·        1930s Porsche fails to sell after auction snafu
·        James Bond Aston Martin sells for $6.4 million
·        Bugatti is only making 10 of these $9 million supercars
·        Porsche just remade the 911
·        GM unveils a radically new Corvette
·        Apple's 'very compelling' argument against tariffs
·        Big Tech just dodged a tariff-sized bullet
·        I tried 5G. It will change your life — if you can find it
·        Apple's credit card is here, but most people can't use one
·        Apple has stopped letting contractors listen to Siri voice recordings
Headlines from right-of-center Fox Business. 
·        FACEBOOK, TWITTER SAY CHINA RUNNING DISINFORMATION CAMPAIGN AGAINST HONG KONG PROTESTERS
·        US stocks gain on trade optimism, Fed stimulus hopes
·        Apple CEO Tim Cook made 'very compelling argument' against tariffs, Trump says
·        These 5 countries are teetering on the brink of a recession
·        WARREN BUFFETT'S BERKSHIRE HATHAWAY SEEKS 'ELEPHANT-SIZED' ACQUISITION: HERE ARE SOME OPTIONS
·        Warren Buffett's Berkshire Hathaway has a record $122 billion of cash.
·        US will 'bear all consequences' if it closes $8B fighter jet deal with Taiwan, China says
·        Big Brother watching you? These are the world's most heavily surveilled cities
·        Top US CEOs say shareholders' profits no longer top priority
·        Homeless crisis forces small business owner in California to relocate, she says
·        NFL player Cedric Benson shared eerie Instagram message before fatal crash
·        Texas cities, towns slammed by costly cyberattack
·        Here's one of Jennifer Lopez, Alex Rodriguez's latest investments
·        Trump urges Fed to lower rates by at least 1%, 'print' more money
·        First responders at Earnhardt Jr. plane crash get free NASCAR tickets
·        How much new China tariffs could cost American households: JP Morgan analysts
·        Workers admit to crying at work, majority blame it on these reasons: Report
·        Taxes drive New Yorkers to Florida by the truckload in just a decade
·        Macy's, JCPenney partner with world's largest thrift store
·        Student loan debt forgiveness would hurt US economy, survey finds
·        How a phony car loan scam bilked credit unions out of millions
·        Top CEOs say profits shouldn't be primary goal of corporations
·        Former UBS Financial Services CEO Joe Grano explains U.S. CEOs' move to place less emphasis on shareholder value in favor of employee benefits and well-being.
·        8 out of 10 Americans have reportedly cried while at work
·        Sports reporter Mike Gunzelman on a report that eight in 10 people have cried at work and a new study that 55% say they didn't use their allotted vacation time last year.
·        Will car dealers' inventory overload mean good deals for consumers?
·        FoxNews.com Automotive Editor Gary Gastelu on and the future for hybrid and electric vehicles.
·        Facebook, Twitter say China running disinformation campaign against Hong Kong protesters
·        Will global growth concerns slowdown the US economy?
·        Big Brother watching you? These are the world's most heavily surveilled cities
·        Eight of the world's top 10 cities under the most surveillance have something in common.
·        Digital Tax on Google, Amazon, Facebook, others will gut consumers and small businesses
·        Google, Facebook, and Amazon and several other major tech companies argued the digital services tax by France will hurt small business and consumers during a U.S. hearing Monday.
·        Basic Fun! CEO on the impact of Trump's China tariffs
·        Basic Fun! CEO Jay Foreman discusses how the U.S.-China tariff war is affecting the toy industry.
·        Texas cities, towns slammed by costly cyberattack
·        At least 23 Texas towns suffered a "coordinated" ransomware attack, according to the state's Department of Information Resources.
·        Corporations coming to terms with a Sanders or Warren presidency: 32 Advisors CEO
10 Market Indicator Closing Summaries – Yahoo Finance Closing Tickers on MHProNews…

Tonight's Business/Market/Political Impact Spotlight –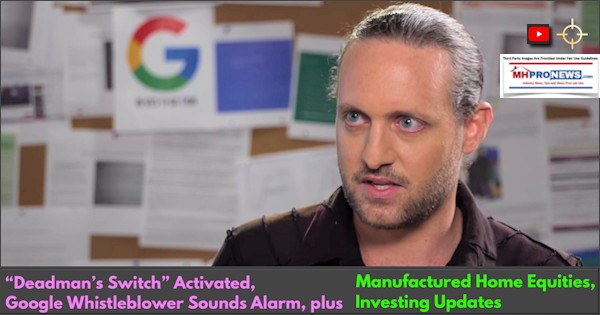 Former Secretary of State Hillary Clinton – and the Democratic nominee for president in 2016 – says it just ain't so.
Google denies the claims.
But Project Veritas and several right-of-center news sites are making the case that a Google whistleblower, who has internal documents that he says proves his points, is just saying what millions already believe is true.
Here is what left-of-center CNBC used as their bullets today on this topic.
·        President Trump tweeted Monday that Google "manipulated" results of the 2016 election and "should be sued."
·        The tweet came after a whistleblower released internal documents to conservative group Project Veritas, which purported to show bias in Google's search results.
·        The leaked documents give fresh ammo to conservative lawmakers who have already accused Google and other tech companies of political bias.
While it is true that conservative lawmakers have made that case, to their credit, there are Democratic lawmakers who have also said that such purported bias are among the reason that big tech doesn't need to be regulated. Rather, Google and others need to be broken up under antitrust laws.
Zachary Vorhies, identifies himself online as a former senior software engineer at Google.  It is he who said in the video below that out of caution he set up a dead man's switch to protect himself against Google.
Scott Galloway has been making that argument for some years.  He's not opposed to technology, his career is largely based upon it.  But he nevertheless says that the tech giants have become too big, and must be broken up for the good of the marketplace.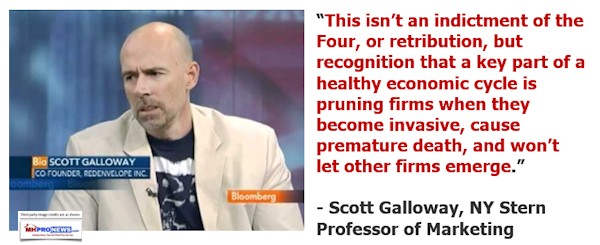 MHProNews highlighted the work of a New York Times columnist who outlined the history of the battle in America from its founding to modern times.  That report is linked below.
New York Times-David Leonhardt-"The Monopolization of America," Manufactured Housing Slant
What many investors may not have considered – until now – is how Google or other tech giants could be manipulating markets and investments through manipulations of news and search results.  If a small group can, for good or ill, cause a stock to rise or fall, what is the possible impact of a search engine or tech giant's ability to limit or promote an industry or business?
Madoff Whistleblower – GE 'Bigger Fraud Than Enron,' plus Manufactured Home Stock Updates
President Trump has tweeted on the topic, saying Google 'manipulated' votes in the 2016 election and 'should be sued.'  That may be in the works by the Trump Administration antitrust division of the Department of Justice.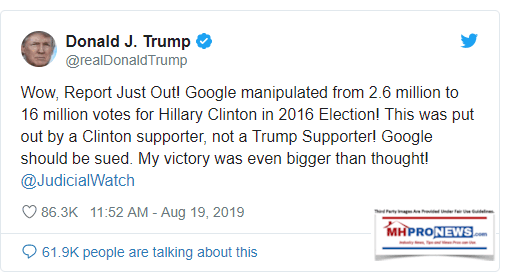 It is a likely reference to Clinton and Democratic supporter Robert Epstein.
"The Creepy Line" Video DocuDrama, Manufactured Housing – The Problem, Solution, and You
The manipulation of news and information is a serious problem that goes beyond big tech.  It is but one of the examples of the monopolization of America, which has arguably impacted manufactured housing in several ways.
Related Reports: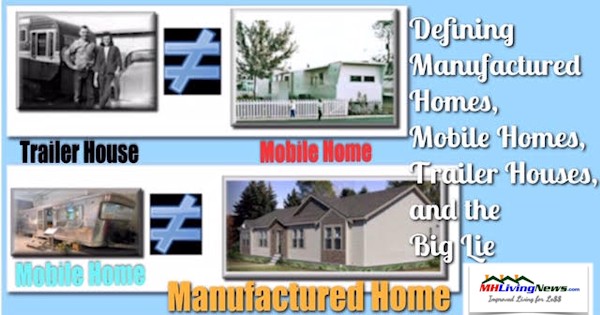 Conglomerate People Love, Hate – Google's 'Bias,' 2020, Investing, and Manufactured Housing
Barron's Reports George Soros Move Presaging Market Drop, Harming Manufactured Housing, FAANG Stocks
Google Employees Go Public, Protest Controversial "Project Dragonfly"
AG Barr Announces Broadest Antirust Probe Yet, plus Manufactured Home Stock Updates
News Media Alliance Slams "Anti-Competitive Behavior," Report, Congress Investigates – Plus Manufactured Home Stock Updates
Attorney Harmeet Dhillon – 'They Are Gaslighting Us,' 'Ignoring This At Your Peril – Plus Manufactured Housing Market Updates
Big Tech, Big Brother, 1984, Manufactured Home Professionals, and You
Manufactured Housing Industry Investments Connected Closing Equities Tickers
Some of these firms invest in manufactured housing, or are otherwise connected, but may do other forms of investing or business activities too.
NOTE: The chart below includes the Canadian stock, ECN, which purchased Triad Financial Services.

NOTE: Drew changed its name and trading symbol at the end of 2016 to Lippert (LCII).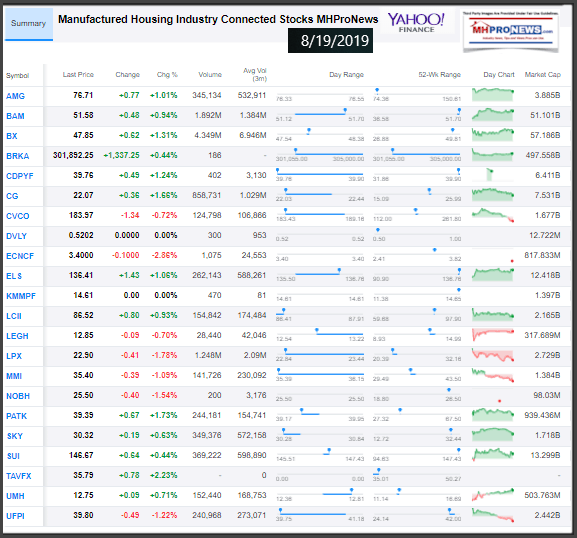 Updated…
Berkshire Hathaway is the parent company to Clayton Homes, 21st Mortgage, Vanderbilt Mortgage and other factory built housing industry suppliers.
· LCI Industries, Patrick, UFPI, and LP each are suppliers to the manufactured housing industry, among others.
· AMG, CG, and TAVFX have investments in manufactured housing related businesses.
Your link to an example of industry praise for our coverage, is found here and here. For the examples of our kudos linked above…plus well over 1,000 positive, public comments, we say – "Thank You for Your Vote of Confidence."
· For expert manufactured housing business development or other professional services, click here.
· To sign up in seconds for our industry leading emailed headline news updates, click here.
· Disclosure. MHProNews holds no positions in the stocks in this report.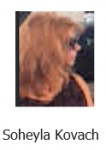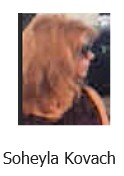 "We Provide, You Decide." © ## (News, analysis and commentary.)
(Image credits and information are as shown above, and when provided by third parties, are shared under fair use guidelines.)
Submitted by Soheyla Kovach, co-managing member of LifeStyle Factory Homes, LLC and co-founder for MHProNews.com, and MHLivingNews.com.

Connect with us on LinkedIn here and here.