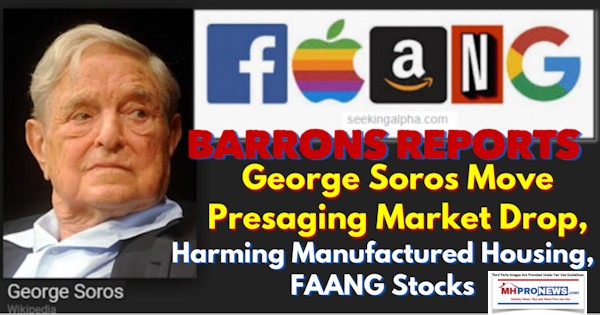 Facts, evidence, and reason are for mature adults. Conspiracy theories are a dime a dozen, because they often use a lack of evidence as if it was evidence.
Facts are ignored at the peril of those who – for whatever reasons – ignore them.
"Billionaire investor and liberal activist George Soros has been known for investing moves that have succeeded wildly—and also for ones gone horribly wrong," said Ed Lin, writing in Barron's.
He added, "Chalk up three recent moves in his win column."
The move Lin described is this, "Soros Fund Management, which Soros founded and chairs, exited social-network giant Facebook (FB) completely in the third quarter, while also slashing positions in Netflix stock (NFLX) and Goldman Sachs Group stock (GS). Those three stocks have tumbled in the fourth quarter so far, with Facebook and Goldman setting new lows Tuesday. They are down almost 20% and 15%, respectively, so far this quarter. Highflying streaming-content giant Netflix has tumbled almost 29% since the end of September."
That report was last week, other MHVille reports prevented us from covering this point prior to today. That may have been a blessing in disguise, because other developments have shined more light on this issue since then. Before segueing to those developments, let's finish another relevant point.
Lin underscores, "The firm declined to comment on its trades. The fact that Soros Fund Management sold its entire Facebook position doesn't necessarily mean Soros isn't still invested in the company through personal holdings or other means, or that his fund hasn't bought any Facebook stock since the start of the fourth quarter."
Earlier this year, Barron's also quoted Soros saying, "he had choice words for Facebook (ticker: FB) and Google (GOOGL), referring to them as monopolistic menaces."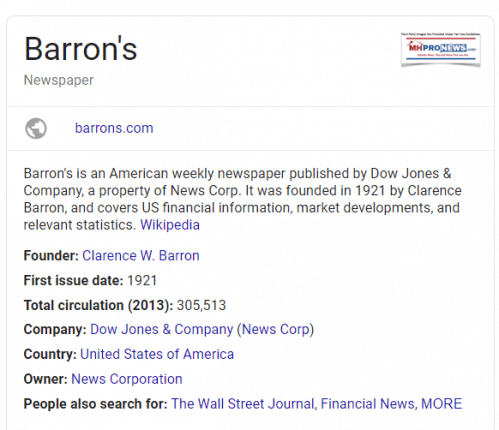 FAANG's Fall dragged Manufactured Housing Stocks With It
As our recent reports on the markets have revealed, when the broader markets slid with the FAANG stock fall, most manufactured home stocks dropped in value with them.
Rephrased, manufactured housing has not yet restored the fundamental faith in our industry as a resistant, durable, and stable sector that our market could achieve.
We noted on the Daily Business News last night a pair of points of agreement between Warren Buffett and MHProNews. Two of those points of agreement?
Manufactured housing is a prudent sector to be involved in, and it can be costly to jump every time that the market moves. See the video with that part of Buffett's investment strategy at this link here.
Buffett MHProNews
We also noted recently that sometimes apparently like-minded groups or purported allies turn on another. A historic example of that is Nazi Germany turning on the Soviet Union, only a few years after the two divided Poland between the two neighboring giants.
MHPros who are MHI members? Take note of the above. It has reportedly happened in our industry several times.
Do Billionaires Have an Outsized Ability to Move Markets?
The short answer is obvious. Of course they do.
One of the more insightful columns that matters to MHVille professionals was the one in the New York Times, found by clicking the box-hot-linked below.
New York Times-David Leonhardt-"The Monopolization of America," Manufactured Housing Slant
Among the points that author David Leonhardt made is that much of American history can be seen through the lens of would-be or actual monopolistic forces vs. those who oppose being monopolized.
Facebook has made some moves of their own since this perceived attack by Soros against their operation. That is similarly relevant to manufactured housing, and is planned for coverage in an upcoming MHProNews report and analysis.
George Soros – Warren Buffett Connections – and MHVille
The trend lines of MHProNews readership over the last year reflects serious growth. That means, new readers are checking this site out routinely. New and existing readers should know that many of the biggest names and the largest companies in our industry either personally read MHProNews, and/or they have team members that monitor much or all that we publish.  That's known from a variety of informed sources, including from said companies.
Small to mid-sized businesses are also among the readers that crave the insights learned here.
That's a segue to say this: that if you haven't read the related reports linked further below, you need to do so as your time permits.  Because they are among the most read in all of manufactured housing in this year.
Because on several levels, Soros and Buffett have politically operated in favor of similar causes and candidates.
Specifically, Buffett and Soros have via intermediaries – one of the points Lin made in the pull-quotes cited above – have funded groups that have worked to undermine specific
manufactured home community owners,
members of the Trump Administration – like HUD Secretary Ben Carson –
and others involved in our industry too.
It is prudent to file these thoughts away mentally for future reference. There is potential on the horizon that antitrust action will emerge from Washington, D.C. in 2019 and 2020. See the related report further below.
The fundamentals of the economy are currently sound and growing. The fundamentals of most companies on the major markets are good. So, the wild fluctuations are often being driven by headlines and fears, as market experts have noted.
MHProNews believes that facts, evidence, and reason are the antidote to deadly ruts or mere wishful thinking.  Only knowing and acting upon the truth will set people free.
Note: there will be no stock report today, as the nation's markets are closed to honor the loss of George H.W. Bush. May he rest in peace. "We Provide, You Decide." © ## (News, analysis, and commentary.)
NOTICE: Readers have periodically reported that they are getting a better experience when reading MHProNews on the Microsoft Edge, or Apple Safari browser than with Google's Chrome browser. Chrome reportedly manipulates the content of a page more than the other two browsers.
(Related Reports are further below. Third-party images and content are provided under fair use guidelines.)
1) To sign up in seconds for our MH Industry leading emailed news updates, click here.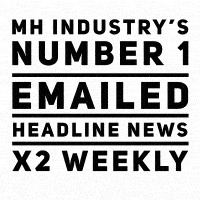 2) To provide a News Tips and/or Commentary, click the link to the left. Please note if your comments are on-or-off the record, thank you.
3) Marketing, Web, Video, Consulting, Recruiting and Training Re-sources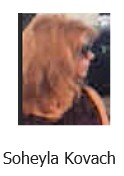 Submitted by Soheyla Kovach to the Daily Business News for MHProNews.com. Soheyla is a managing member of LifeStyle Factory Homes, LLC, the parent company to MHProNews, and MHLivingNews.com.
Related Reports

: Click the Boxes Below to Read More…
FAANG Stocks Drop $140 Billion, Plus Manufactured Housing Industry Markets
Does Google Harm Manufactured Housing? Other Forms of Free Speech?
Smart Slider with ID: 11 The Masthead- Editorial Commentary by L.A."Tony" Kovach FHFA Hearing Before Congress Raises GSEs' Failure on Manufactured Home Chattel Financing January 11, 2019 Manufactured Housing Commentary The Ford-Kavanaugh hearing wasn't the only place in Washington, D.C. that charges of sexual misconduct were being publicly discussed yesterday.