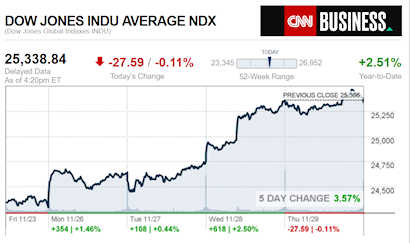 Meaningful and accurate history are arguably as important as accurate news. Based upon corporate and market fundamentals, the markets should be doing better than they have performed in recent months. The reasons are many, but one cause is a broad lack of economic, historic, and political understanding.  Instead of whining about it, MHProNews is doing its part through routine education on topics that are timely. Nazis – National Socialists vs. Communists – will be a short but insightful video with commentary this evening. It is accompanied by our signature data, closing tickers, and headlines bullets for the closing tickers.
If you're new, already hooked on our new spotlight feature – or are ready to get the MH professional fever – our headline report is found further below, after the newsmaker bullets and major indexes closing tickers.
The evolving Daily Business News market report sets the manufactured home industry's stocks in the broader context of the overall markets.  Headlines – at home and abroad – often move the markets.  So, this is an example of "News through the lens of manufactured homes, and factory-built housing." ©
Part of this unique evening feature provides headlines – from both sides of the left-right media divide – which saves busy readers time, while underscoring topics that may be moving investors, which in turn move the markets.
Readers say this is also a useful quick-review tool that saves researchers time in getting a handle of the manufactured housing industry, through the lens of publicly-traded stocks connected with the manufactured home industry.
This is an exclusive evening or nightly example of MH "Industry News, Tips and Views, Pros Can Use." © It is fascinating to see just how similar, and different, these two lists of headlines can be.
Want to know more about the left-right media divide from third party research?  ICYMI – for those not familiar with the "Full Measure," 'left-center-right' media chart, please click here.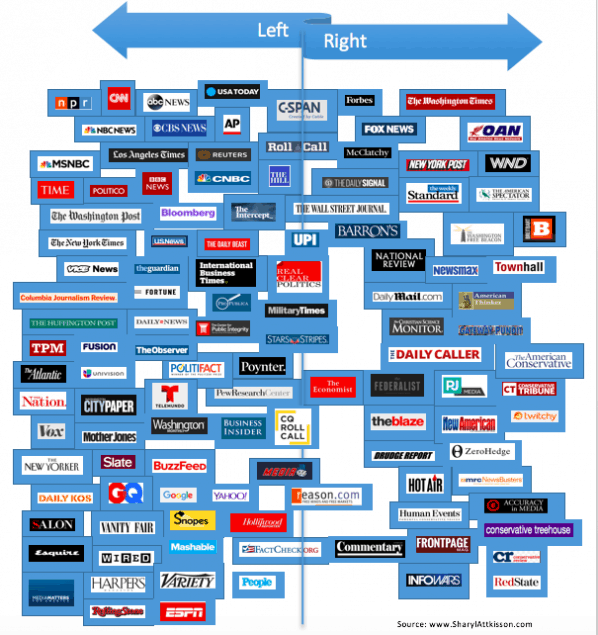 Select bullets from CNN Money…
Jay Powell spoke. Investors were overjoyed. But did they hear him right?
Fed clears path for fourth rate hike in December, signals 'flexible' approach in 2019
Oil fell below $50 a barrel for the first time in over a year
Starbucks is doing better than ever after Howard Schultz
Mic lays off majority of staff
Unilever CEO Paul Polman retires after HQ battle
New allegations against former CBS chief Les Moonves put his $120M severance in doubt
Bayer is cutting 12,000 jobs in the wake of its Monsanto deal
Chobani unveils its next big thing: Yogurt for kids
Patagonia got $10 million in GOP tax cuts. They're donating it for climate change awareness
Deutsche Bank raided in money laundering probe
The US economy is strong. Three signs it won't last
IBM just bought his company for $34 billion. But he says its unique work culture won't change
How three men created a $1 billion salad chain
Payless fools influencers with a fake store
Here's one market Amazon can't easily crack: Car parts
The real story behind BMW's American ambitions
Jeep will make its first pickup in 26 years
Fiat Chrysler steals the show at MotorTrend Car of the Year Awards
The existential threat facing the auto industry
Trump threatens to cut all GM subsidies
Without GM, this town will never be the same
THE GREAT OIL CRASH OF 2018
The oil meltdown has caught almost everyone off guard
Oil and tech's crash have wrecked hedge funds
How low can oil prices go before Saudi Arabia starts hurting?
OPEC warns Trump about the dangers of cheap oil
Does the oil signal economic trouble ahead?
Select Bullets from Fox Business…
Fed minutes: Further hike 'warranted soon,' debate opened on pause
These states spend the most money on welfare
A look at the updated tax brackets for 2019
Stocks take breather after monster rally
Trump reportedly may suspend additional China tariffs under proposed deal
Dick's Sporting Goods' strict gun policy hurts hunting business, shares sink
These six figure jobs don't require a college degree
Zuckerberg may have name stripped from California hospital
Volkswagen eyes North American expansion, just days after GM closures
The gender pay gap may be worse than you thought
EPA lifts advanced biofuel mandate for 2019, keeps ethanol steady: Report
Bayer to slash 12,000 jobs, sell businesses after Monsanto dealNFL's Buccaneers offer free tickets amid sagging attendance
Here's what would happen if Trump cut GM subsidies
US-China trade has created a 'soft spot' in the economy
Burger chain Jack in the Box exploring sale: Report
NFL ratings bounce back amid scoring explosion
US new-home sales plunged 8.9% in October
These cities are home to the most millionaires per square mile
Why 2019 could be a tough year for home buyers and sellers
Investing tips amid a rising interest rate environment
Biggest job search mistakes people make, according to this top recruiting firm
White House to hold roundtable with tech executives
As GM plans scale back in US, BMW considers ramp up
CVS, Aetna merger: What it means for you
These 6 GM vehicles are ending production
Today's markets and stocks, at the closing bell…

Manufactured Housing Composite Value (MHCV)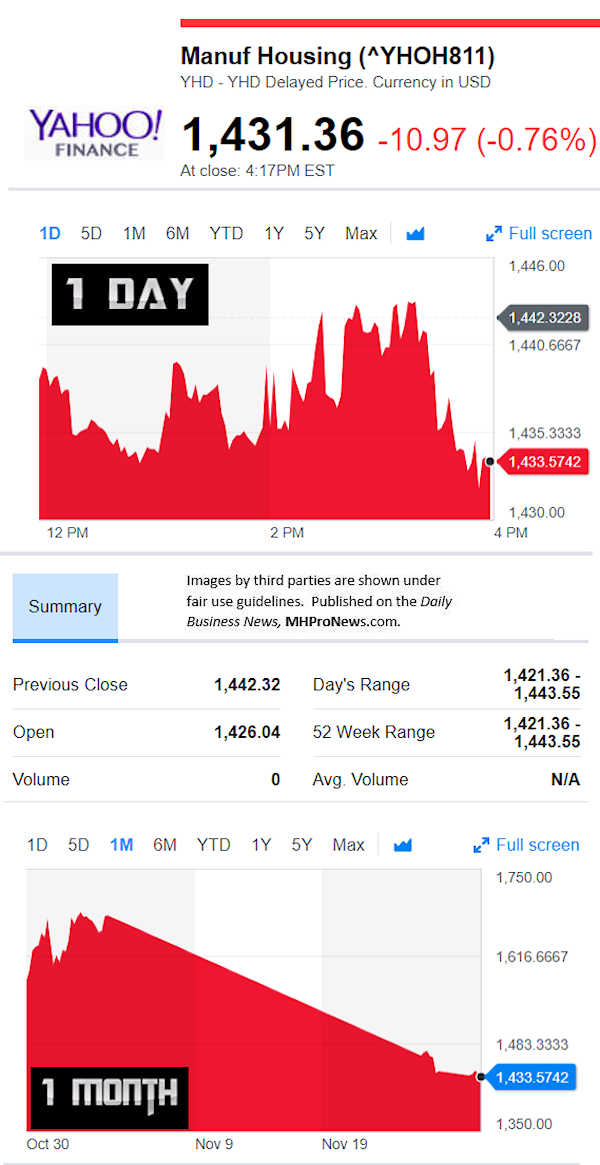 Today's Big Movers
For all the scores and highlights on tracked manufactured home connected stocks today, see the Bloomberg graphic, posted below.
Today's MH Market Spotlight Report –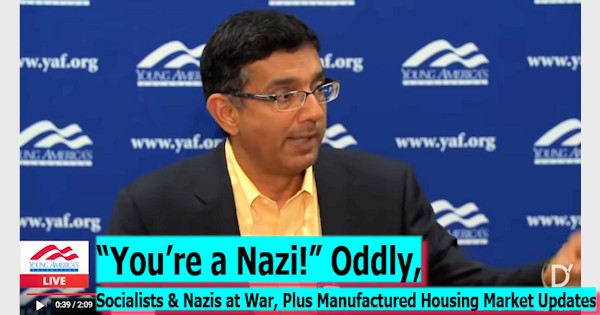 The problem with the politics of personality and great sounding promises are simple yet profound. The appeal of a personality or a great (but false) message can lead potentially millions down a problematic path. 
·        That's happened in Germany during the 1930s, in the person of Adolf Hitler.
·        It occurred during Cuba during the 1950s
·        It happened in China under Mao, in the late 1940s and into the 1950s.
·        It happened in Iran, as the mullahs toppled the Shaw of Iran, in the 1970s.
·        It happened in Venezuela, as the video further below reflects.
Nazi Germany and Soviet Russia arguably had as more in common than millions realize.  In a snippet from author and film maker Dinesh D'Souza, is a pithy Q&A on why Germany and the Soviet Union went to war, when they both shared so many points in common.
The video above is only 3 days old, and already has many times more – about 6x more – video views that the MHI or Clayton 'image changing' videos achieved in over a year. Why?  Because many are hungry for information. Our MHProNews website – which was already #1 in MH Industry trade media – more than doubled traffic in less than a year, in part by tackling controversial topics, often using educational approaches in the mix.

Most independent investors and business owners that encourage their team members to read reports and view videos like the ones posted and linked will arguably be glad that they did.  Only day-by-day education on reality will overcome the widespread misinformation that often causes the markets to hiccup.
Climate Change, Energy, Riots, and Manufactured Housing in Green Era
More market specific is the report linked below.
Crisis of Misinformation, Fact Checks, and Manufactured Housing
And very specific, is the story linked below.  FYI, others have since this report was produced earlier this week confirmed the information that is presented.
Bloomberg Closing Ticker for MHProNews…
NOTE: The chart below includes the Canadian stock, ECN, which purchased Triad Financial Services.
NOTE: The chart below covers a number of stocks NOT reflected in the Yahoo MHCV, shown above.
NOTE: Drew changed its name and trading symbol at the end of 2016 to Lippert (LCII).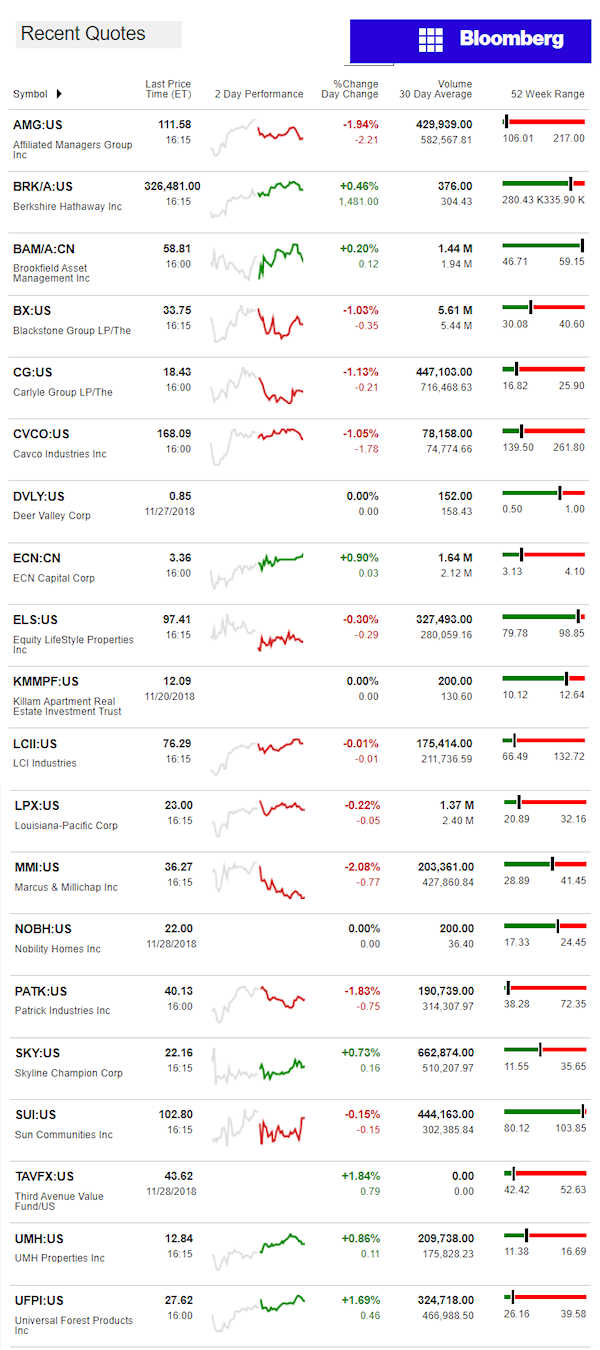 Berkshire Hathaway is the parent company to Clayton Homes, 21st Mortgage, Vanderbilt Mortgage and other factory built housing industry suppliers.
LCI Industries, Patrick, UFPI and LP all supply manufactured housing.
AMG, CG and TAVFX have investments in manufactured housing related businesses.
Your link to industry praise for our coverage, is found here.
For the examples of our kudos linked above…plus well over 1,000 positive, public comments, we say – "Thank You for your vote of confidence."
"We Provide, You Decide." © ## (News, analysis and commentary.)
(Image credits and information are as shown above, and when provided by third parties, are shared under fair use guidelines.)
Submitted by Soheyla Kovach to the Daily Business News for MHProNews.com.