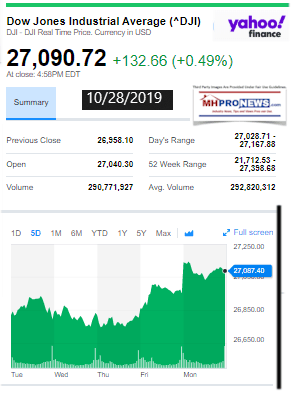 We could sum up tonight's snapshot of what Cavco Industries (CVCO) media release apparently seeks to accomplish in a single phrase. Ready? Here it is. "Turn the page." More on that in our evening analysis of their formal quarterly initial snapshot, further below as our featured report item tonight.
Regular readers please note there are a few tweaks to some of the standard portions of our evening market/investing report. Read carefully as some changes of the 'standard text' that follows before our left-right headlines and also in other features near the end of tonight's reports.
Every evening our headlines that follow provide snapshots from two major media outlets on each side of the left-right news spectrum that reflect topics that influence or move investor sentiment. In moments on this business evening report, you can get 'insights-at-a-glance.'
This report also sets the broader context for manufactured housing markets, in keeping with our mantra, "News through the lens of manufactured homes and factory-built housing" ©.
We begin with headlines left-of-center CNN followed by right-of-center Fox Business. We share closing tickers and other related data courtesy of Yahoo Finance, and more. 5 to 10 minutes reading this MHProNews market report every business night could save you 30 minutes to an hour of similar reading or fact-gathering elsewhere.
Perhaps more important, you will get insights about the industry from experts that care, but also dare to challenge the routine narrative that arguably keeps manufactured housing underperforming during an affordable housing crisis.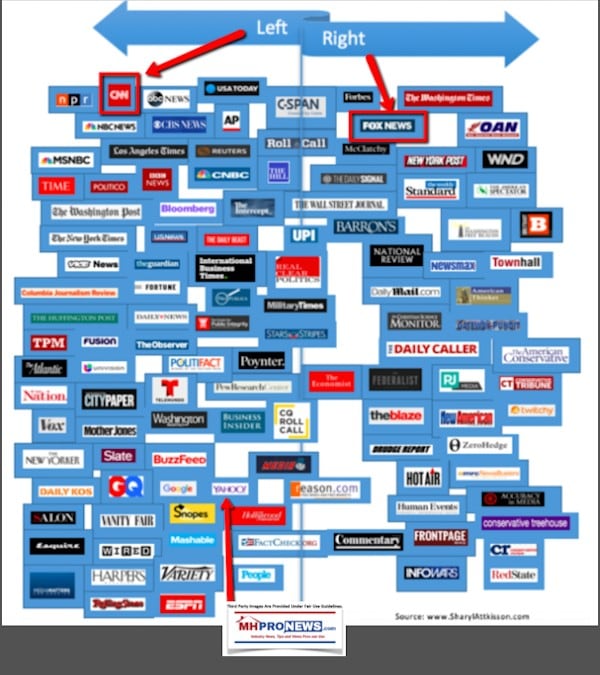 Newsy, Peeling Back Media Bias, Manufactured Housing Sales, Investing, Politics, and You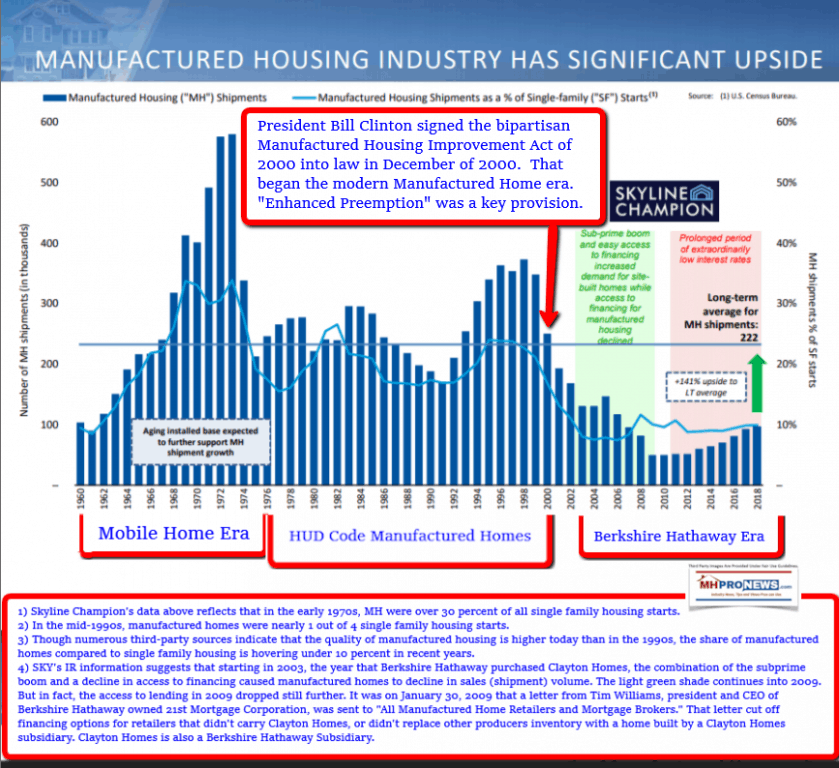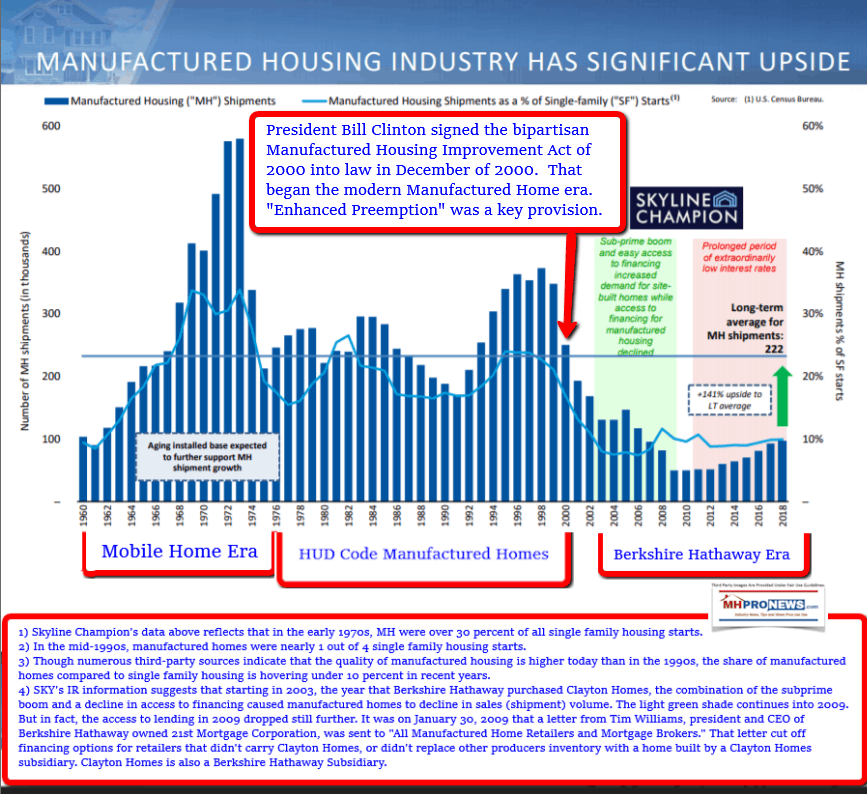 Headlines from left-of-center CNN Business.
S&P 500 hits all-time high
Progress on the US-China trade front and hopes for a rate cut are propelling stocks higher
Beyond Meat posts a profit, but it's not enough to satisfy investors
AT&T is launching a streaming service that 'people said couldn't be done'
This Verizon partnership aims to show how 5G will disrupt manufacturing
New diverse Apple emoji feature interracial couples, disability themes
Fitbit stock spikes 30% on report that Google wants to buy it
Popeyes' trolls Chick-fil-A by debuting its spicy chicken sandwich on a Sunday
This man is running for governor of California so he can run false Facebook ads
Harborside, iconic California dispensary chain, ousts CEO
Three rate cuts in a row? Investors hope it's true
How your poop can help train AI
Impossible Whoppers are a huge hit at Burger King
The strong dollar is hurting the global economy
The Model Y could be a game changer for Tesla
Apple unveils pricier AirPods Pro with new design and noise cancellation
Big changes coming for AT&T
Amazon Founder and CEO Jeff Bezos addresses the audience during a keynote session at the Amazon Re:MARS conference on robotics and artificial intelligence at the Aria Hotel in Las Vegas, Nevada on June 6, 2019.
Bezos' richest person title threatened by Trump administration move
HOW WE SHOP
Wegmans opens at the Brooklyn Navy Yard in Brooklyn, N.Y. on Sunday, Oct. 27, 2019. (AP Photo/Julia Weeks)
Wegmans opens its 101st store. It's in Brooklyn
Louis Vuitton owner offers to buy jewelry icon Tiffany
Walmart wants robots in stores. Target doesn't
American Express just changed its most iconic card
Gymboree is being revived in early 2020
Sears' future is still in doubt a year after bankruptcy filing
THE ENVIRONMENT – The race to the electric car is just getting started
The world's biggest brands have a garbage problem. This man can help
Amazon's incredible, vanishing cardboard box
Ben & Jerry's maker to slash new plastic use by nearly 400,000 tons per year
America's addiction to absurdly fast shipping has a hidden cost
Headlines from right-of-center Fox Business.
Sir Richard Branson compares space travel costs to crossing the Atlantic 100 years ago.
Trump hammers 'do-nothing Democrats' for not approving trade deal
Why Hollywood is flocking to this state
WATCH: San Jose mayor wants PG&E to be customer-owned
Underground power lines touted as solution, but there's a catch
PG&E says its power lines may have sparked wildfires
The sneaky way low interest rates can actually hurt you
LUCKY FIND: Maid who cleaned Lady Gaga hotel room hoping to cash in
Mayor reportedly used taxpayer funds to chauffeur his son
Ford to kill this car, lay off hundreds of employees
BRACE FOR TURBULENCE? Here's what Boeing's CEO plans to tell Congress
Senators issue stark warning about Americans' retirement savings
Here's what the second-wealthiest person in the world spends money on
Beyond Meat beats but investors maul shares
Varney: Washington DC embarrasses itself after Trump kills Baghdadi
How many subscribers HBO Max could hit in 5 years: AT&T
SEE PICS: What's different about the AirPods Apple just unveiled
Derek Jeter's sports website reportedly exploring sale
Washington: Will proposed gun tax put sellers out of business?
WATCH: Nats fan with two Bud Lights and a home run ball becomes viral hero
PHOTOS: Wealthy California neighborhood, wineries engulfed in flames
WATCH: Why millennials could soon become America's richest generation
How a single sandwich changed Popeye's entire business outlook
Getty Center's art stays put as fires raged nearby ⁠— here's why
Chicago police and Americans all over feeling the 'Trump Bump' in 401(K)s
US proposes cutting off funds for Chinese telecom equipment
This app is aiming to upend the health care system
AT&T, Elliott make peace and stock jumps
Company spikes to record high after nabbing $10B Pentagon contract
LeBron James evacuates family from California wildfires in middle of night
Here's how much a ticket to space costs
Lake Tahoe's most breathtaking homes for sale right now
WATCH: Navy SEAL who killed Bin Laden on the raid that killed ISIS leader Baghdadi
Nashville meets Bob Saget in CMT's reboot of this classic game show
Chicago Teachers Union rejects latest offer as students miss eighth day of classes
Could Ford get hit with a UAW strike as bad as GM's?
10 Market Indicator Closing Summaries – Yahoo Finance Closing Tickers on MHProNews…

Focus/Featured Report – Markets/Political/Big Picture/Stock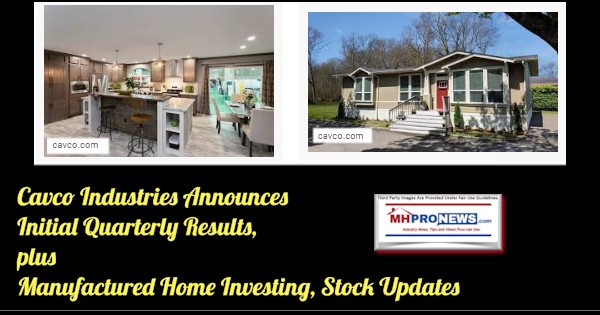 First, let's look at what Cavco Industries (CVCO) said today in a press release. Then, let's look at some related insights and analysis.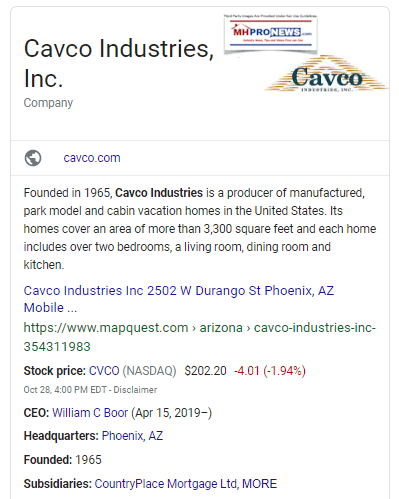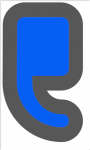 PHOENIX, Oct. 28, 2019 (GLOBE NEWSWIRE) — Cavco Industries, Inc. (CVCO) today announced financial results for the second fiscal quarter ended September 28, 2019. On August 2, 2019, the Company completed the acquisition of Destiny Homes, which operates a manufactured and modular housing factory in Moultrie, Georgia. The results from this acquired operation since the acquisition date are included in the current quarter's consolidated financial statements presented herein.
Financial highlights include the following:
Net revenue for the second quarter of fiscal year 2020 was $268.7 million, up 11.3% from $241.5 million for the second quarter of fiscal year 2019. The increase was from improved home sales volume, higher home selling prices and changes in product mix. Net revenue for the first six months of fiscal 2020 was $532.7 million, a 9.2% increase from $487.9 million in the comparable prior year period.
Income from operations increased 15.5% to $22.4 million for the second quarter of fiscal year 2020 compared to $19.4 million in the same quarter last year. During the period, the Company realized higher gross profit margins mainly from increased home selling prices coupled with lower material input costs. Income from operations for the first six months of fiscal 2020 was $47.4 million, a 13.9% increase from $41.6 million in the comparable prior year period.
Net incomewas $20.9 million for the second quarter of fiscal year 2020, compared to net income of $15.6 million in the same quarter of the prior year, a 34.0% increase. Included in this quarter's results was a $3.4 million net gain on the sale of idle land recorded in Other income, net. For the six months ended September 28, 2019, net income was $42.2 million, up 19.5% from net income of $35.3 million in the prior year period. Diluted net income per share was $2.25 and $4.56 for the three and six months ended September 28, 2019, respectively, compared to $1.67 and $3.80 for the comparable periods last year.
Overall production rates have improved and order backlog has declined to $137 million at the end of the quarter compared to $204 million in the comparable period. This strong backlog level is up slightly from $131 million in the sequential quarter and represents approximately seven weeks of production.
During each period presented, ancillary items had the following impact on the results of operations (in millions):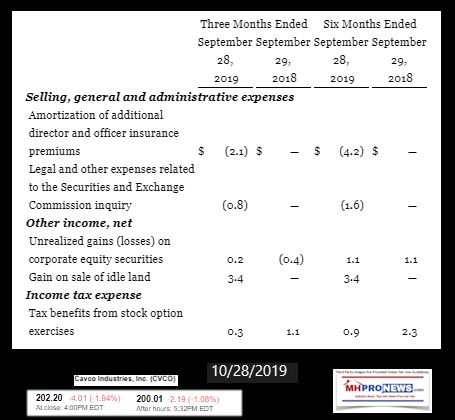 Commenting on the quarter, Bill Boor, President and Chief Executive Officer said, "Cavco's second quarter results continue to demonstrate the underlying strength of our business. Backlogs remain strong and stable, as is consumer demand. As announced earlier, we completed the acquisition of Destiny Homes. The organization has proven to be an outstanding fit and Destiny's products complement and strengthen our offering in the Southeast."
Cavco's management will hold a conference call to review these results tomorrow, October 29, 2019, at 1:00 PM (Eastern Time). Interested parties can access a live webcast of the conference call on the Internet at https://investor.cavco.com. An archive of the webcast and presentation will be available for 90 days at https://investor.cavco.com.
Cavco Industries, Inc., headquartered in Phoenix, Arizona, designs and produces factory-built housing products primarily distributed through a network of independent and Company-owned retailers. The Company is one of the largest producers of manufactured homes in the United States, based on reported wholesale shipments, marketed under a variety of brand names including Cavco, Fleetwood, Palm Harbor, Fairmont, Friendship, Chariot Eagle, Lexington and Destiny. The Company is also a leading producer of park model RVs, vacation cabins and systems-built commercial structures, as well as modular homes built primarily under the Nationwide Homes brand. Cavco's finance subsidiary, CountryPlace Mortgage, is an approved Fannie Mae and Freddie Mac seller/servicer and a Ginnie Mae mortgage-backed securities issuer that offers conforming mortgages, non-conforming mortgages and home-only loans to purchasers of factory-built homes. Our insurance subsidiary, Standard Casualty, provides property and casualty insurance to owners of manufactured homes….
## End of Cavco release. ##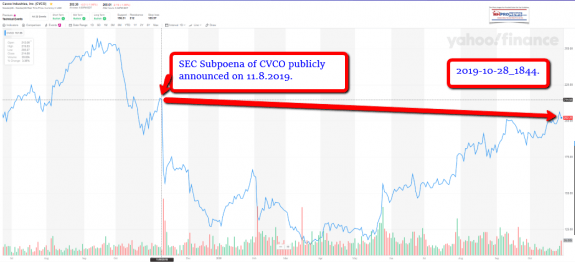 We'll make tonight's analysis of the above short and sweet, saving more for later. There is not a word in the above from Cavco about:
Former president, chairman, and CEO Joe Stegmayer. What a change from a year ago.
No mention of the SEC subpoena. That was announced on 11.8.2019 and the stock dropped sharply on that date. It has slowly been recovering, but with further dips, fits and climbs. What a change from most of the last year. Apparently, management has decided it is time to stop talking about that chapter in CVCO's history.
No mention of the GSEs financing programs and Manufactured Housing Institute (MHI) backed new class of homes. Watch for a report on that soon.
We could go further, but let's hold it there. The fine folks in Phoenix are wondering what will be in our initial report about their quarterly statement, now they know. Fair and balanced. Watch for what follows soon.
See the related reports for some highlights and lowlights in the past year since the SEC subpoena was announced on 11.8.2018. They've obviously hope to have now turned the page.
Related Reports:
Nasdaq – Cavco Industries (CVCO) Insider Trading, plus Manufactured Home Investing Updates
Cavco Industries-Destiny Homes Deal, Background, Details, Analysis Others Lack
EQUITY ALERT: Levi & Korsinsky – Investigation Possible Fraud by Certain Officers and Directors of Cavco Industries, plus MH Stock Updates
Joe Stegmayer, Cavco Industries, MHI Chairman, Insights from Innovative Housing Showcase
Manufactured Housing Institute on Cavco Industries, ex-Chairman Joe Stegmayer SEC "Debacle"
Manufactured Housing Industry Investments Connected Closing Equities Tickers
Some of these firms invest in manufactured housing, or are otherwise connected, but may do other forms of investing or business activities too.
NOTE: The chart below includes the Canadian stock, ECN, which purchased Triad Financial Services, a manufactured home industry lender
NOTE: Drew changed its name and trading symbol at the end of 2016 to Lippert (LCII).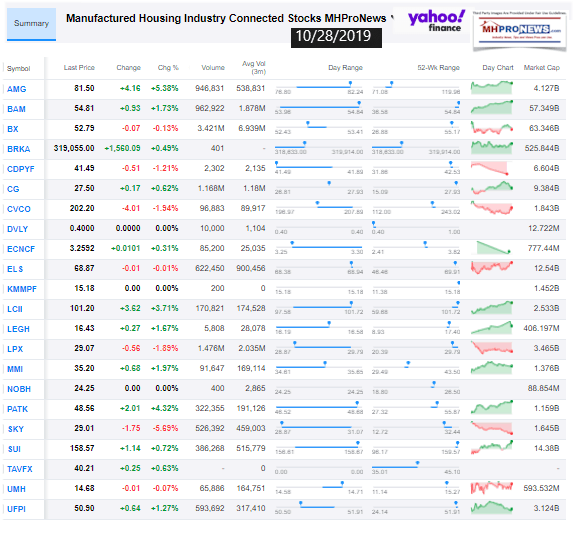 Updated for Fall 2019…
Berkshire Hathaway is the parent company to Clayton Homes, 21st Mortgage, Vanderbilt Mortgage and other factory built housing industry suppliers.
· LCI Industries, Patrick, UFPI, and LP each are suppliers to the manufactured housing industry, among others.
· AMG, CG, and TAVFX have investments in manufactured housing related businesses.
For insights from third-parties and clients about our publisher, click here.
Enjoy these 'blast from the past' comments.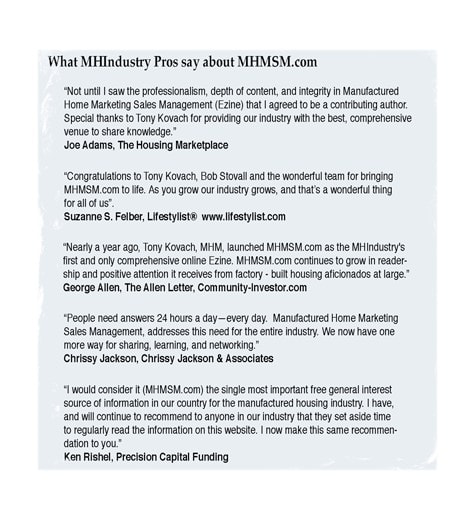 Celebrating 10 Years of Goal- and Solution-Oriented Manufactured Home Industry Innovation Information, and Inspiration for Industry Professionals
· For expert manufactured housing business development or other professional services, click here.
· To sign up in seconds for our industry leading emailed headline news updates, click here.
Disclosure. MHProNews holds no positions in the stocks in this report.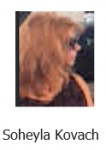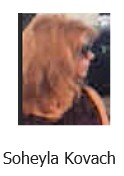 "We Provide, You Decide." © ## (News, analysis and commentary.)
(Image credits and information are as shown above, and when provided by third parties, are shared under fair use guidelines.)
Submitted by Soheyla Kovach, co-managing member of LifeStyle Factory Homes, LLC and co-founder for MHProNews.com, and MHLivingNews.com.