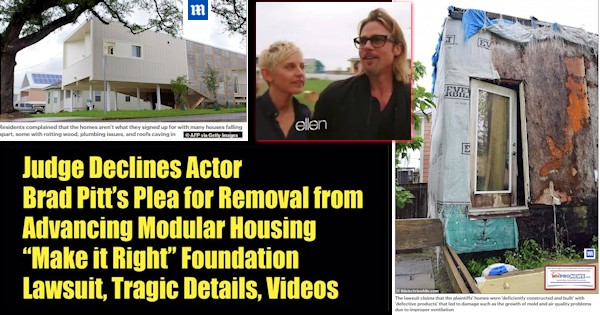 Nearly a year has come and gone since MHProNews reported on a lawsuit by modular home owners that seeks to hold Brad Pitt, the Make it Right Foundation, and others responsible for claims of defective homes reportedly plagued by mold, rotting wood, and other health or safety problems.
Recently Judge Rachael Johnson denied Pitt's request, says the Daily Mail and other media outlets, to be removed from the case because they were not personally responsible for the construction. The suit has been brought by two home owners, but others are said to have similar problems, so the implications could be significant as this case advances.
One Make it Right employee was removed from the lawsuit, the Times-Picayune reports.
The Daily Mail says that attorney Ron Austin lawsuit on behalf of homeowners asserts that engineers found issues in homes but the charity didn't inform homeowners of the problems. The legal team is citing a portion of the foundation's 2013 tax filing which accounts for $4.3 million in 'warranty and repair liabilities.'
It also states that the Make It Right Foundation gave homeowners a nondisclosure agreement (NDA) and documents that bound them to arbitration before agreeing to making repairs.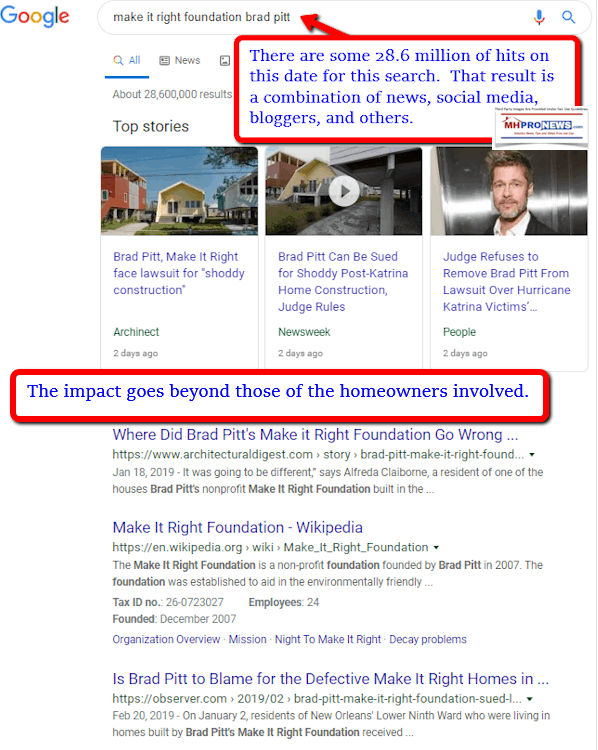 Architectural Digest examined the controversial matter too, which involves modular construction. They said that only 109 of the 150 have been completed, "and of those 109, many appear to be falling apart. On September 7, 2018, two Lower Ninth Ward residents filed suit against the Make It Right…"
It should be noted for first time or newer readers that all forms of construction can have defects or issues. Manufactured Home Living News – pointing to mainstream media reports – spotlighted several examples of conventionally built houses that have serious defects. So, no one should make more or less of this matter than what it is. To indict all modular construction or factory-building on the basis of this case would be mistaken.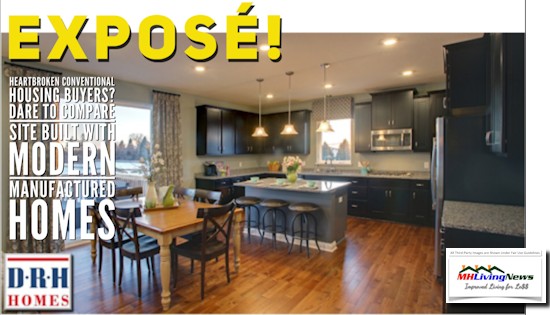 Architectural Digest's report examined 'what went wrong' with this matter in these terms.
Some pull quotes from AD follow, and may not always be in the sequence that they reported it.
Start of extended quote from the source shown.

…the suit alleges that the foundation was aware of problems as early as 2013 and that Make It Right representatives arranged inspections of the houses in 2016, 2017, and 2018, but did not share the results with residents; in fact, the reps allegedly asked some residents to sign nondisclosure agreements before they would agree to make repairs, say the plaintiffs.

"Make It Right was very good at pacifying people and putting them off, and pacifying people and putting them off. They might come back and fix one thing, but not everything," says attorney Ron Austin, who is representing residents Lloyd Francis and Jennifer Decuir in the lawsuit. "I think they were able to get away with it because of who they were, because the residents were very grateful with Make It Right stepping in and showing interest in their community."
For his part, Pitt acknowledged that he and the foundation had no idea how difficult their project would be. "We went into it incredibly naive," he told the New Orleans Times-Picayune newspaper in August 2015, on the occasion of the ten-year anniversary of Hurricane Katrina. "Just thinking we can build homes—how hard is that?—and not understanding forgivable loan structures and family financial counseling and getting the rights to lots and HUD grants and so on and so forth. So it's been a big learning curve."
"I would have to say that there was just so much activity that I think it was very, very hard to regulate," says Oji Alexander, the executive director of Home by Hand, a nonprofit developer of affordable housing in New Orleans. "Because there was this fight between [needing] to move quickly [and] [getting] people back into their homes quickly. But the risk you run there is, some things happen in that context [that] may go unchecked."
Ray Nagin, the mayor of New Orleans from 2002 to 2010—before, during, and after the hurricane—was indicted in January 2013 on 21 counts of corruption related to kickbacks he received from contractors who came into the city post-Katrina. He was convicted on 20 of the charges in February 2014 and is currently serving 10 years in a federal prison in Texas.
Home by Hand executive director Alexander said they've done similar projects. He sought to keep costs down on their homes with simple plans, homeownership training, and even a degree of possible mortgage forgiveness.
"We did everything we could to make sure that our homeowners would be successful," Alexander said. "I've actually worked with at least one of the architects who worked with Brad Pitt's project. We've worked with some of the builders. I can tell you about the things that I know did work for us, and it was the KISS approach: Keep it simple." Rephrased, part of Make It Right's problem – per Alexander – was their complexity vs. the Home by Hand's simplicity.
Austin, the attorney in the residents' suit, said per AD that "I think an argument could be made that some of the materials they chose were imprudent[but] efficient materials. So you have bad design on some poor materials."
Make It Right already acknowledged problems with the materials chosen. Construction of houses began in 2008. by 2010 construction crews reportedly noticed that specialty lumber selected, TimberSIL, for its added silicon and supposed ability to resist rot, was already mildewing. The foundation sued the manufacturer in 2015 for nearly $500,000, the alleged cost of replacing the rotting decks on 39 of the 109 houses built by that point. The suit reportedly settled for an undisclosed amount in 2017.
The Times Picayune reported that "By 2015, as most construction concluded, the project had cost almost $27 million. But complaints about the construction and materials used in the homes had already emerged." They didn't do the math but based upon 109 homes at a total cost of 27 million that would be about $247,706 per housing unit.
The Make It Right Foundation seemed to acknowledge the poor construction when the organization sued its principal architect, John C. Williams, in Civil District Court, accusing him in September 2018 of defective design work that led to problems in the homes. According to that lawsuit, repairing the damage caused by rain and humidity could cost Make It Right $20 million.
What Went Wrong, More from AD…
The following bullets are additional pull quotes from AD.
Start of extended quote from the source shown.

While the suit was underway at the time of his 2015 interview with the Times-Picayune, Pitt did not appear to reference it in the article. "What we have learned, which was the original premise, is that you do not have to build low-income housing with the cheapest materials that keep families in a poverty trap," he said instead. "Whether that be running up high utility bills or with toxic materials that run up your doctor bills. It doesn't have to be that way."

Austin says he suspects that in those years while Make It Right was apparently not responsive to the persistent phone calls from many residents, they could have been potentially prolonging the possibility of getting sued under the New House Warranty Act.
The act covers "a five-year period where basically the builder, the original person who built it, says your home will be free from any major structural damages or major structural defects, and major structural defects that are due to noncompliance with building standards and noncompliance with good building materials," says Sally Brown Richardson, an associate professor of property law at Tulane University in New Orleans, speculating that the suit would likely pursue a claim of fraud instead.
Indeed, the suit alleges not only breach of contract but also fraud, unfair trade practices, and intentional and negligent infliction of emotional distress.
Plus, there's the issue of the nondisclosure agreements, and the documents that Make It Right staffers allegedly requested residents sign that bounded them to arbitration if they had any issues with the home. Austin plans to argue residents were pressured into signing these documents, rendering them null.
"If you're sitting there and your house is catching on fire because of electrical issues, you're like, 'Sure, I'll sign whatever!'" Austin says. "It's not a real bargain. You want your work done."
While everyone whom Architectural Digest spoke with for this story was quick to emphasize their belief in Make It Right's good intentions and the quality of Pitt's character, the alleged distribution of NDAs to residents who were in duress remains a distasteful detail.
What Has Gone Under-Emphasized?
Mainstream reports have often ignored or underemphasized the fact that the Clinton Global Initiative CGI) played a role in this project too. Former President Bill Clinton and Brad Pitt both appeared at the ground breaking, as the photo op with shovels reflects.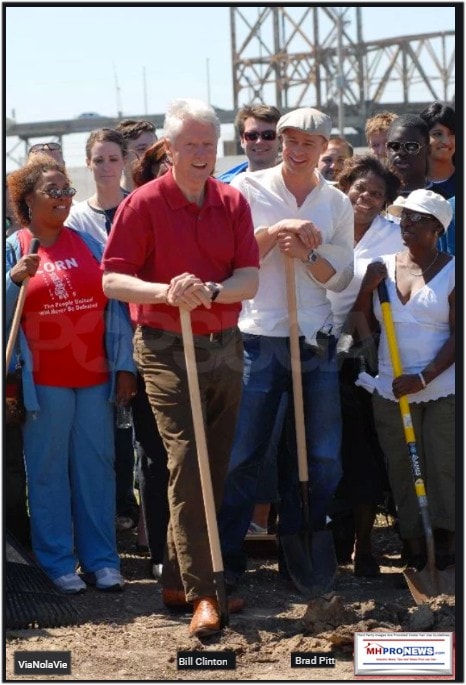 There is are other questions that ought to be pondered as Warren Buffett, chairman of the Berkshire Hathaway conglomerate that owns Clayton Homes and other manufactured housing industry connected subsidiaries, has supported CGI. Is it a coincidence that similarly vexing problems arose in Haiti after their natural disaster? Former President Clinton and Clayton president and CEO Kevin Clayton did photo ops together too.
"Toxic Trailers" – Clayton Homes, Warren Buffett, Kevin Clayton, Clintons – Exposé Videos
Even allowing, as AD stated, that the intentions behind the project were good ones, there are several issues that have arisen that call into question Pitt, Make it Right, CGI, and whatever role Buffett and his brands may or may not have played in this ongoing saga of tragedy from the 9th Ward of New Orleans. Many of those residents were apparently 'people of color,' and Berkshire's manufactured housing brands have been accused of predatory behavior toward blacks, Native Americans, and other minorities. Are those coincidences?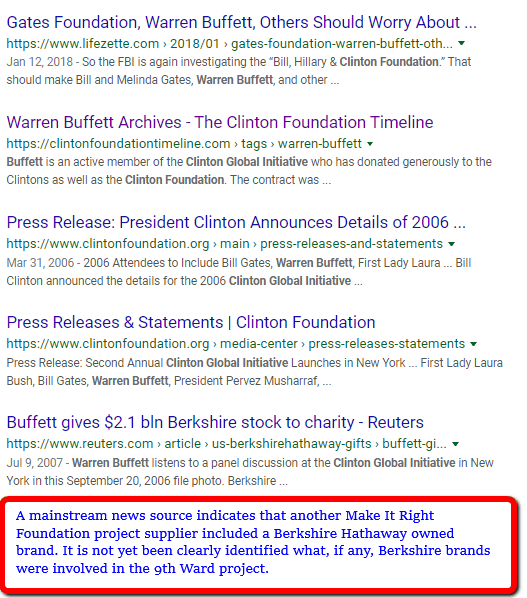 Pitt's foundation planned to build 150 homes in the Lower Ninth ward of New Orleans that were storm-safe, supported by solar-power, and were supposed to be 'green' for the price of $150,000 in 2007. Not unlike the Haitian tragedy, this project occurred in the wake of the Hurricane Katrina natural disaster. Who picked up the tab for the balance between the selling price to buyers and the nearly $247,706 cost per unit is not clear from mainstream reporting. Donors? Were some taxpayer dollars involved?
What began as a project with a lot of hoopla, as videos like the above and below reflect, within a few years has become another tale of the American dream of home ownership gone awry. Often wealthy personalities and their foundations are in the mix. The promo of Make it Right narrated by Pitt below speaks of the promise, and will be followed by a mainstream video that spoke of the realities claimed by those who moved in.
As the first person on this NBC News video said, "I hate it. This has been years of ongoing lies and broken promises."
By analogy, a Haitian living in Florida that MHProNews spoke with said that the Clinton Foundation is a dirty name in their country. Posturing one thing, doing another? How do cases like these help those seeking affordable housing, or those ethical 'white hat' operations that want to honestly sell more factory-built homes, while troubling stories like this pop up in mainstream media?
That's our sobering second look at factory-built housing "Industry News, Tips, and Views Pros Can Use," © where "We Provide, You Decide." © ## (News, analysis, and commentary.)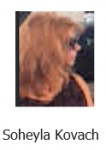 Submitted by Soheyla Kovach for MHProNews.com.
Soheyla is a managing member of LifeStyle Factory Homes, LLC, the parent company to MHProNews, and MHLivingNews.com. Connect with us on LinkedIn here and and here.
Related Reports:
Click the image/text box below to access relevant, related information.
Arabella Advisors – Big Money in Dark Shadows, Warren Buffett Ties – Capital Research Group
Zillow Research Reveals Propaganda? Warren Buffett, Manufactured Housing Institute, Life, Death, and Dancing with the Devil?
"Going Mobile," "Midas Mike," "Okay, Trailer Park it Is" – CBS' NCIS Spoofs Manufactured Home Community Living, Including Frank Rolfe Type Character
"Abrogation of Good Corporate Governance," Billionaire Icahn Blasts "Buffett Deal," plus Manufactured Home Stock Updates
Warren Buffett, Charlie Munger Video Interview at Berkshire Hathaway Annual Meeting on GSEs Lending for Affordable Manufactured Housing and Clayton Homes