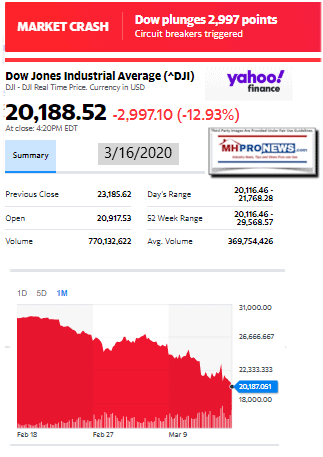 Our manufactured home community industry comrades up north have thoughtfully shared some insights from their side of the line with respect to the COVID19/coronavirus outbreak. That will be accompanied by some national, international and other charts, data and videos. On a day when the industry's equities and broader markets plunged hard once again, that will be our featured focus tonight.
Every evening our headlines that follow provide snapshots from two major media outlets on each side of the left-right news spectrum that reflect topics that influence or move investor sentiment. In moments on this business evening report, you can get 'insights-at-a-glance.'
This report also sets the broader context for manufactured housing markets, in keeping with our mantra, "News through the lens of manufactured homes and factory-built housing" ©.
We begin with headlines left-of-center CNN followed by right-of-center Fox Business. We share closing tickers and other related data courtesy of Yahoo Finance, and more. 5 to 10 minutes reading this MHProNews market report every business night could save you 30 minutes to an hour of similar reading or fact-gathering elsewhere.
Advertise with MHProNews to be seen
Perhaps more important, you will get insights about the industry from experts that care, but also dare to challenge the routine narrative that arguably keeps manufactured housing underperforming during an affordable housing crisis.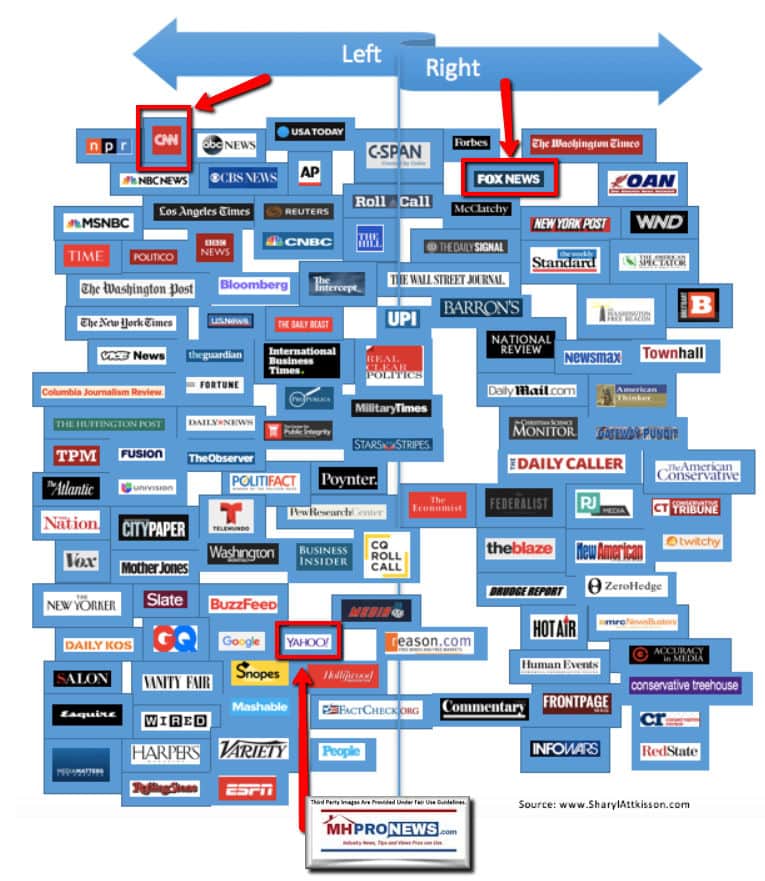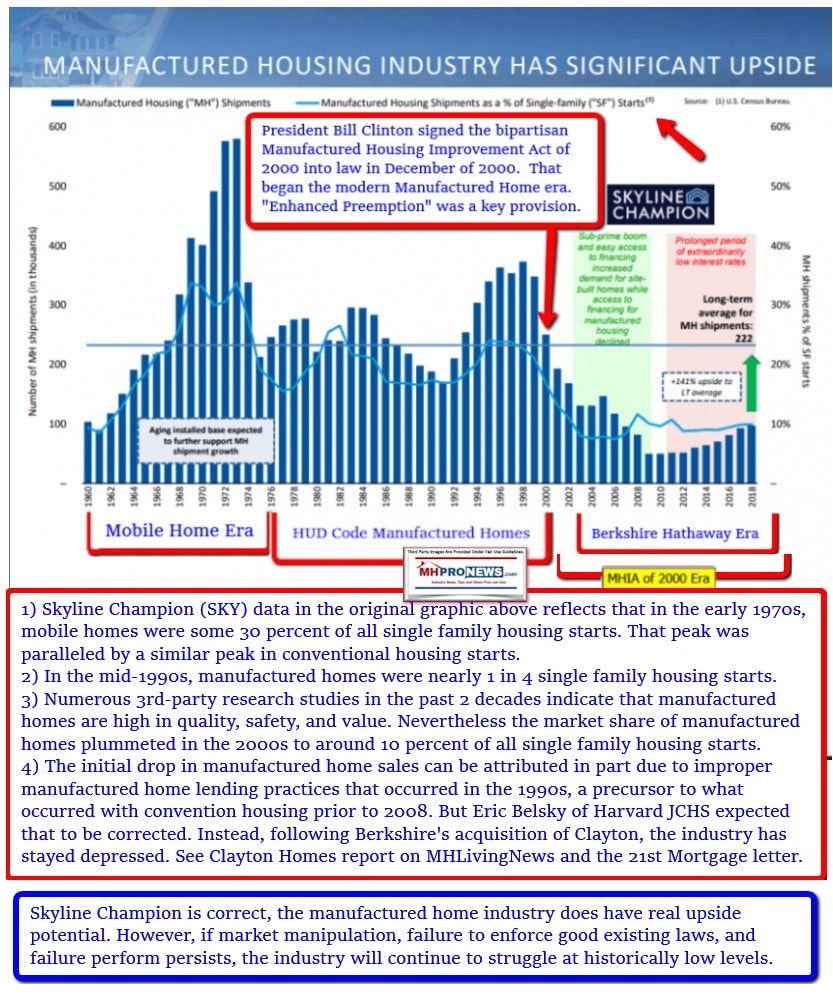 Newsy, Peeling Back Media Bias, Manufactured Housing Sales, Investing, Politics, and You
Headlines from left-of-center CNN Business
Worst day in Dow's history
Traders work during the opening bell at the New York Stock Exchange (NYSE) on March 16, 2020 at Wall Street in New York City. – Trading on Wall Street was halted immediately after the opening bell Monday, as stocks posted steep losses following emergency moves by the Federal Reserve to try to avert a recession due to the coronavirus pandemic. Just after the opening bell, the S&P 500 was at 2,490.47, a drop of 8.1 percent and beyond the seven percent loss that automatically triggers a 15-minute trading halt.
LIVE UPDATES The index falls nearly 3,000 points as Trump says this new normal could last until August
The global coronavirus recession is beginning
Goldman Sachs warns US stocks could plunge another 19% before rapidly recovering
America's biggest banks halt share buybacks as coronavirus crisis deepens
The Fed just broke out 4 big weapons to fight the coronavirus crisis
Opinion: A retired general and Navy SEAL on how to be a true leader during the coronavirus outbreak
Grocery stores change hours to cope with shopping frenzies
Corporate earnings are about to get extremely ugly
Opinion: Forget 2008, this stock market sell-off is 2001 all over again
LIVE DATA Track what stocks are being battered by coronavirus — and which are getting a boost
MORE TOP STORIES
A passenger walks past an information board announcing flight cancellations at Arlanda international airport outside Stockholm, with the airport being unusually empty due to concerns over the spread of the novel coronavirus on March 16, 2020. (Photo by Fredrik SANDBERG / TT NEWS AGENCY / AFP) / Sweden OUT (Photo by FREDRIK SANDBERG/TT NEWS AGENCY/AFP via Getty Images)
Most airlines could be bankrupt by May. Governments will have to help
More than half of American jobs are at risk because of coronavirus
America could lose 1 million jobs in March, former Trump adviser warns
Google sister-company's coronavirus website rolls out to confusion
Some grocery stores are offering 'elderly hours' to help protect older shoppers
The rules of video conferencing at home
How to work from home with kids (without losing it)
Universal's movies currently in theaters will be made available on demand this week
Microsoft reveals details about its next-generation console Xbox Series X
LIFE UNDER CORONAVIRUS
How to help small businesses survive the coronavirus crisis
Your coronavirus workplace questions answered
How to work from home without losing your mind
Your coronavirus workplace questions answered
How to work from home without losing your mind
THE ECONOMIC IMPACT OF CORONAVIRUS
This photo taken on March 11, 2020 shows workers checking newly-made bullet trains at a factory in Qingdao in China's eastern Shandong province.
The coronavirus has devastated China's economy. The 'nightmare' isn't over
Workers say gig companies doing the 'bare minimum'
Europe's car industry is starting to shut down
United slashes its schedule 50%
Parts of the Las Vegas Strip are going dark
Headlines from right-of-center Fox Business
DEVELOPING – MARKETS
Dow drops 3,000 points as Trump says virus disaster may go for months
S. equity markets plunged after the Federal Reserve took emergency action to combat the economic harm caused by the new coronavirus outbreak.
America's best defense against grocery store shortages looks shaky
'We could be Italy': Surgeon General warns US outbreak will likely worsen
First experimental coronavirus vaccine administered in Seattle
Coronavirus forces Universal Studios to shift new films to home viewing
Inside Goldman Sachs' chilling forecast
Coronavirus bonds could help millions of Americans, small businesses
Grocer offers special hours for seniors
Opinion: How Trump can wage economic war against coronavirus – and win
Virus treatment tested with arthritis drug
Disney heiress goes off as crowds pack Magic Kingdom amid virus warnings
Critics bash Trump's plan to boost economy with payroll tax cuts
Ex-Walmart CEO: Rationing could happen in coronavirus crisis
These American workers are getting paid sick leave
What is martial law? Is America about to go under military rule?
Rita Wilson spreads virus to journalist
Emergency room doctors contract virus
How low coronavirus-led stock market selloff could go: Goldman Sachs
NY Stock Exchange may close this week
These cities most likely to resist the coronavirus crisis on the economy
High-end restaurant group offers free lunch to local students
Will coronavirus cause a baby boom?
No one is safe: Buffett family exposed to coronavirus
Coronavirus forces Wynn Resorts, MGM to close Vegas casinos
Former NYSE CEO calls for presidential working group on financial markets
Impossible Foods raises $500M in new funding, says it can 'thrive' in coronavirus pandemic
Health and Human Services under cyber siege amid coronavirus response: report
Party's over: Bars shut down across US after revelers ignore social distancing
Will the Fed's emergency rate cut work?
Peloton latest retailer to close stores amid coronavirus outbreak
Lockheed Martin's Marillyn Hewson to step down as CEO
Regulators urge banks to use Fed's discount window for emergency, short-term loans
Varney on coronavirus and small business: The little guy is getting clobbered
How NY Stock Exchange is preventing outbreak on trading floor
Coronavirus: What is 'herd immunity'?
China's economy skids as virus paralyzes factories, households
Coronavirus vaccine clinical trial begins
WATCH: NY Stock Exchange president responds to whether market should close
Chick-fil-A closes dining rooms in bid to encourage 'social distancing'
U-Haul offering 30-day free storage for uprooted college students
French antitrust regulator hits Apple with massive fine
Elton John postpones tour: A look at concerts on hold
WATCH: Maria Bartiromo says we are going to see 'scary' opening
Powell on whether Fed will use negative interest rates
NYC to close nightclubs, theaters, limit restaurants to take-out and delivery
Joe Biden, Bernie Sanders reveal how they would tackle pandemic
WATCH: Toilet paper spotted on baggage carousel amid shortage fears
10 things parents need to know to homeschool their kids
Gun sales surge amid coronavirus outbreak in US
WATCH: What U-Haul is offering college students
VIDEO
WATCH: What U-Haul is offering college students
Major airline to reduce flight capacity by 50%, cut corporate officers' pay
Coronavirus forces MLB to delay 2020 season further
10 Market Indicator Closing Summaries – Yahoo Finance Closing Tickers on MHProNews…
Featured Focus – Where Business, Politics and Investing Can Meet
MHProNews' publisher reached out to Al Kemp of the Manufactured Home Park Owners Alliance of British Columbia (MHPOABC) for insights and news from their nation. Kemp sent L. A. "Tony" Kovach the following message.
I think we're in better shape overall than the USA.  We have sufficient testing kits throughout the country and many testing stations have been in operation for several weeks.  Rather than a blanket ban on international arrivals, Canada will reduce the number of airports accepting international flights to a few that are fully capable to testing, referring, etc. arriving passengers.  Our provincial and federal health officers are all encouraging no international travel.  (I got an email from 5 minutes ago from my travel insurance company that they will not cover any travel outside Canada booked after March 13.)
I don't think COVID-19 will spread in Canada to the same relative extent that it is/will in the USA.  While the number of cases is rising, there has only been one death so far.  (Our population is about 37 million.)
I am advising my members to ensure common areas in communities are kept particularly clean, and giving them information to distribute to their residents.
. . . Al
Al Kemp,
Executive Director of Manufactured Home Park Owners Alliance of British Columbia."
Kemp emphasized that given the fluid nature of the issue, his statement was subject to change based on new developments. Within minutes, an announcement was made by the Canadian Prime Minister Justin Trudeau that the border would be closed, Canadian were encouraged to return from overseas and that the United States was exempt for the moment.
PM Trudeau's wife, Sophie Gregoire, tested positive for COVID-19 last week. While Trudeau has reported no symptoms, he has been in isolation since last week as a precautionary measure.
From Kemp, MHProNews was provided the following tips.

What Do We Know and What Can We Do about COVID-19?
Before you read further, remember that information, advice, restrictions and regulations are changing rapidly – in some cases more than once a day. As of the morning of March 16, here is information useful to residential rental housing owners and managers.
"Community transmission" means the passing of the virus from one person to another. It transfers via droplets from coughing, sneezing, even speaking.
"Social distancing" means staying at least one metre (some say two) away from other people as the droplets can't travel beyond that distance.
The virus can enter another person through eyes, nose, or mouth. It does not transmit through skin contact. Virus droplets remain transferrable on metal surfaces, sometimes beyond a day.
Canada's public health experts and authorities are encouraging everyone to:
Avoid personal contact such as hugging, shaking hands, etc. Greet people with an "elbow bump."
Avoid close contact with people who are ill or expressing flu-like symptoms, including a dry cough or fever.
Wash your hands often for at least 20 seconds with soap and hot water.
Try to avoid touching your face, particularly your eyes, nose and mouth (we unconsciously do so a few times a minute).
Do not rely on social media for information. Go to reliable sources such as your local health authority or the BC Centre for Disease Control: bccdc.ca
If you are feeling ill, do not go to a medical clinic or hospital emergency room. You may unnecessarily tie up overtaxed medical personnel and/or contract the virus from or pass it to others. Instead phone 811 and talk to a nurse about your symptoms – and follow the nurse's advice. 811 is being overtaxed as well, so you may have to wait for a while.
✦                    ✦                     ✦
We suggest you print or cut and paste everything above and send/give to your residents. What follows addresses the question of "What Can We Do" from a rental housing owner/manager's perspective.
First, make sure any buildings or areas accessible by tenants and their guests are cleaned frequently. Items that have consistent contact by a number of people, such as door handles, elevator buttons, faucets, sinks, etc. should probably be cleaned with a disinfecting cleaner more than once a day.
Fitness rooms and playground equipment should also be frequently cleaned, depending on use. We don't recommend closing a playground, social rom, fitness centre, etc. at this point. That may become advisable. Closing a swimming pool now may be prudent
Place hand cleaners with at least a 60% alcohol content in social rooms, public washrooms, fitness centres, and laundry rooms. We recommend placing a note on the doors of laundry rooms, fitness centre, etc. recommending that users follow the social distancing advice.
Make sure your office and surroundings are kept clean, particularly areas accessible by others. Have a hand cleaner containing available and encourage anyone who comes to your office to use it as soon as they enter.
According to some psychologists, panic/hysteria accompanies any widespread situation that can negatively affect people, hence people wearing masks that will not protect them, buying excessive quantities of toilet paper, hand cleaner, etc. You can ease this panic by good communication with your residents (see above).
The health and preventive measures should of course be everyone's #1 concern. #2 is the question of what to do about rent payments if employed residents are laid off or have their working hours reduced. We can't advise whether to insist on rent being paid on time, provide a grace period, or allow residents to pay no or partial rent until they are back to work. Those are difficult decisions you have to make.
Prime Minister Trudeau is supposed to announce financial assistance measures for people in these situations on March 18th. Depending on what these are, Premier Horgan may follow with what the BC government will do. There are rent banks (short term loans) available in some areas; commercial banks and credit unions may ease short term borrowing requirements; residents may be able to turn to other resources, such as family or friends. Banks and credit unions may also ease or defer requirements for monthly mortgage payments.
What is important is to remember that your building is your residents' home; they rely on you to ensure they can continue to rely on the stability of that home just the same as you do for your home.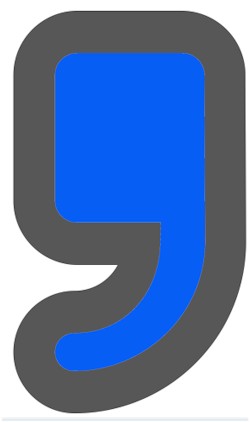 We will keep you informed via email as we learn anything relevant and important.
. . . Al Kemp
##
Advertise with MHProNews to be seen
See related reports for more.
Related Reports:
Illusions, Collusions – "Heads I Win, Tails You Lose" – "Never Let a Serious Crisis Go To Waste" – Gates, Buffett Massive Money Grabs?
"Be Greedy When Others are Fearful" – Bill Gates, Warren Buffett and Follow the Money, plus Manufactured Home Investing, Stock Updates
Markets Plunge Again, Industry Equities Tank, $1Trillion Move by Fed, Can't Have it Both Ways; plus Manufactured Home Investing Stock, Updates
Market Analyst Craig Kucera on UMH Properties, "Never Let a Good Crisis Go To Waste" – Industry, Investment, National Insights
Sam Zell is Buying, plus Manufactured Home Investing, Stock Updates
Manufactured Housing Industry Investments Connected Closing Equities Tickers
Some of these firms invest in manufactured housing, or are otherwise connected, but may do other forms of investing or business activities too.
NOTE: The chart below includes the Canadian stock, ECN, which purchased Triad Financial Services, a manufactured home industry lender
NOTE: Drew changed its name and trading symbol at the end of 2016 to Lippert (LCII).
Winter 2020…
Berkshire Hathaway is the parent company to Clayton Homes, 21st Mortgage, Vanderbilt Mortgage and other factory built housing industry suppliers.
· LCI Industries, Patrick, UFPI, and LP each are suppliers to the manufactured housing industry, among others.
· AMG, CG, and TAVFX have investments in manufactured housing related businesses. For insights from third-parties and clients about our publisher, click here.
Enjoy these 'blast from the past' comments.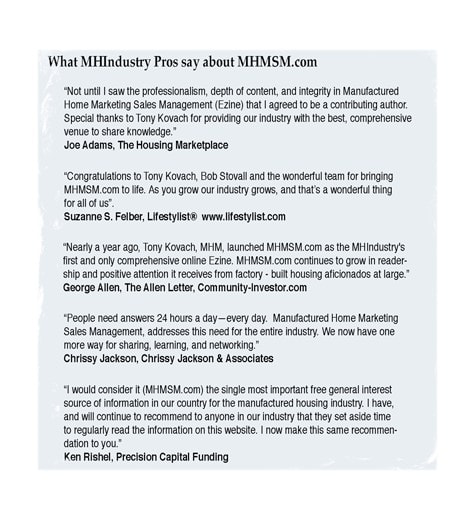 MHProNews. MHProNews – previously a.k.a. MHMSM.com – has now celebrated our tenth anniversary.
Learn more about our evolutionary journey as the industry's leading trade media, at the report linked below.
Celebrating 10 Years of Goal- and Solution-Oriented Manufactured Home Industry Innovation Information, and Inspiration for Industry Professionals
· For expert manufactured housing business development or other professional services, click here.
· To sign up in seconds for our industry leading emailed headline news updates, click here.
Disclosure. MHProNews holds no positions in the stocks in this report.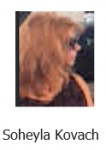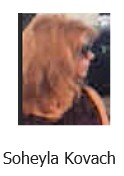 "We Provide, You Decide." © ## (News, analysis and commentary.)
(Image credits and information are as shown above, and when provided by third parties, are shared under fair use guidelines.)
Submitted by Soheyla Kovach, co-managing member of LifeStyle Factory Homes, LLC and co-founder for MHProNews.com, and MHLivingNews.com.

Connect with us on LinkedIn here and here.
2019 Year-End Totals Reveals Decline in New HUD Code Manufactured Home Production, Shipments vs. 2018