Aubrey Huff's twitter feed describes him like this. "Proud father, international model, & 2 time WS Champ. I believe in God, free speech, America, guns, whiskey, & toxic masculinity. CEO Alpha American." On July 27, 2020 he tweeted, "It's easy to be a communist in a free country. But try being free in a communist country." Huff's words are being repeated in various forms about a year later as Cubans are taking to the streets in protest against their supposedly socialist-communist 'dream state' regime.
It's easy to be a communist in a free country. But try being free in a communist country.

— Aubrey Huff (@aubrey_huff) July 27, 2020
As Warren Buffett and Charlie Munger recently praised Communist China, the picture of just how pro-authoritarian many billionaires appear to be.
"Politicians" "Rich Want More Power" Warren Buffett – "Bad Guys Win" – Buffett-Charlie Munger Interview Transcript – "Regulators Aren't" Regulating – Clayton Homes, Praising Chinese Communists, More Shock Insights – Analysis; plus, Manufactured Home Stocks Update
Former longtime Democrat and Washington Post writer Joel Kotkin laid out the connections between facism and big corporate businesses.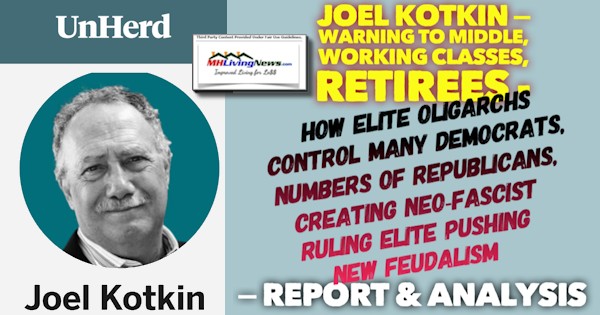 It is with that backdrop that the following from the WND Newscenter's report on protests in Communist Cuba should be a wake up call for Americans who are watching their freedoms in the U.S.A. slip away. The WND report is used with permission. Depending on the source, some say these are the worst protests in 20, 30, or perhaps 60 years against the Communist regime in Cuba.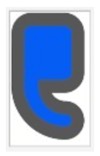 Sen. Ted Cruz predicts 'dustbin of history' for regime that caused family to flee
By Art Moore
Published July 12, 2021 at 2:56pm
After the biggest public protest in three decades, Cuba's communist dictator called on "revolutionary" citizens to defend the regime.
President Miguel Diaz-Canel, who also is the leader of the Communist Party, blamed the U.S. for the uprising, the Washington Post reported.
"The order to fight has been given – into the street, revolutionaries!" he said in an address to the nation.
"We are calling on all the revolutionaries in the country, all the communists, to hit the streets wherever there is an effort to produce these provocations," Diaz-Canel said, according to Reuters.
Three years ago, Diaz-Canel became the first leader of the communist regime outside the Castro family.
On Sunday, thousands took to the streets in cities across the island nation shouting "freedom" and "down with the dictatorship." In response, the government deployed tear gas and detained dozens of protesters.
"The people are dying of hunger!" one woman shouted during a protest captured on video in the province of Artemisa, the New York Times reported. "Our children are dying of hunger!"
It was the biggest protest against the regime since the so-called Maleconazo uprising in 1994, which led to a wave of Cubans fleeing the country by sea. But Cuban activist Carolina Barrero went further, the Times reported, calling it the "most massive popular demonstration to protest the government that we have experienced in Cuba since '59," the year Fidel Castro took power.
"What has happened is enormous," she said by text to the Times.
Amid the worst economic conditions in decades, Cuba has experienced a resurgence of coronavirus cases. The pandemic has shut off the nation's tourism dollars, exacerbating shortages that require people to wait in long lines for basic goods.
Sen. Ted Cruz, R-Texas, whose father fled Cuba, said on Twitter the regime will be "consigned to the dustbin of history."
"It has brutalized & denied freedom to generations of Cubans, and forced my family & so many others to flee," he wrote. "The American people stand squarely with the men & women of Cuba and their noble fight for liberty."
The Communist Cuban regime will be consigned to the dustbin of history. It has brutalized & denied freedom to generations of Cubans, and forced my family & so many others to flee.

The American people stand squarely with the men & women of Cuba and their noble fight for liberty. https://t.co/09hdGQVJLh

— Ted Cruz (@tedcruz) July 11, 2021
He explained the hope once was that closer commercial ties with China would influence the communist regime's political system.
But, he explained, "The reverse happened. When you look at what China's leader, President Xi Jinping, has done in the last seven years, China has become more repressive internally, more aggressive internationally, and more dangerous militarily." ##
###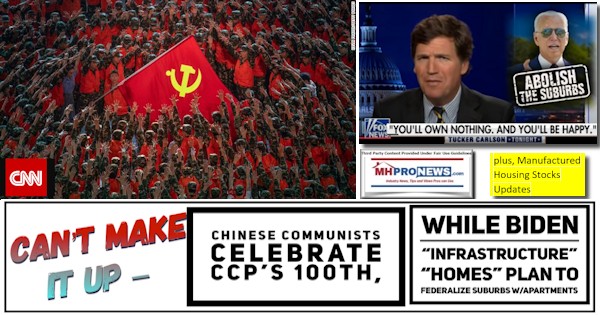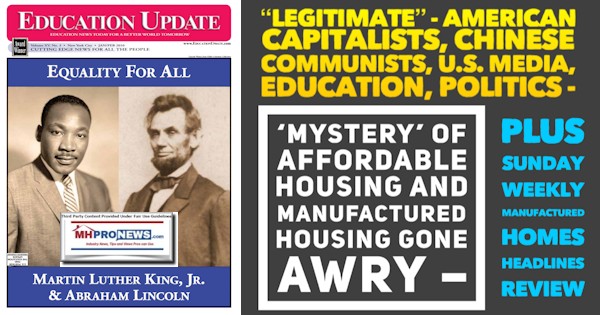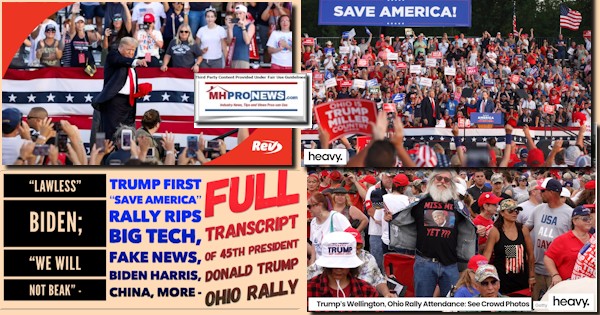 Additional information on these topics is found in the reports and analysis that are linked above and below.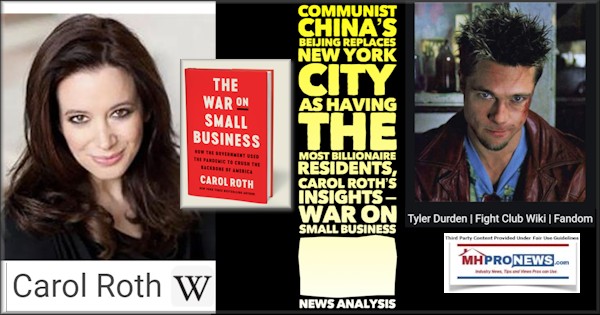 Next up is our business daily recap of yesterday evening's market report and related left-right headlines.
The Business Daily Manufactured Home Industry Connected Stock Market Updates.  Plus, Market Moving Left (CNN) – Right (Newsmax) Headlines Snapshot. While the layout of this business daily report has recently been modified, several elements of the basic concepts used previously are still the same. The headlines that follow below can be reviewed at a glance to save time while providing insights across the left-right media divide. Additionally, those headlines often provide clues as to possible 'market moving' items.
Market Indicator Closing Summaries – Yahoo Finance Closing Tickers on MHProNews…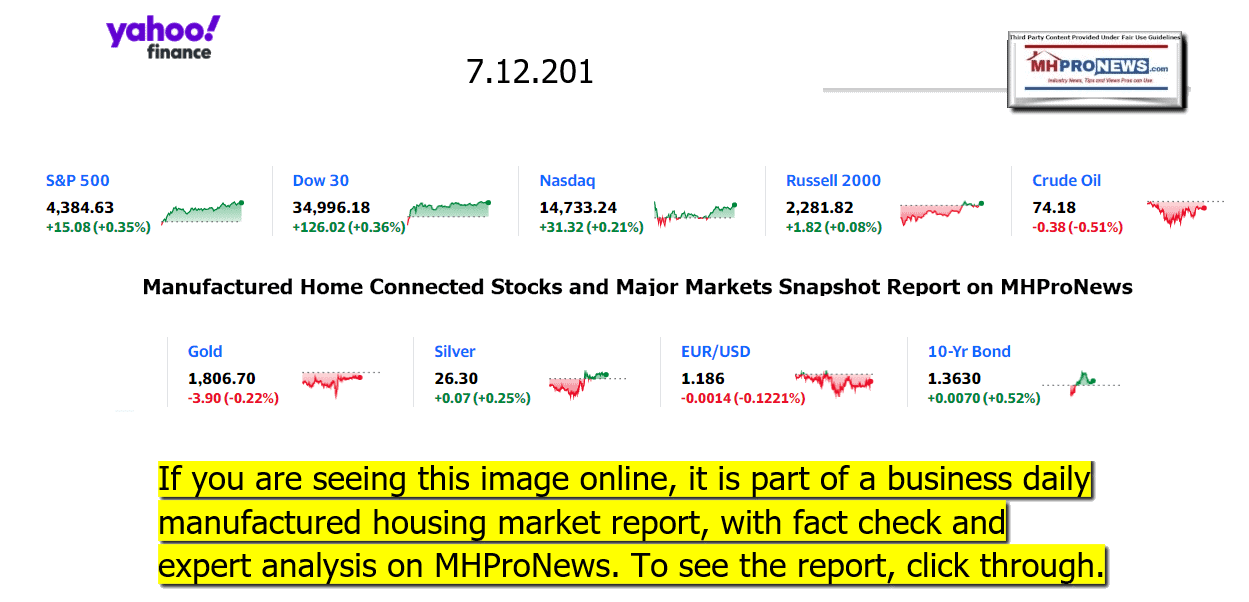 Headlines from left-of-center CNN Business = evening of 7.12.2021
In record territory
General views of Sleeping Beauty Castle at Disneyland, which has recently reopened after being closed to the public for over a year on June 06, 2021 in Anaheim, California.
The Dow is poised to close at a new all-time high, led by gains in Disney and big banks
'Black Widow' is a big hit in theaters and on Disney+
Unicorns are off to a hot start in 2021. Many more are on the way
Berkshire Hathaway scraps pipeline purchase because of antitrust concerns
Inflation is rising but the reasons why are changing
Richard Branson made it to space. Investors see a future for the business
In photos: Branson's historic space flight
Microsoft to acquire cybersecurity firm RiskIQ as cyber threats mount
China's crackdown on Big Tech just keeps growing
Engagement ring sales soar as Americans recover from the pandemic
Tucker Carlson is 'furious' at Fox News executives for not supporting his NSA spying claims, sources say
This British newspaper might go private. Here's what that means for the UK's media
Content by Quicken Loans
Recalculate your new house payment
Residential homes in Lithonia, Georgia, U.S., on Tuesday, April 27, 2021.
Many homebuyers are dropping out of the market
Vice President of Government Affairs and Research Operations Sirisha Bandla
She is one of a handful of Indian-origin women who has flown to space
Retiring as a millionaire isn't as farfetched as it may seem
WHAT TO WATCH
See how this flying vehicle could transform London's transport
Moviegoers sit, waiting for their movie to start at the AMC Burbank theatre on reopening day in Burbank, California, March 15, 2021.
Here's why straight-to-streaming blockbusters might never work
Florida man finds mystery replica hands in mail
These futuristic pods are being tested as transport alternatives
Watch the new Ford Bronco go way off road
SUCCESS
Residential homes in Lithonia, Georgia, U.S., on Tuesday, April 27, 2021.
Many homebuyers are dropping out of the market
Share your story: Have you recently left your job?
Rendering of the Aventador Roadster
Lamborghini and Lotus unveil last gasoline-only supercars
Ford Mustang Mach-E wins Car and Driver EV of the Year award
TECH
Microsoft to acquire cybersecurity firm RiskIQ as cyber threats mount
Virgin Galactic founder Richard Branson successfully rockets to outer space
A person uses Windows software
Microsoft issues urgent security warning: Update your PC immediately
Vice President of Government Affairs and Research Operations Sirisha Bandla
Sirisha Bandla, India-born woman and Virgin Galactic executive, flies into space with Richard Branson
Headlines from right-of-center Newsmax – evening of 7.12.2021
Blackburn to Newsmax: Cuba Protests Are 'About Freedom'
People take part in a demonstration against the government of Cuban President Miguel Diaz-Canel in Havana, on Sunday. (YAMIL LAGE/AFP via Getty Images)
Blackburn to Newsmax: Cuba Protests Are 'About Freedom'
The White House must draw a line in the sand when it comes to the mass protests in Cuba and President Joe Biden "needs to send the message to the president of Cuba that you cannot start firing on your people," Sen. Marsha Blackburn told Newsmax Monday. [Full Story]
Related Stories
Cuba's Foreign Minister Accuses US Mercenaries of Fomenting Unrest
Cuba Blames Trump Sanctions, Miami 'Mafia' for Rare Mass Protests
Biden: US Stands With Cuban People in Call for Freedom
Florida Republicans Lead In Supporting Cuba Freedom Protests
Rare Anti-Government Protests Erupt in Cuba
Newsmax TV
Mace: Cities With Gun Control Laws Don't See Crime Drop
Louisiana AG Landry: Capitol Police Must Keep Extra Detail Narrow |
Hice: Still Just Under 35,000 Ballots Questioned in Georgia |
Alan Dershowitz: Big Tech Lawsuit to 'Frame the Law' Regardless |
Dick Morris: Trump Will Not Just Run in '24, He'll Win |
Steve Forbes: US Tax Policy Views 'Seeing a Shift' |
Army Capt. Sam Brown: Censorship 'Unacceptable' |
More Newsmax TV
Newsfront
Ohio IDs 117 Noncitizens Who Voted or Registered in 2020
Ohio's elections chief on Monday referred for possible prosecution 117 apparent noncitizens who either registered to vote or cast a ballot last year – a tiny fraction of the state's electorate and a significantly reduced number from two years ago despite record 2020…… [Full Story]
Trump: I Stand With the Cuban People
Backing the protesters calling for liberation from communism in Cuba, [Full Story]
Teachers Unions Oppose Mandatory Vaccinations
Conservatives who oppose mandatory vaccinations are finding some [Full Story]
Miami Mayor Suarez to Newsmax: Cuba Protests Could Affect Hemisphere
The growing protests in Cuba and the calls for freedom from the [Full Story] |
Trump Jr. Pushing Opposition to Biden's ATF Nominee
Donald Trump Jr. is currently working behind the scenes to convince [Full Story]
Biden Must Be 'More Aggressive' to Stop Cyberattacks
Oil Prices Slip as Economic Fears Offset Tightening Crude Supplies
Oil slumped on Monday over concerns about spreading COVID-19 variants [Full Story]
Critical Race Theory Adds to Challenges for Conservative Students
Whether attired in a MAGA hat or mortarboard, conservative college [Full Story] |
NY Times: EPA Approved Toxic Chemicals for Drilling, Fracking 10 Years Ago
The Environmental Protection Agency has allowed the use of [Full Story]
Gingrich Calls Dem Push Against Stricter Voter ID 'Dead Loser'
Former House Speaker Newt Gingrich said Monday the Democrats' push [Full Story]
Flu Shot Might Help Ward Off Severe COVID
A flu shot might offer some protection against severe effects of [Full Story]
US Pulls Visas of 100 Nicaraguan Legislators, Judges
The U.S. State Department announced Monday it is revoking the travel [Full Story]
Dems Threaten to Ban Site Selling Innocent 'Joe You Know I Won' Mugs
German Chancellor Angela Merkel said Monday that she doubts the [Full Story]
Former Louisiana Governor Edwin Edwards Dead at 93
Edwin Edwards, the four-term Democrat governor whose three-decade [Full Story]
FBI Asks Americans to Report Extremism Among Family, Friends
The FBI over the weekend released a call for Americans to report [Full Story]
FDA to Announce Warning on J&J Coronavirus Vaccine for Autoimmune Disorder
The U.S. Food and Drug Administration is expected to announce a new [Full Story]
Texas Democrats Plan to Leave State to Stop GOP Voting Bill
Democrats in the Texas state legislature are planning to leave the [Full Story]
Trump to CPAC: We Will Stop Left Wing Cancel Culture
Former President Donald Trump during a keynote speech at the [Full Story]
Related
Trump Easily Wins CPAC Straw Poll in Dallas
Trump Hits 'Fake News' for Suburbs Study, SKorea Pandemic
Biden Admin Backs Trump Rejection of China's South China Sea Claim
The Biden administration on Sunday upheld a Trump-era rejection of [Full Story]
Biden: US Stands With Cuban People in Call for Freedom
The United States stands with the people of Cuba in their call for [Full Story]
DOJ Retracts Claim Riot Suspect Had 'Fully Constructed' Capitol Lego Set
Court documents submitted earlier this month stating that Capitol [Full Story]
Cuba Blames Blackouts and Miami 'Mafia' for Rare Mass Protests
The first mass anti-government protests in decades in Cuba were [Full Story]
Mark McCloskey Takes Aim at 'Power-Hungry Elites in DC'
Missouri U.S. Senate candidate Mark McCloskey took to Twitter on [Full Story]
China Says it 'Drove Away' US Warship on Anniversary of Tribunal Ruling
China's military said it "drove away" a U.S. warship that illegally [Full Story]
Texas Legislature Advances Voting Reforms in Special Session
In a special session held over the weekend, Texas Republicans [Full Story]
Study Finds High COVID Fatigue One Year Into Pandemic
A recent study by Stannah showed that one year into the COVID-19 [Full Story]
Primary Challenger Calls Texas Governor 'RINO' at CPAC
Former Texas state Senator and Republican gubernatorial candidate Don [Full Story]
Reed: Biden's Afghan Withdrawal 'Best of Many Poor Choices'
Senate Armed Services Committee Chairman Jack Reed defended President [Full Story]
4 Arrested, Guns Seized at Hotel Near All-Star Game
Four people have been arrested and more than a dozen weapons and [Full Story]
Schumer Wants NRA Investigated for Bankruptcy Fraud
Senate Majority Leader Chuck Schumer on Sunday called on the Justice [Full Story]
Trump Issues Free Gift to All Supporters, (Liberals Are Demanding It Be Banned!)
com
More Newsfront
Finance
Musk's Boring Co. Gets OK to Build Florida Tunnel
The city of Fort Lauderdale, Fla., has reached an agreement with Elon Musk's Boring Company to build an underground transit system offering rides in Teslas between downtown and the beach, CNN Business reports. [Full Story]
Air France-KLM in Talks With Boeing, Airbus for Largest-Ever Order
Outdoor Grills Maker Weber Files for IPO
Yellen Urges EU to Back Global Tax Deal, Keep Fiscal Support
Higher Inflation Here Long-Term: Economists
More Finance
Health
What Does the FDA Restriction on Alzheimer's Drug Mean for Patients?
The Food and Drug Administration changed its recommendations for the newly approved Alzheimer's drug Aduhelm after an intense public backlash. The agency modified the prescribing instructions for the drug to limit its use and efficacy only to patients with mild to moderate… [Full Story]
WHO: Boosters Not Needed, Rich Countries Should Donate Vaccines
Woman Infected With Two COVID-19 Variants Highlights Next Risk
Adults With ADHD at Increased Risk for Some Physical Illnesses
Handwriting Better For Learning Than Typing
Manufactured Housing Industry Investments Connected Equities Closing Tickers
Some of these firms invest in manufactured housing, or are otherwise connected, but may do other forms of investing or business activities too.
NOTE: The chart below includes the Canadian stock, ECN, which purchased Triad Financial Services, a manufactured home industry lender
NOTE: Drew changed its name and trading symbol at the end of 2016 to Lippert (LCII).
NOTE: Deer Valley was largely taken private, say company insiders in a message to MHProNews on 12.15.2020, but there are still some outstanding shares of  the stock from the days when it was a publicly traded firm.  Thus, there is still periodic activity on DVLY.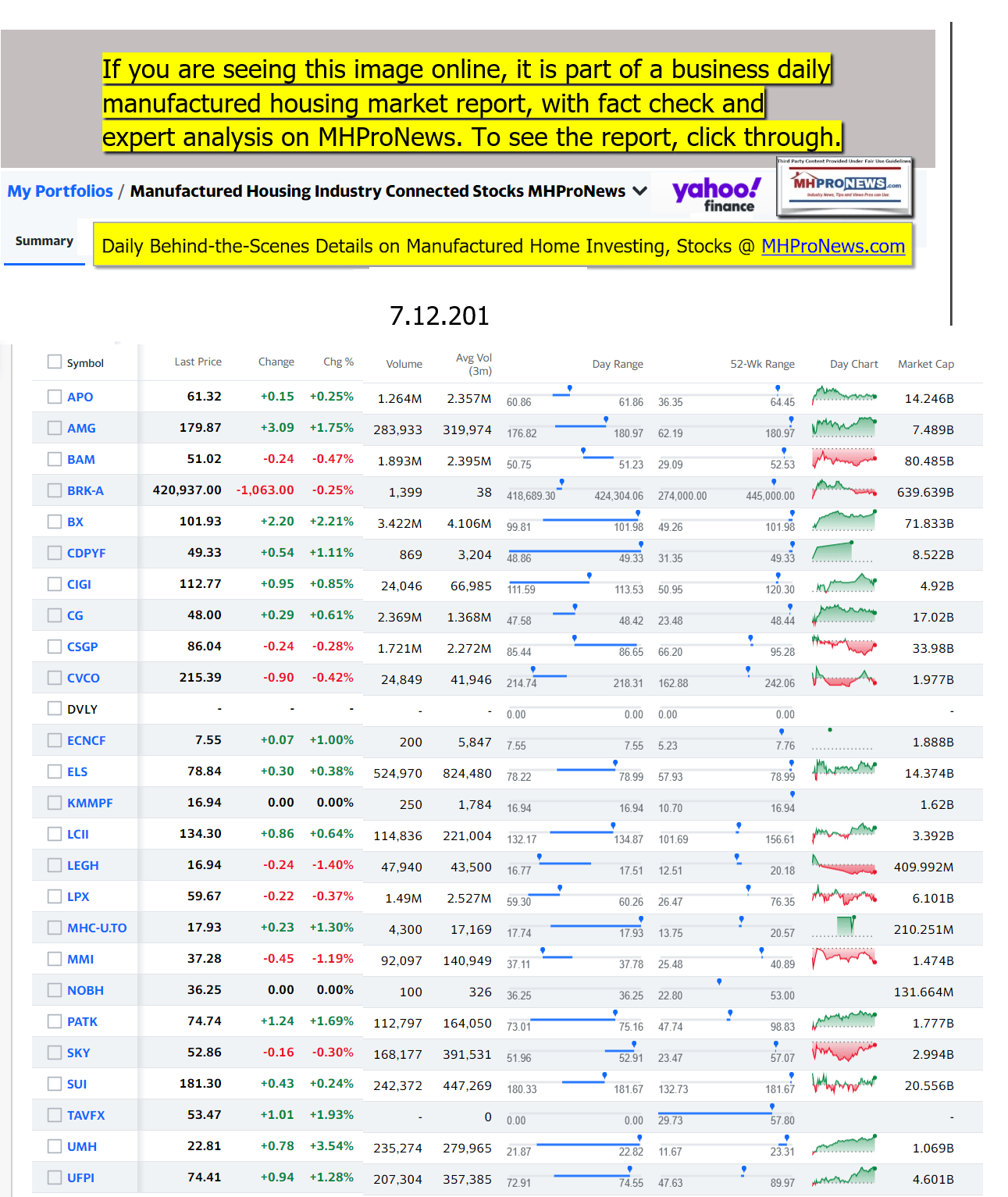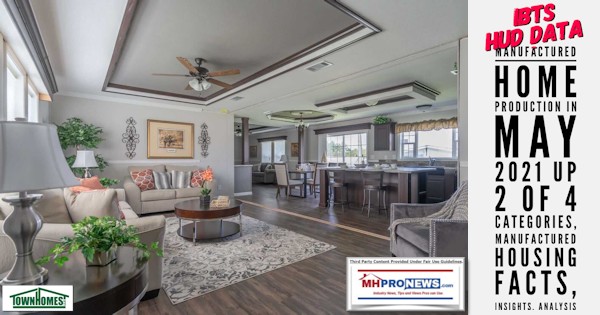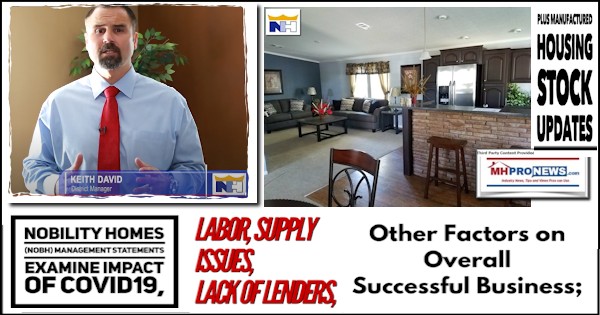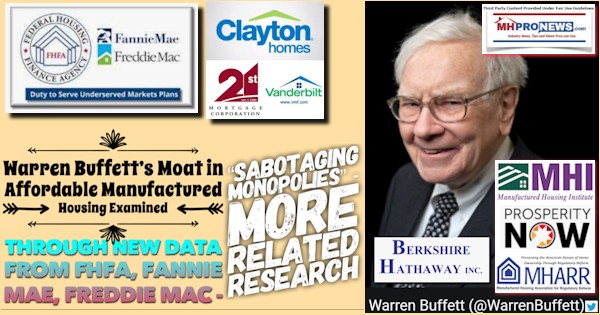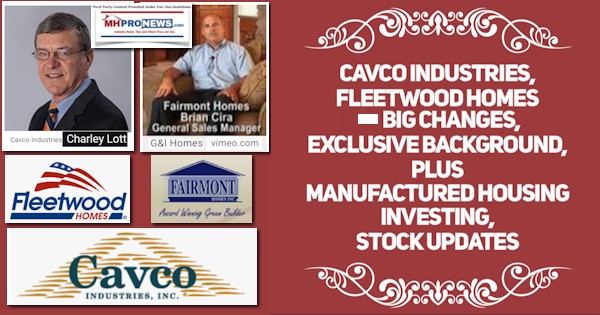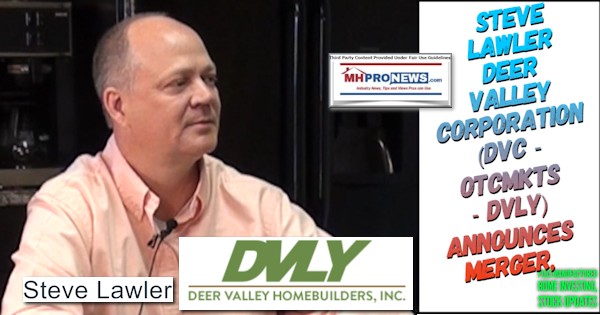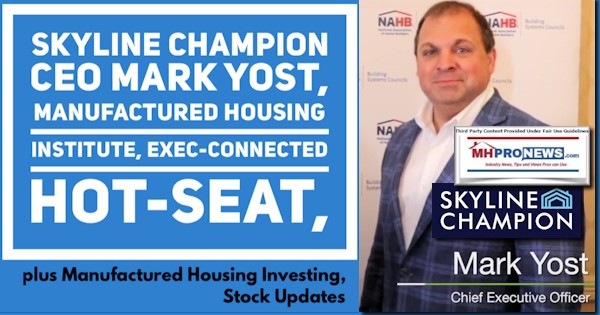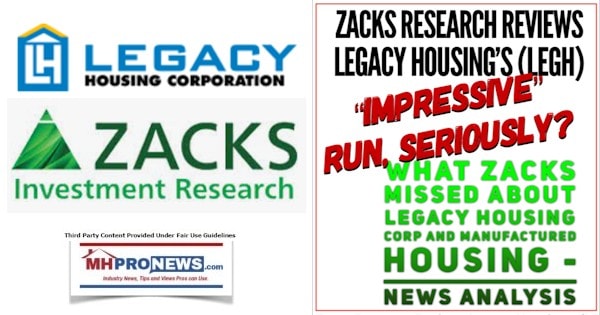 Spring 2021…
Berkshire Hathaway is the parent company to Clayton Homes, 21st Mortgage, Vanderbilt Mortgage and other factory built housing industry suppliers.
· LCI Industries, Patrick, UFPI, and LP each are suppliers to the manufactured housing industry, among others.
· AMG, CG, and TAVFX have investments in manufactured housing related businesses. For insights from third-parties and clients about our publisher, click here.
Enjoy these 'blast from the past' comments.
MHProNews. MHProNews – previously a.k.a. MHMSM.com – has celebrated our 11th year of publishing, and is starting our 12the year of serving the industry as the runaway most-read trade media.
Sample Kudos over the years…
It is now 11+ years and counting…
Learn more about our evolutionary journey as the industry's leading trade media, at the report linked below.
· For expert manufactured housing business development or other professional services, click here.
· To sign up in seconds for our industry leading emailed headline news updates, click here.

Disclosure. MHProNews holds no positions in the stocks in this report.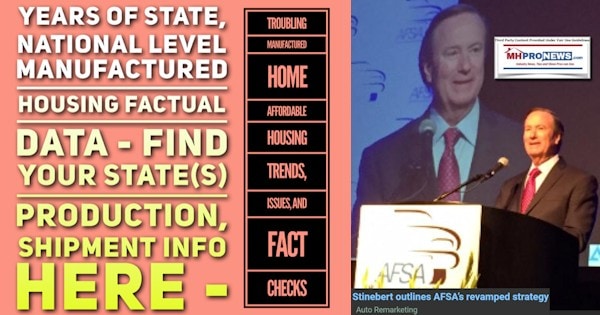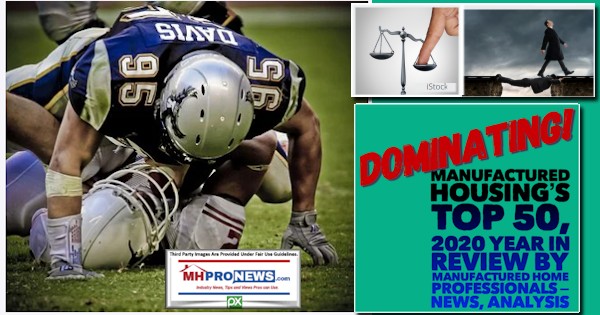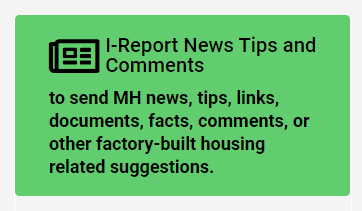 That's a wrap on this installment of "News Through the Lens of Manufactured Homes and Factory-Built Housing" © where "We Provide, You Decide." © (Affordable housing, manufactured homes, stock, investing, data, metrics, reports, fact-checks, analysis, and commentary. Third-party images or content are provided under fair use guidelines for media.) (See Related Reports, further below. Text/image boxes often are hot-linked to other reports that can be access by clicking on them.)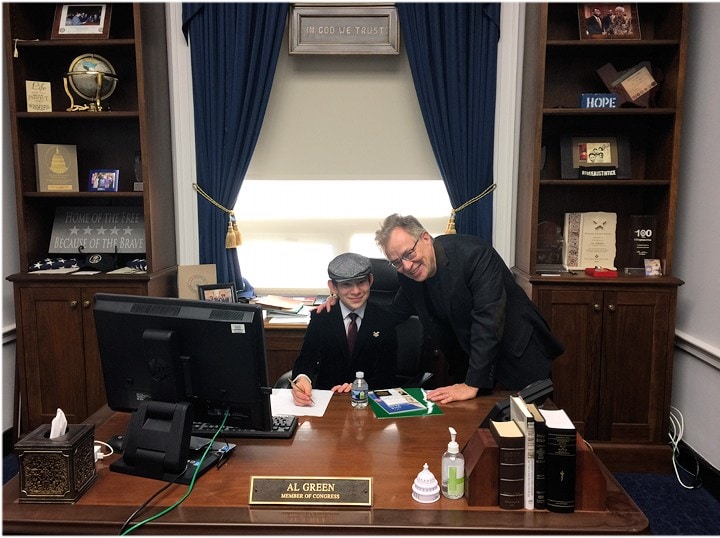 By L.A. "Tony" Kovach – for MHProNews.
Tony earned a journalism scholarship along with numerous awards in history. There have been several awards, honors and recognition in manufactured housing. For example, he earned the prestigious Lottinville Award in history from the University of Oklahoma, where he studied history and business management. He's a managing member and co-founder of LifeStyle Factory Homes, LLC, the parent company to MHProNews, and MHLivingNews.com. This article reflects the LLC's and/or the writer's position, and may or may not reflect the views of sponsors or supporters.