"The devil is in the details" is an old maxim which Oxford Languages says means "the details of a matter are its most problematic aspect."
What follows immediately below is the latest formal communique from the Washington, D.C. based Manufactured Housing Association for Regulatory Reform (MHARR). It relates to an item from HUD that MHProNews will attach which includes numerous references to the Manufactured Housing Institute (MHI).
What MHI praised to their email list readers only days ago, MHARR is scathingly ripping. While acknowledging some good aspects to the HUD research work product, MHARR exposes as yet another distraction while the important solutions go unaddressed.
Following MHARR's detailed communications, there will be an MHProNews analysis and commentary.
MHARR — ISSUES AND PERSPECTIVES
 By Mark Weiss
 JUNE 2020
"AN UNEQUALED OPPORTUNITY ABOUT TO GO TO WASTE"
The latest issue of the quarterly publication of HUD's Office of Policy Development and Research (PD&R) – called "Evidence Matters" — has been released to great fanfare by the Manufactured Housing Institute (MHI). Ostensibly, the fanfare arises from the fact that this "Winter/Spring" edition of "Evidence Matters" focuses on "Factory-Built Housing," including manufactured homes. And, to be sure, PD&R, in 30-plus pages, rightfully extolls the virtues of factory-built housing in general, and HUD-regulated manufactured housing in particular, as a national affordable housing resource. Ultimately, though, the fanfare is overdone, as PD&R, instead of addressing the real issues and failures that have suppressed the industry – and its ability to provide truly affordable and much-needed housing for millions of moderate and lower-income American families – for more than a decade, simply plows the same ground that has been pored over by the same policy wonks for years, while ignoring the changes that need to be made, consistent with the regulatory reform policies of President Trump, in order to revitalize the industry.
PD&R, for example, devotes nearly half of its publication to articles concerning "energy efficiency" (a misdirected and discriminatory Obama Administration priority for manufactured housing), the benefits of factory-based construction (which are already well-documented), consumer "education" and other subjects that have already been thoroughly addressed by HUD and others over the years. Meanwhile, it gives short-shrift – exactly one paragraph – to arguably the most significant roadblock to the greater utilization and availability of affordable manufactured homes, i.e., discriminatory local zoning edicts that either exclude or severely restrict the placement of HUD-regulated manufactured homes. Even worse, and not surprisingly given its primary focus on other matters, PD&R totally ignores the potent statutory remedy that the law already provides HUD to deal with this issue – the enhanced federal preemption of the Manufactured Housing Improvement Act of 2000.
Ultimately, all of this is a distraction and diversion. HUD knows that exclusionary zoning is a major problem for the manufactured homes that it regulates. It also knows that it – HUD — has the statutory authority to preempt those exclusionary edicts. But it prefers (for now) to simply sidestep the problem and its extremely negative impacts.
Nor does PD&R make any real attempt to deal with the second major national issue that has needlessly suppressed the manufactured housing market and the availability of affordable manufactured homes for American consumers – the discriminatory lack of any meaningful federal support for manufactured home consumer financing. This massive long-term failure, in and of itself, has needlessly suppressed the manufactured housing market for decades, while baselessly excluding millions of otherwise qualified American families from the housing market altogether.
The two central elements of this failure are: (1) the discriminatory refusal of Fannie Mae and Freddie Mac to support the implementation of the Duty to Serve Underserved Markets (DTS) with respect to the vast bulk of the manufactured housing consumer finance market served by personal property (chattel) loans, combined with refusal of the Federal Housing Finance Agency (FHFA) to compel full compliance with DTS; and (2) the de facto elimination of the Federal Housing Administration's (FHA) Title I manufactured housing program as a significant consumer financing resource due to the baseless "10-10" rule imposed by Ginnie Mae, which has excluded almost all potential financing participants from the program. Instead of addressing these key issues in its report in any meaningful way, worthy of their extremely negative impact, PD&R simply glides by these issues asserting, without any basis whatsoever, that FHFA "is helping to address financing challenges through the Duty to Serve program." That's it. Exactly one sentence regarding consumer financing – and an inaccurate and misleading sentence at that — before moving-on to a longer discussion of "tenant protections" within communities (yet another topic that has already been explored endlessly for years).
As a result, while any significant action on President Trump's signature issues, federal regulatory reform and ensuring the availability of affordable housing for American families, continues to go nowhere at HUD's Office of Manufactured Housing Programs (OMHP) with just months now remaining before the conclusion of the President's current term, this swing and miss by PD&R is more evidence that HUD, with the express support of MHI and the industry's largest corporate conglomerates — and with time running out — is focused more on "PR" (i.e., public relations) than real reform that would benefit consumers and the industry's thousands of smaller, independent businesses. This same is also evident from HUD's continuing and ongoing failure to include manufactured housing as a full and equal participant in all of HUD's housing and housing finance programs. Thus, while HUD and others try to garner credit through press releases and "photo ops," real progress – and real results – have been lacking.
Indeed, the only truly significant on-the-ground progress that has occurred within OMHP since President Trump took office in 2017, was the removal and re-assignment of former program administrator Pamela Danner, which MHARR – and only MHARR – pursued, as reported by the Washington Post. Since that time, there have been numerous announcements and pronouncements of supposedly grand initiatives at HUD. There have been "photo ops" and exhibits, displays and exhibitions – most (if not all) of which have inured to the benefit of the industry's largest conglomerates.  But precious little in the way of actual change and reform of the federal program to fully comply with all applicable federal laws – change that would benefit the vast bulk of the industry's smaller businesses and the nation's consumers of affordable housing now and in the long term – has occurred, meaning that three years of arguably unparalleled opportunity has already been wasted.
The industry does not need lip service from HUD, its federal regulator. While the industry and its businesses can appreciate the words of support that have emanated from HUD and from HUD Secretary Ben Carson, and the positive exposure that federally-regulated manufactured homes have received through various HUD events, what the industry and its consumers really need is action – action to fully and properly implement all remaining reforms of the Manufactured Housing Improvement Act of 2000 (including zoning preemption and an appointed non-career program administrator, among other things); action to eliminate unnecessary and unduly burdensome standards, regulations and sub-regulatory "guidance" in accordance with all of President Trump's regulatory reform Executive Orders and policies; and the full, market-significant implementation – right now — of the DTS mandate, including support for manufactured housing personal property loans. As MHARR has pointedly observed, however, there has been no meaningful action on any of these priorities, as program regulators and revenue-driven program contractors work to simply "run out the clock" on the Trump Administration.
With industry production consistently stuck below its historic 100,000 homes-per-year benchmark for more than a decade, and with 2020 now unlikely to break this long-term trend due to a combination of industry-specific and broader socio-economic factors (including the COVID-19 pandemic and related closures), it is more urgent than ever that the industry and its consumers achieve real and, just as importantly, lasting regulatory reform, rather than just collecting empty promises, as has been the case all too often in the past. And with President Trump in office, the industry has (and has had) perhaps its best opportunity ever to bring about the kind of genuine reform within OMHP that is so badly needed in order to propel an industry renaissance and revitalization. With each day that passes, however, without specific, concrete action to implement such essential reforms, the unparalleled window of opportunity presented by the Trump Administration and its regulatory policies is closing.
Is it too late to achieve the type of change that is desperately needed?  No, particularly with new leadership – in the person of Ms. Dana Wade – headed back to HUD as the top-level political appointee with direct authority over the federal manufactured housing program. But time is running out and the status quo remains unacceptable. The primary OMHP regulatory reform process pending at HUD was put in place by Ms. Wade in early 2018. She should see to it that this crucial process is completed – and all resulting reforms are implemented – before the November 2020 presidential election. This will be a tall order administratively, but if meaningful reform of any kind is to occur within OMHP, it must be an urgent priority for Ms. Wade and for all of HUD's senior leadership.
It is commendable then, that PD&R chose to focus on factory-built housing in its latest publication.  But that cannot be and must not become a substitute for concrete action by HUD on the major issues that have suppressed industry growth for far too long.
PD&R promised – and has taken the first steps to initiate – a study of discriminatory zoning impacts on the industry and consumers of affordable housing. That study should continue without delay. Beyond that, and among other things, HUD should expressly acknowledge the authority that it has under the enhanced preemption language of the 2000 reform law to supersede zoning edicts that undermine its superintendence of the manufactured housing industry and the express purposes of the 2000 reform law, while simultaneously taking action to end financing discrimination against mainstream manufactured housing purchasers.
Put simply, the time for posturing and displays is over and the time for specific, significant action is slowly running out.
Mark Weiss
MHARR is a Washington, D.C.-based national trade association representing the views and
interests of independent producers of federally-regulated manufactured housing.
 ###
MHProNews Fact-Check, Analysis and Commentary
When the footnotes in the HUD PD&R entitled Evidence Matters are reviewed, several fascinating things pop out. MHI is referenced several times. An MHI supporting entity is also cited. But MHARR is not referenced even one, why is that so?
In the early days of the computer revolution in America, the acronym GIGO emerged. GIGO stands for "Garbage In, Garbage Out." It's not that the HUD PD&R is garbage per se. But it is tainted at the root, while citing as MHARR's President and CEO Mark Weiss correctly referred to as old news about factory home building in general and manufactured homes in particular.
Weiss' analysis is akin to what he did in May with the FHFA issue of DTS and Mark Calabria, which actively retired MHARR founding president and former MHI VP Danny Ghorbani set into its historical context at the link below.
FHFA "Director [Mark] Calabria Must Initiate An Internal Investigation" – Danny Ghorbani Rips & Reveals Duty to Serve Problems, Solutions
While these events are unfolding, billionaires are being asked and/or have agreed to testify to Congress on antitrust issues.
Billionaires and Big Business Background
"House antitrust investigators are pressing Apple, Alphabet, Amazon and Facebook to say by Sunday whether their CEOs will testify as part of the Judiciary Committee's tech competition probe," left-of-center Axios reported on 6.12.2020.
Left-of-center Politico and Vox are among those that report that Bezos has agreed to testifying in July.
As pandemic and civil unrest dominates the news, right-of-center Forbes reported on 6.15.2020 that "Walmart is also experimenting with no cashiers. Walmart if removing all cashiers from a store close to its headquarters, leaving only self-checkouts," with the typo 'if' instead of 'is' found in their original text.
Billionaires that may support Democratic and/or Republican candidates are using the massive distractions that mainstream media focus on.  The protests, riots, looting, and pandemic related stories are de facto cover to advance their respective moat-building agendas. One of the hottest topics for months on MHProNews were reports that included "Never Let A Good (or Serious) Crisis Go To Waste." Tens of thousands are flocking to understand such reports.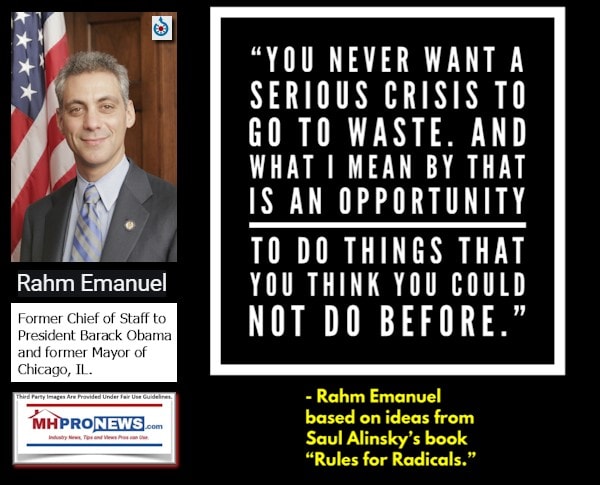 "Never Let a Good Crisis Go To Waste" – COVID19 Pandemic – Problems and Solutions
What is the point of sharing those seemingly unrelated items in the context of Mark Weiss' analysis of the HUD PD&R?
There is increasing mainstream evidence that Americans are seeking the root causes of seemingly disconnected issues. That is reflected in data provided by third-party Webalizer to MHProNews on the factors behind the scenes that are caused the loss of tens of millions of jobs, well over 100,000 dead from a pandemic, and major protests, riots, death, looting, and mayhem in cities from coast-to-coast.
The reports linked above and also below the byline and notices shed light on those issues.
MHARR's Weiss keeps focusing – rightly so – on the details.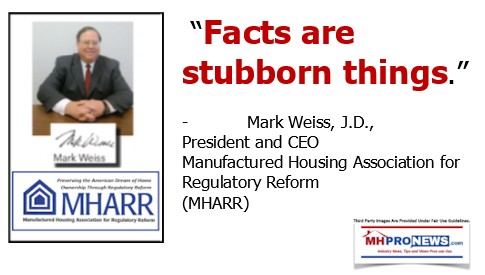 The 'razzle dazzle' of recycled words of praise sprinkled with photos and references to MHI and MHI members – without mentioning "enhanced preemption" is a key detail that was sidestepped. It is necessary and good for Weiss and MHARR to stay focused on such nuances. They might otherwise be lost from the 'flash bangs,' tear gas and other all too real yet also distracting problems that arguably obscure root causes rather than reveal what's gone wrong.
Rephrased, the tactics manufactured housing independents have witnessed – and often suffered from – for years – are also often playing out at the national level. While other industries may not have specific issues like "enhanced preemption" or "Duty to Serve," they – and manufactured housing – are suffering from the impact of arguably predatory monopolistic companies. They, not unlike Warren Buffett, have patiently grown until now they are goliaths. The challenge is to bring the giants under control.
The solution is to understand the problem and to enforce good laws that were already enacted, but have regrettably been ignored by both Democratic and Republican administrations for decades. While the Trump Administration has been ramping up for this battle, is it going to come before an election that may end their term in office?
Buffett and the billionaires now under scrutiny were in and out of the Obama White House.
"…we are five days away from fundamentally transforming the United States of America." – Barack Obama, in a campaign statement in October 2008, per Politifact. After 8 years of the first black president, why weren't the racial or economic injustice issues resolved? More to the point, why did they arguably get worse?
The billionaires supported the former 44th President Obama and his VP Biden. Would former VP Joe Biden work to undo what the Obama-Biden Administration – along with others – quietly allowed?
Retail Sales Rising…
Mainstream retail sales for May were released today and are reportedly up some 17.7 percent said the left-of-center New York Times this morning. An MHI member manufactured home producer told MHProNews that they are now back to 94 percent of pre-pandemic sales levels. These are hopeful signs.
 But those signs of life should not allow professionals and investors to forget or ignore how the nation was blindsided and slipped into this tragic set of circumstances to begin with. China and billionaires favorable toward Communist China are among the issues that must be explored, understood, and then lawfully addressed. Calling the billionaires in to testify, if the right questions are asked and subpoenas follow, is a start.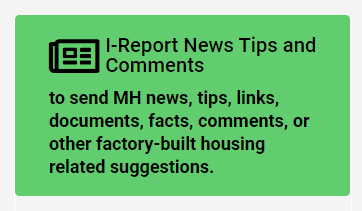 Programming note. MHProNews is in the process of revamping our industry-leading x2 weekly emailed headline news updates. The revisions should be completed by late June or early July. Watch for it.
See the related reports following the byline and notices.
That's a wrap on this installment of manufactured housing "Industry News, Tips, and Views Pros Can Use" © where "We Provide, You Decide." © ## (Affordable housing, manufactured homes, reports, fact-checks, analysis, and commentary. Third-party images or content are provided under fair use guidelines for media.) (See Related Reports, further below. Text/image boxes often are hot-linked to other reports that can be access by clicking on them.)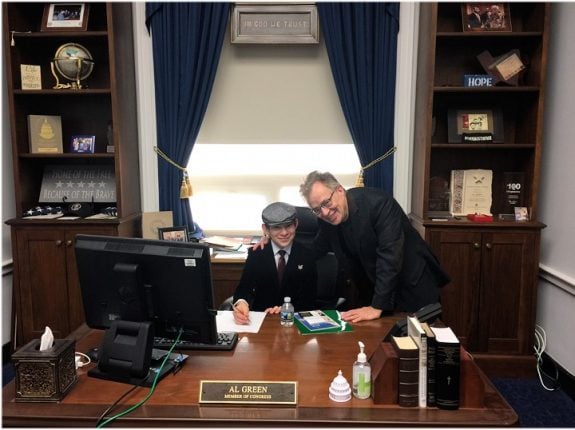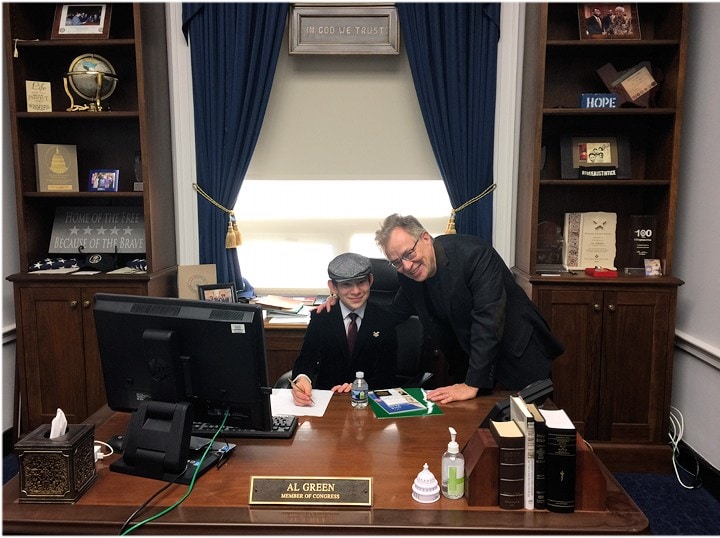 By L.A. "Tony" Kovach – for MHLivingNews.com.
Tony earned a journalism scholarship and earned numerous awards in history and in manufactured housing. For example, he earned the prestigious Lottinville Award in history from the University of Oklahoma, where he studied history and business management. He's a managing member and co-founder of LifeStyle Factory Homes, LLC, the parent company to MHProNews, and MHLivingNews.com. This article reflects the LLC's and/or the writer's position, and may or may not reflect the views of sponsors or supporters.
Connect on LinkedIn: http://www.linkedin.com/in/latonykovach
Recent and Related Reports:
The text/image boxes below are linked to other reports, which can be accessed by clicking on them.
Dark Money-Billionaires Buffett, Gates, Soros Funding Black Lives Matter, Antifa – Named by AG Barr in Riots, Looting – Hijacking Peaceful George Floyd Death Racial Justice Protests
Skyline Champion's Sarah Janowicz On Record – SKY's Biz Practices & Manufactured Housing Institute Support; "Defies Reason and Common Sense"
Complaints to State and Federal Officials, Agencies About Corrupt Practices in Manufactured Housing Industry Growing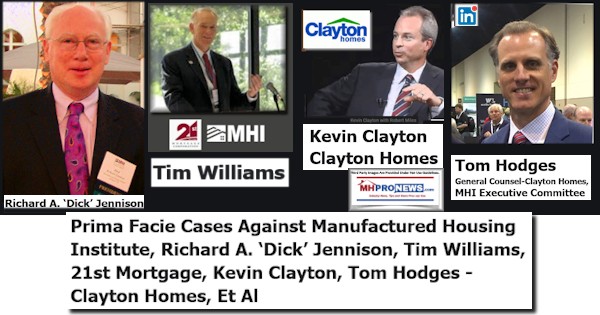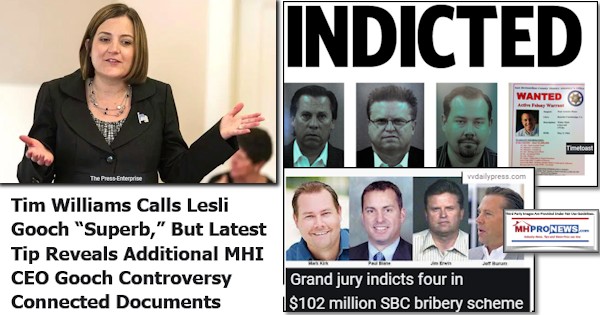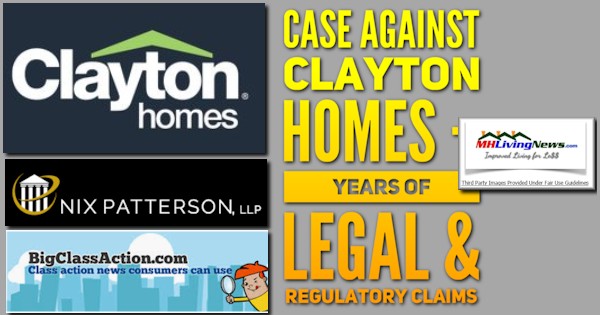 New Data Surfaces on Buffett Family, Foundation Funding Sources Which Attacked Manufactured Housing, plus Manufactured Home Stock, Investing Updates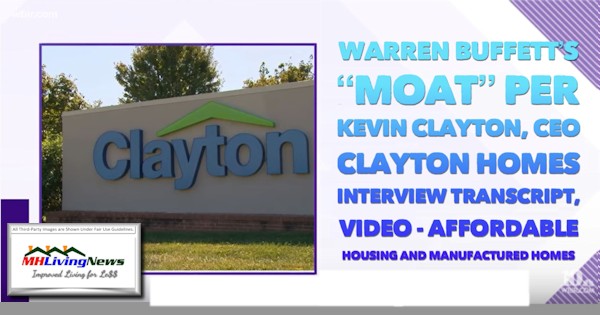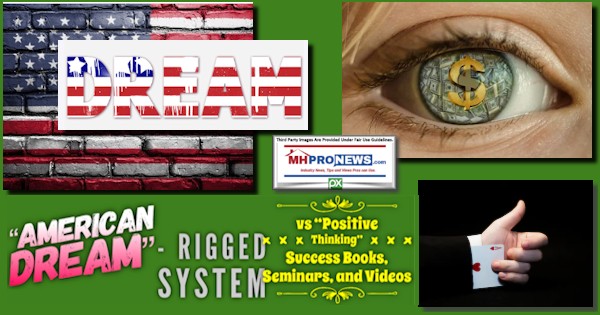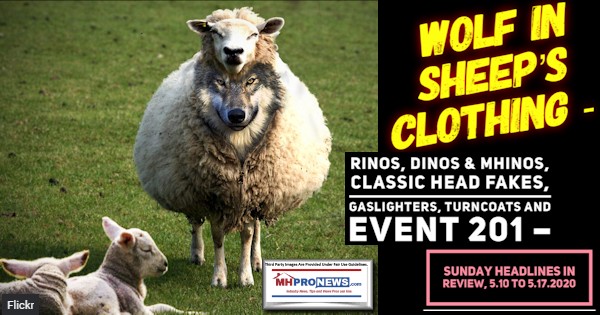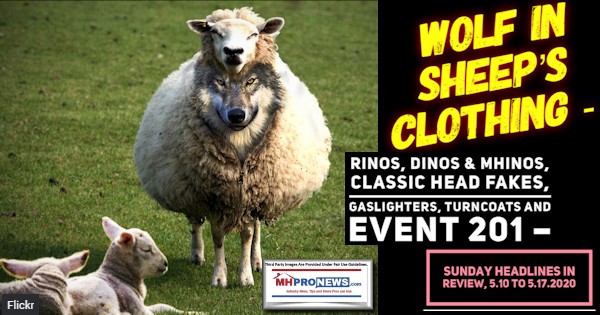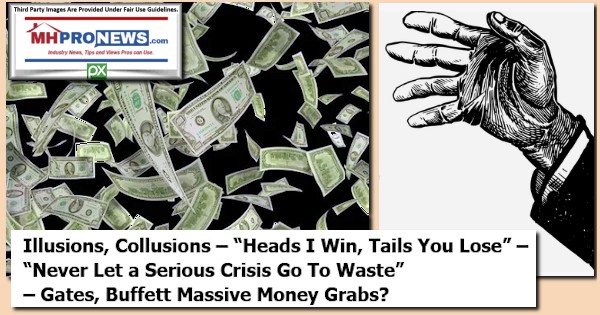 "Where the hell have you been?" – MH Communities Giant Equity Lifestyle Properties Sees Pandemic Gold, Official Remarks, ELS Moves
"MHI Lies, Independent Businesses Die" © – True or False? – Berkshire's Joanne Stevens Strikes Again
Fraud, RICO and Antitrust-Issues of Genius, Honesty, Legality, Competency-Berkshire Hathaway and Manufactured Housing Institute Leadership, Sunday Morning Headlines Review 2.23 to 3.1.2020
Kevin Clayton, CEO Clayton Homes, Explains Why Replacing Sales Professionals with Automation Makes Sense
Shortchanging Homeowners, Small Businesses, Unsuspecting Investors, Association Members-plus Sunday Manufactured Home Headlines Review 2.9 to 2.16.2020